There are hundreds of electric guitars on the market today. So, if you're a beginner looking to start your ax-shredding journey, you might find it challenging to choose your first one. You can go to different shops for months in search of the right one, test them out and, in the end, still feel confused. We want to help you cure your analysis paralysis with our review of the best beginner electric guitars to help you hone in on the right one for you!
Our Top Picks

If you're frustrated in your search for the best starter guitar and you want to identify the best choice for you, consider our top picks.

Overall Best: Squier Classic Vibe Stratocaster '50's – Fender outdid itself with this prodigious modern take on the Telecaster. It sounds incredible, it's comfortable and easy to use, and it has exceptional tone range and versatility. The value for its price is simply unmatched!

Top Budget Pick: Epiphone Les Paul Special II – If you're looking for an authentic Les Paul at an incredibly low price, then this is the guitar for you.
Best Beginner Electric Guitar Package Reviews
Last update on 2023-05-28 / Affiliate links / Images from Amazon Product Advertising API
Let's start this list with a tried and tested classic of the electric guitar industry, the Epiphone Les Paul Standard. If you don't have the budget to get a Gibson Les Paul, this is the closest you can get at an affordable price.
Key Features
Classic Les Paul with a solid mahogany body and maple veneer top
Available in multiple modern colors (ebony, metallic gold top, etc.)
Epiphone Alnico Classic Humbuckers
Grover machine heads
Trapezoid position markers
What We Like About It
Well, we love that it's a Les Paul for one – and it's the closest you're going to get to a Gibson Les Paul without breaking the bank. It's packed with exclusive features that make Epiphone guitars so special. The sound is magnificent, and the various color options up its game even more.
What We Don't Like About It
OK, so when we said affordable, we meant relative to the Gibson Les Paul. The Epiphone Les Paul Standard is not an entry-level guitar and may be out of the question for beginners on a budget.
Pros
Les Paul Guitar
Sublime sound and 100% free of microphonic hum
Available right-handed and left-handed, with tremendous color options
Cons
Not a budget-friendly guitar
Made in China (just in case this affects your decision)
The Epiphone Les Paul Standard is what the makers brand it to be: classic, timeless, and legendary. If the budget is not a concern, this is the best starter guitar to hone your skills and make some first-rate music.
Overall Rating – 5 of 5
Why settle for a lesser-known brand when you can get a Les Paul from Epiphone at roughly the same price anyway? The Les Paul Special II is Epiphone's incredibly budget-friendly entry to capture the beginner electric-guitar market.
Key Features
Single cutaway mahogany body
Bolt-on okoume neck with SlimTaper D profile
Rosewood fretboard and 22 frets
Features two humbuckers (700T and 650R)
What We Like About It
Being the cheapest "real" Les Paul guitar on the market, this is a popular choice, and we commend Epiphone for making it affordable to the starter market. While you can buy it by itself for less than $200, for just a bit more you can grab Les Paul's player's pack. It includes a 10-watt Electra guitar amp, a 10-foot guitar cable, a clip-on tuner, a strap, picks, and a soft gig bag—everything you need to get started with the electric guitar.
What We Don't Like About It
Epiphone cut some corners with the LP Special II, especially by using okoume, which is like a lighter, cheaper version of mahogany. Moreover, it doesn't feature the carved top typical of pricier Les Paul guitars.
Pros
A "real" Les Paul
Incredibly low cost
Renowned manufacturer
Cons
Made of cheaper materials
Epiphone cut some corners with the design
We may sound a bit critical of the Les Paul Special II, but only because we hold Epiphone to a high standard. Despite these criticisms, this guitar is still incredible for the price, playability tone, and overall feel. It's an exceptional value for the cost, especially in the player's pack.
Overall Rating – 4 of 5
If you're a fan of the good old classic days of rock and roll, you'll fall in love with the Squier Classic Vibe Stratocaster '50s. This Squier guitar exudes vintage appeal—but don't let that fool you, as its modern features set it toe-to-toe with other guitars on our list.
Key Features
Solid alder body with a polyester finish
One-piece maple neck with a modern C-shape
A trio of Alnico III single-coil pickups
Vintage-style, six-saddle tremolo bridge
What We Like About It
This Stratocaster screams 50's rock, and if you're a fan of vintage-looking guitars, you'll want this in your arsenal. The style and quality are everything you'd expect from Squier, which is a subsidiary of Fender, obviously renowned for making quality guitars. It's also available in 6+ color combinations, so you're sure to find an option that tickles your fancy.
What We Don't Like About It
There are cheaper Stratocasters out there, and its price isn't exactly what we'd call entry-level. Still, we think it's worth the cost.
Pros
Vintage rock look
Great sound
Solid build
Left and right handled models available
Cons
Price isn't exactly entry-level
We know this list is for beginner guitars, so why would we include a Stratocaster that isn't at an entry-level price? If you're going to get a Stratocaster, you'll want to get the quality you pay for, and we can tell you this is one of the best Squier has to offer.
Overall Rating – 4.5 of 5
Fender is a household name for a reason, as a pioneer in the industry with a long history of making consistent, high-quality guitars. The Modern Player Telecaster Thinline Deluxe is no exception, as we consider is as one of the best, if not the best beginner electric guitar available today.
Key Features
Semi-hollow mahogany body with a single "F" hole
Dual Modern Player MP-90 single-coil pickups that offer a wide array of sweet to aggressive tones
A six-saddle hard-tail bridge allows for individual string-height adjustments
5-inch radius and 22 medium jumbo frets for comfort and speed
What We Like About It
We love the Fender Modern Player Telecaster because of its tone range and flexibility. The modern upgrades make it even more powerful and versatile, and its price point is the cherry on top!
What We Don't Like About It
If you're a telecaster purist, you may not like the modern take that Fender took on this model. As a beginner, however, this shouldn't concern you.
Pros
Excellent tone range and versatility
Comfortable and easy to use
High-quality at a great price
Cons
Five-way pickup and string-through body might take some getting used to
The Fender Modern Player Telecaster is a terrific starter electric guitar. If you're an absolute beginner and haven't plucked a single string in your life, it might get a bit complicated for you, but this modern classic will please beginners and advanced guitarists alike with its versatility, range, and its fabulous price.
Overall Rating – 5 of 5
What is essential in a beginner electric guitar? Playability and quality but at a reasonable price point. That's where we bring in another entry from the legendary electric guitar manufacturer Epiphone, the SG-Special VE. This is an excellent guitar for new players to discover rock at an incredibly affordable price.
Key Features
Great vintage-worn finish
Poplar with Mahogany veneer double-cutaway body
1960's SlimTaper D Profile Okoume neck
22 medium jumbo frets
Two Epiphone open-coil humbuckers with ceramic magnets
What We Like About It
The SG-Special VE is an incredible guitar at $179. It sounds stupendous, looks stunning, and its quality is competitive against guitars twice its price. We're also happy to report it stays in tune over time very well and is a low-maintenance option—plus the high gloss finish looks really cool.
What We Don't Like About It
Epiphone skimped on the material for this guitar, but such is the cost of making its consummate craftsmanship available to the budget-friendly beginner market. Poplar and okoume aren't exactly known for their sturdiness.
Pros
Vintage look with multiple colors available
Great sound
Incredible value for its price
Cons
Made from inferior materials
The SG-Special VE is far from perfect, but it provides incredible value for its price. After all, Epiphone makes it, so you know it will be a quality guitar. If you're a beginner, this low price tag, nice build, and playability are all you need in your first electric guitar.
Overall Rating – 4.5 of 5
Since this a beginner guitar guide looking for high quality at a budget price, we'd be remiss not to include the Ibanez RG450DX. From the renowned Japanese instrument-manufacturing company, Ibanez, this sweet guitar earns its place on our list for its fantastic sound, appealing style, and comfortable feel.
Key Features
Jatoba Fretboard for that rich, mid-range and a crisp high end
Wizard III Maple neck features a two-octave 24 fretboard for wide tonal range
Quantum pickups for accelerated bass response
RG double cutaway solid body shape
What We Like About It
The RG450DX is incredibly smooth and comfortable for beginners, thanks to its double-cutaway design. We consider this guitar future-proof because of its quantum pickups, and it's conducive to growing with as your skills advance.
This model is available in a range of colors, and you can also score it in a convenient bundle that includes a gig bag, tuner, and stand.
What We Don't Like About It
If you're not a fan of the double-cutaway design, then this is not the guitar for you. We also think Ibanez could improve the pickup, but it's not so bad that it negates the guitar's other tremendous qualities.
Pros
An excellent price point for beginners
Future-proof
Great design in multiple colors
Wide tonal range
Available in a beginner's bundle
Cons
The pickup could use improvement
The RG450DX is a testament to Ibanez's dedication to creating genuinely fantastic guitars on a budget. While it's not perfect, you can easily buy this guitar as a beginner and continue to use it well into your advanced-guitarist stage.
Overall Rating – 4.5 of 5
If you're a hardcore metal fan and want to start your journey to becoming an insane ax shredder, there's no better starter guitar than the Jackson IS Series King V JS32T. Jackson is known for top-quality metal guitars, and its craftsmanship shines with this one – from the design to the build to its superb sound quality.
Key Features
12- to 16-inch compound-radius for chording comfort and shredding pleasure
Bound rosewood fingerboard with 24 jumbo frets
Lightweight and resonant basswood body
Two high-output humbucking pickups with ceramic magnets
What We Like About It
We consider the King V JS32T the best metal guitar for beginners. The sweet design, tremendous sound, and spot-on craftsmanship make this a must-buy for any metalhead looking for an excellent starter guitar.
What We Don't Like About It
A few of the fret ends are a bit sharp, but if you know how to fix this, it shouldn't be a real problem. Even if you don't, your local music shop will be able to show you how or handle it for you—it's an easy fix.
Pros
Incredible sound quality
Comfortable and easy-to-use
Affordable price
Great design
Cons
Fret ends need adjusting.
If looks could kill, then the King V JS32T would annihilate everything in its path! We're in awe at how magnificent this guitar is for such an affordable price. It doesn't just look good, either. It sounds great, too, and we reiterate that this is the best starter guitar for metalheads, hands down!
Overall Rating – 4.5 of 5
Yamaha has a reputation for making good-looking, versatile guitars at a very affordable price for beginners. The Pacifica 112V is definitely among the best in its product line. Despite being marketed to beginners, advanced guitarists will appreciate the value of this one, too.
Key Features
Solid alder body with double cutaway design
Maple, bolt-on neck
Rosewood fretboard with 22 frets
Three Yamaha Alnico V pickups (one humbucker and two single-coils)
Vintage Tremolo with block saddles
What We Like About It
The Pacifica 112V five-way pickup selector switch and the vintage-style tremolo are two features that we love about this guitar. It sounds fabulous and looks dazzling with its double-cutaway design. It's beginner-friendly and earns its place on our list of best beginner electric guitars.
What We Don't Like About It
Yamaha markets the Pacifica series as a beginner guitar, so you probably wouldn't keep using it as you advance in skill. It's a fantastic guitar for beginners, but if you're looking to make a career for yourself, you may want to opt for one with more advanced features that can last.
Pros
Great tonal range
Lightweight
Stays in tune for weeks
Excellent design
Great price
Cons
Not future-proof
Tone can get a bit thin
Overall, the Yamaha Pacifica 112V is a great starter guitar. It delivers superb tonal variety, is affordable, and looks fantastic. If you want a simple and easy-to-use starter guitar, this is one to consider. The Pacifica series in general is a solid choice, actually. This line has a whopping eight models.
Overall Rating – 4 of 5
Electronic Sound Products (ESP) makes it into our list with its LTD EC-256FM, comparable to some noteworthy guitars but affordable to the beginner market. The classic look of the single-cutaway mahogany body, three-piece neck, rosewood fingerboard, and flame maple top are just the beginning of the virtues this wonderful guitar possesses.
Key Features
Single cutaway mahogany body and flamed maple top
Rosewood fingerboard with 22 jumbo frets
2 ESP-designed humbucking pickups
Tune-o-Matic bridge and chrome hardware
What We Like About It
We love how affordable the EC-256FM is and how stunning it looks, but it also rocks in the sound department! This model is available in several unusual colors, such as lemon drop yellow, "see-thru" purple or green, and cobalt blue. The company also offers it in a few bundles with handy beginner accessories such as a case, stand, strap, tuner, instrument cable, and more.
What We Don't Like About It
The EC-256FM is a bit heavier than other electric guitars on the market today. If you're a relatively small person, it might be cumbersome to play this heavier guitar.
Pros
Head-turning design
Great bang-for-buck guitar
Lots of purchase options
Cons
While the ESP LTD EC-256FM isn't the best electric guitar for beginners, it gives other guitars from more renowned manufacturers a run for their money. The striking look and tremendous sound at an affordable price make it an excellent beginner guitar.
Overall Rating – 4 of 5
If you're looking for that wow factor to get you noticed on stage, you can't go wrong with the Dean Custom Zone. It comes in two vibrant neon colors: fluorescent green and fluorescent pink. Though you can also get it in black if you prefer something a bit less vibrant. Make your choice and draw your viewers in with this excellent, affordable guitar.
Key Features
Solid mahogany body
Satin-finished C-shaped bolted maple neck
22 jumbo frets
Glossy neon finish
What We Like About It
If you want to stand out, the Dean Custom Zone is the way to go. It's relatively straightforward to use, is lightweight, and the design and finish dazzle, so all eyes will be on you!
What We Don't Like About It
The pickups are pretty basic, and if you plan on playing more than casual gigs and venues, issues with tone quality may become evident.
Pros
Looks amazing
Eye-catching neon finish
Lightweight
Cons
Tone quality needs improvement
The flashy Dean Custom Zone electric guitar begs attention. So, if you're a beginner just practicing at home or jamming with friends, you can steal the show with this stupendous guitar!
Overall Rating – 4 of 5
If you're on a budget and want a Les Paul style guitar, you might turn to Epiphone, Gibson's less-expensive alternative. If you on a tighter budget, though, we suggest the Oscar Schmidt OE20. It has everything you'd expect from a Les Paul but carries a pleasing price tag of less than $200.
Key Features
Comes in five eye-catching colors, including black and gold
Mahogany body and maple set neck
Tune-o-Matic bridge with stop tailpiece
Two humbucker pickups
What We Like About It
The OE20 is on the cheaper end of our list, but its design and sound quality wowed us! For less than $200, it provides tremendous value and is a decent beginner electric guitar on a shoestring budget. Its range of colors are available stand-alone or in a bundle that includes a tuner, cleaning cloth, strap, and extra strings.
What We Don't Like About It
The OE20 is, by no means, perfect. The two unbranded humbuckers at the bridge and neck positions are something you might want to swap out. The sound also lacks complexity, but if you're looking for a versatile but straightforward guitar for playing anything from country to classic rock, it's still a good choice.
Pros
Incredibly inexpensive
Excellent value for the cost
Unadulterated Les Paul
Cons
Lesser-known manufacturer
Sound lacks complexity
The Oscar Schmidt OE20 isn't perfect, but as a starter electric guitar for less than $200, it will satisfy the needs of any beginner. If you want to get the feel of the classic Les Paul style, but you don't have the budget for a Gibson or an Epiphone, this is the way to go.
Overall Rating – 4 of 5
Beginner Electric Guitar Buying Guide
Having offered you eleven choices for the best beginner electric guitars on the market, you might find yourself overwhelmed. All the added features, different brands available, and the sheer number of choices in the market can be a bit much even advanced guitarists. To help you out, we've made a comprehensive guide to remind you what to consider when purchasing your first electric guitar. If this model isn't quite what you're looking for, we've got DIY guitar kits, pocket guitars and traveler guitar reviews.
Among the first things that you need to consider are the parts of your guitar. What are the building blocks that make up a guitar? Each part plays a role, and the functions come together to produce the exciting sounds we know and love. If you're serious about buying an electric guitar and learning to play, you need to learn the components of a great guitar. For reviews of other excellent guitar brands such as the parlor and seagull, you may view our top list of best electric guitars available today.
Body Type
Before going into the actual components, let's talk about the three guitar body types or styles: the hollow body, semi-hollow body, and solid body. From their names alone, you can guess how they differ, but for the sake of clarity, we'll discuss them a bit more.
The difference in the body styles lies in the way they are constructed and the level of resonance they produce. If you want to play softer genres of music, like country, jazz, blues, and pop, then you want to opt for hollow or semi-hollow guitars, which produce more resonance for a fuller, richer sound.
If you're more interested in playing fast or heavier music, like rock, metal, and punk, then the solid body is the way to go. Solid-body type guitars have more sustain and provide louder sounds for heavier music. Moreover, the solid body reduces resonance, doing away with feedback issues that would otherwise affect hollow-bodied guitars at extreme volumes.
In our honest opinion, the solid body is the best way for beginners to go. They are a lot easier to handle, and you don't have to deal with feedback. As this is a beginner's guide, we will focus primarily on stable builds throughout the manual. Want to see more guitar options? Here are our thoughts about blues acoustic guitar.
Guitar Shape
Ever heard a friend call someone an "ax shredder" or "I'll shred it on my ax"? These often refer to people who massacre with music on their guitar (ax). We mention this because electric guitars can look like axes in shape. Solid-body guitars allow guitar manufacturers to design any form they want.
As a beginner, you'll also want to choose an electric guitar with at least a single cutaway. Cutaways give you easier access to the upper frets of the guitar, and manufacturers like Les Paul have superb guitars with this body shape. You can also opt for double-cutaway shapes if you want to go all out. If you truly want to steal the stage, opt for the Z, or V-shaped guitars, such as the Gibson Flying V or the Jackson JS series.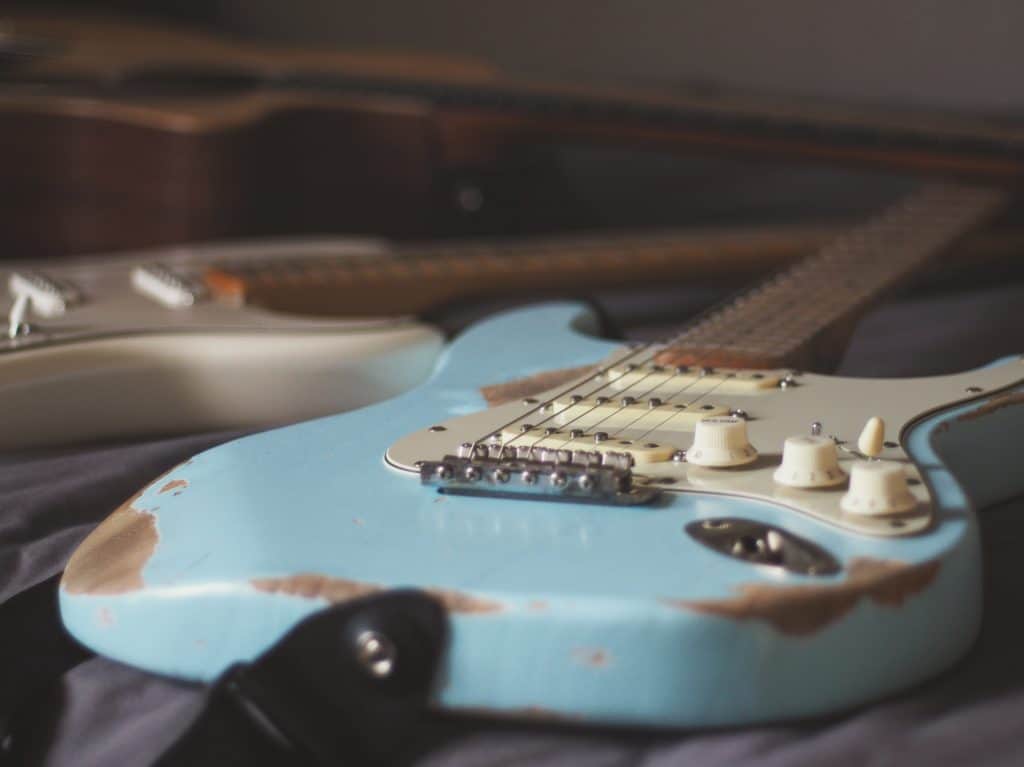 Wood Type
The type of wood isn't something that you need to concern yourself with your first electric guitar, really. If you're looking to buy something you want to stick with for a long time, however, you should consider the type of wood from which your instrument is made.
The type of wood that makes up the body of your guitar affects the sustain and the tone that it can produce. Some wood produces warmer sounds, others brighter ones, and others fall in the middle ground to provide a well-balanced sound.
If you're on a budget, you may not have a choice about wood type. If, however, you have the means to get a quality electric guitar made with a particular kind of wood, then, by all means, go for it.
Single Coil or Humbucker Pickup?
Two types of pickups are used in electric guitars, and they have a significant impact on the tone you can produce. These are the single-coil and the humbucker pickups. While explaining how pickups work is quite technical, and a little lengthy for a beginner's guide like this, you can get the details here.
When bands started getting louder and evolved enough that the guitar became the lead instrument, guitar pickups became necessary for guitarists to get heard amid the mix of other instruments in the band. While amplifying the sound of the guitar, single-coil pickups have one flaw: They act like small antennas and end up receiving electromagnetic interference in the form of a hum. With guitarists pushing the envelope of music, maximizing their volume, the buzzes and hums increased. Thus, the humbucking pickup was born.
So, which one of the two pickups should you choose? If you're looking for brighter, sparkly tones, go for the single-coil pickup; they work exceptionally well for lead guitarists. On the other hand, if you're looking to make fuller sounds, particularly in rock and metal genres, then the humbucker is a clear choice.
Note that choosing one over the other doesn't mean that you'll be limiting the genres of music that you can play. You can still play country with a humbucking pickup, just the same as you can play punk rock with a single-coil.
If you've read through the reviews above, you'll notice that most electric guitars come with at least two or three pickups. These models will come with a pickup selector so that you can speedily change your option.
Guitar Neck
Guitar necks also come in different wood types, but the most common are maple and mahogany. The fretboard can be made from different wood, as well, with fretboards constructed from rosewood, ebony, or maple.
The type of neck wood really won't affect your guitar choice much, compared to the body wood. Choosing the right guitar neck comes down to it being smooth and you being comfortable playing with it. There are a variety of neck styles and profiles available today, including the standard C-shaped neck, or the U-shaped neck, which facilitates a faster playing style.
In the end, selecting a guitar neck style comes down to preference and your playing style. If you have a specific guitar in mind, try it out at your local music local store to make sure you're entirely comfortable with it.
Frets
The frets are the little, thin metal bars that run down the neck of your guitar. If you've played an acoustic guitar, you'll know they separate the notes and allow you to play different notes and chords with your guitar. Most guitars come with 22 frets. You will, however, find guitars – especially those built for heavy metal or rock, that have 24 frets so you can to reach the higher notes typical of these genres.
Bridge
The bridge is the bottom part of the guitar; it's where all the strings are attached. There are several types of guitar bridges, but the most common ones are the tremolo bridge and the fixed bridge.
A fixed bridge provides excellent sustain and tuning stability, meaning a guitar with this bridge requires less tuning than a tremolo. One of the significant drawbacks of the fixed bridge is that it lacks vibrato.
If you like experimenting with effects, such as vibrato, or if you want to quickly lower the pitch of a note through a dive bomb, the tremolo bridge is a clear choice. If you're looking to experiment and create some unique sounds as a band's lead guitarist, you'll sound fantastic with his bridge type. Note, however, that the drawback of a tremolo bridge is that you'll need to tune it quite often.
Having read the guide, you should now be more familiar with the parts of a guitar and have a better understanding of what to look when you're shopping for your first electric guitar.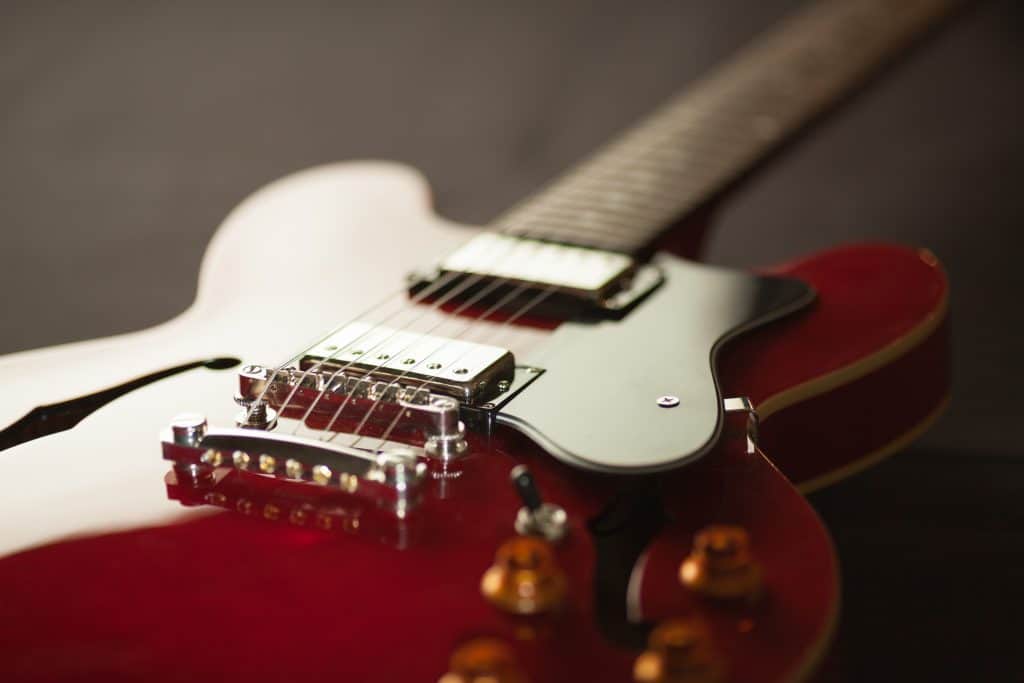 Frequently Asked Questions
If you're still confused about which guitar to choose, we'll answer two of the most frequently asked questions by beginner guitarists to try to answer your lingering questions.
I haven't played guitar before. Is the electric guitar easier to learn than an acoustic guitar?
You might think this is a fairly obvious question since electric guitars come with electronics and additional hardware that aren't on there more simplistic acoustic cousins. In reality, though, the answer comes down to your personal preferences.
Most people opt to learn on acoustic guitar, but objectively, the electric guitar is more comfortable to learn with than an acoustic one. The strings of an electric guitar are softer, and the necks are wider, which means it is more comfortable to hold down the cords, and the strings are easier on your fingertips while you're developing calluses. If you plan to do some hardcore training on your guitar, the electric variety is the safer bet because you can train longer without fatiguing your fingers.
What price range should I look at for my beginner guitar?
What you spend depends on your budget, as there are a lot of guitars that can suit a beginner. For example, if you have the means, you can buy an expensive electric guitar with all the bells and whistles. Think of it as learning how to drive on a Bugatti or a Lamborghini.
If you're on a tight budget, you can choose from some stupendous beginner guitars under $2000. We gave several examples in these reviews, even including options from reputable brands like Epiphone. The great thing about globalization and competition is that manufacturers have had to up their game. Competition continues to intensify, so you can increasingly get high-quality guitars low cost.
If you dream of making it to the big stage or recording music in a studio, you may want to invest several hundred dollars more into a guitar that sounds epic, feels good, and plays beautifully in your hands. We offered some future-proof options as well, so some options can take you from beginner to advanced with a single guitar.
Final Thoughts
There you have it, our comprehensive review of the top eleven electric guitars for beginners. We've given you budget-friendly options and higher-end ones, per your budget. Hopefully, you'll be able to find your choice for your first guitar on our list or via our buying guide. If you feel you're more of an advanced player, check out this intermediate level guitar guide. If you are an advanced player and this is not what you are looking for, we've got awesome resonator guitar reviews for you to check out.
If you forgot through all that word count, our top choice was the Fender Modern Player Telecaster Thinline Deluxe. Of all the models we looked at, we feel this one is the most likely to please a range of player styles and preferences.
Our budget choice was the Epiphone Les Paul Special II; an affordable option from a very well known name that even comes in a one-and-done bundle to suit your needs.
Want to see more guitar options? Here are our thoughts about the classical and bass guitar.