Acoustic guitars are undoubtedly very personal instruments. The flood of warm tunes you hear while playing is one of its enduring appeals—but what if you want to share that with more people other than yourself?
You need a way to boost the volume of your acoustic guitar while maintaining its sound fidelity. This is the job of the best acoustic guitar pickup. Buying one can seem like you're purchasing a mystical object, though. There are lots of mysterious specs and confusing features that make it harder to pick.
Fret not! We're shedding some light with our best acoustic guitar pickup reviews. Our goal is to get you to pick the best one for your needs and start sharing all that wonderful acoustic goodness.
Our Top Pick
The LR Baggs Anthem Tru-Mic gets our vote for its accurate sound reproduction, level of control, and feedback reduction.
Last update on 2023-11-16 / Affiliate links / Images from Amazon Product Advertising API
Best Bass Guitar Reviews
The LR Baggs iBeam Active System is a non-invasive transducer pickup that mimics the quality of a cardioid microphone.
Key Features
Transducer type pickup
Volume controls
Adhesive installation to your guitar's bridge
All-discrete Class A preamp
What We Like
The great thing about the iBeam is that it's easy to install and won't require any drillings. You peel the adhesive and stick it to your guitar's bridge plate. This non-invasive installation means you keep the look of your guitar. Removing it easy as well, if you decide to use another pickup option down the line.
The sound output is excellent. It was capable of reproducing the warm and rich tones of our Taylor 514. In our opinion, even better! The sound quality was overall clean and bright, with just a slight "booming" noise.
What We Didn't Like
There are some custom-made guitars that this won't fit into. Some might need minor modifications at best.
Pros
Easy to install
Non-invasive installation requires no destructive mods on your guitar
Clear, accurate sound reproduction with vibrant and lively tones
Affordable price
Cons
Not compatible with some guitars.
Has a slight "boom" sound
The LR Baggs iBeam is a top-notch pickup that accurately reproduces sound with sacrificing your guitar's aesthetics. The value for money is also there, making it the best acoustic guitar pickup for those on a budget.
Overall Rating: 4.8 / 5
The K&K Pure Mini Acoustic Pickup is a three-headed transducer that makes for some vibrant sound pickups.
Key Features
Three-transducer setup
Includes ¼-inch endpin jack
Passive operation with no batteries required
What We Like
The K&K Pure Mini Acoustic looks simple enough: just three heads and an output jack, but once installed, we were in for a surprise.
The sound boost from this transducer is phenomenal. The acoustic tone is very robust and rich, and you can hear every nuance and character from the guitar. Warmth and clarity are undeniably there. The three-head transducers do an excellent job of picking up a wide variety of frequencies from each string.
The volume output is pretty substantial as well, more than most pickup systems we've tried. It's enough that you won't miss the lack of volume control. Feedback is also a bit more subdued with the K&K compared to other similarly classed transducers.
What We Didn't Like
The K&K is pretty tricky to install. We recommend investing some time and cash on getting a luthier to do this for you.
Pros
Accurate sound reproduction with warm and bright tones
The robust sound output allows for precise amplification
Price is good for the value you get
Cons
Overall, the K&K is an excellent choice for an acoustic pickup. Its three-head transducers do a perfect job at picking up the subtle nuances and warmth of an acoustic guitar.
Overall Rating: 4.7 / 5
The LR Baggs Anthem Tru-Mic delivers excellent sounds with a microphone and pickup combo.
Key Features
TRU-MIC noise-canceling microphone
ELEMENT Pickup
Mix control for mic and pickup settings
No-cut preamp control unit
Phase Inversion for minimizing feedback
Volume and Mic Controls
What We Like
Dollar for dollar, the LR Baggs Tru-Mic delivers the best sound quality of any pickup we've ever tried. This is thanks in part to its unique approach: a combination of a noise-canceling microphone and an actual pickup.
Adding to that uniqueness is that the microphone takes center stage. The pickup is there to add some nuance to the sound, resulting in sound reproduction that is stunningly accurate and dynamic. The sound is full and rich, with every subtle character finding its way into your ears. Feedback is also almost non-existent, breaking only at really high-volume levels.
The LR Baggs Tru-Mic also gives you robust controls to fine-tune the pickup/microphone sound mix. They're also easily accessible, making adjustments on the fly a breeze.
What We Didn't Like
The one major drawback of this is the price. The LR Baggs Tru-Mic easily costs twice or even thrice that of other decent pickups on the market.
Pros
Amazing sound reproduction
Full control over microphone/pickup sound mix
Feedback is almost non-existent with normal volume levels
Cons
For incredible sound quality, the LR Baggs Anthem Tru-Mic is hard to beat. Its full acoustic tone with lots of nuances is as accurate as you can get. Its only problem is its high price tag. It's nevertheless the best acoustic guitar pickup you can ever get.
Overall Rating: 4.9 / 5
The Fishman Rare Earth Humbucker is an excellent middle ground between sound quality and affordability.
Key Features
Neodymium magnets for warmer tones
Volume control wheels
Two 1.5-volt silver oxide or one 3-volt lithium battery
What We Like
The Rare Earth Humbucker is all about warm and natural acoustic tones. In this regard, it does a great job of reproducing precisely that. It sounds like playing an actual acoustic guitar amplified at higher volumes. There are no electric tones that are prevalent with most humbuckers.
The Humbucker is an excellent option for fingerpicking play styles. The Neodymium magnets can accurately capture those string vibrations, producing warm and balanced tones. This is especially true with capturing the low E string, which other pickups tend to handle poorly.
What We Didn't Like
This is a little more visible than other pickups. A minor issue at best.
Pros
Reproduces the warm, natural sounds of an acoustic guitar
Handy volume control that's easily accessible
Premium pickup at a friendlier price
Cons
Not as subtle as other pickups
The Fishman Rare Earth Humbucker accurately recreates the warm, natural sounds of an acoustic guitar. Overall, this is an excellent pick for amateur giggers, who're looking for a fantastic, reliable pickup at a more affordable price.
Overall Rating: 4.6 / 5
The Fishman Matrix Infinity is a versatile under-saddle pickup with robust controls built-in
Key Features
Narrow 2.3 mm format
Active endpin-mounted preamp
Soundhole mounted volume and tone rotary controls
Tone controls cuts mids and boosts treble and bass
384 hours of battery life with LED low battery indicator
What We Like
The Fishman Matrix produces sounds that are amazingly clear and natural, with a minimal piezo quack. It's certainly decent enough for the price range, but if it's not as robust as you would like, the onboard tone controls will come to your rescue.
These allow you to make some EQ adjustments that boosts mid-tones in one end and treble/bass in the other. It's very simplistic, but effective enough in most cases.
The tone boost is strong enough to cut through other noises in a band, with decent feedback reduction. The battery life at 384 hours is substantial and will last you quite some time before the need for replacement.
What We Didn't Like
This is a pickup that might require a professional to install correctly.
Pros
Robust tone controls allow you to fine-tune your output
Long battery life makes operation very efficient
LED low battery indicator lets you know when you need to replace it, avoiding nasty surprises
Cons
Overall, the Fishman Matrix is a great pickup to get at a sensible price range. It has good sound quality with even better tone control capabilities. A good pick for starting guitarists looking to get their first gig.
Overall Rating 4.5 / 5
The Fishman Neo D Single Coil Pickup is one of the lowest-priced offerings from the famed pickup brand.
Key Features
Low-profile, high-impedance design requires no battery
Single coil pickup
Neodymium magnets
Easy installation with no modifications needed
Fits in soundholes as small as 98.5 mm
What We Like
The best and most apparent pro about the Neo D is the price. At less than $40, you get access to the Neodymium magnets used in the Neo D's higher-priced brother, the Rare Earth Humbucker. It's the same warm, natural acoustic sound with exceptional clarity and nuance.
This is also easier to install, and best of all, needs no battery. To get a better sound output, it might be worth it to run it through a preamp.
What We Didn't Like
Being a single-coil pickup, noise is a definite problem here. You might need to pair it up with an effects processor capable of suppressing all that noise.
The permanently attached cable can also get annoying at times, especially during storage. It's also visible as the cord goes through the front of the guitar and can be visually unpleasant for some.
Pros
Reproduces warm, acoustic tones with decent accuracy
Very cheap
Easy to install
Cons
Noise can be a problem
Permanently attached cable can be a nuisance
Despite the noise and cable flaws, the Fishman Neo D Single Coil Pickup is still a fantastic buy. For the beginner guitarist who wants an amp boost, this is a top choice.
Overall Rating: 4.2 / 5
The DiMarzio Virtual Acoustic DP136 is an affordable and mod-free passive pickup
Key Features
Noiseless design that removes 60-cycle hum
Magnetic acoustic passive pickup
Completely removable
Volume control included
What We Like
The best feature of the DP136 is in the ease of installation. It has mounting brackets with foam lining that snugly fits into your guitar's soundhole. Since it's not permanently attached, removal is a cinch as well.
The sound quality is decent for the price. It tends to be bright, with more emphasis on the mids and trebles more than the base. This pickup is well suited in a band setup, especially when paired with a more robust bass guitar.
The addition of a compensated volume control, however, is a notable feature. This addition allows you to reduce down your volume without any loss in tone.
What We Didn't Like
The sound quality isn't that up to par, even at the price range
Pros
Very accessible price
Compensated volume control minimizes tone loss
Bright tone output makes it suited to band setups
Easy to install and remove
Cons
Sound quality not up to par
For the price, the DiMarzio DP136 is still a steal. The slightly lower sound quality is made up for with ease of installation and a brighter tone output. Overall, still a decent pick.
Overall Rating: 4.1 / 5
Acoustic Guitar Pickup Buying Guide
What Is an Acoustic Pickup and Why Do You Need It?
When you want to amplify your guitar's sound, you have two main options. First, you can opt for an external microphone to capture your guitar's sounds. This is definitely easier to set up and can be cheaper. Microphones are also the most accurate way of reproducing your guitar's sound – if done right.
The problem is that it can record even the slightest background noise in a room. It's also prone to the unevenness of sound when you move around.
In many cases, acoustic pickups are a better option. These are usually mounted close to the guitar strings. This proximity allows it to isolate the sounds of your guitars better even when you move around. The volume is more apparent and louder, with much less feedback.
With that said, microphones do have their place. They are more suited for studio recordings where conditions are more controlled. But for gigs and live performances, pickups are superior
What's the Right Type of Pickup for You?
When shopping around for pickups, you'll most likely encounter three different primary types.
Magnetic pickups
Magnetic pickups are often the most straightforward type and are mounted just underneath the strings near the soundhole. When your strum on the strings, the pickup's magnetic field senses this vibration. This disturbance is in the form of an electrical signal, which is sent directly to the amps or speakers.
Magnetic pickups are less prone to feedback, making them perfect for higher volumes. They generally produce a distinctly warm tone similar to that of an electric guitar and can either be active or passive.
Passive pickups are the simplest to make and are, therefore, one of the cheapest. Their advantage is that they can be used even without electricity. The drawback, however, is that they are fundamental and straightforward. You most likely need to make some EQ adjustments to achieve the most optimal sound possible.
Active pickups have their own power supply and use this to boost the sound signal significantly. They are easier to use and sound great with minimal tinkering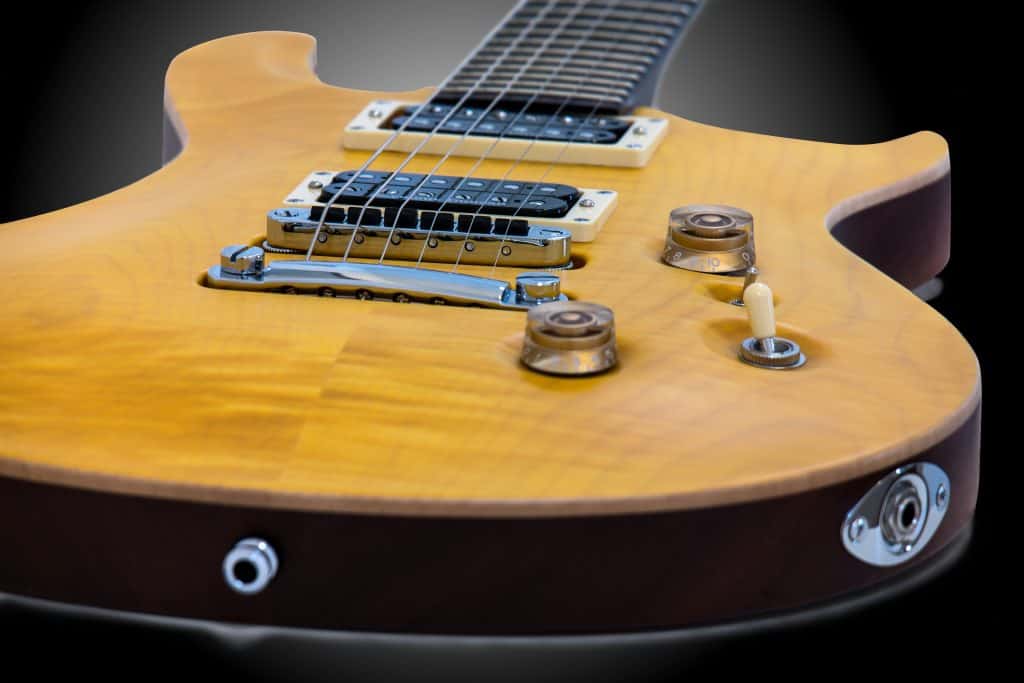 Under saddle transducer (UST)
UST Pickups utilize a piezo crystal strip instead of a magnetic field to convert a guitar's sound into electrical signals. They are located underneath the guitar's bridge saddle, so they are out of view.
USTs are one of the most popular types of acoustic pickups. They offer a balanced audible tone that's able to cut through multiple instruments in a band set up. USTs are also quite resistant to feedback.
Their biggest drawback, however, is that they can't accurately capture string vibrations like magnetic pickups. This lack of nuance and character in the sound can lead to a flat, somewhat unnatural sound. This is most often referred to as the "piezo quack."
Microphone-based Pickups
These types of pickups squeeze a capsule-sized microphone into your guitar. They capture more than just the sound of your strings. The subtle character, overtones, and nuances are all there. This makes microphone-based pickups one of the most accurate and faithful reproductions of your guitar's sound.
Their main disadvantage is the amount of feedback they introduce, especially when played live. The sound quality is also not as good as that of an external microphone.
Final Thoughts
As you saw in our best acoustic guitar pickup reviews, picking one isn't that hard. It's simple so long as you know what your needs and budget are. If you still can't choose, you can't go wrong with our top choice – the LR Baggs Anthem Tru-Mic
The Tru-Mic gives one of the most accurate sound reproductions we've ever seen in a guitar pickup. The feedback is masterfully eliminated, even when blasting at high volumes. On top of that, the level of control it gives is truly top-notch.
This makes the Tru-Mic the reigning champ in our best acoustic guitar pickup review roundup!