Being a passionate musician, I love bringing my guitar along with me everywhere I go, but the last time I did, I instantly regretted it. Some poor handling on the part of the airport crew permanently damaged my guitar—and that was a limited edition Les Paul. Ouch!
Since then, I've been shopping around for the best ¾ guitar I can take with me while on the road. A guitar that's portable enough to bring without being too delicate, one that won't reduce me into a crying mess should anything happen to it.
After conducting extensive research, here are my findings.
Our Top Pick
For the top traveler guitar, look no further than the Cordoba Mini M. It's a portable guitar that still manages to sound and feel just like a full-sized one.
Last update on 2023-08-27 / Affiliate links / Images from Amazon Product Advertising API
Best Travel Guitar Reviews
The Yamaha SLG200S is the perfect practice guitar for someone one the move.
Key Features
Collapsible rosewood and maple wood frame
SRT Pickup System reproduces natural acoustic tones
Studio-quality onboard effects
Slim body for superior playability
SLG200s strings that are 80% quieter than an acoustic guitar
What We Like
Right out the gate, I took a liking to the unique body of the SLG200s. Unlike the smaller frame of most travel guitars, I think Yamaha did the smart thing.
They kept the full-sized body, but instead made it "hollow." This makes holding it feel familiar yet light. It plays like any standard Yamaha guitar. The neck itself is standard sized and comfortable as well. The collapsible top part makes it easy to store away in a gig bag that fits in your standard airplane overhead compartment.
The best part of the SLG200s is that it's completely silent. It produces minimal sound coming from strumming the string by themselves. Plugged into a headphone, however, and you get a warm sounding acoustic tone that sounds convincingly like the real thing.
What We Didn't Like
The hollow body look might not be for everyone. It's also relatively expensive compared to other similar acoustic travel guitars.
Pros
The collapsible body makes it ultra-portable
The hollow body makes it light yet standard sized for guitar players
Completely silent operation makes it perfect for practicing
Cons
The unique look will get you strange looks
A bit expensive vs. other acoustic-electric travel guitars
The Yamaha SLG200s is the ideal travel guitar with excellent sound quality and a full-sized frame. For practicing on the go or even at home, this is the best guitar you can buy.
Overall Rating: 4.6 / 5
The Martin Steel String Backpacker is a slim, portable acoustic travel guitar that's an absolute beauty to behold.
Key Features
Spruce solid wood top
24-inch scale length
Mahogany wood neck with 15 frets
What We Like
In our opinion, the Martin Steel String is one of the sexiest travel guitars we've ever laid our eyes on. We love the unique fan-shaped design and those lovely contours. The 15 frets are more than enough for playing on the go.
Handling wise, it's very light. At just a little over 5 pounds, you can effortlessly strum with this guitar. You can easily reach the higher frets and play at a quicker pace. Despite the small body, the sound produced by this guitar is pretty substantial.
What We Didn't Like
The slim body means you have not much room to rest your pinky finger when strumming, which can get uncomfortable at times.
Pros
Great looking slim body with sexy contours
Small and lightweight makes it super portable
Good sound output despite the size
Cons
Not enough room for comfortable strumming
Only two dot inlays on the fretboard
The Martin Steel String is a great looking travel acoustic guitar. But hiding behind that slim body is an instrument capable of producing loud, high-quality tones.
Overall Rating: 4.7 / 5
Cordoba Mini M – Best Acoustic Travel Guitar
The Cordoba Mini M is one of the most popular travel guitars, offering full-sized features at an affordable price.
Key Features
Spruce solid wood top
Mahogany body
Full 24-inch scale
Full-width, rosewood fretboard
What We Like
For one, the Cordoba Mini M is one of the most affordable travel guitars you'll ever find. That and a compact 24-inch frame makes it one of the more feasible guitars to take out on the road.
The best advantage of the Cordoba Mini M is arguably its full-width fretboard. This feature allows you to effectively play just like you would a regular-sized guitar without feeling cramped. It's comfortable, and there's no adjustment needed on your part.
The smaller body for me strikes the perfect balance of compactness and comfort. It has a large enough surface area to allow for a comfortable hand position while strumming. It has that classic guitar look that's instantly recognizable.
Looking at it, we thought it would have the sound of a ukulele. Imagine the surprise you'll get getting a legit acoustic guitar sound instead.
What We Didn't Like
The guitar tends to be heavier on the head/neck portion; some positioning adjustment might be necessary.
Pros
Legit acoustic guitar look with an impressive finish
Sounds exactly like a full-sized acoustic guitar
Full-width fretboard allows for comfortable play
Amazing price
Cons
Slightly unbalanced towards the head/neck
The Cordoba Mini M is one of the best ¾ guitars you can get. It sounds and plays like how a full-sized acoustic guitar should, at an affordable price.
Overall Rating: 4.8 / 5
The Traveler Guitar Ultra-Light is one of the most compact travel guitars on the market.
Key Features
One-piece maple wood body and neck
Full 24.75-inch scale width
Features 22 frets with a full-sized neck
A dual Rail humbucker pickup
What We Like
The Traveler Guitar Ultra-Light is the feel of a full-sized guitar in a compact size. It's like taking only the playable parts of the guitar body and neck, then cutting out all the rest. The guitar is surprisingly lean, and it's still amazing to me how they managed to do that.
Being a hybrid, it allows an acoustic guitar player the option of plugging in headphones for silent playing. The sound is noticeably softer here than an acoustic guitar when unplugged.
What We Didn't Like
For one, it can be quite uncomfortable to play. The lack of a body means your hands have nothing to rest against while playing. It's also too soft when played alone – you need to have this plugged in to get the full effect.
Pros
Unbelievably slim body makes it very light and easy to handle
You get the sounds of an acoustic with the silent operation of an electric
Very portable and easily fits into a small luggage
Cons
Can be hard to play due to lack of a body
Too soft when played acoustically
The Traveler Guitar Ultra-Light is an undeniably travel-friendly guitar. Its compact frame is excellent, but you need to get used to it first to tap into its full potential.
Overall Rating: 4.3 / 5
The Washburn RO10 Rover is an acoustic travel guitar that's perfectly sized.
Key Features
Spruce wood solid top
Mahogany back and sides
Rosewood neck and fretboard
Full 24-inch scale
Deluxe gig bag included
What We Like
In our opinion, the Washburn RO10 Rover is a perfectly sized travel guitar. It's somewhere in between the Cordoba Mini M and the Martin Steel String Backpacker. It's small enough to be portable yet gives some surface area for my hand to rest while strumming.
The construction itself is excellent, and the woodwork is commendable. The sound quality is "smaller" than that of some of the other travel guitars here. It's larger than a ukulele but slightly smaller than of a full guitar. Some might find it a drawback, but personally, it has its charm. Besides, the tonal quality is excellent.
What We Didn't Like
The guitar feels slightly unbalanced, a minor issue.
Pros
Just the right size makes it easy to handle and play, while still being portable
Impressive finish and woodwork make it visually pleasing
Good tonal quality and sound output
Cons
Not full-sounding compared to other travel guitars
Slightly unbalanced towards the neck
For the most balanced travel guitar, the Washburn RO10 Rover is your best bet. It's easy to play and handle, making it perfect for campfire sessions or couch practice.
Overall Rating: 4.5 / 5
The Traveler Guitar PRO MOD X Pro-Series Hybrid Acoustic-Electric is a high-end hybrid of electric and acoustic travel guitars.
Key Features
One-piece maple wood body and neck
Full 24.75-inch scale
Detachable lap and armrest
Hybrid electric Humbucker and acoustic Piezo pickups
What We Like
This hybrid traveler guitar is the perfect marriage of an acoustic and an electric guitar. More so that it's in a travel-sized frame. The pickup system in this guitar allows for some incredible tonal diversity and range. The electric pickup can be switched between humbucker and single-coil tone. The acoustic pickup, on the other hand, allows you to switch between piezo and magnetic.
Compared to its little brother, the Ultra-light, this is more ergonomically designed. The removable lap and armrest give you the option of having more support while playing, especially in a seated position.
What We Didn't Like
For the price point, the sound quality is not that round or full.
Pros
The added arm and lap rest makes for some comfortable playing
The dual pickup system adds some incredible tonal diversity and range to your performance
Compact size that's perfect for bringing anywhere
Cons
Sound quality not as robust
The Travel Guitar PRO MOD X Pro-Series is the ideal hybrid of acoustic sound and electric features. It has excellent handling, playability, and tonal diversity. If you're an acoustic guitar player and want the perfect travel guitar, you can play silently—this is it.
Overall Rating: 4.7 / 5
Traveler Guitar Buying Guide
Major Factors to Consider in a Travel Guitar
Size
The most significant consideration is the size. A full-sized electric guitar or acoustic guitar needs to be big to produce warm, resonant sounds. In fact, sound quality is directly proportional to the size of the guitar. The bigger the body, the better the sounds, all things being equal.
Travel guitars are more compact, so it's easier to lug around in your baggage. The sound quality is, of course, not as robust as a full-sized guitar, but if you're going to be using it to jam away while on a work trip or vacation, it's decent enough. If this model isn't quite what you're looking for why don't you check out blues guitar reviews.
We recommend getting the smallest size guitar that produces the best sound quality you're happy with.
Full-Sized Vs. ¾ Fretboards
For travel guitars, expect every part to reduce down in size. This, of course, can include the fretboard. We say "can" because this isn't always the case.
Some travel guitars still offer full-sized fretboards with a smaller body such as the portable pocket guitar. These guitars have the advantage of playing just like a regular guitar. It means you don't need to adjust your play style or hand technique. The downside is that these guitars tend to be larger to accommodate for the fretboard.
The most compact guitars feature a reduced-size fretboard, usually similar to a ¾ guitar. While convenient, it may take some adjustment on your part to play these properly.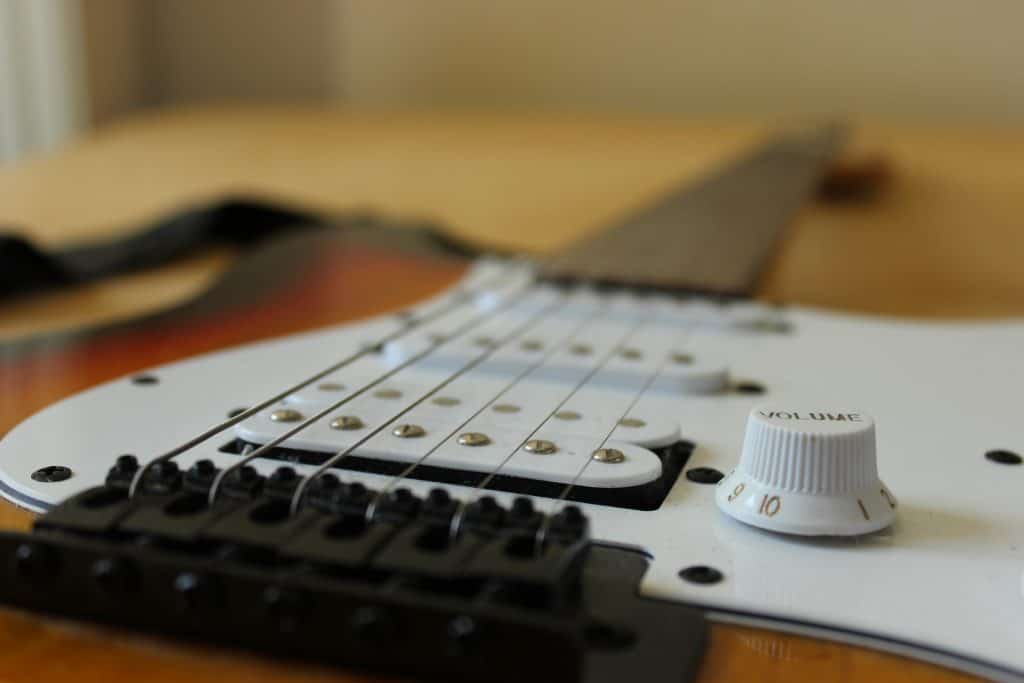 Acoustic vs. Electric
The most significant advantage of travel electric over acoustic guitars is size and volume. They allow you to play in complete silence, usually via a headphone jack in the guitar itself. This feature is ideal for playing in your hotel room or even on a plane.
For acoustic guitar players, we recommend getting an electric guitar with a piezo bridge. This produces a natural acoustic sound while still giving you the benefits of going electric.
Final Thoughts
Hopefully, we've narrowed down this list of traveler guitar reviews into a few that you're really digging, but if you want the cream of the crop, we'd highly recommend the Cordoba Mini M.
This is the best 3/4 guitar—it sounds just like a full-sized one. The fretboards are all full width, so no adjustments are needed on your part. It might not be the most compact, but it certainly is the most comfortable to play. The sound is full and warm like a full-sized guitar, and the excellent looking finish is just icing on the cake. Plus, the price point is amazing.