Where most people might not appreciate the hard work that goes into playing bass, you, a bassist understand the dedication and thought process it requires—but you also need a quality tried-and-true bass guitar by your side. Of course, that's not very straightforward since your set budget isn't the only thing you have to take into account.
You don't have a thing to worry about though, we've got you covered with our round-up of the best hand-picked bass guitar models. If you're a first-time buyer, I've also included a buying guide which will tell you everything you need to know to help you make the best purchase you can.
OUR TOP PICK
If you're tight on time, my top pick is the
Yamaha TRBX 304
. This model offers superior sound at a fair price and is likely to work well for most players.
Last update on 2023-11-11 / Affiliate links / Images from Amazon Product Advertising API
Best Bass Guitar Reviews
Although relatively recent, the TRBX series has been generally well-received. And this solid TRBX bass – even though it's a mid-range option — has earned a spot here based on its performance which rivals premium basses.
Key Features
M3 Pickups
Two-band EQ with a five-way selector switch
Mahogany construction
Five-piece maple and mahogany neck
What I like about this product
If you're looking for a truly no non-sense bass, one which strips itself of all gimmicks and is geared towards functionality and performance, this Yamaha should be on your shortlist. Same as the other basses in the TRBX family, this model sports a fascinating but plain design. It feels balanced and comfortable to hold and play.
While the hardware is basic and relatively straightforward, it is reliable, and any bassist can appreciate the importance of reliability when they're on stage or recording in a studio. The intonation is excellent, so this puppy will keep singing true for quite some time.
It impresses in the sound department too. The highs are clean and bright, and the lows are massive.
What I don't like about this product
There aren't any discernible flaws in this Yamaha. It does what it is supposed to, and it does it well. Although it could use an improvement in the presets department which leaves you wanting for more—but that's a nitpick, not an actual deal-breaker.
Pros
Balanced tones
Decent aesthetics
Budget-friendly
Excellent intonation
Cons
A basic design which you might not favor
Not enough presets
For a pocket-friendly model, this little guy exceeds expectations. It's a breeze to play, impressive to listen to, and gorgeous to look at. If your budget won't stretch beyond $500, this bass is one of the best you'll find in the market.
Overall Rating – 4.8/5
Sterling by Music Man is a subsidiary of Ernie Ball Music Man and is geared towards bringing entry-level budget guitars to the market. Their Sub Ray 4 is one of their most popular guitars which takes inspiration from Stingray Bass – a high-end guitar from brand's parent company.
Key Features
Basswood body
Maple neck
34-inch scale
Rosewood/maple fretboard
Sterling High output humbucker
What I like about this product
Not unlike most entry-level basses, this guitar makes use of basswood for its construction, paired with a maple neck and rosewood/maple fretboard. As you can probably tell, it doesn't attempt to reinvent the wheel, but it does what it does well.
It's comfortable to play, so it'll prove to be a valuable asset during those endless hours of practice.
What I don't like about this product
The finish quality is middling, and it's rough around the edges. That said, it still isn't a deal-breaker if you only care for performance.
Pros
Comfortable
Respectable construction
Cons
If appearance isn't your priority, or if you're strapped for cash, you probably won't find a sweeter deal in the market.
Overall Rating – 4.6/5
We'll kick things off with this masterpiece from Fender. You'd hardly be surprised to find a Fender on the top of this list. Their Stratocasters and Telecasters are iconic, and not just in the marketing sense of the word. Fender's Stratocasters are the industry standard of what an electric is supposed to be—and this Strat is no exception.
Key Features
Solid Alder body
Double cutaway
Glossy finish
Maple/Rosewood neck
Three fourth-gen noiseless pickups
What I like about this product
With this American Elite flagship model, Fender improved upon a near-perfect design by augmenting it with modern goodness. You can pick between a rosewood or maple fingerboards, each with 22 frets. Unlike the American Deluxe Range (which this series replaced), it features a different neck profile and deeper contours.
Just as you'd expect from a guitar in this price range, the performance is second to none. With its bright and light tones, this guitar sounds divine. It comes with 4th Gen Noiseless pickups from Fender which eliminate amp hum. True to its name, this guitar is flawless.
What I don't like about this product
It probably goes without saying that a high-end Fender doesn't have any noticeable flaws. However, there are a few nitpicks that I'd like to point out. The first is its contemporary aesthetics, which might not appeal to vintage enthusiasts.
Secondly, its price is north of $1,500, so your budget might not stretch to it, but if you can afford it, you won't find a better bass elsewhere.
Pros
Impeccable build quality
Better versatility than its predecessor
Gorgeous design
Cons
If you're dead set on owning a legend from Fender, you can't go wrong with this purchase.
Overall Rating – 4.9/5
You may not have heard this name before, but G&L was co-founded by Leo Fender. So, you can expect some top-quality guitars from them. Case in point, the G&L Tribute JB2.
Key Features
Swamp ash body construction
Rosewood fretboard
Natural glossy finish
What I like about this product
This solid bass isn't just pure quality; it's quality at an affordable price. For a price tag of less than $500, it is one of the finest guitars you can buy in this price bracket. You might find the design oddly similar to a Fender, but upon a closer look, you'll notice that it's missing the signature pickguard Fender is popular for.
Nevertheless, the tonewood choice is impressive – swamp ash for the body and hard maple for the neck coupled with a rosewood fingerboard (although, you can opt for the maple variant too). The wood is finished in elegant natural gloss — nothing to complain about here.
The pickups couldn't have been better. The tones are exceptional, and you can dial in a generous variety.
What I don't like about this product
I was hard-pressed to find any negative reviews about this guy, and that's very telling. The only downside I can think of is that some folks might not appreciate the natural finish or the unfinished neck.
Pros
Superior tonewood choice
Excellent electronics
Fantastic sound
Cons
The design choice might not appeal to everyone
This brand carries on what Fender envisioned and if you're on the hunt for a reliable, well-made guitar which surprises you with its performance, and even more so with its price, this model is for you.
Overall Rating – 4.9/5
The Standard P Bass is a no-nonsense Fender. It has been around for over seven decades (that's almost as long as the electric guitar itself), and it is still as popular as ever. So, what makes this model a classic?
Key Features
Alder body
Four-Saddle Vintage bridge
Open-gear tuners
Split single-coil pickup
Modern C-shaped neck profile
What I like about this product
The body is crafted from Alder, and the C-shaped maple neck features either a maple or a rosewood fingerboard. You can pick from three different finish options: White, Black, and Sunburst.
The single-coil pickup which this guitar ships with offers hum-cancellation and produces beefy and thick tones. It also features two controls for master volume and master tone. The pickups are low noise, which, in addition to preventing hum, also produce crisp and clear tones.
The construction is tried-and-tested and of top-notch quality. It's robust and will age well.
What I don't like about this product
The only reasonable complaint about this model is the lack of a preamp, so you'll have to rely on your amp for all your tone-shaping needs.
Pros
Crisp and clean tones
Immaculate build
Two-year manufacturer's warranty
Durable
Cons
If your budget can go as far, this particular Fender checks all the boxes. It's reliable, comfortable, and above all, is a treat to your ears.
Overall Rating – 4.7/5
Keeping the classic train going, we have the EB-3 from Epiphone. Launched back in 1959, this guitar became an instant hit thanks to its one-of-a-kind body shape. Over the decades, this model saw a lot of different changes, and today's version is a culmination of those improvements.
Key Features
Mahogany construction
34-inch scale
Cherry red finish
Slim D-profile neck
NYT Bass Mini-Humbuckers
Rosewood fingerboard
What I like about this product
This short-scale replicates what made the original so iconic, but there's a twist. Unlike the original, it won't cost you an arm and a leg. It's crafted from mahogany furnished in red cherry which gives it a rare but fresh look.
The bridge is well-built, the controls are vintage-style, coupled with elephant-ear tuners, it presents with an old-school look. Classy all the way! Looks aside, it impresses sonically too. The resonance is very generous, and the playability is superb. The tones are meaty and warm. The lows are rounded and pronounced.
It sounds great, looks great, and the asking price is more than fair.
What I don't like about this product
The strap button's position makes it awkward to handle when wore higher than the midriff, so if this guitar makes it into your shortlist, wear it low if you want it to work. Additionally, if you're more familiar with modern basses, playing this model could be a learning curve.
Pros
Classic design
Amazing hardware
Fat, beefy tones
Affordable
Cons
Awkward to handle when wore higher
To bottom line it for you, this beast is a quality instrument offered at a price that won't break your bank.
Overall Rating – 4.7/5
Squier's basses resemble Fenders closely because they seek to replicate classic Fender models, and they can do so because Squier is a subsidiary of Fender. Instead of mid-range or high-end basses that Fender is known for, though, Squier is geared towards entry-level players on a budget.
Key Features
Alder construction
Rosewood fretboard
Split single-coil precision pickup
C-shaped neck
What I like about this product
This Squier is one of the finest entry-level and budget-friendly models in the market owing to its fusion of performance with the great build quality—and you get a quality instrument for a price that won't cost you a small fortune. Good stuff!
It shares the same tonewood choice as more expensive members of the Fender family – Alder body with a maple profile neck. The tonewoods are finished in one of four attractive colors: Black, White, Race Red, and Metallic Red. You won't need to do a lot of tinkering to set it up just right.
The electronics are versatile, and the output is respectable. As far as entry-level basses go, this model is one of the better sounding ones.
What I don't like about this product
Although for the most part, this bass offers acceptable build quality, the bridge could be improved. Its quality is relatively poor, and you'd probably have to replace it after a while.
Pros
Mostly well-made
Good-looking
Decent intonation
Cons
If you're new to the world of basses, this Affinity will make a great first guitar – one that will inspire you to pick it up and play every day.
Overall Rating – 4.5/5
For those of you looking to upgrade to a six-string, this Ibanez would fit the bill. Or if you're a seasoned player and have been hearing about fanned frets and would like to experience what the fuss is all about, this guitar is for you.
Key Features
Ash body construction
Rosewood fingerboard
Fanned frets
Bartolini BH1 pickups
What I like about this product
You won't find a bass from Ibanez that's awkward to handle or isn't very playable, and this model is no different. Thanks to the fan-like placement of the frets, the guitar allows you to hit all the strings uniformly.
The tonewood choice is wonderful, and the finish is gorgeous. It features Ibanez's proprietary electronics which come with a passive pickup in addition to the active ones, on the off chance that you run out of battery while performing.
What I don't like about this product
Since it's a six-string model, it's not ideal for beginners. If you're just starting out with basses, I recommend that you stick to four-string entry-level options.
Pros
Impressive punch
Comfortable
A high degree of playability
Cons
This Ibanez blends playability, comfort, and sound to perfection. If that's something you see yourself admiring, you can't go wrong with this one.
Overall Rating – 4.7/5
For this round-up, I wanted to include a couple of pocket-friendly basses as well. Make no mistake, though. These guitars might be easier on your wallet, but they're heavy on quality all the same—and Rogue LX200B is a prime example.
Key Features
Double cutaway
Basswood body
Rosewood fretboard
Maple neck
Split-coil pickup
What I like about this product
Where most affordable basses fail is the design, and even though this model doesn't break fresh ground, it still manages to look decent enough, on top of sounding good with a reasonable degree of playability.
Another factor which plagues budget-friendly guitar is their iffy durability. This Rogue avoids that pitfall by only including quality tonewoods – especially for the neck. The tones are thick and beefy, while the pickups provide ample flexibility.
What I don't like about this product
Same as other inexpensive basses, this model is not without its flaws. The design choice seems rather lackluster and basic, and a few elements feel cheaply made. For example, the nut.
Pros
Reasonably priced
Decent tones
Affords flexibility
Cons
If you're shopping on the low-end of the market, you probably won't find a model that offers this much value for the price.
Overall Rating – 4.4/5
Bass Guitar Buying guide
To state the obvious, since every player's skill level and preferences are different, there's no one-size-fits-all bass. What fits you like a glove might not be the best bass guitar for somebody else. But you have nothing to worry about. This buying guide is meant to give you a basic idea of what you should be looking for when buying a bass for the first time.
So, which boxes does a bass needs to check before it can make it to your shortlist? First off, it should feel comfortable to play and easy to wear and wrap your arms around. It's important that it's not cumbersome or awkward to hold because that won't be conducive to hours of practice it'll take to master this discipline.
Secondly (but equally important), it should sound great. Or if you're on a tight budget, at least good enough that you wouldn't dread playing it. Lastly, it won't hurt if it looks good too. That way, you won't just be turning heads with what you're playing, but also with your gorgeous instrument. If this model isn't quite what you're looking for, we've got more guitar brands that can suit needs. Check out this post.
Budget
Your budget is the foremost factor you need to consider. We start off with entry-level guitars which should be in the $300-$500 bracket. These budget picks make excellent first guitars for beginners who are just trying to figure out if this disciple is for them. And evidently, if you're a beginner, it'd be impractical drop thousands of dollars on a high-end instrument. Even if you can afford premium basses, most 'starter' bass guitars are generally more playable.
If you're a seasoned player and can shell out a few extra hundred extra bucks, there are a good many mid-range instruments available on the market for more dedicated players. They feature better build quality, better hardware, and better electronics.
If you can afford more high-end options, such as Fender's Stratocaster, they'll easily last you a lifetime, and their build quality, sound, and components would be flawless.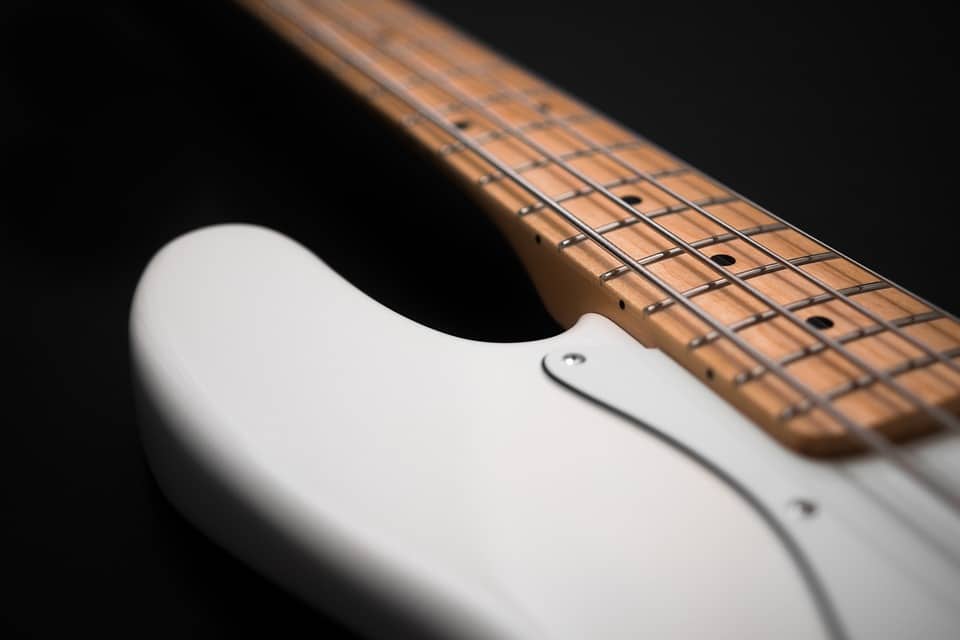 How many strings?
Most bass guitars you'll come across (and most of the basses in this post for that matter) would be four-string guitars. Not only are they easier to play, but you also don't need extensive experience to play them well.
If you're a veteran player, you can upgrade to five or six-stringed basses. Their necks are wider, and they offer better tonal range and flexibility—and it's not just a matter of flexibility or deeper range either, some genres and styles are better played with a certain number of strings. Take country music, for instance, which is better played with a five-string bass.
Ideal scale length?
Most commonly, you'll find basses with the standard scale length of 34 inches. The ones shorter than this are called short-scale and the ones longer than 34 inches are long-scale, but what is scale length? It's the length of the neck between the nut and the bridge.
Why is it important? You see, for players with smaller hands, it's challenging to handle the standard scale, so it makes sense for them to go for a short-scale bass. As for the long-scale basses, they're go-to for seasoned players who want to play five or six strings, since they contain more frets. They're also a fantastic option for players with larger hands.
Final thoughts
Now to wrap up this post and announce the top pick of this round-up. It wasn't easy to pick one since a lot of these entries are strong contenders for the title, but in the end, I decided to go with the G&L Tribute JB2. It mimics the functionality, build quality, and sound of more premium basses (the Fender American Elite, for instance) except the asking price isn't as steep.