As a guitarist, I had several false starts during my learning years. My biggest problem was choosing the right bass guitar. I spent hundreds of dollars on worthless guitars hoping they would make me a star of some sort. Guess what? I was wrong. I soon learned two lessons. One, practice makes a star, not a certain guitar, and two, that even a skilled player will sound poor on the wrong instrument for their style.
Fast forward, I have gained significant experience in guitar selection as I have sampled quite a number of them. So, I can tell you straight up what kind of bass guitars could work magic for you as a beginner.
In this review, I will reveal the best beginner bass guitars, and I hope you will now be able to make a firm decision.
OUR TOP PICK
If you're a little short on time, the
Yamaha TRBX174 Electric Bass
is my top pick in this category. It's a simple-to-play guitar with a double pickup feature that is suitable for Jazz and Funk music. It is beautifully designed and has a classic tone to it. I've reviewed it more in-depth first below for your convenience.
Last update on 2023-05-07 / Affiliate links / Images from Amazon Product Advertising API
The Best Bass Guitars for Beginners
The chrome colored TRBX174 also makes it into my list of the best bass guitars for beginners. It's yet another example of Yamaha's powerful string instruments known for their advanced designs, precise engineering, and longstanding craftsmanship.
Key Features
Nice cutaway
34-inch scale length
Vintage style bridge
Full 24 frets
Four strings
What I Like
With the TRBX174 you get everything you could want from a Yamaha bass guitar at a fantastic price. It also comes with 24 frets that contribute immensely to its sound. So, you can explore a range of sounds and get creative with your songs.
Made from solid Mahogany, the Yamaha TRBX174 Electric Bass is a tough beginner's guitar that can serve you and the succeeding crop of beginners for years to come. It can also hit all the high tones as it comes with a well-positioned cutaway, and it's easy to learn fast and handle when practicing or playing.
What I Don't Like
If you're a volume fanatic, you may not benefit by using this guitar as it's not an active pickup bass. The Yamaha TRBX174 lacks volume and can quickly fade out when louder instruments are playing in the background.
Pros
Solid mahogany construction
Glossy polyurethane finish
Fast action maple neck
P/J pickup arrangement
Comfortable body
Cons
Shallow pickup volume
Awful packaging
The Yamaha TRBX174 Electric Bass is a good beginner guitar for any learner who likes high tones but doesn't mind the low volume level. It comes with a comfortable body that supports progressive styling.
The GSR200 four-string is a sexy little bass with an Agathis body, and it offers a fantastic balance and feel for a pocket-friendly price. It's suitable for musical performances that require multiple pickups.
Key Features
Split-coil and single-coil pickup
Jatoba fretboard
Fully adjustable bridge
Active EQ with PHAT-II bass boost
Medium frets
One-piece maple neck
What I Like
The GSR200 has a nice cutaway that makes it easy for guitarists to access the upper frets for tonal variation. Using the dual P and J pickups, they can switch between sounds and even blend theirs in their Rock performances.
Shop around, and you'll realize this is one of the inexpensive guitars available to beginners. You won't have to save for years to buy the Ibanez GSR200 Electric Bass Guitar.
The GSR200 is a stylish guitar available in a variety of colors—you have the freedom to choose a color that suits you. This aspect might not affect playability, but it's a nice bonus.
What I Don't Like
Starting with its parts, some of them look flimsy and low-grade parts. The frets are also not only rough but jagged. You could injure your hand if you're not careful while playing, though you could also have them filed. The pickup isn't that great either.
Pros
Comfy one-piece maple neck
Sound quality is great
Versatile and inexpensive
Highly playable
Cons
Finicky tuning
Rough, jagged frets
Natural unfinished wood
The Ibanez GSR200 comes with a solid wooden body and a nice cutaway that makes it easy to explore a range of tones. It's suitable for learners who want to practice, and at the same time, explore the world of Rock n' Roll.
Overall Rating: 8.6/10
Yamaha makes its second entry into our review list of the best beginner bass guitars with its TRBX304 Electric Bass. A versatile bass guitar, this model is suitable for learners who are looking to explore multiple genres.
Key Features
Hum-canceling design
Double cutaway
Solid mahogany body
Vintage-style bridge
34-inch scale length
Maple neck
What I Like
The Yamaha TRBX304 Electric Bass comes in a variety of colors, so you can choose one that expresses your character and love for music. It's easy to adjust the tone of this guitar, too, and thanks to its double-cutaway feature, the TRBX304 bass guitar lets you play the treble-friendly tone or the bass-heavy tone.
This instrument also offers unmatched comfort when handling, which translates into better playability. What's more, is that it gives you the freedom to innovate and create different sounds.
What I Don't Like
Since the TRBX304 is only a four-string, it doesn't let you explore a range of tones. This can make your performances shallow and dull.
Pros
Fun to play
Comfortable to handle
Beautifully finished neck
Tuners work great
Good pick up
Cons
The Yamaha TRBX304 Electric Bass is a well-balanced bass guitar with solid electronics. It will benefit beginners who are looking for a super-durable yet easy to play guitar with mellow tunes.
Overall Rating: 8.4/10
Drawing much of its fame from notable pop bands such as The Beatles, the Epiphone EB-3 SG Bass is not a new entrant to the league of top bass guitars. This bass guitar has a distinct classical tone reminiscent of the iconic sounds and chart-topping music of the 1950s.
Key Features
Standard and mini-humbucker
Solid mahogany body
EB "SG" style bass
Vintage feel and look
Ebony, cherry colors
34-inch scale
What I Like
The crowning glory of this bass guitar is its playable neck that's also fast. It also comes with two innovative pickups. You can use the standard humbucker, which is the main pickup, or the mini-humbucker serves as the alternative pickup.
It's also a versatile guitar that comes with electrical set up structures that make it easy for beginners to adjust and play different tunes. Whether you are looking to play some Blues or Rock n' Roll, you will need just one guitar, the Epiphone EB-3 SG Bass.
The manufacturer has done a fantastic job with the exterior design, and the outcome is a classic 50s guitar look with an excellent sound to boot.
What I Don't Like
Though it's a good learning guitar, the EB-3 SG Bass has an uneven sound. The other thing is that it's not cheap. Its high price may scare away beginners who are either still learning or kick-starting their musical careers.
Pros
Solid mahogany body
Maple neck
Multiple pickups
Classic shape
Smooth, sweet sound
Cons
The Epiphone EB-3 SG Bass is a great classical tone guitar for anyone who's looking for a playable guitar with a good feel. However, beware of its weight distribution and heavy top.
Overall Rating: 8.3/10
If you're looking to add a full sounding bass guitar to your collection, the Ibanez AEB5E is a worthwhile addition. This round low-end guitar is suitable for beginners who want an acoustic-electric model that lets them practice on their own or perform in a band.
Key Features
Mahogany back and sides
32-inch scale
Four strings
Ibanez piezo pickup
Chrome diecast tuners
What I Like
The Ibanez AEB5E comes with a hollow department that produces a pure and natural sound. Its great mellow tunes can add a layer of warmth to any musical performance, and the action is great. In addition, it has no dead spots, and its frets don't create buzzing.
As a beginner, you also do not need to pair the Ibanez AEB5E with an amp to play it. You can use it to practice for as long as you like before getting on stage alone or with a band.
What I Don't Like
On the flip side, handling the Ibanez AEB5E can be a tricky affair as it is pretty thick. The other thing is that its scale is two-inch shorter than a typical bass. The acoustics are slightly quieter than other models too.
What I Don't Like
Expect some level of discomfort when handling the AEB5E as it is pretty thick. As a result, it may take a bit of time to get used to the thickness when playing a bit.
Pros
Natural acoustic sound
Rosewood bridge and fretboard
Comfortable feel
Amp-less practice
Suitable for recording
Cons
Requires regular tuning
Uncomfortable to handle
Whether amplified or not, the Ibanez AEB5E Acoustic-Electric Bass Guitar is ideal for beginners and performers looking for a playable bass guitar with low-end resonance. However, handling it can be tricky as it's quite heavy.
Overall Rating: 8.2/10
The Squier is a simple, classic guitar with a dual-pickup. It not only looks and feels great to handle, but it's easy to play too. You will enjoy its tonal versatility and get an exceptional sound while strumming it.
Key Features
Sleek precision bass form
21-fret rosewood fingerboard
Vintage-style bridge
Standard single-coil jazz
1-year warranty
What I Like
I love the exceptional tone and sonic power of this vintage-style bass guitar. It comes with a split-P single-coil in the neck and a J-style single-coil in the bridge. The advantage of this structure is that it gives you tonal variability. Also, the Squier Vintage Modified Precision Bass PJ comes with a nice cutaway that can hit high pitches with ease.
You have a 21-fret rosewood fingerboard that makes it easy for you to switch between tones. Use this guitar consistently, and you will be playing like a pro in no time.
What I Don't Like
This guitar's finish scratches easily, and that doesn't jive well with perfectionists like me. The other thing is that the pickup guard is prone to damage. Unless you are extra careful, it's going to cause you problems.
Pros
Comfortable to play
Tunes very well
Five-way pickup switch
Cons
Flimsy pickup guard
Loose screws
The Squier by Fender is a low-cost bass guitar that's easy to adjust and play. It allows you to explore a range of tones and offers impressive sound quality.
Overall Rating: 8.6/10
Deriving its acclaimed PJ abbreviation from the smooth jazz pickup of a Fender J and a Fender P split pickup, this is one of the most sought-after beginner bass guitars in the market. It was an easy choice for my top pick—that's for sure.
Key Features
Three-way toggle pickup switch
Hardtail four-saddle bridge
PJ pickup configuration
"C" shaped neck design
Short scale length (30-inch)
What I Like
You won't find another four-string bass guitar that's easy to play and packed with a soft tone that can match your sonic requirement like the Fender Mustang PJ Bass.
This short-scale bass guitar lets you exploit the revered P Bass and J Bass pickups in your Jazz and Funk music performances. Perhaps this explains why it's popular with bands around the world.
Fender Mustang PJ also has a stylish look and feel of a classical guitar as it is made with a fretboard and incorporates a maple neck design.
What I Don't Like
Compared to other bass guitars for beginners, this particular model is quite expensive, and as a result, may put off some buyers.
Pros
Feels good to play
Easy tuning and amplification
Good for practice
Sound quality is great
Appealing classic look
Cons
Shorter scale results in a reduced speaking length
Cutaways are not extensive
The Fender Mustang PJ Bass is a compact bass guitar that looks and sounds great. It's suitable for small-handed players who want a playable and visually-appealing bass guitar for their Jazz or Funk performances at an excellent price.
Overall Rating: 9.6/10
Goplus is a functional bass guitar that looks good and feels great to handle. You can use it for practice or regular performances. Tucked under your left arm, it will belt out beautiful tunes.
Key Features
Fashionable design
Better tone and feel
Chrome diecast tuners
Classical body style
Full set of accessories
What I Like
Goplus produces a deep and warm sound plus smooth tones that will add a layer of warmth to your performances. It has a solid wooden body and can stand years of rough handling without showing wear or falling apart. It's a looker, too, the surface is polished and smooth. Whether you choose black and blue or blue and white, you will love its aesthetics.
Since it comes with a beautiful set of accessories, you won't have to buy other items separately, either. Your package includes a carrier bag, shoulder strap, amp cord, and bass pick.
What I Don't Like
Having used this one for a while, I can tell you for certain it's not one of the most straightforward guitars to tune. You may need to get a pro to help you out the first few times.
Pros
Deep and warm sound
Comfortable touch feel
Easy to carry
Complete set of accessories
Cons
Hard to tune
Poorly packaged
If you're looking for an electric guitar with a stylish look and a deep warm sound to spruce up your performances, go for the GoPlus Electric Bass.
Overall Rating: 8.2/10
As a teacher-approved electric bass guitar, Davidson makes it easy for self-learning guitarists to practice and hone their skills on their own. It's comfortable to handle and comes with everything a beginner could want.
Key Features
Full-size 45-inch bass guitar
Contoured body
Includes amp case and strap
22 frets
What I Like
When you buy this guitar, you will get a full set of accessories that allow you to set up your guitar and start playing right away. Your package includes an amp and a cute carrier bag.
I know I have listed many guitar models in this review. However, none comes close to this model in terms of ease of learning. So, don't pass up the chance to get such a beautiful guitar that lets you practice at your pace.
I also love the high gloss blue finish of this guitar. You're sure to stand out from a crowd—or band—with this model.
What I Don't Like
Many players have complained of protruding frets on this particular guitar that have to be filed before use. A few people even managed to cut themselves playing.
Pros
Full-scale bass guitar
Durable diecast tuners
Good for self-learners
Bundle package
Cons
Protruding frets
Flimsy gig bag
The full-size Davidson guitar is suitable for self-taught bass guitarists who are looking for low-cost bass guitars with a nice bundle of accessories.
Overall Rating: 8.0/10
What to Consider Before Buying a Beginners' Bass Guitar
From the moment I started playing bass guitar, I thought I knew everything. These days, though, I realize there's always something left to learn about bass guitars—I can't teach you all the tricks. What I will do is share what I have learned that could help you make a firm buying decision. Follow the guidelines below, and you'll never go wrong in your selection of any bass guitar.
Accessories
Though it might not be high on the list of things to consider when shopping around for the best bass guitar for beginners, accessories remain a crucial aspect of buying a guitar. Their cost will vary from one vendor to another, but most commonly you will find vendors, including the carrier bag as well as cables you will need to use with your guitar.
Generous vendors will include an amplifier as part of the accessories that come with a guitar package. When shopping, consider what you have back home and then determine what else you need on top. The bottom line is, go for a guitar that includes all essential accessories.
Versatility
As a beginner, it will help if you try out different genres from time to time. This is going to help you learn more and at the same time get you grounded in a particular kind of music (as your skillset grows).
I strongly recommend that you get a versatile bass guitar, preferably one that will let you explore different music genres with much ease and eliminate the need to switch between guitars. This will save you money as you won't need to buy two guitars.
Ease of use
How easy was it for you to play the last guitar you bought? Keep that question at the back of your mind each time you go shopping for a bass guitar. Ideally, a good guitar should be easy to set up and use. Avoid any guitar that appears challenging to use. It's going to give you a headache and discourage you from learning and applying your knowledge.
Size
The size of the guitar is going to impact your level of comfort when handling it, and how well you are going to play it. If a guitar is too thick or too big, it will be hard to play. That's because you will focus on balancing the weight of the guitar instead of what you are playing. Additionally, if you're playing a heavy guitar that doesn't have a strap on it, you are more likely to drop and damage it.
Price
I always look at the price tag before I buy a guitar, and I encourage you to that as well. A good guitar should be right on the money, but still have a blend of features. Though you may not have enough cash to buy the guitar of our dreams, you can still get a decent and affordable guitar that does the job by comparing prices.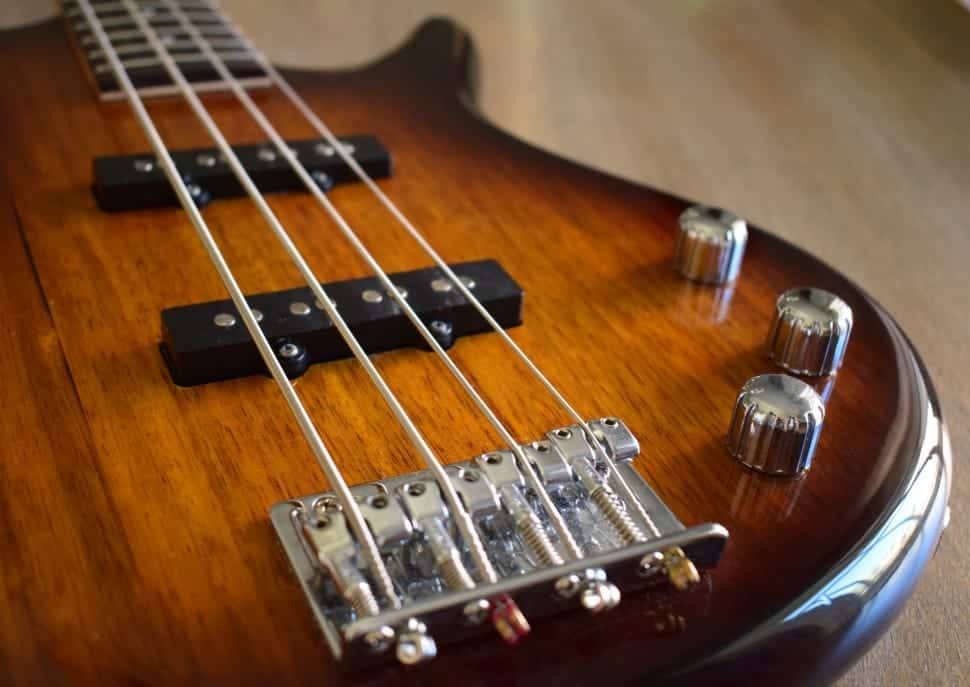 Differences between Acoustic Vs. Classical Guitars
As a beginner, the biggest dilemma you are likely to face is choosing between a classical guitar and an acoustic one. One thing that you should understand is these two are regarded as the same kind when compared against an electric guitar. Both acoustic and classical guitars do not require you to have an amp to play them. So, what are the main differences between an acoustic and classical guitar?
Size
By default, classical guitars are much smaller in size than their counterparts the acoustic guitars. You might find it challenging to handle and play the acoustic guitar because of its large size than the acoustic one.
Cutaway
It's pretty much a defining feature on acoustic guitars, and by extension, a distinguishing factor that even a newbie or anyone who hasn't played the guitar would be able to recognize. A cutaway has its own advantages when it comes to handling a guitar and also hitting some high notes. It enables you to explore more genres and at the same, gives you room to explore a range of sounds when playing your acoustic guitar.
String
One other notable difference between these two guitars is the type of strings used. Classical guitars have nylon strings (softer sounds and less resonation) whereas their counterparts use steel strings (resonate for longer). Acoustic guitars will suit the heavier genres while classical guitars the much softer styles.
Final Thoughts
As a beginner, choosing a bass guitar need not be a difficult task. This review has shown you some of the best bass guitars for beginners, and even proficient amateurs (no matter their skill set). Good as they all are, the Fender Mustang PJ Bass carries the day.
You are going to love its classic tone and its beautiful design. This masterpiece wins it for me because of its tonal variability and the ease with which I can play both Jazz and Funk music. Whether you're self-taught or learning under an instructor, you will enjoy every moment spend playing this fantastic guitar.
I will also throw in that a player's preference can weigh heavily on whether a bass is good or bad. There's a natural sort of bias in reviews like this as a result. You may find one of the other wonderful choices in this round-up work better for you. Either way, I hope this review has helped you find a perfect fit.