Jake, my childhood friend, just reached out to me a few weeks ago. He'd seen me perform a couple of times with a local band, and he wanted to know where he could find the best blues acoustic guitar.
The bad news, however, was that he'd already spent close to $3k on a couple of awful guitars. To save him from making any more misinformed purchases, I thought I should step in and help him out.
By the time I found the perfect guitar for Jake, I'd identified nine other guitars that stood out for different reasons. I felt inclined to share these so that even more people are aware of these phenomenal options. Before I do so, I think it's important to mention that you can pick up an acoustic guitar and make it work as a blues acoustic guitar. These recommendations, however, are streamlined to suit this style.
Read on and discover the best blues acoustic guitar and what to look for when shopping for yours.
Top Blues Acoustic Guitar
The Taylor 214ce DLX stood out from the crowd because of its sturdy build, which features Indian rosewood on its back and sides. Additionally, this guitar's patented neck provides you with a marvelous playing experience. The Taylor 214ce DLX is one of very few versatile acoustic guitars that'll deliver a remarkable sound.
Last update on 2023-10-19 / Affiliate links / Images from Amazon Product Advertising API
Best Blues Acoustic Guitar Reviews
Everyone agrees that the best material for a guitar top is a spruce top. Look no further than the Taylor 214ce DLX, which owes its incredible sound to its Sitka Spruce wood top. On top of that, it features a simple auditorium design that is very comfortable to play.
Features
Steel strings
Grand Auditorium body
Single Cutaway
Expression System 2 electronics
Hard-shell case
What I Like
I love the patented design of this model's neck, which I found comfortable to hold and to play. I was blown away by the rich tone that's created by the Indian rosewood. It's entirely unmatched. The Expression System 2 has a spectacular guitar pickup and preamp that you can use to play any song you wish.
What I don't like
I'm not too fond of the laminated wood used in some of the parts as it tends to age differently from the other materials used. It also has a different feel than the solid wood on the sides and back.
Pros
Very light to carry around
Comes with a dual preamp and pickup
Excellent design
Cons
Not the best for a beginner
The Taylor 214ce is one of the most popular acoustic guitars for blues. It has a rich sound and an incredibly comfortable grip. The Expression System 2 is also a great addition.
Overall Score: 4.7/5
If you want to ditch your old guitar for a new one, the Gibson Acoustic Parlor might be the best option. This model carries on the timeless tradition of carving out guitars with exceptional designs, which is a staple of the Gibson brand. It's also one of the few acoustic guitars that feels incredible to play.
Features
Right-handed guitar
Parlor body shape
Nitrocellulose finish
Mahogany Neck
Richlite fingerboard
Gibson hard-shell case
Tone and volume controls
What I like
I love the carve-out mahogany neck that comes with this Gibson, ideal for quick fingerstyle playing. I also like the unusually loud and crisp sound it produces, which is unusual for a guitar with such a small body.
What I don't like
This guitar is really loud and a bit jarring for practice play at home. For this reason, I feel it's better suited for the stage or a studio. However, if you can get past the volume, it is an exceptional guitar.
Pros
Has a slender, cutaway small body design
It is an excellent guitar for both beginners and advanced users
Contains a superior response profile for a quick fingering
Cons
A bit expensive
Extremely loud for home playing
The Gibson Acoustic Parlor Guitar has excellent projection that is perfect for the stage and a great design that makes it easy to play. It might serve you pretty well as a second guitar.
Overall Score: 4.6/5
Yamaha has truly outdone itself with the NTX1200R, a remarkable little acoustic guitar with a spruce top and back and a mahogany neck that produces incredible sound. Because of its small design and slender neck, it's fantastic for quick fingerstyle playing.
Features
Nylon strings
14 fret cutaway design
Solid rosewood sides and back
Ebony fingerboard
Gloss finish
System 61 plus ART 2way pickup electronics
Softshell case.
What I like
This model has a soft velvety sound that blends well with jazz and blues. Its two-way pickup and system 61 electronics allow you to enjoy two different volumes as well as a three-band equalizer. The small neck and smooth strings allow for unbelievable fingerstyle playing, opening up many ways to add flavor to your performance.
What I don't like
Due to its small body size, the NTX1200R doesn't have a loud sound projection, so it's not great for playing in open spaces or large rooms. You will need to connect it to an amp to magnify its sound.
Pros
Smooth strings plus a small neck; excellent for playing blues
Easy-to-carry, it is very lightweight
Its versatility matches the needs of Jazz and Blues playing styles
Cons
Doesn't have a superb projection for open spaces or large rooms
Despite its poor sound projection, Yamaha NTX1200R is a beautiful acoustic guitar that can jam to Blues or Jazz hassle-free. It's also highly playable, which is what I want with my guitar when I get on stage to perform.
Overall Score: 4.6/5
If you are looking for a classical guitar that looks and sounds good, you will love the Blueridge BR-371. It has a solid construction that features a solid spruce top and handcrafted abalone around its soundhole. Due to its small size, this guitar is excellent for fingerstyle.
Features
African Mahogany neck
Parlor body type
Sitka spruce top
Natural high gloss finish
Santos rosewood side and top
What I like
The Blueridge BR-371 has excellent clarity and superior tonal quality. It has some proper amounts of bass minus the boxy sound associated with other similar sized guitars. The tones are vibrant and crisp for blues, jazz, and many different genres. I loved the overall build quality and the beautiful abalone that gives it more character.
What I don't like
One of the problems I have had with the Blueridge BR-371 is the action height. I felt it was a little too high for my liking. However, I managed to lower it, and it is now among my favorite small-sized guitars.
Pros
Has a sturdy hard-shell case
Beautiful classic look and feel
Pleasant bright tone with high projection
Cons
The Blueridge BR-371 scores highly among new and experienced guitarists because of its small form, a factor that makes it easy-to-play and accessible. It also produces a vibrant sound that surprises even veterans.
Overall Score: 4.6/7
One of the best blues acoustic guitars out there, the Breedlove Solo Concert is hand-built to add emotion to your performances. It comes with a 3-band preamp EQ and has a soft cutaway that is absolutely breathtaking. It feels and sounds great in your arms as you strum away to your favorite tune. Its six strings make the Breedlove Solo Concert incredible for playing blues in a band or a solo performance.
Features
Concert body style
Single cutaway
Rosewood back and sides
20 fret acoustic guitar
Gloss finish
R. Baggs pickup and preamp
A mahogany neck and rosewood fretboard
What I like
The Breedlove has an elegant design that allows you to hear yourself when you are playing. I found its outlet compact and a joy to hold. Also, the wide range of beautiful low-end tones it produces can add emotion to any song.
What I don't like
I wish the Breedlove Solo Concert came with high-quality strings. The ones it comes with aren't high quality. The action is also a bit high, and this can make it uncomfortable for some people.
Pros
Has a concert sound plus a tender cutaway
Has a balanced designed that allows you to hear yourself
Awesome strum sound
Cons
Has a relatively high action
Not the best strings
If you love fingerstyle music, you will love the Breedlove Solo Concert as it offers incredible support and excellent tones that blend well with both solo and band performance.
Overall Score: 4.4/5
Cordoba C10 – Best Spanish Style Guitar
Weighing just 18lbs, the Cordoba C10 is a lightweight Spanish style acoustic guitar built from Canadian cedar. It has a remarkably high-quality design and tone, a great addition to the well-known reputation of Cordoba's Luthier line.
Features
Nylon strings
Spanish classic body style
Solid Indian rosewood sides and back
Canadian cedar top
African mahogany neck
19 frets
Ebony fingerboard
Polyfoam case
What I like
The Cordoba has a robust projection and high-quality sound. This is enabled by the solid cedar top and Indian rosewood back and sides—staple features of a classic Spanish guitar. This acoustic guitar is perfect for blues due to its Spanish heel construction, which promotes a vibration of the entire guitar.
What I don't like
Right out of the box, the Cordoba C10 is tuned to play more classical music rather than Blues. I had to re-tune it to get sound right.
Pros
Excellent build quality
Sturdy polyfoam case
High-quality wood with Spanish heel design
Cons
Needs extra configuration to play blues
I love the Cordoba, not just because it looks amazing, but because it has a unique classic Spanish acoustic guitar build that makes it perfect for playing Blues. Its crisp and clear tones as well as its loud projection—this guitar won't go unnoticed.
Overall Score: 4.5/5
Built for active playing, the Guild F-1212E has a 12-string configuration coupled with a jumbo body design. The result is a massive tone. This model further boosts the classic Guild loud voice using a Fishman Sonitone pickup to give an incredibly powerful sound.
Features
12 strings
Natural Gloss finish
Classic shaped guild neck
Jumbo-sized acoustic guitar
Fishman Sonitone preamp and pickup
What I like
The Guild F-1512E has a sturdy design, a decent number of features, and a great sound to boot. It has one of the best projections for an acoustic guitar even without the electronics and takes you back to the old Guild days in the 1960s.
What I don't like
Not many people know how to play a 12-string guitar. This isn't a suitable guitar for the beginner. Also, its large size makes it a little more uncomfortable to hold and play. You may have to practice it for some time before you can get used to its size and the number of strings.
Pros
Comes with a portable case
Has a vibrant sound
It has a large body and 12 strings for higher projection and light playing
Cons
A bit heavy and complicated for a beginner
The Guild F-1512E has a rich tone and an excellent projection for playing in a large room or hooking it up to an amp for performance. Its classic design that includes a high gloss finish gives it a beautiful look.
Overall Score: 4.5/5
The Gretsch G5022CWFE-12 is a beautiful 12-stringed acoustic guitar that strikes all the right chords. It looks elegant with a high white gloss finish and sounds wonderful as a result of the high-quality materials used to build it. It also has an excellent pick up from Fishman that gives a beautiful projection for the stage.
Features
12 strings
Right-handed
High gloss white finish
Laminated backs and sides
Solid spruce top
What I like
The Gretsch G5022CWFE-12 has one of the best build qualities on the market, a significant contributor to its rich and powerful tone that blends beautifully with blues. The 12 strings have just the right amount of action, making it agile and comfortable to play.
What I don't like
Unlike other 12-string jumbo guitars, the Gretsch G5022CWFE-12 has a slightly quiet sound. I felt it more when hitting the bass. However, once you hook it up to an amp, you get a ridiculously insane sound from the Fishman pickup. Just make sure you hook it up correctly.
Pros
Made from top quality materials that enhance sound quality
Has one of the best preamp systems
Beautifully designed and built with a unique gloss white finish
Cons
Doesn't come with a carrying case
The Gretsch G5022CWFE-12 is yet another 12-string acoustic jumbo-sized guitar in our best blues acoustic guitar review that delivers exceptional performance with an excellent price to boot. It is well built to withstand regular movement without compromising on sound quality.
Overall Score: 4.4/5
The Ovation Standard Balladeer 2751AX is a beautifully finished blues acoustic guitar that effortlessly delivers stunning performance. It has a unique design and a rich, well-balanced tone. Also, it has easy holding and playing positions.
Features
12 strings
Deep contour body style
AA spruce top
Pearl Oakleaf inlays
Rosewood Fretboard
Ovation OCP-1k pickup
What I like
I can carry the Balladeer 2751AX guitar around easily as it's more compact, which is what I want when I am performing on stage. The sound projection is quite good, and it comes with a pickup that adds more depth to your blues notes.
What I don't like
The Ovation Standard Balladeer 2751AX has a unique feel that may take you some time to adapt. However, once you get the hang of it, it is a pure joy to play.
Pros
Perfect size for traveling and carrying around
Standard balladeer with 12 strings
Has a progressive design that features a scalloped brace
Cons
It has an unusual finishing that takes time to get accustomed to
Due to its contour bowl, the Ovation Standard Balladeer 2751AX has one of the most comfortable playing designs. The same bowl enhances projection and the overall sound quality giving one of the best sounds. Also, it looks stylish and includes the Ovation OCP-1K pickup to ramp up your performances.
Overall Score: 4.4/5
Best Blues Acoustic Guitars – Buying Guide
Blues is one of those genres that shouldn't be too complicated to find the right guitar for. You could even pick up an acoustic guitar and strum away to your blues without any problems. In a nutshell, other than personal preference, there isn't much to differentiate an acoustic guitar from an acoustic blues guitar. When you're looking for the very best blues guitar, here are the particular features that your instrument should have. Want to see more electric guitar options? Check out our picks here.
Body Style
Acoustic guitars come in an array of body styles. These styles often influence the sound and the ease of playing. There is no shortcut to the size of a guitar. The smaller the size, the lower the sound and projection will be. In short, with the shape and size, you should be seeking a balance of comfort and sound.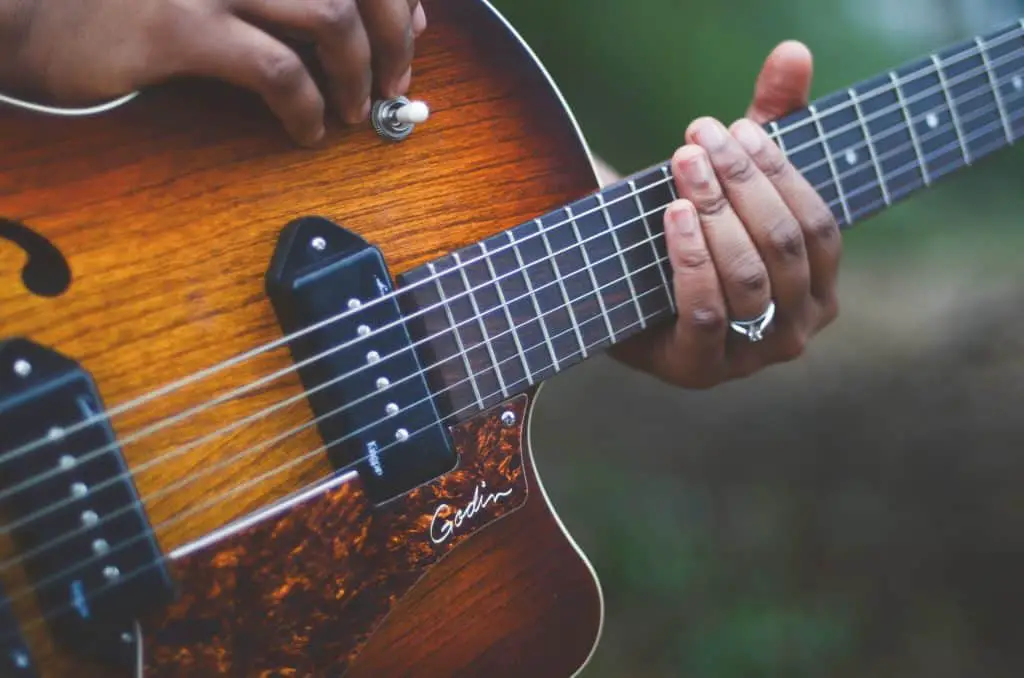 Neck
Whenever you are buying a blues acoustic guitar, always test the neck against your body size. If you have shorter hands, go for a shorter neck. The number of frets determines the length of the neck. Most acoustic guitars come with either 12 or 14 frets.
Electronics
Blues music requires projection. A good guitar should have pickups and preamps to boost your sound and improve tone. If you can get a guitar that has an EQ, Mic, Piezo Pickup plus tuners, don't pass it up.
Tonewoods
The type of wood used in an acoustic guitar determines the quality of sound you will get. Some wood types give a warm tone while others provide a higher projection. Spruce tops are the most common. Other types of wood come at a higher price.
Fingerboard and bridge
The fingerboard and bridge have a marginal impact on the quality of the sound produced by your guitar. These specs shouldn't prevent you from buying your guitar.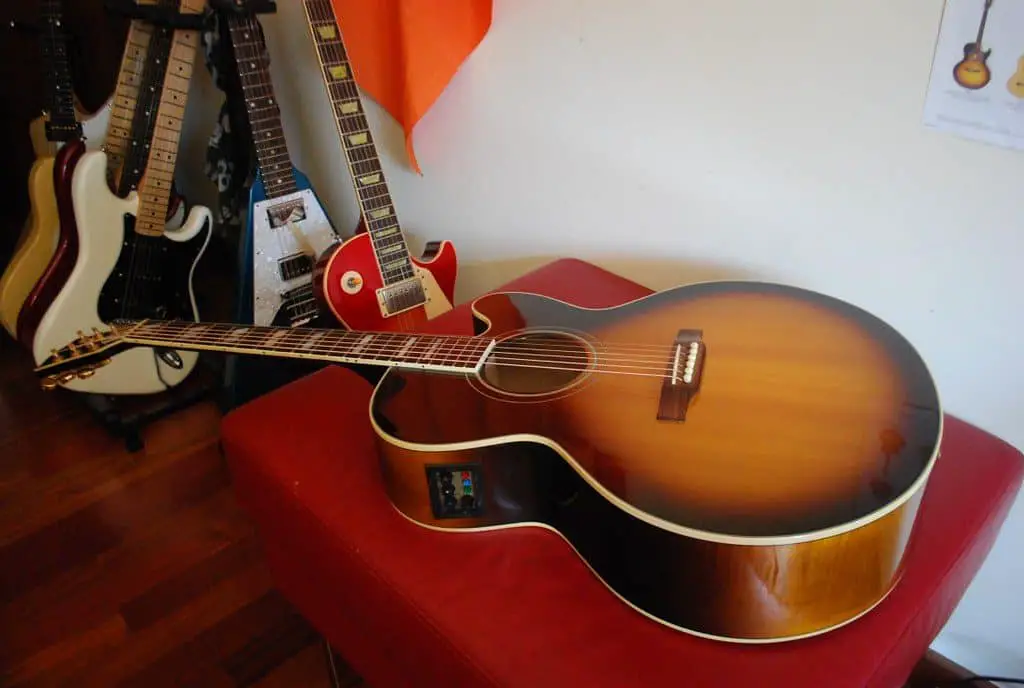 Guitar Finish
A guitar's finish affects the vibrations of the guitar, which consequently impacts the projection. The only way to find out whether you like the sound is by playing it.
Final Thoughts
If you're looking for the best blues acoustic guitar, your primary focus should be finding the right blend of quality sound and a reasonable projection. You also want to make sure that it has good electronics and that you can hook it up to an amp on stage.
My top pick is the Taylor 213ce DLX as it is incredibly well-built with high-quality materials. Because of that, it has excellent sound projection and durability. I also love its beautiful finish. The pricing is as good as the features, and the sound is nothing short of outstanding. Highly playable and adjustable, the Taylor 213ce DLX guitar is easy to strum on stage.