Jazz guitars are unique in all their features–even the strings are specially tailored to the jazz style. This is necessary because jazz music is one of a kind. It takes a lot of dedication and know-how to learn and excel in this discipline. If you are committed to the process, you'll need the right jazz guitar by your side to facilitate that process.
But what's the right jazz guitar, you ask? A well-made guitar should be comfortable to play and sturdy enough to take some bruising from long hours of practice—more importantly, it should sound incredible.
There are three different kinds of jazz guitars: the archtop, semi-hollow, and solid. Whichever type you pick, it will likely put a dent in your wallet, so you want to be sure you choose the right one. To help you do that, I've compiled a list of some of the best jazz guitars you can find in the market today. I've also included a comprehensive buying guide which will cover the factors you need to take into account before taking the plunge.
Let's jump right in…
Top Choice
If you're short on time, my top choice would be the Fender Standard Telecaster. This model comes from a well-known, trusted name, has a fair price tag, and doesn't have a single disappointing aspect. I've reviewed it first below for your convenience.
Last update on 2023-05-10 / Affiliate links / Images from Amazon Product Advertising API
Best Jazz Guitar Reviews
I'd be remiss if I didn't include a Fender in this rundown. Their iconic design, superb electronics, and exceptional playability are what separates them from the rest—and this standard Telecaster is no exception.
Key Features
C-shaped neck and a deep cutaway
A pair of Single-coil Tele pickups
Alder body wood
Six saddle
String-through construction
Shielded body cavities
What I like
This guitar is crafted from solid alder and comes in a couple of different finish variants. You're looking at Black, Arctic White, Butterscotch Blonde, and Candy Apple Red. You can't go wrong with any of these choices. All of them drop-dead gorgeous timeless classics.
It features two trusted Standard Single-Coil Tele pickups which make this guitar versatile. It is versatile enough to handle not only jazz but just about any genre.
The tones are crunchy, understated, and mellow. The asking price is not as steep as the American-made variant, either.
What I don't like
There's nothing to dislike about this product, except for the tinkering involved with setting up the neck and bridge appropriately.
Pros
Clear and bright tones
Appealing aesthetics
Tried-and-tested electrics
Cons
If you're strapped for cash, this Standard Telecaster will make a fine choice. The build is iconic, the sound is great, and it's pretty versatile.
Overall Rating: 4.8/5
This Epiphone is a blend of flawless craftsmanship and sound that's tough to beat—and for this reason alone, it is one of the best jazz guitars you can get in this price bracket.
Key Features
Laminate body
Mahogany neck
Four different finish options
Tune-O-Matic bridge
Grover tuning set
Alnico Classic humbucking pickups
What I like
As for the construction, you're looking at maple top and shell, with a robust mahogany neck and a rosewood fretboard. It's a beautiful instrument, and there are various finish options to choose from. There's ebony, the classic sunburst, and the fresh burgundy. Each finish is tasteful and refined.
In the electronics segment, this guitar features dual Alnico Classic Humbucking pickups with a built-in switch which lets you select the pickup of your choice.
It offers excellent versatility and can produce tones ranging from jazz to metal and everything in between. They're crisp, sparkly, and creamy.
What I don't like
Although you get tone and volume controls with the pickups, they aren't sensitive enough, and the pickups themselves won't give you high gain.
Pros
A gorgeous instrument
Excellent sound and playability
Loud even when unplugged
Cons
The hardware and electronics are reliable, the design is eye-catching, and the neck is comfortable to play for players of all skill levels. In a nutshell, this guitar a reliable option if you're on a tight budget.
Overall Rating: 4.7/5
If you're a fan of vintage-style instruments, you can count on the most prolific manufacturers of vintage-themed hollow-body guitars to deliver something you'll love: the Gretsch G100CE Synchromatic.
Key Features
Laminated maple body
Natural matte finish
Single-coil pickup
¼-inch cable jack
Compensated rosewood bridge
What I like
Let's start with the appearance. You're looking at a layered maple body and an arched top design with a natural matte finish which reminds you of guitars from the early '40s. And to add to this already retro look, it features a vintage pickguard and curved f-holes. Long story short, this puppy is a beauty.
While most guitars from this class feature dual pickups, Gretsch decided to go with a single-coil pickup to keep things simple. You also get control knobs for volume and tone, as well as a cable jack when you wish to plug in.
The tones are rich, well-rounded, and have plenty of volume.
What I don't like
The decision to ditch the dual pickups in favor of a single-coil pickup somewhat limits the versatility.
Pros
Vintage-themed look
Great sound
Decent craftsmanship
Affordability
Cons
This model has that unique Gretsch sound many of us have come to love. It's a beautiful, well-made, and very reasonably priced model. If you favor retro designs reminiscent of the Golden era, you'll be hard-pressed to find a better deal.
Overall Rating: 4.7/5
Godin's guitars are probably some of the best to ever come out of Canada. Not only are they affordable, but it's also not difficult to tell that the manufacturers didn't cut corners. It's challenging to strike this balance, but Godin's 5th Avenue CW managed to do so.
Key Features
Canadian Wild Cherry
Silverleaf maple neck
Dual P90 single-coil pickups
Compensated bridge
Rosewood fingerboard
What I like
It's constructed entirely out of Canadian Wild Cherry, and the neck is crafted from Silverleaf maple, which affords it a particular Canadian flavor. You can pick from three different finish options: Burgundy, Natural, and Cognac Burst.
You'll notice a deep cutaway which complements the retro archtop look. It also features a pair of reliable P90 single coils, along with controls for volume and tone coupled with a three-way selector switch for selecting the pickups.
As for the sound, the trebles are present and balanced, and the basses are pronounced. The tones are clean, warm, and vibrant; exactly what you'd expect from a good mid-range jazz guitar.
What I don't like
You'll notice single-coil hum which can be corrected with a hum-killer. Additionally, the tuners that it ships with are relatively mediocre and would probably need replacing.
Pros
Well-made
Great intonation
Wood finished in three colors
Impressive sound
Cons
In a nutshell, the Godin Kingpin CW is as good a mid-range instrument as they come. It offers excellent value, looks attractive, and above all provides versatility.
Overall Rating: 4.6/5
The Artcore AF series is the finest jazz guitars Ibanez has to offer. It sports a traditional look and offers excellent versatility.
Key Features
Mahogany construction
Satin smoky finish
Infinity R humbuckers
Rosewood fingerboard
Floating bridge
What I like
The body is crafted from sturdy mahogany, as is the neck, so it's an all-mahogany build beyond its rosewood fretboard. It features an attractive smoky finish. It ships with dual Infinity R humbuckers, passive and not covered. They don't come with individual control knobs for volume or tone, but you do get master volume and tone controls.
The mahogany build provides ample resonance which creates warm and clear tones, so much so, that they're almost irresistible. It's versatile enough to handle genres from blues to alt-rock and everything in between.
What I don't like
The tuners it comes with are somewhat standard, so it won't be winning any popularity contests in that department. You might face a few minor tuning issues. Furthermore, if you are a serious jazz player, you probably aren't looking for the extra gain anyways.
Pros
Sleek looks
Great sonic attack
Affordable
Cons
Fret buzz
Slight tuner problems
This Ibanez is probably one of the best jazz guitars you can get for under $500. Save for the few minor issues I mentioned above, this guitar impresses.
Overall Rating: 4.6/5
This Swedish brand is nothing short of iconic. It has been favored by the likes of Elvis Presley and Jimi Hendrix. The Viking Deluxe is perhaps their most popular model.
Key Features
Glossy black finish
White binding
Hagstrom HJ-50 pickups
Laminated maple
What I like
The Tremar Viking is a reissue of the Viking from the '60s, and it's been infused with a more contemporary look. First things first, this guitar is absolute eye candy. It features a high-gloss black finish accented with pure white binding.
The body is crafted from layered flamed maple, while the neck is Canadian maple. In short, the construction is robust and is evident in its exquisite quality. The design features a double-cutaway for maximum accessibility, and it ships with a pair of Hagstrom HJ-50 pickups. Each with their volume and tone control knobs.
It doesn't disappoint in the sound department either. It produces those creamy and warm tones, which jazz musicians welcome.
What I don't like
The only downside worth mentioning would be setup out of the box. It might take a while and some tweaking to get this guitar to optimum playability.
Pros
Attractive looks
Sound which jazz guitarists crave
Excellent build quality
Cons
If you're looking for a gorgeous guitar that offers the versatility and tones that jazz music demands, this guitar should be on your shortlist.
Overall Rating: 4.7/5
If the value offered is a deal-breaker for you, this Yamaha is the answer to your problem. This budget-friendly guitar is geared towards beginners. And for only $200, I'd say it's underpriced for what it delivers.
Key Features
Agathis body
Sonokeling fretboard
Chrome die-cast tuners
What I like
All models in the Pacifica series feature are similar design – a double cutaway with a curvy body. And since this is a budget option, you won't expect the manufacturers to include select materials. It uses Agathis tonewood for the body which is finished in quite a few different glossy colors, namely, Black, Blue, and the retro Sunburst.
To slash the cost, they opted for Sonokeling for fingerboard construction. The looks are great, and the build quality is respectable.
What I don't like
To keep the cost low, Yamaha had to make a few trade-offs. The hardware quality is compromised, that's not to say they don't work the way they're supposed to, only that they aren't on par with more expensive options.
Pros
Elegant aesthetics
Extremely affordable
Beginner-friendly
Cons
This Yamaha is an excellent pick for beginner jazz guitarists. It's easily set up and doesn't need you to grasp complicated configurations. It looks the part, it sounds good, and above all, it is a bargain.
Overall Rating: 4.5/5
Jazz Guitar Buying Guide
Before you shortlist jazz guitars or even decide on one, there are a couple of questions that you need to ask yourself. You need to settle on the shape, style, and tonal range, in a way that is in line with your budget. Each guitar style has some inherent needs associated with it. You'll have to jot down your requirements and find out which type meets them best.
As a rule of thumb, archtops provide an organic jazzy tone, solid-body types lean towards the electronic side, while semi-hollow body guitars fall somewhere in the middle.
I've made sure to include some budget-friendly options, which can come in handy if you're new to the world of jazz guitars. And if you're a veteran player, I've added pro-grade picks in the round-up as well. If you'd like to read about other great guitar models, check out our latest post.
Guitar styles
There are three different guitar styles you can choose from. Let's explore each one.
Archtop
Archtop, or hollow-body guitars, are classic retro instruments and have been around for a while. They have a long history with legendary jazz musicians and feature a pair of f-holes that are meant to help with sound projection.
Despite their bulkier bodies, Archtops are noticeably more comfortable to play than the other two styles. Additionally, they produce that authentic jazz tone, which makes jazz guitars unique.
A downside to this kind is the feedback, which can be minimized but can't be eliminated. And as you might have guessed already, these puppies aren't cheap. They're also awkward to handle and offer next to no tone variation.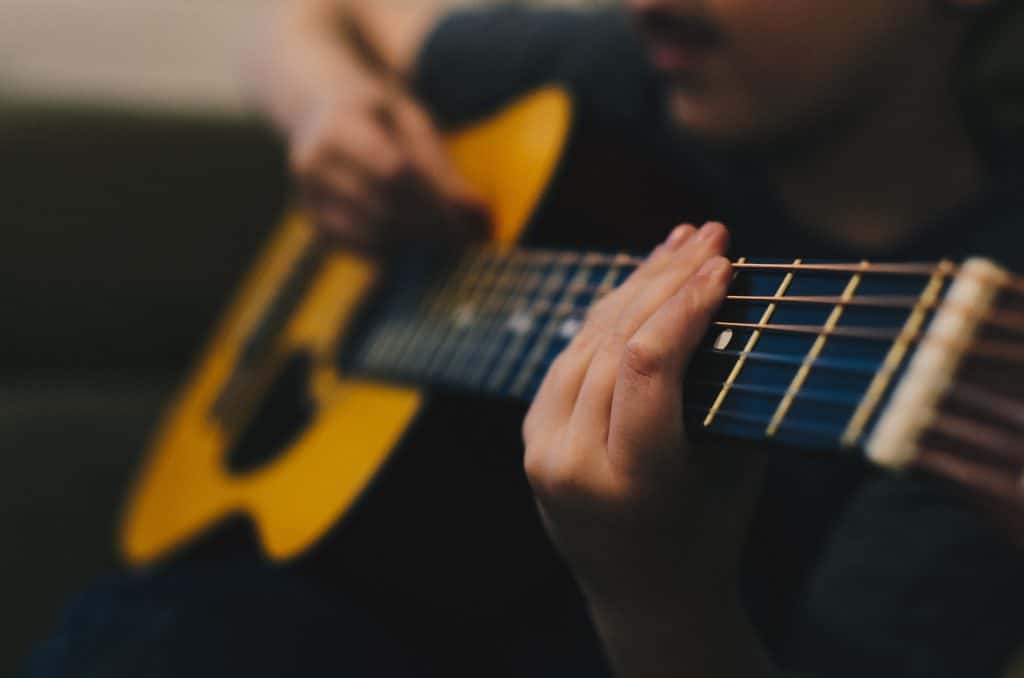 Semi-hollow body
The size of this jazz guitar falls somewhere between the bulky Archtops and solid body guitars. Where Archtops are limited to their genre, semi-hollow bodies are much more versatile. They're known for producing that warm and smooth tone unique to jazz music.
They provide you with the organic jazz tone you crave, at least more than solid body ones. It's also worth noting that this style more budget friendly.
Even though they're smaller than Archtops, their size can still be a tad too big for some players.
Solid body
While solid-body guitars aren't specialized, they are often played by jazz guitarists. They have a beefier volume and are free from the feedback you notice in the other two types. They're more commonly associated with rock and country genres because they offer tone variation.
The only potential drawback to solid body guitars is the lack of the authentic jazz tone, which I mentioned above. So, if that's something you can't do without, a traditional Archtop would be the right fit for you.
While it may not matter to everybody, the aesthetics of this option also might not appeal to you if you're looking for a guitar that looks more jazz-like.
Final Thoughts
While I recognize that the best jazz guitar is going to depend on the person playing it, if I had to choose a winner for this round-up, it would be the Fender Standard Telecaster. It checks all the right boxes. It's playable, has an iconic look, and sounds just right. More importantly, it is priced very reasonably, so you won't have to break your budget to own this beautiful work of art.
The build quality is virtually flawless, and the performance is impressive. What's there to not like? Whether you're a beginner looking for your first jazz guitar or a seasoned player looking to add a guitar to your collection, this instrument would make an excellent pick.
If it doesn't tickle your fancy, you can refer to my buying guide and use it as a starting point to shortlist a few guitars that will. If you want to see more guitar brands, view our updated post here.