Perhaps you're a bassist who favors the natural sound of acoustics but find them lacking in the low-end. Or maybe you travel a lot and don't always have easy access to your amp. If that's the case, then an acoustic bass guitar is what you're looking for.
In addition to the tone you associate with acoustics, an acoustic bass gives you those warm sounds thanks to their bulkier size. Said in another way, you won't need to plug in to practice when you need those warm low-ends, even when you're on the road.
But before you can go shopping for your new acoustic bass, there are a few things you need to keep in mind. Acoustic basses aren't as popular as their acoustic or electric cousins, so you'd have to do some digging to find one that meets your requirements. To save you the hassle of wading through the rough waters, we've done the work for you and reviewed some of the best acoustic bass guitars in the market today. Let's dive in…
OUR TOP PICK
If you don't have time to make it to the final word, my top pick is the
Fender CB-60SCE
. It's a little on the pricey side but well worth the cost. The build quality and sound are impressive. I've reviewed it first below for your convenience.
Last update on 2023-11-09 / Affiliate links / Images from Amazon Product Advertising API
Best Acoustic Bass Guitar Reviews
The CB-60SCE is a mid-range bass guitar with excellent sound and electronics, and of course, it carries the iconic Fender name. Featuring a concert body and a slim-taper neck, this Fender is an easy-to-play electro-acoustic bass that seems to beat everything else in its class.
Key Features
Concert body shape
Neck with rolled fingerboard edges
Spruce top
Mahogany back and sides
Fishman Classic Design Preamp
What I like
When it comes to mid-range guitars, it's hard to go wrong with a Fender. The CB-60SCE lives up to all expectations and even exceeds some. It has quite a basic profile, featuring a concert body with a single cutaway, with a spruce and mahogany construction and a simple black pickguard.
This EAB has rock-solid build quality. The body shape and the rolled fingerboard neck also make it a very easy instrument to play.
Whether you're playing it unplugged in your drawing room or rocking it out with a full setup at a packed venue, the sound quality remains exceptional. Thanks to its concert shape, the lows are wider, and the highs and trebles are pure. The tone is always well-defined and clear, without any muddiness.
The preamp is also great as it focuses more on quality than quantity of features. The natural tone of the bass is reproduced faithfully, and basic controls are available to alter the sound.
What I don't like
There isn't much to dislike about this particular bass. It's a simple guitar that seems to know what its job is: beautifully projecting a natural acoustic sound. The only thing that's lacking is that the preamp is missing some extra tone-shaping features.
Pros
Great value
Graceful minimalistic design
Exceptional sound quality
Sturdy and reliable built
Easy to play
Cons
Preamp only has basic features
Doesn't come with a case or any accessories
The Fender CB-60SCE is one of few guitars that offers great features and sound at a decent price point. It's my personal favorite, and I have no hesitation recommending it to anyone looking to buy an Electro-Acoustic Bass since it's a strong contender for the best acoustic bass guitar title.
Overall Rating: 4.6/5
Even if you're a novice, it's more than likely that you've heard of this brand. They're one of the leading and reliable acoustic manufacturers worldwide.
Key Features
Solid Sitka spruce top
Layered Sapele
Short scale bass
Die-cast chrome tuners
Ebony bridge
What I like
You'll notice at first glance that this acoustic bass has been shrunken to concert size. Certainly not what you'd expect from an acoustic bass, as they need a bigger body to resonate better and produce those massive lows.
But even with its smaller size, it has generous lows to say the least. So much so, that it is near indistinguishable from its bulkier competitors. Simply put, it exceeds expectations.
It's crafted from solid Sitka spruce while the shell is laminated Sapele—and yes, a layered build can be a downside. Since it's a Taylor we're talking about, though, this acoustic bass sounds just as good as an all-solid model.
What I don't like
The only gripe I have with this model is its price, which is a bit too high considering it's a mini-guitar. As you might already know, these familiar brands overcharge you for their name on the headstock.
Pros
Intuitive electronics
Fine build quality
Fantastic sound
Cons
Pricier than it should be
This model blends top-class craftsmanship with reliable hardware and performance. If you find the price justifiable, there's no reason one of the best acoustic basses shouldn't be on your shortlist.
Overall Rating: 4.9/5
The Gold Tone 4 is one of the strongest contenders for the best acoustic bass you can find in the market today because it packs more lows but isn't as weighty as its competition.
Key Features
Short scale bass
Mahogany solid body
Die-cast tuners
Onboard electronics
What I like
This model is a dreadnaught with a solid mahogany body which gives it its signature tone. The look of the Gold Tone 4 is fairly simple and minimalistic, which many players would appreciate.
While the design is minimalistic, it'd be hard to miss the attention to detail upon closer inspection. As for the hardware, you get die-cast tuning machines in addition to a brilliant bridge and saddle combination.
In terms of sound, it offers respectable mids with plenty of lows. The projection is solid, and the tones are well-defined and well-rounded.
What I don't like
While it may be one of the best sounding acoustic basses you'll find, it will take some time getting used to, and you'll have to put in the time and effort to get better playability.
Pros
Massive lows
Great tone quality
Incredible craftsmanship
Minimalistic design
Comes with a gig bag
Cons
Whether you're a skilled or an intermediate player, this acoustic bass impresses with its performance and build, offering solid projection and a beautiful sound.
Overall Rating: 4.8/5
Takamine is one of the most well-respected names in the industry, and they do not disappoint with the GB30CE Acoustic-Electric Bass. This bass guitar combines a conservative, yet elegant body with thoughtful construction and tried-and-true electronics to deliver a great model.
Key Features
Venetian-style single cutaway
Solid spruce top
Mahogany sides and neck
Built-in Takamine TK-40B preamp system
Tri-band EQ and gain controls
Bass-boost and EQ bypass switches
What I like
With its mahogany and spruce build, die-cast chrome tuners, synthetic bone, nut and bridge saddle, abalone rosette and pearl-dot finger overlays, this bass stands out in its price bracket.
The combination of tonewood that the bass uses is reliable, and the slim mahogany neck and 16-inch radius laurel fingerboard has a smooth finish, leading to greater comfort and playability. The sound has impactful lows and decent highs.
It treats you with EQ controls and a dedicated bypass switch. The onboard electronics are robust, freeing you from the need always to carry around a separate preamp.
What I don't like
With a minimalist design and a concert body shape, it may not be for you if you prefer a flashier profile.
Pros
Decent sound profile
Punchy lows
Minimalist design
Available in two colors
Excellent craftsmanship
Cons
Carrying case sold separately
The Takamine GB30CE is an excellent option for anyone looking to buy a robust and portable acoustic-electric bass. Because of its feature set, this Takamine is one of the best acoustic bass guitars you can find.
Overall Rating: 4.8/5
Martin & Co. is a familiar name in the world of high-end instruments, and the BCPA4, a premium acoustic-electric bass, is a treat for the ears.
Key Features
Solid Sitka spruce top
Laminated Sapele back and sides
34-inch scale length jumbo body
J-style cutaway
All-wood body
Features Fishman F1 Analog electronics
What I like about this product
Martin describes the instrument as a "bass for the performing artist," and it truly lives up to this description. Looking at the bass, no one could deny it's a cut above the rest. The immaculate construction, the visible craftsmanship, and the rich tones all make it worthy of the "Martin & Co." name, which is stamped on the headstock.
The sound is rich and graceful with great bass response. Thanks to the Fishman electronics, the sound rendered is every bit as pleasing even when you're plugged in.
What I don't like about this product
With an upwards of $2,000 price tag, this surely isn't the instrument for an artist on a budget. Its huge body is awkward to handle, and you'll probably need an additional amplifier, which compromises portability and ease of setup.
Pros
Beautiful construction
Vibrant sound
High-end electronics
Comes with a carrying case
Reliable
Cons
Pricey
Not the most portable instrument
The BCPA4 is a great buy if you have the skill and the cash to make use of it, but if you're a casual player or a budding artist on a budget, you can skip this one.
Overall Rating: 4.7/5
The Dean Exotica may not be top-of-the-line, but it is a great budget option for any beginners or casual players looking for a feature-rich acoustic-electric bass. At a $350 to $400-dollar price point, this is an excellent option for bassists on a tight budget.
Key Features
Quilt Ash top and sides
Rosewood fingerboard
Single cutaway
34-inch scale length
DMT G05 Preamp with 4-band EQ
What I like
The construction is sturdy and reliable, in addition to a solid sound, but this model really shines when it is plugged in, thanks to the piezo pickup. It also comes with a DMT preamp for better tone-shaping.
Finally, the Exotica has one feature that much top-tier electro-acoustic lack: a low battery indicator. This means that you probably won't find your instrument giving up on you in the middle of a performance.
What I don't like
This particular bass doesn't have the best unplugged sound, but it's still respectable. The sound is fine, but it does lack a certain richness. At the end of the day, this shouldn't matter much as long as you're not playing in a live setting.
Pros
Great value
Excellent electronics
Sturdy build
Low-battery indicator
Cons
Somewhat lackluster unplugged sound
Can feel cheaply made
The Dean Exotica Quilt Ash is a great instrument for casual players and beginners. It may also satisfy seasoned players if they wish to use it for practice but also want the option of playing unplugged.
Overall Rating: 4.6/5
The Best Choice Electro-Acoustic Bass is probably one of the most budget-friendly options you can find. At this price tag, the expectations are low, and this particular bass exceeds them.
Key Features
Laminated tonewood
Synthetic bridge and saddles
Built-in preamp with master volume control
4-band EQ
What I like
The Best Choice EAB doesn't have any stand-out qualities. It's as inexpensive as one can go, yet the sound quality isn't half bad. The lows are fine, and all the other tones aren't too bad either. The sound may have some muddiness, but it probably won't be too noticeable.
One caveat though, is that the Best Choice EAB does not have the ideal quality control and sound quality is not consistent across different instruments of the same model. You might have to compensate for the sound through external hardware.
What I don't like
While the guitar is undeniably sturdy, the quality is not consistent. In my case, it was fine, but there is some likelihood that it'll be spotty for you. The preamp is also lackluster in terms of features, and it is quite likely that you'll need to use external hardware at some point for sound-shaping.
Pros
Extremely affordable
Acceptable sound quality
Cons
Inconsistent quality control
Spotty sound
Lackluster preamp
If you're strapped for cash and wouldn't mind trading off on quality a little, this budget-friendly guitar should serve the purpose.
Overall Rating: 4.5/5
Acoustic Bass Guitar Buying guide
In this section, we'll explore the factors you need to familiarize yourself with before you can go shopping for your acoustic bass. If you'd like to make the best purchase you can and find the best bass guitar in the market, read on.
What is an acoustic bass?
First things first, if you've played an acoustic, you should be familiar with how their rich, organic, and natural tones. Unfortunately, they aren't loud enough to be played in a band setting or to a crowd. That's where the acoustic-electric hybrid offers a solution. You can plug them in while retaining the authentic sound you love, and everyone will be able to hear you. If you'd like to read about the top blues acoustic guitars and other awesome guitar brands, check out this roundup post.
But even then, these guitars lack when it comes to low-ends. The basses aren't well-pronounced, and if it's something you crave without compromising on the natural acoustic tones, an acoustic bass is your best bet.
They're much bulkier than their acoustic counterparts to provide ample resonance which results in beefier and massive lows without losing the presence and balance of the trebles.
What this means in plain English, is that owing to their unique design, acoustic basses provide you with a one-of-a-kind sound—and you don't even have to plug in to be heard. Even when you're on the road and don't have your peripherals handy, you can just pick this puppy up and play to your heart's content.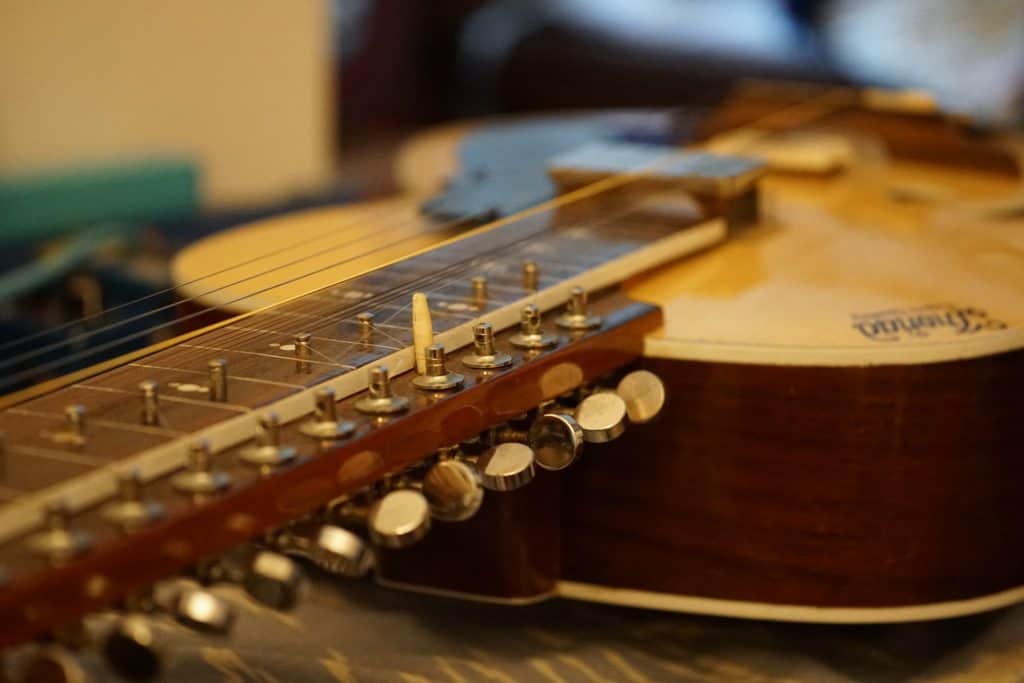 What acoustic bass type is right for me?
It all boils down to a matter of preference and skill level. Depending on whether you're a beginner or a veteran player, you can pick between any of these acoustic bass types, each with their unique advantages and drawbacks. Here's a handy list:
Four strings is the standard, and most acoustic basses you come across will feature this many strings. If you're a beginner player or if you're looking for versatility, a 4-string would fit you like a glove.
A 6-string acoustic bass is less common and more awkward to handle. I'd only recommend picking this one if you're a pro player.
Size?
To get the loudest sound possible out of your acoustic bass, try going for a bigger size, which directly translates into louder sound. To get the most out of your acoustic bass, pick a guitar with a diameter of 18-inches and 6-inches of depth.
Final Thoughts
The clear winner of this rundown is the Taylor GS Mini-e. If you can swallow the price tag, the easy-to-use electronics, the impeccable build quality, and the sound (which can compete with models twice its size!), is simply unbeatable. And since it's a Taylor, you can rest assured that you're getting the finest quality instrument available in the market.
But if your budget won't stretch to a Taylor, you'll also find a few cheaper options for players on a budget. On the off chance that none of the models in our roundup seem to fit your requirements, you can use the buying guide as a reference to find one which will.