Growing up, I dreamt of becoming a famous rock star. Of course, to realize this dream I had to first learn how to play the guitar. Unfortunately, I grew up in an area that did not have a single music school. Because of this, I took it upon myself to observe how seasoned instrumentalists would strum their guitars on TV in the hopes of developing guitar skills on my own.
Later on, I went to YouTube and downloaded a free guitar learning software. These programs significantly cut down my work and allowed me to learn to play guitar much faster than I had been before. Without these programs, I'd probably still be struggling to perfect my picking and strumming skills. If you want to learn fast, as I did, I recommend you read this guitar learning software review and guide.
Top Product
Designed for noobs, the Rocksmith Guitar Learning Software System is my top pick in this review. It's a multi-platform guitar learning software that can help you hone your strumming and playing skills within a short time. It's easy to use and gives you real-time feedback as you learn.
Reviews of the Best Guitar Learning Software
Last update on 2023-11-14 / Affiliate links / Images from Amazon Product Advertising API
The Rocksmith app is a fantastic guitar learning software that teaches the basics of guitar in a cool video game format. It works with any bass or electric guitar with a 1/4-inch output jack.
Key Features
Riff-repeater
Mini-games
Session mode
User manual
What I Like
This app is versatile and compatible with different platforms and devices. I have installed it on my Windows 7 as well as HTC smartphone, and it works great on both.
Using the session mode, I can jam with a virtual band that also reacts to my songs. This makes it easy to transition into a real-world musical scenario. Every purchase also includes a lifetime worth of 80 interactive guitar and bass lessons that teach you every technique under the sun. From strapping up basics to holding a pick, it covers many essential things.
What I Don't Like
The theory part of this software is shallower than most guitar learning apps out there. It's really designed to create a solid foundation for beginners that are truly just starting out. If you're looking to progress further into the advanced parts of guitar playing, you may need to move on to more complicated software teaching programs.
Pros
Compatible with PC, Mac, and smartphones
Easy to set up
Fun learning experience
Real-time feedback
Cons
The Rocksmith Guitar Learning Software System is an excellent pick for anyone who is looking for a fun way of learning the basics of guitar and jamming while practicing different songs.
Overall Rating: 9.2/10
Pro 7 is another magnificent piece of software that lets you visualize the position of your fingers. Whether you are a pro or a beginner, learning will never stop.
Key Features
Three types of notations
Virtual fretboard and keyboard
Guitar tablature editor
Over 1,000 sound presets
What I Like
I appreciate the full range of sound presets in this software. When you download this software, you will be able to access more than 2,000 instrument tabs and high-quality songs. All these sounds give you room to explore your creativity.
Thanks to its complete and pro music notation, the Pro7 software enables user can create scores quickly and even compose their music. You can also use effect pedals and amps when playing with the Guitar Pro. Choose from 50+ amps and effect units and go live.
What I Don't Like
I don't understand why this vendor doesn't pack the CD with the license. I have ordered this software twice. On both occasions, I didn't receive the license prompting me to reach out to customer care for help. It's a great product once you get this sorted.
Pros
Great music tablature
Range of instrument tabs
Professional-grade sheet music
Share your compositions
Cons
Keeps crashing
Missing license
Guitar Pro 7 software is suitable for learners who are looking for a feature-rich learning app with a modern interface and a full galore of sound presets. The most exciting thing is that you can use it compose and share music.
Overall Rating: 7.9/10
The eMedia software is an easy-to-use learning tool for beginners and intermediate users who want to learn and practice at their own pace. It's compatible with Windows 7 and even older versions.
Key Features
Over 1,000 chords
Note and finger tracker
170 full-screen lessons
Automatic tuner and recorder
What I Like
This software has a user-friendly interface that makes it easy for learners to explore a variety of music genres better than they would in a classroom environment. With over 170 lessons, this covers all the fundamentals of learning to play the guitar.
Thanks to its animated fretboard, eMedia allows you to adjust your fingers well while playing the guitar. It also provides real-time feedback that helps improve your skills and proficiency in general.
What I Don't Like
Unfortunately, eMedia doesn't have a mobile version, so you can't learn or practice on the go. Some of the CDs are faulty and can easily crash your entire computer.
Pros
Interactive and fun
Built-in guitar tools
Instant feedback
Chord dictionary
Virtual fretboard
Cons
No progress tracking
Crashes programs
eMedia might suit you if you are looking to learn guitar on your own and at your pace. It's packed with many features that make self-learning fun and fulfilling.
Overall Rating: 8.4/10
Not many guitar learning applications are compatible with mobile devices. Lucky for you, Yokee guitar learning software works on iPhone and all Android smartphones. You can install it on your device and learn to play the bass guitar on the go.
Key Features
Downloadable mobile app
Instant feedback
Suitable for all skill levels
Fun learning games
Free version available
What I Like
Since it's compatible with mobile phones, you can hone your skills at home, work, or on the road. The learning never stops.
Yokee Guitar Play & Learn caters to different users. Beginners can use it to learn the fundamentals of the guitar while amateurs can use it to practice and hone their skills. Just like a teacher in a classroom environment, this software provides you immediate feedback, too. You will be able to know your weak areas and improve on them.
What I Don't Like
While this is fun to play, it does seem aimed a little at younger users. It's an excellent option for kids just getting started, but adults may be a little underwhelmed.
Pros
Great for experienced players too
Challenge your friends
Thousands of songs and worksheets
Cons
You have to pay to unlock more practice songs
Seems aimed more at children
The Yokee guitar software is a handy app for newbies who want to learn to strum, lead, rhythm and fingerpicking Ukulele or acoustic guitar on their smartphones.
Overall Rating: 8.4/10
Jamplay guitar learning software services over 500,000 people from 220 countries. It comes with many handy features that suit both learners and advanced players. Self-taught guitar tutors are always on stand-by to guide and instruct learners.
Key Features
Free mobile app
Webcam-to-webcam
Live video call-in capability
Full galore of free videos
What I Like
With 21 easy-to-follow beginner lessons, this guitar learning software gives learners a good grounding in various aspects of the guitar. Video tutorials also cover essential items with proper hand fret, tuning, picking, and more.
Its guitar courses are among the best online. They're not only detailed but focused and interactive. Task-based lessons include full tablature and weekly homework.
Many self-taught tutors are available to assist guide you with theory and practice. You can interact in real-time via webcam and live video calls. Eager to help, they will share with you their wealth of experience.
As well as being available online, Jamplay has mobile apps for iPhone and Android smartphones. You can download, install, and start learning the guitar in no time.
What I Don't Like
Jamplay's free version does not come with many features and advanced lessons. If you don't upgrade, you won't progress quickly.
Pros
6,500+ lessons
On-demand tutors
Structured lessons
Video illustrations
Downloadable mobile app
Cons
Limited trial features
Some lessons feel incomplete
If you want to learn to play the guitar at your own pace, I'd advise you to get the Jamplay as it comes with lots of easy-to-follow video illustrations and many handy features that will make self-learning a hassle-free experience.
Overall Rating: 8.2/10
The guys behind prodigy want to make learners enjoy playing the guitar every day. That's why they provide them with a handy guitar learning software with useful online tutorials for that purpose.
Key Features
Extensive on theory
Interactive guitar course
Skype lessons
What I Like
Lessons aren't just comprehensive but structured and easy-to-follow. Since you will learn the A to Z of guitars, you will have a good grounding.
Your instructors are life-long musicians who enjoy music and have a passion for teaching learners. They will show you guitar theory, which is critical in mastering any acoustic guitar or electric guitar. With their guided input and instant feedback, you will be able to achieve your guitar goals quickly.
Its interface and look and feels great, which is what every learner wants with a guitar training software. This application also works on different platforms.
What I Don't Like
Some of the elementary lessons are a bit brief and may not lay the best foundation for learners.
Pros
Fun learning experience
Instant feedback
Automatic tracking
Points for correct playing
Cons
No Android version
Subscription-based service
Better than self-help books, the Rock Prodigy Learn Guitar Course is suitable for guys who want to learn the guitar on multiple platforms without losing track of their lessons.
Overall Rating: 7.8/10
Buying Guide – What Makes a Great Guitar Learning Software?
From my experience, I can tell you straight up these three things are crucial when shopping for guitar learning software.
Lesson Coverage
As you may have noted in our review section, some guitar apps are more suited to theory than practical guitar playing aspects and vice versa. Such theory-centric apps can be a setback for a beginner who's keen on honing his or her guitar playing skills.
Try to strike a balance between theory and practice by looking for software that lets you muster the theory of music and at the same time gives you enough room to practice. That's the only way you will be able to ground yourself and play your instrument confidently.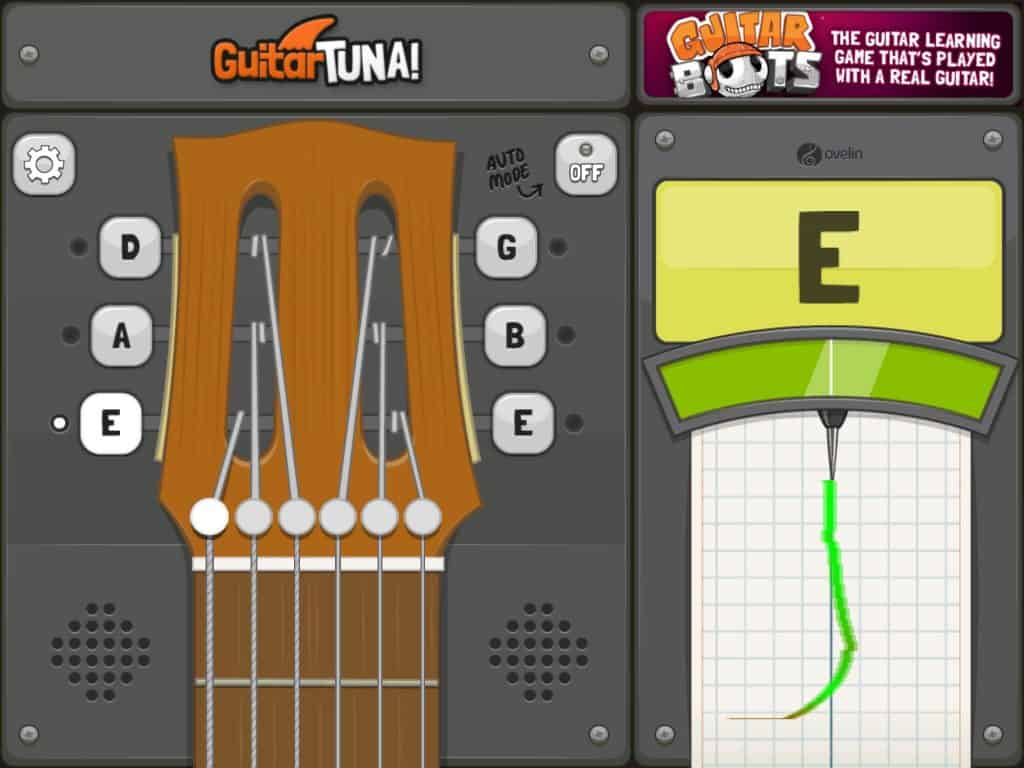 Practice Tools
As a seasoned guitarist, I spent hours watching demo videos and reading notes on the fundamentals of playing the guitar. It naturally follows that you will need to put hours and hours of practice. However, even with training, you still need the right practice tools to hone your skills. The right guitar software should come with easy-to-use practice tools that also provide feedback in real-time.
Flexibility
If you want to learn and practice guitar on different devices and platforms, you want to be sure the software you want to buy is compatible with every mobile device you plan to use. Good learning software should work on both Mac and PC besides your iPhone or Android smartphone. Lucky for you, many software vendors understand this need and provide different versions for mobile and desktop users.
Final Thoughts
Whether you are looking to learn as a hobby or you intend to become a famous rock star someday, self-learning and practice can be a fulfilling experience. The right guitar software can shorten your learning curve and make practice fun.
In this review, we have looked at some great learning apps for beginners. Each has its Pros and cons. The best guitar learning software is easily the Rocksmith Guitar Learning Software System as it comes with many useful features that will help you improve your proficiency. It's also easy to use and makes learning a fun experience. The fact that it works on different platforms means you can set it up on your device.
We also understand that the best software for you—is going to depend on you. If you try Rocksmith and it doesn't seem like a good fit, we hope our other suggestions work out. If you're looking for a great supplementary tool to practice guitar chords on the go, check out this pocket guitar list.