Welcome to our 12-string guitar review.
While the exact ancestry of the 12-string guitar is unknown, it seems to have originated in the United States or Mexico in the late 19th century. However, it gained massive popularity over the course of the 20th century and is now an integral component of numerous musical styles.
The 12-strong owes its popularity to its rich sound. It boasts a stunning chorus-like effect, thanks to the extra strings. It also has a distinctive ringing sound, which makes it a fantastic option for use as an accompaniment instrument. Let's explore some of the best 12-string guitars on the market, to help you choose the right one for your music needs.
Our Top Pick
We especially recommend the Yamaha FG 820, thanks to its healthy sound quality and outstanding features. It produces a robust, full sound and superb playability. It won't strain your finances either.
Last update on 2023-10-28 / Affiliate links / Images from Amazon Product Advertising API
Top-rated 12-String Guitar Reviews
Topping our list of the best 12-string guitars is the Yamaha FG820 12-string solid top acoustic guitar. Introduced to the market in 1966, the FG guitar series became so popular that it made Yamaha one of the most sought after brands in the guitar industry— it's no surprise that the Yamaha FG820 is our top choice for 12-string guitars.
Key Features
Body Shape – Dreadnought
String Type – Steel
Back and Side Wood – Mahogany
Top Wood – Solid Spruce
Neck Wood – Nato
Neck Shape – Standard
Fingerboard – Rosewood
Number of Frets – 20
Fingerboard Inlay – Dots
Scale Length – 25 inches
Bridge Material – Rosewood
Tuning Machines – Diecast
The FG820 boasts great built quality, excellent tone, and fantastic playability. Featuring a mahogany back and sides, the instrument delivers a balanced warm and mellow sound, and it is incredibly affordable, even for beginners on a tight budget.
Its well-built construction and scalloped bracing design make it a durable and versatile guitar. However, you may need to replace the stock strings to get the best of playing experience.
Pros
Classic design
Robust construction
Well-balanced sound thanks to scalloped bracing
Great deal for its price
Cons
Stock strings aren't easy on the fingers and may need replacement
The Yamaha FG820 is a well-built instrument with simple and classic looks and stunning quality at a pocket-friendly price. It is a great buy. You can also check out some other awesome options here.
Overall Rating 4.9/5.0
Our runner up for the best 12-string guitar is the DR-212, a true acoustic guitar with the big sound and the cutting-edge engineering you expect from Epiphone. The DR-212 Dreadnought is designed to deliver a balanced, cutting, and attention-grabbing tone.
Key Features
Body and Nack – Mahogany
Top – Select Spruce, scalloped bracing
Fingerboard – Rosewood, dot inlays
Hardware – Chrome
Scale Length – 5 inches
Nut Width – 75 inches
Finish – Natural
The DR-212 is a popular choice for rock, blues, country, and folk. Its mahogany-built body has sufficient size to effectively support and handle the additional tension of the 12 strings. This ensures it stays in tune.
The select spruce top gives it some room to breathe. 12-string guitars are known to go out of tune quickly thanks to the extra stress exerted between the nut and bridge. However, the DR-212 doesn't have any of these issues.
It holds on exceptionally well and maintains its tune. It also comes at a fair price, making it affordable to even beginners on a tight budget. However, its bridge is not of the best quality compared to competitors.
Pros
Ideal for blues, rock, folk, and country
Stays in tune, thanks to the rosewood
Durable construction
Affordable for its great features
Cons
The quality of the bridge is somewhat wanting
A 12-stringed guitar at such a price is hard to find. The Epiphone DR-212 Dreadnought offers excellent quality and playability. It boasts a striking tone and bright sound. It is one of the best guitars you can find on the market today.
Overall Rating 4.8/5.0
If you're looking for that jangly classic rock sound, the Dean BOCA semi-hollow body electric guitar would be an excellent choice for you. This beautiful instrument features a mahogany body, rosewood fingerboard, and chrome hardware.
Key Features
Semi-hollow body with arched top
Grover tuners
Dual humbuckers
Rosewood fretboard
Adjustable bridge with stop tailpiece
Three-way pickup selector
Master volume/tone controls
The body of this instrument is built with a combination of mahogany and maple. The maple top lets the instrument have some bright and expressive high and mid-tones. The mahogany back and sides deliver an impressive level of bass resonance.
This guitar can resist various kinds of damage, thanks to its sturdy construction. It has a maple neck that is set into the instrument's body to enhance its stability and sturdiness.
Another remarkable feature of the Dean BOCA is an adjustable bridge system and a tailpiece, which allow the instrument a customizable level of action and outstanding string stability. You can also bend your notes significantly.
The guitar's tuning machine is well-designed and does its job effectively. It stays in tune well. It is equipped with humbucker pickups, which can capture as much sound with as much detail as possible. However, you may need an amp to get their full effect.
Pros
Great Tonewood Combination
Captivating Sound
Quite affordable
Great appearance
Cons
Need an amp for full effect
The Dean BOCA electric guitar is an excellent option for anyone looking for a 12-string hollow body guitar. Delivering a fantastic sound and being quite affordable, this is certainly a great buy.
Overall Rating 4.7/5.0
Designed for live performance, the Takamine GJ72CE-12NAT offers numerous visual features of a classical acoustic guitar while maintaining a modern and sleek look.
Key Features
Body Shape – Jumbo
Body Style – Single Cutaway
Back and Sides Wood – Flame Maple
Top Wood – Solid Spruce
Neck Wood – Maple
Fingerboard Material – Laurel
Fingerboard Inlay – Abalone Reversed Mountain at 12th Fret
Number of Frets – 20
Scale Length – 4 inches
Tuning Machines – Gold diecast with pearl buttons
Bridge Material – Laurel
Electronics – TK-40D Preamp with a built-in tuner and 3-band EQ
The Takamine GJ72CE combines different woods to create an elegant instrument with a robust sound. Delivering great tone and playability, it is so sensitive that you don't need a guitar pick to make great music.
This guitar comes with a Takamine TK040D preamp system, known for premium quality sound. It also has an inbuilt tuner, which helps to ease the tension created by the 12-strings. Other remarkable features of this instrument include its abalone rosette, its synthetic bone nut, and split bridge saddle, and its classic glossy finish.
While the Takamine GJ72CE-12NAT may not be the best choice for beginners, it can be a great investment for experimental musicians who are more into sound quality and versatility.
Pros
Wide range of electronic options
Versatile sound
Classic look
Con
Quite big for beginners
Only suited to electronic guitar players
Overall, the Takamine GJ72CE-12NAT is a great option for anyone looking for a classic guitar with a modern touch. With its jumbo body style, robust construction, striking cosmetic features, and cutting-edge electronics, this is an excellent 12-string guitar that is designed to perform.
Overall Rating 4.5/5.0
If you're looking for a 12-string electro-acoustic guitar, you might want to look at what Taylor 150e has to offer. The Taylor 150e is an acoustic guitar with built-in electronics, allowing you to amplify your sound whenever needed with ease. It features a classic dreadnought body that projects a strong low-end response.
Key Features
Layered Walnut back and sides
Solid Sitka Spruce Top
6mm dot fretboard inlay
Chrome mini tuners
Taylor Expression System 2
Black binding and pickguard
Matte-finish Body
Comes with Taylor gig bag
This guitar features a solid Sitka spruce top, along with layered Walnut back and sides. The layered Walnut, together with its poplar middle core, gives it strength and durability. This construction also offers an awesome midrange presence with a sufficient touch of high-end sparkles that's pleasant to the ears.
It has an ebony fingerboard, which delivers crisp treble and powerful high-midrange that enriches the instrument's tone. Another outstanding feature of Taylor 150e is the Taylor Expression System 2 pickup that allows for an easy plug-and-play experience in amplified applications.
However, this guitar may not be a good option if you have a tight budget. It is quite pricey.
Pros
Beautifully balanced sound
High-quality electronics
Durable construction
Gigbag included
Cons
Too simple a design for the price
Pricey for a beginner
The Taylor 150e is a great option for any player who loves the depth and feel of a classic 12-string electro-acoustic guitar. It has an animated tone with healthy projection and a sturdy build that's sure to last.
Overall 4.6/5.0
Here's another great acoustic-electric guitar. The Martin D12X1AE is loaded with excellent features, delivering full and robust sound.
Key Features
Body Shape – Dreadnought 14-Fret
Top – Solid Sitka Spruce
Back and Sides – Mahogany
Neck – Rust Stratabond
Fingerboard – Black Richlite with White Plastic Dots inlays
Bridge Material – Black Richlite
Electronics – Fishman Sonitone
The construction of this guitar combines solid Sitka spruce and mahogany, which produce a warm and balanced tone. Whether you're a beginner or experienced player, you'll feel comfortable while playing this instrument as it measures up to 25.5 inches. However, it's quite heavy and may not be a good option for you if you prefer lighter weight guitars.
Pros
Great value
Awesome sound quality
Quite affordable for its features
Cons
Can be very heavy for those who prefer lighter weight instruments
The Martin D12X1AE can be a great option if you're looking for a reliable workhorse on a tight budget. It features excellent build quality and rich sound. It's also reasonably priced for its features.
Overall Rating 4.5/5.0
Closing our list of the best 12-string guitar reviews is the Seagull Coastline S12 Cedar. This guitar is rich in sound as you would expect from a top-quality 12-string guitar.
Key Features
Body Size/Shape – Dreadnaught
Top – Solid Cedar
Body Wood – Wild Cherry
Neck Wood – Silver Leaf Maple
Scale Length – 84 inches
Number of Frets – 21
The S12 Cedar is built with wild cherry wood, which produces a striking sound that falls between the mellow mahogany tone and the bright maple sound. The Wild cherry is also grown locally, making it an eco-friendly choice.
Whether you choose to strum or pick this guitar, you'll get a great sound and full volume. It is also easy on the fingers. The fit and finish are impressive, making it a great choice if you require perfection.
The neck of the S12 is designed to offer extra stability to handle the extra tension put on the neck by the 12-strings. The major disadvantage of this guitar is that it frequently develops some buzzing string sound after a considerable period of use.
Pros
Incredible craftsmanship
Rich and full of sound
Attractive finish
Great value for its price
Cons
May develop a buzzing sound over time
If you're looking for a 12-string guitar that is simple and fun to play and has impressive sound and powerful tone, you might consider Seagull Coastline S12 Cedar Guitar. You can't easily get a better deal at such a price. Check out more reviews of other similar types of seagull guitars that are readily available and also affordable.
Overall Rating 4.5/5.0
Buying Guide What to Look for in a 12-string Guitar
There are several things to consider when purchasing a 12-string guitar to ensure you get the best unit for your needs. These include
The Body
The body of a guitar plays an integral role in the quality of the sound you get. The best 12-string acoustic guitar or electric guitar should be able to produce a deep and loud sound. Hence, it should have a somewhat larger soundboard.
The best 12-string guitars on the market are made from high-quality solid wood. You should also consider size when choosing the body.
If you are small, for example, playing a large guitar will not be very comfortable for you. Consider choosing one that won't be too large or too small for you when you sit or stand.
Materials
The materials used to make a guitar also affect the sound quality. Low-quality material may not deliver the kind of acoustics you want. If you're more concerned with the guitar's tone and volume, you would want to choose a guitar made out of solid wood.
Wood stimulates sound vibration–the more vibrations, the better the sound quality. That's why 12-string guitars made from solid wood are typically more expensive compared to other types.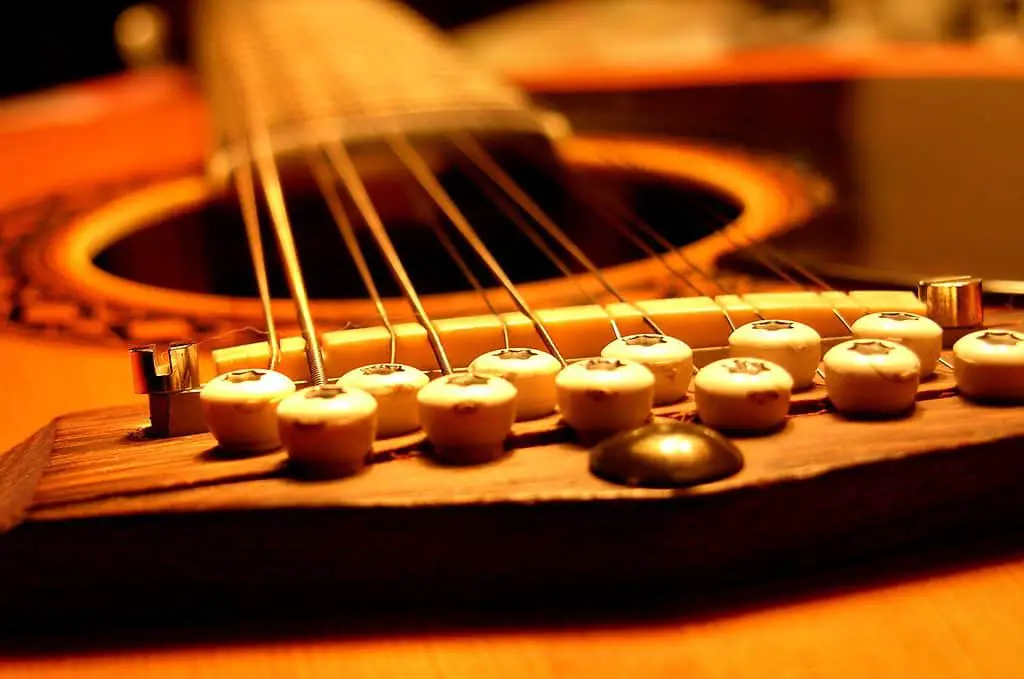 Neck Design
The neck design depends on the overall size of the guitar's body. A larger guitar will have a larger neck. The neck design will affect how you play the guitar.
If your hands are too small to handle the neck, making you feel uncomfortable, you may not get the desired acoustics. Always go for a neck design that you can comfortably handle when playing.
Strings
Strings greatly affect the sound. Some strings work better on some guitar types than others. The best strings should complement the guitar. Otherwise, your instrument will be sharp and hoppy.
Final Thoughts
12-string guitars are popular for their big beautiful sound. They are a great option for performance and rhythm players. However, there's a wide selection of the best string guitars on the market, so it can be challenging to choose the right one for your needs.
That's where this review comes in handy. The seven guitars listed above are sure to give you the best playing experience. We hope you find what suits your needs.