Last week, a friend of mine had his first gig, and let me tell you, he was prepared. He practiced for days in advance, bought some additional gear, and tuned his guitar for hours—but he made one crucial mistake. He picked the cheapest acoustic amp he could find. The result was disastrous, and his performance was barely heard, save for those in the front seats.
If you want to avoid my friend's mistake, having the best acoustic amp for your needs shouldn't be overlooked. So, to help future musicians out there, I've rounded up the best acoustic amps money can buy.
Our Top Pick
If you have to pick in a jiffy, you can't go wrong with the Fishman Loudbox Artist. It offers the best combination of power, features, and value for money.
Last update on 2023-11-17 / Affiliate links / Images from Amazon Product Advertising API
Best Acoustic Guitar Amps Reviews
The Behringer Ultracoustic AT108 offers robust sound amplification at a budget-friendly price.
Key Features
20-watt 8-inch dual cone speakers
Microphone input with dedicated volume control
CD input to play along with your favorite songs
VTC (Virtual Tube Circuitry) for tube-like sound
What We Like
At first glance, the AT108 doesn't resemble an entry-level acoustic amp. The construction is top-notch, and it has a ruggedness to it that indicates it'll survive a beating. It's exterior is stylishly vintage, and it wouldn't look out of place in a classy speakeasy.
The sound amplified by the AT108 matches its exterior well. It's a bright and vibrant tone with that unmistakable vintage character. The VTC technology gives it a warm tone, even though it's a solid-state amp.
The CD input makes this perfect for bedroom practice sessions, and once you're ready to rock it out, the microphone input and 20-watt power will serve you well in your first few gigs. EQ settings are also decent and managed to enhance our sound output subtly.
What We Didn't Like
The volume controls and EQ settings on the AT108 are basic at best, but you do get what you pay for.
Pros
Rugged construction gives this amp some longevity
Portability makes it easy to take along during practice or on gigs
It's very affordable
The VTC adds clarity and warmth to the sound
Cons
The Behringer AT108 is one of the best acoustic guitar amps for beginners. It gives the perfect balance of sound, power, and price. This amp will serve you well from your practice sessions until your first gig.
Overall Rating: 4.8 / 5
The Fishman Loudbox Artist is a powerful 120W acoustic guitar amp with a host of equally robust features and effects.
Key Features
120-watts, bi-amped
Two-channel input for microphones or instruments
3-band EQ and feedback controls for each channel
8-inch woofer and 1-inch soft dome tweeter
Chorus, Flanger, Reverb, Delay, Echo and Slap Echo effects are built-in
Footswitch input for muting inputs or applying effects
What We Like
The Fishman Loudbox is one of the better amps you can buy in terms of features and power. The 120-watt rating produced is very crisp, clear, and surprisingly accurate. It sounds like I am playing my actual guitar, only louder. Even when I cranked the volume to the higher levels, the sound didn't break one bit.
The various onboard effects are all great and useful if you don't have a mixer on hand. The effects are also channel-specific so that you can tweak your microphone and instruments separately, for instance. This feature gives you an exceptional level of control that you can use to maximize your sound quality.
The mute switch is also useful, especially when tuning and plugging/unplugging instruments. It helps avoid those annoying "pop" sounds. It's also helpful in accessing effects on the fly for some fantastic twists on your performance.
The construction itself is rigid and compact, considering the power this thing provides!
What We Didn't Like
Price is obviously the issue. It can be costly, given it's in the mid-range segment. Still, one can argue that the value for money on the AT108 is spot on if you can afford it.
Pros
The powerful 120-watt amplifier produces loud, crisp and clean sounds
Onboard effects allow you to fine-tune your output even without a mixer
It's compact and rugged, perfect for constant gigging
Versatile footswitch gives you excellent control over muting and effects
Cons
The Fishman Loudbox Artist is one of the best acoustic guitar amps you can get. It's powerful and feature-packed, and though it has a steep price tag, its value is matched for your money. If you're a serious performer, this should be your go-to acoustic amp.
Overall Rating: 4.9 / 5
Roland AC33 – The Most Portable Amp
The Roland AC33 is the world's first battery-powered acoustic amp for the musician on the go.
Key Features
Two 15-watt speakers for a total of 30 watts of stereo power
Option to run on AC power or through 8 AA batteries
Dual-channel accepts instruments or microphone input
Reverb, chorus and ambient effects
What We Like
The definite plus to the Roland AC33 is its portability. You can take it and literally play anywhere. Jam it up in the middle of the park? It's possible! It's also very compact and relatively light.
The battery life on this amp is at around 8 hours (although ours reached a little over 7). A more robust battery would better serve you here, but still, the longevity is impressive. Besides, you have the option of plugging it into an AC power as a standard amp during gigs or at home.
The choice of doing two 15-watt speakers give this amp an authentic stereo feel. The sound output is clear and compelling. The onboard effects are also useful, with mainstays like chorus and reverb. The added ambient effects give your performance more realistic depth to it like you're playing in a larger venue.
What We Didn't Like
The Roland AC33 is an expensive amp, considering you can get higher-powered amps for roughly the same price
Pros
Completely portable operation makes it versatile to play literally anywhere
Pure stereo sound and ambient effects give a realistic edge to your output
Compact and durable construction
Cons
Pricey, especially with its watt rating
The Roland AC33 might not be the most powerful amp in its class, but it certainly is the most versatile. If you're a performer always on the go, you'll appreciate the mobility and freedom the AC33 gives.
Overall Rating: 4.5 / 5
The Yamaha THR5 Mini Acoustic Guitar Amplifier is a portable acoustic guitar amp made for off-stage playing and studio recording.
Key Features
Designed for use with electro-acoustic and silent guitars
Uses Yamaha's proprietary sound modeling technology
10-watts powered amp
Features 8-cm speakers
What We Like
At first glance, this is a very underpowered (at 10 watts) and slightly overpriced guitar amp. Well, that's what we thought initially. The THR5 is a compressed combo amp, which features 8 cm speakers. The sound output is surprisingly robust and can efficiently work in smaller volumes. Seems a bit impossible, eh?
The "secret sauce" is in Yamaha's sound modeling technology. This does an excellent job of replicating the authentic sounds of a tube amp, giving you that warm, rich sound. It also has a slew of onboard effects and voicing modes to add even more realism to your sounds.
That being said, where the THR5 shines is in home or studio recordings. The included USB connection sends that warm tone straight to your computer. The bundled Cubase AI sound software is also a big plus.
What We Didn't Like
This is an underpowered amp given its price range.
Pros
Sound modeling and effects give accurate and realistic tone output
USB connection and software make it great for direct recording to your computer
Small and compact makes it very portable
Cons
Very underpowered for the price
The Yamaha THR5 is undoubtedly a unique combo guitar amp. If you're looking to add some realistic tone or unique effects to your guitar recordings, this is a good pick.
Overall Rating: 4.3 / 5
The Boss Acoustic Singer Pro is a great acoustic amp for both quality guitar and vocal output.
Key Features
120-watt amp
8-inch woofer and 1-inch tweeter
Dual-channel supports instrument and microphone input
What We Like
The Boss Acoustic Singer Pro is an acoustic amp explicitly made for the solo singer/guitarist. This is thanks to its vocal harmony feature, which analyzes your guitar and voice input and adjusts harmonies in real-time. This feature makes blending that much better. A footswitch can control all of it, so you can turn it on or off during gigs with ease.
The sound delivered by the Singer Pro is top-notch, which you really couldn't tell from its small, compact frame. It's rich, vibrant, and extremely clear. The onboard effects are robust as well. They allow you to add even more richness to your output that's not possible with standard sound systems.
What We Didn't Like
If you found the Fishman Loudbox Artist to be pricey, you'll find this even pricier.
Pros
Vocal harmony feature for creating beautiful sounding guitar and vocal blends
Compact and portable makes it easy for constant gigging
Delivers incredibly warm and rich sounds
Cons
There are cheaper alternatives with the same watt rating
Overall, the Boss Singer Pro delivers incredible sound performance and useful vocal blending features. If you're a solo artist looking for an all-in-one amp system, go for this one.
Overall Rating: 4.6 / 5
The Donner 15W AMP Acoustic Guitar Amplifier is an acoustic guitar amp made for beginners and casual players.
Key Features
15-watt with 6.5-inch Special Design speakers
¼-inch instrument input with 3-band EQ
XLR Input for microphone
¼-inch headphone output jack
1-year warranty
What We Like
The Donner AMP is one of the best priced acoustic amps you'll ever encounter, but despite that, it doesn't sound or even look cheap. The basics are all here. It has two-channel inputs for both guitar and mics, with 3-band EQ. The headphone jack is perfect for silent practicing. Its 15-watt rating is suitable for the size and price rating.
Sound isn't band, and you can anyways compensate with a little EQ tweaking. Done right, it can even get up to par with higher-priced amps. The Donner 15W AMP is a compact little amp you can take anywhere and is small enough to fit in a backpack.
What We Didn't Like
Sound is not as robust as the higher priced amps out there.
Pros
Super friendly price
Small and compact makes this extremely portable
Cons
Sound is decent but not as robust
The Donner 15W AMP acoustic guitar is great for beginners. Its low price point and satisfactory performance make it a no-brainer purchase, even as a backup amp.
Overall Rating: 4.6/5
The Marshall AS100D Acoustic Series is one of the top acoustic guitar amps from the legendary brand.
Key Features
100-watt solid-state amplifier
Two 8-inch speakers for stereo output
Four channel inputs for multiple instruments and microphones
Stereo DI and Line Outs
What We Like
The Marshall AS100D is a beast of an amp. The 100-watt power rating is robust enough to produce loud and clear sounds, but you might argue, there are plenty of other amps with more power than 100.
No, where the AS100D excels is in its features. It features not two but FOUR channels, which is rare for a single amp. You can plug in a host of instruments and microphone inputs here, possibly for a whole ensemble. This gives you plenty of flexibility playing in larger venues.
The sound quality of the AS100D is excellent. The mid-range is pretty comprehensive and bright and can get full with just some minor EQ tweaks. In its raw form, however, the sound can be harsh.
Thankfully, this is another part where the AS100D excels. If offers plenty, and I mean plenty of settings and controls. Each channel has slightly different controls from the others. Everything from gain to EQ, to phase power and contour switches.
What We Didn't Like
This is a relatively heavy amp, which can make transport difficult. The price is also a bit steep with this one.
Pros
Multiple channel inputs offer a wide range of versatility
100-watt power blasts crisp and clear audio quality
Plenty of controls to help fine-tune your output
Cons
The Marshall AS100D is one of the best acoustic guitar amps you can buy. It's feature-packed with a host of impressive features. If you're looking for an all-in-one guitar amp for larger gig venues, this is a serious contender.
Overall Rating: 4.8 / 5
Acoustic Guitar Amp Buying Guide
Acoustic Amps vs. Regular Amps: What's the Difference?
If you're thinking of buying any regular amp for your acoustic guitar, you're making a critical mistake. Unlike electric guitar amps, the acoustic variety is all about faithful reproductions of your guitar's sound. They feature cleaner tones and don't distort the output like what an electric amp would do. Want to see more guitar options? check out some other top picks here.
Factors to Consider When Buying an Acoustic Amp
Feedback Control
An excellent acoustic amp will have a way to help minimize feedback coming from your acoustic guitar. The fact is that not all acoustic guitar pickups or amplification methods are perfect. Most produce minimal to noticeable feedback. Feedback control is, therefore, an essential feature to help achieve a cleaner tone.
If your amp is over 20 watts, this would usually be standard fare. The most basic is a simple push-button that turns feedback control on or off. While not robust, it's enough for smaller venues. Higher model amps feature advanced controls and filters that allow you to fine-tune feedback problems.
Where You'll Use it
Where you are planning on using your amp is probably your most important consideration.
What acoustic amp you'll get depends on where you plan to play your guitar. Are you just practicing at home, or do you continuously play gigs in large venues? The feature you'll want to look into here is the watt rating of your amp. This dictates the maximum volume you can amplify.
If you plan to just play in your house, a 20-watt or lesser amp is suitable. For smaller venues like bars or cafes, you can get away with an amp in the 40-100-watt range. Most of these also accept different inputs, like a microphone, perfect for solo gigging.
For those playing in a band, you need somewhere in the area of 100-300 watts. This is because your guitar's sound will need to compete with the myriad of other instruments in a band setup. A high-powered amp will allow you to amplify your guitar's music in a loud yet clean way.
If you're a street or outdoor performer, you'll have unique needs all to yourself. The challenge is having an amp that's portable and battery-efficient. At the same time, it needs enough juice to drown out the noise of a busy city street or subway. For decent performance, anything along the lines of 60-watts offers satisfactory quality that's not much of a power drain.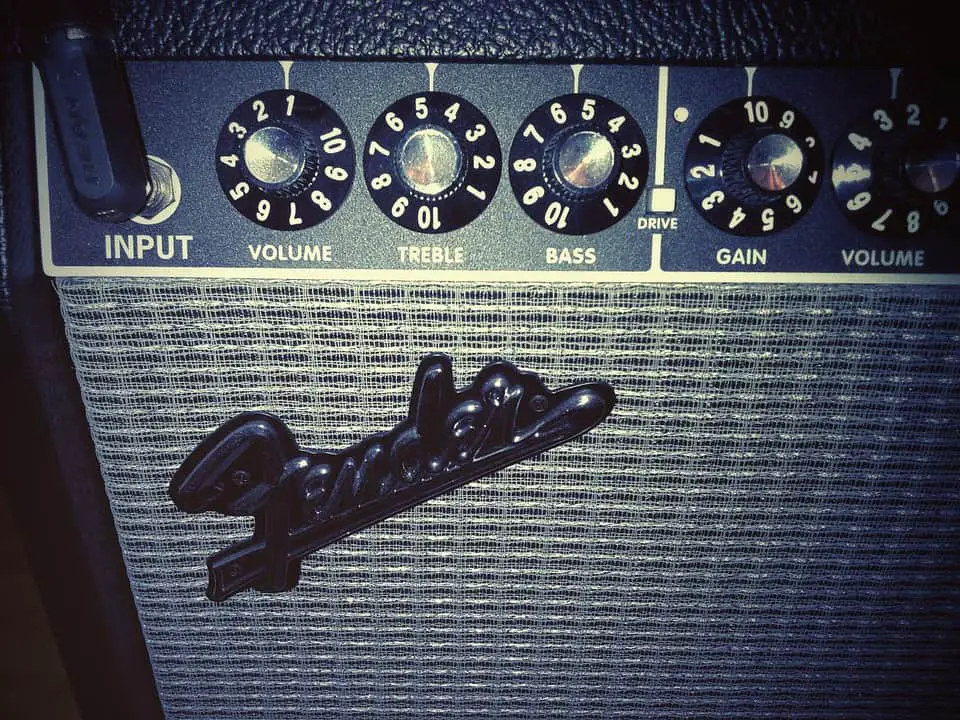 Onboard Effects
Having the ability to enhance your sound can do wonders for your performance. What you need is generally dependent on the style of playing that you do.
The basics you need to consider are reverb and chorus. Both of these can give you rich, robust sounds that are great for many venues and applications. Some, such as a looping function, is perfect for solo artists who want a background rhythm they can play with.
Channels
Multiple channels allow you to plug in many different instruments or sound inputs directly into your amp. The most basic we recommend is a dual-channel input that gives you the option to use your microphone. This basically turns your amp into a PA system and is useful for smaller gigs.
It's best to get an amp also allow you to control each channel with effects and EQ settings independently.
Final Thoughts
As we've seen, you have plenty of choices when it comes to the best acoustic amp, but if we had to pick one off this list, we'd go with the Fishman Loudbox Artist.
This is one of the most feature-packed amps out there. The 120-watt power is more than enough for most venues. The sound output is fantastic and is one of the most accurate out of all amps we've reviewed. The various features are all useful additions to any serious musician's gigging toolbox.
This makes the Loudbox Artist the best acoustic amp that gives excellent value for your money.
You can also check out our latest post where we list the top guitar software that will help you improve your proficiency.