If you think of classical guitars, you might see it as an instrument for beginners—or a guitar for really old people playing dull music. The thing is, classical guitars are much, much more than that. With their pleasant tones and warm melodies, these instruments are charming in their own right.
But, picking the best classical guitar is harder than you think. While not as feature-rich as electric guitars, there are still subtle factors you need to consider. Getting the wrong one will undoubtedly end in frustration and guitar smashing.
So, do yourself a favor! Check out our round-up of the best classical guitars first before parting with your hard-earned cash.
Our Top Pick

For the best nylon-string guitar, it's undoubtedly the Kremona Verea. This is an incredible sounding, premium guitar at a mid-range price.
The Best Classical Guitars Reviewed
Last update on 2023-05-26 / Affiliate links / Images from Amazon Product Advertising API
The 114CE-N is a mid-range offering from iconic guitar maker, Taylor. It's a genius mix of tonewoods produces a superior sound.
Key Features
Grand auditorium body type
Sitka spruce solid wood top
Layered walnut wood for the back and sides
Genuine African ebony for the fingerboard
Sapele wood for the neck
What We Like
While best known for their acoustic guitars, Taylor gives an excellent nylon string version with the 114CE-N. The construction and body style should be immediately familiar to fans of the brand. The neck is narrower, similar to a steel-string guitar.
This is actually a classical guitar with a few acoustic touches thrown in.
This hybrid nature gives the 114CE-N a bolder sound output than your typical classical guitar. Notes are clear and well-defined with a rich, full sound. In this regard, the 114CE-N has a unique tonal character that's unlike any nylon-stringed guitar you might have tried.
What We Didn't Like
The fact it feels like an acoustic guitar can be off-putting. Classical guitar players might need a bit of adjustment in their play style.
Pros
It has the rich, bold sound of an acoustic in a nylon-string format
Built-in ES-N electronics give you the flexibility of playing plugged or unplugged
Solid Taylor construction
Cons
The hybrid nature might turn off classical players
The Taylor 114CE-N takes the best of both acoustic and classical guitar styles and combines them in one great package. For the adventurous player, this can be a uniquely rewarding playing experience.
Overall Rating: 4.7 / 5
The Yamaha C40 is one of the most popular beginner guitars on the market. It's effortless to play with decent sound output.
Key Features
Spruce wood top
Nato wood neck
Indonesian mahogany for back and sides
Javanese rosewood for the fingerboard
Lightweight design
What We Like
This is one of the most beginner-friendly classical guitars you can get. It's a full-sized nylon guitar that instantly sets you off on a good start. The C40 is well-constructed for an entry-level instrument. The combination of Spruce and mahogany makes for a guitar with good tonal range and bright sound output.
The whole guitar is lightweight to make it easier for novices to handle. It has low action, so it's easy to play for beginners without any buzzing. There is good resonance on the strings and body, with great sustaining sound.
What We Didn't Like
This is a basic guitar, so not much in the way of features. The lack of a truss rod adjustment is one.
Pros
Super affordable entry-level guitar for beginners
Balanced sound and good tonal definition
Full-sized to get beginners familiarized
Easy to play with low action
Cons
For a beginner guitar, the C40 is hard to beat. The combination of affordability, good sound, and quality construction definitely sets it apart. There's a reason why it's the best classical nylon string guitars for beginners.
Overall Rating: 4.8 / 5
The GA3 is Ibanez's foray in the entry-level classical guitar market, but it's superb sound and unique design make it a strong start.
Key Features
Spruce wood top
Agathis for the back and sides
Full-sized guitar
Truss rod installed
Lightweight design
What We Like
The GA3 stands as a serious contender to Yamaha's dominance on beginner guitars. Cost-wise, they're neck to neck. The GA3 is one of the most affordable guitars you can buy anywhere.
The body is a full-sized traditional design that's easy to play. The low action and fast necks Ibanez is known for is present in the GA3. This aspect makes for minimal buzz, even for a complete novice player. Overall construction is solid and feels it will last you a long time.
The sound quality is excellent as well, thanks to the Spruce and Agathis wood combo. It's melodic with that familiar "classical" feel. This guitar also needs no tuning at all. It sounds great right out of the box, and if you ever need to adjust, it has truss rods installed – a definite advantage over the C40.
What We Didn't Like
In our opinion, the sound quality is decent, but we like the fuller range of the C40.
Pros
Very easy to play for beginners
The included truss rod makes adjusting possible
Lightweight and easy to handle
Cons
Sound quality slightly lower than the C40
The Ibanez GA3 is an equally great alternative to the C40 with decent sound and craftsmanship. The added truss rod is a definite advantage.
Overall Rating: 4.7 / 5
The C546TCE-N is a Stagg entry-level classical guitar with electronic features thrown in the mix.
Key Features
Spruce wood top
Catalpa for the back, sides, and neck
Rosewood for the fingerboard and bridge
Full-sized guitar
B-Band 4-band EQ and tuner
What We Like
The Stagg C546TCE-N takes entry-level guitars a step up by marrying it with some electronic features. The onboard EQ and tuner and digital display give a visual way of making sure you're in tune. The level of control is also commendable and will be appreciated by intermediate players.
The sound quality is soothing and mellow. Though it's not as rich as the other entry-level guitars on this list, it has decent playability, with a smooth rosewood fingerboard that's comfortable to handle. The 8 cm thin body cutaway makes it sound decent when played acoustically.
What We Didn't Like
Right out of the box, this guitar needs some work to be playable. The strings aren't of good quality and need to be replaced. The saddle might also need tinkering, and the fret ends are better when filed. Your experience might vary, though.
Pros
The built-in tuner and visual display are excellent for fine-tuning your guitar
Lightweight and easy to handle
The smooth neck makes playing comfortable
It's easy to play higher frets on this guitar
Great price
Cons
Needs a lot of work to be optimal
String quality leaves a lot to be desired
While it has its flaws, the Stagg C546TCE-N is still a viable beginner guitar. The added tuner and digital display might be enough to make you consider this guitar.
Overall Rating: 4.5 / 5
The Cordoba C5-CET provides a great sounding classical guitar at a mid-range price. It's a fantastic classical electric guitar hybrid.
Key Features
Canadian cedar wood top
Mahogany for the back and sides
Rosewood bridge and fingerboard
Thin body design
50mm nut width
Savarez Cristal Corum strings
Fishman Isys+ pickup
What We Like
The C5-CET offers a sleek, slim body size that's very playable for both beginners and advanced players alike. The combination of Canadian cedar and mahogany produces a very warm and rich sound. The deep low notes are punctuated with a soft mid, perfect for mellow music styles.
The warmth of the C5-CET is pronounced even more when plugged in. The Fishman Isys+ pickup does a great job at reproducing this also when amplified. This makes the C5-CET an excellent option for studio recordings.
The side panel also includes an array of controls to fine-tune your sound quality even further, including volume control and two-band EQ control. The built-in digital tuner is also useful and reasonably accurate compared to a dedicated one.
What We Didn't Like
The black finish might not be for everyone, considering this is a classical instrument
Pros
The pleasantly mellow and soft sound character
Does an equally great job when plugged in, making it great for studio work
Sound controls give you a wealth of options for fine-tuning
Cons
Non-traditional black finish
The C5-CET is one of the better Cordoba guitars, in our opinion. It's playable with a warm, soft tone that you'll take a liking to. The pickup and digital controls add even more flexibility and versatility.
Overall Rating: 4.6 / 5
The Cordoba GK Studio is your go-to guitar if you're into playing flamenco. It's based on classical Spanish guitar with a thinner body depth and nut width.
Key Features
European spruce wood top
Indian rosewood for the back and sides
Fishman Presys Blend electronics with onboard tuner
Savarez Cristal Corum strings
Includes Cordoba gig bag
What We Like
The GK Studio is a guitar made explicitly for stage playing. The fret on this guitar favors playability with low action. The size is also around 15% smaller than some classical guitars, making handling even more comfortable.
Being a flamenco style guitar, this produces the signature sounds that will be instantly familiar to listeners of the genre. The sound produced is more emphasized on the bass compared to the brighter tones of other flamenco guitars. Though the bass is not as sustained, and this is normal.
What We Didn't Like
Not much to complain about with this model, except for a small fret buzz, but nothing a good set up can't fix.
Pros
Produces the faithful sound characteristics of flamenco
Easy to play instrument made for gigging
Built-in tuner and preamps offer complete sound control
Cons
It's a highly specialized guitar and is not as versatile as a classical
The Cordoba GK Studio is our top choice for the best nylon-string guitar for flamenco players. The sounds produced are faithful to the genre, and it makes stage playing easy and enjoyable.
Overall Rating: 4.5 / 5
The C3M is an entry-level offering and a classic example of a Spanish guitar. Visually, the C3M is a treat.
Key Features
Cedar solid wood top
Rosewood bridge and fingerboard
Natural satin finish
Full-sized 650mm length guitar
Savarez Cristal Corum strings
What We Like
The craftsmanship is overall exceptional here. Everything from the beautiful mahogany sides to the hand-laid rosette is well-constructed. The gorgeous satin finish really adds to the Spanish charm of this Cordoba.
Sound-wise, the C3M offers a fuller and warmer note than comparable entry-levels like the C40 or the GA3. The tonal range of this guitar is commendable.
The solid wood top is a welcome change from the laminates of other beginner models. It makes the sustain last longer, and the resonance more projected. The C3M is, in fact, one of the most resonant entry-level guitars we've tried.
What We Didn't Like
The neck is slightly bigger and may not be for people with smaller hands.
Pros
One of the more resonant guitars in its class
Very affordable price
A deep rich sound that's unique among beginner guitars
Cons
Might not be comfortable for those with smaller hands
The Cordoba C3M offers a rich-sounding beginner guitar at a fantastic price. It's a lightweight and playable guitar that covers all the basics.
Overall Rating: 4.6 / 5
The Kremona Solea is a stunning masterpiece that plays as great as it looks.
Key Features
Western cedar wood top
Cocobolo wood for back and sides
Ebony fingerboard and bridge
Deluxe wooden archtop hardshell case
What We Like
Right off the bat, the Solea indeed looks like a handcrafted work of art. The beautiful combination of cedar and cocobolo is a sight to behold. The ebony neck feels solid and artfully made. Heck, even the included hardshell case is worth a more prolonged gaze.
But, is the sound at par? Luckily, it is. This guitar sounds utterly fantastic. The bright tonal qualities of the cocobolo are evident in every note played. Balanced and sounds excellent across the board. Intonation is spot on with a resonance that's deep and convincing.
This guitar is best suited for playing softer music at a slow pace. The fingerboard is slick to the touch and makes fretting and chord switching a breeze. All in all, it's an extremely playable guitar.
What We Didn't Like
The glossy finish, while pretty, is not an ideal choice for guitars. It causes the tone to sound muffled and trapped.
Pros
High level of craftsmanship makes for one stunning guitar
Amazing sound quality
Excellent wood finish makes it a joy to play with
Cons
The glossy finish is not as ideal for sound quality
Expensive
Ideal only for personal playing. It's not made for stage playing
If you're looking for a handcrafted work of art that you can strum with, the Solea is an absolute buy. Even better, it offers more than just eye candy with fantastic sound quality and playability.
Overall Rating: 4.7 / 5
Kremona Verea – OVERALL BEST CLASSICAL GUITAR
The Kremona Verea is a stage-worthy classical guitar with a mid-level price range.
Key Features
Red Western cedar solid wood top
Indian rosewood back and sides
Honduras cedar neck
Dual-source Fishman Presys Blend system
Custom narrow 48mm neck width
What We Like
The Verea is a concert-ready beast. How so?
Let's start with the tonewoods used in the Verea. The solid cedar wood top creates a vibrant, resonant tone that's full and well-rounded. The sound is crisp and clean and deeply responsive. The blend of Honduras cedar and Indian rosewood used in the neck makes for a very smooth surface perfect for effortless fretting.
Once you get on a stage, the Fishman Presys Blend system will take you home. It gives unprecedented sound control to achieve that perfect tone, whether that's through the loudspeakers or an amp. The three-band EQ allows you to fine-tune your bass response and feedback. The chromatic tuner ensures everything is sounding excellent.
What We Didn't Like
We can't think of anything really, minus it is a little spendy.
Pros
Incredible sounds with great resonance
Preamp and tuning system makes fine-tuning a breeze
Perfect for both live performances and studio sessions
All the fantastic features at an unbelievable price
Cons
The Kremona Verea is one of the best nylon-string guitars money can buy. It creates absolutely amazing sounds and is shines the best on-stage performances.
Overall Rating: 4.9 / 5
https://www.youtube.com/watch?v=CUVW6oj4YCo
Classical Guitar Buying Guide
Now that you've sampled some of the best classical guitars on the market, let's review what you should consider when buying one.
Classical vs. Acoustic: What's the Difference?
To non-musically inclined people, acoustic and classical guitars might be one and the same. After all, they can look pretty similar, but both of these guitars are radically different. Each has its own distinct sound character. They are therefore suited to different music genres.
The first thing you'll likely notice is the shape. Acoustic guitars are bigger than classical. They also come in the iconic dreadnought shape. The fretboard on a classical guitar is even wider and will also lack the inlay dots or fret markings.
Probably the most significant difference between the two guitar types, though, lies in the string used.
Classical strings are made of nylon. These produce a softer and warmer tone that can only be described as "classical." Think traditional Spanish, Latin, or Baroque styles of music.
Nylon strings are softer and are, therefore, more comfortable to play. This makes it suited for a beginner. For advanced players, the classical guitar takes well to a fingerstyle of playing.
Acoustic guitars, on the other hand, are made of steel strings. They are harder and produce a brighter, higher-pitched sound. They also have longer sustain than classical. They are better suited to strumming with complicated fretwork. Virtually every modern band you can think of uses an acoustic guitar.
Most beginners use a classical guitar as a "gateway" instrument to learn the ropes. They're easier to play and is the cheapest guitar available. Once they've gotten better, they try their hand at either acoustic or electric. None the less, on its own, the classical guitar is a rewarding instrument with its own style.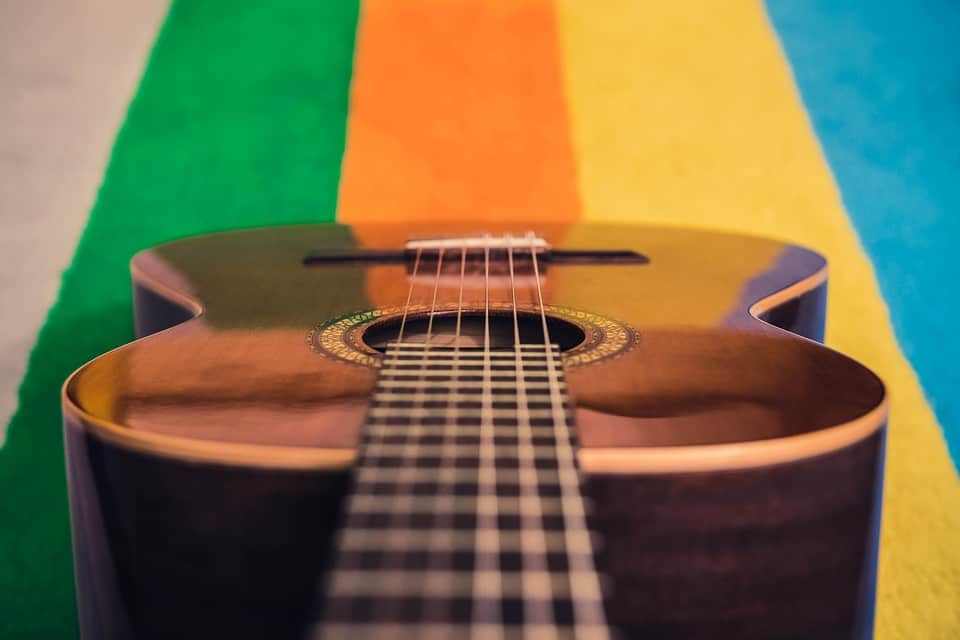 How to Choose a Classical Guitar
Pick the type of wood that sounds right for you
Wood has a more significant impact on the sound quality of a guitar than most people think. Different types of wood have their own weight and density. This lends itself to the sound, producing different characteristics. The type of wood a guitar uses is known as the tonewood.
The common types of tonewood include:
Mahogany is a medium weight, dense wood that has an attractive brown color. This type of wood is known for producing deep, rich bass and warm mid-tones. The sound is pretty distinct, with excellent sustain.
Maple is one of the more common woods used in guitars, especially the neck. Its medium weight creates a fair bit of resonance, and it produces a bright, high-end tone with excellent definition. It is best for live recordings or performances.
Spruce is the most frequently used wood in classical guitars. It creates crisp tones with a broad frequency spectrum, making it superior in producing clear and well-defined sounds. It is most often used in the soundboard, where it can maximize its tonal capabilities.
Cedar creates a softer and less clear sound as compared to Spruce. This adds a layer of character and warmth to the overall tone this wood produces. For guitarists who prefer softer music, cedar is a good choice.
Rosewood is a tough, porous, and resonant wood that creates a full, rich sound with a great bass definition. Some higher quality guitars use the rarer and pricier Brazilian rosewood. Most guitars, however, opt for the cheaper Indian variety. This can be a good gauge when judging price points of rosewood guitars.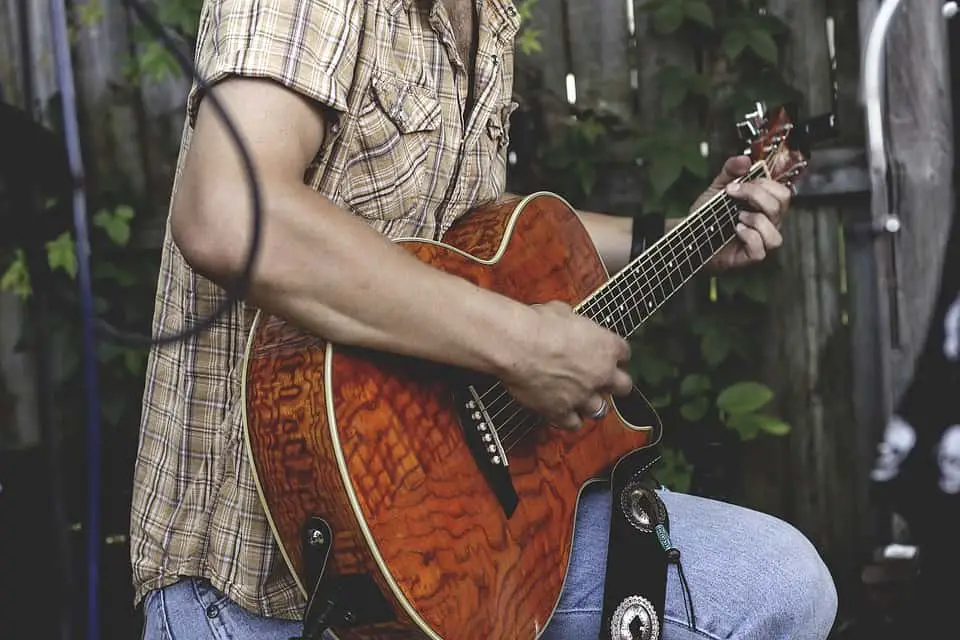 Pick the right guitar size
Guitars come in a variety of sizes. They range from ¼ to the full size we usually know. It's essential to pick the size that's appropriate for your build. Getting an oversized guitar for a kid (or a smaller one for an adult) can make playing quite uncomfortable.
Both the ¼ and ½ sized guitars are mostly made with children in mind. The smaller frets are more comfortable for kids to grasp. The ¾ size is suitable for older kids or adults who prefer smaller frets. Some might find it hard to play with the fretboard of a full-sized guitar, so this size is a good compromise.
The best advice we can give is to get the right size based on correct playing techniques! Too often, budding players might dismiss a guitar as too big. It turns out, they were simply not handling it the right way. When in doubt, try an actual guitar at an actual store to get a feel for the different sizes.
Pick a great soundboard
Of all the parts in a classical guitar, the soundboard is arguably the most vital. This piece of wood is the one that produces the sound as the strings are vibrated. It, therefore, has the most significant impact on the tonal quality of your guitar.
As a rule of thumb, pricier classical guitars will have better quality soundboards. There are two types: plywood or solid wood.
Plywood is the cheaper of the two. It is composed of three (sometimes more) layers of wood stacked together. The top layer is usually made of a higher quality wood than the middle and bottom layers. Wood quality being equal, the sound is generally less bright and defined with plywood soundboards
Solid wood tends to be the more expensive, premium option. This is made up of two more substantial pieces of wood sandwiched together. Different types of wood can be used for these two pieces. This combination can result in unique tonal qualities. Clarity and definition are also more pronounced in solid wood soundboards.
When it comes to wood, expensive doesn't necessarily mean better. Each type of wood has different tonal characteristics. If you absolutely love the character of cheap wood like Spruce, then go for it!
Pick the right body type
To a lesser degree, how the rest of the guitar is built can influence the quality of the sound produced. Thicker bodies usually produce a fuller sound, with the rich definition in the bass. Thinner bodies will create a more delicate tone that's more in the treble range.
What's the price you're comfortable with?
While classical guitars are generally cheaper, they can still get quite expensive.
The tonewood has the most significant influence on the price of a classical guitar. Wood-like mahogany or Brazilian rosewood are rare and will cost in the $500 – $1,000 range. Cheaper wood, including Spruce or Cedar, are suitable for beginner guitars.
The hardware of your guitar might be a minor part, but it still has an impact on price. These include things like the tuning pegs and the nut. On lower-end models, this can be nothing more than plastic. Higher quality hardware can be made of either metal or bone. As with other things, better quality means better durability. This is an excellent reason to consider getting them.
Higher quality hardware can also have a minor influence on the sound definition. Plastic hardware can duce unwanted vibrations on the string. Metal and bone are hardier and therefore, more vibration resistant.
A guitar can be handmade or factory-made, with prices on the far end of the spectrum. The craftsmanship and level of detail in handmade pieces will, of course, warrant a higher cost. What you get in return, though, are complete works of art that can increase in value if properly looked after. This is overkill for beginners, so the factory-made is the way to go.
Check the fretboard
The fretboard is the part of the guitar where you hold down the strings to play certain chords. The most common complaint of beginners is how hard it is to form chords on their fretboards. So, you need to consider one that's comfortable for you to play on.
Check on the action of the fretboard. The action is the spacing between the frets and the strings. Wider (high action) fretboards are more challenging to play but can produce higher volume sounds. Narrower (low action) are easier to play but can duce more buzzing from the strings.
The actual spacing of the strings also needs to be considered. This comes down to preference. Generally, it doesn't matter if you go for wider or narrower spacing. What's important is that they're evenly spaced.
Also, take a look if the frets are not extending too far out the neck. Frets that jut out too much can be uncomfortable to play and might result in less than ideal sounds. To remedy this, simply file them down to what suits you.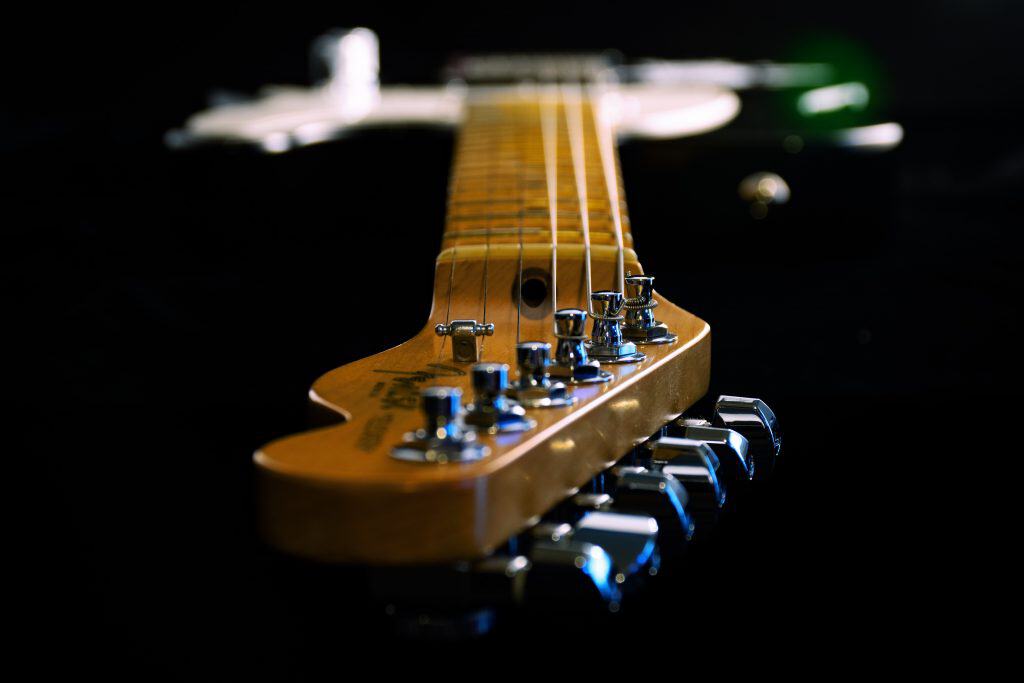 Taking Care of Your Classical Guitar
In many ways, classical guitars are delicate instruments that need constant attention and care. This is more crucial with higher-priced guitars with exotic tonewoods but having a well-maintained guitar can reward you with a great playing experience for years to come.
Some tips on guitar care:
Guitars need optimal levels of temperature and humidity (around 40-60%). Any drastic change can permanently warp the wood.
Regularly oil the fingerboard to help prevent moisture from seeping into the wood and damaging it.
A good quality case is the best investment you can get for your classical guitar. This is especially true if you plan to take it out on a lot of gigs.
Regularly lubricate the string slots in the nut. Lubrication makes tuning easier and will help prevent creaking sounds while doing so.
Change strings regularly to make them sound their best.
Final Thoughts
That was a tough battle! We've seen a lot of great options for the best classical guitars in the market.
In the end, we had to give the trophy to the Kremona Verea. It's an amazing, premium quality guitar with a surprisingly mid-range price. The sound it produces has an incredible character and depth to it. It's versatile for both stage and recording settings with its robust tuning and preamps, and the stellar craftsmanship and visual appeal are just icing on the cake.
We seriously can't find fault in the Verea, making it our best classical guitar on the list.