When you think of small guitars, probably the first thing that comes to mind would be concert-size guitars. They're small and compact, which makes them easy to lug around when you're traveling, but there are guitars smaller in dimensions than even the smallest concert size guitars: parlor guitars.
Not only are parlor guitars easy to transport, but they also have a very distinct tone, which is why many blues and folk players favor them. They're also more comfortable to play with than a dreadnaught size, which makes them ideal for beginners and young guitarists with small hands.
Parlor guitars are considered 'vintage' since they've been around for at least three centuries and saw peak popularity some hundred years ago—but they're more than just musical relics of yesteryear.
They're making a comeback, and almost every leading manufacturer is hopping on the bandwagon. The market is flooded with options, so we combed through it carefully to bring you some of the very best parlor guitars.
OUR TOP PICK
If you're in a wee bit of a hurry, my top pick is the
Yamaha CSF1M
. It offers the playability and tone of a high-end model without the high-end price tag.
Last update on 2023-10-18 / Affiliate links / Images from Amazon Product Advertising API
Best Parlor Guitars Reviews
The Yamaha's CSF1M is geared towards performance and build, and it does not disappoint. It distinguishes itself from other parlors since it doesn't have that boxy tone you've come to associate with compact travel-size acoustics.
Key Features
All-solid/laminated options
Mahogany and spruce tonewoods
Passive zero-impact pickup
Elixir strings
What I like
With an affordable price tag and on-board electronics, Yahama's CSF1M is probably one of the most popular parlor-sized hybrids on the market today, and for a good reason. The design is a no-nonsense classic with a natural high gloss finish, but you can also opt for a tobacco sunburst finish if you favor a more old-school look.
The top is solid spruce while the sides and back are laminated mahogany. Though a laminated build often means it isn't sturdy, you won't have to make this trade-off if you choose this Yamaha. In fact, the tone and build quality are what makes this model stand out.
If you can shell out a few extra dollars, you can also opt for the all-solid variant which sounds more like a larger guitar. Its shoulders aren't too slim, which allows a well-rounded, warm, and full tone. It's positively surprising considering this parlor is a budget option.
What I don't like
The guitar doesn't feature a pre-amp, only a passive pickup, which means the amp will have to do all the tone shaping. If you're gigging, you'd likely need on-board EQ controls which this Yamaha lacks.
Pros
Elegant classic design
On-board electronics
Warm, rich, and full tones
Comes with a hard-case
Great value for the price
Cons
If you'd primarily be using this parlor guitar as an acoustic, you'd have little to no complaints. The build quality and the overall value it offers is more than what you're paying. If you're a beginner or just have a smaller form, this model should be on your shortlist.
Overall Rating: 4.6/5
Owing to their fabulous workmanship, superb sound, and great playability, Blueridge's guitars can go toe-to-toe with high-end brands like Martin or Taylor, but what makes them different from these premium manufacturers is the fact that you can get your hands on a Blueridge for a fraction of a Martin's price.
Key Features
Solid Sitka spruce
Select ebony fingerboard
Solid mahogany back and sides
Slotted headstock
High gloss crispy natural finish
Nickel-plated tuners
Pure bone saddle
What I like
There is plenty to like about this guitar. The top is solid Sitka spruce, while the back and sides are constructed out of the highest quality mahogany. These superior tonewoods allow for better resonance and clearer intonation, and since the construction is all-solid, the sound projection and tone quality are top tier.
The fretboard is choice ebony, which minimizes fret noise and gives you a smoother experience. The sound and the warm basses, in particular, would give you a feeling that you're strumming a dreadnaught, not a travel size.
What I don't like
With a price tag around $1000, your budget might not stretch to this model. If you're on a tight budget, I suggest skipping this one.
Pros
Impeccable craftsmanship
Choice tonewoods
Sound which rivals a dreadnaught
Excellent fingerboard
Warm and punchy sound
Cons
Shortlist this guitar if you're looking for a top-quality with a feature set common to high-end guitars for a lower price.
Overall Rating: 4.8/5
This parlor is manufactured in Asia and designed by an English brand – Tanglewood. The build quality is impeccable, the design is ergonomic, and the aesthetics are simply breathtaking. What's there to not like?
Key Features
Solid top made from Canadian cedar
Solid African mahogany back and sides
Classic glossy finish
Ships with Elixir strings
Chrome tuning machines
What I like
The design is relatively lightweight and compact, which means you can take it with you and play anywhere—and yes, that also includes an occasional small gig. The action is low, and it's easier to wrap your arms around its body, which makes it reasonably comfortable too. You probably won't need to make a lot of tweaks. It should be playable right out of the box.
As for the construction, its small body features a solid design with a cedar top and mahogany back and sides. The fretboard and the headstock are rosewood with abalone inlays. Besides the neck, the body has a stunning gloss finish. The sound itself is nothing short of impressive. The tones are warm, clean, bright, and well-defined.
What I don't like
Although this small-bodied guitar is a great mid-range option, there are more premium guitars with better tone results. If you're switching from a larger guitar, say, a dreadnaught, you'll notice that its tone isn't as full as your previous guitar.
Pros
Excellent value for the price
Solid, durable construction
Easy to set-up and play
Gorgeous looks
Cons
Tone quality isn't on par with high-end models
Whether you're a beginner, an intermediate, or a pro, this small-bodied guitar has something to offer for everyone. And when it comes to the price, the guitar is worth every cent.
Overall Rating: 4.7/5
Unlike most parlors, richness, and fullness of tone is where this guitar excels. It offers a tone that stands out from the rest, in the same small-bodied and comfortable package as any other great parlor.
Key Features
All-solid African mahogany construction
Rosewood fretboard and headstock
Open-backed premium die-cast tuners
D'Addario EXP strings.
Real bone nut and saddle
What I like
The body is all solid African mahogany. The neck isn't too wide and is constructed out of solid mahogany as well. The design is robust and sturdy overall, and as you'd expect, it will age well.
The resonance of a particular guitar largely depends on its size. As a rule of thumb, a dreadnaught will resonate better than a 0-size concert. Since parlor guitars are even smaller, most of them fail to compare with their bulkier cousins, at least when it comes to resonance—and that's where this Alvarez outstrips its competition. It offers a generous amount of resonance, paired with a more vibrant, stronger, and fuller sound.
What I don't like
The only complaint I have with this model is the quality of the tuning pegs. With regular use, they either become too stiff or too loose, and you would need to either tighten or oil them.
Pros
A gorgeous looking instrument
Irresistible tonal quality
Durable and well-made
Impressive price to quality ratio
Cons
This guitar has extraordinary tone quality: it's rich in bass, balanced in the treble, and warm in mids. Coupled with magnificent craftsmanship in the small parlor-sized package you're after, this guitar is tough to beat.
Overall Rating: 4.7/5
This model from Oscar Schmidt blends affordability with a sonic punch in a small package.
Key Features
Trembesi body.
Solid spruce top
Natural matte finish
Adjustable truss rod
Celluloid binding
What I like
The tonewood choice is probably the first thing that'll catch your eye. It features a solid spruce top paired with Trembesi sides and back. The neck is made of mahogany, which allows for a sturdy and long-lasting build.
The overall look and feel of this guitar would remind you of the legends from the '20s.
It's not just the aesthetics; the sound is also a nod to classical acoustic guitars. It's punchy, sparkly, and immaculately clean. The tones are well-rounded, far better than vintage acoustics.
What I don't like
There's not a whole lot to dislike about this acoustic, but if you're looking for a mellower tone, you'll have to restring it, preferably with nylon strings.
Pros
Exotic choice tonewoods
Tones indicative of the Golden era of acoustics
Comfortable to play
Budget-friendly
Cons
Tuner issues
The tuning machines could use some improvement
If you're searching for the vintage vibe in a parlor guitar, great sound, and most importantly, a reasonable price, you can't go wrong with this Oscar Schmidt.
Overall Rating: 4.8/5
Unlike most parlor manufacturers which have only recently jumped into the parlor resurgence ring, Gretsch's parlor guitars have been around for more than nine decades. Even though their line of parlor guitars is iconic, they're still budget-friendly. The G9500 is no exception.
Key Features
Six-string design
Vintage sunburst finish
Agathis top, sides, and back
Open gear tuners
What I like
Although this guitar is cheap with a price tag just south of $200, it doesn't feel cheaply made. Far from it, in fact. You can choose between three different color variants: Sunburst, Vintage White, and Red burst. All of them feature a semi-gloss finish, accented with white binding.
Although the sound isn't as punchy as larger acoustics, it is mellow and boxy, just what you'd expect from a good parlor guitar. And that's what it is, first and foremost: a parlor guitar, and it doesn't aim to rival a dreadnaught.
What I don't like
The tone is boxy, and there are certainly better options in terms of tonal quality, but that's to be expected from a low-end model, like this one.
Pros
Acceptable tone quality
Great playability
Impressive style and build quality
Plenty of value for the price
Cons
The low-end quality shows in tones
This Gretsch would make a great addition to any guitarist's collection. It's great for those impromptu strumming sessions, and since it's so affordable, it would make a perfect first guitar if you're a beginner.
Overall Rating: 4.7/5
Even though this Fender's volume won't rival a dreadnaught's, it still has enough volume for playing indoors and offers affordability to boot.
Key Features
Laminated mahogany sides and back
Laminated spruce top
Sunburst vintage look
X-bracing system
Imitation bone saddle
Open-geared tuning pegs
What I like
There's nothing remarkable about the construction of the neck and the body. It's laminated mahogany with a solid spruce top. It offers a respectable sound projection and gets the job done. The sound isn't out of this world, but it is acceptable. It is a budget guitar, after all.
That being said, you probably won't have any complaints with the sound. It's surprisingly rich and full for a laminated body. Additionally, it's drop-dead gorgeous and relatively easy to play. Good stuff.
What I don't like
I don't have major complaints about this model, save for the tone quality. Which shouldn't even be a problem if you're not expecting this little guy to sound like a high-end Martin or Taylor. Although the saddle could have been better if it were bone.
Pros
Solidly built
Exceptionally affordable
You get more value than you're paying for
Perfect for novices
Cons
Not the best sound quality
This Fender will surprise you with the value it's packing for its under $200 price tag. If you're looking for a budget travel companion or just an entry-level parlor, you won't get a sweeter deal.
Overall Rating: 4.5/5
Parlor Guitar Buying Guide
If this is your first parlor guitar purchase, this buying guide is meant to help you understand what you should be looking for. The idea is to help you make the best purchase you can, and if that's something that matters to you, read on.
What Is a Parlor Guitar?
Not everybody agrees on the definition of a parlor guitar, but even though it is debatable, most luthiers consider a guitar smaller in dimensions than a 0-size concert a parlor sized guitar. When you wrap your arms around it, you'll notice that it is a tad longer than usual guitars.
That said, its body is still petite, and its curves are streamlined. For that reason alone, they're easier to play and great for fingerpicking. You can play them on your porch gazing at the sunset, next to a cozy campfire, or an audience in a closed setting. Since they're light and small, they make faithful travel buddies.
Solid or Laminate?
If you want a guitar that sounds better and will age well, consider shelling out a few extra bucks and opting for an all-solid model. If you're strapped for cash, a well-made laminated guitar with a solid top should do the trick just fine too. It won't be as durable, though.
Which Tonewoods?
For parlor guitar making, solid Sitka spruce is pretty much the standard. Or rather it was until manufacturers started crafting them out of mahogany and even cedar. Mahogany doesn't offer much tone volume, but cedar vibrates freely, which makes it great for fingerpicking.
You'll also find some lower-end guitars made out of agathis too. This tonewood is inexpensive but still sounds decent enough.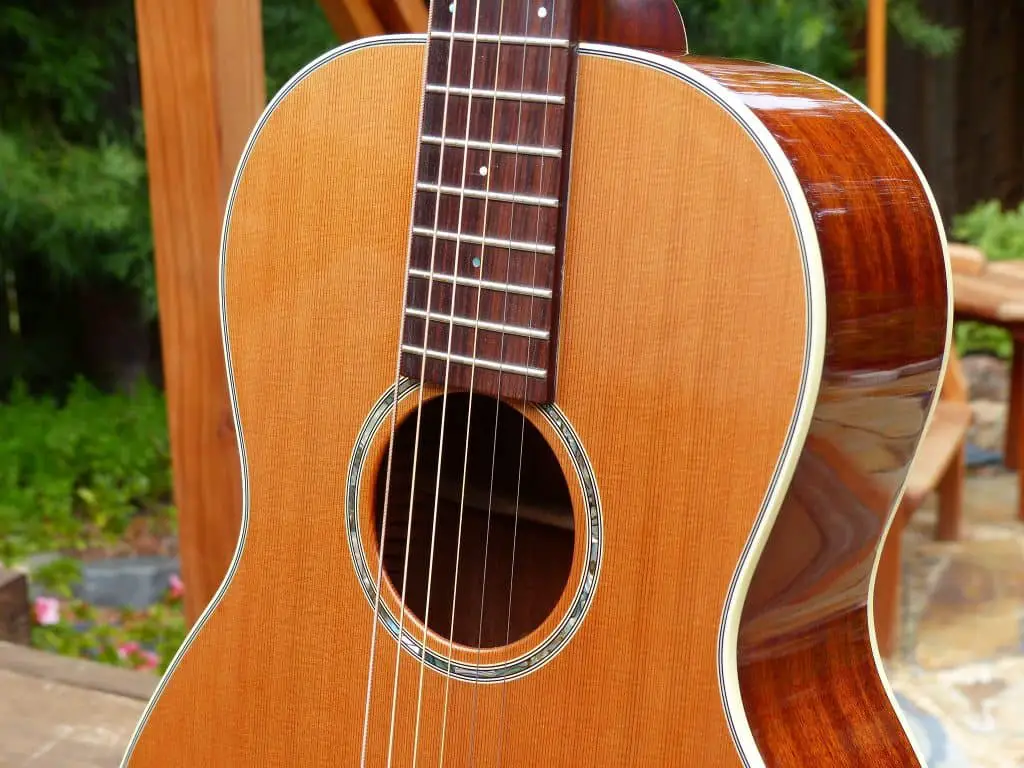 Acoustic or Electro-Acoustic?
Even a budget parlor with on-board electronics will sound almost as good as a dreadnaught when you feed it to an amp. If you're a beginner, you don't need fancy electronics just yet, and a simple acoustic will do just fine.
Budget
It's a no-brainer to go for a low-end instrument when you're on a tight budget, but affordability doesn't necessarily mean you have to trade off on quality. You can find an excellent parlor guitar for a price that won't break your bank.
I've included some of the best parlor guitars in my roundup that won't cost you a small fortune, but if you can afford them, high-end parlor guitars will sound and age better than most budget options.
Final Thoughts
To wrap up this post, the winner of this rundown would undoubtedly be the Blueridge BR-341 Historic Series. This guitar's craftsmanship, playability, and the tone quality are on par with most high-end options, but it will cost you, perhaps, half their price. If your budget can stretch to this model, there isn't a better parlor guitar in the market as of this writing.