If you're a guitarist playing for a crowd, part of a band, a professional (or even a semi-professional) playing a gig, you want to be heard—but how could a guitar not be heard? Well, if you're playing an acoustic, its sound can get drowned out by the crowd or the other instruments in your band.
To solve this particular problem, the pickup was invented. A guitar pickup is essentially just a magnetic coil which picks up vibrations from the string. Over the years, this design was perfected to create acoustic-electric guitars. These guitars bring you the best of both worlds. You can play them in a band setting with an amp, or you can play them unplugged.
If you decide to buy yourself an acoustic-electric guitar, you'll quickly find the array of options can be overwhelming. The market is crowded. So, to save you some trouble, we've rounded up some of the best acoustic-electric guitars available today. Let's jump in.
Top pick
If you can't spare the time to read the whole post, my top pick for this rundown is the Takamine EF341SC. This dreadnaught is gorgeous, durable, has outstanding onboard electronics, and sounds fantastic. It does what it's supposed to do, and it does it well. If you can afford it, you can't go wrong with this model.
Last update on 2023-11-09 / Affiliate links / Images from Amazon Product Advertising API
The Best Acoustic-Electric Guitars Reviewed
This Japanese manufacturer is popular for its iconic Legacy series – a line of high-end handcrafted guitars that has built a name for itself. The EF341SC Pro Series is part of this line-up.
Key Features
Dreadnaught with a deep cutaway
Solid cedar top with maple sides and back
Black finish
CT4BII Pre-amp
D'Addario EXP 16 strings
What I like about this product
First, look at the instrument, and you'll notice that it's a dreadnaught—and that it's a beautiful, elegant instrument. The body has a classy polished pure black velvet finish, accented with white binding bordering the soundhole and the body.
The neck is mahogany with a rosewood fingerboard and an inch-and-a-half wide nut, which meets the body with a dovetail joint – very sturdy. The EF341SC paints a picture of the finest quality from the get-go.
It's not just the premium aesthetics; it performs just as good as it looks. The top is solid cedar, and the sides and back are maple — an excellent choice for tonewood. The steady headstock has the same black finish accompanied by precise chrome tuners. The bridge is rosewood while the nut and saddle are bone – again only the finest materials are included.
The guitar comes pre-strung with light-gauge D'Addario EXP 16 strings, but if you're looking for more volume or a louder sound, you can go with medium-gauge strings too. It also comes with a hard-shell case, so that your hefty investment stays safe for years to come.
The electronics are nothing short of pro-grade. There's the CT4B II preamp system, coupled with a Palathetic under-saddle pickup, a three-band equalizer, and finally a built-in chromatic tuner. The electronics accurately replicate and enhance the sound–excellent craftsmanship all around.
And speaking of sound, the quality and tonewood combination allows for a crisp and bright tone. The dreadnaught shape assures better volume when unplugged. All in all, the sound is near-perfect both with an amp and without, as is the action. It stays in tune, and the EQ works like a charm.
What I don't like about this product
There's nothing to dislike exactly about this guitar. It looks great. It plays great and features excellent craftsmanship. I was hard-pressed to find any negative reviews online and for good reason too. The price may be a bit on the higher end of the market, but you certainly get more than enough value.
If you can swallow the price tag, this guitar will not disappoint—and it probably goes without saying, but it's not beginner-friendly. If you're just starting, I'd recommend skipping this one.
Pros
Looks stunning
Comfortable to play
Great sound
Excellent intonation
Cons
This beautiful instrument can be relied on to give you superior performance when you're on stage. If you are a pro-player, I'd highly recommend shortlisting this one.
Overall Rating – 5/5
While the Seagull S6 might not stand out at first glance, this guitar offers some quality craftsmanship and performance under the hood. So much so, that it can easily go toe-to-toe with more high-end acoustic-electrics.
Key Features
Cherrywood and silver-maple combination
EPM Quantum Guitar System
8-inch nut
Compensated saddle
45-degree cutaway
What I like about this product
This handcrafted guitar is not just well-made, it's near-flawless—and that's precisely what made the S6 Original Seagull's most popular guitar—but first things first. The S6 comes in a few different variants. You have the Original. Then there's the Slim. Coastline. Entourage Rustic, and finally, the one we'll be looking at, the Original Q1.
Same as other S6's, the Q1 is handmade in Canada and uses wild cherry for the back and sides, while the neck is silver-leaf maple, with a solid cedar top. The unusual tonewood choice alone points to the durability and uniqueness of sound this guitar has to offer.
The headstock is tapered for better tuning, and it features a truss rod for when you have to adjust the bow of the neck.
It ships with a Godin EPM Quantum guitar system. The electronics makeup includes a saddle transducer, three-band control range, and a built-in digital chromatic tuner, which allow for crisp and flawless sound reproduction.
What I don't like about this product
Although the guitar managed to garner positive feedback from customers, for the most part, there are a few nitpicks worth mentioning. This model does not ship with a guitar case, and if you want your guitar going strong for the foreseeable future, you'll have to buy one separately.
Pros
Affordable
Looks great
Excellent electrics
Mellow yet warm sound
Easily setup
Cons
The S6 Q1 has a traditional look and finish, offers impressive playability, and above all, it comes at an affordable price, so if you're just starting, this beginner-friendly guitar would be a smart purchase.
Overall Rating – 4.8/5
Before you think it, yes. Martin guitars are high-end and would often cost you a small fortune, but the DRS1 is an exception. With a price tag well below three digits, this Martin has tremendous value to offer—but don't let the price give you the wrong impression, this guitar is a premium quality instrument in every sense of the word.
Key Features
Sapele and mahogany construction
Richlite fingerboard
Onboard Fishman Sonitone electronics
Dreadnaught shape
Compensated TUSQ saddle
What I like about this product
This all-solid guitar features a Sapele top, back, and sides, coupled with a Richlite fretboard. A unique combination which produces a fuzzy and warm sound – both when plugged and unplugged. The neck design makes playing this guitar pretty comfortable.
Although the DRS1 is built to take a little punishment, Martin ships it with a hard-shell guitar case (so you don't have to worry about buying one separately). In any case, this guitar is robust enough to last you a long, long time.
As for the electronics, it features a stock pickup – the Fishman Sonitone electronics, and it is my understanding that opting for a basic pickup instead of a proprietary one is what kept the price range below the $1000 mark. Regardless, the sound reproduction is excellent and is comparable to what you'd come to expect from more high-end models.
What I don't like about this product
Even though this model is affordable for a Martin guitar, there are certainly more affordable options available which perform just as well if not more. If you're dead set on owning a Martin but are strapped for cash, though, I'd recommend the DRS1. If not, you should look elsewhere if the price is the deal-breaker for you.
Pros
Affordable
Unique tonewood combo
Comes with a hard-shell case
Fishman electronics
Excellent craftmanship
Great intonation
Cons
The strap button could have been positioned better
If you're looking for an acoustic-electric dreadnaught from a reliable manufacturer that offers top-notch build quality and sound to accompany it, all for a price tag you can easily swallow, you can't wrong with this purchase.
Overall Rating – 4.9/5
You might already be familiar with the Gibson Dove. Popular country and rock musicians have favored it for decades, but the Gibson's price tag is generally too high for entry-level guitarists. The Epiphone Dove, with a price tag of just under $400, is geared towards regular guitarists.
Key Features
Solid spruce top
Maple sides and back
Dreadnaught
Onboard Fishman Sonicore electronics
What I like about this product
The top is solid spruce, the neck is maple, and the fingerboard is rosewood, while the nut and saddle are bone. This tonewood combo is paired with a Fishman Sonicore, which doesn't produce that 'tubbiness' sound you often come to associate with acoustic-electric guitars.
The overall finish is smooth and glossy, with a burst finish unique to Gibson Doves – the same finish which makes them instantly recognizable.
What I don't like about this product
I don't have anything major to complain about this Dove, but the build quality can be fair to middling for some units at least. The body isn't all-solid but laminated, which I would regard as a downside.
Pros
You get to own a legend
Electronics sound more "acoustic"
Classic finish
Outstanding playability
Cons
If you've always wanted to own a Dove but don't wish to make a three-figure investment in one, this guitar aimed at all skill levels would be the perfect choice for you.
Overall Rating – 4.7/5
The Yamaha FSX830C is one of the few acoustic-electric models on the market aimed at the female and young demographic. If you have small hands and are looking for a budget model, you won't find a sweeter deal.
Key Features
Solid spruce top
Rosewood sides and back
Glossy natural finish
Diecast chrome tuners
Yamaha System-66 onboard electronics
What I like about this product
The top is spruce wood, while the sides and the back are laminated rosewood. Same with the fingerboard, which makes for a pretty neat design. The preamp is efficient and comes with volume, bass, and treble controls. It also features an LED display for the battery status.
Yamaha claims the model is intended for small-handed entry-level players, and while the body is, in fact, small, the strings are also spaced narrowly. The cramped strings won't be ideal for fingerstyle playing.
What I don't like about this product
The model isn't exactly versatile and is a bit rough around the edges. The cramped strings spacing is one issue while the under-polished neck is another. The case is also sold separately, so you'd have to spare some extra bucks for that.
Pros
Beginner-friendly
A perfect fit for small hands
Efficient preamp
Cons
Doesn't ship with a case
Minor neck issues
This mid-ranged guitar is reasonably priced, has a fast action, and a great sound and feel to it. The body style and size are its main selling points. This purchase is tough to beat if comfort and playability are your priorities.
Overall Rating – 4.6/5
Taylor is known for manufacturing high-end guitars. Given that, their prices are a bit steeper than your average guitar, you're paying for the quality—and rest assured, this model delivers on it.
Key Features
Spruce top
Rosewood back and sides
Ebony fretboard
Deep cutaway
6-string dreadnaught
What I like about this product
The guitar has a glossy sunburst finish which gives it a classy look. It features a solid spruce top, rosewood back and sides, and a Sapele neck. The fingerboard is ebony.
Just a glance at the construction materials is enough to tell that the model is well-made—and this dreadnaught isn't just sleek looking, it's built to last too. It produces a deep, rich sound. The tones are clear, and the playability is excellent.
As for the onboard electronics, the 214c boasts an ES-T or the Expression System 2 which sits beneath the saddle. The pickup reproduces the 'acoustic' feel nearly flawlessly – the tone and sound are accurate.
What I don't like about this product
The higher price point is perhaps the only gripe I have with this model. It's more expensive, yet it features laminated wood, which certainly doesn't contribute to longevity. You also have to get the toning exactly right if you need it to replicate the acoustic sound.
Pros
Ships with a gig box
Pro-grade electronics
Tonal clarity and richness of sound
Cons
There's no denying that this is a beautifully crafted instrument that offers outstanding sound and playability. If you can spare a few extra bucks, this guitar will make a reliable companion, whether you're playing at your home or on-stage.
Overall Rating – 4.7/5
This legend was favored and played by no other than Elvis Presley himself and even the Beatles. Also known as the king of all flat-tops, the Gibson J-200 is truly iconic.
Key Features
Spruce top
Natural vintage sunburst finish
Large body
Fishman Ellipse Aura electronics
Mustache bridge
What I like about this product
Its Jumbo size allows for a deeper sound with more 'oomph' than a Martin or a Taylor. The top is Sitka spruce complemented with cream and black binding. The bridge is rosewood, and the scratch-plate has a floral pattern stamped on it. The guitar features a classic sunburst finish, which coupled with the impeccable build, makes for a drop-dead gorgeous specimen.
The onboard electronics are Fishman Ellipse Aura, which allow you to change tone combinations thanks to the four-tonal image switch. It is mounted on the soundhole and features the Elemental pickup from LR Baggs Anthem.
The tones are clear and well-balanced, and you should have no trouble playing this model right out the box.
What I don't like about this product
Although this guitar lets you be part of a legacy, it certainly doesn't come at a low price. With a price south of $5,000, you won't be wrong to call it over-priced. There are certainly cheaper alternatives available, but then again, they don't carry the same historical significance as the J-200.
Pros
Breathtakingly beautiful
Refined and perfectly balanced tone
Ideal craftsmanship
An acoustic icon
Cons
Calling it pricey would be an understatement
Its sound is lively. The tone is balanced. The preamp is stunning, and if you're a pro musician, this iconic model is one of the finest acoustic-electric available today with 80 years of rich history to vouch for it.
Overall Rating – 4.9/5
Affordable isn't the first thing that comes to mind when you think of Fender, but they have been bringing some affordable beginner-friendly options to the market. The CD-60SCE is an entry-level budget Fender which comes with onboard electronics.
Key Features
Venetian Cutaway style
Spruce top
Mahogany sides and back
Scalloped X bracing
Fishman Isys III electronics
A hard-shell case, clip-on tuner, strings, strap, and picks are included
What I like about this product
The body is laminated mahogany, which I would usually complain about, but since it's a budget pick, we can let it slide. Despite the laminated construction, the guitar feels well-made, and the rosewood fingerboard and the compensated saddle are great design choices.
The peghead features diecast tuners which are a standard and what you'd come to expect from a mid-range guitar. Nothing groundbreaking, but it gets the job done nicely.
The CD-60SCE features the Fishman Isys III which boasts a -preamp and a built-in tuner. The reproduction quality is acceptable, and again, in line with the price—but that's not what earned this deal on our list.
It's the guitar accessories they ship with it. For a reasonable price, you get a full package – everything a beginner needs to get started. You get a hard-shell case, a clip-on tuner, spare strings, winder, strap, and even a DVD to help you get strumming.
What I don't like about this product
This guitar might work for some intermediate players, but if you're a professional, you'll find it lacking in thrills, as well as the onboard electronics. Besides, the body is laminated, which presents slight durability issues.
Pros
Entry-level model
Packs great value
The tones are bright and well-balanced when plugged in
Easy to play
Cons
The action needs adjusting out of the box
Not ideal for pros
Investing in a Fender is hardly ever a poor choice, and if you're a beginner player, you'll be hard-pressed to find a better deal which offers more value than this package.
Overall Rating – 4.6/5
To conclude this list, I wanted to include a guitar with a more contemporary and fresher look, which you can go for if you're on a tight budget. The Kona K2 caught my eye because it not only has an innovative look, but you can plug it in and strum away, all for a little less than a hundred bucks.
Key Features
Spruce top
Mahogany sides and back
Blue-green finish
Rosewood fingerboard
6-string dreadnaught with a cutaway
EQ-505 onboard electronics
What I like about this product
The body features a dreadnaught design with a deep cutaway for easy access, but there's a catch. The body is much thinner than what you might be used to, so it might be a while before you can acclimate to the slimmer design.
That's not the first thing you'd notice about this model, though. It's the blue-green finish which not just well-polished, but also very glossy. The color is accented with bright gold diecast tuners. So, while it may not outstrip a pricey Martin, it has a fresh aesthetic going for, which some might even find irresistible.
The K2 comes with EQ-505 electronics which has low-profile three-band equalizer and controls. It won't give its expensive counterparts a run for their money, but it won't disappoint either.
What I don't like about this product
As I mentioned before, it's a thin instrument. So, the sound doesn't have a lot of volume and feels a bit thin in comparison. You'll also need to change strings and set it up well for better playability and sound. Since it's a low-end budget instrument, there is room for some minor build and quality issues, and you should take that into account before you place the order.
Pros
A unique and beautiful look
Extremely affordable
Decent electronics
Easier to hold and play
Cons
Thin body
Could use a string change
This model won't disappoint if you're looking for more value than you're paying for, a sleek design, or an affordable acoustic-electric guitar.
Overall Rating – 4.4/5
Acoustic-Electric Guitar Buying Guide
If you've read this post so far, you probably realize that guitars make use of a variety of tonewoods, electronics, and hardware. And nearly all of them differ drastically in performance, so you need a solid understanding of what it is that you're looking for before you take the plunge.
Read on, and I'll try to list some of the most critical aspects.
Skill level
If you're starting and trying to learn the ropes, you wouldn't want to drop thousands of dollars on a high-end acoustic-electric, at least not just yet. If you're a beginner player, there is an ocean of superb affordable entry-level acoustics available.
If you're a beginner, you probably don't have a real need for electronics. However, if you feel like you do, there are some affordable acoustic-electric options available as well.
If you're a seasoned player, looking to expand your horizons, or performing on stage, you'll probably need an upgrade. I've listed and reviewed some great options for you, that'd make excellent on-stage companions, but before you pick one, make sure that you have a thorough understanding of tonewoods, electronics, and how they affect sound production and reproduction.
What makes acoustic-electric guitars different is that they can accurately replicate the acoustic sound of your guitar when plugged in. Because obviously, you'd want to be heard by all your audience when you're performing at a public event or on stage.
When unplugged, an acoustic-electric guitar sounds the same as any acoustic would, and that's what essentially gives them an edge over acoustics.
To bottom-line this for you, you just need to ask yourself what you want from your guitar and then pick one that meets your needs better.
The shape and style of the guitar
More often than not, larger guitars sound deeper and more resonant with a richer tone, but if you have a smaller form or small hands, you'd instead want a guitar that's easy to handle and comfortable to play. A large-sized dreadnaught simply won't cut it in your case.
Then there are smaller concert and auditorium sizes which would probably suit you better, but they'll sound less deep, but as a general rule, if you go for a high-end model, the body size would hardly make a difference.
Finally, there's the cutaway conundrum. On the one hand, a cutaway will provide you easier access to all the frets, but it also means less area for resonance. It mostly depends on what you prefer.
Material choice
Many manufacturers favor laminated wood because it's cheaper, but solid wood construction arguably produces better tones and lasts longer. High-end options tend to be all-solid but most guitars you'll encounter feature a solid top and laminated sides and back. That's because the top mostly determines the quality of the tone.
When cedar is used to make the top, as well as the sides and back, it produces a bright and vibrant tone. Mahogany, which is used to construct top, sides, and back, produces a less snappy and slower tone. Maple doesn't vibrate a lot and produces lower resonance, which makes it perfect for guitars intended to be played in a band setting.
Most guitar tops feature spruce tops because spruce offers not just tonal clarity, but also resonance. And for its tonal characteristics, it is pretty much an industry standard.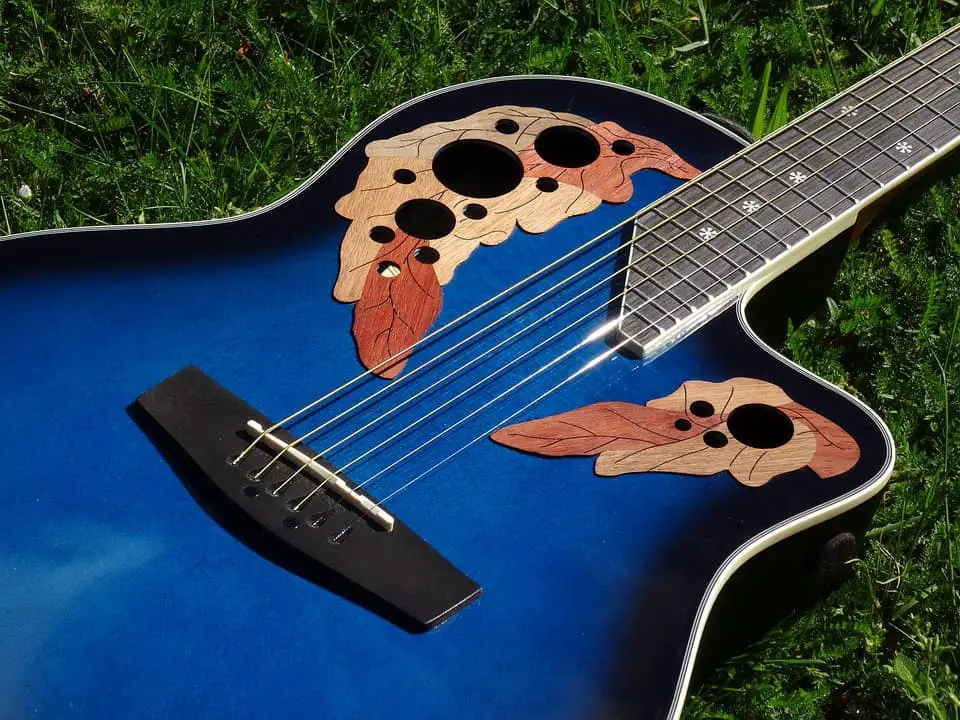 Action
It's important to consider how well the neck is finished and polished. If the frets aren't well-finished, the strings will buzz. The same issue will occur if the action is too low, and if the action is too high, the guitar won't be easy to play. So, you'll need a proper setup before you get started.
Electronics
This electro-acoustic guide won't be complete without covering the electronics area. The main components that need your consideration are -preamp and pickup. The -preamp or the amplifier changes the vibrations it receives from the strings and feeds them to the amp, where they are well, amplified.
A -preamp lets you adjust the volume and control the equalizer which is often a three-band EQ. The idea is to regulate resonance and produce either distorted or bright and warm tones. You'll also need to ensure that your -preamp is compatible with the power amp.
At their core, -preamps are active pickups. They run on batteries, but when plugged into an amp, they let you control the gain which isn't an option with a typical pickup. Many manufacturers also include a built-in tuner, so you don't have to use a clip-on to tune your guitar.
While higher-end guitars have their proprietary electrics, you'll find that most guitars ship with a stock electronic system, generally Fishman systems. Some high-end brands like Gibson also outsource pickups from LR Baggs.
If you're looking to make an upgrade, you can also turn your acoustic into an acoustic-electric with an aftermarket pickup. You can clip them on the soundhole, and they'll convert the vibrations into electric signals which can then be fed to an amplifier. One caveat though. The quality of sound would be noticeably inferior to an acoustic-electric.
Aesthetic
Finally, make sure that you like the design, the finish, and the overall look of your guitar before you make the purchase. You can opt for guitars with the ever-green natural finish, or you can go for a fresher, more modern look. Whatever your preference may be, make sure the aesthetic appeals to you because you'll (hopefully) be playing your guitar for years to come.
Final Thoughts
Now to wrap this post up and declare the winner of this roundup. The winner would be the Takamine EF341SC. It outstrips most mid-range electro-acoustic guitars in performance. It looks stunning, sounds great, and is very playable. It's a high-end guitar well-suited for professional players—and not just that, it's reasonably priced for a premium guitar.
If you're on a strict budget, I've included several value options in this list as well. However, if none of them tickle your fancy, you can use the buying guide to help you on your hunt to find one that will.