Of all instruments, the electric guitar is probably one of the most "personal."
Guitarists far and wide almost always have an affinity with a particular style. Some have a love affair with the best guitar brands like Fender. Others favor a specific model.
The truth is that electric guitars can have their own unique character. Finding the right one that fits your own can reward you with better playing experience—but with the buffet of choices, where do you start? Today, we'll help shred through that and run you through the best electric guitars.
Our Top Choice

For the best electric guitar, you can't go wrong with the Hagstrom Tremar Viking Deluxe. This is the perfect combination of sound quality, playability, visual appeal, and value for money.
The Best Electric Guitars Reviewed
Last update on 2023-10-29 / Affiliate links / Images from Amazon Product Advertising API
The Squier Standard Telecaster is an excellent entry-level Fender that's easy to play and sounds great.
Key Features
Body Type: Solid Body with Agathis
Neck Type: Maple C-shape
Pickup: Three Alnico Single Coil Pickups
Bridge: Synchronous Twin-Pivot Tremolo
Fingerboard: Maple, 9.5-inch Radius
Number of Frets: 22 Medium Jumbo
Master Volume, Tone 1 (Neck Pickup) and Tone 2 (Middle Pickup) controls
Hardware: Chrome
What We Like
This is an easy to play guitar at a low price. The strings are spaced evenly and are comfortable to hold. The 22 frets have a smooth and natural finish that's a joy to play with, even with extended sessions. The sound range is decent, with the high-toned trademark sound of a Telecaster.
What We Didn't Like
This guitar needs a fair amount of set up, which can be problematic for novices. The intonation, string height, and neck all required adjustment.
Pros
Great Fender specs at an equally great price
Tone control allows for a wide range of sound variation
The smooth finish makes for a natural playing experience
Cons
Needs to be set up before it reaches optimal sound quality
With its entry-level price, the Squier is a good steal for a Fender-quality electric guitar. This is still a good beginner axe to get if you can find someone to set it up for you.
Overall Rating: 4.4 / 5
https://www.youtube.com/watch?v=NFjXOwQwdcg
The Squier Affinity is one of the most inexpensive entry-level guitars from the best guitar brand in the market.
Key Features
Alder wood body
Two Single-Coil Telecaster pickups
Top-load Telecaster bridge
Comfortable C-shaped neck
What We Like
This is a reliable first guitar, and one of the very best you can buy. The sound performance on this thing is excellent and honestly unbelievable for the price. Don't expect to rock a concert venue with it, but for learning the ropes, this is solid.
The narrow neck is suitable for novices trying to learn proper technique. The smooth satin finish makes it easier to hold and run through. The pickup sounds good with minimal humming.
The Affinity guitar is also a great starting point if you're into modding your electric guitars. The screws and holes are the same with a standard Telecaster, so fitting a custom pickup shouldn't be a problem.
What We Didn't Like
Tuning can involve quite a bit of effort as it tends to be stiff.
Pros
Perfect neck width for beginner players
Decent pickup quality with minor humming
Excellent for modding
Cons
Jack input is a bit loose
The Squier Affinity is one of the best beginner guitars, in our opinion. Its superb sound quality can last you well until your first few gigs. It will also appeal to more experienced players with its modding potential.
Overall Rating: 4.8 / 5
While not as well-known as the Squier, the Yamaha Pacifica 112V is still a good solid beginner's choice from a well-known brand.
Key Features
Alder wood body
Maple bolt-on neck
Rosewood fingerboard
22 Frets
Alnico V bridge humbucker and 2 Alnico V single coils
Controls: volume and tone with five-way selector switch
What We Like
The Pacifica 112V is a bare-bones, no-frills electric guitar that will sit well with any beginner. Design-wise, it's similar to a Strat, with a few minor modifications.
The tone produced by the split coil is clean and bright right out of the box. This good if you're a beginner learning the ropes, but if you want to spice it up, you can switch to a humbucker to give it some distortion. This can lead to a richer sound with character.
This makes the Pacifica a very versatile guitar. You can play it with warm, clean tones that are perfect for mellower, jazzier tunes, but you can also amp it up with the distortion from the humbucker and deliver rock and metal shreds. This flexibility is excellent for beginners and will give them a lot of room to experiment with.
What We Didn't Like
The vibrato isn't as pronounced in this guitar, leading to notes that lack an emotional punch
Pros
A body that's easy to handle and play with
Can play a wider variety of sound styles
Modern, clean sounds
Cons
The Pacifica 112V is a serious contender to be the best beginner guitar. It wins points in flexibility and sound versatility.
Overall Rating: 4.7 / 5
The Ibanez RG450DX is another beginner electric guitar that will grow with you as your progress.
Key Features
Solid-body electric guitar
Mahogany wood body
Rosewood fretboard
Two Humbucking pickups and one single-coil pickup
Three-piece maple wood neck
What We Like
We like that they used mahogany in this beginner model. It gives it a resonant, deep sound that's unlike any other entry-level guitar.
The body profile uses the Super-Strat style Ibanez is known for, with a neck shape that's super smooth and comfortable to use. This is a guitar that's built for high-speed shredding. It's easy to do note blending, lightning-fast tapping, and legato licks with the RG450DX. The tremolo bridge used is also better than other similar alternatives.
The pickup system of this Ibanez model also makes for some great tonal flexibility. It uses an HSS configuration with two humbucker pickups and a single-coil in the middle. It gives you a solid, clean tone that's well projected.
What We Didn't Like
The volume control is not as nuanced. There's basically no gradual increase/decrease as you turn the knob, which makes it useless other than cranking it up to full.
Pros
High-speed playability
The three pickup system gives a tremendous tonal variety
Lightweight and easy to handle even with fast shredding
Cons
Volume control needs to be improved
The RG450DX is a beginner model that you can easily take to the more intermediate levels. It allows you to practice your playing and shredding speed with a guitar that's built precisely for that.
Overall Rating: 4.6 / 5
The Roadhouse Stratocaster is a flexible, mid-range electric guitar made for a wide variety of genre styles.
Key Features
Alder wood body
Maple neck and fingerboard
V6 switch and preamp
Three Vintage Noiseless Strat pickups
Two-point synchronized tremolo bridge
What We Like
Right out of the box, this is a solidly built guitar. The body is classic Strat, with delicate contours and a sleek exterior. The neck is solid Maple, with a comfortable 12-inch C-shape that makes licks and run super easy to play.
The main selling point of the Stratocaster is the tonal range. The secret is in the V6 rotary tone switch. This allows you access to different tone presets from the guitar's preamp. Then combine this with the Vintage Noiseless pickups. You get bright high tones, defined mids, and deep baselines that you can enhance in a million different ways.
Aside from tonal creativity, the versatility of this guitar helps you adjust to many different venues easily. It's perfect for the busy performer.
What We Didn't Like
The lack of rolled fret ends and the high action
Pros
The tonal controls give you a lot of flexibility and variation in your tunes
Super comfortable to play with
Noiseless pickups have minimal hum
Cons
Fret ends aren't rolled, unlike other comparable guitars in the same price point
The Roadhouse Stratocaster is one of the best performance guitars you can get. You can get really creative with the tonal variations, and the sound is just excellent.
Overall Rating: 4.6 / 5
The Classic Playa Baja is a unique take from Fender on the classic Telecaster with a 1960's vibe.
Key Features
Alder wood body
Maple 9.5-inch V-shaped neck
Pau Ferro fingerboard
Special 4-way pickup switch
S-1 Switch
American Vintage '58 Single-Coil and '52 Single Coil
What We Like
If you're digging that 1960's sound vibe, this is the Tele for you. The combination of rosewood and alder give the sound a smooth character with a sweet high note. The sound projection is fuller, more so than any other vintage Tele model. It's capable of switching from amped up and loud to a softer, mellow tone. This guitar can do everything from country to rock with ease.
The overall hardware and construction are top-notch. It's a tad lighter than comparable Teles, and the "V" neck offers a good, comfortable grip. Although it's a very subtle departure from a soft "C" neck
What We Didn't Like
The four-way switch is a significant departure from the standard three-way of Teles. This may turn off some dedicated Tele players.
Pros
Premium high-end sounds
Four-way selection and pickups provide a wide variety of note variation
Lightweight and the "V" neck is comfortable to use
Cons
Might not be for Tele enthusiasts
Sticking to the 60's formula, the Classic Playa Baja is an excellent spin on the Telecaster. While it might not be traditional, the added tonal controls and fantastic sound makes it worthy of being a Fender.
Overall Rating: 4.5 / 5
The EC-1000 is the professional electric guitar that needs minimal work to stay in tune.
Key Features
Mahogany wood body
Three-piece mahogany neck
Macassar ebony 350mm radius fingerboard with 24 frets
Seymour Duncan JB/Jazz pickups
EverTune bridge system
What We Like
As the name suggests, this is a guitar that will stay in tune, possibly for the entirety of your playing career. The EverTune bridge system is the secret sauce that makes it work. It's composed of intricate series of springs and levers that keep your strings in place.
Once set, expect it to stay there. Even when barring chords or doing string stretching, it didn't nudge one bit. Intonation is therefore excellent, and we get a consistent sound out of it each and every time. The tones produced are full and aggressive, without any humming or clanking of any kind.
What We Didn't Like
The EverTune system DOES need an initial amount of work to get right. It's also way different than other bridge systems and has a slight learning curve to it.
Pros
EverTune system will keep you in tune forever, making playing consistent
Bright, robust sound that's perfect for rock and metal
Comfortable neck for easy playing
Cons
The learning curve on the EverTune system
If you're into playing heavier metal with a lot of barring and stretching, the EC-1000 EverTune is an excellent option to pick. It will make for more consistent performances with minimal fuss and adjustment.
Overall Rating: 4.8 / 5
The Epiphone Les Paul Special-II is a beginner's foray into the world of Les Paul electric guitars.
Key Features
Mahogany wood body
Bolt-on mahogany neck
Rosewood fretboard
700T and 650R open-coil humbucker pickups
LockTone Tune-O-Matic bridge
What We Like
We love the mahogany wood used in this entry-level offering. The body style is a derivative of the Gibson classic, with the Les Paul II using less expensive materials. Nevertheless, the sound quality and look screams Les Paul. The playability is spot on for beginners, using a slim rosewood fretboard with simple inlays.
The sound is basic but decent for beginners. The tonal character is deep and warm, with a longer sustain thanks to the mahogany wood body. The humbuckers are more on the softer side, perfect for blues or light rock. Overall, the sound is reminiscent of a genuine Les Paul.
The bridge system is also easy to adjust and decent for holding a tune. As a beginner, this is valuable if you want to focus on just playing and not tinkering.
What We Didn't Like
The construction quality is not up to par with that of more expensive Les Paul options.
Pros
Decent warm sound with long sustain
Easy to play with for beginners
The bridge system can keep this guitar in tune
Cons
Construction quality not up to par
The Les Paul II is a great first choice from one of the best electric guitar brands. It's easy to play and sounds great – exactly what a beginner needs.
Overall Rating: 4.6 / 5
The Hagstrom Tremar Viking Deluxe is a visually impressive hollow guitar that plays as amazing as it looks.
Key Features
Flamed maple wood body
Maple set neck
H-Expander Truss Rod
Two Hagstrom HJ-50 Humbucker pickups
What We Like
Visually, the Viking is sure to turn heads around, which is why it also ends up on our best intermediate electric guitars list. The glossy black finish of this guitar screams elegance and edginess at the same time. The finish on the bridge and strings blends really well with the whole aesthetic. Everything is well-designed from the contours to the binding. This is a great guitar to adorn any music room.
But does it play well? Fortunately, it does. The Viking is primarily a jazz-oriented electric guitar. It plays with a soft warmth with an excellent sounding mid-range. The high tones are there too, with a bright quality that's perfect for leads.
What We Didn't Like
We encountered minor set up problems with the Viking. Some have complained about needing to file down the frets to something more comfortable. This aspect can vary with your experience, though.
Pros
Visually striking design
High level of craftsmanship
Warm and deep sounds perfect for jazz players
Cons
The Hagstrom Tremar Viking Deluxe is one of the best electric guitars you can buy that's not a Fender or Gibson. It perfectly marries amazing sound, advanced hardware, and a beautiful exterior—and the price isn't even that out of this world. Overall, amazing pick!
Overall Rating: 4.9 / 5
The Fender Johnny Mar Jaguar is a top-of-the-line signature electric guitar from the Smiths guitarist.
Key Features
Alder wood body with lacquer finish
Rosewood fretboard
Tremolo bridge system
Lacquer finish neck based on Johnny Marr's 65 Jaguar
Custom wound Bare Knuckle Johnny Marr Pickups
What We Like
This Fender is a modern take on the iconic Jaguar while putting in its own modern updates. The neck, in particular, got quite a bit of attention. It's based off Johnny's '65 Jaguar. It features smaller vintage frets and a more curved radius that gets fuller as you go up the neck.
This Jaguar is all about vintage sounds. It produces bright and bold tones with a surprisingly mellow character that's evocative of the jazzy vibes of the '60s. The high note is crisp and stands out even in busy arrangements. The Bare Knuckle pickup does a superb job in this regard.
What We Didn't Like
The neck design means the high and low E strings are closer to the edge of the fretboard as you move up, which can make the strings prone to slipping off.
Pros
Great warm sounds with a nostalgic vintage 60's feel
Made to be easy to play and handle
Updates the flaws of the original
Cons
String prone to slip off at higher fret positions
Expensive
The Fender Johnny Marr Jaguar is a worthy upgrade to the iconic guitar. If you ever wanted to get a Jaguar but have been put off by its flaws, this is the guitar for you.
Overall Rating: 4.4 / 5
The EVH Striped Series is an amped-up replica based on the iconic Frankenstrat, used by the legendary Eddie Van Halen.
Key Features
Solid-body electric guitar
Basswood body
Maple wood neck and fingerboard
Wolfgang Alnico 2 humbucker
Floyd Rose Tremolo bridge
What We Like
For a Van Halen fan, the look of this guitar will instantly be recognizable. The iconic red finish with black and white stripes is a Frankenstrat, through and through. The bolt-on maple neck is extremely playable with 22 jumbo frets and low action. Smooth to the touch and slick to run through.
The electronics on this guitar couldn't be any simpler. There's only one humbucker pickup and a reliable but straightforward tremolo bridge. If you're looking for extra features, you won't find them here, but you would be wrong to think that simplicity equals mediocre music.
This guitar pounds iconic metal tunes with warm and bright notes. At higher distortions, it gets aggressive but still balanced.
What We Didn't Like
This option might be too expensive for some, especially with the relatively bared down features.
Pros
Visually stunning guitar especially if you're a Van Halen fan
Robust and lively sounds that are unmistakably metal
Simple features make this straightforward to use
Cons
The EVH Striped Series 5150 proves that sometimes, simplicity is best. This Frankenstrat forgoes bells and whistles for a workhorse that licks incredible tunes. A must buy if you have the cash to spare!
Overall Rating: 4.8 / 5
Electric Guitar Buying Guide
The reviews out of the way, next we'll look at some of the considerations you should make when buying a new electric guitar. You can also check out best DIY kit if you're looking for the fastest way to build and customize your guitar in order to enhance your experience.
How an Electric Guitar Works
Just like a regular guitar, an electric guitar produces sound through the vibration of strings. The difference lies in how this vibration is converted to produce sound.
Electric guitars capture this vibration and convert it into electrical signals using a magnetic field. This signal runs through a preamp circuit and to an amplifier through the guitar's cable. The signal finally reaches the speakers, where it gets converted into the sound we can hear.
Electric Guitar Specs: What to Look for When Buying
Body Type
The body is the most substantial part of the guitar. It makes sense that this has a significant effect on the overall sound the guitar produces. There are three types: hollow body, semi-hollow body, and solid body.
Hollow body guitars are made up of a hollow core, which produces more resonance. It creates a fuller sound with deep, rich bass tones. The downside of this is it creates a lot of feedback at higher volumes. This is the style of guitar most jazz players go with and some experimental rockers.
Semi-hollow body guitars are more versatile in terms of the genre they are suited for. They produce the same warm and deep tones of hollow guitars, but with more feedback control, making them playable at louder volumes. Semi-hollows are also more durable thanks to the addition of a wooden block in the core.
Solid-body guitars are composed of a single piece of wood, limiting sound resonance. They are the most common type of electric guitars, suitable to a wide variety of venues and styles. They are more rugged and durable than hollow guitars.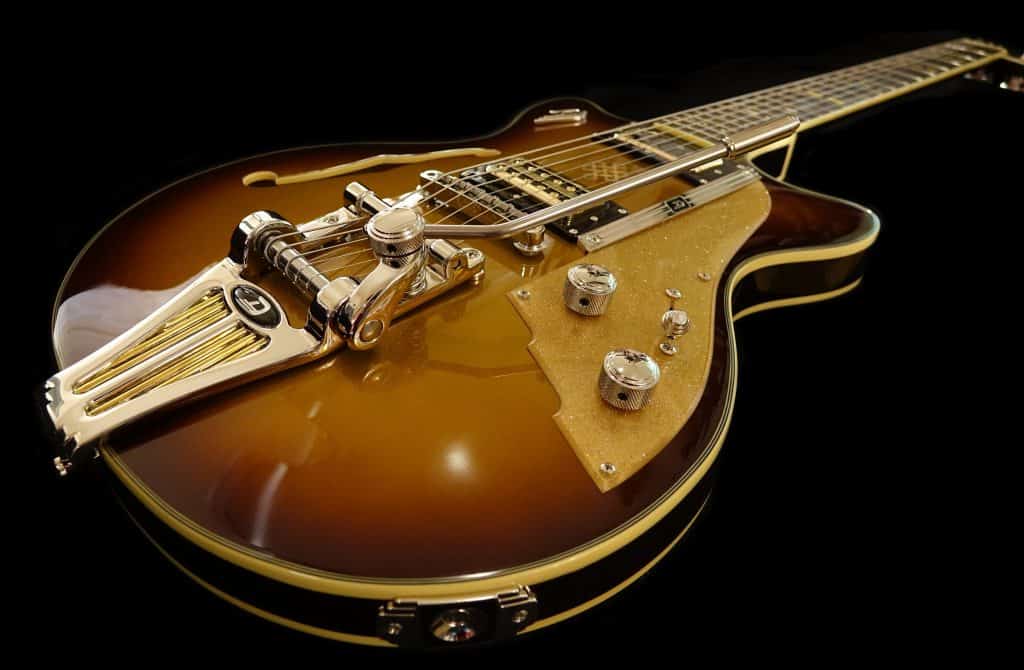 Wood Used
The type of wood used in the guitar's construction is known as the tonewood. Different kinds of wood have their own properties and lend a unique character to the guitar's sound. In addition, which part of the guitar the wood is used for also has a significant impact on how it sounds.
Some of the more common tonewoods you'll encounter include:
Maple is the most commonly used wood in guitar constructions, especially the neck. It's a medium weight wood with a higher resonance, creating a bright tone with great definition and a very long sustain
Mahogany is a medium weight, dense wood used in guitar bodies and necks. It is generally not that hard and produces a fair bit of resonance. This creates a very warm, distinct sound with great sustain. The deep brown color of this wood also makes for a great-looking electric guitar.
Basswood is a soft and lightweight wood. It's inexpensive and easy to cut. This type of wood tends to "cut" the upper and lower sound ranges, resulting in weaker bass and softer high notes, with emphasis on thin mids.
Rosewood is very hard and porous wood with high resonance. It's beautiful and quite rare nowadays and is more often used in fretboards. It's prized for the full, rich sound it produces. This type of wood is generally very expensive and isn't used to make full-body guitars as a result.
Ash is a hardwood with an open grain structure. It's more commonly used in solid body guitars. Guitars built with this wood produce a bright sound with a higher but well-defined mid-range.
Alder is a balanced, lightweight, and inexpensive wood similar to ash. The wood lends a more extensive tonal range, with more perceptible trebles and richer bass.
Koa is a very rare Hawaiian wood that produces a guitar with an incredibly balanced sound. It combines deep warm bass notes, bright tones, and a defined upper-high mid-range sound.
In the end, it's important to remember that not one wood type is overall better than the others. It will depend on how you like the sound each produces.
Pickup
Pickups are responsible for "picking up" any vibrations generated by the string. These are converted and sent as electrical signals through the preamps circuits to the amplifier. When the signal finally reaches the speaker, we hear it as guitar sounds.
Pickups act as the "bridge" that converts physical string vibrations into electrical sounds. This means they have a significant impact on how the guitar sounds. There are three types of pickups.
Single coil pickups are composed of a single coil of wire wrapped around a magnet. It uses magnetic fields to convert string vibrations into electrical signals. They produce a crisp sound that's capable of standing out on its own in a track. The downside to this is that single-coil pickups are susceptible to hum.
Humbucker pickups use two coils instead of one to boost the vibration signal while canceling the noise signal to help reduce or even eliminate hum. They feature a more powerful, robust, and louder sound that's at home with rock and metal styles.
Piezo pickups use mechanical means to convert vibration signals instead of magnetic. They create a more natural-sounding vibe that's similar to an acoustic guitar. Most piezo pickups are used together with magnetic pickups to create a more versatile sound range.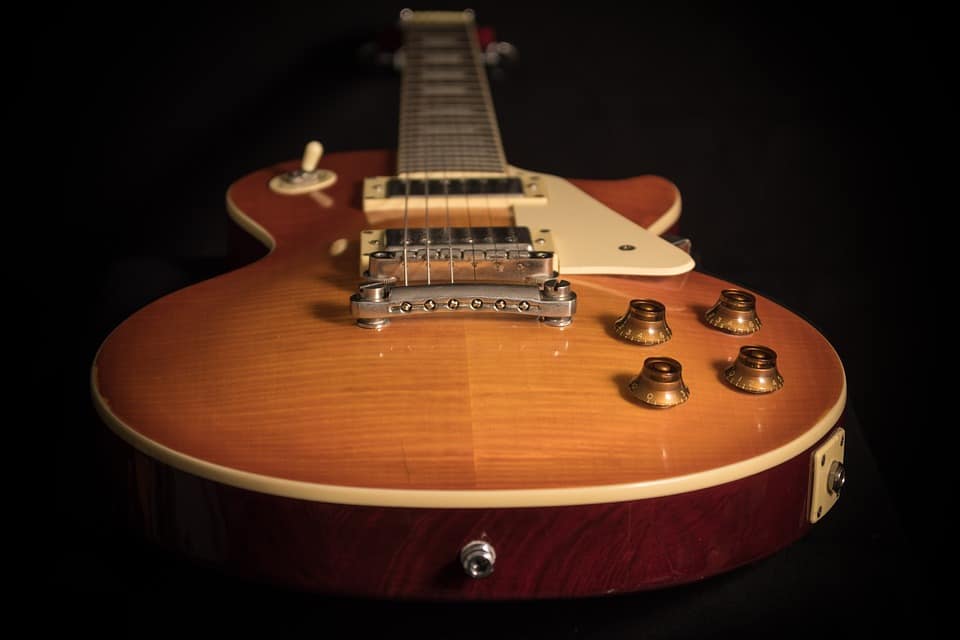 Necks
The neck holds the fretboard and headstock that creates tension in the guitar string. It's where the guitarist presses down on the string to create specific notes.
A guitar's neck significantly impacts its sound character and playability. Its shape and width determine how comfortable it is to play for a particular person. Necks usually come in a "U," "V," or "C" shape, with many variations in between. In general, "C" or "V" is best for beginners with smaller fingers, while "U" is the reverse.
The neck width and shape is one of the more personal aspects of buying a guitar. It's best to keep in mind the overall width of the neck to fit with your hand size. In the end, go for what feels comfortable to you.
How the neck is attached to the body is also an essential factor to consider.
Bolted-on necks are the most cost-effective option. In this case, the neck is attached to the body with the use of bolts or screws. This process usually produces less resonance and sustain. They are also the easiest to repair.
Set-in is where the neck is glued to the guitar body. This is often seen in acoustic guitars. This set up produces more resonance and sustain than bolted-on necks. The downside is that it's costlier to manufacture and repair.
Neck-through guitars feature necks that are "jammed" inside the body and runs through its entire length. This makes it more stable and durable than being bolted-on or set-in. Neck-through guitars offer fantastic sustain and resonance but are the most difficult to repair.
Bridges and Tailpieces
The bridge is located on the guitar's body and is where the strings pass through before terminating in the tailpiece. Bridges ensure that the string lengths are all consistent with each other and keep them in tune. This process is called intonation.
The most common type of bridge is the stop tail. It is a relatively easy way to fine-tune the intonation of your guitar and so is best suited for beginners or intermediate players.
Some guitars allow players to move the bridge to adjust the pitch of the strings. This is called the tremolo system and uses a floating bridge. Tremolo guitars can create unique sounds by bending all the strings at once. This technique is common with some heavy metal players. The downside is that they can be more difficult to fine-tune and can quickly frustrate beginners.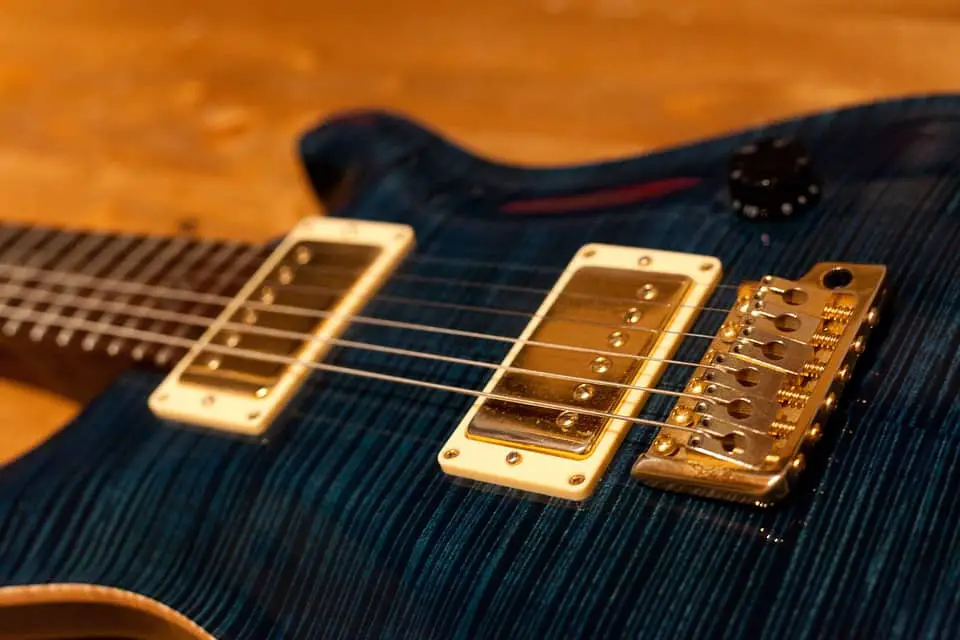 Putting It All Together: Guitar Styles
The easiest way of buying a guitar is by narrowing it down to the style that you want. Each particular style of guitar has its own unique sound character. Most guitarists develop a strong connection with their guitars and will favor individual styles over others.
What you eventually pick will come down to the genre of music you want to play. For beginners, this is a way to make the buying process easier. Here are the top guitar styles:
Stratocaster
The Stratocaster is one of the most iconic styles from one of the best guitar brands, Fender. It features a range of tones that tend to sound lighter and thinner. For beginners, this is a great place to start as it's easy to pick up and play with. Suitable genres include pop, indie, blues, and country.
Les Paul
The second most popular guitar style offers heavier sound compared to the Stratocaster. The tones it produces are also warmer with longer sustain. The Les Paul is a great pick, especially if you're into metal and rock.
Telecaster
The Telecaster features a classic look and produces an even more traditional sound. The sound produced by this style is higher-pitched and thinner than a Strat. It's, therefore, the style of choice for indie or country
SG
The SG is one of the best styles to get if you're into heavy metal and rock. It's similar to the Les Paul, only thinner and lighter. This makes it suited for longer, heavier playing sessions.
Final Thoughts
We've run down the best electric guitars you can buy this, and it was still hard to declare a clear winner. We wanted to crown the Squier Affinity for its affordability and versatility, but it was too limited. The EVH Striped Series 5150 is also a contender for its utter simplicity and quality, but we deemed it too expensive.
In the end, the title of best electric guitar goes to the Hagstrom Tremar Viking Deluxe. This is the perfect combination of visual looks, a wealth of features, and a fantastic sound output — all at a mid-range price that gives plenty of value for money. If price is no object, you can go ahead and check out our latest post on the top acoustic guitars below $2000.