Ever wonder what goes into making a guitar?
Underneath such a simple instrument lies quite a bit of intricate artistry. There is plenty to consider: the type and shape of the wood, to the careful assembly of the strings.
The truth is, it's a craft that involves a lot of skill and patience. Lutherie, or the art of guitar making, takes years of study to truly master—unless you have a DIY guitar kit, that is!
It's still the fastest way to build and customize your guitar, and to make sure you have the best experience possible, we've gathered the best DIY guitar kits for your first homemade ax!
Our Top Pick
For the best guitar kit, we recommend the Fretwire 175 Style DIY Kit. It's a mildly challenging build but results in a tremendous sounding ES-175 for less.
Last update on 2023-11-11 / Affiliate links / Images from Amazon Product Advertising API
Best DIY Guitar Kits Reviews
The Saga LC-10 DIY Kit is a DIY kit that lets you have your very own Les Paul.
Key Features
Arched top basswood body
Maple wood veneer top
Maple wood neck with pre-fretted rosewood fingerboard
All electronics already installed with no soldering required
Heavy chrome-plated hardware, cord, and strings
What We Like
This kit is complete and ready to be built right out of the box. All holes are pre-drilled, and the electronics are pre-soldered. The wood components themselves are all well made. The maple top, in particular, is top-notch and allows easy applying of custom finishes or paints.
What We Didn't Like
Despite the overall pleasant building experience, there are a few kinks that we encountered. For one, the fret ends were a little rough and benefited from a bit of filing. Some of the holes were not deep enough, so they needed to be drilled further down.
Pros
Pre-installed electronics means no soldering required
Overall, the wood components are well made and make for easy fitting
It's a Les Paul guitar for less
Cons
Fret ends are rough
Some holes were not deep/big enough
If you ever wanted to own a Les Paul for the cheap, the Saga LC-10 is your best bet. It's quite easy to assemble at a fraction of the price of the real thing. For that, we're willing to overlook the few kinks along the way.
Overall Rating: 4.4 / 5
The PYLE-PRO PGEKT18 DIY Kit is a great DIY kit to build an entry-level guitar.
Key Features
Alder body with sanding sealer
Maple wood neck
Rosewood fretboard
Single coil pickup
Tremolo bridge
What We Like
Out of the box, we were greeted with a great looking and cut strat body. The fretboard itself is already attached to the solid bolt-on maple neck, which is convenient. Both are already pre-sanded, so joining them together shouldn't be a problem. The pickup is a single-coil system and features a tremolo bridge.
Everything is pretty straightforward to put together. For the most part, those with minimal woodworking skills will be able to do this. The only tricky part is soldering the wires on the claw plate and input jacks.
What We Didn't Like
Some of the inlay markers in the fingerboards are off, which can be annoying. Soldering can also be a turn-off to some (which the instructions don't mention).
Pros
Solid wood components
Straightforward to put together with minimal woodworking skills involved
Great entry-level price
Cons
Electronic components appear cheap and can benefit from an upgrade
Needs soldering
Overall, this Strat body build is an excellent entry-level DIY kit. The body and neck are its main points but suffers from a few kinks. Still, at that price, a good, solid offering.
Overall Rating: 4.3 / 5
The Fretwire 175 Style DIY Kit allows you to build a jazz style, hollow body guitar.
Key Features
Basswood hollow body
Maple wood top
Rosewood fretboard with 22 frets and 12-inch radius
Maple wood neck
Trapeze bridge
What We Like
The Fretwire 175 is based on the iconic ES-175 jazz guitar. The body is made of basswood and comes pre-drilled and pre-cut. The body wood is well-made and has no imperfections. It's still raw, however, and benefits from a little sanding.
The neck wood is more refined than the body and needs minimal work if any. They also fit exceedingly well with each other.
The hardware is all good quality as well. Not as excellent as the actual ES-175 but comes close. Overall, this is a more advanced DIY kit to put together, which isn't necessarily a flaw, but something to keep in mind. We ended up enjoying the challenge and brought us closer to our guitar.
What We Didn't Like
The hollow body nature makes finishing tricky. Installing the electronics can demand a little bit of patience as well.
Pros
The overall quality of the wood used in the body and neck is excellent
The body and neck joint are precisely matched with each other
Fully customizable top
Cons
The hollow body makes wiring and finishing tricky
Despite the tricky assembly, the Fretwire 175 is an overall fulfilling experience. What's more, you get the benefit of having an ES-175 for less.
Overall Rating: 4.8 / 5
The ST Electric Guitar DIY Kit is one of the most affordable kits out there for building a legit Strat-style ax.
Key Features
Unpolished poplar wood body
Linden veneer top and back
Maple wood neck
Kabukli wood fingerboard
White pickguard
All electronic parts included
What We Like
The ST Electric Guitar is the best value DIY kit you'll ever be able to get your hands on. Where else can you get a Strat at $60? The wood quality is there, and the material is an excellent canvas for putting in custom paints or finishes. The holes and drills are all on point, and the slim neck is a joy to play with.
This kit is a perfect base for building your custom guitar. The cost of this entire thing is less than you can find guitar bodies at DIY shops. You then upgrade the hardware, pickups, and strings to your heart's content. Voila! Your own amped-up ax for less!
What We Didn't Like
Remember we mentioned this kit is an excellent base? It's because its components are only half-decent. The electronic components and pickups need a lot to be desired. The nut and tuners can't sustain a note for long.
Pros
Extremely affordable
Good quality wood for the body and neck
Cons
Mediocre hardware and components
For a budget DIY kit, this is the best that you could buy. Is it the best guitar? Not really, but if you're looking for a base on which to build and learn, this is a steal.
Overall Rating: 4.0 / 5
The Albatross GK057 is a raw DIY kit for those looking for complete freedom in making their own customized Les Paul.
Key Features
Arched mahogany wood body
Spalted maple wood veneer top
Adjustable truss rods
Maple wood neck
Rosewood fingerboard
What We Like
From the get-go, we like the raw wood character this kit brings. Now, this can be good or bad, depending on your point of view. If you enjoy having the most basic foundation to build upon, this will be your kind of kit. Think of it as a complete guitar makeover!
Made from mahogany and maple wood, the beautiful, elegant curves of the body alone make this kit worth getting it. The fingerboard features some visually pleasant trapezoidal inlays. The headstock is already carved for you, so this takes some of the work off your shoulders.
What We Didn't Like
Being in such a raw state, this kit takes strong woodworking skills and knowledge. The humbucker pickups are of less decent quality and are better off replaced.
Pros
Great body contour makes for a potentially good-looking LP
The included hardware is of good quality
Good value, price-wise
Cons
Much more difficult to assemble
Some components need to be upgraded
The Albatross GK057 will undoubtedly satisfy more advanced amateur luthiers out there. If you know from the get-go what you're up against, then this kit will lead to a liberating and fulfilling experience.
Overall Rating: 4.4 / 5
The Alston Guitar DIY Kit gives you the chance to build your very own Rhodes V style electric guitar.
Key Features
Mahogany wood solid body
Mahogany wood bolt-on neck
Adjustable truss rods
Rosewood fingerboard with 22 frets and 25.5-inch width
Chrome adjustable bridge
What We Like
What's unique about this Alston kit is the body shape based on the iconic Rhodes V electric guitar. Ever wanted to own, or even better, customize your very own? Here is your chance!
The body is made of solid mahogany, giving the eventual guitar a rich, warm tone. The electronics include two humbuckers and a variety of controls, including a 3-way switch and tone and volume knobs. The hardware is all made of high-quality chrome, adding to the edginess of the guitar.
This kit is relatively easy to build, adding to its appeal.
What We Didn't Like
The included electronics are of subpar quality. We recommend getting an upgraded humbucker and custom knobs.
Pros
Good quality, the solid mahogany wood body makes for a great sounding guitar
Edgy designed based on the Rhodes V guitar
Easy to install
Cons
Electronic parts need to be upgraded for full effect
The Alston Guitar DIY Kit is a good, alternative kit to buy if you're veering away from the traditional Strats or LPs. It's edgy and unique, and we imagine you'll have a blast customizing it.
Overall Rating: 4.2 / 5
The Fretwire DIY Singlecut Guitar Kit features a single-cut body at a great price.
Key Features
Basswood body
Maple wood top
Rosewood fretboard with 22 frets and 12-inch radius
Truss rods pre-installed
3-way toggle / 2 tone / 2 volume controls
What We Like
The Fretwire is a well-thought-out kit with well-made parts that go well together. The body is made of solid basswood and the neck of great looking maple. Both the neck and body fit snugly with each other. The rosewood is of good quality as well but needs to be conditioned out of the box.
The headstock on this kit is more substantial than some, making it great for customizing the shape to your liking. Overall, the installation was a breeze. The finished guitar sounded lovely, with a well-balanced tone.
What We Didn't Like
The frets came out very rough and needed quite some work to straighten and file down.
Pros
Easy to assemble
Larger headstock provides more customization options
Good quality wood components with excellent fit
Cons
The Fretwire DIY Singlecut Guitar Kit is a solid choice for a beginner kit. It's easy to put together and produces a guitar with overall excellent sound output and impressive hardware.
Overall Rating: 4.4 / 5
DIY Guitar Kit Buying Guide
Why Build One When You Can Just Buy One?
This is one of the most common questions people ask when considering the DIY route. I mean, why would you go through the trouble of building one anyway? Well, let's count the ways.
For one, it's rewarding. If you've ever cooked a meal or built a treehouse from scratch, you'd know what I mean. Creating something you can be proud of is one of the most fulfilling things you can ever do, especially if it's something that you can rock with! The stunned look on people when you tell them, "I made this!" never gets old.
There are also endless ways to customize a guitar kit. Want a neon pink neck with a bright green body? You can! There are unlimited ways you can combine color, styles, engravings, and materials. This makes your guitar uniquely yours and speaks volumes of your personality. This "mod-ability" of DIY guitars is what gets people into the hobby for years down the line.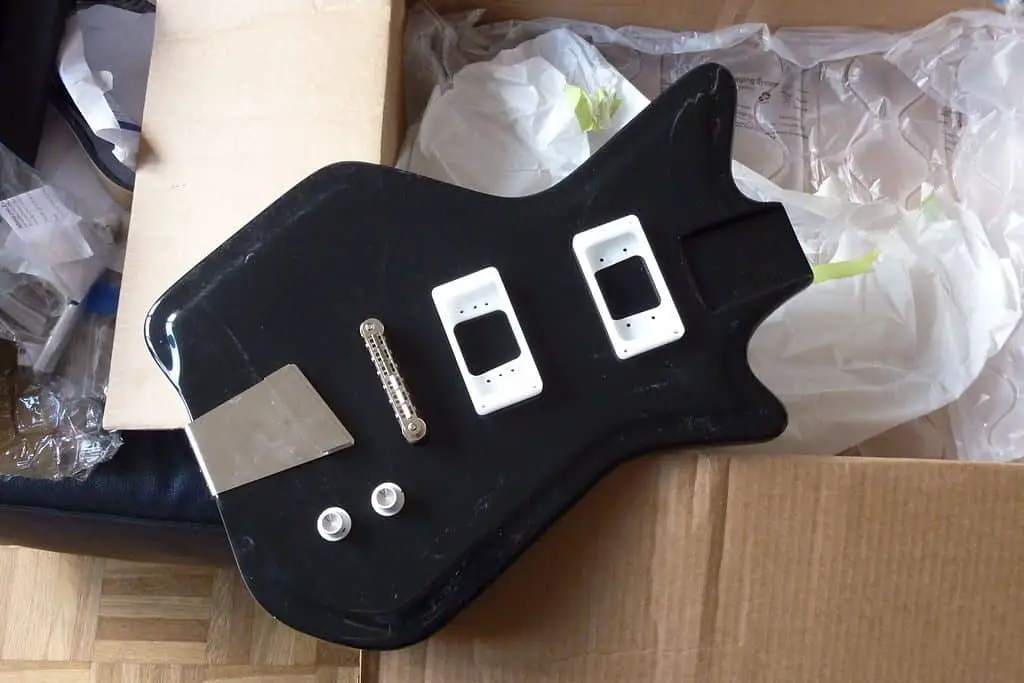 It's also easy to do. You don't need a degree in woodworking or expensive tools to build a DIY guitar as everything is included in the kit. For aspiring luthiers (guitar makers), this is a great way to get their feet wet.
Lastly, DIY kits are considerably cheaper than pre-built guitars. Since the labor of assembling is passed on to you, labor costs are lower. This translates to a lower price tag.
That being said, you also need to be aware of the significant drawback of DIY guitars: time and effort. If you don't have the patience or want a guitar you can play out of the box, then a DIY kit is probably not for you.
Final Thoughts
So far, we've presented the best guitar kits that can put you in the fast track of having your own guitar. Any of these kits would give you a very fulfilling and rewarding experience, but one kit stands above the rest to become our best DIY guitar kit. That's the Fretwire 175 Style DIY Kit.
For one, it will grant you the chance to get an ES-175 for a fraction of the price. Kit wise, we like that it's moderately difficult without being frustrating. It also takes well to customization. Overall, one of the best guitar kits that give a rewarding experience.