The Hawaiian ukulele as we know it was inspired by various four-string Portuguese instruments brought over by immigrants in the late 1800s. Of course, back then no one knew it would one day become an iconic sound of the island—an instrument that carries the "aloha spirit"—bringing friends together wherever it goes.
If you'd like to join in that spirit, the first thing you'll need is a ukulele to play, which is where our buying guide and ukulele reviews come in. We've scoured the best ukulele brands to find to find the ultimate "jumping flea" to help you get started.
My Top Pick

If you're not interested in reading all thirteen ukulele reviews, our top pick for the best ukulele was the Kala KA-15S. We've reviewed it first for your convenience, but to sum it up, this model is going to suit a range of skill levels and budgets while its stellar build quality is sure to stand the test of time.
The Best Ukulele Brand Reviews
#1 Kala KA-15S Mahogany Soprano Ukulele-Best Overall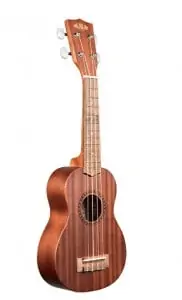 The Kala KA-15S may not be the most top-of-the-line model this brand offers, but it does offer impressive quality at a splendid price. Well suited for both beginners and experienced players, this model plays the sweet song of victory stealing the top spot as our best ukulele.


Key Features
Four-string soprano
Twelve frets
Mahogany top, back, neck, and sides
Walnut fingerboard and bridge
GraphTech NuBone nut and saddle
Satin finish
Aquila Super Nylgut strings
Open-gear tuner
What I like about this product
Kala is well known for their learner's instruments. They are often touted as the brand more students learn to play on than any other in the world, but the KA-15S offers sound quality suitable for intermediate players as well without an out-of-this-world price tag. It is, by the way, also an excellent choice for children being a comfortable 21 inches with a lightweight design.
This model also has professional-level fretwork and produces a harmonious mellow sound—perfect for those relaxing evening beach bonfire jam sessions.


What I don't like about this product
While expected at this price point, this isn't a solid mahogany ukulele—it's laminate. The out-of-the-box setup will also likely result in some buzz and sound muddying. It will require some fine-tuning to play at its full potential.
Being an affordable option, it also may not be up to some professional players standards. It's going to work great for the average player, experienced or not, but if the uke is part of your career, you may want to aim higher.
Pros
Mahogany tone wood
Fantastic build quality (the frets in particular)
Mellow sound
Very fair price
Cons
Not solid wood
Some adjustment necessary to get an optimal sound
Kala isn't considered one of the best ukulele brands for no reason, and it shows in the KA-15S. This model is an affordable option with outstanding performance for its class.
Overall rating: 4.9/5
#2 Donner Soprano Ukulele DUS-1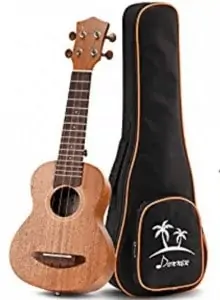 Another option aimed at beginners that works well for experienced users as well; the DUS-1 from Donner has sturdy build quality with a mix of tonewoods to create a unique sound with improved longevity. This ukulele comes as a package with a range of well-chosen accessories.
Key Features
Four-string soprano
Fifteen frets
Mahogany back and sides
Spruce top
Carbon nylon strings
Guitar-style chrome-plated tuners
Comes with bag, strap, extra strings, digital tuner, and picks
What I like about this product
This model not only looks divine, but the mixed tonewoods result in a sturdy build with a clear sound. The accessories included are also a nice bonus offering everything you need to play the ukulele. It may come off like a beginner's bundle—which it serves well as—but it will work well for all skill levels.


What I don't like about this product
Unfortunately, the accessories included aren't the best available. The strap, in particular, is less-than-amazing and a bit small. It will work best for children or smaller adults.Some players also aren't a fan of the carbon nylon strings that come stock, though that's an easy fix—just replace the strings.

Pros
Durable, superb build
Clear sound with good resonance
Plays well out of the box
Wide fretboard
Cons
Low-quality accessories
Strings may need replacing
The Donner DUS-1 is a great package deal to get everything you need to get started with the ukulele. This model would make an excellent gift.

Overall rating: 4.7/5
#3 Lohanu LU-S Soprano Ukulele-Best Ukulele for the Money
Also available in concert and tenor models, the Lohanu LU-S is a solid budget choice that comes in a package deal that includes a strap, padded carrying case, chromatic tuner, two plastic picks, paracord hanger, and an extra set of Aquila strings.
Key Features
Four-string soprano (also available in concert and tenor)
Fifteen frets
Sapele and mahogany top, back, neck, and sides
Technical wood fingerboard and bridge
Aquila Super Nylgut strings
ABS bindings
Chrome tuning gears
What I like about this product
While this isn't a solid wood ukulele (which you wouldn't expect from a budget model), the laminate Sapele and Mahogany build mean that it is less susceptible to moisture and temperature changes. Both are important if you spend a good deal of time playing outdoors. This model travels well.
It also offers top-notch projection with impressive volume. The main selling point here is undeniably the price, though. That price is also how it stole the best budget buy slot in our reviews.


What I don't like about this product
That same laminate does affect the sound of the ukulele, and there have been some complaints about the build quality and intonation up the neck.


Pros
Outstanding price
Comes with quality Aquila strings
Good projection and volume
A package deal that comes with everything you need
Lifetime warranty
Cons
Intonation up the neck is off past the fifth fret
Plastic picks are worthless
Lohanu is known for its budget packages, and this is probably the best of their offerings. It's available in multiple sizes and provides everything you need—though some of the accessories aren't top quality.

Overall rating: 4.8/5
#4 Fender Montecito Tenor Ukulele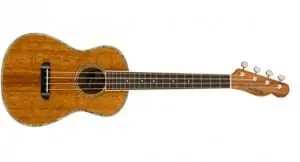 When you hear the brand Fender, chances are you don't picture a ukulele, but they do make several top-notch options, such as our first non-soprano in these ukulele reviews, the Fender Montecito ukulele is also our first uke made of Koa wood. Koa, native to Hawaii, is the traditional choice for ukulele builds thanks to it's classic, soft sound.
Key Features
Four-string tenor
Nineteen frets
Solid Koa back and sides
Abalone-bound top
Rosewood fingerboard
No-tie bridge
Gloss finish
What I like about this product
My favorite aspect of this model is the no-tie bridge, as I've always struggled with string changes. The Koa tonewood also provides superior sound, and the aesthetics of this instrument are simply stunning with its blue-green abalone top binding—this is how a professional uke should look and sound.

What I don't like about this product
This model is expensive compared to the others we've reviewed here owing to the limited availability of Koa wood. It's also relatively quiet and lacks a pickup as part of the package. You can always purchase one separately, but at this price point, you'd expect one.

Pros
Fantastic sustain and note clarity
No-tie bridge makes for easy string changes
Made from Koa wood
Includes gig bag
Cons
Kind of quiet
No pickup
Costly
Fender may be better known for their guitars, but they are also one of the best ukulele brands and deliver in scores with their Montecito model. If it's in your budget, this option sure to please.
Overall rating: 5/5
#5 Luna Uke Pearl Concert Ukulele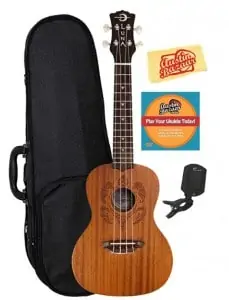 With the pearl series, Luna didn't pull any punches on design. With an artistic engraved seahorse pattern on its front along with just a touch of Mother of Pearl, the Luna Uke Pearl Concert Body Ukulele sounds as good as it looks.
Key Features
Four-string concert
Eighteen frets
Mahogany top, back, neck, and sides
Rosewood fingerboard
Etched seahorse design with pearl inlay
Aquila Super Nylgut strings
Includes a gig bag
What I like about this product
What drew me to this model was likely what attracts most players—it's stunning design. Luna claims the mermaid represents creativity, and they certainly got creative, adding an artistic touch to this uke. In fact, Luna has a flair for the creative and offers numerous options that could be called art just as much as an instrument.
What I don't like about this product
While this ukulele is capable of great sound, it does require a bit of tuning to get it there, and it is another of the more expensive options on our list. This option is not for beginners, but professionals and experienced players will love it once it's dialed in.
Pros
Gorgeous design
Well-made
Made from solid mahogany
The gig bag is nice
Cons
Might come poorly tuned
Spendy
The Luna Pearl Ukulele is a sight to see with sound to match. It's also comfortable and easy to handle. However, the price might be a bit prohibitive for some.
Overall Rating: 4.9/5.0
#6 Oscar Schmidt OU5 Koa Concert Ukulele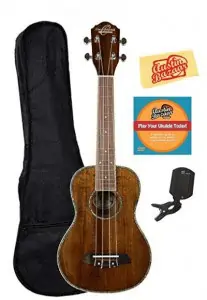 The Oscar Schmidt OU5 is a classic-styled ukulele with exceptional sound and an eye-catching design. With real Koa wood construction at a fair price, this option is worth a hard look.


Key Features
Four-string concert
Sixteen frets
Solid Koa back, top, and sides
Rosewood bridge and fingerboard
Abalone rosette and binding
Chrome tuners
What I like about this product
Thanks to its Nyatoh neck design, this uke offers a great hold and feels comfortable while playing. The abalone binding is also a lovely touch giving this model just a little bit of elegance. It has a bright sound that sure to make you smile too.


What I don't like about this product
Some players have reported issues with the quality control on this model, as well as the case that comes with the bundled option. It may be better to go with the stand-alone ukulele and invest in a better case as a result, but I suppose the accessories aren't what's up for review here.

Pros
Made from Koa wood
Beautiful instrument
Nice sound
Comfortable feel
Cons
Some quality control issues
Has trouble staying tuned
Skip the accessory bundle
A gorgeous Koa wood option, the Oscar Schmidt OU5 is an attractive and reliable ukulele that's a pleasure to play.


Overall rating: 4.7/5
#7 Martin T1-K Koa Tenor Ukulele Natural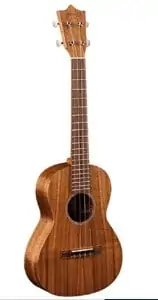 The Martin T1-K is one instrument sure to stand the test of time. Made from solid Koa wood with a Sipo fingerboard, this is a luxurious model.
Key features
Four-string tenor
Twenty frets
Koa wood top and sides
Sipo fingerboard
Aquila nylon strings
Left-hand user-friendly
What I like about this product
The solid Koa uke offers a bright, bold sound—and by bold, I mean loud—this one will be sure they can hear you in the back. It has a moderate action and spacious fretboard that create a truly comfortable playing experience.
What I don't like about this product
The tuners leave a bit to be desired, enough so you might even consider having them replaced at your local music shop. While you're there, you might also have them file the nut and fret edges as they can be a tsk sharp. Once that's taken care of, though, this provides a pleasant playing experience and will stick with you for a long time.
Pros
Made from koa wood
Durable build
Beautiful bright sound
Usable by lefties
Cons
Tuners may need to be replaced
Nut and fret edges can be a bit sharp
Expensive
Martin, as a brand, produces high-level professional ukuleles, and though their quality more than justifies their price, they are on the spendy side.
Overall rating: 4.1 of 5
#8 Cordoba 20SM Soprano Ukulele
This hand-built traditional Portuguese ukulele is brought from durable mahogany that provides a warm, robust tone with deep undertones. While it's a well-built and good looking uke, it's the sound that sells this one.


Key Features
Four-string soprano
Sixteen frets
Mahogany top, back, and sides
Rosewood fingerboard with Pearloid dot inlay
Aquila nylon strings
Satin finish

What I like about this product
This model can best options twice its price with ease based on sound alone, but it also has a quality build and is easy on the eyes. It feels solid in your hands—and it is. This is an instrument that has the capacity to hold up well under years of abuse.

What I don't like about this product
The action is a bit high on this model, and it has a habit of coming out of tune. It's another option that may play better with the tuners replaced, but then this isn't a universal complaint so that it might be a matter of perspective.

Pros
Quality construction
Handcrafted
Unbelievable sound
Affordable for the quality
Cons
Action is high
May need tuners replaced
Cordoba really hit it out of the choir with this one. It's a quality uke with spectacular sound and a very fair price tag to match.


Overall rating: 4.1/5
#9 Lanikai QM-NACET Tenor Cut-Away Ukulele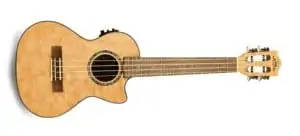 This model is the first maple-built option on our list as well as the first electric/acoustic option. The Lanikai tenor cut-away ukulele comes complete with a Fishman tuner and preamp and lives up to the high expectations many have come to expect from this brand.


Key Features
Four-string tenor
Eighteen frets
Quilted maple top, back, and sides
Walnut fingerboard
NuBone XB nut and saddle
D'Addario EJ88 strings
Fishman tuner and preamp
No-tie bridge
Includes soft-shell case
What I like about this product
Ready to plug and play, this model from Lanikai offers a warm, mellow sound with a flawless amplified tone. The fingerboard is responsive and comfortable to play no matter your hand size—something that can be hard to find in stringed instruments for those of us with big hands.
The die-cast tuning mechanisms provide great tonal support and keep this masterpiece perfectly in tune.

What I don't like about this product
Our only real complaint with this model is the price. It certainly isn't up there with high-end options—staying under $500—but it's no budget-friendly choice by a long shot for most. I'd also love to see a hardshell case to protect this musical treasure better.


Pros
Comes with preamp
Easy to string thanks to the no-tie bridge
Great fingerboard design
Well-suited to all hand sizes
Cons
Not budget friendly
Could use a sturdier case
The Lanikai QM-NACET delivers an optionally amplified experience with exceptional playability and eye-catching design—but the price will catch you in the wallet a bit.


Overall rating: 4.6/5
#10 Ibanez UEW13E Open Pore Concert Ukulele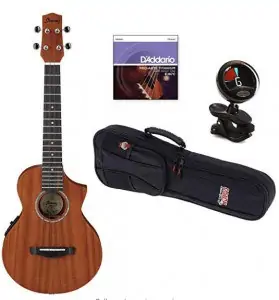 Another electric/acoustic option, this time from a name even those who aren't instrument savvy will recognize—Ibanez. The UEW13 includes a preamp and onboard tuner as well as an under-saddle pickup to ensure you always play at your best.

Key Features
Four-string concert
Nineteen frets
Bocote top, back, and sides
Rosewood fingerboard and bridge
Mahogany neck
Ibanez/Aguila NyBlack strings
Onboard electronics with tuner and EQ
What I like about this product
This model is an absolute stunner in the looks department with dark-wood open-pore Bocote body and ivory binding. It may be a simplistic design, but the natural wood patterns are mesmerizing, and the cut-away shape allows for easy access to the upper frets. Sound wise this option doesn't disappoint either with a clear, true pickup.


What I don't like about this product
Without an amp, the tone can run a bit dull and lack strong sustain.It also doesn't come with a case, so you'll have to purchase that separately. Given the guess-work of finding a well-fitting case, that's a bit disappointing.


Pros
Excellent design
Built-in preamp and tuner
Cut-away body with high-quality tonewood
Good pickup
Cons
A little less impressive without an amp
No case
The Ibanez is a rock-solid acoustic/electric concert ukulele with draw-dropping aesthetics. Ibanez lives up to their reputation for producing the best once again.


Overall rating: 4.8/5
#11 Gretsch G9100 Soprano Standard Ukulele
Gretsch's luthier mastery really shines in this beautifully crafted soprano ukulele. With an open-pore finish and mahogany tonewood, it delivers a bright sound with a classic look.


Key Features
Four-string soprano
Sixteen frets
Mahogany top, back, neck, and sides
Ovangkol fingerboard and bridge
Aguila Nylgut strings
Includes gig bag
What I like about this product
The fingerboard is longer on this model, leaving it better suited to melody playing, and the bridge is smooth with subtle string tie offs that don't get in the way. The tones are bright and cheery, and this uke rarely slips out of tune.


What I don't like about this product
If you're going for a mellower sound, you'll really have to work for it with the model. It can be a little too bright if that's what you're after. While the build is solid, it's also dense, so if you don't like a heftier soprano, you might not like the feel of this choice.
Pros
Genuinely bright tone
Long fingerboard great for melodies
Well-built string tie offs
Cons
Struggles with much else but bright sounds (which is kind of typical of a soprano)
Might be a bit heavy for some player's taste
The G9100 from Gretsch features a classic design that fans of traditional ukuleles are sure to enjoy. With its long fretboard and sweet sound, it's also perfect for finding your heart's melody.


Overall rating: 4.6/5
#12 Ohana Sopranino Solid Mahogany Ukulele SK-21 -Best Travel Uke
Ohana's first venture into the world of sopranino ukuleles, the SK-21 was designed to be a shorter version of a soprano, ideal for travel while maintaining the traditional G-C-E-A tuning. It achieves all the above and more—plus it's really cute.
Key Features
Four-string sopranino
Twelve frets
Mahogany top, back, neck, and sides
Rosewood fretboard
Aguila Nylgut strings
Gotoh friction tuners
Matte finish
What I like about this product
This model is obviously great for travel and meets the mark for portability for sure. It has a clear, forward, and slightly mellow sound that's good and loud for such a little thing. The intonation is splendid, and the fretwork is fantastic.

What I don't like about this product
If your aim is for a true sopranino, you might find yourself disappointed with this. It is smaller than a soprano, but it's larger than most sopranino models. The non-geared tuners are also kind of a pain to deal with and semi-regularly slip.

Pros
Ultra-portable
Awesome volume for its size
Wonderful fretwork
Cons
A little bigger than most sopranino models
Friction tuners are annoying
No tail block (be careful if you install an under-saddle pickup)
If you need a good travel uke or just aim to collect a variety of sizes, this is a great option to add to your arsenal, especially if you don't mind friction tuners.


Overall rating: 4/5
#13 Caramel CB103 Baritone Acoustic-Electric Ukulele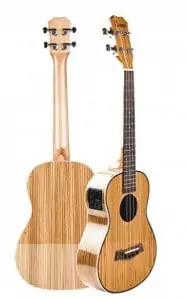 The first and only six-string in our roundup, this model from Caramel is also an acoustic/electric baritone uke. This ukulele is the ultimate option for those looking for a uke with a more guitar-like sound.
Key Features
Six-string baritone
Eighteen frets
Zebrawood top, back, neck, and sides
Walnut fretboard and bridge
Aguila Nylgut strings
Buffalo bone nut and saddle
Closed-gear tuners
Built-in tuner and pickup
Adjustable truss rod
What I Like About This Product
The adjustable truss works really well and gives you better ability to adapt this uke to your needs, and the built-in tuner is superb—which is a pleasant surprise. It's the best baritone six-string you'll find under $100 hands down, and it performs at a level far beyond its price.
What I Don't Like About This Product
The action is a smidge on the high side, and there are some sharp edges on the fretboard you'll want to address to avoid snags. This model will require a bit of setup to really shine.
Pros
Electronic and acoustic
Ample volume even without the amplifier
Includes accessories
Affordable six-string
Cons
Sound can be rather harsh
For anyone looking for a more guitar sound in an acoustic/electric hybrid, this could be a solid choice to try something entirely new.
Overall Rating: 4.5/5
Ukulele Buying Guide
Alright, now that you've had a broad look at some of the best ukuleles from the top brands like Amahi, Kala, Lanakai etc., let's talk a bit about what you should look for when buying a uke. While some points are much like any other shopping experience—shop around, pay attention to the details, and do your research—there are some more technical aspects to consider when shopping for a ukulele too.
Price Range
Price can mean a lot in the music world, but personally, as you might have noticed from the reviews above, I think most players do best with mid-range offerings. You can find many budget options under $50, but these are aimed more at beginners or children. They lack quality and often have less than stellar sound.
You can also easily spend over $1,000 on a top-end ukulele, but the average player—assuming you aren't a professional—doesn't usually need all the bells and whistles that come along with that price tag. This leaves the happy middle ground from about $100 to $500 with some outliers here and there that are going to work well for most beginners and continue to work well as they graduate up to experienced players.
What to Expect with a Bigger Price Tag
So, let's assume you aim for the higher end of that range I just gave—what does that get you? Well, there's no set rule that if you spend X dollars you'll get X or Y, generally though, higher price tags mean
More detailed or expensive cosmetic features, such as binding, inlays, and rosettes
Exotic or rare woods and materials
Solid-wood construction for better tone
High-end electronics built-in
Superior craftsmanship and playability (this one is debatable)
On the very high-end of the price point, you're probably also going to get handcrafted instruments rather than mass-produced options which may or may not have been made in China. I'm not saying that one country produces a better ukulele than another, but it's no secret that big-factory, foreign construction can get a bit shoddy.
Avoid Really Cheap Models
Of course, it's tempting to save some cash and buy a $25 or $30 ukulele that comes with a whole bunch of accessories to boot–especially when, by looking at the pictures, they might look a lot like some of the more expensive models. There's a reason I said the under $50 range was best for children or beginners (those that aren't sure they'll stick with it in particular).
This price range often sports quality issue that can affect tone and make playing a challenge. Many of them are even plastic and could hardly be called much more than toys. You're far better off spending just a little more and getting a quality budget ukulele in the $60 to 75 range (those outliers I mentioned).
Even new players are going to get more from these models as a poor quality instrument can discourage you from continuing to learn, and assuming you do succeed at learning, you'll have to spend more on an upgrade later anyhow.
Ukulele Sizes
After price, the next thing you need to settle on is what size uke you want. You might have noticed in the reviews above there was a range of types. While there are a few speciality sizes, the four primary options are soprano, concert, tenor, and baritone.
The most popular of the four is the soprano. It is probably what you picture when you think of a ukulele. As you move up the list, the sizes get larger. A concert is a bit bigger than a soprano, and a tenor is slightly larger than a concert, but all three are tuned to a C. The largest ukulele size, baritone, is tuned to D.
Each of these sizes offers a unique sound and has its own niche where it shines the brightest. To expand on that a bit, and help you settle on your favorite, here's a quick overview of each size option.
As I said before, the soprano is the smallest bodied ukulele within the four main types, typically at about 20 inches in length. It also has the shortest fretboard and usually has twelve to fifteen frets. It's a popular choice for those who travel due to its small size and lightweight. It has that classic well-known ukulele sound.
Concert size ukuleles are usually around 23 inches and typically have fifteen to twenty frets. The strings are tuned the same, but the larger body allows for a louder sound than the soprano. Those of a little bigger stature, who also travel, tend to prefer concert ukes as they have a bit more room between the frets.
The tenor ukuleles are generally around 26 inches and have fifteen or more frets. They are, as mentioned, still tuned like the previous two types though. We've gained enough size now that the sound starts to change, lingering more into a classic guitar tone with a ukulele base. Many professional players opt for tenor models.
The baritone is the only one of the four types to also change in tuning to D rather than a C. These are typically around 30 inches. They have a sound even closer to a guitar—as close as a ukulele can get, particularly if it has more than four strings. Being the largest, this is the least popular size. Most that favor the more guitar-like tones, just play guitar.
While you're very likely going to find the best deal online, I'd highly recommend that you visit a music shop to try the various sizes out in person. It's all well and good to read what they are supposed to sound like, but nothing compares to hearing it yourself—or seeing how the size feels during play.
Especially when it comes to beginners, you'll likely find one size and fret number suits you best. Once you know what you like, you can expand your options with an online search. Remember, of course, to only include instruments from reputable sources. More experienced players may actually enjoy branching out and trying all the various options out there.
Laminate, Solid Wood and Plastic
Earlier up there in the price section, you may have found yourself wondering why solid matters enough to pay more for in the first place. I mean it makes sense to most that solid wood would cost more, but why is better for ukuleles?
Ukuleles bodies are often made of plastic, laminate, or solid wood. They tend to travel in that order as far as price as well, with plastic being cheapest. However, it's not necessarily true that solid wood is always better. Each option has its use, and the material used in the construction of the instrument will affect its sound and performance.
Plastic
Plastic is naturally the cheapest option, but it can be a terrific choice if you're planning on taking your uke into less than ideal conditions, such as the beach or camping, where it might suffer moisture, humidity, temperature changes, sand, and all manner of abuse. A plastic uke might be less durable than wood, but it's less picky about its environment too.
Laminate
Laminate is made from real wood, but it's layered rather than solid. This option is frequently far more affordable than solid-wood and can produce similar sounds, albeit with a bit less resonate. Many also describe it as tighter and more focused.
Solid wood
Koa: This is the traditional wood choice for Hawaiian ukes. You might expect this was because it offers some magically fantastic sound quality, and it sort of does, but this choice was primarily because Koa was what was available on the island. This wood choice does have a gorgeous grain, though, and delivers a warm, sweet, mellow sound.
Mahogany: Mahogany is cheaper than Koa and offers a slightly softer sound. It considered a durable choice, and the midrange really shines.
Spruce: Spruce is often used in more budget ukuleles due to its affordability. It tends to deliver a crisp sound with lots of bass response. It's great for aggressive strummers.
Cedar: Cedar offers warm, controlled volume with darker tones. It's similar to spruce but less crisp.
Rosewood: Rosewood presents with a sweet bright sound that's fully balanced with deep lows and accentuated highs. It's one of the most commonly used tonewoods in the world, but not usually seen as a body material in ukes. It is typically used in fingerboards though.
This list isn't an all-inclusive for brevity's sake. There are many more tonewoods out there, but those above are probably what you'll run into the most when shopping for a ukulele.
Ukulele shapes
While the most well-known shape for ukuleles is the figure eight, there are many other options on the market. Two other popular designs are the pineapple and the cut-away figure eight, which offers better access to the upper fret.
The shape of a ukulele doesn't really have any direct effect on the sound or quality. It's really more a matter of personal preference and how the instrument sits during play. This is another area where trying out options in person really helps.
Acoustic or electric?
Whether you want an acoustic or electric depends entirely on you—what do you intend to use your ukulele for? If you only plan on playing for your own entertainment or maybe at home for some friends, an acoustic ukulele will do just fine. On the other hand, if your aim is to perform—especially on stage—you'll want to go with an electric most likely.
Acoustic-electric models have onboard electrics for amp use. Though, don't worry if you buy an acoustic and decide you'd like to get on stage. You can always add a sound hole later for an amp or mic.
Ukulele Strings
Like any instrument, strings can massively impact the sound of a ukulele. Sometimes all that stands between a sound-atrocity and a heavenly tune is a new set of strings. Unfortunately, there are just as many ukulele string options on the market as there are ukuleles.
Fluorocarbon – These strings produce a brighter sound than the more commonly seen nylon. Temperature fluctuations also don't affect their performance as much, so they are quickly becoming a popular choice for players.
Titanium – Titanium has an even brighter sound as well as enhanced volume and projection. It is also exceptionally durable and stronger than most string types.
Wound nylon – Wound strings have a nylon core wrapped with a polymer winding material. These are commonly used in tenor and baritone ukuleles, but they do produce more finger squeals, so some players find them annoying.
Wound metal – Even more common on baritones, wound metal strings produce even more squeals and so are less popular. Aluminum and copper are the most commonly used winding metals.
Steel strings – Steels strings are generally not recommended for ukuleles. They exert extra tension on the top, neck, and bridge that can cause damage, and they don't deliver the classic uke sound anyway.
No matter the string type you chose, be sure that it's the appropriate size for your ukulele. You can always cut a longer string shorter, but you can't do anything if you buy a string that's not long enough.
Tuning
Strings come in more than just different types too. They also come with different tunings, and when it comes to ukulele strings, there are two primary options.
Low G – (GCEA in ascending order)
High G – (GCEA with the G-string tuned 1 octave up)
When selecting strings, be careful, standard strings may be labeled high-G or have no label at all. You don't want to accidentally buy low G strings if you were after high G.
For baritone ukuleles, you also might want to opt for a DGBE-tuning string set. None of the above are universal to a specific size, making it important to understand what tuning you want before you go out shopping.
Ukulele Brands
While I only detailed thirteen ukuleles in this review, all thirteen were from different brands—and every last one is a quality option. The thing about instruments is no single brand makes the best. There is no supreme ruler of ukulele manufacturing, because each of the companies detailed above, and hundreds of others on the market, actually, all excel at different things.
For instance, Kala is known for their skill at producing learner's ukuleles. This point doesn't mean Kala (Makala being their subsidiary) is the best ukulele brand in general (though they did produce our top pick in this review). It just means they have a solid reputation in their niche—they're a starting point.
Even a brand with a sparkling reputation whose praises are sung on high can produce a lemon or two, and "best" is a matter of perspective. Use brands as your starting point to narrow your list but let the quality and your preferences settle things.
Ukulele Accessories
I mean, in a literal sense, all you need to play the ukulele is a ukulele and the desire to play, but there are some accessories that certainly help, though not all are absolute necessities.
Something to put it in – A gig bag or case is essential to ensure your uke isn't exposed to shifts in temperature or humidity and that it's protected from any external damage—like being tossed around in your vehicle.
Without some form of reliable storage, your instrument can change tone, warp, and, well, suffer far more damage than it would without one. A hardshell case is the ideal and the most secure option as it will keep your ukulele safe from bumps and scuffs while also allowing for a controlled environment for storage. You can also add a humidifier or de-humidifier depending on the current climate at your location (both being too dry or too moist can be detrimental to tonewood).
A strap—A strap falls into the nice-to-have realm, but it does come in handy if you like or need to play standing up often. Keep in mind that if your choice does not have strap buttons, you may have to install some or have them installed. There are a few options that can be used without drilling for strap buttons, but they are few and far between.
Electronic tuner – This one falls under the not-necessity pile, but it definitely will make your life easier, especially when you first get your new uke or have to change strings. It's common during this time to have to use a tuner nearly every time you play until things settle in. Some ukuleles, often electric/acoustic models, also have built-in tuners.
Extra strings – Broken strings are going to happen, but they are less of a pain if you have a back-up ready—no one wants to be caught on the road a string down. Be sure to research what type of strings are compatible with your instrument. Not all types, sizes, etc. will work for every instrument.
Final Thoughts
We've covered the best models. We've smashed through the buying guide, and hopefully, now know everything you need to buy yourself a new ukulele. If you forgot through all that word count, our top picks were
Best Overall: Kala Soprano KA-15S
Best Budget: Lohanu Soprano LU-S
Best for travel: Ohana Sopranino SK-21
These options are going to work well for a variety of skill levels and come in at fair prices for the quality provided. All three are also from well-respected brands that stand behind their products.
Though, depending on your needs and personal preferences, these may or may not be the best choice for you personally. Unfortunately, when it comes to instruments, no one can tell you that—but I've certainly provided a solid starting point.