A ukulele is a small stringed instrument with four types; soprano, concert, baritone, and tenor—but chances are if you're looking for the best tenor ukulele you already knew that.
From the first time I heard a guitar solo—I knew. I wanted to play guitar. Unfortunately, I also turned out not to be so musically minded and was struggling a bit to get the hang of it. The solution my parents presented was a tenor ukulele.
With its guitar-like sound but easier string set up, it was the perfect beginner's instrument to help me get started, but it also kick-started a life-long love for tenor ukuleles.
Our Top Pick

In the interest of love, I've compiled these tenor ukulele reviews in hopes of helping others discover their passion. If you're a bit short on time, in my opinion, the best tenor ukulele on the market in 2019 is the Fender Montecito. This ukulele provides quality sound coupled with superior construction sure to serve you well for a lifetime.
Best Tenor Ukulele Reviews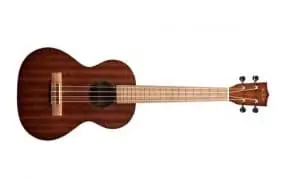 Our first product in line to be reviewed is the Kala KA-15. With a striking contrast of satin walnut against dark mahogany, this is a durable and attractive instrument that's built to last without breaking your budget.
Key Features
Mahogany body
Aquila Super Nylgut strings
Gentle look
Walnut fingerboard offering a sturdy hold
What I Like
What seems appealing about the model is that the whole of uke is made of mahogany wood, a type found commonly in ukuleles because it provides strength being thicker compared to other kinds of wood. A dense material on a light ukulele will make you feel like you're holding a feather in your hand.
You won't find many decent instruments available at this price offering this quality—especially Kala products, which have high consumer demand. However, in the world of ukulele's Koa wood is usually preferred over mahogany, as it offers a unique sound and is the traditional choice.
What I Don't Like
Kala KA-15 uses a satin finish, and although it offers a smooth and refined texture to the ukulele, it must be noted that the cleaning can be a little tricky as using polish on a satin finish can result in discoloration of your instrument, which will ruin its appearance.
Pros
Affordable
Highly rated by consumers
Mahogany wood used, offers strength at a lower weight
Comes with a gig bag
Cons
Limited features
Not made of traditional Koa wood
Difficult to clean
The overall build and sound quality this product offers will provide a comfortable experience to people of all skill levels. Kala KA-15 packs a power punch by steaming off with quality wood and a fine finish in appearance and durability.
Overall Rating: 4.7 of 5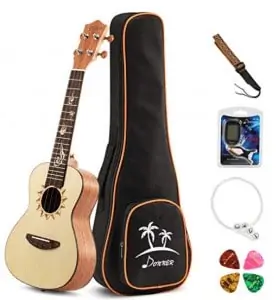 Running low on budget and struggling to find a decent uke at a price in your range? We have just the RIGHT product for you. Donner DUT-3 is available well under $100 and comes with a variety of accessories.
Key Features
Rosewood fingerboard
Comes with ukulele strap and case
Mahogany back/side
Carbon nylon strings
What I Like
This product has an attractive appearance with clouds and a top-mark sun pattern but makes it to our tenor ukulele reviews by being a value product.
Not only is this ukulele aesthetically pleasing to look at, but it also comes with a ukulele case, strap, carbon nylon string, and digital clip-on tuner all available alongside the masterpiece itself! Finding value ukuleles is never easy, but Donner has done it.

What I Don't Like
While this package deal comes in at a great price and would make a fantastic gift for someone just getting started, the strap, in particular, is relatively low quality—enough so you'll want to replace it if you plan on using it often.
Pros
Comes with lots of accessories
Inexpensive
Beautiful design
Cons
Strings not ideal for all types of musicians
Poor quality strap
Better for beginners
Whether you're wishing to go solo or traveling to an island, the Donner DUT-3 will deliver a sweet sound at a bargain price. The wood used is taken through a strict process for the end product to be strong and durable, and it provides a soft grip to make you feel comfortable in hitting the strings that are easily changeable with perfection.
Overall Rating: 4.5 of 5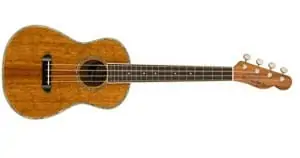 If you are a fan of Koa wood, which is the best match for a ukulele, then Fender Montecito is the right option for you! Offering a solid Koa top, back, and sides, this simple-looking yet carefully-constructed ukulele is designed for those who are in it for the long haul. There's a reason why this specific type of ukulele has managed to set foot in the market for so long.
Key features
Made from Koa
Abalone bound top
No-tie bridge
What I Like
The wood isn't the only admirable feature of this model. It also has a natural feel, and a powerful grip with a vintage-style closed back. Although this Fender is expensive, that's understandable, since it is wholly made from Koa wood— which is often costly as it can only be found in Hawaii.
What I Don't Like
Some users complain this uke often loses tune, which proves to be quite a hassle. This, however, may be a matter of time, as new instruments often require a breaking in period.
Pros
Made from the finest wood
Rich sound
Smooth gripping
Appealing appearance
Cons
Expensive
May not stay in tune well
The Fender Montecito offers a warm tune and the quality of wood aids in providing better sound quality. The beautiful tone, along with deep resonance make this Fender the best tenor ukulele in our reviews. In this case, the quality is well worth the price.
Overall Rating: 5 of 5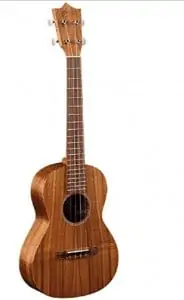 Martin is deep-rooted in the ukulele market and has been providing beautiful and delicate instruments for many years. Unfortunately, this trusted brand also comes with a high price tag, but this model is made with real Koa to justify some of that price.
Key Features
Solid Koa top and sides
Sipo fingerboard
Aquila nylon strings
What I Like
The solid Koa construction not only makes this whole instrument a strong piece to hold, but it will also provide you a luxury experience as the Martin brand has been ranked on top for their robust and resonant sound quality for quite a long time.
Proving to be immaculate in build, it has a hand-rubbed satin which is commendable on its own. It could have easily been named the best in our tenor ukulele reviews, but it fell short in a few places.
What I Don't Like
Although the type of wood used is no short of something brilliant, there are other products that are constructed from Koa at lower prices. This instrument is not affordable for beginners looking for a decent ukulele with a sturdy build and quality sound at a fair price.
The gig bag provided is also of lesser quality than what you would expect at this price point.
Pros
Made from the best type of wood available for ukes
Powerful build
Sweet sounding instrument
High-quality ukulele
Cons
Heavy in shape, difficult to carry
Expensive
There's no denying that Martin T1-K will stand the test of time You won't always find a premium piece offering high quality while promising results at the same time. If it's in your budget, this model is worth a hard look.
Overall Rating: 3.5 of 5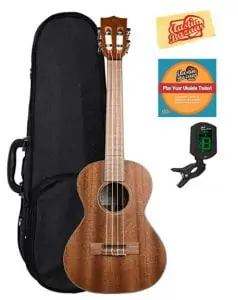 As a brand, Kala is famous in the market due to its high-quality ukuleles and powerful sound. The Kala KA-SMHT comes with a mahogany neck, and the grip is comfortable to hold. A mahogany ukulele not only feels unique but makes a unique tone which might suit some of the musicians looking for something a bit different.
The classic tortoise binding gives off a decent look, and this adds balance to the instrument overall.
Key Features
Solid mahogany top
Graphtech Nubone nut and saddle
Aquila Super Nylgut strings
Tortoise binding
What I Like
The Kala-SMHT is not too heavy on your budget and comes with a walnut fingerboard allowing you to have a smooth feel once you begin playing. Appearance wise this product is elegant looking yet simple in nature, popular among people who rely on this brand.
What I Don't Like
For the price, though, you'd expect a carrying case at the least. Even in budget models, usually, a strap and case are included. Some users have also complained the strings sometimes leave off a sharp tone towards the end.
Pros
Mahogany wood offers a different melody
Smaller in shape might suit some people
Warm sound
Cons
Does not include case
Strings might send a bad tone
The Kala-SMHT comes from a quality brand and delivers a truly warm sound, but it's recommended you replace your strings, and you'll have to purchase accessories separately.
Overall Rating: 4.6 of 5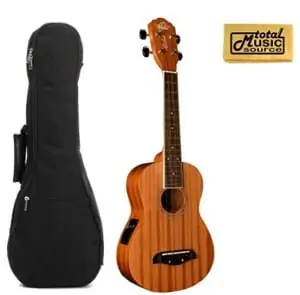 Looking for a uke with eight strings? Search no more because we have just the right product for you. The Oscar Schmidt has a Techwood fingerboard and bridge, offering a different feel compared to other, standard ukuleles.
Key features
Built from fine mahogany
Pearl dot fret inlays
NuBone nut and saddle
What I like

Oscar Schmidt is a well-made, unique ukulele available at a reasonably low price, which makes it a product too good to ignore. The satin finish mahogany gives off a vibrant look, and the excellent sound quality coupled with the feel of the ukulele makes it a perfect match for those who might have used a 12-string guitar in the past as they are similar in use.
What I Don't Like
Altogether, this product does pack a punch in terms of design, sound, price, and even use. What I dislike about it is that not all users will find the right rhythm in playing it as the strings are more in number and can be a hassle. This model may be a poor choice for beginners.
Pros
Mahogany body
Sounds nice
Low price for the quality
Good craftsmanship
Cons
No accessories offered
Difficult for beginners
Not only is the Oscar Schmidt affordable, but it also carries a distinctive sound you can't achieve with a four-string. If you're an experienced player looking for something new, this eight-string tenor ukulele is a must-try.
Overall Rating: 4.1 of 5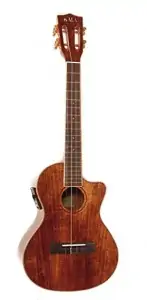 Our third Kala offering in this tenor ukulele review, the Kala KA-KTGE-C is simple and straightforward in appearance but stands out from the crowd with it's beautiful Hawaiian Koa build. This model easily earns our appearance award for the best-looking ukulele. It is also said to be sturdy and strong in design— making it comfortable for the user to use.
Key Features
Pau Ferro fingerboard
Mahogany neck
Koa top
What I Like
If you seek a balanced, warm sounding tenor uke, then this product will appeal to your tastes as it provides a nice sound through the UK-3000T preamp and becomes a powerhouse on its own, ready to be taken for solo individuals or bands.
The unique-cutaway design also looks stunning on its own, and the option to amplify and add effects just raises the standard of your performance by a margin.
What I Don't Like
With such attention to design, it was a shocker to see the quality of the strings on this model. While that's an easy fix, it was still disappointing.
Pros
Koa top – offers a great sound and feel
Works well in solo or bands
Can keep close to the body, owing to its unique build
Cons
The Kala KA-KTGE-C might easily be called an all-rounder due to the functions it provides compared to other products in the market. Even so, its appearance is its real selling point.
Overall Rating: 3 of 5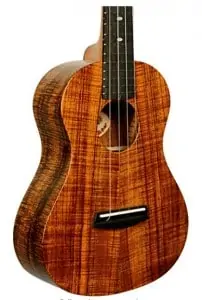 This is one of the most expensive ukuleles you will find on the market, so its best suited to users who are absolutely sure the uke is the instrument for them.
Of course, that high price comes with premium quality. The Kala Elite provides impressive sound and durability.
Key features
Ebony fingerboard
Koa wood top
Mahogany neck
What I Like
Constructed from Hawaiian Koa wood, this masterpiece is stunning on a visual level. With small and delicate body, not too overdone and not left under, the Kala elite offers a distinct sound. Kala is no doubt one of the biggest brands out there, and they take pride in manufacturing only top-of-the-line instruments.

What I Don't Like
The neck is made from mahogany, which is a disappointment. It would be nice to see the Koa carried through the entire body. None the less, this ukulele easily sets in your hand and balances well.
Pros
Koa top makes it look and sound beautiful
Comes with hard case with a dehumidifier
Looks appealing
Cons
An instrument of such caliber is sure to sound mesmerizing. It provides a warm and resonating sound coupled with the added benefits the Koa wood used provides almost a perfect sound. The Kala Elite doesn't skimp on looks and sound for sure, but is its price justified?
That's a question only you can answer. I believe there are other models out there that strike better in how they are played. Looks are not everything for a ukulele, but professionally speaking, this product finds itself in the top tier due to the fine craftsmanship. Its intricate details make it look like a work of art in your hands.
Overall Rating: 3.8 of 5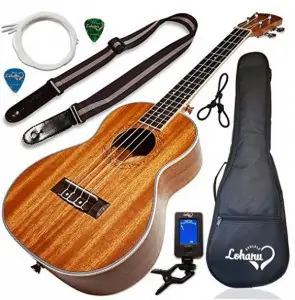 Our next product is a popular option among new musicians as it comes in at a budget price and still provides playable quality in the process. The Lohanu Tenor might be one of the most affordable tenor ukuleles on the market, but it's still worth a look.
Key Features
Made of Sapele laminate
Aquila Strings
Includes case, extra strings, strap, two picks, and tuner
What I Like
On top of being affordable for beginners and offering a basic feel of what tenor ukulele should be like, this model comes with everything you'll need to get started with the ukulele. It even comes with free online lessons.
The laminate construction might seem like a cheap option, but it also means this uke is more resistant to moisture and heat damage—great for jam sessions on the beach.

What I Don't Like
Unfortunately, the beach—where you wouldn't want an expensive instrument—might be where this model is best suited. Its lack of a solid-wood construction hurts its sound quality. As a beginner's model, especially for children, or a spare for rough conditions, this package is a winner, but for experienced players, it's going to be disappointing.
Pros
Affordable
Includes a bundle of accessories
Free lessons
Ideal for kids
Cons
Basic
Not for professionals
Less than stellar sound quality
As stated, this would be a perfect starter kit for a child or beginner adult who wants to give the ukulele a try. It's affordable, durable, and comes as a complete kit with everything you'll need right down to lessons.
Of course, you want to keep in mind if you or child decide to keep playing, you'll likely have to purchase a higher quality instrument in the future.
Overall Rating: 4.1 of 5
Buying Guide
Before buying any product—not just ukuleles—you want to be aware of the factors that need to be considered beforehand. Here's a quick crash course in what to keep in mind in your search for the best tenor ukulele.
Strings, Bridges, and Tuning
You can't play any stringed instrument, without, well, strings, and you can't just pick up any strings and expect them to work. With a ukulele, the case is entirely different. Before choosing the string, you need to make sure it's the appropriate size and fit for the ukulele—these factors are essential and can't be overlooked.
Just as important as the strings you use, are the bridges and the tuning. The right component needs to be selected to offer the best results. Buying the right tenor ukulele isn't where your decision-making ends. Even though this process sounds challenging to execute, once you start to educate yourself on these matters, it will fall into the category of natural where you decide upon these things with ease.
Quality is absolutely necessary. An expensive tenor ukulele having poor quality strings, bridges, or tuning will only ensure a bad result, nothing else. Whether you play solo or in groups, it is better for you to decide upon these factors beforehand and try your instrument before any show.
Tonewood
Materials are the next thing you should consider. The tonewood will not only set the standard for how your ukulele looks, but it will also decide how it actually sounds—which is the basic goal you are after. Make sure that the tonewood is the best quality you can get within your budget.
Koa wood is the ideal choice as it delivers the best all-around, whether you talk about sound or looks. However, as mentioned earlier in this review, Koa wood is not cheap.
Mahogany is another suitable choice, and it is quite common, and often more affordable, but it won't deliver the same sound quality. There is also rosewood among other options.
All of it depends on what you're looking for and your price range. If you pursue professionally, then the highest quality will be the right choice for you. While if you're not even sure this is a hobby you'll keep, cheaper wood might be more practical.
Brand
Moving on from materials, the way your instrument is crafted will affect its performance just as much if not more than its materials. Even if the best Koa is used to make your product, it will be of little use if the craftsman possesses a low set of skills. You need to consider that the best makers of ukuleles are found in Hawaii, which is where they originate from.
Brands from Hawaii will generally cost you more compared to a local manufacturer because the skill set Hawaiian craftsman offer is quite high. But bear in mind, one small mistake in crafting your instrument can lead to a devastating outcome, and this is why you need to look at not just reviews for the model you're considering, but the brand as a whole.
Return Policy
Make sure the seller has a good return policy in case the sound or feel of the instrument isn't what you expect. In the heat of the moment, it's easy to miss little things that turn out to be a big deal once you're home and practicing.
Buy a Tenor Ukulele That Suits Your Needs
There will always be a flood of options to choose from whether you go for tenor ukulele, electric ukulele or any other variant, but those that suits your needs will be in fewer numbers. Skim down to your tastes and then decide. Base it upon your skill level: are you a beginner? A professional?
These questions will matter along with the technicality of the instrument. An eight-string uke will not fit a beginner, and at the same time, a professional will not be satisfied in most cases with a basic ukulele. Buying what you need is a very basic yet one of the most important steps you need to take before buying a ukulele.
Shape, Size, and Sound
The shape and size of the ukulele you buy will significantly affect how it sounds. Not only is it a matter of personal choice, but it results in a change of sound too.
For example, there are smaller tenors, which produce a smaller sound compared to bigger ones that create a dense sound. The two are complete opposites of each other. For this reason, research is key to getting the sound you want.
In addition to sound, the shape and size of your instrument will affect how it sits against your body as you play and how easily you can reach the strings. For instance, a child is going to struggle with a large instrument, while an adult may find it difficult to place their arms comfortably with a small model.
Final Thoughts
While choosing a ukulele can be a challenge—especially if you are ordering offline where you can't look at or try the instruments—it's a lot easier when you do your research. I hope this review of the best tenor ukuleles has helped you narrow down your search.
To recap, our top pick was the Fender Montecito. This is a model that even professionals will be proud to play. If you're a beginner or shopping for a child, you might look to the Donner DUT3 or the Lohanu Tenor.