If you have never before enjoyed the dulcet tones of a ukulele, you may be laboring under the misapprehension that every ukulele is born equal. Research and experience tell us, however, that this is very far from the truth.
Buying a new instrument is always a challenge, and we consider ourselves to be super helpful people. For this reason, we have done the hard work for you, and put together a roundup of the ultimate Ohana ukulele reviews to help make sure you are choosing the best model for your needs. Read on for our top suggestions and get started on your ukulele playing journey today!
OUR TOP PICK
If you don't have time to stick around to the end, our top pick is the
Ohana Sopranino Ukulele
. This ukulele is stunning—and not just visually. It also delivers impressive sound for the price and was a natural choice for the top Ohana model. No matter your skill level, this choice is sure to please.
Last update on 2023-05-18 / Affiliate links / Images from Amazon Product Advertising API
Ohana Ukulele Reviews
This is a beautiful instrument which has more than earned its place in our Ohana ukulele review. The solid mahogany creates a beautiful finish, as well as producing a stunning rich sound which seems far more premium than the modest price tag might indicate.
Key Features
Sopranino size
Solid mahogany top, back, and sides
Ovangkol fingerboard and bridge
Top back body binding
Aquila strings
Precision friction tuners
Bone nut and saddle
What I Like
This model is gorgeous and feels more expensive than the budget price range would hint at. The solid mahogany makes a real difference in terms of both appearances and in producing a rich and warm sound, on a par with more expensive models. Attention to detail is consistent, and there is a real feeling of love and care in the finish of this model. It is also super portable— perfect for musicians on the go.
What I Don't Like
This is a soprano but comes up slightly smaller than most traditional sopranos. Although this has no impact on the quality of the sound, it may be somewhat uncomfortable for players used to a larger soprano size.
Pros
Solid mahogany finish for a great sound
Stunning finish and design
Aquila strings ensure a high-quality sound
Feels more expensive than the price suggests
Very portable
Cons
Slightly smaller than a typical soprano – some players may find this tricky to adapt to.
Though slightly smaller than some sopranos, this is nonetheless a choice which offers a lively, bright sound, and has the bonus of being super easy to transport.
Overall Rating: 9.5/10
The spruce construction of this ukulele offers a unique sound which is bright, cheerful, and appealing. The lighter wood also adds an annual aesthetic to the instrument, helping it to stand out from the crowd both thanks to its bright, fun appearance and top-quality sound.
Key Features
19-fret
Spruce top
Spalted birch back and sides
Body binding
Rosette and purfling
Geared tuners
Aquila strings
What I Like
This model offers a unique twist on the typical ukulele, with a bright spruce appearance which helps to set it apart from its competitors. The choice in wood also means that the sound is bright and chirpy, and this can be an exciting alternative for players of all levels— from beginners making their first purchase to experienced players looking for something different.
What I Don't Like
This option does tend to feel slightly cheap and flimsy, especially when we compare it to other options which sit within the same price bracket.
Pros
Unusual and eye-catching design
Spruce offers a bright, unique sound
Great for players of all levels
Cons
May feel a little cheap compared to more premium models but is still outstanding value considering the low price.
This uke is an unusual choice, but one which seems well worth the risk. It offers something a little different and combines this uniqueness with a great sound which is suitable for a range of players of all experience levels and playing styles—this is a good thing that even experienced players will find something a little different in this option!
Overall Rating: 8/10
Constructed from stunning black and white ebony, this is an exceptional instrument which is a real privilege and pleasure to play. The reasonably low price compared to other models is a surprise considering the appearance and excellent sound offered by the ukulele and makes it a viable choice for beginners.
Key Features
Rosewood bridge and fretboard
Laminate ebony wood top, back, and sides
Includes Aquila strings
Pearloid dot inlay markers on frets 5, 7, and 10
Grover geared tuners
What I Like
This model is really deceptive—the feel, sound, and quality are something you would expect from a much more expensive instrument, and this allows those in the early stages of learning to get their hands on a great ukulele for a fraction of the price. The solid wood has a positive impact on the sound, and the whole effect is fantastic.
What I Don't Like
This uke might seem quite expensive when compared to other budget models, but it is well worth the slightly higher price tag.
Pros
Solid wood for exceptional sound quality
Stunning and unique design and aesthetic
Very premium feel considering the price
Cons
Quite expensive compared to other 'budget' models, but great value for money nonetheless
This is a great pick which offers beginners on a budget the chance to purchase a high-quality ukulele, which looks just as good as it sounds.
Overall Rating: 8/10
If you are looking for a great budget tenor option, this model is a fantastic choice. It combines affordability with real quality, and the result is a vibrant and natural sound, which is perfect for players who are just learning to find their feet.
Key Features
Mahogany top, back, and sides
Rich satin finish
Hardwood fretboard
Aquila strings
What I Like
This uke is a good, reliable option for players of all levels, and is particularly accessible to beginners. The design is no-nonsense and straightforward, and the tone is clear and robust— perfect for learning and getting to know the notes and sounds. This option gives you everything you would expect from an instrument of this price, and there are no hidden surprises.
What I Don't Like
The frets on this model have a habit of coming loose and rattling, which can be frustrating if you need to send off for repairs. It is also quite plain and bare compared to other options in a similar price range.
Pros
Great, high-quality budget option
Good clear sound
Easily accessible for beginners
Cons
Quite plain and no-frills compared to other models in the price range
Frets can come loose after a short period
Ideal for beginners, this is a safe and dependable budget option which will help you to progress and practice your skills with confidence, without investing a considerable amount of money while still in the early stages of getting to know the instrument.
Overall Rating: 7/10
With a crisp, clear sound, and a sleek, sophisticated finish, this electric-acoustic option ticks a lot of boxes when it comes to Ohana ukulele reviews. Thanks to Worth Brown strings, this model produces a sound that is rich, crisp, and resonant, and sure to appeal even to those who are new to the ukulele or are concerned about making the switch to electric.
Key Features
Mahogany top, back, and sides
Rosewood fretboard and bridge with hibiscus inlay
Top and back body black binding
Pearloid dot inlay markers on frets 3, 5, 7, 10, and 12
Open geared tuners
Worth Brown strings
Satin finish
19 frets
What I Like
This ukulele has a beautiful finish which is sleek and sophisticated, adding a premium air to an affordable and budget option. The sound is rich and clear, and overall, this is a very high-quality option for something which sits at a lower price point.
What I Don't Like
The concert size is quite large, and this may be hard for newbies, particularly children or those of smaller stature, to learn on.
Pros
Crisp, clear sound
Worth Brown stings offer an unusual sound
Attractive and unique appearance
An excellent choice for people looking to switch to an electric ukulele option
Solid mahogany body for high quality
Cons
Concert size may be a little larger than you are used to, particularly for new or beginner players
This is a premium instrument at a budget price and would be a great investment for any beginner who is serious about progressing well on a quality instrument— this really does make a difference in the sound you receive.
Overall Rating: 9/10
We end our Ohana ukulele reviews with the Ohana TK-20 ukulele. A tenor can be a hard pick in any instrument, and this ukulele is no exception. The mahogany finish on this option leads to a great and high-quality sound, which may come as a surprise considering the relatively modest budget.
Key Features
Solid mahogany top, back, neck, and sides
Satin finish
Black and yellow sound-hole rosette
Binding is cream with black/white purfling
Bone nut and saddle
Aquila strings
Closed chrome geared tuners
What I Like
This quality product offers a sleek finish and a great sound, all wrapped up in a neat package. The mahogany finish is classy and timeless and provides a rich and warm tone and resonance to your playing. The inclusion of Aquila strings helps to emphasize this and ensures that every note sounds its very best.
What I Don't Like
This model can tend to feel slightly more 'budget' than the other options from Ohana, but this is not a significant issue as it doesn't affect the sound quality.
Pros
Solid mahogany ensures a rich and high-quality sound
Clean satin finish looks stylish and sophisticated
Aquila strings provide a high-quality sound
Cons
Feels less premium than more expensive options
A strong and stable Ohana ukulele review to end with, this is a great choice which offers a solid, secure, high-quality sound alongside a clean satin finish which appears timeless and classic. Ideal for those just starting on their journey, or even experienced musicians looking for a spare instrument.
Overall Rating: 9/10
About the Brand
We have spent a lot of time and effort tracking down the best Ohana ukuleles, and the options above are our top picks, but just why is this brand so recommended, and why should you make the choice to pledge allegiance to them over the range of available brands?
Ohana as a brand calls Long Beach, CA, their home, and aim to bring the free spirit of the region into every instrument they sell and create. They started operations in 2006, and focus on rich toned woods and constructions, with the goal of creating the ideal sound for each and every player who crosses their path.

The beauty of the brand is its meticulous attention to detail. Each and every product is individually inspected and totally set up before delivery— and this is only to fully approved and authorized dealers.
Equality is the keyword: regardless of your skill level or experience, Ohana believes that every player is entitled to a high-quality instrument which is fully functional and playable right from the start. The staff at the Ohana warehouses are trained to deliver only the top-quality products and make it their mission to carefully and thoroughly inspect each and every product before it is let loose on the world.
This commitment allows you to hit the ground running and not spend time having to set up or check your ukulele. Instead, you can focus on creativity and enjoying the art of learning to play, building, and honing your skills and abilities and increasing your confidence as a player.
One of the main focus words of the brand is innovation, and there is a real sense that the brand has a true and genuine appreciation for their predecessors—those who carefully crafted and created the ukuleles of the past.
You will often see the ghosts of designs and styles long gone reflected in their newest creations, as they respectfully draw inspiration from the past to create something amazing for the future. Great care is taken in sourcing wood from sustainable and ethical sources, and every model which is constructed is carefully shaped and developed under watchful eyes.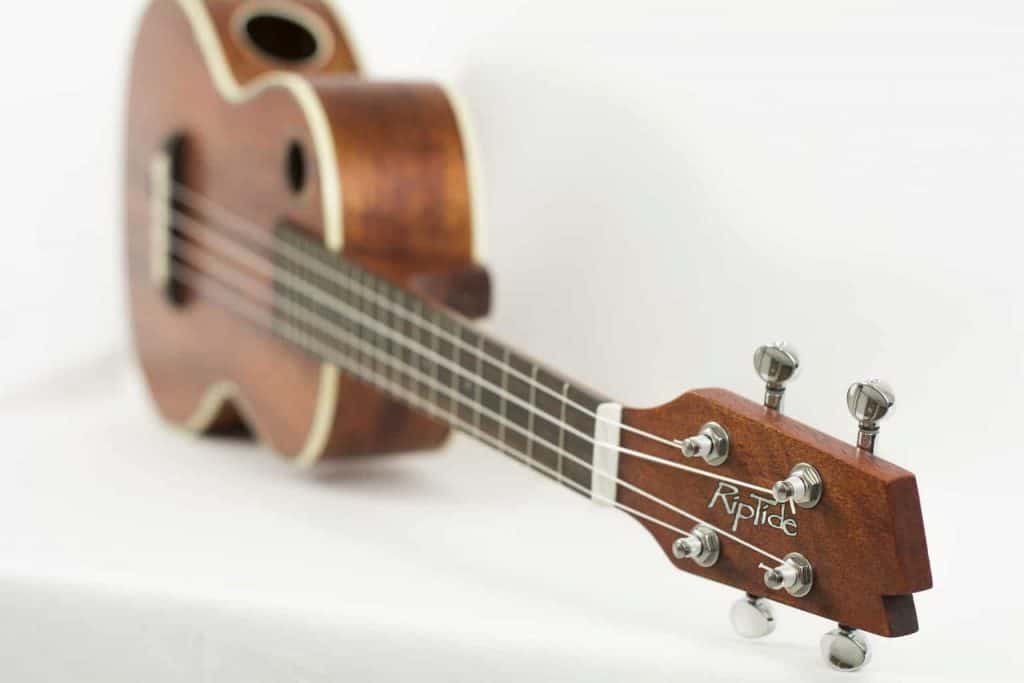 Community is a big part of Ohana, and they focus on serving and providing their communities—both on a local and global scale—with the tools to truly create and enjoy music. There is a sense that their reach transcends geographical boundaries, with songs being played and bands being formed all across the globe, people having incredible adventures and immersing themselves in the joy of learning a new skill. Wherever creativity flows, there is a sense that Ohana wants to be part of it and are actively encouraging the process with their instruments.
There is no doubt about it; Ohana is a creative, dynamic, and innovative brand that genuinely values creativity and a genuine passion for music. They share this with the world and have a global family of creatives everywhere. Quality, playability, and value are their core beliefs, and it is easy to see these traits in each and every product they present to the market. Ohana instruments do feel like a true labor of love.
Final Thoughts
Picking the perfect ukulele is a challenge and one which needs to be carefully considered and researched before you make the final leap into a purchase. We hope these reviews and our buying guide have helped you in your quest.
If you'd like a good place to start, our top pick from this brand overall was the Ohana SK-15BWE Limited Exotic Black and White Ebony Soprano Size Ukulele. This model combines an exotic beauty with incredible sound for an overall product which is of the highest quality.
It's the perfect choice for those who are learning and looking for something that will take them through their study, or for a professional who wants something a little different. Ohana is a brand that genuinely puts the music first, and that offers the chance to be crazy and creative—let your imagination run totally wild!