People often associate a distinctly bright and twangy sound with ukuleles. A soprano ukulele usually makes that kind of sound. Before you ask, the soprano is one of the four ukulele sizes. The other three being a concert, tenor, and baritone. Among these, the concert is the more popular option. It is slightly larger than its soprano counterpart but smaller than its tenor and baritone siblings.
Concert ukes can be a perfect size for you if you're just starting with ukuleles because they're easier to play, more durable than tenor and baritone sizes, and more affordable.
While no one right size suits every player, you can find one that fits your needs best by taking into account your skill level and personal taste. For instance, if you're just starting with stringed instruments, certain high-end models might be the wrong fit for you. If you don't do the due research, you might end up with a uke ill-suited for your needs and tastes, and your money will have gone to waste.
Our Pick for the Best Concert Ukulele
If you're struggling to find the right one for you, we'll help guide you with our concert ukulele reviews. If you're a bit short on time and just want to be pointed in the right direction, our pick for the best concert ukulele is the Kala 1KOA-C Elite. While expensive, this is a model that's quality can't be topped.
Last update on 2023-09-11 / Affiliate links / Images from Amazon Product Advertising API
Concert Ukulele Reviews
Kala is a prolific brand and probably one of the most popular manufacturers of ukuleles. If you are a ukulele enthusiast chances are you already know that they're known for producing premium ukes on the higher end of the market, and the 1KOA-C Elite is no exception.
In fact, we'd argue that this model is one of the finest, if not the finest, this brand has to offer. It shouldn't come as a surprise, then, that the best concert ukulele from one of the finest brands around made it to the top of our roundup.
Key features
Hawaiian Koa and Honduran mahogany tonewoods
UV-cured satin finish
1.5-inch wider fingerboard spacing
Custom fluorocarbon strings
Custom tuners
Comes with a hard case
What I like
The design is eye-popping and beautiful, it's very playable, sounds superb, and above all, it will last you quite some time. It's hand-made from the popular tonewood from Hawaii – Koa. The neck features Honduran mahogany, and the whole body has a UV satin finish which makes for a sleek and gorgeous looking uke.
The comfortable string spacing is wider than standard ukuleles, which allow for more room to hit the notes and better maneuverability. Speaking of strings, like all their elite models, 1KOA-C is strung with fluorocarbon strings, which reverb with ease and increased accuracy.
The excellent quality tonewoods create a warm, deep, rich, and dare I say, perfect sound.
What I don't like
That said, if you want to go with this unit, you'll have to pay a pretty penny which is the only negative point I could find.
Pros
Solid build quality
Stays in tune for longer
Stunning sound quality
Visually appealing
Cons
Fine-looking craftsmanship coupled with great sound and playability easily makes this flawless and one of the best concert ukuleles available in the market today.
Overall rating: 5 of 5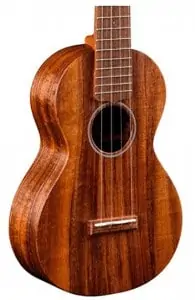 Moving down our list, we have Martin's C1K ukulele, another excellent value uke which has a lot to offer. The design is tight, clean, and simple. The body is made of traditional solid Koa, the neck features dovetail tonewood, and the whole construction has a delightful satin lacquer finish.
Key features
Solid Hawaiin Koa construction
High-quality lacquer satin finish
Dovetail neck
Widely spaced frets
Includes a gig bag
What I like
The C1K sounds just as delightful as it looks, if not more. Featuring a set of open-back Grover nickel tuning machines, it lets you strum away with confidence. Their quality is exceptional, and they allow you to tune your C1K smoothly and accurately. The instrument comes pre-strung with Martin's M600 strings which offer not just playability but also durability.
The tonewood allows for great reverberation, producing a breath-taking sound which makes it stand out from more inexpensive ukes made from laminated wood. The scale is 15 inches long, which gives you plenty of room to hit the notes. Since the fretboard isn't too crowded, it can be ideal if you have large fingers or if you're transitioning from the guitar.
What I don't like
While it doesn't come with a hard-shell case, it does include a gig bag. The gig bag isn't cushioned, so you can't expect it to protect your uke from damage from falls or impacts. However, to ensure safety, you can also invest in a hard-shell case once you've made the purchase.
Pros
Flawless intonation
Fine craftsmanship
Quality tonewood
Cons
While the intonation is fantastic, the machine boards can be problematic at times
The build quality and visual appearance of the Martin C1K is nothing short of excellent. This uke is a quality, albeit expensive, choice.
Overall rating: 4.8 of 5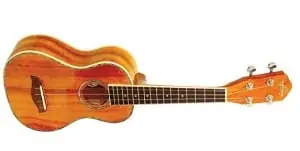 If you're a beginner, or young or a guitar player looking to make a transition, you should look for models which offer excellent playability above all else. Fortunately, there are some wonderful beginner-friendly ukes out there, which, as the name suggests, are geared towards newbies.
The Washburn Schmidt OU5 is one such model which combines playability with solid performance. While its visual appearance isn't too striking, it packs some pretty neat features if you know what you are looking for.
Key features
Solid select Koa construction and Abalone binding
An attractive glossy finish
Closed-back Grover chrome tuning machines
16-fret rosewood fretboard
What I like
The body is traditional solid Koa – a fine select tonewood. The neck is made out of Nyatoh wood, and the fingerboard is rosewood. It also has an overall glossy finish which you might find aesthetically pleasing. The select tonewoods don't just make the tones, but warmer, melodious, deeper but also make the overall build sturdy and durable.
Speaking of the tones, it comes strung with Aquila Nylgut strings which gives it an edge over standard ukuleles, because unlike their over pronounced tone, it produces a mellower one.
What I don't like
A nitpick I have though is that it makes a slight sacrifice on the action which seems tad higher than average.
Pros
Looks great
Sounds great
Has a lifetime warranty
Reasonably priced
Cons
The action is a bit higher
The Washburn Schmidt OU5 doesn't just get the performance right but also excels at playability. These features, coupled with a very affordable price point, make this pick a great entry-level concert ukulele.
You can probably imagine why it's one of the best concert ukuleles under the $200 price point.
Overall rating: 4.7 of 5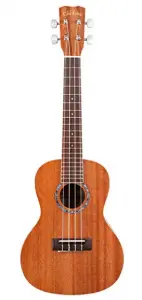 First things first, the construction of the Cordoba 15cm is magnificent, to put it mildly. It uses mahogany tonewood for back, both sides, and top, the bridge, fingerboard, and rosette are made of Abalone and composites. These select tonewoods give it an enduring and lasting build. The manufacturers claim it will last you years before you begin to notice the first signs of aging.
Key features
Mahogany body
Satin finish
Aquila strings
Abalone rosette
Ivoried binding
What I like
It comes pre-strung with the impeccable 7U Aquila Nylgut strings which are not just durable but also produce richer, more mellow tones. It uses silver tuners for accurate tuning.
Speaking of tuning, it will stay in tune for weeks and months to come thanks to its higher than average action, which makes for better intonation.
What I don't like
The higher action comes with a trade-off. Since it's is higher than similar models on the market, the whole set up is slightly less playable than its competition. If you want to tweak the setup to your taste, it'll cost you a bit more, but it can be done.
Pros
Simple but exquisite design
Brilliant sound
Affordable
Fit for beginners
Won't fall out of tune anytime soon
Cons
Higher than the average action
Slightly less playability
Budget
Cordoba is another extremely popular ukulele brand, and this list of concert ukulele reviews wouldn't be complete without including their top-rated instrument, the 15cm.
Overall rating: 4.4 of 5
Lanikai is a Hawaii-based brand popular for producing top-notch instruments, and the LU-21C is their best-selling model. If you're looking for a high-end quality instrument at a reasonable price, you might find this option attractive.
Key features
Nato wood design with white binding
Rosewood fretboard
Chrome die-cast tuners
What I like
The design features a Nato wood top, back, and sides and comes with white binding with a red-tinted finish. You don't find full-body Nato wood construction in a lot of ukes these days, but it does make for a decent looking piece.
This concert ukulele isn't just all looks though, the fretboard is rosewood and has 22 widely spaced frets. The sound it makes is deep, resonant, warm and loud in volume, not to mention great comfort and playability.
It uses custom die-cast tuners, which by the way, manufacturers claim help your uke stay in tune for longer. It also comes included with a hard-shell case for easy storage and portability.
What I don't like
A complaint I have with this product, though, is the fact that, although the manufacturers claim the custom die-cast tuners keep it in tune for longer, it falls out of tune too quickly for my taste.
Pros
Beautiful design
Offers comfort and playability
Plenty of depth and a nice tone
Affordable
Cons
Doesn't stay in tune for long
All in all, Lanikai paid plenty of attention to detail, so the instrument is, without a doubt, beautiful and delivers a sweet, melodious and distinctly recognizable ukulele sound with deep, rich tones and loud resonance. It brings all that value to the table at a very affordable price, which makes it one of the best concert ukuleles around.
Overall rating: 4 of 5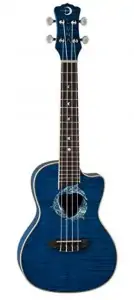 If you're looking for the finest ukulele money can buy, Luna's concert uke might interest you. Since you're paying good money for this Fauna series instrument, it is reasonable to expect top-notch quality, and you won't be disappointed in what it delivers.
Key features
Mahogany and spruce build
Walnut fretboard
Has a preamp
High-gloss finish
High-quality Aquila hybrid strings
What I like
The back and sides are mahogany, and the top is solid spruce wood which makes for a simple looking but durable piece. The body is shaped like a guitar and treated with a very glossy finish which stands out and looks appealing. The guitar-like shape also enhances playability.
It features Aquila hybrid strings which offer perfect sound.
What I don't like
Unfortunately, it is also only geared towards seasoned players and experts, so if you are a newbie, you'll be better off with more beginner-friendly models on this concert ukulele reviews list.
Pros
Aesthetically pleasing look
Exceptional tone and overall sound
Very durable
Cons
Not suitable for beginners
The Luna's build quality is simply outstanding, and you won't have to worry about going shopping for a new uke anytime soon because this piece is built to last. Even so, this is a better pick for experienced players.
Overall rating: 4.3 of 5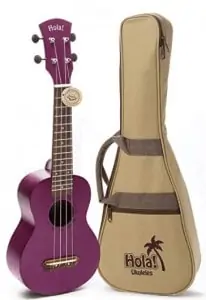 If you're looking for a concert ukulele that won't put a dent in your wallet but don't wish to compromise on quality or endurance, this concert ukulele from Hola might be the ideal choice for you. You don't just get a ukulele but a whole bundle at a price so affordable it sounds too good to be true.
Now on to the construction; the body and neck are made of select exquisite tonewoods – mahogany and nato wood to be exact. The bridge and the fingerboard feature walnut and the 18 frets on the fretboard are filed to perfection. The whole design has a thin lacquer finish which adds to the warm tones it produces.
It is outfitted with the original Italian Aquila Nylgut strings, which, as I mentioned above, deliver excellent sound quality.
Key features
Comes with a padded gig bag, three picks, and a strap
Mahogany wood body and neck
Compensated saddle for fine tuning
Strung with Aquila strings
What I like
Aside from the ukulele, you also get three picks, a colorful strap and gig bag in the bundle. The gig bag is padded so it should cushion your uke against falls and impacts—and you get the whole package for under $100, which is a pretty fantastic deal.
What I don't like
It is worth mentioning that since this model isn't solid tonewood, but laminated instead, it doesn't go toe to toe with its more expensive counterparts when it comes to the sound quality. The slight dip in sound quality can be forgiven, considering the affordable price point.
Pros
A great choice if you are on a tight budget
Aquila strings provide great sound
Neat and attractive design
Cons
Laminate top
Some notes aren't perfectly balanced
This bundle deal is going to work best for beginners who want to have everything thing need to get started in a single purchase. It would also make a great gift idea.
Overall rating: 4.9 of 5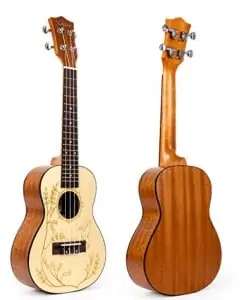 Kmise builds budget ukuleles geared towards newbies, children, and people with smaller hands. Even if you're on a budget, and you opt for this model, not only do you get great sound, durability, unique design but also a uke which is semi-electric. The UK-24 comes in many different styles but all variants – namely 24B, 24C, and 24D, are treated with a natural finish.
The original model has an exotic floral design while 24B has a neater and simpler pattern in the form of a ring. The 24C has a more translucent pattern, but it resembles the floral design on the original one. The 24D has a bird pattern engraved on it which looks also looks nice.
Key features
Solid all-wood spruce construction
Neatly filed frets
Perfect intonation from Aquila strings
Semi-electric
What I like
Even though it's a budget uke, it has a solid all-wood construction which gives it an edge over its competitors in a similar price range. The solid spruce tonewood provides a deep resonance and first-rate sustain.
What I don't like
Due to its higher action, the UK-24's performance is a bit sloppy when compared to more high-end or premium ukes, but the Aquila Nylgut strings it is outfitted with, somewhat cancel out the effect of the high action, so to speak.
Pros
Decent sound quality
Comes in four different style variations
Very affordable
Cons
Doesn't perform too well
Isn't very durable
Unique
So, does it give you the bang for your buck? Yes, it does. If you're just starting with concert ukuleles, or ukuleles in general, or buying a ukulele for a child, you can't go wrong with this purchase.
Overall rating: 4.7 of 5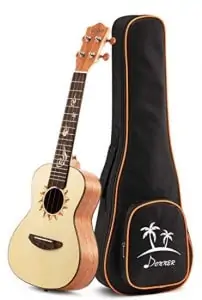 If you're looking for a design that swaps the traditional look for a fresher and more unique one, this model might catch your eye.
The body is mahogany on the back and sides, and the top is spruce tonewood – a combination which produces that rich and sweet sound you've come to expect from a good ukulele. The sound hole has a dark brown design resembling the sun on a pale body, and the fretboard has a beautiful and very unique cloud pattern engraving.
Key features
Plain mahogany build
Comes with picks, tuners, a strap, and a bag
Unique decorations
Outfitted with carbon nylon strings
What I like
The overall build speaks of fine craftsmanship and attention to detail. It sounds great, is comfortable to hold and play, and is durable. The frets are nickel silver, 18 in number, all filed and tidy. The headstock is also mahogany and has a unique but good-looking shape.
It features carbon nylon strings which emit a warm and clear sound without buzzing. It comes with high-quality custom chrome-plated tuners which are guitar style tuning machines which will help you keep your ukulele in tune for longer.
Lastly, you get a bag, strap, picks, and a digital accurate Donner Tuner with your purchase.
What I don't like
The setup is somewhat poor if you'd ask me. Although the nut doesn't need any adjusting, the saddle height might, and the string reading is more pronounced.
Pros
Great value for the price
Good sustain and a clear sound
Cons
Poor playability
Some people might not like the decorations or the pale color
This Donner model is all about the look—or tried to be—as it turns out some users aren't a fan of the design anyway. While not perfect performance wise, this is a quality choice and worth a look.
Overall rating: 4.7 of 5
Buying Guide
Is the concert size right for you?
While you can learn to play fine on any ukulele with enough practice regardless of your hand size, it's often wiser to go with a size that suits your hands better, where you'll have plenty of room to maneuver and grip the uke comfortably.
As a rule of thumb, if you have smaller hands, soprano might be the ideal size for you. Tenor and baritone are better suited for larger hands which need the fretboard to be roomier, so to speak.
The concert size falls somewhere in between. If your hands are not too small or too large, a concert might be the perfect fit for you, and that's partly the reason why the concert size is so popular.
The shape of the ukulele?
Ukuleles come in many shapes, some even in custom ones. The most recognizable and traditional form would be the figure eight. Another popular configuration is the pineapple while boat-shaped and banjo shapes are more uncommon.
The shape of your ukulele doesn't have a direct bearing on either comfort or sound. Choosing a shape comes down purely to a matter of personal preference. If you like one form better than the other, there's no reason as to why you shouldn't take a plunge for it.
Sound of the ukulele?
Another rule of thumb says that ukes larger in size and volume sound more resonant, deeper, and louder. Conversely, smaller ukuleles sound crispier and brighter. Aside from the size and volume, the nature of material significantly affects the sound as well – more on that in a moment.
Same as the shape, choosing the right sound is also a matter of personal taste. If you like more crispy, brighter, quieter sound, Soprano might attract you. On the other hand, if you're looking for deeper, more resonant sound, tenor or baritone might be your best bet. However, if you want the middle ground, that is not too loud but not too quiet, concert size is for you.
Tonewood material of the ukulele?
Koa, mahogany, spruce, rosewood, and maple are some of the most common select tonewoods used in concert ukuleles. Most concert ukes listed in this post, or the ones you'll encounter when shopping for them, are made out mahogany—and there's a good reason for that popularity too. It produces the traditional balanced signature ukulele sound.
Koa doesn't just look nicer; it sounds sweeter and warmer too. It is more common in Hawaiian-made ukuleles and is obviously pricier than other woods.
Spruce is a more affordable option, and it sounds clear, crisp, and bright. You'll often find fingerboards made out of rosewood. The reason being it produces a brighter, more distinct, and defined sound.
It is worth mentioning that most ukuleles use a combination of these woods, rather than any single one.
The comparison between solid and laminate top is an important one. Solid wood is the more expensive option of the two, but its richer tones are matchless. Laminate wood ukes are usually on the inexpensive end. They lack when it comes to richness of tones, but they're known to be more durable and are more easily maintained, which makes them ideal for children or for players who are just looking to dabble into it.
However, if you are serious about learning and playing the ukulele on a long-term basis, I'd strongly recommend you solid wood. Not only does it produce a rich, deep, and resonant tone, but solid wood ukes are also built to last.
Acoustic or electric?
Whether you pick an acoustic or electric uke depends entirely on how you intend to use it. If you're only going to be playing for yourself or a group of friends, an acoustic ukulele should do nicely. However, if you wish to record or perform on stage, it would be better if you stick with an electric uke instead.
Acoustic-electric ukuleles have onboard instruments which allow you to plug in an amplifier but need better maintenance. Acoustic ukes don't require a lot of upkeep. Besides, you can always add a sound hole for the amp or the mic later on.
Tuning your ukulele
It is crucial that you educate yourself on how to tune your ukulele. A concert ukulele is tuned to the standard G-C-E-A notes, same as soprano or tenor. You aren't limited by this tuning, though, because you can also experiment and tune it to other notes to bring out a more melodious or sweeter sound.
You have to keep in mind that when you buy your ukulele, it will fall out of tune very often. That's nothing to worry about because the strings need some time to adjust and stretch. You can expect the same to happen when you restring your uke with new strings.
You can either tune them manually or use an alternative electric tuner. There are clip-on models which rest on your uke's headstock and uses its vibrations for tuning. Using an electric tuner makes the whole process more accurate and straightforward.
Final thoughts
Now it's time to wrap up this guide. By now, you might have gotten a rough idea as to what a concert ukulele is and how you need to align your preference and needs with whichever model you finally decide on.
As the concert ukulele reviews might suggest, concert ukulele hits the sweet spot between soprano and tenor, in terms of size, resonance, and tone richness. It's not too small, which makes it too crowded to hit the right notes, nor is it too big to make it clumsy and awkward to handle. In that sense, it gets everything just right.
Although it is likely that you'll find a concert ukulele that fits your needs in our list, on the off chance you don't, you can use this post as a guideline to find one that will.