Cordoba ukulele Review
If you are looking to buy a ukulele, you likely quickly realized that this is far from a simple process. With so many types and sizes, sounds, and options, choosing a brand can be a challenge, especially if you are totally new to the instrument.
We believe in buying the best, and that is why we have thrown our energy into these Cordoba ukulele reviews. This brand is well-respected in the industry and will give you a great sound to help you catch the ukulele bug for life! All Cordoba ukuleles are completely handmade to ensure a beautiful, rich sound.
Our Top Pick
If you're short on time, our top pick from these Cordoba reviews would be the 15TM tenor ukulele. This is an instrument that's going to work well for the majority of players regardless of skill level and does so without breaking the bank. We've reviewed it first below for your convenience.
Last update on 2023-11-10 / Affiliate links / Images from Amazon Product Advertising API
Best Cordoba Ukulele Reviews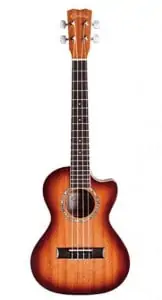 For a basic tenor option, you would struggle to find a better match than this Cordoba model. It offers a bright, rich tone, and comes in a stunning and durable mahogany body which feels far more expensive than its price tag would suggest.
Key Features
Laminated mahogany body
Satin finish
ABS binding around top and back
Pearl tuning buttons
Beautiful rosewood bridge
Composite nut and saddle
Aquila strings
Silver tuners
What I Like
The craftsmanship of this model is top notch and offers a beautiful, clear sound which will appeal to players of all levels and experiences. Every detail of this instrument is carefully considered with great attention, and the overall effect is a premium instrument which looks, feels, and sounds far more expensive than the actual price.
What I Don't Like
Though this is a budget model, it does come in at a slightly higher price tag than alternatives in a similar range, and this could be off-putting for new players.
Pros
A rich, deep tenor tone
Exquisite craftsmanship and a top-quality build
Affordable price
High-quality wood allows for excellent sound
Cons
Quite expensive compared to other budget offerings
This uke is a great option for anyone who is looking for a premium quality instrument, while still sticking to a budget. The craftsmanship and construction of this model help set it head and shoulders above its peers, and it offers a top-quality experience for half the price of a more professional or advanced instrument.
Overall Rating: 10/10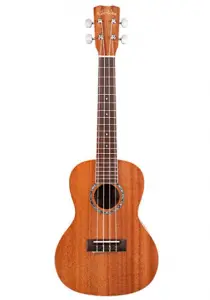 The Cordoba 15CM concert ukulele is an ideal option if you are making your first tentative steps into a cordoba concert ukulele, and offers a rich and bright sound encased in a sturdy mahogany body. The design is simple, classic, and ideal for an entry level uke.
Key Features
Solid mahogany top, back, and sides
Abalone rosette
Concert size ukulele
Premium aquila strings (Nylgut 7U)
Sleek satin finish
What I Like
The solid mahogany finish means that the sound and appearance of this piece are equally fantastic, and the overall effect is a great-quality budget instrument which was designed especially to suit new players. Despite this intention, this is a purchase which will still be high quality –there is no need to feel as though you are scrimping or sacrificing anything just because you have paid less.
What I Don't Like
The design is quite plain and simple. This aspect may be a bonus for some players, but if you are used to something a little more detailed and elaborate, it could come as a disappointment.
Pros
Affordable – a good choice for students and new starters
Offers a very rich, clear, and high-quality sound
Mahogany build
Cons
Very plain, simple design – may be too dull for some players
High action is sometimes too high, and this can hurt its playability
This is a great budget option which offers quality sound and is excellent value for money. The appearance is quite simple and plain compared to competitors, but this is not surprising considering the low price.
Overall Rating: 9/10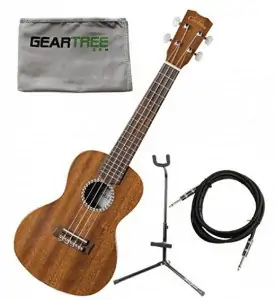 The quality of this concert offering is outstanding, and the whole impact feels far more high-end than a budget option. With a rich mahogany body and top of the line Aquila strings, the sound this model produces rivals far more expensive products.
Key Features
Solid mahogany sides, top, and back
Rosewood fingerboard and bridge
Satin finish
Aquila Nylgut strings (GCEA)
What I Like
This model is a reliable and high-quality instrument, which has all the elements you need for the best possible sound. It comes with Aquila strings for optimum quality, and the overall aesthetic is classy, sophisticated, and elegant. This piece is an excellent investment if you are just starting.
What I Don't Like
The cost of this model is quite high for the quality, and it may be a good idea to consider stretching to a slightly higher price tag to make sure you get the best value for money.
Pros
Comes with good-quality strings for a great sound
Good, rich tone with clarity and a broad range
Very well built and designed to last
Cons
Quite expensive compared to similar models, but I would argue that this one is well worth the money
If you are looking for a premium concert ukulele, this is a fantastic choice for players of all skill levels. Aquila strings ensure a top-quality sound every time you play, and the mahogany construction is both durable and stunning.
Overall Rating: 8/10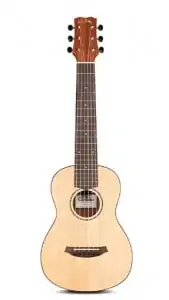 The Protege soprano ukulele is an elegant and sophisticated soprano which combines a rich, sweet sound with a timeless and elegant design. It is a perfect entry level ukulele for beginners on a budget and proves that there is no need to settle for poor quality due to a lower price tag.
Key Features
Mahogany top, back, and sides
Soprano size
Satin (matte) finish
Aquila Nylgut concert strings (GCEA)
Comes with a gig bag
What I Like
This uke is a great addition to our Cordoba ukulele reviews and has earned its place on the list. This offering is the ideal budget instrument, perfect for students and new players, and a great way to help you build up your skills and experience, as well as develop a love for the sound, tone, and feel of the ukulele.
It's also small and easy to transport, and lightweight so that you can play as long as you like comfortably.
What I Don't Like
While the strings that come with this model are good strings, they seem to be poorly chosen for this instrument and are prone to snapping. You may have better luck with classic guitar strings. In any case, your local music shop should be able to help pick a suitable replacement.
https://www.youtube.com/watch?v=mhApoSPtQTo
Pros
Excellent value for money
Ideal for beginners
Stunning mahogany finish
Beautiful, clear sound and bright tone
Very travel-friendly
Cons
Strings may require replacement
If you are a new ukulele student, or just starting your journey, this model definitely ranks high in our Cordoba ukulele review. It was made and designed for this market, and offers a cheap and affordable way to begin your new hobby. The poor string choice is disappointing, as players will be required to pay for upgrades before they can get a decent sound out of the instrument, but this is the only real flaw.
Overall Rating: 9/10
About the Brand
Our Cordoba ukulele review would be incomplete without a more thorough understanding of the brand's background and reputation. Cordoba is a company better known for their high-quality guitars, but they aim to extend the sound of a top-quality acoustic guitar as far as possible and have utilized the power of ukuleles to help them achieve this.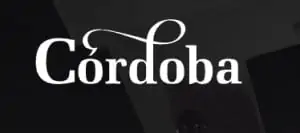 Their overall sound and tone are descended from the classic soundscape of the Spanish mountains, and they themselves on the ability to take this traditional tone and blend it with the modern world for a sound which is unique and individual, while still retaining an authentic vibe. Cordoba is a top tier brand known for innovations like cordoba's signature elevated headstock.
They take real pride in only sourcing and selecting the most premium materials for use in their instruments, and this diligent care and attention is reflected in the final quality and the great sound which the models in their range boast.
Final Thoughts
In our rundown of the best Cordoba ukulele reviews, the 15M Tenor has rightly earned the top spot. The tone is bright, lively, and rich, and the mahogany body is of a high quality, which has a far more premium feel than is suggested by the affordable cost.
While a tenor instrument may not be the first choice for every player, this is a great starting point from which to explore the rest of the range and find a ukulele that is the perfect fit for your playing style and needs.
For those who are looking for alternative brands, then you can't go wrong with Luna.