If you are reading this article, then you don't need me to tell you that the ukulele is having a seriously cool rebirth. Once a niche instrument reserved for the fringes, it is becoming increasingly mainstream, and evolving into something new.
If the ukulele wasn't impressive enough already, get ready for the next level—the power of electric. Take the sound of a traditional instrument and change it up to something super creative. To help you with this, we have endeavored to find the very best electric ukulele to get you started. Read on for the ultimate electric ukulele reviews!
Top Pick
Our top pick was the Kala KA-CE. Of all the options we covered in this review, it was the model most likely to work for all skill levels, and it comes in at a price point that's not prohibitive for most budgets.
Last update on 2023-08-28 / Affiliate links / Images from Amazon Product Advertising API
The Best Electric Ukuleles Reviewed
With a sleek, sophisticated design and a great sound, there is a very good reason this offering from Kala tops our list of electric ukulele reviews. From a stunning design to a solid finish, this is an excellent choice for newbies and experienced players alike.
Key Features
Mahogany body and neck
18 silver nickel frets
Rosewood bridge and fingerboard
Lightweight shadow active NANO-FLEX EQ system
What I Like
You would expect an instrument of this quality to be too expensive for most beginners, but it comes with a very reasonable price tag to make it more accessible even to those who are just learning and looking to purchase their first instrument.
It is also a beautiful model and proves that an attractive aesthetic doesn't have to come at a high cost, and a budget instrument doesn't need to be low-quality by default.
What I Don't Like
The pickup choice is a little slack compared to others available on the market, but that is not a huge issue considering the lower price tag.
Pros
Solid body and build for durability
Useful EQ sliders included
Offers balanced, warm sound
Very attractive and appealing design
Cons
Pickup choice could be better
Whether you are looking for your first electric ukulele or are an experienced player who needs a spare for practice, this is a great choice. It comes in at an affordable price without sacrificing high-quality design and sound.
Overall Rating: 10/10
There is no doubt that this is the best-looking ukulele on our list, and we are pleased to report that it is not a case of style over substance. Kmise has managed to combine a great aesthetic with a product that is long-lasting and durable—this uke will stay firmly by your side through your journey from newbie to professional. With a great sound and a robust design, this could be a superb choice.
Key Features
Made from solid spruce for great resonance
Installed with EQ: 1/4 Mono Jack output
Sanded edge to fret wire to reduce scratches and increase comfort
Bone nut and saddle add to the rich tone
Comes with Aquila strings
What I Like
This uke is a beautiful choice which would be an asset to any instrument collection. The tone is bright and balanced, and the delicate finish hides a surprisingly sturdy and durable body.
What I Don't Like
The softer finish is more susceptible to damage, so extra care must be taken when playing and transporting—make sure you invest in a reliable and high-quality gig bag. A hard case may actually be the ideal option in this case as it will provide the most protection.
Pros
Stunning and unique design
Very soft, smooth finish
Sound is balanced, bright, and warm, with the spruce offering great resonance
Sturdy and durable
Includes EQ ¼ Mono jack output for that electric sound
Cons
There have been reports of poor packaging, and this can damage the delicate wood
A great choice for players of all levels, this is an instrument which genuinely is a joy to play.
Overall Rating: 10/10
As you would expect from one of the biggest names in electric ukuleles, this offering from Luna ticks all the boxes for both beginners and experienced players. The stunning design goes hand in hand with a rich, warm sound which can be tweaked and customized to your desires. The affordable cost hides the true quality of the instrument, and it is definitely a contender for a premium ukulele experience.
Key Features
Mahogany top and body for top-quality sound
Set neck
Rosewood fingerboard
Pearloid tuners
Comes with a gig bag
What I Like
This uke is a truly beautiful instrument which feels far more premium and high-quality than you would expect at this price point. The sound is natural and warm, and there is a chance to really play around with customizing the tone to meet your exact requirements and desires. This is ideal for both new players and experienced pros looking for a budget instrument—it has undoubtedly earned its place as one of the best electric ukulele options on this list.
What I Don't Like
If I had to find fault with this model, it would be that unlike some of its comrades, it lacks an LCD tuner. Considering the price, however, it is hard to find fault in that alone.
Pros
Comes with a gig bag to keep your instrument safe
Offers a sweet, balanced, and natural sound
Stunning design and delicate finish
The feel and build of the instrument appear far more expensive than the actual price
Cons
A perfect choice for hobbyists and professionals, this is a ukulele which is sure to please a wide range of musicians.
Overall Rating: 10/10
With a super-sleek design and a lightweight finish, this Vorson ukulele ticks all the boxes, and is a serious contender for the title of the best electric ukulele. It also comes in at a surprisingly reasonable price, without sacrificing much in the way of quality or style.
Key Features
Tenor size (scale length of 17 inches)
Candlenut body and neck
T Type design
Maple fretboard and dot markers
dual single coil pickup
Comes with a gig bag to help protect your instrument
What I Like
My favorite aspect of the Vorson model is the vast variety of sounds that can be extracted from this single ukulele. It is a great option if you need something versatile which you can customize and truly make your own. It is also super lightweight, and so an excellent choice for those who are gigging and traveling.
What I Don't Like
It can take a while to get a good sound, and this may not be ideal if you are brand new to the electric ukulele.
Pros
Very durable and hard wearing while still being lightweight
Great sounding pickups
Sound is clean and versatile
Classic, timeless design
Cons
Needs quite a lot of playing with and tuning out of the box before intonation picks up – this could put off beginners
A fantastic choice for those wanting to create and hone their own unique sound, and it has the bonus of boasting a sleek and classic design.
Overall Rating: 10/10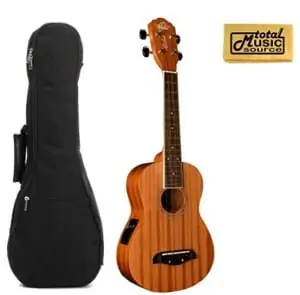 This choice could be ideal for beginners to the electric ukulele, as it comes complete with everything you could need to get started on your journey. It combines a budget price tag with a sound which is warm and balanced and comes complete with an attractive and durable mahogany body which feels far more premium than the low price would suggest.
Key Features
Comes with everything you need to get started, including a polishing cloth, gig bag, and strings
17 fret neck
Active pickup for great sound
Solid mahogany body
What I Like
Considering the low price, this is a very impressive kit. It has a strong, sturdy, mahogany body which is durable and comfortable to play. This choice could be great for a beginner player who doesn't have a huge budget to spend but wants a reliable and top-quality sound and ukulele playing experience.
What I Don't Like
There is some string buzz if you strum too hard, but this is unlikely to be an issue for those who are still practicing and learning, rather than full public performances.
Pros
Offers good sound quality
Has above average pickup and electronics
Includes all the accessories you need to get started
Great value for the price
Cons
There may be some string buzz
This model is definitely among our top picks for those just beginning with the ukulele. It is affordable, yet high-quality, and has a classic appearance which should stand the test of time with total confidence.
Overall Rating: 10/10
My favorite aspect of this instrument is, without a doubt, the design. The bright sunburst adds a unique quality to this ukulele that helps you to stand out in a crowd of players. It also helps to capture the fun nature of this small instrument and goes hand in hand with the lightweight and portable feel.
Key Features
Choice of two great designs for individuality
Built-in piezo film under saddle pickup
Features top quality 14:1 geared machine heads
Comes with a gig bag
What I Like
The main attraction of this model for me is the design, but it is also a great budget option, which could be a good pick for those who are new to the electric ukulele.
What I Don't Like
The quality is decent for the price, but there is no denying the fact that there are alternatives which offer a slightly more premium feel for a similar price point, which makes this a less attractive option.
Pros
Does not require a battery to operate – this makes it super convenient
Offers a warm and solid sound
The design is unique and eye-catching
Pickup choice is slightly above average
Cons
There is no onboard EQ
The stock strings are poor quality, and will likely need replacing to get a decent sound
If you are just getting started, this is a viable option which will provide you with a decent sound for an affordable price. The design is also a big selling point!
Overall Rating: 7/10
Ideal for beginners, there are no surprises when it comes to this ukulele. With a classic mahogany body, the design is simple yet classic, and the low price point means it is accessible for players of all levels. It is also set up perfectly as a complete kit for beginners and will make a great starting point if you are in the learning stages and do not want a hefty investment.
Key Features
Includes everything you need for electronic and acoustic playing
23-inch traditional concert size
Constructed from rosewood and mahogany for a bright and rich sound
Includes gig bag, strap, electric tuner, spare strings, picks and amp with an audio cable
Easy to use and set up for total newbies.
What I Like
This pick is great for beginners. Everything you could possibly need is included in the bundle, meaning that you don't have to worry about missing something or lacking a piece of essential equipment.
What I Don't Like
Compared to some other models in a similar price range, this does tend to feel a little cheap, and the finish is quite poor quality.
Pros
A well built, solid, and durable body
Includes onboard tuner and EQ for convenience
Comes in a bundle with everything you need – perfect for beginners
Cons
Does feel quite cheap when compared to other models in the same price range
For those just starting, this is a highly recommended choice which will set you on the path to greatness and mega skills in no time!
Overall Rating: 7/10
This design by Cordoba comes with a very nice feel, which makes it a real pleasure to play. It feels far more premium than the modest price tag may suggest, and the mahogany constructions offer a rich and warm sound which resonates in any space.
Key Features
Solid mahogany back, sides, and top for a great tone
Rosewood bridge and fingerboard
Soft cutaway with 2Band EQ
Satin finish
Comes with high-quality Aquila Nylgut strings
What I Like
The design and finish of this model are sleek and high-quality, lending an extraordinary feeling when you play. Cordoba is a recognized name in the industry, and this means they take keeping and maintaining their reputation seriously—something which can be clearly seen in this model. For the price, this is a great option and could be a good choice for those who are just getting started with the instrument.
What I Don't Like
Compared to other models, this is quite heavy and difficult to manage—some musicians find it uncomfortable to play.
Pros
High standard design, finish, and quality
Offers great value for money
Cons
Jack is slightly offset
Volume is a little low compared to competitors
Very heavy compared to other models
If budget and pricing is a concern, this Cordoba model shows that you don't have to sacrifice quality if you're on a tight budget. This is a high-quality product with an affordable price tag—recommended for learning players everywhere.
Overall Rating: 8/10
Electric Ukulele Buying Guide
There is a range of factors to consider when buying an electric ukulele, particularly if you are purchasing your first instrument. It can all be very confusing, but, fortunately, as well as providing you with the best electric ukulele reviews, we also have the ultimate guide to making sure you have the tools you need to make that perfect pick.
Size Matters
In the world of electric ukuleles, size really does matter. There are four main 'types' or sizes of ukulele, and the choice you make will really depend on your personal preference and playing style as much as physical size. The sizes offer slightly different tones, so the choice is a very personal one.
These are the smallest option with the highest pitch and very little bass. Sopranos are usually amongst the most popular options and are perfect if you have smaller hands. The tone tends to be bright and high-pitched, and closest to what most people would class as a 'typical' ukulele sound.
These designs tend to be slightly larger with long necks, and this can make it easier to play up and down the frets. They are a good option for beginners, as there tends to be more space to play and move your fingers. The tone is similar to a soprano, but with a little more depth.
Tenor ukuleles are currently growing in popularity and are a popular choice for those who prefer to play solo rather than as part of a larger ensemble. They offer a wide range of frequencies, with more at the lower end, and this can give a warm and rich tone to the overall sound, which is slightly 'fuller' than the other alternatives.
At the other end of the scale sits baritones, and these are again increasing in number. They are becoming more widely available but are still usually reserved for more experienced players rather than total beginners. The sound is similar to that of a classic acoustic guitar, and for this reason, baritones tend to be popular with players who have come from this background.
Material Issues
The wood used for your uke is also another crucial factor to consider. Different types of wood will produce different tones and can have an impact on your playing quality and the sound you can produce.
Hardwood is usually used on the sides and back of the instrument, to help create a durable and robust case to which will last the life of the ukulele. This also has an impact on the tone. The top tends to be made of a type of softwood, and this allows for a better resonance when you play, allowing the overall sound to ring out and project.
Koa is one of the more popular options. It originates in Hawaii, and so has a natural affinity with ukuleles which help to enhance and reaffirm the 'traditional' sound of these instruments. Other popular choices include cedar, mahogany, spruce, and rosewood.
As well as choosing a wood for the overall main body and construction, the wood you choose for the fretboard also has a big impact on your playing. This can determine how easy the ukulele is to care for, and the comfort it has for the player.
Rosewood is the most popular choice, and this is common on both ukuleles and guitars. It offers a comfortable and shiny finish, which adds a touch of elegance and sophistication to any instrument.
Final Thoughts
Switching to an electric ukulele can be a big step, and it is important that you have all the facts to allow you to make a confident and informed choice which is best for you and your playing style. We hope our in-depth reviews and buying guide have helped, but if you need a good place to start, the Kala option we ranked as number one offers a comprehensive and well-rounded ukulele, which is a great choice for players of all abilities.