Ukuleles have been around since the late 1800s, but their popularity has held steady with new players joining the fold every day. If you're one of those players, the first thing you need is a quality instrument—and that can be a bit tricky to find.
The ukulele market is full of options which run the gambit between fantastic to fail. No worries though, we're here to help. We've crafted this guide to finding the best ukulele for beginners to include everything you need to find the perfect "jumping flea," including in-depth ukulele reviews and tips for your shopping experience.
The Best Beginner Ukulele
If you just want to know where to look first, our top pick would be the Kala Official Learn to Play Soprano starter kit or any Kala product for that matter—they really excel at beginner models. We've reviewed this option first for you first below, but to summarize, you'll be hard pressed to find a uke with this quality that includes everything you'll need to play at such an impressive price point.
Last update on 2023-05-21 / Affiliate links / Images from Amazon Product Advertising API
The Best Ukulele Brands for Beginners Reviewed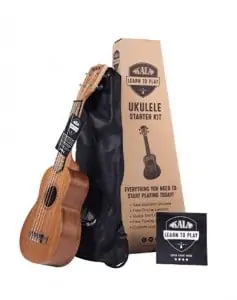 Kala is well known as one of the best ukulele brands for beginners. They are used in classrooms around the globe to instill a love of music in budding learners. It's no surprise then that there official learn to play kit tops our list.
Key Features
Four-string soprano
Twelve Frets
Mahogany neck, back, sides, and top
Walnut fingerboard
GraphTech NuBone nut and saddle
Aquila Nylgut strings
Includes free online lessons, a quick start guide, a soft carrying case, and tuning app
What I like about this product
Also available in concert and tenor sizes with three alternate design options—Hawaiian island or tattoo engraved or with a spruce top—this learner's pack comes with everything you'll need to get started at an affordable price. Kala has mastered the art of playability, designing instruments that work well for a variety of student sizes and skill levels with enough quality to grow with your abilities.
We also give an honorable mention to their color-learning series, which may be better for visual learners as it features color-coded frets, but they are aimed more at children (available in black, turquoise, and pink colors) than beginners in general, so they fell short of our review.
What I don't like about this product
While common in beginner ukuleles, this isn't solid mahogany—it's laminate. The out-of-the-box setup also results in some buzz, and it will require some fine-tuning if you want the best performance out of it.
Pros
Mahogany build
Fantastic quality (the frets in particular)
Has a mellow, sweet sound
Great price
Cons
Laminate wood
Some adjustment necessary to get an optimal sound
Kala isn't the choice of so many music teachers for no reason, and it shows in their learn-to-play kit. This package is an affordable option with all the necessities a beginner needs—along with stellar performance.
Overall rating: 4.9/5
ADM is not a well-known brand by any means, they don't even have a website that we know of, but they do make a good budget uke and offer a nice mix of accessories with this bundle.
Key Features
Four-string soprano
Fifteen frets
Linden back and sides
Basswood body, neck, fingerboard, and bridge
Nylon strings
One-year warranty
Includes gig bag, fingerboard sticker, chord card, extra strings, digital tuner, picks, and a cleaning cloth
What I like about this product
While arguably aimed a bit more at children, this model offers a good beginner's option with a wide selection of accessories. It's also available in an impressive range of colors—ten to be exact—black, blue, green, pink, purple, mocha, light brown, just brown, orange-brown, and natural. The corresponding gig bag also changes with the color of the instrument chosen, so that's cool, I guess.
What I don't like about this product
This model is definitely a budget, beginner's option. The wood used isn't spectacular, and the sound is acceptable, but it's not going to rock your socks off either. This model is best for kids and those who aren't quite sure they want to keep playing the ukulele and don't want to spend a ton of money.
Pros
Excellent color selections with a corresponding gig bag to match
Includes a nice collection of accessories
Very affordable
Comes with a warranty
Cons
Sound and build quality isn't fantastic
String quality isn't so great either (but you can change them)
Is this model from ADM going to be gracing any stages in the arms of a professional? Definitely not, but it does offer a solid option for beginners who aren't looking to spend much at all on a ukulele to learn the basics on.
Overall rating: 4/5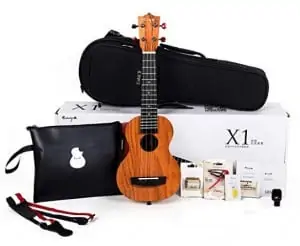 Another of the best ukulele brands for beginners, Donner hit the mark with their DUS-1 package. It has durable build quality with mixed tonewoods to create a unique sound and comes with several well-chosen accessories.
Key Features
Four-string soprano
Fifteen frets
Mahogany back and sides
Spruce top
Carbon nylon strings
Guitar-style chrome-plated tuners
Comes with bag, strap, extra strings, digital tuner, and picks
What I like about this product
The mixed tonewoods result in a sturdy build with a clear sound, and the instrument itself is simplistically beautiful. The accessories included are suited well to beginners offering everything you need to play the ukulele. This may be one of the best beginner ukuleles, but it will also be useable as your skill level advances.

What I don't like about this product
Unfortunately, the accessories included aren't as impressive as the ukulele itself. The strap, in particular, is cheap and runs a tsk small. It may prove unusable for anyone but children and much smaller adults.Some users also aren't a fan of the carbon nylon strings that come stock, though strings can always be replaced.

Pros
Durable, outstanding build quality
Clear sound with good resonance
Plays well out of the box
Wide fretboard
Cons
Low-quality accessories
You might have to replace the strings
The Donner DUS-1 kit is a great package deal to get everything you need to get started with the ukulele. It might not have quite as many bonus items as some of those on our list, but it makes up for that with a superior quality uke.
Overall rating: 4.7/5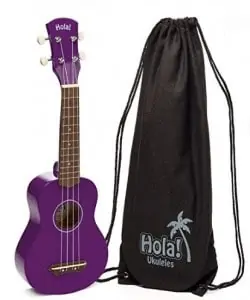 The Hola! range offers a colorful way to learn an instrument. Again, this line is at least partially aimed at children, but is suitable for all ages thanks to the quality construction and tonewood—the fun designs are just a bonus.
Key Features
Four-string soprano
Twelve frets
Maple body and bridge
Nato wood neck
Walnut fingerboard
Aquila strings
Includes to free months of online music lessons, gig bag, strap, and three picks
What I like about this product
You get a full ten color options with the HM-21: green, aqua, blue, purple, pink, orange, red, rust, brown, and black—so pretty much any color you want so long as you aren't picky about the shade. It's also constructed of beautiful rosewood and maple with high-quality, sturdy strings considering this model is on the lower end of the price scale.
My favorite part of this bundle, though, is Hola has gone above and beyond a simple learner's book by offering two months of free lessons.
What I don't like about this product
The company has had so many complaints about the strings slipping out of tune they added a section on the listing about how to stretch/prep the new strings. While they are likely right, and some of that uproar is due to the high number of beginners who don't realize strings take time to settle in, so to speak, be aware that it is a common issue here.
Pros
Includes nice accessories
Available in ten colors
Includes two months of free lessons
Cons
You might struggle to keep it in tune
This Hola model is a playful choice and a decent instrument with surprisingly good sound and quality for the price range in falls in—plus you get to pick your favorite color.
Overall rating: 4.7/5
Hricane is one of the few brands that produce affordable Koa wood options. Koa is the traditional wood choice of ukuleles, and so the tonewood that produces the most traditional sound, but as it is only found in Hawaii, it can be on the expensive side.
Key Features
Four-string concert
Eighteen Frets
Koa back, sides, top, and neck
Rosewood fingerboard
Okoume neck
Walnut bridge
Aquila nylon strings
Includes gig bag
What I like about this product
The Koa wood version of the UK-2 exemplifies how a classic ukulele should sound. This same model is also available in multiple sizes and tonewoods. The concert size is available in Koa wood, spruce, solid spruce, and Sapele, while the soprano and tenor versions are available in solid spruce and Sapele.
What I don't like about this product
The chrome plated tuning pegs can be kind of a pain to get the hang of, but once you do, they stay tuned better, so this point is a mixed bag. The frets can also be a little sharp out of the box and may require some filing.
Pros
Quality tonewood for the price
Well built
Includes really nice padded gig bag
Variety of size and wood options to choose from
Cons
The tuner can be tricky
May require some additional setup tasks
With their range of options and top-notch materials for this price range, Hricane is kicking up a storm with this bundle pack. It was a keen runner up for the best ukulele for beginners.
Overall rating: 4.6/5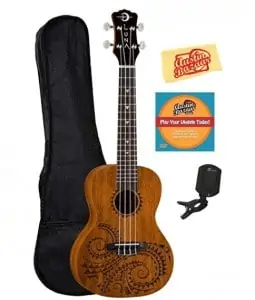 Luna, as a brand is always sure to make their instruments nothing short of art—in a literal sense, they are known for the art decorations on their instruments. Their tattoo line is inspired by the traditional Hawaiian body ornamentation with geometric shapes in mesmerizing spirals.
Key Features
Four-string concert
Eighteen frets
Mahogany body and neck
Rosewood bridge and fretboard
Graphite Nut
Includes gig bag or hard case (your choice), instructional DVD, polishing cloth, and tuner
What I like about this product
The mahogany version of this model has a bright tone with a touch of warmth. The tone blends into a band quite well. I say mahogany version because, like many other options in this review, the tattoo line offers a few options.
You can select from a concert, electric concert, concert with spruce, or a pineapple concert. All of the above share the same positive playing experience.
What I don't like about this product
The gig bag version of this model is underwhelming, so I highly recommend opting for the hard case. Hard cases tend to be more secure anyhow. There's also some initial buzz you'll need to work out. It often fades as the strings settle, but it is there, none the less.
Pros
Attractive design
Good selection of options
Very durable
Travels well
Cons
Some buzz
The case leaves a bit to be desired
The Luna Tattoo ukulele is a good-looking instrument that features stunning carved details and a contrasting rosewood fretboard. If you want something a little more refined than bright colors, but still care about aesthetics, a Luna uke is the way to go.
Overall rating: 4.7/5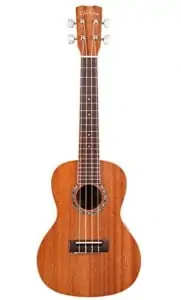 The 15S offers a taste of a higher budget point at a budget price, and there's not much not to like about that. For beginners, it's sure to impress.
Key Features
Four-string concert, concert acoustic/electric, soprano, or tenor
Seventeen frets
Mahogany back, top, and sides
Rosewood fingerboard and bridge
Abalone rosette
Includes padded gig bag
What I like about this product
The 15S has features above its price point such as a hand-crafted abalone rosette—handmade anything is uncommon at this budget actually. It also gives new players some options. You can pick your size from soprano to tenor and opt for an acoustic/electric if you wish.
What I don't like about this product
Again, while tuning issues are very common for inexperienced players, the strings on this model get a lot of bad feedback. Players complain of buzz, poor tune on certain strings, and even broken strings. While this is an easy remedy in most cases—replace the strings—it's still a hassle.
Particularly in concert acoustic/electric version, there are also some quality control issues with the electronics.
Pros
Handmade
Durable mahogany
Has features usually only found in higher-end ukes
Crisp, clear sound
Cons
Strings may need replacing
Some quality control issues
The Cordoba 15S ukulele is an exceptionally playable handmade ukulele that outpaces its price point by a long shot—and is definitely worth a hard look.
Overall rating: 4.5/5
With real Koa wood construction at a fair price, the Oscar Schmidt OU5 offers exceptional sound in an attractive classic design.
Key Features
Four-string concert
Sixteen frets
Solid Koa back, top, and sides
Rosewood bridge and fingerboard
Abalone rosette and binding
Chrome tuners
Includes optional soft or hard case (your choice), strap, tuner, instructional DVD, and polishing cloth
What I like about this product
Compliments of its Nyatoh neck design, this ukulele feels comfortable while playing and has an excellent hold. The abalone binding is also a luxurious touch giving this model just a dash of elegance. It has a bright, cheery tone sure to bring smiles all around.
What I don't like about this product
There are some quality control issues with this model, as well as the case that comes with that bundled option. They do also offer a padded gig bag bundle and a strap-only option, but if you'd like a hard case, you'll probably want to buy one separate.

Pros
Koa wood
Gorgeous instrument
Cheery sound
Comfortable playing experience
Cons
Some players complain of quality control issues
Hardcase may not be up to par
A stunning Koa wood option, the Oscar Schmidt OU5 is a reliable ukulele with some helpful bundled items. It's a quality choice for any beginner.


Overall rating: 4.7/5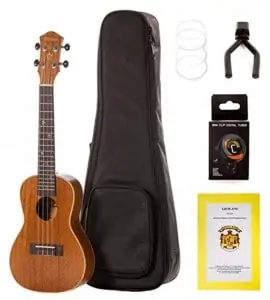 Another lesser-known brand—who very likely hates that their name is now associated with a cartoon—Moana none the less makes some quality beginner models.
Key Features
Four-string concert
Eighteen frets
Mahogany body
Rosewood fingerboard with maple inlay
Aquila strings
Includes extra strings, mini digital tuner, gig bag, wall hook, and music book
What I like about this product
It is the only bundle I've seen that includes some less-common accessories for kits like this, such as a wall hook and music book. It also has the most adorable little turtles running up its fretboard for just a bit of whimsy.
Of course, neither of those things affect playability, which is great, it's not professional level, but it's more than ample for beginners.
What I don't like about this product
Don't get me wrong here. This uke has adequate sound quality. It just isn't anything spectacular that's going to blow you away. This is an average ukulele with a nice design at an excellent price.
Pros
Cute design
Awesome accessory package
Plays "How Far I'll Go" superbly
Decent sound quality
Cons
The sound quality just decent
Moana may be little known, but if you love sea turtles, you'll dig this concert bundle complete with all the bits—and more— to get started playing.
Overall rating: 4.2/5
Beginners Ukulele Buying Guide
Okay, now that you've gotten a sampling from some of the best beginner ukulele brands, let's move on to what you should look out for when you're shopping.
Ukulele Sizes
You might have been wondering while reading the reviews above what soprano or concert mean regarding ukuleles. While there are a few specialty sizes, there are four general types of ukulele: soprano, concert, tenor, and baritone.
The most popular and smallest of the four is the soprano. It is what you probably picture when you think of a ukulele and often the choice of beginner players thanks to its small-bodied portability and classic sound.
The next most common size for beginners is the concert. This option is usually roughly three inches longer than a soprano and has more frets. It also produces a louder sound and is better for bigger beginners with larger hands.
The tenor ukuleles are the next step up from the concert size. They have a little more guitar-like tone and are more frequently used by professionals than beginners. Finally, baritone ukuleles are the largest option at around 30 inches in length. They sound the most like a guitar and aren't very popular by any player's niche.
While chances are you'll find the best deal online, I'd highly recommend that you go to a music shop to try these various sizes out in person unless you're buying a beginner's ukulele as a gift. This step allows you to get an idea of the sound and feel of each option so that when you go shopping on your computer, you have a better idea of what you like and don't.
Ukulele Brands
While you only got a nine-brand sampling of beginner ukuleles above—there and hundreds of other options, some well-known and others unheard of. In the world of musical instruments, no single brand makes the best anything.
While certain brands may develop a reputation of producing very good ukes overall or pander to a particular niche, such as Kala's domination over the learner's market, even brands that are touted as the best have their failures.
Given this, you should always consider the brand a starting point rather than a final deciding factor. Allow your personal preference to make the final choice.
Ukulele Accessories
While all you technically need to play the ukulele is an instrument and time to learn, most ukulele starter models include helpful accessories to make your life easier or that are a necessity to maintaining your ukulele.
Storage – A gig bag or hard case is vital to keeping your uke from being damaged or exposed to shifts in temperature or humidity. It is especially important if you plan to travel with your instrument a lot—perhaps to music classes.
A hardshell case is generally considered the best option as it provides the most protection and likewise allows you the opportunity to install a dehumidifier or humidifier. These tools help regulate the storage environment to prevent cracks and other damage that climate can create.
A strap—While a strap is not a necessity, it is nice to have, especially if you plan to do stand-up performances or want to walk around carrying your instrument at ready.
Note that if your desired ukulele doesn't have strap buttons, that's something you'll have to install or have installed for you. It is possible to get what is often called a drill-free strap, but they aren't the easiest to find and don't always work well. If your beginner's bundle comes with a strap, chances are it will also have strap buttons ready for use.
Good tuner – As a new player, tuning is going to be a learning experience for you that goes far easier with an electric tuner. New or replacement strings will also have an initial period of stretching that requires very regular adjustment to keep things where they need to be. As you're shopping for a new ukulele, do yourself a favor and buy a tuner too—or make sure one is included with your selection.
Extra strings – No string can last forever, and when one does break, it seems to always be at the most inopportune time.
Keeping a set of strings appropriate for your instrument is always a wise decision. Keep in mind that you can't just buy any old strings. You'll need to know the proper size, tune, and type for your ukulele, so do your research (this varies by brand, size, and style). You don't necessarily need to direct-match the strings that came stock, but you have to be sure they'll fit and won't cause any damage.
Final Thoughts
We've covered all the best models and studied the buying guide, and hopefully, now know everything you need to know to find yourself an excellent starter ukulele. As a reminder, our top picks where
Best Overall: Kala Learn to Play
Best Soprano: Donner DUS-1
Best Concert: Cordoba 15CM
These models all offer good quality at a fair price with a bonus accessory or two to boot. They'll work well for beginners of all ages but are just a starting point. Remember that when it comes to instruments, "best" is a relative term, and the best choice for you may not be the best for someone else. Take your time to find your perfect match.