There are four main ukulele sizes – soprano, tenor, concert, and baritone. However, the soprano is the most traditional size, measuring 20 inches or about 51 cm. In fact, soprano ukulele is also known as the standard ukulele.
It is the most popular ukulele and produces that real classic ukulele sound. Also, it's particularly ideal for beginners and one of the most affordable ukulele sub-categories.
As the smallest option, soprano ukuleles are the easiest to handle. They boast impeccable playability, thanks to a low number of frets and lightweight qualities. There are many brands and models of soprano ukuleles on the market.
Let's explore some of the best soprano ukuleles on the market, so you can see what's ideal for your needs.
Our Top Pick
If you're serious about getting the best soprano ukulele, we would suggest you go for the Kala KA-S Mahogany Soprano Ukulele. It is an affordable instrument that will give you a great musical experience while making thing easy for you when it comes to tuning, intonation, and other aspects of trying to get the best tone from your instrument.
Last update on 2023-11-15 / Affiliate links / Images from Amazon Product Advertising API
The Best Soprano Ukuleles Reviewed
Our best overall soprano ukulele comes from Kala. The ukuleles manufactured by this company boast a great tone, are competitively priced, and are generally of impeccable quality—and the Kala KA-S Mahogany Soprano Ukulele is no exception.
Key Features
Mahogany top, sides, neck, and back
GraphTech NuBone nut and saddle
Walnut fretboard
Super Aquila Nylgut strings
13.625-inch scale length
What I Like
The KA-s soprano ukulele features mahogany construction. Mahogany provides a brilliant sound resonance, with rich, crisp tones. The high notes are quite accentuated, whereas the low notes are present and mellow.
This instrument is an ideal choice for beginners. It is one of the best soprano models Kala has to offer in the budget category. It sports a traditional, attractive white binding on its top.
The KA-S comes with four chrome die-cast tuners. These tuners help to keep your instrument in tune for a significantly long time. Most ukuleles in the budget category don't offer this feature.
What I Don't Like
As expected of any instrument, this ukulele is not without some flaws. You may not detect some of the issues right out of the box, but they'll creep out after a few months of use.
The major flaw is that the G string doesn't stay in tune as long as the other strings. The A string has the same problem, but a little less serious. Nonetheless, the Kala KA-S is an awesome beginner ukulele and holds a fantastic value for the buck.
Pros
Outstanding aesthetics
Attractive mahogany finish
Durable construction
Excellent tone-sustaining capability
Wonderful playability
Cons
May have some intonations issues
Overall, the Kala KA-S Mahogany Soprano Ukulele is an excellent option for beginners who are looking for a reliable, budget-friendly instrument. With a mahogany construction, super Aquila Nylgut strings, and attractive satin finish, the KA-S offers virtually everything you would expect from a higher end uke but at an affordable price. Despite its minor intonation flaws, it is a great buy.
Overall Rating: 4.8/5.0
The Luna High Soprano Ukulele is a member of Luna's premium product line. That means you can expect a premium quality ukulele. The most outstanding attribute of this particular model is that it comes with a pre-amp, making it a solid choice for intermediate and advanced players.
Key Features
Ideal for right-handed players
Koa body
Flat top contour
Mahogany neck
Set Neck construction
C-shape neck
13.5-inch scale
Walnut bridge and fretboard
Abalone High Tide inlays
Twelve Frets
Pearloid open-gear tuners
Flat fretboard radius
Piezo pickup
Luna RD-0904TL pre-amp
35-mm nut width
Multi-ply Maple and Walnut binding
Satin natural finish
What I Like
Luna brand is known for the elegant design of their ukuleles, and the High Tide Soprano is no exception. The body of this instrument is constructed entirely of solid Koa, with a radiant satin finish, a striking maple/walnut binding, and a similarly stunning abalone rosette.
The enchanting decoration of the walnut fretboard is inspired by the full moon, according to the company. The instrument features twelve frets sitting on an exceptionally playable mahogany neck. The overall result is a premium looking ukulele that is worth the price.
You can use this ukulele both as an acoustic and electric instrument. It comes equipped with a piezo pickup and pre-amp, allowing you to plug it to an amplifier for enhanced tone and presence.
The Luna RD-0904TL pre-amp works perfectly. It features a minimalist control panel with three sliders that allow for volume, bass, and treble regulation.
This soprano ukulele has a walnut bridge. Likewise, there is a set of open gear tuners with eye-catching tiny Pearloid buttons. The tuners work smoothly and deliver great tuning precision.
When it comes to sound, the High Tide Soprano ukulele produces a great tone. The solid Koa contributes to a direct, crispy, and twinkly tone that you would expect to hear from a soprano uke. The pre-amp controls allow you to get a variety of tones without going overboard.
What I Don't Like
The major downside of this instrument is that the strings it comes with don't sound all that wonderful. You may need to replace them to get the best out of it.
Pros
Visually appealing
Excellent warm and mellow tone
Well-built with a unique design
Luna gig bag included
Cons
Quite expensive for beginners
You may have to change the stock strings to get the best tone from the ukulele
All in all, the Luna High Tide Soprano Ukulele is an excellent option for advanced uke players. However, beginners who don't mind the price can also enjoy the instrument's solid construction and outstanding playability. This is a true reflection of what Luna brand excels in – great aesthetics, well thought out design, superior craftsmanship, and excellent tone.
Overall Rating: 4.7/5.0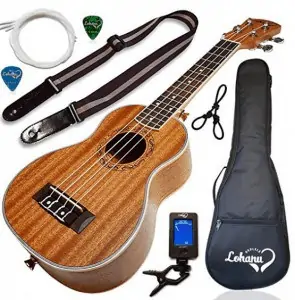 If you're looking to get started with playing the ukulele, the Lohanu Soprano Ukelele bundle would be a perfect option for you. This bundle comes with everything you need to learn how to play the ukulele. It is also priced to suit the budget of a beginner.
Key Features
Mahogany top, sides, neck, and back
Rosewood fingerboard
Hand-crafted ABS bindings
Aquila strings
Chrome die-cast tuning gears
Two strap buttons
Includes accessories (strap, case, tuber, two picks, extra strings, and paracord ukulele hanger)
What I Like
This option is one of the best, most affordable starter kits you can find on the market today. The instrument itself produces a sound that is quite close to that of instruments that go for double the price.
Another great thing about this soprano ukulele is that it comes with a digital tuner that is very easy to use. You can do the tuning all by yourself. This aspect will save you the stress of having to pay someone to get your instrument properly set up.
What I Don'Llike
The major drawback of this bundle is that it includes plastic picks that may not be very useful to you. While the included gig bag is better than nothing, it may not offer the best protection to your instrument either as it is made from a quite thin material.
Pros
Excellent fit and finish
Great sound
Great playability straight out of the box
Lifetime warranty, ensuring quality
Con
The gig bag is not of very good quality
Included plastic picks are virtually useless
The Lohanu Soprano Size Ukulele Bundle is a great option for anyone looking for a nice ukulele bundle at an affordable price. With the wide range of extras, it is not surprising that this is one of the best-selling ukulele starter kits on the market today. Whether you are a beginner or wish to upgrade to higher quality ukulele, you will love everything about the Lohanu Soprano Ukulele.
Overall Rating: 4.5/5.0
The Fender Venice Soprano Ukulele belongs to Fender's California Coast product line. It is an entry-level instrument that upholds quality in terms of sound and construction. If you are always on the go, this can be a great choice of soprano ukulele for you as it is super portable.
Key Features
Laminated hardwood body, fretboard, and bridge
Laminated linden top
Nato neck
Slim "C" neck contour
Twelve frets
Dot fret position markers
Open-back gear tuners
1.375-inch plastic nut
13.6-inch scale
Satin finish
What I Like
The most remarkable feature of this ukulele is the no-tie bridge. This is one of the features that make the instrument beginner-friendly. You don't have to stress yourself tying the strings, which can be challenging if you are doing it for the first time.
All you need to do is pass the strings through the slots of the bridge. This soprano uke features a laminated basswood construction. Basswood is a high-quality material, ensuring the durability of your instrument.
Moreover, this material provides a more balanced tone compared to what you would get from mahogany or spruce. The excellent tone balance ensures your instrument doesn't sound too high or blurry.
What I Don't Like
However, some users have pointed out that the instrument's tuners are not quite effective.
Pros
Great design
Classic sound
Highly portable
Good look and feel
Cons
Lacks consistency
May have tuning issues
All in all, the Fender Venice Soprano Ukulele holds a superb value for the money, thanks to its incredible outlook, great build quality, and gratifying performance. It is also very portable, making it a great pick for someone who travels often.
Overall Rating: 4.3/5.0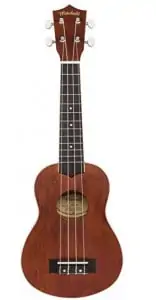 The MU40 soprano ukulele from Mitchell is a classic, vintage-style instrument that boasts a great selection of exotic build materials.
Key Features
Linden wood top, back, neck, bridge, and sides
White ABS binding
Bound rosewood fingerboard
Twelve frets
Open-gear vintage style tuners
Non-Compensated saddle and nut
13.5-inch scale
1.33-inch nut width
Satin finish
What I Like
This instrument is made entirely of linden wood. While linden wood is not commonly used in ukulele construction, compared to mahogany and rosewood, it's somewhat superior. It delivers a richer tone while maintaining an exceptional level of durability.
The MU40 has ABS materials on the top and back that add to the quality of the instrument. It has a bound rosewood fingerboard, with only twelve frets.
The instrument utilizes dot inlays, which start from the 5th fret and end at the 12th fret. When it comes to looks, the MU40 doesn't disappoint either. It is one of the best-looking soprano ukuleles you can find in the budget category.
What I Don't Like
However, the instrument is not without a few downsides. You'll need to put significant work into preparing it to get the best performance out of it. For example, you may need to replace the strings that it comes with as they sound somewhat dull and thumpy. Nonetheless, it is a great ukulele for the price.
Pros
Highly affordable
Decently great sound
Attractive vintage-style design
Cons
Stock strings are of poor quality
The Mitchell MU40 Soprano Ukulele is an excellent option if you are looking for a soprano ukulele with a budget of about $50. It is by no means a perfect instrument, but for the price, it exhibits amazing quality. The MU40 plays great, looks charming, and has decent sound. Whether you are buying it for your child's music classes or yourself on a tight budget, this soprano ukulele won't disappoint.
Overall Rating: 4.2/5.0
About Soprano Ukuleles
The soprano ukulele is the most popular and standard type of ukulele. It is the smallest uke and produces a thin, blaring sound that is so commonly associated with ukuleles.
Here are the basic features of soprano ukuleles:
Length: 21 inches
Tuning: ADF#B, GCEA
Number of frets: 12 to 15
Thanks to its compact size, soprano ukulele is ideal for traveling. It also makes a great starting point for beginners due to many reasons, including the following:
One of the least expensive ukuleles
The most lightweight and easiest to play
Excellent playability, thanks to a low number of frets
Highly portable so that you can practice with it anywhere
No substantial difference when playing it strapped or unstrapped
While it is largely great for both beginners and seasoned players, soprano ukuleles are not without some setbacks. One significant issue is that the frets are close together, so people with larger hands or fingers can have a hard time playing the instrument.
Also, the strings on a soprano ukulele have less tension. This slack raises the risk of bending a string out of tune by mistake. In spite of these minor flaws, the soprano ukulele offers a great value for the money. Compared to other ukulele sizes, it is normally the most affordable option.
Final Thoughts
There are many brands and models of soprano ukuleles to choose from. You want to do proper research before you settle on a particular brand or model since you may need to use it for many years to come. Some of the most popular brands include Amahi, Kala, Luna, Mitchell, Fender, and Lohuna. We've reviewed some of these brand's best soprano ukuleles to help you choose what suits your needs the best.