Does size matter? It certainly does in the ukulele world! It is a common misconception that all ukuleles are made the same, but this is absolutely incorrect. Size is an important factor, with four varieties available: soprano, concert, tenor, and baritone. Each offers different sounds, pros, and cons, and suit different players.
The baritone is the largest of the options and is tuned in a different way to the others, with the strings d-g-b-e. Despite all models following this basic structure, there is a range of differences when it comes to picking the best baritone ukulele, and we have the best of the best right here for your perusal.
Our Top Pick

Our top pick in terms of baritones has to go to the Kala MK-B Makala Baritone Ukulele. Made of a striking combination of rosewood and mahogany, this works to create a harmonious and rich sound which is appealing for new players and experienced maestros alike.

As a bonus, the Kala comes with its own case to ensure it stays safe and protected from damage, as well as tuners to keep the sound sweet and sharp, and a polishing cloth to boost the natural shine of rosewood.
The Best Baritone Ukuleles Are:
Last update on 2023-11-17 / Affiliate links / Images from Amazon Product Advertising API
For a blend of exceptional performance at an affordable price, this might be the best baritone ukulele currently on offer, and it tops our list with flying colors. It combines a stunning body and finish with sturdiness and excellent sound quality for the full package.
Key Features
Agathis frame to ensure sturdiness while playing
Eighteen premium brass frets on a rosewood fretboard
Mahogany body and neck
Satin finish
Geared tuners
Comes with a range of accessories
What I Like About This Product
The Kala MK-B Makala Baritone Ukulele is the perfect instrument for those new to the ukulele, or who are looking to try out the baritone as an alternative. It comes complete with case, tuner, lessons, and a polishing cloth, meaning that the new owner is ready to go straight away.
In addition, this is a high-quality model, offering a beautiful finish and quality sound at an affordable budget.
What I Don't Like About This Product
The only issue with this model seems to be around tuning. It requires tuning several times over a short period. This issue, however, =can occur with many new ukuleles and is not exclusive to the Kala model.
Over time, it is common for the strings to adapt and soften, and the sound is likely to improve and become purer—give it time.
Pros
Comes with all the accessories and equipment you'll need ready to go
Beautiful rosewood and mahogany ensure top quality sound
Perfectly set up for beginner players
Easy to tune
Cons
The finish can be slightly rough on some models
Requires constant retuning
When it comes to baritone ukulele reviews, this one takes pride of place for its beautiful finish, top sound quality, and ease of use. The glossy polish of the rosewood adds an expensive and sophisticated finish to a budget price and pulls together to create a product which offers far more value for money than the modest price tag initially suggests.
Overall Rating: 10/10
Best Warranty
Appearance wise, this model from Oscar Schmidt takes a twist on the traditional ukulele look, instead offering a stunning rosewood finish which is a dead ringer for a scaled down-guitar. A glossy finish and long-term warranty make this an excellent choice for new players to consider, and there is no need to worry about taking a risk—the manufacturer's warranty ensures you have total protection and peace of mind.
Key Features
Solid spruce and rosewood construction
Die-cast tuners for a consistent sound
Lifetime manufacturer's warranty
Good quality Aquila strings included
What I Like About This Product
The unusual appearance of this option is a key feature and something which helps the ukulele to stand out from a sea of similarly priced models. It offers solid wood in the construction, and this gives a rich, pure sound which seems deceptive for the budget price.
The guarantee of a lifetime warranty is also a major appeal in purchasing this choice and gives good peace of mind to new players.
What I Don't Like About This Product
The strength of the Schmidt seems to be in orchestras and groups, and the sound can be harsh for soloists. While this may be a result of the strings having to break in completely yet, it seems that this is one for groups, rather than to launch your solo career.
Pros
A stunning and unusual appearance
A lifetime warranty
Good, strong sound
Cons
Can be too harsh for soloists
There are some issues with strings coming loose during play
The Oscar Schmidt is one of the most aesthetically pleasing offers included in our baritone ukulele review list, but there are a few issues with the overall sound which mean another option within the price range could be a more sensible option.
Though ukuleles do need a few weeks to 'break in' and grow into their final sound, the Schmidt seems to offer a strong sound even after several uses and chances to soften—another option in the same price range could prove a better fit. At the least, you may want to replace the strings.
Overall rating: 7/10
Best for Rocking Out
Electric guitars are a regular sight on the music scene, but affordable electric ukuleles still have a way to go to catch up. The ideal model will offer the choice to switch between electric and acoustic as the mood or tune takes you, while still providing excellent sound quality in both modes.
The good news is that this model promises to do it all—and delivers. In other words, this offering from Caramel may be the ideal solution you didn't realize you were looking for if you like to switch up play modes.
Key Features
Can be played as either an acoustic or an electronic instrument
Eighteen frets for a full playing experience
Zebrawood, rosewood and buffalo bone construction for the optimum sound
Three band equalizer control for bass, middle and treble
Uses a 3V power supply
Chromatic tuner included
Low battery indicator
What I Like About This Product
For a twist on a traditional ukulele experience, this might be an excellent choice for those wanting to try a change. The Caramel model offers a choice of acoustic or electronic and is an opportunity to try out something different.
It could be a fantastic option for those who are keen ukulele players, looking for a new challenge. Alternatively, if you thought the ukulele was a boring choice to learn, the chance to get technical could transform your perspective and offer a fresh new twist on a classic sound.
What I Don't Like About This Product
The sound can be a little harsh compared to some competitors, though this may be due to the strings being fresh out of the box.
Pros
Offers both an electronic and an acoustic experience
Has good volume even without the amplifier
Includes a range of accessories as standard
Cons
Sound can be rather harsh
For anyone looking for an acoustic/electric hybrid, this could be a fantastic choice to start with and have a chance to try something new.
Overall Rating: 8/10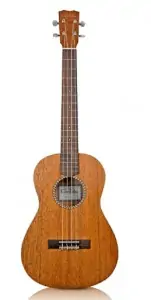 If you are looking for some serious attention to detail this offering from Cordoba ticks all the boxes with its extra touches to add something special to your playing experience.
Key Features
Full-mahogany body for a great sound and glamorous look
Silver tuning gears with buttons of pearl
Rosewood fingerboard
Top-quality Aquila Nylgut strings for top-quality sound
Herringbone pattern design for an additional touch
What I Like About This Product
Many budget ukuleles tend to do their job well, and that is about it. This model from Cordoba, however, proves the exception to the rule by combining elegant sophistication with affordable prices. The sound is high-quality and creates a musical experience designed to be enjoyed.
What I Don't Like About This Product
Tuning is a large part of ukulele ownership, but the tuning gears on this model are quite delicate, and may not last for an extended period. While many ukuleles require regular tuning when first purchased, fragile or delicate tuning gears could jeopardize the longevity of the instrument, and mean that players are left with a model they cannot tune properly— and therefore cannot play— after a relatively short period.
Pros
Stunning finish and attention to detail
Strong, high-quality sound
Arrives pre-strung with quality strings
Cons
The tuning gears are finicky and delicate and may become damaged in the future
While this is an option which is far from style over substance, the issues with tuning could be problematic as you become more experienced and seek a further challenge from your instrument.
Overall Rating: 8/10
Vintage Style
Combining modern technology and vintage style, the Luna is a great option for anyone who would like their best baritone ukulele to look as good as it sounds.
Key Features
C – shaped neck for a great sound
Sixteen frets on a walnut fretboard
Open gear tuners
Pearl triangle inlays
Carving details add a touch of sophistication
What I Like About This Product
This ukulele looks impressive for the low cost you pay and offers a good sound quality, which is perfect for a variety of skill levels.
What I Don't Like About This Product
The frets are slightly sharp compared to other models, and this means you have to be more cautious when playing—possibly not the best option for a beginner who is still getting used to playing.
Pros
A great vintage look with carved detail
Mahogany body for a great sound
Cons
Geared towards right-handed people with very specific dexterity, which can make it difficult for left-handed players to be comfortable
Again, we would never advocate style over substance, and fortunately, this option from Cordoba doesn't ask you to choose. It offers a great sound encased in a stunning wooden body and allows newbies to get started in style. Sadly, it is only really suitable for right-handed players.
Overall Rating: 8/10
Best Sounding Baritone Ukulele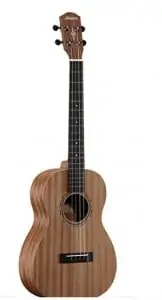 One of the key advantages of the Alvarez ukulele is that the sound quality will change according to the skill and ability of the player. This aspect means you can actually hear yourself improving, and it is easy to tell when you're making mistakes and errors.
Key Features
Mahogany body and neck, to provide a quality sound
Rosewood bridge and fretboard with eighteen frets
Chrome under included with each instrument
Satin finish
Real bone used for the nut and saddle
What I Like About This Product
The unique sound of this instrument makes it a brilliant choice for beginners; you can hear the difference as your playing starts to improve and your skills develop.
This instant feedback tells you exactly where to improve and adapt your fingers and playing and can help you to improve more rapidly, as well as act as encouragement when you hear yourself getting better.
What I Don't Like About This Product
Unlike most ukuleles, the strings are not nylon. This difference is great for players improving but can result in a sound which is closer to a guitar than an authentic ukulele. If you're not a fan of this, you can replace the strings.
Pros
Unique system means that sound depends on play quality and the players' ability
Strings need changing less frequently than other models
Cons
Tuning can change with sudden temperature changes, so it needs to be kept stable
The Alvarez RU22B is an ideal solution for beginners and those new to the instrument, as it offers real-time encouragement and feedback by playing a sound dependent on ability. This feature may be frustrating for those who are looking for a purer sound but could be a great choice if you are still learning.
Overall Rating: 9/10
Good for Guitar Fans

Many ukulele fans will progress onto the guitar rather than the other way around, but there are a few who will reverse the process. This Diamond Head model is ideal, using guitar-style tuners, and being closer in shape and style to a guitar.
These features make it a popular choice not only for beginners but for those with slightly more experience. It combines rosewood and mahogany for a rich sound and sounds far more expensive and sophisticated than the affordable price tag may give credit for.
Key Features
Mahogany body with rosewood fretboard and bridge for a great sound
Guitar-style geared tuners with white plastic buttons – this helps create a clearer sound
Satin finish
Comes with a gig bag to protect your instrument from harm and damage
What I Like About This Product
The Diamond Head ukulele offers a classic look and style for a bargain price and proves that there is no need to spend big bucks to enjoy a sophisticated look.
In addition, the strong sound will appeal to both experienced guitar players looking for a new challenge in the ukulele, and beginners who are just starting. The inclusion of a gig bag is another advantage, meaning you can protect your new investment as soon as it arrives.
What I Don't Like About This Product
The plastic tuners are quite cheap-looking compared to the finish on the rest of the body and feel as though they may not last the test of time or prolonged use. If you're careful with your instrument, though, this is mostly an aesthetic concern.
Pros
A sleek, sophisticated body will appeal to players of all levels
Carry bag is included to help protect your ukulele
A good, clear sound thanks to the mahogany body
Cons
The tuning is problematic, and the tuners feel as though they are not up to continued use—this means the instrument could be unplayable fairly quickly.
Whether you are a guitar player looking for a new challenge or want a classier looking choice for your first ukulele, this could be an ideal choice at a budget which you can afford. The main issue is with the ability to tune the model, which could prove more detrimental when you become more experienced, and the instrument is used more.
Overall Rating: 7/10
Buying Guide
Whether you are buying your first instrument or looking to change to a baritone, finding the best ukulele for you is crucial for your enjoyment and to continue your learning and development.
One of the key points to consider when choosing a ukulele is the type of wood used in its construction. There are a variety of common types used in the instrument, and each has its own benefits and sounds. The choice you make is mainly dependent on personal preference and playing style. The most common types of wood used in ukulele construction tend to be:
Koa: this is a type of wood sourced directly from Hawaii. If your instrument is a Hawaiian native, it will most likely be made of koa. This type of wood produces a warm, calm sound from a beautiful grain, and tends to be reserved for instruments at the higher level and a more expensive price tag thanks to the stunning finish and clear, pure sound, as well as the rare nature of the wood.
Mahogany: this wood tends to be the top choice for mid-level instruments, though solid mahogany is still a top choice for pricier models too. The noise produced is slightly softer and midrange, with no hard notes, and this can make it a popular choice for soloists. The feel of mahogany tends to be heavier and sturdier, and it can offer satisfaction when played.
Spruce: a popular and common choice for budget instruments, spruce is still a good choice for a top-quality ukulele. It is a cheaper option and so popular for beginners, but still produces an authentic and pleasant sound. The results are sharp and loud, with distinct and recognizable mid-range and low notes.
Rosewood: Rosewood is a very popular choice, and for good reason. The appearance is bright and polished, offering a high-end finish even at budget prices. Less dense than mahogany, the high and low ends are brilliant with rosewood, and this is one of the main reasons for its popularity in a range of string instruments.
Ovangkol: in many ways, ovangkol is similar to rosewood in its shiny, polished properties. It has a prominent midrange but offers a lighter and more malleable feel than mahogany. The versatility means it is adaptable and can provide excellent playability for a range of different player types and styles.
Cedar: for darker, heavier sounds more suited to bass, cedar could be an ideal choice. The sound is less fresh and clear than a traditional ukulele and produces a tone which is closer to a typical acoustic guitar. Less hard than spruce, cedar tends to be a popular choice for those who are moving across from the guitar, especially coupled with titanium strings.
In addition to choosing the correct wood, you will need to decide between a solid or laminated finish. In the simplest terms, solid wood means the wood that appears on the outside is the same as what is on the inside and all the way through.
Laminate, on the other hand, means that good quality wood is used on the outside, and a cheaper option on the inside. Laminate offers a more inexpensive instrument, but the sound quality can be compromised. For a beginner, a laminate option can be a good starting point until you're sure you'll continue playing, but it is crucial that you tune the instrument regularly to make sure you are always getting the best possible sound.
Advantages to a Baritone
Deciding to pursue a baritone ukulele is a personal choice, and offers a range of benefits and different sounds compared to the other sizes.
There are four main sizes of ukulele, and each offers a slightly different sound and properties. In addition to these key four, the sopranissimo is growing in popularity—this is smaller than the soprano at 16 inches.
Soprano: the smallest traditional size, a soprano will sit at around 20 inches. It is also the most common and recognizable instrument, and the image which springs to mind when most people hear the word 'ukulele.' It is also the option which makes the classic sounds.
Concert: the next size is the concert, and comes in at 23 inches. It offers a larger body with a slightly longer neck, and this means there is more room between the frets. This can make it easier and less fiddly to handle, especially for male players. The sound is similar to a soprano but slightly louder.
Tenor: the tenor is currently one of the most popular options, particularly for professional players, and sits at 26 inches. Unlike the smaller options, tenors tend to have a slightly deeper sound and come across as closer to a classical acoustic guitar.
Baritone: the baritone is the largest option at 30 inches, and provides players with a deep, rich tone. Due to the larger size, it tends to be the least popular, though the advantages and different options it offers are varied.
As a general rule, baritones tend to be acoustically louder than the other options and offer a rich, deep tone which is warm and majestic. These differences are mostly down to the larger size of the instrument, and also due to the lower tuning which comes with these types.
Baritones also tend to be a top choice for those who are more used to guitars, and looking to make the change to a new instrument, or simply emulate the familiar sound.
Final Thoughts
The clear winner of our baritone ukulele review is the Kala MK-B Makala Baritone Ukulele. This model offers the benefits of top-quality sound in a body made of solid mahogany for the neck and body; a wood renowned for its strong, rich finish and deep tones.
The inclusion of rosewood on the fretboard is an excellent backdrop for a dramatic sound, and geared tuners mean players can adjust the sound as and when is necessary. The inclusion of accessories such as a case and polishing cloth also means that this is the ideal kit for beginner players.
Of course, as stated, the best instrument for you is going to depend on your personal preferences as far as what you like to play, budget, and extras.