To get the full acoustic potential of your ukulele, you need to get the right strings. Ukuleles come in four different sizes – concert, soprano, baritone, and tenor. Each size has a different scale length and different tension requirements. That means each type of ukulele requires a specific set of ukulele strings.
In this ukulele strings review article, we explore some of the best ukulele strings available on the market for beginners and professionals alike, so you can see what suits your needs.
Our Top Pick
While it is up to you to make the final decision, we would put our money on the Aquila Super Nylgut AQ-100 Soprano Ukulele Strings. These ukulele strings are quite expensive, but they deliver exceptional results. They are highly responsive, produce a warm and vibrant tone, and can stand the test of time.
Last update on 2023-11-16 / Affiliate links / Images from Amazon Product Advertising API
Best Soprano Ukulele Strings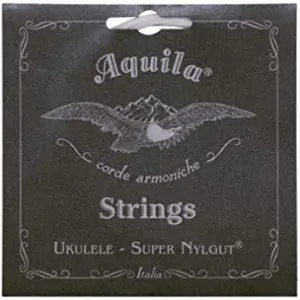 If you have a soprano size ukulele, Aquila Super Nylgut AQ-100 Soprano Ukulele Strings would be the ideal choice for you.
Key features
For soprano ukulele
Super Nylgut Series
Nylgut synthetic material
Tuning – GCEA (High G)
Composition – Plain
Sold as a set of four strings.
What I like
While AQ-100 strings are among the most expensive ukulele strings available on the market today, they're worth the price, thanks to the exceptional quality. These synthetic strings are pearl colored. They are responsive and long-lasting.
They deliver a warm and vibrant sound. Another remarkable attribute about this soprano uke strings is that detrimental conditions like moisture don't affect their performance.
What I don't like
Their major setback is that they cost almost twice the price of other strings in their class.
Pros
Beautiful design
Exceptionally responsive
Moisture resistant
Cons
Overall, Aquila Super Nylgut AQ-100 Soprano Ukulele Strings are an epitome of quality—and that's why they took the top spot in our ukulele strings review. They are durable and deliver great sound. If you can afford them, they are worth every penny you spend on them.
Overall Rating: 4.8/5.0
Best Baritone Ukulele Strings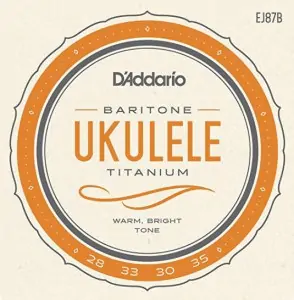 If you want to buy the best strings for your baritone ukulele without having to break the bank, you might want to try D'Addario EJ87B titanium ukulele strings.
Key Features
For Baritone ukuleles
DGBE-tuning
Titanium monofilament material
Modern, projecting tone
What I like
EJ87B baritone ukulele strings are a high-density monofilament material. The material features a striking, transparent purple hue and a sleek, smooth nylon feel. It boasts an exceptionally bright tone and enhanced projection, giving your instrument greater volume, clarity, and dynamics.
What I don't like
The major downside of these strings is that tuning them for the first time can be quite challenging. However, once they've had enough time to stretch, they keep their tune pretty well.
Pros
Great tone
High quality
Consistent
Durable
Affordable
Cons
Can be hard to tune at first
Overall, D'Addario EJ87B titanium ukulele strings are a reliable option for your baritone ukulele. They are a titanium monofilament material for improved clarity and projection. They are reasonably priced as well.
Overall Rating: 4.7/5.0
Best Tenor Ukulele Strings
If you are looking to give your tenor ukulele new and fresh strings, but you are tight on finances, GHS H-T10 Tenor Ukulele Strings would be an excellent choice for you. While H-T10 strings are one of the most affordable tenor-string sets you can find on the market, they are still worth investing in. The strings uphold quality in terms of performance and durability.
Key Features
For four-string tenor ukuleles
Classic nylon feel
Aluminum-wound 3rd Bass String
String gauge range: 28 – 36
Tuning – AECG (treble to bass)
Sealed in corrosion-free "NitroPack" packaging
What I like
These strings feature a sleek black design. They have low tension for improved playability. They are easy to strum and pick.
While the other three strings are nylon, the C string is wound and aluminum-crafted. The strings produce an exceptionally soft and mellow but articulate sound.
What I don't like
These make good replacement strings, but they aren't a significant improvement on the majority of stock strings.
Pros
Great combination of aluminium and nylon
Amazing clarity
Solid volume
Competitively priced
Cons
Not much improvement from the stock strings
H-T10 strings are designed to deliver a classic nylon-feel with a mellow and articulate tone and are the most affordable strings you can find for your tenor ukulele. The sound quality is excellent for the price.
Overall Rating: 4.5/5.0
Best Concert Ukulele Strings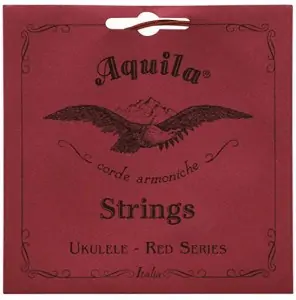 If you are a seasoned uke player or want to upgrade the strings of your concert ukulele, you might want to consider Aquila Red Series AQ-86 Concert Ukulele Strings.
Key Features
For concert ukuleles
Tuning – GCEA
Enhanced volume
Comfy playing experience
Improved intonation
What I like
The diameter of AQ-86 strings is the same, but their densities are different, resulting in an enhanced tone. The strings make for a fantastic choice for uke players who want clear, sharp sounds, and powerful voicing across the entire scale of their ukulele.
The strings are incredibly responsive across the fretboard and provide a unique environment to showcase your skills. Moreover, the strings hold their tuning exceptionally well.
What I don't like
Their major downside is that they may be out of reach of someone working with a limited budget.
Pros
Durable materials
Uniform feel
Bright sound
Cons
Aquila Red Series AQ-86 strings are an excellent option for anyone looking to get an improved playing experience from their concert ukulele. These ukulele strings are designed to give you a unique, comfortable feel and a powerful sound regardless of your skill level. They are a great buy if you can afford them.
Overall Rating: 4.4/5.0
Choosing the Right Strings for Your Ukulele
Now that our ukulele strings review section is complete, let's move on to a buying guide. There are several factors to consider to ensure you purchase the best ukulele strings for your particular type of instrument. Let's explore some of the basic elements:
Size of Instrument
We've already observed that ukuleles come in four primary sizes
Concert
Soprano
Baritone
Tenor
Ukulele strings also come in four different sizes to fit the respective ukulele sizes. However, many people overlook this fact and end up buying the wrong string-size for their instrument—make sure you understand your instrument and go for the right string.
You can also cut a longer string to fit a smaller ukulele. However, wound strings frequently unravel when cut, so it's advisable to get the appropriate size.
Type of Ukulele String
Ukulele strings are made from a wide variety of materials. Let's explore some of the common materials and their characteristics.
Nylon – Most ukulele strings consist of different varieties of nylon polymers, each with a unique tone. The best thing about nylon strings is that humidity doesn't affect their performance. However, you may need to retune them due to sharp temperature fluctuations. All types of nylon strings usually stretch more when new and take a significant period to settle down. It's advisable to allow new strings some time to stretch before you try to fine-tune your instrument.
Fluorocarbon – Fluorocarbon ukulele strings produce a somewhat brighter sound compared to their nylon counterparts. Temperature fluctuations don't affect their performance.
Titanium – This material also offers a brighter tone than nylon with enhanced volume and projection. It is also stronger and more durable.
Wound nylon – These types of ukulele strings feature a nylon core wrapped with a polymer winding material. They are typically used in baritone and tenor ukuleles. However, wound nylon strings produce some finger squeals that can be annoying for some players.
Wound metal – These types of strings are generally used on larger ukuleles. Aluminium and copper are the most commonly used winding metals. These strings also tend to produce some annoying squeals.
Steel strings – It's usually not advisable to use steel strings on your ukulele. These strings exert extra tension on the instrument's top, neck, and bridge. This tension can damage your instrument. Steel strings also don't deliver the classic uke sound.
Tuning
There are two main ukulele tunings
Low G – (GCEA in ascending order)
High G – (GCEA with the G-string tuned 1 octave up)
You should be careful when selecting ukulele strings. You don't want to purchase low-G strings when you want standard strings. Note that standard strings may be labeled high-G or not.
When it comes to baritone ukuleles, you may need to go for a DGBE-tuning string set. For soprano ukuleles, you may find a string set with ADF#B-tuning, also referred to as D-tuning. You may also find specialty string sets. It's advisable to avoid them unless they offer something you specifically want.
Color
Ukulele strings are available in different color options. You can go for any color that tickles your fancy as long as the other features meet your needs.
Final Thoughts
There is a wide selection of ukulele strings on the market. Whether you're budget-minded or quality-minded, you can always get something that suits your needs. We've given you four of the best ukulele strings on the market, plus a couple of tips to guide you in making an informed decision. It's up to you to choose what suits your needs the best.
Now that you are aware of the ukulele strings, we suggest pairing them up with an affordable yet quality instrument from Donner.