Buying a good ukulele is not something that can be done on a whim. This curious instrument may seem universal, but there are subtle and elegant differences to be appreciated when picking the best ukulele for you.
The first choice you need to start with is the brand. There are a variety of options on the market, but out of every ten, six risk being cheap and poor quality, one is hideously expensive, and the last two are the ukulele equivalent of gold dust.
Tucked within this final category is Donner, a renowned and respected ukulele provider who can turn your experience from beginner's luck to musical masterpiece by merely upping the quality of the instrument.
Our Top Pick
Within the brand are a range of options which can seem scary and overwhelming: have no fear, we have the ultimate Donner ukulele review for you to peruse at your leisure, and make this valuable decision with confidence.
Our top selection for the brand is undoubtedly the Donner DUC-1 23-Inch Concert Ukulele Mahogany; a medium-sized ukulele which shows you don't have to pay a fortune to enjoy quality.
Last update on 2023-11-13 / Affiliate links / Images from Amazon Product Advertising API
Brand Product Reviews
At a respectable 23 inches, this offering is the perfect size for a concert ukulele. Made of sturdy mahogany for a rich tone, this could be the perfect pick for those players looking to build their skills.
Key Features
23 inches long – a perfect concert size
Mahogany body and rosewood bridge/fingerboard
Advanced carbon nylon strings
Comes with a chrome-plated guitar style tuner
Eighteen brass frets, with fret positions marked at the 5th, 7th, 10th, and 12th frets
Includes accessories such as bag, strap and extra strings
What I Like About This Product
The Donner DUC-1 is a high-quality instrument, and the inclusion of both mahogany and rosewood harmonize to provide a rich and pure sound. The size is comfortable for most players, offering plenty of room between the fingerboard and the spring to keep you comfortable as you strum.
Even better, the kit comes with a case and strap to keep your ukulele safe and protected when not in use.
What I Don't Like About This Product
It is disappointing that Donner chose not to include Aquila strings— these tend to be more comfortable and can provide a more authentic sound.
Pros
Clearly marked frets make it easier for new players to find their feet
Includes accessories in the price
Solid mahogany body for a rich sound
Rosewood bridge adds a high-quality shine and a more expensive feel to the instrument
Includes a tuner to help make sure your notes are perfect
Good size – perfect for a range of players
Cons
The choice of strings can be uncomfortable if played for an extended period.
We picked this concert model to top our Donner ukulele review thanks to its versatility and flexibility, as well as the popular size. The ukulele is attractive and appealing and offers a warm, rich sound.
Overall Rating: 10/10
Spruce is typically used as a popular choice in budget instruments, but there is nothing cheap about this soprano offering. It uses a great combination of woods—mahogany, rosewood, and spruce – to produce a unique and lively sound.
Key Features
Eighteen frets
Mahogany back and sides with a spruce top
Stunning rosewood bridge
Unique designs to add some individuality
Comes with a range of accessories
What I Like About This Product
One of the best features of the soprano is the cool and unique cloud and sun designs which pattern the front of the ukulele. This element adds a twist on a traditional design and really encompasses the relaxed, outdoorsy vibe from the instrument.
What I Don't Like About This Product
As with the concert ukulele, the strings selected by Donner are not the best quality and become uncomfortable to play on very quickly. I also found the strap which is included to be a little flimsy, and not very supportive while playing.
Pros
Uses a variety of wood types to create a unique sound
Patterned designs add an attractive aesthetic edge to the instrument
Includes accessories as part of the cost price
Perfect size for those looking to move to the soprano option, or start their ukulele journey
Cons
The strap is quite thin and flimsy, and I was worried it would break easily.
The instrument is tricky to tune and tends to fall out of tune quite often compared to other models.
This soprano model is far from being all fur coat, but the outside appearance does seem to be higher quality than the extra accessories included. This model is still an excellent choice for players looking to switch to soprano, but it may be worth investing in a sturdier strap, and better quality strings.
Overall rating: 9/10
This zebrawood ukulele is a stunning offering from Donner and stands out from the crowd with a combination of unique zebra patterned wood, and shiny rosewood for the bridge and fingerboard. Not only do these two kinds of wood look fantastic, but they also offer a warm, rich melody which shows off the sound of the ukulele to its full glory.
Key Features
Combines rosewood and zebra wood for a bright and unique sound
Includes chrome plated tuners
Eighteen brass frets, marked at the 5th, 7th, 9th and 12th frets for guidance
Concert size – one of the most popular selections, and comfortable for almost any player
Includes a protective carrying bag and strap
What I Like About This Product
The primary appeal of the instrument is its beauty, and this is definitely the first thing you notice. In addition to gorgeous packaging, the ukulele also benefits from a rich and strong sound, and the whole combination makes the product feel more high-end and expensive than the modest price tag belies.
What I Don't Like About This Product
The main issue I had with this model was the strings. They are hard to play and don't produce the best sound quality compared to other instruments. You could just change out the strings, though.
Pros
Stunning appearance and a top quality wood
A clear, rich sound which is in line with a traditional ukulele
Comfortable for players, with plenty of space to move your fingers
Cons
The quality of the strings could be improved to help boost the playing experience and sound quality.
The zip on the carry case is quite cheap and has to be handled very carefully to avoid breakages
For players looking for a ukulele which offers a gorgeous mahogany as well as top sound quality, this could be a top pick. It stands out with its distinctive zebrawood and is an all-around pleasure to play for players of any level and experience.
Overall Rating: 10/10
If you find yourself torn between a rock-and-roll electric sound, or the traditional ukulele experience, this offering from Donner may give you the chance to have it all in one beautiful instrument! Originally designed as a companion to traditional bass guitars, this is a great chance to try something a little bit different.
Key Features
A mahogany neck and body help to provide a rich sound, as well as look fantastic
Comes with Aquila Nylgut strings for a comfortable playing experience and tuning stability
Eighteen brass frets, with position marks at the 5th, 7th, 10th, and 12th frets
Includes a preamp, for amplified use with bass, volume, mid and treble control
Includes integrated tuner
What I Like About This Product
Put simply: this is cool. Whether you are an experienced player looking to try something totally different, or a newbie who thinks the ukulele is too boring, this could be an excellent opportunity to change things up and create a whole new sound.
What I Don't Like About This Product
One of the only issues with the model is that the integrated tuners may start to struggle. I tuned the strings with no problems, but after a few days of play, there seemed to be some resistance, and a risk that the tuners would break, rendering the instrument unusable. This could simply be a faulty batch, but it is something to consider before purchasing.
Pros
Offers a unique ukulele experience
Comes with Aquila strings for the best sound quality and comfort
Range of essentials included with purchase
Clearly marked frets to help newbies
Cons
There may be some issues with tuning, which could become a more significant concern down the line as players grow more experienced.
If you are looking to switch up your ukulele experience, this is a great place to start. For the reasonable price, there are very few criticisms to be made, but serious players may be better off splashing a little more cash.
Overall Rating: 7/10
About the Brand
No Donner ukulele review would be complete without giving you a little more information on the brand you are buying.
Compared to other brands, Donner is practically a newborn on the ukulele scene. They were founded in 2012, but since then have built up a fierce and respected reputation within the industry.
They state their primary goal as being to "…create new experiences in music and performance. Donner is resolved to continue to create innovative and excellent instruments which maintain the high quality that inspires professional and creators, and yet are approachable for anyone to play."
This quote is clearly reflected in the array of products the company has to its name. They offer a range of very high-quality instruments, at prices which even the humble beginner can afford. This combination is tricky to get right, but reviews suggest that Donner has managed to pull it off.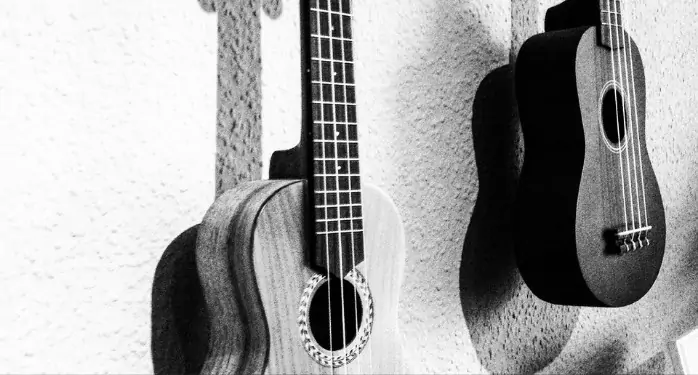 They combine high-quality woods, including spruce, rosewood, and mahogany, to create an affordable blend, but still offers that distinctive, warm ukulele sound, slightly adjusted depending on the make-up of the instrument.
In particular, Donner is talented at using spruce to form the majority of many of the ukuleles, and topping up with a more expensive wood type, such as mahogany. This aspect not only increases the affordability—spruce is one of the cheaper woods—but also creates a unique, bright sound which has become something of a trademark for the company.
Donner's commitment to accessibility is also apparent in the range of accessories included with their instruments, such as carry cases, tuners, and spare strings. This package-deal approach makes the ukulele a more affordable option for beginners, who may not want to fork out a fortune for gear if they do not bond with the instrument. This emphasizes Donner's commitment to offering a top-quality experience on an affordable, everyman budget.
Final Thoughts
Donner is a thoughtful and innovative brand that manages to blend quality and affordability in all of their instruments. The top pick for me has to be the Donner DUC-1 23-Inch Concert Ukulele Mahogany, an option which is the most versatile and flexible for a range of players and blends a gorgeous body with a truly lovely sound. Also, if you're looking for a tuner, check out this list!