Finding the right ukulele brand is somewhat like finding the perfect pair of jeans. Once you find one that flatters you, you're tempted to buy a pair in every color they have—just in case. The same goes for ukuleles, find a brand that makes you sound amazing, and you'll want it in all three sizes.
While we wouldn't recommend buying three ukuleles at once, there is nonetheless a brand loyalty which pervades the industry. Once a player has found their brand, it is tough to convince them to let go.
Today we are shining the spotlight on the Kala brand in particular and have put together the ultimate Makala ukes review for your perusal—you might just find your brand!
Our Top Pick
If we had to choose one ukulele from our review, it would be the Makala MCK-C. We've reviewed it first for your convenience, but to sum it up, this model exemplifies Kala's beginner line and is both affordable and high quality.
Last update on 2023-11-06 / Affiliate links / Images from Amazon Product Advertising API
Makala Ukulele Reviews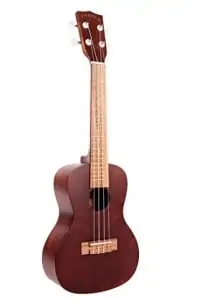 The Makala MK-C is part of the Makala classic line, which is aimed at being "simply the best entry-level ukuleles on the market". With a solid mahogany body and a smooth satin finish, the Makala MK-C is a great concert-sized uke which can act as a great introductory instrument for those new to playing. The affordable price makes it is well within reach of most players and can be a great way to give the ukulele a try before you break your budget. Without a doubt this a top contender for the best entry level ukulele.
Key Features
Concert size
Mahogany top, back, sides, and neck
Satin finish
Walnut fingerboard
Standard headstock
Plastic nut and saddle
Aquila Super Nylgut Strings
Measurements
Scale Length: 14.8125 inches, Overall Instrument Length: 23.9375 inches, Body Length: 11.0625 inches, Number of Frets: 18, Width at Upper Bout: 6.0 inches, Width at Lower Bout: 8.25 inches, Width at Waist: 4.9375 inches, Body Depth: 2.75 inches, Fingerboard Width at Nut: 1.4375 inches, Fingerboard width at neck/body joint: 1.75 inches
What I Like
The smooth, solid finish is a big draw for this model, and its appearance is appealing for those who are just getting started. If you want a quality model with a fantastic sound at a reasonable price point, this could be the ideal choice.
I also like the fact that Aquila strings are included–this allows you to get a great sound from the very beginning, and eliminates the need to purchase additional –potentially expensive –strings for your instrument.
What I Don't Like
Most of the body and wood elements of this ukulele feel high-quality, but the plastic of the saddle and nuts let this down somewhat and feel cheap in a bad way.
Pros
Concert size offers a great challenge for intermediate players
Mahogany provides a great sound
Uses high-quality Aquila strings
Affordable budget price for new players
Comes with a gig bag
Cons
Plastic nut and saddle feel and look cheap
This model is an excellent option for an intermediate player looking for a ukulele that sounds great, looks great, and lasts a long time. It wasn't hard to name this model our top pick, and you'll see why with the first strum.
Overall Rating: 10/10
The Makala Red Burst is a great option for those looking for a beginner instrument that also shows some flair and creativity. The design is eye-catching, and the sound is rich, clear, and authentic, creating a winning combination which is only enhanced by the inclusion of a gig bag to keep the ukulele safe.
Key Features
Brilliant sounding entry-level ukulele
Great value for beginners
High-quality plastic molded body
Wooden 'Agathis' top
Supplied with gig bag
What I Like
The bright colors add a welcome twist onto a classic design, and this is definitely one of the highlights of the model. In addition, there is a clear and rich sound, which is of a much higher quality than expected, considering the low price point. Overall, this acts as a welcome surprise and is a solid, good-quality instrument which is ideal for players of all levels.
What I Don't Like
Compared with other standard sopranos, this model is relatively large, which could be uncomfortable for players used to a smaller standard size.
Pros
Unique color and design
Excellent value for money
Loud, clear sound and resonance
Cons
Slightly larger than a standard soprano – this may require some adjustment to get used to for some players
Ideal for those looking to make the transition into soprano instruments, whether you are a total newbie or just fancy a change. The unique color and design add a great twist to a traditional style and allow you to express your own quirks and individuality through the instruments.
Overall Rating: 9/10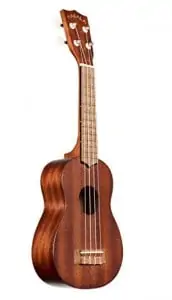 Also a part of the Makala classic line, this uke is an excellent soprano with a classic wood grained pattern which is simple, classic, and elegant. The combination of mahogany and walnut blend together for an overall effect which feels and appears far more premium than the otherwise low price tag.
Key Features
Brilliant sounding entry level ukulele
Great value for the beginner
Walnut fingerboard and bridge
Mahogany neck
Brass frets
Aquila strings
Soprano size
MEASUREMENTS
Scale Length: 13.5 inches, Overall Instrument Length: 20.875 inches, Body Length: 9.5 inches, Number of Frets: 12, Width at Upper Bout: 5.0625 inches, Width at Lower Bout: 6.8125 inches, Width at Waist: 4.4375 inches, Body Depth: 2.375 inches, Fingerboard Width at Nut: 1.375 inches, Fingerboard width at neck/body joint: 1.6875 inches
What I Like
The wood grained pattern of this model helps to add an element of class and sophistication to the overall look, and this elevates the status of this instrument far beyond what the lower budget suggests. The sound is clear and sharp, and the Aquila strings only serve to enhance the sound quality.
What I Don't Like
There are very few flaws to find with this model—the strings do struggle to keep a tune, but this is likely an issue which will reduce with time as the strings stretch.
Pros
Easy to restring and tune, even for beginners
Inclusion of mahogany and walnut allow a rich and warm sound
An ideal option for total beginners and those developing their skills
Cons
The strings which come with the instrument tend to lose tune very quickly
This uke is a cheerful and good-quality option, which is a solid choice for beginners who are just starting out on their ukulele journey. The walnut and mahogany combination allows for a sound which is rich and warm and allows you to learn in absolute pleasure.
Overall Rating: 9/10
For a twist on the classic ukulele style, this is a great choice and an ideal option for players of all levels and experiences. The lower cost means that this is super accessible for all budgets and offers a superb lead into the ukulele world.
Key Features
Concert size
Mahogany neck
Synthetic bone nut and bridge
Walnut fretboard and bridge
Silver nickel fret position marks at the 5th, 7th, 10th, and 12th fret
Aquila strings
Comes with a gig bag
What I Like
This option is a bright and cheerful twist on a classic design and helps you to put your own stamp and style on your music in a visual as well as an auditory way. It is accessible for all budgets and a great choice for those who are still learning.
What I Don't Like
Compared to other models on the market, this is relatively cheap. It will be an excellent choice for those on a tight budget, however, or those who may be only just learning.
Pros
Vibrant blue color adds a fun and unique touch to a classic
Comes with Aquila strings for fantastic quality sound
Easy to play straight out of the box – perfect for beginners
Cons
More experienced players may find this model underwhelming
When it comes to the top spot in our Kala ukuleles review, this model has a strong spot as a great contender for a beginner's model—it was our runner up. It is easy to use and maintain and will be a great introduction to the instrument.
Overall Rating: 9/10
About the Brand
Makala instruments are part of the famous Kala brand and share their parent brand's reputation for high-quality instruments. The Makala range is specifically targeted at new players and offer excellent entry-level ukuleles to suit every taste.

They use a mix of vintage looks and colorful options to help them stand out from the crowd, and offer the same high-quality, classic sound as any other model in the Kala lineup, despite being targeted at new players.
The Makala line allows you not to feel as though you are missing out by picking a budget version. You are investing in a fantastic instrument which should see you through the entirety of your studies with confidence.
Final Thoughts
Our top pick, the Makala MK-C concert ukulele, is a versatile and flexible model which is ideal for beginners of all ages, stages, and personal tastes.
Like all the range, it is specially designed for beginners, and everything from the shape and weight of the instrument to the marked frets, work to accommodate you to grow your skills and confidence with the ukulele.
It combines great quality with a rich, warm sound, and offers a fantastic start on your musical journey. A good alternative would be one of these models from Ohana. Also, if you're looking for a tuner, check out this list!