Picking a ukulele is a personal journey.
It may sound silly, but it is the truth. You can read as many Ahami ukulele reviews as you like, search for hours to find the perfect pick, and go for the one which is the most popular of the moment, and still not be happy.
Why? Because music is personal.
As you may have guessed, we are going to use this Amahi ukulele review to focus on one particular brand: Amahi. These guys have a solid history in the ukulele business, and we will show you the top four options to help you narrow down your final choice. That choice, however, is ultimately up to you. The power is in your hands—use it wisely.
If you're a bit short on time, if we had to pick one of these four to try first, it would be the Amahi UK330S Soprano. This is an attractive and impressive ukulele that's going to fit the majority of users needs, and it comes with a reasonable price tag.
ladderhunt09-20
Last update on 2023-08-26 / Affiliate links / Images from Amazon Product Advertising API
Brand Product Reviews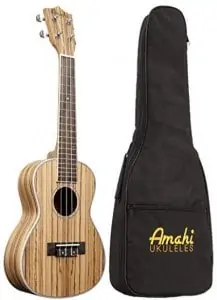 Amahi pride themselves on producing top quality instruments, and this soprano offering is no exception. Constructed of stunning zebrawood for a fruity sound, this is an option which would suit beginners as well as more experienced players with ease.
Key Features
Wide fretboard for more comfortable playing
Zebrawood on the back, top, and sides for long-lasting quality and fresh, bright sound
Comes with Aquila Nylgut strings for a high-quality sound
Includes sealed guitar tuners
Comes with a protective deluxe carry case to protect the instrument
What I Like About This Product
The bold zebrawood design is one of the key appeals of the UK330S and allows a delicate balance of attractive and durable materials with a strong, pure sound which echoes a traditional ukulele.
What I Don't Like About This Product
If I had any criticism, it might be that the fretboard is slightly wider than on traditional sopranos, and this could be a challenge for those who are used to playing an instrument of this category.
Pros
Uses solid zebrawood to produce a clear and bright sound which is faithful to that traditional ukulele sound
Attractive, eye-catching design
Uses high-quality strings to make playing more comfortable and improve sound quality
Cons
The frets are a little wide which could be off-putting for some players. In addition, the strap of the bag is a bit delicate, but this is a minor point.
The soprano model earned its place at the top of our Amahi ukulele review for good reason; it is a stunning instrument and can be an investment for players of any level.
Overall Rating: 10/10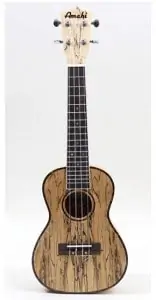 Combining the classic design with a fantastic sound, this option from Amahi helps you to tick all the boxes. It offers a clear, crisp tone, and benefits from top-quality extras such as Aquila Nylgut strings to help enhance the natural sound.
Key Features
Rosewood fingerboard and bridge
Concert sized – suitable for most players
Maple body for a solid but tuneful finish
Includes a padded carry bag
Die-cast tuning machines
Satin finish
What I Like About This Product
Choosing maple as a construction material is an unusual choice, but one which creates a unique, signing tone which is bright and cheerful. The fantastic sound quality is a significant selling point for the piece, and the popular concert size is ideal for a range of players of all levels.
What I Don't Like About This Product
The walnut is stunning, but some of the facades can seem a little cheap in places, and as though manufacturing has been rushed. Any Amahi ukulele reviews should note, however, that this has no impact on the quality of the instrument.
Pros
Rosewood bridge and fretboard offer a beautiful sound
Aquila Nylgut strings are included – these make playing more comfortable and enhance the sound
The maple body is strong and durable while providing a unique twist on the typical ukulele sound
Cons
There is no carry bag to protect the instrument from damage – a high risk on this type of wood.
With a classic design and great sound, this concert option has earned its place in any Amahi ukulele review. It is an excellent option for both beginners looking to purchase their first instrument and those more experienced players who need a new challenge. The lack of a carry case is inconvenient and is an extra offered by similarly priced competitors.
Overall rating: 9/10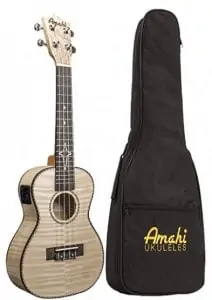 If you have ever had the urge to combine the rock sound of electric with a traditional ukulele twang, we may have found the ideal instrument to suit your tastes with this electric acoustic option.
Key Features
Constructed from maple wood for a unique sound
Rosewood bridge and fingerboard for a sleek finish
Mahogany neck
Pickup with built-in EQ and tuner
Aquila Nylgut strings
What I Like About This Product
It is a challenge to take the sound and look of a ukulele and upgrade it with a modern, electric twist, but that is exactly what Amahi has achieved with this instrument. I love the sleek, sophisticated design which blends maple, mahogany, and rosewood, and takes the look and sound of this offering from budget to best in one easy move. The checkerboard binding and design on the neck also add a fun twist to a traditional look.
What I Don't Like About This Product
The Aquila strings are usually my top pick for a ukulele, but they add a slightly odd sound to the electric model. This may be a matter of personal taste, and playing around with different string types might help solve the issue.
Pros
Rosewood fingerboard and bridge add shine and elegance
The mahogany neck provides a rich, melodic tone
The maple body lifts the traditional sound to something brighter
Modern, unique design
Includes a carry bag to protect your instrument
Cons
The string type may not be to everyone's taste
This is a great option for those looking to add some rock and roll into their ukulele playing, and the affordable price tag is deceptive for the high-quality instrument offered here.
Overall Rating: 10/10
Embrace your inner hippy with this fantastic psychedelic soprano option. Small but mighty, it offers an authentic Hawaiian feel with bright colors and a tropical design, while maintaining the sweet, lilting tones of a soprano ukulele.
Key Features
Painted wood design
Open geared tuners
Includes carry case
Nylon strings
What I Like About This Product
The eye-catching and fun design of this instrument was the main reason it caught my eye, and it perfectly encompasses that laid back sunny Hawaiian feel. A fantastic first ukulele for beginners, and one to add to the collection of established players if you are searching for something a little different!
What I Don't Like About This Product
This ukulele looks fantastic but lacks the more expensive, high-quality woods of other models in the Amahi range. This is no problem for beginners, but more advanced players may be put off by the cheaper sound of both the wood and the nylon strings.
Pros
Fun and unique design guaranteed to attract attention
Affordable even for beginners
Offers a sweet and clear sound
Cons
The wood is lower quality than other options at a similar budget
The nylon strings may be uncomfortable to play and offer a slightly reduced sound quality
When it comes to pure fun, this is without a doubt my favorite option. It is a great hook for new players and a fabulous conversation starter! The sound quality is adequate for beginners, though more experienced players may find it lacking.
Overall Rating: 7/10

About the Brand
Amahi Ukuleles is a small part of a larger parent company, Amati's Fine Instruments. Their first concern is to create and produce top quality string instruments, and they have been delivering these products for over 25 years.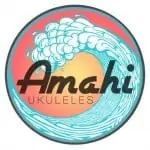 A family based business, Amahi came into existence after Michael Schear, the president of the company, started creating ukuleles for the after-school program run by his wife. The key focus of the brand is on quality and ensuring that each ukulele is carefully handcrafted to produce a stunning, pure sound encased in an aesthetically appealing body. The creators look at "how to improve the tonal and intonational properties, as well as visual appeal and playability." This holistic approach means that even the budget ukulele models are creations of beauty.
The first step to creation is to select the wood—different options will offer different tones and sounds, as well as presenting slightly different in appearance. Following this, a suitable binding is chosen, before a fretboard is selected and attached. Amahi fretboards are bound in a way which is similar to a guitar, providing a wider, more comfortable finish.
The keyword throughout the Amahi brand is quality, and this is a commitment which is seen in every model they offer.
Final Thoughts
In our Amahi ukulele reviews, the clear winner is the Amahi UK330S Soprano. This is a chic, sophisticated model which offers a rich, melodic sound at an affordable price, and would invite any beginner to take up and carry on this fantastic instrument.