Ever had the cops knocked on your door for a noise complaint because you happened to be pounding away on your drums all night? Practice drumming is a tricky business, isn't it?
If you've ever wanted to hone your skills without waking the entire neighborhood, then electronic drum sets are for you—and that only scratches the surface of the power these amazing instruments bring to the table.
Before you go out on a random shopping spree, though, you need to be armed with information. So, let's take a look at the best electronic drum set reviews to help you pick the right one.
OUR TOP PICK

If you don't have time to make it to the bottom of the page, my top pick for the best electronic drum set would go to the

Alesis Drums Nitro Mesh Kit

. This is a solid mix of responsiveness and sound quality at an average price range.
The Best Electronic Drum Sets Reviewed
Last update on 2023-09-02 / Affiliate links / Images from Amazon Product Advertising API
This is a bestselling entry-level electronic drum set from Alesis. It's so good, we wrote an entire article just based on reviewing it. Unusual for a beginners kit, it features mesh heads as opposed to rubber pads.
Key Features
Mesh drum heads
Complete eight-piece set with all the essentials
Nitro drum module with built-in practice tracks and metronome
Complete set includes drumsticks
Auxiliary input for connecting CD/MP3 players
What We Liked
For an electronic drum set aimed at beginners, the Nitro Mesh is loaded with features!
The sound quality of this drum set is fantastic. The mesh heads give beginners a leg up in how a traditional drum should feel. It's an eight-piece set and includes toms and snares, which isn't usually an entry-level staple. It features over 385 drum and cymbal sounds and will keep practice time especially interesting.
The kit is also tranquil! My 9-year old practices on these, and we can hardly hear him (and you know how "energetic" kids can be when drumming!)
What We Didn't Like
We didn't particularly like the lack of a drum throne. Now, this might be a trivial omission, but this can be a deal-breaker for beginners as it adds additional cost to the set.
Pros
Features a robust eight-piece set that exposes beginners to a lot of different kits
Mesh heads give a more natural and authentic playing feel
Amazing price
Cons
This is one of the best electric drums for those on a budget. Solid construction, robust features, and a complete eight-piece set take it a step ahead of other similar kits on the market.
Overall Rating: 4.8 / 5
The DTX402K is a slightly premium, entry-level offering from Yamaha. It's a lightweight kit that focuses on robust training features to help a beginner build skills quickly.
Key Features
Lightweight but durable design
Includes ten kits, songs and training functions
Over 287 drum and percussion sounds
Support for DTX 402 smartphone app that helps facilitate training
What We Like
This is an exceptionally quiet drum kit that's great for private practice sessions. It's lightweight and easy to set up right out of the box. Despite this, it feels very durable. The four-leg rack itself is sturdy and can hold the entire thing despite frantic pounding.
Sound quality is top-notch for an entry-level as well. To test it out, we hooked it up to Technics RP-DJ1200 headphones and a Roland PM-100. The sound didn't disappoint.
The free smartphone app is a nice touch and is an excellent training tool on its own too.
What We Didn't Like
The pads are a little bit small, in our opinion. It's also pricier than most entry levels like the Alesis Nitro.
Pros
Lightweight and easy to play with
Lots of training options to choose from. We especially liked the smartphone app
Great sound quality
Beginner-friendly
Cons
Higher priced for an entry-level
Pads are smaller
The Yamaha DTX402K is a more beginner-friendly electronic drum set than most. Its quiet design means you can practice anytime, anywhere without bothering someone.
Overall Rating: 4.5 / 5
The Carlsbro CSD120 is one of the most budget-friendly electronic drum sets you'll find on the market. It's a compact, quiet kit for the aspiring drummer.
Key Features
Eight-piece drum set
Three-footed collapsible stand
Drumsticks and key included
Commander module for complete sound control
What We Liked
Initially, I was pretty skeptical about the price point. How good can a drum below $250 be? Turns out, not bad!
Its sound is surprisingly decent, though don't expect Roland level quality. The drum pads themselves are the highlight of the CDS120. Both the dual-zone snare pads and crash cymbals all play authentically. It can feel a bit sensitive at first, but this can easily be adjusted to your liking.
Other things to like include its compactness, and the fact that it's quiet as a mouse.
What We Didn't Like
Compared to other entry-level sets, there's some slight but considerable lag with this kit if you play fast.
Pros
Pads are surprisingly responsive
Lightweight, collapsible design makes setup and stowing away a breeze
Very affordable
Cons
Noticeable latency
Not that much output options
If you're looking for the cheapest entry-level kit, this is it. While it lacks the robust features of some other beginner models, it makes up for it in pad responsiveness and low price.
Overall Rating: 4.3 / 5
The Alesis Surge is a beefed-up version of their Nitro Mesh Kit. It's geared towards beginners wanting to amp up their skill level.
Key Features
8-inch mesh kick drum with included pedal
Feature-rich Surge drum module with 40 kits and 385 drum sounds
Built-in sequencer to record play sessions
Aux input for connecting MP3 players and smartphones
What We Like
Like all Alesis drum sets, what we like best about this is the mesh heads. These are high quality and very responsive, with the authentic rebound and feel of a real drum. The 8-inch mesh kick drum plays great and is an excellent reason to upgrade over from the Nitro.
The Surge drum module itself is packed with features. With 40 kits and 385 drum sounds, it's significantly more than what other brands offer, even Roland.
What We Didn't Like
Alesis doesn't have the best instructions on the planet. Trying to figure out how to work the drum module can take a fair bit of time.
Pros
Mesh heads offer a similar response to a real drum
Excellent stands and fixtures that are easily adjustable
Affordable price for its class
Cons
The trigger system isn't as great as other top brands
The Alesis Surge is an excellent upgrade of the famous Nitro, and for a good reason. It offers the same responsive drum pads with the added kick drum and feature-rich Surge module—a great option if you're serious about becoming a pro drummer.
Overall Rating: 4.5 / 5
The Alesis Command is an electronic drum kit that offers more features over similar beginner models. Fortunately, as with Alesis, this is still a relatively affordable mid-level option.
Key Features
Responsive drum pads, including three 10-inch cymbals and an 8-inch kick drum with pedal
Command drum module features 70 kits and over 600 drum sounds
USB input for loading your own custom samples
What We Like
While similar to the Surge, what sets this one apart is its Command drum module. It includes way more drum sounds and kits. If that's not enough, you can load your own drum samples via a USB input. It allows precise volume control and drum sensitivity for a very personalized experience.
The drums are just what you'd expect with Alesis. Mesh heads have a very authentic feel that can be further adjusted to suit your style.
What We Didn't Like
Same complaints with the Surge—poor instructions. For a novice, it will take quite some time to set this up.
Pros
Mesh heads offer a very responsive feel
Compact and adjustable stands
Command module provides advanced features and the ability to load custom samples
Cons
The trigger system is not as great as other brands
The Alesis Command is an excellent option if you need extra features over Surge. The ability to load your own samples itself is well worth the upgrade. This is a viable electronic drum set for pros and recording studios.
Overall Rating: 4.6 / 5
The Yamaha DTX522K is a mid-level option that features silicone textured pads. These provide a more comfortable feel while playing.
Key Features
XP80 three-zone textured silicone snare pads
Drum module includes 691 drum and percussion sounds
Three-zone cymbal pads provide realistic choke with mute options
What We Like
Yamaha produces some stellar equipment, and that's the case with the DTX522K. This model features their unique silicone pads filled with air bubbles. This cushions some of the force to your arms, leading to less fatigue.
Compared to Roland, Yamaha tends to have more sound samples built-in too. We also prefer the way they sound over Roland's
What We Didn't Like
Some parts, such as the cables and wires, seem to be poorly made. The kick drums also tend to move when repeatedly hit with the pedal.
Pros
Silicone textured pads are as advertised: comfortable to play with
Lots of drum sound options to choose from
Excellent construction where it matters (toms and cymbals)
Cons
Snare and kick drums tend to move a lot
The Yamaha DTX522K is worth getting for the way the silicone pads feel. They're really comfortable yet responsive at the same time. The considerable drum sound library is also a great option to expand your repertoire of style.
Overall Rating: 4.2 / 5
The Vault ED-5 can probably lay claim to being the best, inexpensive electronic drum set out there, but despite its low price, it's still a reliable instrument with excellent sound quality.
Key Features
Pre-assembled rack
Over 200 preset drum and cymbal sounds
1/8-inch aux input for connecting an external MP3 player or smartphone
Quality mesh drumheads
What We Liked
This is an entirely beginner-friendly set, and it shows from the minute you take it out of the box. It's a breeze to set up – within 15 minutes or so when I tried it. Drumsticks are included, so no need to buy those separately. It also consists of a varied eight-piece assortment of essential drumheads a beginner can immediately get into.
What We Didn't Like
Sound quality is decent for the price, though not as great as that of Roland or Alesis. Some of the components wore out faster than we expected, too. The jack output wasn't connecting correctly, and the kick pedal wire came loose after a few sessions.
Pros
Amazingly low price
Beginner-friendly with presets and recording for evaluating sessions
Easy to set up
Cons
Construction quality not that great
If you're a complete beginner, this is the best electric drum kit to get into without breaking the bank. It has everything you need to start learning the basics of drumming. It's especially perfect for getting kids to learn the instrument.
Overall Rating: 4.4 / 5
The TD-1K is Roland's entry-level electronic drum set, but even so, it features the brand's sound quality and realistic playing feel.
Key Features
TD-1 engine based on the flagship TD-30 of more advanced models
Includes 15 drum kits
Wide variety of learning features such as a Coach function and metronome
Mesh heads for both snare and tom
What We Liked
If you've ever used a Roland electronic drum before, you'll immediately notice the similarities. We like how Roland didn't sacrifice much quality in this beginner-level kit.
The drum sounds are perfect. It's amazingly responsive and gives natural feedback. The cymbals and snares also feel realistic to play with. This alone makes it a great starting instrument for beginners. It gives them the experience of playing with traditional acoustic drums.
It also has a host of features to get anyone up and running.
What We Didn't Like
The drum module for the TD-1K is a bit simplistic and straightforward compared to other Roland models. It's slightly costlier than comparable entry levels and doesn't include any sticks.
Pros
Excellent sound quality, comparable to higher-end models
Space-saving with adjustable racks
Very responsive and gives accurate sound feedback
Feels great to play with
Lots of training options
Cons
No sticks included
Slightly more expensive than other entry-level sets
The Roland TD-1K is a super-premium entry-level set. It features superb sound quality and a realistic playing experience. If you're a beginner and have a little more money to spare, this is a reliable option.
Overall Rating: 4.6 / 5
The TD-1DMK is another Roland entry-level drum kit. It's similar to the TD-1K but uses a more realistic mesh-head snare pad.
Key Features
High-quality dual-ply mesh heads for a more realistic feel
Includes 15 expressive drum kits
Ten coaching functions to help beginners progress faster
What We Like
The most significant upgrade to the TD-1DMK is in the snare pads. This one uses a PDX-8 V-Pad that offers a better sounding snare drum.
As with the any Roland drum set, the sound quality is impressive in this kit. Everything from the cymbals to the drumheads plays in a natural, realistic way. The coaching functions, metronome, and recorder function all combine together to help beginners.
What We Didn't Like
As with the TD-1K, this isn't as feature-rich as some of Roland's other models.
Pros
The PDX-8 snare pad is a step above the TD-1K and provides a realistic-sounding snare drum
Lots of training options
Responsive mesh drums mimic the feel of real drums
Cons
No sticks included
More expensive than other models
The Roland TD-1DMK is an excellent entry-level upgrade over the TD-1K, with a much more realistic sounding snare. This is a drum set that you'll use well into the intermediate skill levels.
Overall Rating: 4.7 / 5
The Alesis DM10 MKII is the brand's foray into the professional-tier electronic drum set. Even then, it's still relatively affordable considering the pro feature it packs.
Key Features
Ten-piece electronic drum set
Adjustable dual-zone mesh pads
Heavy chrome rack keeps everything in place
Advanced DM10 MKII sound module
What We Like
Right off the bat, the great thing about the DM10 is the size of the pads. They are comparatively larger than Roland's. This is a full-sized kit that feels very robust and looks great.
The dual-zone mesh drum heads definitely feel like an acoustic drum more than any drumhead I've tried. These have a specific rebound that I personally find enjoyable. If you like how responsive the previous Alesis drum pads were, this takes it up a notch.
The DM10 MKII hardware is advanced enough for a pro player wanting extra features.
What We Didn't Like
At the pro level, the sound quality becomes a bigger deal-breaker. Personally, I prefer the sound quality of Roland's. The bass drum also isn't as robust (it won't work with a double pedal)
Pros
Ultra-responsive mesh heads give a realistic playing experience
It's not as expensive as comparable pro brands
Cons
Bass drum quality isn't that great
Sound quality is slightly less than that of other pro brands
The Alesis DM10 MKII is an excellent buy for your first pro-level drum kit. It gives a realistic feel that gives you an idea of how a pro drum should be. For pros with money to burn, however, there might be better options out there.
Overall Rating: 4.0 / 5
The TD-KVX is the best entry in Roland's acclaimed TD-17 series. It's an excellent mid-level series for drummers wanting to turn pro.
Key Features
Superior sound quality with the TD-17 drum module
Large double-mesh snare pads
VH-10 Hi-Hat cymbal with natural motion and position detection
Bluetooth audio streaming
What We Like
The best thing about the TD-17KVX is the larger crash cymbals and snare pads. The hi-hats are also a significant upgrade to this model, allowing drummers to improve their technique. The snares and cymbals all include advanced features, such as the ability to do chokes and rimshots.
The trademark Roland sound quality didn't disappoint, either. The TD-17 module provides a wide array of customization options that will appeal to the very experimental drummer.
What We Didn't Like
This is a pricey option for intermediate players to make the jump to.
Pros
Realistic hi-hat and cymbals that feel just like an actual acoustic drum set
Sound quality is one of the best I've ever heard
Plenty of customization options with the TD-17 module
Double-mesh snare pads give realistic rebound and feedback while playing
Cons
Overall, we're really digging the TD-17KVX. It provides an excellent tactile experience to playing that's just like real drums. The sound quality is second to none, and the responsiveness is smooth and immediate. If you're looking for a serious drum set to use in your gigs, this is it.
Overall Rating: 4.8 / 5
The Roland TD-25KVX blurs the line between the intermediate and pro levels with a feature-packed electronic drum set.
Key Features
Supernatural sound engine based off the high-end TD-30 series
Logical interface for swapping and customizing drum and cymbal kits.
12-inch PD-128S-BC snare pads with two-ply mesh heads
Three 10-inch PDX-100 dual-mesh tom pads
VH-11 V-Hi-Hat with realistic motion and acoustic feel
Two CY-12C 12-inch crash cymbals with natural movement and choke control
KD-180 Bass Drum
What We Liked
This electronic drum set features Roland's patented SuperNATURAL Sound Engine used in some of its top-of-the-line V-drums. This gives you access to the best sounding electronic drums on the planet at a fraction of the price.
The TD-25KV is all about playing at a high level with pro techniques. The PDX-100 snare pad's positional sensing allows subtle sound variations depending on where it is hit. The CY-12C crash cymbals are extraordinarily versatile and make chokes, and bow/edge sounds possible. VH-11 V-Hi-hats support realistic open/closed position play.
What We Didn't Like
While we hate to focus on price, this is an expensive option for a mid-range drum kit. If you're on a budget look elsewhere.
Pros
High-end snares and cymbals offer realistic playing
The sound quality is exceptional, comparable with pro-level equipment
Cons
This mid-level electronic set is about as close as you can get to pro equipment without shelling out five digits. For immediate players, this will make you feel right at home. The only drawback is the high price tag, but it's worth it if you can afford it.
Overall Rating: 4.6 / 5
The TD-50KV is Roland's new flagship electronic drum set (replacing the TD-30 series). This is one of the best electric drum kits in the world, combining the realistic feel of acoustic drums with the versatility of going electronic.
Key Features
TD-50 drum module with Prismatic Sound Modelling
New 14-inch PD-140DS digital snare with multi-sensor system
New 18-inch CY-18DR digital ride
Three high-end cymbals: VH-11 V-Hi-Hat, CY-12C crash, and CY-13R crash/ride
KD-120B Kick Pedals
Three PDX-100 V-Pads
What We Like
Start playing this drum set, and you'll know why it's top of the line.
The sound quality is incredibly vivid and expressive. You can't tell the difference with an acoustic drum played side by side. Advanced trigger pads can capture every detail of your playing technique, adding more to the realism.
The pads themselves were designed from the ground up to play like an actual acoustic drum. Each pounding of the sticks feels very authentic. You get terrific control with this set and access to over 400 drum kits with the ability to customize with up to 30 effects.
What We Didn't Like
Once again, the only downside is the price. Only the most serious drummers can ever hope to afford this set.
Pros
The most realistic sound ever to come out of an electronic drum
The playing experience is so real, you won't know it's not an acoustic
Complete control over your drum sounds
Cons
For the serious drummer, this is the best electronic drum set for the money. It has more than enough features, sound quality, and responsiveness to get you playing at the big leagues.
Overall Rating: 4.9 / 5
Electronic Drum Set Buying Guide
Now that you've had a look at some of the best electronic drum sets 2019 has to offer, let's explore some considerations you should make when buying one.
The Parts of an Electronic Drum Set
Electronic drum sets are made up of two components – the drumheads and the drum module.
Drum Modules
The drum module is the "brain" of the set and is what produces the actual sound that you hear. Whenever you hit the drumheads, it triggers the attached sensor. It then sends electrical signals to the drum module. The module processes this signal and then plays the appropriate sound assigned to that head.
You can use the module to fine-tune the sound your drum set produces. You can adjust basic things like volume and sound quality. Then there are more advanced features like being able to control the sensitivity of your drumheads. These allow your drum module to respond to how hard you hit the drumheads, making it much more realistic.
Drumheads are usually made of rubber pads, but there are also mesh heads available that resemble a real acoustic drum. You can even go the hybrid route and go for acoustic triggers. These attach to an acoustic drumhead and allow you to use them with a drum module.
Drumheads
Electronic drumheads are the actual "drums" in an electric drum set. They have attached sensors that trigger whenever you hit them, sending an electrical signal to the drum module.
The best drumheads have single sensors. Some, like cymbals, require multiple sensors. This allows the drumhead to respond differently depending on where it is hit. This is crucial in reproducing the realistic dynamics of crashing cymbals.
Drumheads come in two types: rubber pads or mesh heads.
Rubber pads are made up of a metal plate covered with rubber padding. They have a harder surface that is suitable for playing consistent, sustained notes.
They're also less expensive, hence they are more common in entry-level drum sets. Pads are great for beginners first learning about rhythm and timing when nuanced play isn't important just yet.
Mesh heads most closely resembles a traditional acoustic drum than anything else. They are made of a woven mesh that can be adjusted using a drum key. They have enhanced rebound and feel that makes them much more responsive and sensitive to play.
Electronic cymbal heads are a separate category. Most modern electronic cymbal heads resemble the real thing. It features multiple sensors to allow an accurate response from different parts of the cymbal. This makes it possible to play them as realistically as a real one.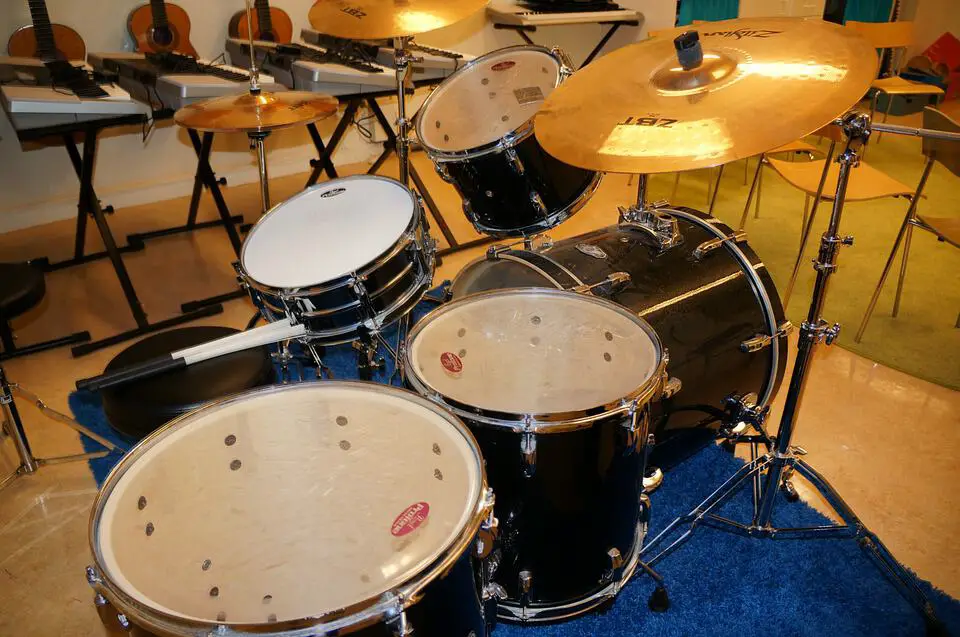 Why Get an Electronic Drum Set?
It's compact
One thing that prevents people from buying their own drum kit is the size constraint. Traditional drums tend to take up quite a bit of space. This can be problematic to put in a bedroom or a cramped apartment. Not to mention they're a pain to transport come gig time.
Electronic drum sets tend to be very compact. The drumheads are relatively smaller, and the whole setup feels leaner. They're also modular and flexible. You can spread them out in a traditional drum layout or mount them on hardware for a more vertical setup.
Another great aspect is that a drumhead can be assigned any sound; you don't need to own many different drums for different genres. This can significantly cut down on playing area and storage space.
It's quiet
This is probably the top reason that stops people from buying a drum set. We all have horror stories of the neighbor's kids banging through the night on their drum set. One solution is soundproofing the room where you play in. Though, that's not only expensive but not a valid option for everyone.
There's really no way around that with traditional acoustic drums. This "loudness" comes with the territory except if you go the electronic route. Since the sound coming out of these is in the form of electrical signals, you can precisely control their volume.
The added beauty of this is that you can hook up your headphones to the drum set. That way, only you can hear it! Other people will only be exposed to the minimal tapping on the drumheads. Even then, you can reduce it with super quiet drumheads.
Another overlooked benefit: it will protect your hearing. Too often, younger drummers discount how damaging drums can be to your ears. By being able to control the volume, you get to practice at a decibel level that's safe for you.
Getting an electronic drum set is about as close as you can get to a private studio on the cheap. It's excellent for beginners living in an apartment, or any other shared confined space. Speaking of practicing …
It's great a training tool
Electronic drum sets are your best bet when first learning how to play. They allow you to play anytime and anywhere. This makes it easier to stick to a consistent drum practice schedule.
Most e-kits have drum patterns pre-loaded into the software. Beginners can follow along with this to practice timing, rhythm, and coordination. It's like playing alongside a drum instructor.
They also allow you to hook an external audio device, such as your MP3 player or computer. This makes it possible to play along with your favorite songs and get a sense of how pros play.
The recording functions of an electronic drum set is also a great way to analyze your practice sessions. You can review your sets or send it to a pro so they can give you advice on what to improve.
But even for experts, it's still a fantastic way to keep your skills sharp. Recording your sessions along will make you improve further.
It produces versatile sounds
Imagine being able to switch from rock style drumbeats to R&B in a moment's notice. That's the power of electronic drums!
In theory, you can produce virtually ANY kind of sound with electronic drums. You can use any recorded sound effect and load it into the drum module. That way, whenever you hit those drums, that sound would be reproduced.
You can mimic any style drum you can get a sample of. This makes it easier to match your sounds to the genre without physically changing your drums. Playing in a reggae band tonight? Program some snare and bass drums in there.
You can even get experimental and use non-drum sounds in your set. This can lead to some exciting performance pieces.
This option also makes it easier for professional drummers to switch to electronic. Some might be reluctant to go electric, thinking it might not have that substantial acoustic drum feel. To solve this, they can quickly get samples from your old drums, and program it into an electronic kit. Voila! Real drum sounds!
You also don't need to own a ton of physical drums for each genre you play. Just grab some drum packs from the Internet. There are literally hundreds of them online (just like this site here). Having a library of different drum styles can quickly make you a very versatile drummer.
It's a songwriter's dream
The recording capabilities of an electronic drum set are more than just for reviewing your performance. As you've already realized by now, it's an essential feature for recording your own songs.
Forget about recording your drum tracks using drum mics that can become a cluttered mess in front of you. Any sound produced by the drum is fed directly into your computer or mixer. This means clean, high-fidelity sounds with no bleeds and feedback from the background.
Once your drum track is recorded, you can now do anything you want with it. Add some effects on it to jazz it up. Adjust the timing of your drumbeats to align better with your vocal tracks. Your drum's sound data can be recorded as a MIDI data file, so no more messing around with audio tracks. You can also opt to use the VST plugin which allows you to easily and quickly make realistic sounding drum tracks with the aid of samples and grooves performed by experienced drummers.
Using an electronic drum kit can make it that much easier to create amazing drumbeats for your audio productions.
It's easy to set up and prep
Drums can be the fussiest instrument to set up, both for gigs and studio productions. They have a lot of individual components that need a lot of time to install correctly—and once you're done with that, you have the audio quality to worry about.
You need to do a lot of back and forth testing with sound engineers to make sure everything sounds perfect. Even then, there's no assurance it'll sound the same come recording or performance time.
Electronic drums eliminate all of this. You can pre-program your electronic drum kit days before your performance. Then on game time, you just connect your kit to the sound system—and that's it! It will sound exactly as you programmed it to be.
Using this, you can also easily switch between a lot of drum kit profiles to suit the genre or style you're playing.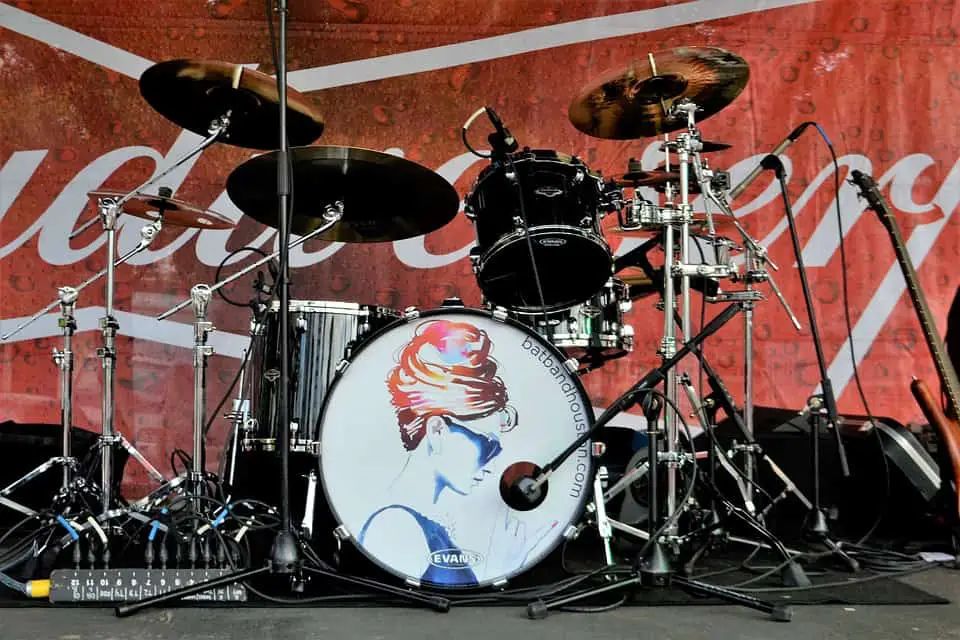 What to Look for in an Electronic Drum Set
Does it sound just the way you like it?
Your primary criteria for buying an electronic drum kit is, of course, sound quality. Different brands and models produce varying sound quality, just like acoustic drums. It all comes down to personal preference, playing style, and your primary genre. If you are looking for better sound quality, you can check out the drum machine which is a device that can recreate the sound of the drums or percussions
The most critical component that determines sound quality is definitely the drum module. This is the computer portion of your electronic drum set. It detects when the drumheads are hit and plays the appropriate sound. It's also where you load sound presets that you "assign" to each individual kit.
Usually, the pricier modules have better drum modules.
When choosing electronic drum sets, look more into the sound quality rather than the actual sound it makes. This can easily be changed with the right drum pack or preset.
The best way, of course, is to test the actual drums themselves. Try playing each kit in the set using default factory settings. Hit it loudly, then hit it softly. How does the sound quality change? Is there a noticeable difference? Is the sound produced clear and crisp?
One area you can gauge the sound quality of an electronic drum set is in the cymbals. Because cymbal sounds have a longer length, it's the heaviest for the drum module to process. If this sounds OK, chances are the other kits would, too.
Unfortunately, trying out drum sets isn't always possible, especially when shopping online. In this case, relying on reviews or this handy guide is the next best thing.
How well does it feel while playing?
The best instruments are the ones that you have a particular affinity with. Ever tried playing a different drum set and it felt… off?
Paying attention to how it feels to play a particular drum set is just as important as the sound it produces. Does it feel natural playing? Do the drumheads have a good response when you hit them? Is the characteristic vibration you look for in a drum hit present?
This is especially true with drummers who are used to an acoustic (analog) drum set.
How a drum feels is dictated by the kind of drumhead installed in the set. As previously mentioned, it comes in two primary flavors: rubber pads or mesh head.
Rubber pads are harder than mesh pads. Consequently, they tend to need a firmer hit while playing. Harder rubber pads can quickly tire your wrists out during extended play. The good thing about rubber pads, though, is they tend to be less expensive.
For the pros going for the switch, a mesh head might be a better option. This has a more natural feel that most closely resembles an acoustic drumhead. The tension can also be adjusted with a drum key to suit your preference, just like a traditional drum.
Choosing the right feel for your drums is mostly a matter of personal taste. There really is no one correct answer. Some drummers naturally prefer the softer mesh heads. Me, I'm partial to the harder pads, which no one else seems to go for. Maybe it's because I'm personally quite energetic when I play.
Using a drum set that feels right for you can give you a better experience. It also helps avoid hand fatigue, especially during longer gigs or practice sessions.
How quiet is it, really?
While electronic drum sets are inherently quiet, they are not totally silent. They usually produce a softer but consistent tapping sound with each hit. The kick pedals can also regularly produce a constant vibration. This can be tolerable or annoying to people near you.
If loudness is a concern, you should pay closer attention to the drum pads.
The quietest drumheads are the mesh drum pads. These produce a soft, acoustic sound that's not as loud as rubber pad. They're perfect for apartment playing and can be even mild enough to play at night without bothering anyone.
Rubber pads tend to have a harder surface and therefore produce a louder sound. They're usually composed of a rubber padding over a steel plate. This plate protects the sensor from getting damaged from repeated hits. Generally, the thicker the rubber pad, the quieter the sound. Acoustic drumheads are the worst offenders and can generate sound nearing that of a traditional drum.
The kick pads can also be a source of softer but lower frequency noise. This makes it a bit harder to eliminate. This is generally more of a problem if you live on a higher floor. There are a few DIY solutions to this dilemma like using thick rugs (you can take a look at how this guy did it), but the quickest way is to get a noise-canceling board such as the Roland Noise Eater.
Do you have everything you need right out of the box?
To be able to play an electronic drum set, you need quite a few components. On top of the set itself, you'd probably need drumsticks, headphones, a drum throne, and kick pedals.
It's essential that you buy a drum set that has all of these—or at the very least, know what you're getting so you can plan accordingly.
It can be a complete bummer to find a great price on a drum set, only to find it's missing a few key components. You end up spending a lot more to buy these, negating any savings you might have scored.
As a rule of thumb, most of the entry-level sets will include these. This is excellent news for beginners. Pros will usually have their own essential gear, so this is less of a concern with the more advanced electronic drums.
One thing you'll most likely need: headphones. It doesn't make sense to have a great electronic drum set without quality headphones to match. You won't be hearing the best sound possible from your equipment. Get the best headphones you can afford. Closed DJ-style headphones are fabulous for their output quality and noise cancellation capabilities.
Kick pedals are another critical component to playing your drum set effectively. For a lowdown on the best ones to buy, check out this handy guide.
Is it durable?
Drums are one of the most abused musical instruments. It is, therefore, crucial to get the sturdiest electronic drum sets you can afford.
Some brands will have more reputations for durability than others, so it pays to do your research. Generally speaking, higher-tier models from top brands like Roland or Yamaha will have pretty long lives even with daily use. Entry-level kits will usually sacrifice longevity in favor of a lower price.
An excellent way to gauge a drum's (or really, any piece of equipment's) durability is by checking the test units in actual music stores. These will usually be the most used pieces in their inventory. How is it holding up? If possible, ask the sales staff how long that unit's been out there. This will give you an idea of how much abuse a particular brand or model can stand.
How responsive is it?
Being digital equipment, electronic drum sets will usually have a lag time or latency. This is the time it takes for the electric signal to travel from the drumheads to the drum module.
The faster the latency, the less delay there is and the more responsive your drum feels.
A lot of factors go into how long this latency is. This includes how fast the signal reaches peak amplitude and how quickly the module process this data. Generally, latency time of around 5 to 12 milliseconds (ms) is considered normal, with 2 ms being lighting fast. Of course, faster equals better.
Unfortunately, there's no getting around latency (at least with today's technology). Most companies don't usually disclose the latencies of their models. The only way to get a feel is by trying it out yourself.
This is one of the main hurdles acoustic players encounter when switching to digital. The good news is that, with constant playing, your brain will be able to adapt and compensate for this.
You should also consider how closely the electric drum mimics the sound of an acoustic drum. The best ones can detect subtle variations in your technique, like how a real drum would.
Some things to watch out for:
Do the cymbals produce that characteristic crash sound?
Is there a sense of power with each drumbeat?
Is there an appropriate difference when you hit it hard vs. light?
Does it sound realistic?
Does the hi-hat respond to open and closed position playing?
Does the drum sounds create realistic resonance?
Do the cymbals respond depending on where you hit them, and do they sound realistic?
Does the kick drum have that satisfying bass sound?
Does the drum module have robust EQ settings to adjust your sound output?
Does it have proper resonance?
Final Thoughts
We've laid out some of the best electronic drum set reviews you'll find online, but still, it's hard to find a clear winner. What set you'll go for is dependent on skill level, budget, and player preference.
If we had to pick the best electronic drums, though, we'd go with the Alesis Drums Nitro Mesh Kit. This combines excellent sound quality and realistic playing experience into a compact frame. The mesh drumheads are a joy to play on, and the best part is that it's so affordable. It's one drum set we imagine would appeal well to beginners and intermediate players alike.