Welcome to our best snare drum review.
The snare drum has been around for over six centuries. It's any drummer's primary weapon, the most frequently beaten part of the drum set. Snare drums typically define the character of a drummer, and so it's important for you to have a snare drum that suits the kind of music you play—believe it or not, not all snare drums create the same tone.
Let's explore some of the top-rated snare drums available on the market today, so you can easily pick what suits your needs.
Our Top Pick for Those in a Hurry
While you have to make the final decision, we would like to recommend the Yamaha Stage custom birch snare drum. This snare drum is built to last and deliver superb sound quality. The fact that it is a product of a reputable manufacturer is also a guarantee of superior quality and top-notch performance.
Last update on 2023-11-09 / Affiliate links / Images from Amazon Product Advertising API
The Best Snare Drums Reviewed
The Yamaha Stage, our top choice, is a fantastic piece of equipment and the best on the market at this time. In fact, Yamaha is well-known for manufacturing top-notch instruments, and this snare drum is no exception. It comes with a heavy-duty birch shell and ten lugs for superb tuning and sound quality.
Key Features
14 x 5.5-inch snare
6mm-thick Birch shell
Triple-flange hoops
Patented lugs
Throw-off side
Remo heads
Lacquer finish
The birch construction on this Yamaha snare drum delivers a pleasant, warm sound of a top-quality product. The structure also produces an outstanding resonance, with a thick tone backed up with a solid punch and a satisfying snap. That's precisely what you would expect from a wooden snare drum.
This snare drum is well-built, but it remains one of the affordably-priced snare drums on the market. All of the hardware feels and looks premium. The six-ply birch on its shell is remarkable. The snare drum also comes in a variety of colors, so you can pick what suits your personality.
Its only notable downside is that it doesn't come with a muffler. Nonetheless, it offers all the features you would need in a high-quality snare drum.
Pros
High-quality construction
Great depth and snare tone
Ten lugs for fine-tuning
Elegant finish
45-degree bearing edges for unmatched sound quality
Cons
Snare doesn't have a muffler
All in all, the Yamaha Stage is an excellent buy. It comes with all the features you'll ever need in a top-quality snare drum. Additionally, it's a product of a reputable manufacturer, which guarantees you satisfaction in terms of quality of sound and durability. Its price is attractive as well.
Overall Rating 4.8/5.0
Introduced by Ludwig in 1923, the Black Beauty Brass on Brass snare has evolved to be one of the most popular snares in the music industry. This snare drum is a seamless single-piece brass drum coated in black nickel to deliver the best sensitivity and projection.
Key Features
14 x 5-inch snare
2mmm-thick seamless brass shell
P35P Butt Plate
P88AC Throw Off
3mm steel triple-flanged hoops
Black nickel finish
Ten lugs
The nickel-coated seamless brass shell construction delivers an unparalleled warm sound. This snare drum has a 14-inch diameter and 5-inch depth. Its die-cast hoops offer a focused tone and can produce resounding rim shots and sharp cross-stick sounds.
Other remarkable features include a P85 Supra-Phonic trigger and a 2.3 mm triple mire circle. It also has ten lugs for proper tuning. The Black Beauty has outstanding response whatever the volume. However, it's quite expensive and may not be a great option if you have a tight budget.
Pros
Durable construction
User-friendly
Lightweight
Cons
A true American original, the Ludwig LB416 Black Beauty is an excellent option if you want a high-quality snare drum that delivers an unmatched warm, round metallic tone. This classic snare drum has exceptional sensitivity at all volumes, but you'll have to dig deeper into your pocket to enjoy its awesomeness.
Overall Rating 4.8/5.0
Here's another legendary snare drum from Ludwig. The Ludwig Supraphonic has graced numerous hit records since the '60s. It features a chrome-plated aluminum shell, delivering a cavernous tone with a crisp attack. It boasts an elegant look, thanks to its imperial lugs.
Key Features
14 x 6.5-inch diameter and depth
Aluminum shell
Chrome-plated, seamless beaded shell construction
Imperial lugs
Chrome finish
The seamless aluminum shell of this snare drum delivers a dry but impressively sensitive tone. It boasts an impressive frequency balance across the range. What's more, it sounds excellent, whatever the volume.
This snare drum is suitable for any style of music. Whether you're performing on stage or using it in the studio, the sound is incredible. It is also built to stand the test of time and features heavy-duty chrome hardware, in addition to ten classic imperial lugs for reliable tuning. Its only shortcoming is the high price. Nonetheless, it's worth the money.
Pros
Ideal for all music styles
Exceptionally crisp and dry
Broad tuning range
Cons
The Ludwig Supraphonic snare drum is a reliable option for any drummer looking for a top-quality snare that sounds incredible and delivers amazingly high performance. With a smooth shell and classy imperial lugs, this snare drum can be used on any style of music with fantastic results.
Overall Rating 4.8/5.0
The Mapex Black Panther series of snare drums are known for their superb build quality and loads of projection at a competitive price—and the Sledgehammer is no exception. The Mapex Black Panther Sledgehammer sounds incredible across a wide range of tuning, especially when you tune it up high.
Key Features
14 x 6.5-inch snare
2mm thick hand-hammered brass shell
45-degree bearing edge
Cylinder-drive strainer
Sonic Saver hoops
Piston-style throw-off
Premium steel snare wires
Remo drum heads
With 14-inch diameter and 6.5-inch depth, the Mapex Black Panther drum is built from a 1.2mm-thick hammered-brass shell that can slice through the heavy sound walls. What's more, it has ten elegant-looking tube lugs and Mapex's Sonic Saver hoops complemented with a corresponding brass finish.
This drum delivers a uniquely focused and bright pitch in addition to a balanced tone. It boasts a sharp attack and offers incredible and aggressive rims shots, which are pleasant to play. The hammered-brass shell helps the Sledgehammer to produce a great level of low frequencies and pinging, high frequencies.
While it is perfect for rock and metal, it also boasts sufficient responsiveness and dynamics to handle pop and blues. However, it may not be suitable for other styles of music.
Pros
Heavy-duty construction
Colossal power and attack
Sonically and visually attractive
Aggressive rimshots
Cons
Not ideal for all music genres
The distinctive sound may not suit all tastes
Overall, the Mapex Black Panther Sledgehammer is a fantastic quality product with an amazing look, sound, and price tag. You can tune it low or high, and it will still sound incredible. It's a great choice if you play rock or metal.
Overall Rating 4.7/5.0
The Tama S.L.P. G-Bubinga is arguably one of the best snare drums that Tama has ever made. It is a 14 x 6-inch twelve-ply snare with a 10mm-thick shell made of Bubinga, a premium quality wood. This is a heavy-duty wood construction that is perfect for music styles that require power.
Key Features
14 x 6-inch snare drum
Twelve-ply/10mm-thick Bubinga shell
3mm triple-flanged steel Mighty Hoops
Twenty-strand Starclassic snare wires
Ten-hole design for reliable tuning
The twelve-ply Bubinga construction results in a shell with a wide frequency response and massive power. The sound is very dry, making Tama S.L.P. G-Bubinga an ideal snare drum for recording in the studio. The quilted Bubinga outer ply, accentuated with black nickel hardware gives the drum an impressive look.
Another outstanding feature of this snare is the ten-hole, 2.3mm steel Mighty Hoops, which help to optimize tuning stability as well as deliver a flat, focused attack. This professional-standard snare drum can work well for a variety of music styles.
It's worth noting that this is a limited edition snare drum, hence only a few units are produced each year.
Pros
Heavy-duty construction
High-quality steel hoop
Great sound quality
Cons
Only a few units available
The SLP G-Bubinga snare drum is an excellent option for any drummer looking for a performance-ready unit with a unique design and an incredibly punchy sound. While it is recommended for music styles like rock, pop, and R&B, it's an all-round snare that can deliver impressive results for any music genre.
Overall Rating 4.7/5.0
Here's another excellent snare drum from the Mapex Black Panther series. If you are looking for an affordable, elegant-looking snare drum with warm, dry, and loud sound, the Mapex BPML3700LNWU Black Panther would be a great choice for you.
Key Features
13 x 7-inch snare drum
Sonic Saver hoops
Cylinder-drive strainer
45-degree center-cut bearing edge
Transparent walnut burst
Warm, dry, loud sound
Brushed nickel finish
The most outstanding feature of this snare drum is that it utilizes a special Cylinder-Drive strainer that has self-lubricating bearings. This ensures that you always get a gratifying drumming experience.
Another remarkable feature of Mapex BPML3700LNWU is the Sonic Saver hoops. These offer a tremendous boost to the instrument's overall performance. Also worthy of note is the Micro-Lock which` allows for ultimate control.
Pros
Cutting-edge features
Durable construction
Remarkable performance
Unique outward look
Affordably priced
Cons
The Mapex BPML3700LNWU Black Panther has unique features that put it above its competitors, such as the state-of-the-art cylinder-drive strainer. If you are looking for an affordable snare drum with incredible performance, you can't go wrong with this one.
Overall Rating 4.7/5.0
According to Pearl, their Limited Edition products are produced with top-notch craftsmanship and are enriched with exclusive finishes and shell compositions. The limited-edition Philharmonic snare drum is no different. If you want great depth, tone, and projection, then you should try this snare drum.
Key Features
14 x 5.0-inch snare drum
STL Tube lugs
Die-cast rims
Vintage snare beads
SR500 triad strainer
Twenty-ply blended shell construction (Tamo Ash, Maple, Birch)
7mm-thick shell
45-degree bearing edge
Twilight fade lacquer finish
The design of this snare drum is superb in all aspects. It delivers superior durability, top-grade performance and boasts an attractive look, thanks to the vintage snare beds.
Additionally, the Twilight Fade finish ensures the drum leaves a lasting impression to whoever sees it. However, it may not be a great option if you're looking for something affordable. It's quite expensive.
Pros
One of the most attractive snare drums on the market
Lovely, vintage, outlook
High level of performance
Robust construction
Cons
The Pearl PHTRF1450/C Limited Edition Philharmonic is a premium-quality snare drum built by one of the leading manufacturers in the industry. It's an outstanding choice for professional stage performance with a crisp, dynamic drum. While it's a bit expensive, it's certainly worth the money.
Overall Rating 4.7/5.0
If you're looking for a snare drum that can support all music styles, the Griffin Black Hickory Wood is another product you should consider. The product is designed to match all styles of music, including rock, funk, metal, and gospel.
Key Features
14 x 5.5-inch snare drum
Ten-strand snare wire
Eight lugs
5mm-thick Black Hickory shell
Chrome finish
The Black Hickory wood construction of this snare is accentuated by a simple, high-gloss finish, giving it a classy touch. With a 14-inch diameter and 5.5-inch depth, the snare is perfect for beginning drummers and growing professionals.
It features a smooth and quiet throw off, which promotes a faultless operation. This also gives you the ability to mute, loosen, or tighten the snares depending on your preference.
In addition, the Black Hickory snare drum comes with a drum key and eight robust tuning lugs. With the tuning lugs, you can get a stable sound and great sonic quality. However, you'll have to purchase a stand and drumsticks separately.
Pros
Warm and punchy sound
High-quality construction
Striking glossy finish
Cons
Doesn't come with a stand
Combined with quality craftsmanship and elegant design, the Griffin Black Hickory snare drum can be a great asset for your drum set, especially if you are just getting started. Besides offering brilliant and powerful sound, it is built to last, and you can use it for years in various situations in your music career.
Overall Rating 4.6/5.0
The first thing you might notice about the Spaun acrylic vented snare drum is its look. It is unique. However, it's not only about aesthetics. It also produces loud and focused notes that surpass the surrounding noises.
Key Features
13 x 5.5-inch snare drum
45-degree bearing edge
Loud, cracking attack
Acrylic shell finish
The most outstanding feature of this snare drum is the large air vents in the acrylic shell, which give an awesome projection. The snare drum's acrylic shell is lighter and more rigid compared to a traditional wooden shell.
This type of shell normally delivers a sharper, brighter response compared to other material likes metal and fiberglass. The lugs are round, giving the drum a stunning look that helps you stand out from fellow drummers. The only notable downside of this snare drum is that it's hard to find.
Pros
Excellent craftsmanship and unique finish
Loud and focused notes
Durable
Lightweight and highly portable
A unique sound that stands out from the crowd
Cons
The Spaun acrylic vented drum is a great investment for anyone looking for a snare that can be controlled to deliver a detailed and serious sound that stands out from the crowd. It is a beautiful, high-quality drum with a unique voice.
Overall Rating 4.6/5.0
If you're just getting started and looking for budget-friendly snare drums, you should consider the GP Percussion SK22 Complete Student Snare Drum Kit. This snare drum is specially designed to help beginners learn the basics of drum playing. It comes with all the accessories you need to start playing.
Key Features
Ten-lug 14 x 5.5-inch snare drum
Double brace stand
Drum key and nylon bag
Drumsticks and practice pad
The SK22 is made of metal. That means it doesn't produce the same warm sounds you would get from a conventional wooden snare. It comes with ten lugs for fine-tuning.
It also comes with a double-braced stand, in addition to a nylon carrying bag for enhanced portability. As a student, you can easily carry the snare drum to and from your lessons. The bag is also great for keeping the drum during travel or when not in use to ensure its safety.
You'll also get a practice pad to ensure you don't annoy others during your practice and drumsticks—everything you need to get started and then some. While this snare drum may not be a good choice for an experienced drummer, it is an excellent starting point for a newbie.
Pros
Standard size
Plenty of extras
Ideal for new drummers to learn on
Very affordable
Cons
Not ideal for experienced drummers
Metal construction
Overall, the GP Percussion SK22 is a great starting point for anyone looking to learn the basics of drum playing. The kit offers impressive value for money with extras such as drumsticks, practice pad, and carrying bag. However, it might not work well for an experienced drummer.
Overall Rating 4.5/5.0
If you're looking to learn the basics of drum playing or you're buying for your child, the Mendini by Cecilio Student drum could be a great option. As the name suggests, this snare drum is specially designed for learners and the drummers on a tight budget. It comes with easy to assemble, superior components.
Key Features
14 x 5.5-inches
Design for students
Ten lugs
Rubber practice pad for quiet practice
Adjustable 25- 30-inch stand
Extras drumsticks, adjustable neck strap, and gig bag
While it is exceptionally cheap for a snare drum, this Mendini by Cecilio snare drum can do everything that you want it to. It also comes with a carrying case and a stand. The sound is impressive as well.
Unlike most budget snare drums, it won't fall out of tune within a few minutes of playing. Despite the low price, you're getting something well-built and durable. However, you may need someone with experience to set it up for you for the best performance.
Pros
Best value snare drum
Excellent sound
Well-built
Remarkably cheap
You can practice anywhere, thanks to the rubber padding
Cons
The stand is quite heavy to carry around
Can be difficult to set up for a newbie
Gigbag not of the best quality
The Mendini by Cecilio Student snare drum is a great option for someone on a tight budget. It can also make a good choice if you want something to practice on as a non-primary instrument. It is well-built, sounds excellent, and is fairly priced.
Overall Rating 4.5/5.0
Finally, we have a cheap yet well-built option from Mapex Drums. The MPX Maple snare drum may not be as great as the higher-end Mapex snare drums like the Black Panther Sledgehammer, but it delivers incredible performance despite its price range.
Key Features
100% 5.1mm maple shell
Chrome-plated lugs
Chrome-plated triple-flanged hoops
Twenty-strand snare wire
Gloss finish
Remo drumheads
This snare drum features a 5.1mm-thick shell made entirely of maple, one of the best woods for this kind of drum. The shell provides a warm tone, with a resonant and open sound.
The MPX delivers a clear attack and projection. The performance in the mid-high tuning range is especially impressive. The glossy ebony finish accentuated with chrome-plated lugs and chrome-plated triple-flanged hoops give the drum a deluxe touch.
Also worthy of note is the twenty-strand snare wire and Remo heads, which deliver loads of crack for hard backbeats. The snare drum also comes with ten lugs for reliable tuning.
Pros
Genuine maple shell
Affordably priced
Well-built
Great crack from snares
Cons
Doesn't have the quality of higher-end snares
Overall, the Mapex MPX maple snare is an excellent choice for an intermediate level drummers. Its 100% maple shell provides a great performance across the board. It is built to deliver reliable performance at a really pocket-friendly price.
Overall Rating 4.5/5.0
Buying Guide How to Choose the Best Snare Drum
Shopping for a snare drum can be a challenging endeavor. Every manufacturer claims to offer the best model and promises you won't be disappointed if you purchase theirs. To avoid getting a sub-par model, there are a few things you should know about snare drums. This information will also help you choose one that's best for you. If you're looking for a electronic drum that combines both excellent sound quality and realistic playing experience, check out this amazing drum set.
So, what are the most important factors to consider when looking for the best snare drum?
The Purpose of the Snare Drum
Your first consideration should be what you plan to use the instrument for. If you're a professional drummer, for example, you would want to purchase a robust and solidly built snare drum. Due to the kind of beating the snare drum is subjected to, you need something that can bear up to your tight performance schedule and stand the test of time while at it.
Conversely, if you are just getting started with snare drumming, you can go for an entry-level snare drum. This will help you learn the basics before you can upgrade to a better model later on.
The Type of Snare Drum
There are several different snare drums, each designed for a different application. Each type has a unique sound, feel, and sometimes, appearance. Let's explore some of the common types of snare drums you can find on the market today.
Drum kit snare drum – This is the common type of snare drum among contemporary drummers. It can be used for virtually every style of music. As the name implies, these types of snares are made to be part of a drum kit, and they usually have a 14-inch diameter and 5 to 8-inch depth.
Concert snare drum – While it's often similar to its drum kit counterpart, the concert snare drum is suited for percussive/orchestral applications. That could mean different snare wires, tuning, or drum heads.
Marching snare drum – These types of snare drums typically have a greater depth compared to their drum kit and concert counterparts. They can have a depth of up to 12 inches, but the diameter is usually about 14 inches. Marching snare drums are customarily found in marching ensembles.
Pipe band snare drum – Pipe band snare drums are known for their unique sound, exceptionally high pitch, and an incredibly short attack. While they are quite similar to marching snare drums, they usually have an extra set of snare wires, which are responsible for the unique sound.
Piccolo snare drum – Piccolo snare drums are quite similar to drum kit snare drums. However, they have a much shallower depth, usually as low as 3 inches. Consequently, they have a higher pitch and a brighter attack.
Soprano snare drum – These drums lie somewhere in between piccolo snares and drum kit snares. However, they sometimes come with smaller diameters. They have a higher pitch with a somewhat full, colorful dynamic.
These are the major types of snare drums available on the market today. There's a high chance you'll for what you are looking for among them.
Snare Drum Sound
The sound you want is another important factor to consider when shopping for any musical instrument. Whether it is a beginner banjo, a quality accordion, or an acoustic-electric guitar, it is imperative that you base your shopping on the kind of sound you want to achieve.
Shopping for snare drums is no different. Different snare drums produce different sounds. Therefore, you can choose from a warm, flat, high, open, or rounded sound.
The sound a drum produces depends largely on the material from which it is made. Different materials affect the nuance and flavor of sound in different ways. This takes us to the next factor to keep in mind when choosing a snare drum.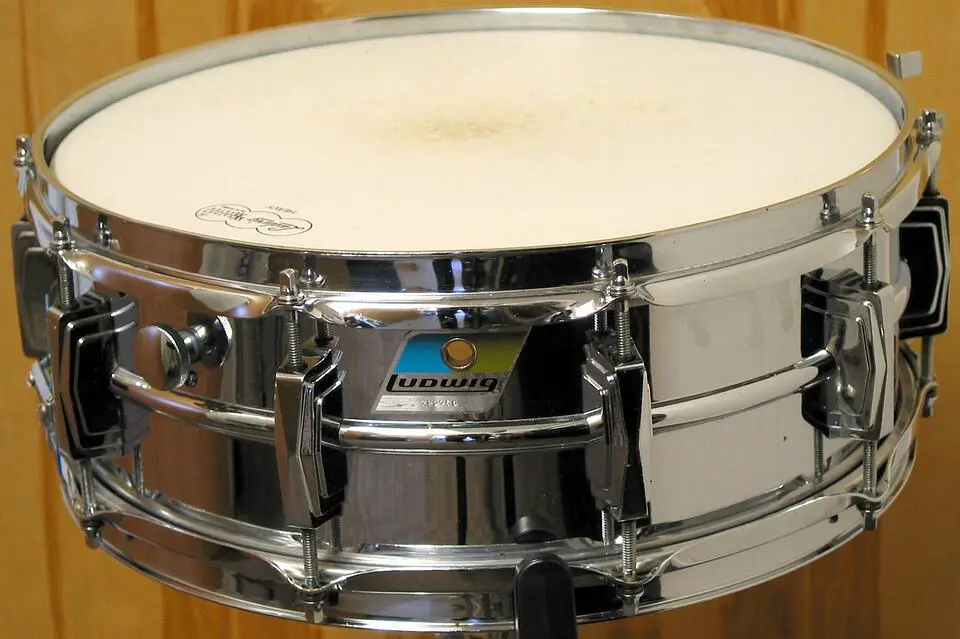 Shell Material
The material a snare drum is made of can make a significant difference to the sound. Most snare drums are wood or metal. However, there are other materials like acrylic.
Here's a look at some of the most common materials to choose from
Wood
Wood snare drums include those made of
Birch – Birch is known for its superb projection, occasioned by good low-end projection and notable, crystal-clear treble. Birchwood snare drums also boast loads of attack, perfect for more aggressive music styles.
Maple – Maple shells are somewhat better-rounded than birch. However, they still have an impressive bass response. The sound is clear and balanced.
Beech – This hardwood delivers a balanced tone quite similar to maple. However, it has a slight mid-boost and a heightened low-end. It's an ideal choice if you want a super-flat snare sound.
Mahogany – Mahogany shells can be a great choice if you're looking for a vintage sound. This wood is popular for a rich warmth and resonance in the bass as well as low-mid frequencies.
Poplar – This softwood produces a sound similar to Mahogany. However, some of the bass is replaced with more top-end.
Metal
The most common metals used for making snare drum shells include
Brass – This is the earliest metal to be used in snare drum construction. It is known for accentuated top-end with some bass or low-mid warmth.
Aluminum – If you want a sharp, dry sound with a sparkly treble response, you can't go wrong with an aluminum shell. It has the capacity to cut through virtually any mix.
Steel – Steel offers more treble compared to aluminum. Besides being a great choice for boosted mids, it also delivers enhanced sustain and presence. It is quite pocket-friendly as well.
Copper – This metal delivers a darker, more rounded sound with minimal emphasis on top-end. It's characterized by a warmer response in the mids and bass. It's commonly used in orchestral ensembles.
Bronze – Bronze is characterized by a mild low-end boost with a warm midrange. The attack is somewhat less focused.
Besides wood and metal, there are several other materials used in snare drum construction. However, these materials are rare to find on the market today. They include the following
Carbon fiber – Carbon snare drums are known for their unique look that delivers a U-shape EQ curve. They make a great choice for emphasized bass and treble.
Acrylic – If you want a dry, punchy sound with excellent projection, you can't go wrong with an acrylic snare drum.
Stone – The best thing about stone shells is that they can be made very thin, thanks to their strength. Such construction delivers a low pitch and enhanced resonance and sensitivity.
Glass – Glass shells have virtually the same characteristics as their stone counterparts.
Hemp – If you want a dry and warmer sound, you should consider hemp snare drums. The sound is similar to what you would get from a conventional wood snare drum.
Hybrid-material Snare Drums
Some snare drums are composed of several different materials, to produce a very unique sound from the individual components. One of the most popular hybrid-material snare drums is found in those featuring a blend of metal and wood in their shell construction. The shell is typically divided horizontally into three parts.
The top and bottom parts of the snare drum are made of metal. Then, a band of wood is sandwiched between the metal parts. The result is the attack and projection of the metal and the body and warmth of the wood.
Another common type of hybrid snare drum is one that features wood on the edges and a band of acrylic sandwiched between them. The acrylic helps to dry the sound, making your drum punchier. It also adds an elegant touch to the drum.
It's worth noting that finding hybrid-material snare drums is not easy. However, there are several companies out there that can custom-make a snare drum according to your specifications. Also keep in mind that the more unique the shell material is, the more expensive the snare drum will be.
That's normally because companies haven't set up mass production systems to produce the drums as cost-efficiently as the more ordinary woods and metals. Moreover, you'll be paying for the exclusivity of having a product and sound that only a few people can get.
Shell Rigidity
Another factor that affects the way a snare drum projects sound is the rigidity of its shell. The best shell should be dense and hard. Otherwise, it might cave in around the edge when you're tightening your drum's hardware.
An effective way to test the rigidity of a metal or a wooden shell is to place in on the floor and push down on it while checking how it bends. Wooden shells usually are more rigid compared to the metal ones.
Shell Thickness
The construction of a shell will affect how the sound resonates and projects. It is essential to balance the shell rigidity and thickness to get the best performance. For example, a 1/4-inch-thick shell is less rigid compared to a 5/16-inch shell.
However, the former is more sensitive than the latter. This is the same reason it's advisable to avoid shells that have reinforcing rings along the internal edges as they deliver less sensitivity. You should, instead, choose a shell that has been twisted before the edges are glued.
This kind of construction enhances structural integrity without dampening the sound. Generally, you should go for 1/4-inch thick shells that don't have reinforcing rings.
Overall Snare Drum Size
Snare drums come in small, medium, and large sizes. The size you choose will depend on the amount of the surface area you will be hitting with your drumsticks. Nonetheless, bigger doesn't always translate to better.
If you are looking to get a higher pitched sound and a more accurate beat, you want to go for a smaller snare drum. While a large-sized snare drum will give you more room, it will usually result in longer tones.
Generally, the size of the snare you choose depends on your preferred sound and how much space you want to work with. You also want to think about storage and transportation needs when selecting a snare drum size.
Snare Wires
Snare wires are one of the most overlooked components of a snare drum, and generally of the entire drum kit. Very few drummers really understand and care about them. Here's a look at some of the things you should know about snare wires to avoid getting an undesired performance from your instrument.
To begin with, you should understand the two dominant sound altering factors of a snare drum
The number of wires – these are usually 16, 20, 24, or 30.
The thickness of the wires – You should choose a thinner wire for more sensitivity
According to research done by Puresound Percussion, one of the leading players in the industry, here are some facts about the number of snare wires.
16 strands deliver about 50% snare sound and 50% drum shell sound
20 strands deliver more snare sound as opposed to the drum sound
The snare sound increases with an increase in the number of strands
What all this means is that the more and thinner wires, the more sensitive your snare drum will be. Therefore, if you play jazz and are looking for a highly sensitive snare drum that can respond to the slightest brush movement, consider choosing thin strands.
Conversely, if you are a heavy hitter and looking for a snare that can bear up to the harshest of hits, thicker strands would be a perfect choice for you.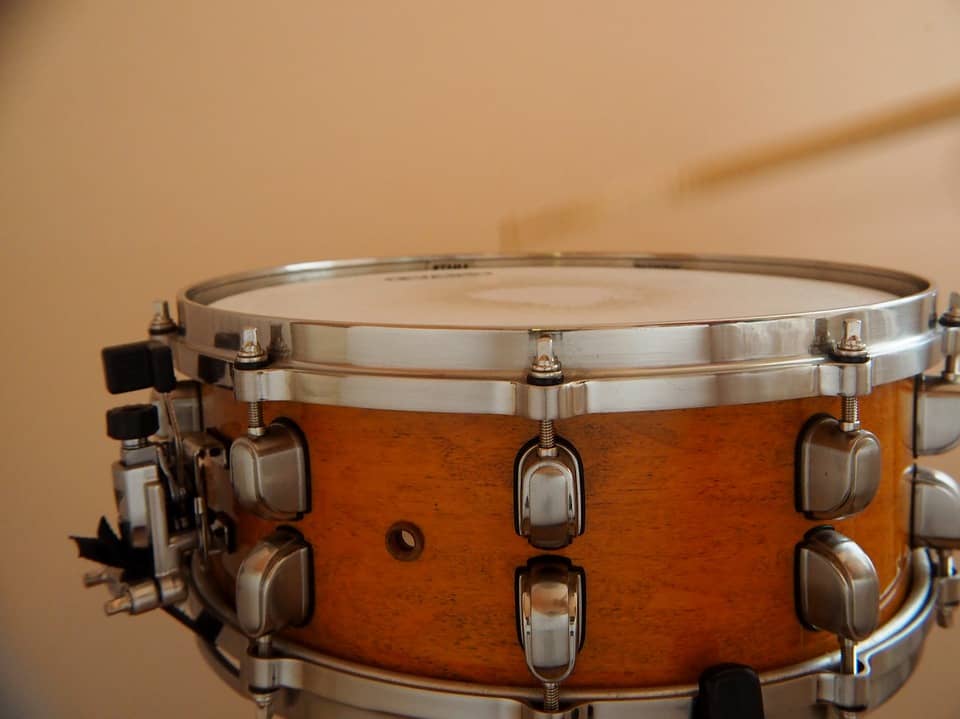 Budget and durability
Snare drums are available in a wide range of price points. If you can't afford or don't want a high-end snare, you can easily find a good beginner snare drum under $500. While it's true that many snare drums are costly, there are models that can deliver satisfactory performance without straining your budget.
However, you should be careful not to sacrifice durability for the price. Even if you're going for snare drum on the lower end of the market, be sure its construction and materials can stand the test of time.
Warranties
Whenever you invest in any music instrument, it is important to make sure the product comes with a good manufacturer's warranty. The warranty should be at least one year, covering defects. Depending on where you purchase your snare drum, some dealers will also provide extended warranty service on top of the manufacturer's warranty.
However, keep in mind that some extended warranties won't be of much help when it comes to certain damages. Do your research well before you make a purchase.
Brand
While the brand should be given the least attention when choosing a snare drum, its significance should also not be disregarded. Popular brands frequently offer the best quality products. They are known to use high-quality materials, and some can even offer products that fit your specific preferences and budget.
Here's a look at some of the most popular snare drum brands on the market today
Tama – Tama is known to have some of the best beginner and professional drum models. Their drums and hardware are marketed and manufactured by Hoshino Gakki, a premier musical instrument company based in Japan. It's worth noting that the brand's hardware and budget drums are produced in China.
Some of the brand's popular models include the ones in the STAR, Warlord Collection, and SLP series. In addition to making drums, Tama also offers stands, pedals, thrones, and multi-clamps, among other musical equipment.
Ludwig – One of the leading percussion instrument manufacturers in the United States, Ludwig started to gain popularity in the 1960s following the endorsement of Ringo Starr, the Beatles' drummer. However, the company's first product, Ludwig Bass Drum Pedal, was introduced to the market in 1909.
About 11 years later, Ludwig launched their Black Beauty snare drum line, which ended up to be the most sought after snare drums in the recording industry. The Gold Triumphal Snare Drum was also introduced in the 1920s. In 1964, the company introduced the Ludwig 400 Supra-Phonic snare drum, a model that has remained, to date, one of the most treasured in this series.
Pork Pie – Founded in 1987 by Bill Detamore, Pork Pie is another leading drum manufacturer. They offer not only snare drums, but also a wide range of services that include drum restoration, refinishing, and customization. Detamore was an experienced drum customizer, having done customizing for renowned brands such as Van Halen, Fleetwood Mac, as well as Guns N' Roses.
Some of the recent introductions by the company include the Piglite acrylic series, the Big Black Brass snare drums, and the Little Squealer series. Besides snare drums, the Little Squealer line also includes four-piece drum sets and four assorted snare drums.
Griffin – This brand offers a wide range of musical products. It is known in the industry as the provider of premium quality products that suit the different needs of a musician. Not only their snare drums, but also their drum hardware, stands, and other musical accessories are built to last and serve many musical applications.
You can also get piano seats and benches from the company. Some of Griffin's most successful drums include the Piccolo Snare Drum, Popcorn Snare Drum, Firecracker Snare Drum, and Wood Shell Snare Drum.
Griffin drums are made from quality materials and feature tuning lugs, which allow drummers to enjoy different nuances of tones and attacks.
Mapex Drums – Founded in 1989, Mapex Drums is a Taiwanese drum company that offers snare drums, drums sets, drum hardware, and other musical accessories. They craft drums for all skill levels and applications. Its products include seven different drums lines, which include Orion, Saturn, Meridian Maple, Meridian Birch, as well as the Horizon and Voyager Series.
It's worth noting that the Taiwan-based KHS Musical Instruments Company makes Mapex snares. Mapex Drums is also known and respected for their Black Panther snare drums, Tornado starter kits, and Falcon pedal. The brand has also created MyDentity, a line of exclusive drums for intermediate and growing professional drummers that offer a high level of customization, which you generally only find in high-end drums.
Final Thoughts
Snare drums are an integral component of a drum set and must be chosen carefully. You should take enough time to find a perfect fit when searching for the right snare drum for your needs. Besides considering the factors listed above, also capitalize on recommendations from trusted individuals.
You want to choose a snare drum that not only suits your drum playing needs but also fits your budget. However, you should not sacrifice quality for the price. If you're looking for slightly cheaper options that still stack up in terms of quality, check out this guide.
The snare drums reviewed in this article are some of the best on the market to date. We especially recommend the Yamaha Stage custom birch snare drum. Besides being a product of a reputable manufacturer, this snare drum comes with all the features you could ever need in a premium quality snare drum. It's also affordable for its features. All in all, we hope this review helps you find the right drum your needs.