There are plenty of reasons to pick up an electronic drum kit. If you're in an apartment building and don't want to annoy your neighbors, you can simply plug in a pair of headphones and everyone is happy. They're great for quickly recording decent quality drum sounds, and some of the higher end kits are even gig-worthy if you have the right amp.
With that said, we will be breaking down the pro's and con's of one of the best value beginner / low intermediate electronic drum kits, the Alesis Nitro Mesh Electronic drum kit. This is certainly one of the best (if not the best) edrum kits in the under $500 price range. It comes with mesh heads that emulate the feel of real drums, 385 different drum sounds packed into 40 different kits, an above average module for the price you pay, decent durability, and to top everything off the package includes practically everything you need to start playing right out of the box (you'll just need a drum throne).
Great value for the price you pay

Good sound and dynamic response

40 different kits, 60 play along tracks, 385 sounds, and USB/MIDI connections

Includes everything needed to play right out of the box

Dum pads smaller than acoustic drums
What's Included
The Nitro mesh kit comes with:
6″ rubber kick pad
8″ dual zone mesh snare drum pad (dual zone allows rimshot sounds to be played on the snare)
three 8″ mesh tom drum pads
10″ crash cymbal pad w/choke
10″ ride cymbal pad
10″ hi-hat cymbal pad
Kick and hi-hat pedals
Alesis drum module
60 play-along tracks
USB & MIDI connections
Drum sticks
Headphones (optional, can be added but will cost more)
What We Liked
Mesh Heads
One of the main con's of early electric drum kits was that the rubber pads didn't feel like real drums. The rebound and texture didn't have the same response as an acoustic kit, which honestly made edrums not as much fun to play. Mesh heads totally changed that, and brought the feeling of electric drum pads much closer to the feel of an actual acoustic drum. There is still a difference obviously, but it's much more subtle. I've played plenty of electronic drum sets (currently rocking the Roland td30-KV) and can say that the mesh heads technology has drastically increased their playability.
The Actual Sound
The sounds on the alesis nitro mesh module are above average for it's price range. Overall the sounds are decent, and unless you're planning to play gigs or record professional quality drum tracks, the kit should be more than enough. For practicing, jamming with some friends, and even basic recordings (thinking scratch tracks or a rough demo/EP), the Alesis Nitro will get the job done. Overall the sound you get from the alesis nitro is good.
The full Alesis Nitro Kit and voice list includes 40 kits and 385 sounds, however 16 of these kits (the first 16 in the list) are also default user kits. This means they're the same as the preset kits with the option to interchange individual sounds. The kits cover a range of different genres, including:
General/All Purpose (Acoustic, Standard 1, Standard 2)
Rock (Rock, Pop Rock, Room)
Jazz (Jazz, Brush, Jazz brush)
Funk/Fusion (Funk 1, Funk 2, Fusion)
Dance (Disco, HipHop, Electron1, Electron2, Techno1)
Latin/Other (Latin, Songo, Timpani)
Compact Design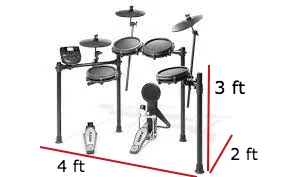 The Alesis Nitro is about 4 feet wide, 3 feet tall and 2 feet deep when set up, so you should have no problem finding space for it in whatever setup you have. It collapses even smaller if you're storing or transporting, so it's super mobile friendly. The Alesis nitro is perfect for smaller apartment spaces and for people who want an electric kit to take on the road. It can be a bit short for taller drummers, so you might have to adjust your throne height or find a platform to boost the entire height of the drum kit. If you have a larger home studio and want a larger kit, I would check out the Roland TD30 instead.
Customization
The Alesis Nitro module comes with the ability to adjust most of the backend settings to optimize performance. You can customize the:
Sensitivity – Increasing the sensitivity will make the output volume change more drastically with smaller changes in the force used to strike the drum pad.
Velocity Curve – This is similar to sensitivity, but here you can actually adjust the shape of the velocity or dynamic curve. Acoustic drums don't usually follow a linear curve (i.e. they don't just continually get louder and louder at the same rate as you hit them harder, they tend to taper off as you reach a certain volume). You can adjust the curve to complement your playing style, making the output volume less sensitive to mid-level strikes if you're a heavy hitter, or more sensitive if you tend to play lighter:
Rim/Hi-Hat Sensitivity – You can adjust the sensitivity of just the snare rim or hi-hats to give more or less depth specifically to these drum triggers.
Threshold – You can adjust the minimum value that is needed to produce sound from the kit.
No Delay or Input Lag Issues
A common issue among lower end electronic drum kits is input lag. As you may know, edrum pads are really just triggers. When you strike them, a signal is sent to the module which then plays the corresponding sound through your headphones or whatever output device you're using. If the electronics used to build the kit aren't robust, there is sometimes a noticeable delay between when you hit the pad and when you actually hear the output.
Happy to say we did not encounter this issue with the Alesis nitro mesh kit.
Dynamic Response
As you hit an acoustic drum with more velocity, the volume of the sound emitted increases. Since electronic drums work based off triggers, this effect has to be artificially created by scaling the volume of the output signal to the velocity that the trigger was hit. The Alesis nitro has a surprisingly good dynamic response, picking up subtle changes in velocity from extremely light taps all the way to heavy hits. This means your playing will sound similar to an acoustic kit, as opposed to other electronic kits which can sound robotic and monotone due to the lack of dynamic fluctuations.
All Inclusive, Ready to Play
Assuming you have you're own drum throne, all you have to do is order and you're got everything you need to start playing. All hardware, which is pretty durable for an under $500 kit by the way, drum and cymbal pads, pedals, module, power cords, and even a pair of drum sticks are included. Headphones can be included but will cost a bit extra (if you're looking for the best headphones for electronic drums, check out this list).
What We Didn't Like
Drum Pad Size
We wrote a lot about how the mesh heads help improve the feel of the alesis nitro mesh drums relative to actual acoustic drums. While the rebound and texture of the mesh certainly feels great, the size of the drums is smaller than what you'll find on acoustic drums. This is actually a good thing for practicing, as it trains you to be more precise with strikes, however from a feel perspective it can take away from the feeling of playing something like an acoustic drum. Note that there is an alesis surge mesh option that is slightly more expensive but comes with larger drum pads.
Dual Zone on Snare Only
You've undoubtedly realized that hitting different parts of an acoustic drum produces different sounds. Striking the rim of the snare or the bell of the ride, for example, are common techniques drummers use to add some variety to their playing. Electronic drums try to emulate this with a technology called dual zone. Dual zone allows the drum pad to trigger two different sounds, depending on where you hit it. Higher end kits have dual or even triple zone pads on all drums and cymbals. The Alesis only has a dual zone snare, the rest of the drums will produce one sound no matter where they are hit. This decreases the versatility and likeness to an acoustic kit. We will say that you won't find extensive dual zone on any kits of this price range, so this isn't really a surprise.
No Sound Uploading
A minor thing, but the Alesis does not support uploading custom drum sounds to create new kits and combinations.
Conclusion
If you're looking for a beginner level electronic drum kit, the Alesis is one of the best on the market. Check out other alesis nitro mesh kit reviews and you'll see that it is commonly regarded as an amazing kit. Whether you're looking for a nice practice kit that you can set up in an apartment without annoying half the block, a kit that you can easily record decent quality drum tracks, or a great intro drum kit that comes complete with play along tracks, the Alesis Nitro Mesh Kit is perfect for what you're looking for.