Getting the best drum machine is as easy as picking the best burger in the city—which is to say, it's not easy at all! There are lots of features and specs you need to consider. This is especially problematic for newbies, who just "want to press a button to produce drum sounds!"
If that sounds like you, we're ready to help! We've rounded up eleven of the best drum machines on the market right now. We cover everything from budget options to pro-level studio gear. We also added a handy buying guide to demystify some of the confusing info about drum machines out there.
Our Top Choice

If you're in a hurry and just need an answer, our top pick would be the Roland AIRA TR-8S. It has the trademark sound quality of Roland, combined with sound samples from other iconic drum machines.
The Best Drum Machines Reviewed
Last update on 2023-08-30 / Affiliate links / Images from Amazon Product Advertising API
The budget-friendly Alesis SR-16 is one of the best beginner drum machines you can get.
Key Features
233 built-in sounds with 50 presets and drum kits
12 velocity-sensitive pads with Dynamic Articulation
Seamless MIDI connectivity
Alesis Dynamic Articulation for realistic drum tonal sounds
4 stereo pair outputs with 2-function footswitch
Production-ready with sound stacking, step editing, and stereo samples
What We Like
This is one of the best value drum machines you can get. It has everything a beginner might need, including 233 drum sounds from punk rock to metal. The drum sample sounds are fantastic—not at all what you would expect from a product below $200.
This is particularly of great use to a solo performer. We've been using it for the past 2 years, and durability wise, it's reliable. With 50 slots, you also have the flexibility to make all the beats you want. The pads are responsive and well-made too.
What We Didn't Like
Alesis customer support isn't the greatest in the world. Granted, with this model's durability, you probably won't ever need to contact them, but it is worth noting.
Pros
Amazing budget price
Classic analog sound in a modern package
Over 233 built-in sounds gives you plenty of genre flexibility
Easy to use for beginners
Cons
Poor customer support if ever something goes wrong
The Alesis SR-16 is a beginner's dream. It's powerful features and solid sound make it an easy choice for the best cheap drum machine. This is perfect for solo performers or aspiring music producers, or as a supplementary drum machine for pros.
Overall Rating: 4.9 / 5
The Korg Volcabeats is a classic analog machine at a very friendly price.
Key Features
Analog drum machine
Electribe-style 16-step sequencer
Built-in speaker and optional battery power
What We Like
While everything is digital nowadays, there's still a certain sound quality to analogs. The Korg Volcabeats is a blast from the past with its thick and full drumbeats. Compared side by side to digital drums, there's a noticeable difference (at least to us).
We also liked how portable it is. It has a built-in speaker and battery power, so you can easily take it to buddy's house. It's compact and feels very durable.
What We Didn't Like
While we understand that this is an entry-level model, it feels a bit limited. You only get one drum kit, and there's no way of adding your own samples. While you can play around with the controls to extend these sounds, it still doesn't beat having your own.
The Volcabeat is also a bit too small for our liking, and we found it hard to press the buttons at times, though, this is just a personal preference.
Pros
Analog for that warm, rich sound
It's highly portable and durable
Amazing price point
Cons
Limited drum kits and sound samples
A bit too small
The Korg Volcabeats is an excellent beginner drum machine, especially if you're interested in analog. The only drawback is its limited features and drum kits, but all in all, this is a fantastic first buy if you know what to expect beforehand.
Overall Rating: 4.4 / 5
The Alesis SR-18 is a newer version of the SR-16. It's the same excellent drum machine with extra features added in.
Key Features
500 built-in sounds with 50 bass sounds
12 velocity-sensitive pads with Dynamic Articulation
Seamless MIDI connectivity
Alesis Dynamic Articulation for realistic drum tonal sounds
New Pattern Play Mode allows complex patterns to be triggered directly from the pads
Support for battery power using six AAA batteries
What We Liked
The Alesis SR-18 has the same sound quality and functionality as the SR-16 and is a worthy upgrade to the classic. It has more drum sounds than the original, as well as presets and EQ settings.
Other new features include the data wheel in place of the volume knob, a cool looking LCD backlight, and a tap tempo function. It also has an added instrument input, which is great if you want to play along with something like a guitar.
Sound quality-wise, it's an improvement over the S-16.
What We Didn't Like
The ROM-based playback on this model is not as realistic compared to other virtual devices.
Pros
A more extensive range of bass sounds and presets give added versatility
Battery power allows for portable play
Instrument-in port enables you to jam along with others
Cons
ROM-based playback leaves something to be desired
Overall, the SR-18 builds on the classic in several useful ways. The highlights are definitely the expanded sound library and instrument connectivity. For only a few extra bucks, this is a worthy upgrade or a pass-over from the S-16
Overall Rating: 4.9 / 5
The IK Multimedia UNO is a relative newcomer to the drum machine scene. It focuses on portability and ease of use at an entry-level price.
Key Features
12 drum elements
6 analog voices, up to 12 PCM
Includes 100 drum kits and 100 patterns
Connections include USB and 2.5mm MIDI
Optional support for battery or USB power
What We Like
The UNO Drum Machine is actually the best of both worlds because most of the instruments offer both an analog and digital variant. This gives you a much wider variety in the sounds that you can produce versus a purely analog kit. The control provided by the UNO is basic but decent, including changing decay and tune.
It's also a bit more versatile than an analog entry-level drum machine like the Volcabeat. MIDI out, pattern storage, and accent levels are all useful additions for any production.
Compared to other drum machines, the UNO is built to be easy, fun, and intuitive to use. It feels like a toy but is serious enough to be used as a decent production tool. Not to mention, it's made to be portable so you can easily take it to you on the go.
What We Didn't Like
Despite its portability, the UNO feels fragile. Also, it has that "hiss" sound that's common with cheap pieces of audio equipment.
Pros
Compact and portable for on-the-go music production
Easy and fun to use
Has an impressive sound library
Cons
Limited in its sound design and synthesis capabilities
Feels fragile
The UNO Drum is all a beginner could ever want in an entry-level drum machine. It's fun and easy to play with but is loaded with features if you're going to get serious.
Overall Rating: 4.8 / 5
The Boss DR-880 "Dr. Rhythm" is a familiar old-school drum machine. It's well known for producing gritty, vintage drum sounds.
Key Features
Includes 440 drum and percussion sounds, and 40 bass sounds
500 presets and 500 user patterns
20 velocity-sensitive pads
Guitar/bass input
3 independent insert effects with 3-band EQ
What We Like
The Boss DR-880 is a classic machine that allows you to achieve that vintage, retro sound and feel. The sound quality is also as authentic as you can get. We can put this side-by-side with a real acoustic drum, and we bet you can't tell the difference. It's that seamless.
We like the lovely collection of sounds you get with this drum machine. The drum, percussion, and bass sounds are all great. Some even have that "unpolished" feel that has a charm on its own.
Two "groovy" features include Groove Modify and EZ Compose. The former allows you to change the rhythm and dynamics of your patterns and adds incredible believability. The latter makes it easy to create beat arrangements without going at it note-by-note.
What We Didn't Like
While you can do a lot with this unit, It does have a bit of a learning curve and would be challenging for a beginner to get the hang of.
Pros
Incredible, realistic drum sounds
It offers a lot of control to fine-tune the quality of your patterns
Vast library of great-sounding drum and percussion presets
Cons
The Boss DR-880 is a robust drum machine that's at home in a production studio. If you're keen on producing serious tracks, this is a great buy.
Overall Rating: 4.7 / 5
The Roland TR-08 is a new take on the legendary TR-808 – one of the most iconic drum machines ever. It features the sound and character of the original in a more compact form.
Key Features
Hands-on control including tone, level tuning, and decay
Compact and portable frame
Support for battery or USB power
Built-in speaker
Connectivity via MIDI or USB
What We Like
If you're a fan of that iconic 80's drumbeat, then you're going to love the TR-08. We have used the TR-808 before, and this is a very faithful recreation. The feel of the knobs and buttons is there. They even recreated the quirks of how the sounds interact with each other.
The option to make this portable and battery-powered is an excellent choice on the part of Roland. Though the smaller size might throw former TR-808 users off, you'll quickly get over it. It all also feels well-built.
The modern upgrades are also lovely touches, in our opinion. This includes the LCD display for more exceptional tempo control and the ability to step-program without leaving your current mode. MIDI support is excellent as well.
What We Didn't Like
The TR-08 has a particular sound character that might not fit well with specific genres or styles.
Pros
You get the great features of the TR-808 in a modern format
It's surprisingly affordable, given the pedigree of the TR-808
Durable and compact
Cons
Might be a bit too small for some
For an 80's fan, the Roland TR-08 will bring back a lot of nostalgia. For the modern generation, this is a great way to experience an iconic drum machine at an entry-level price.
Overall Rating: 4.6 / 5
The Akai MPC Touch is like a drum machine with a built-in computer. It marries pro-level equipment with the ease of use of a modern smartphone
Key Features
7-inch color touch display
16 velocity-sensitive pads with RGB backlighting
Step sequencer with a touch interface
XYFX Control for real-time effects and sound adjustment
Pad Mixer for setting levels, panning and VST effects
What We Like
First impressions: this is a beauty to behold! It's sleek and modern looking with its vibrant touch screen and colorful pads.
The interface is definitely the highlight of the MPC Touch. The touch screen is very intuitive to use, and anyone who uses DAW software will feel right at home.
Speaking of the pads, we love how big they are—a definite departure from the compact drum machines we previously reviewed. It's easy and comfortable to press. The backlight also looks cool.
You can basically do anything from configuring sequences to messing with the velocities. The gigantic library of over 20,000 sounds gives you a lot to play with. Sound quality is top-notch as well.
What We Didn't Like
The screen can put a strain on your back and neck and can take a bit of body adjustment to use.
Pros
Great looking touch display that's very intuitive to use
Big colorful touch pads are easy to press
This has the power of a DAW in a compact package
Cons
The MPC Touch is like having your very own portable digital audio workstation. It's powerful, intuitive, and, dare we say, fun to use.
Overall Rating: 4.7 / 5
The Arturia Drumbrute is one of the more versatile drum machines on the market.
Key Features
Powerful analog engine
Includes 17 drum sounds
Steiner-Parker output filter
64-pattern sequencing
What We Like
We like how flexible the Drumbrute is in terms of sound options. The 17 built-in drum samples all sound robust and full. If you want to build your own, the 64-step pattern sequencing is more than enough to make your own killer tracks.
This is a fully analog machine with exceptionally warm and full sound quality. The USB, MIDI, and Clock I/O ports allow for connectivity with your other equipment for a digital/analog hybrid option.
What We Didn't Like
The sound quality is not off the charts, and certainly not at the level of Roland machines.
Pros
The plentiful built-in drum sounds and sequencing options give you a lot of production flexibility
It has the warm, full sound of an analog machine
Cons
Sound quality is not at Roland-level quality
If you're looking for the best analog drum machine, the Drumbrute is a good choice. It has a slew of powerful production features that allow you to create multiple tracks easily.
Overall Rating: 4.5 / 5
The Aira TR-8S emulates the most iconic Roland TR drum machines, including the 808, 606, 909, 707 and 702. The result is a recreation of the classics but in a new, intuitive package.
Key Features
Extensive sound samples from previous TR machines
Design your own kits with TR drums, sampled sounds, and effects
Multi-channel audio and MIDI interface with 8 analog outputs
Store up to 128 patterns, each with up to 8 variations and 3 kinds of fills
What We Like
If you like the idea of combining all the best of Roland's TR drum machines in one, the TR-8S is for you. The AIRA faithfully recreates the sounds of each of these machines—and these are not just digital emulations – the hardware itself is built precisely like these TR machines.
The best thing about the TR-8S is how powerful it is at creating original tracks. In addition to having access to the biggest library of TR sounds ever, you can combine them with your own samples. The sky's the limit to the hybrid kits you can achieve with the TR-8S.
When it comes to sound quality, nothing else needs to be said. It's a Roland, and they deliver the goods with the TR-8S.
What We Didn't Like
There isn't much not to like about this drum machine, except for the steeper price tag. It is worth the price, but none the less, this is not a budget model.
Pros
The biggest library of Roland drum sounds ever loaded into a machine
Sampling and editing features allow you to customize your own unique kits
Plenty of analog and multi-channel MIDI connectivity gives plenty of flexibility in production
Intuitive to use
Cons
The TR-8s is one of the best drum machines you can get, in our opinion. The massive library of TR sounds alone is worth getting this machine for. Besides, you get the trademark Roland sound quality. All in all, a worthy investment.
Overall Rating: 4.9 / 5
The Elektron Digitakt is a completely digital drum machine and sampler that offers impressive versatility.
Key Features
8 internal audio tracks and 8 MIDI tracks
64 MB sampling capacity memory with 1 GB storage
USB 2.0 port and MIDI In/Out with DIN sync out
Includes over 400 sound samples
What We Like
Even though it's completely digital, the Digitakt still manages to produce full sounding drumbeats. The 16 channels give a lot of flexibility during production, and loading samples is fast and efficient.
This thing is built like a rock. The casing and buttons are all well-made and have the impression of standing up to the rigors of live performances.
What We Didn't Like
There is a steep learning curve with the Elektron Digitakt. It's not as intuitive to use compared to the TR-8s.
Pros
The powerful digital sound engine allows for deep customization
Durable construction perfect for live sets
Cons
The Digitakt is one of the best drum machines for live performances. It requires a bit of learning and patience, but you'll be rewarded with a unique digital instrument.
Overall Rating: 4.5 / 5
The Analog Rytm MKII is Elektron's high-end drum machine. It's a hybrid of analog/digital sound technologies.
Key Features
12 Durable backlit buttons made to last 50 million presses
Precise high-resolution encoders
Flexible connectivity with USB, audio in, ext In and CV/expression ports
13 track sequencer
Crisp, large OLED screens for viewing even in dim environments
What We Like
The Rytm MKII gives you more than enough power to create any track imaginable. The sounds produced are very expressive, punchy, and have excellent depth of character. This is thanks in part to the Rytm MKII using an analog engine.
You get access to nine different synth machines, each producing a drum sound with its own unique flavor. Load your individual samples and mix them in for the ultimate in creative flexibility.
The backlit buttons are large and comfortable to press, a definite improvement over previous Elektron models. The aluminum casing can take quite a bit of punishment.
What We Didn't Like
The Elektron workflow is a bit unconventional, and that's true of the Rytm MKII as well. It might seem even seem unintuitive to some.
Pros
Rich and vibrant sound through the magic of analog
Excellent and durable user interface with comfy backlit buttons
Tons of options to creating and tweaking your own tracks
Cons
Unintuitive to use
Expensive
The Analog Rytm MKII is one of Elektron's best releases. It improves upon the good points of the previous models while retaining Elektron's unconventional (but powerful) workflow. It's, however, too expensive for anyone but the most serious pro producers.
Overall Rating: 4.5 / 5
Drum Machine Buying Guide
Alright, now that we've sampled the best drum machines 2019 has to offer, let's explore why you need a machine and how to pick a good one.
Why Do I Need A Drum Machine?
A drum machine is a device that can recreate the sound of drums or percussions. They evolved from basic preset machines to today's versions with programmability and built-in effects. They are now considered to be musical instruments in themselves—but with human drummers not going obsolete anytime soon, why would you even use a drum machine?
If you're a one-man act
If you're a one-person band, having a drum machine is convenient. It allows you to have a rhythmic beat for your performance without the need for a drummer. It's great for having a beat when solo practicing, or for aspiring songwriters who might not have access to a drum set.
If you're a studio producer
Probably the one place where drum machines are most at home is in the studio. Drum machines allow music producers to build the arrangement and rhythm of their tracks. They're also much more convenient when sketching out or brainstorming tracks.
Having a drum machine is still advantageous despite today's advanced audio production software. Rhythmically tapping down the beat is a better experience than just laying it down with the click of a mouse. Personally, we feel it allows you to connect better with the music you're producing.
Also, drum machines can produce a wide array of unique sounds, rhythms, and grooves.
If you're into specific musical genres
There are certain musical genres where drum machines are an absolute must. These include house, trance, hip-hop, and drum n' bass, to name a few. These musical styles need consistent and sometimes rapid beats that are beyond the capability of human players.
Beat consistency is especially crucial to EDM, which uses them as a basis for beat matching during live sets. The digital sounding beats are also a hallmark of the style that standard drums can't possibly reproduce.
If you want to spice up your performance
The sky's the limit to the number of sounds a drum machine can produce. You can sample literally any drumbeat or audio tune, and program it into the machine. This can open up a wide range of unusual sounds you can build into your performance.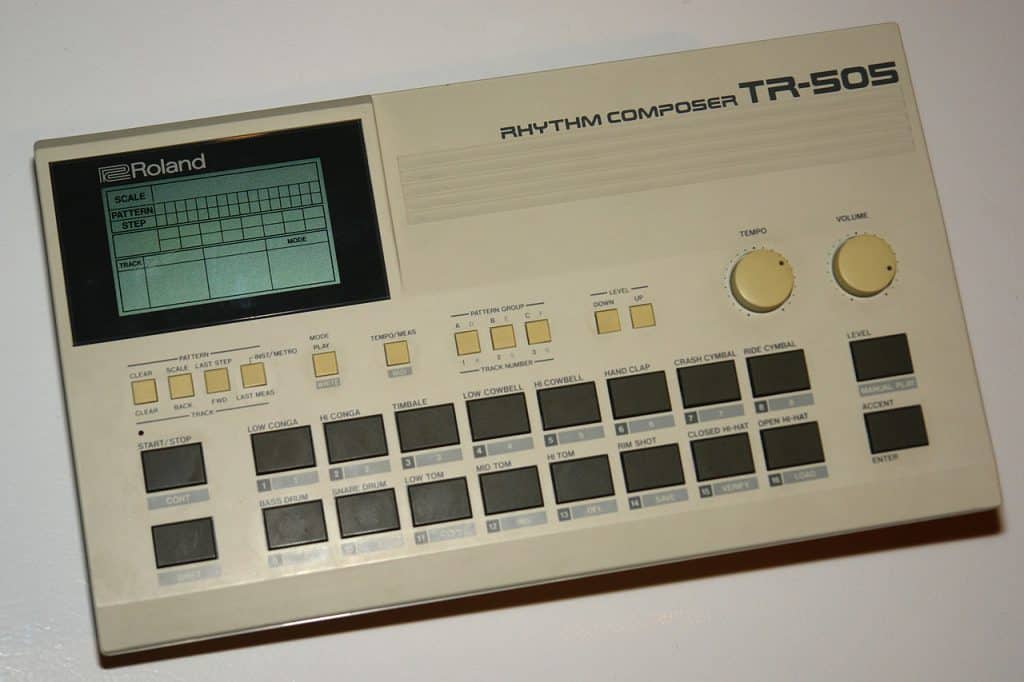 What to Look for in a Drum Machine
Do I go analog or digital?
Analog drum machines create beats by charging components to produce specific sound frequencies. Digital, on the other hand, plays pre-recorded sound as beats. What to go for is largely a matter of preference and genre.
In terms of sound quality, most people find that analogs sound fuller or warmer than digital. It feels more authentic, but it might be because this is what people were used to, especially with the older crowd who grew up listening to 80's pop.
Digital is unbeatable in the range and realism of the sound it can produce. Since it uses audio samples, you can program any real-world sound you want into it. If you're more into playing complex tracks, the versatility of digital is your best bet.
Can I use my own samples?
Most decent drum machines will include a variety of beats you can play around with. This is fine for regular live performances. But if you're a studio producer, this might not be enough.
For this, you might want a drum machine where you can load your own samples to. This greatly expands the capability of your drum machine. You can, in theory, play any sound imaginable. You can really put your own twist into it by sampling unusual sounds with everyday objects.
Even if you're not that experimental, you can still expand your drum sound library. There are tons of drum sample packs you can get online, often for free. You can check out this resource to start building your drum sound repertoire.
Is it portable?
How portable you need your drum machine to be will depend on where you plan on using it.
If you plan on using your drum machine primarily in the recording studio, portability is less of an issue. You might want to focus more on sound quality, and production features more than anything. While features like LED lights are nice, it's unnecessary for studio work. Older, vintage drum machines fit this bill.
If you're going to use your drum machine live on stage, you need it to be compact and portable. Oh, and durable as well. The constant carrying, setup, and packing can take a toll on your drum machine — much more than you realize. Most modern drum machines are live capable and even have some nifty effects to boost your performance.
How does it sound?
Of course, we choose a drum machine based on how it sounds. Some old school drum machines have developed their own signature sounds, to the point of legendary status. Roland's TR-808 is one such example of a drum machine that defined a genre.
Ultimately, what you choose will depend on the style of music you're doing. Vintage drum machines (or modern ones emulating it) are known for having those old-school beats that fit well if you're into retro. If you want futuristic sounding beats for trance, a modern drum machine would be a better option.
Real-time or step-time programming?
Programming is simply how you record beats into your drum machine. There are two main types: real-time or step-time.
Real-time programming involves manually pressing the machine's pads in time with the rhythm. It's not unlike how you would play an electronic keyboard or piano. Most machines will allow you to do some post-readjustments on the beats to compensate for any errors.
A lot of producers and songwriters prefer this option, as the rhythmic tapping feels much more natural. It also produces natural inconsistencies that sound more human-like and less robotic.
Step-time programming involves pressing the machine's pad at specific points on a timeline. This is similar to how you would do it with software. This is an excellent way of building consistent beats for distinct musical styles. It's also easier to do complex rhythms with this method.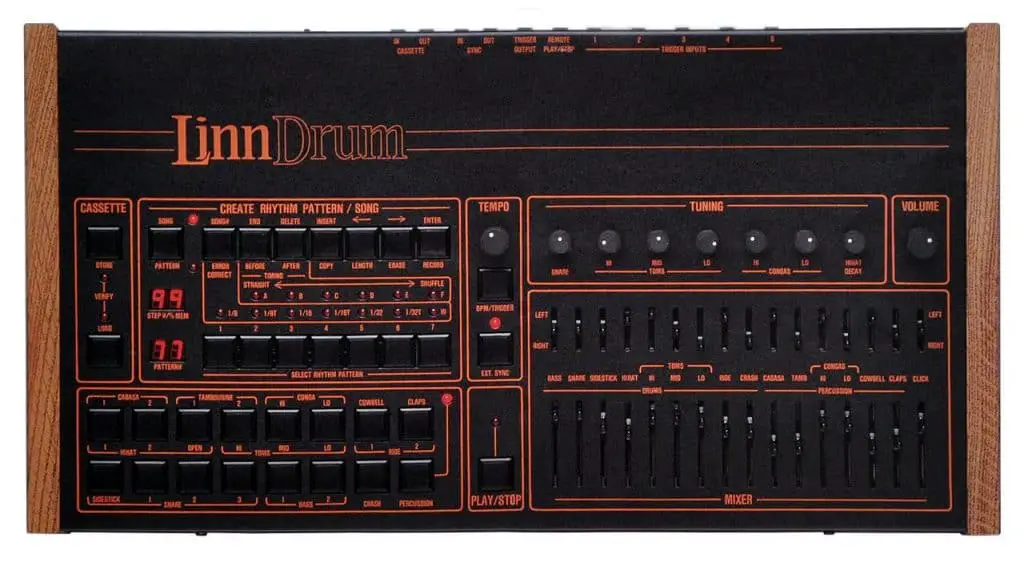 Does it have enough memory for your needs?
Having a large memory means your drum machine can store more drum patterns or sequences. This is useful if you rely on your drum machine during live performances. You can pre-record drum beats for each individual song, then play them come game time.
This allows for varied beat backgrounds and seamless sets, even when you're playing alone.
If you're a studio producer, memory is mostly a non-issue. You will most likely have your own computer or audio workstations to store drum patterns. In these cases, the drum machine is just there to produce the beats themselves.
Can it connect easily with other devices?
Since it's an electronic device, a drum machine is usually a part of a bigger production setup. If you're a music producer, connectivity is then a necessary requirement.
The primary "language" most electronic music instruments such as the electronic drum set use is the MIDI format. Most drum machines have a MIDI port, where you can easily connect to audio interfaces using a standard MIDI cable.
Some, however, just have a USB port. In these cases, you need to get a MIDI-to-USB option. Bottom line, you need to know your drum machine's connectivity options in the grand scheme of your setup.
If you mostly use your drum machine during a live performance, then it's most likely standalone. In this case, merely hooking the output to the venue's music system is enough. You don't need any of the other fancy connection options.
Final Thoughts
We've reviewed a lot of great drum machines options in this article. We considered declaring a budget option like the Alesis SR-16 as the clear winner in this roundup, but one machine, despite the higher price, took the crown in our opinion.
So, the win today goes to the Roland AIRA TR-8S. At a mid-level price, you get the rich pedigree of the greatest sounding Roland drum machines ever made. The sound quality is simply phenomenal, and the creative power you get will undoubtedly bring out your best work. If you have the budget, we recommend going for the TR-8S!