There's nothing more exhilarating than the feel of a stick hitting a drum head. The music it creates is really just icing on the cake. That doesn't mean that playing the drums is always a fun experience, though.
I mean, can you imagine being in the middle of a live gig, deep in the feeling, and having one of your heads snap or hang loose? I can imagine it—because it happened to me, and the disappointment drove me to research reliable drum heads to save others the embarrassment. This review looks at some of the best drum heads along with my personal recommendation as to which one you should go with.
My Top Choice
If you're in a hurry and have no time to be reading all 5K words here, my top choice when it comes to drum heads is the Evans EMAD coated white bass drum head. It fits the much-needed preference of tonal control through its two-ring muffling system. Additionally, it is quite suited to heavy-hitting as well as light hitting.
Last update on 2023-11-14 / Affiliate links / Images from Amazon Product Advertising API
The Best Drum Heads Reviewed
Heavy hitters are not the most blessed when it comes to drumming equipment. Like a car, drumming demands that most of us be gentle with our way around it. The Remo Emperor X, however, can take any beating you can deliver.
Key Features
Reverse black dot feature for eliminating excess noise
Exceptionally responsive
Releases focused warm tones
What I Like About This Drum Head
The most captivating element for me when I look at the Remo Emperor X is the suitability to heavy-hitting. I have had my fair share of disappointments with heads that are only suited to gentle drummers. For my love of loud and heavy music, that did not work too well for me. One other thing that attracted me was the several varieties available— 10, 12, 13 and 14-inches.
What I Don't Like About This Drum Head
The price range is a little bit on the higher side, and it has a bit of a breaking-in period along with ongoing maintenance.
Pros
Touted as one of the most durable Mylar heads in the world
Well-known brand—over 60 years in the business
Loud and clear
Cons
Takes some time to break in and require maintenance
Costly
The Remo Emperor X is the most suitable drum head for heavy hitters and anyone else looking to have a durable product with them while on stage.
Overall Rating: 4.5/5
From my experience using this drum head, I can confidently say that it is the most versatile drum head that I have ever worked with. I strongly feel that this quality makes it the best fit for any beginner, still struggling with finding their path.
Key Features
Double-ply 7 mil film for durability
Value pack of three at purchase
Available in a clear and coated version
What I Like About This Drum Head
The Evans G2 strikes me the most because of its versatility. Before I could commit to one genre, these were the drum heads that I got my wet feet on in the drumming scene. Aside from their versatility, they are also an excellent fit for jazz music. Additionally, the value pack of three; 12-, 13- and 16-inch is a great bargain.
What I Don't Like About This Drum Head
At purchase, stains were present on my drum heads; I haven't been able to pinpoint this to the manufacturer or distributor. Moreover, I don't find these drum heads suitable for my heavy specialty.
Pros
Durable make consisting of a double-ply construction
Versatile
Sold in a standard tom pack with three heads
Cons
Not a great option for heavy hitters
Some questionable quality control
This option is the best fit for beginners looking for a drum head that will help them explore different genres.
Overall Rating: 4.7/5
If you have been drumming long enough, you understand why there is so much hype about this drumhead pack. These are a savior come to us from the days of stuffing clothes and other materials in drum sets.
Key Features
7 mil NuBrite film
Floating muffling system
Double-ply construction
What I Like About This Drum Head
This drum head was designed to save you from the stress of having to improvise to get a great bass tone. It comes with a pre-dampened architecture and a proprietary floating muffling system to give you the best bass tone while drumming.
What I Don't Like About This Drum Head
The addition of the floating muffling system is a great idea, but I am unimpressed by the fact that it is not removable.
Pros
Durable
Comes with a felt pre-dampened architecture
Has a muffling system
Cons
The muffling system is not removable
Heavy hitters have a great companion by their side with the Aquarian Drumheads Super-Kick II. This drum head, with its floating muffling system, will impress you when it comes to bass.
Overall Rating: 4.7/5
The EMAD2 is an excellent drum head for the versatile experts. It is it much easier getting full control of your toe with this drum head.
Key Features
External adjustable muffling system
Versatile drum head
Variable sizes
What I Like About This Drum Head
This drum head is a real blessing to any versatile pro out there. You will find better tuning capabilities with this drum head than others on the market—a two-ring system makes all the difference.
The thin ring will gift you a pretty nice punch while the wide ring makes that low-end attack possible. It is available in various sizes with a wide range of 18 to 26 inches too. I also love the double-ply structure. It makes this a durable drum head.
What I don't Like About This Drum Head
While this is a versatile drum head, it's not for everybody. For beginners, especially those struggling with tuning their equipment, this needs some work. Additionally, this drumhead's price tag favors the high-end market.
Pros
It has an external adjustable muffling system
A two-ring system makes tuning more engaging
Double-ply architecture guarantees stability with this drum head
Cons
The drum head is not suitable for beginners
Compared to others in its category, it is pricey
This drum head is the best fit for the versatile expert looking for more tuning flexibility. You can produce just about any sound with this drum head.
Overall Rating: 4.7/5
For transitioners to heavy-hitting, the choice of which drum head to make this transition on can be a tasking one especially without the guidance of a guru of some sort. However, the right choice can still be made with this drum head.
Key Features
Easy tuning
Easy to learn
Durable structure
What I Like About This Drum Head
It's quite unusual to find a bass drum head that falls in between heavy and light—an inclination to the extreme is usually the norm. This different approach, however, is one of the things that attracted me most to this drum head.
Additionally, I love a drum head that I can easily tune, and if there is need to learn any new controls on it, that comes easy as well. This is just the drum head quality that I look for.
What I don't Like
Despite the easy tuning, one thing that the manufacturer missed out on big time was the quality of sound. I didn't like how it requires special skill to filter out other noises to enhance the sound quality of the drum head. For an amateur, this can be too tasking.
Pros
Great for mid-range players
Double-ply structure for durability
Cons
The quality of sound is something that will take time getting used to
This is a drum head that I highly recommend for anyone that is transitioning from light music to heavy genres.
Overall Rating: 4.7/5
Volume is an essential aspect of any live performance. The Remo Powerstroke P3 clear bass drumhead is meant to suit your volume needs on a stage.
Key Features
Impressive volume
Excellent tone control and tuning
Durable construction
What I Like
If loud is what you're after, this drum head can't be beat. Its volume is top-notch—many times when I have used it, the mic only comes as an extra essential if I am performing in front of a huge crowd. Otherwise, this option is loud enough all by itself. The tuning is what I call excellent and pretty simple too even for amateurs.
What I don't Like
Other models by this brand come muffled up; this one, however, is a deviation from the norm as it does not have a muffling system installed. You will need to dampen this drum head by your own means. For many people the use of clothes and other fabric works just fine, you just need to find something that works for you.
Pros
Loud volume is an excellent asset for electric performances
You have more control over the tuning and tone control
Value pack consisting of three different drum head sizes
Cons
The lack of a muffling system means you need to be creative.
I highly recommend this drum head for drummers looking to capitalize on volume to make their performances all the more superb.
Overall Rating: 4.6/5
The ability to get a drum head anywhere from six to thirty inches in size is more than a great addition to your drumming experience. Popular among rock and RnB genres, the Remo Pinstripe Clear drum head is your perfect companion for great sound.
Key Features
Reducing agent between two plies
Variety of sizes to suit your needs
Comes in kits that can be configured differently
What I Like About This Drum Head
The ply architecture of this drum head is the main attraction to it before moving on to anything else. You will love the sheer amount of control it gives you with overtones as you drum. This reducing agent application between the two plies is a real trendsetter in the RnB, pop, and rock genres.
What I don't Like
This is another drum head that doesn't come with a muffling system installed. You'll need to be very creative if you would like to add some bass to your performances.
Additionally, unlike other Remos, which are truly versatile, this particular drumhead is a little more specialized. It is therefore not the best fit for multi-genre events if you are looking for one drum set that will serve multiple bands and players.
Pros
The reducing agent between two plies helps in overtones control
This drum head comes in kits that can be configured as needed
Cons
It does not come with a muffling system in place
This drum head is an excellent fit for any RnB, pop, or rock drummer looking to have control over their tones.
Overall Rating: 4.6/5
Mid-range frequencies can be annoying; any seasoned drummer will admit to this. It is a really innovative feature in a drum head to have an element that helps you eliminate all these mid ranges, the Evans Power Center Reverse Dot Drum Head is one such drum head.
Key Features
Revers dot feature
Edge Control technology
Two-ply structure
What I Like About This Drum Head
This drum head is perfect for anyone that hates mid-ranges like I do. I prefer having very deep lows or that crisp high that allows me to get in the mood while I'm drumming. This, more often than not, is how many drummists feel.
The Edge Control technology on this drum head allows you to have this. It eliminates the mid-range frequencies enabling you to have your lows and highs as clear as you possibly can.
What I don't Like About This Drum Head
I know I said I loved the dot feature in some other drum heads on this list, but this particular drum head comes with an internal reserve dot feature, which for the most part is a deviation from the norm.
Now with this feature, the risk of the reverse dot falling off is quite high and frankly speaking, hectic to reinstall. I didn't like this, and although it didn't happen, I dread the same happening should I be on stage performing.
Pros
Edge Control technology allows you to eliminate all mid-range frequencies allowing for clear highs and deep lows
Reverse dot feature gives you more control over your overtones
Durability is guaranteed with a ply structure
Cons
The internal reverse dot is prone to falling off
I would highly recommend this drum head for anyone looking to eliminate their mid-range frequencies.
Overall Rating: 4.0/5
This particular drum head is among the most popular in the drumming community, and more often than not, you are going to find it being used by beginners. Mainly due to the price factor and suitability to light hitters.
Key Features
Short sustain
Bright attack
Affordable
What I Like About This Drum Head
I am not that much of a light hitter, but this drum head impressed me, and I more than loved it. It comes with a coated finish, which is the main catalyst of the short sustain and an excellent, bright attack.
These are amazing perks that you will not find offered on many drum heads on the market in 2019. Additionally, the price range was something really attractive as well. When I was a beginner, I personally struggled to buy drum heads because many of them were too pricey, and we did not have options like this.
What I don't like
I am a heavy hitter; there is no doubt about that, add this to the fact that the ply structure of this drum head is 10 mm, and you know what happened before I even get into detail. I had to replace this quite a few times before I finally got the hang of it. Additionally, I don't think that the coating lasts that much.
Pros
Comes with a coating that enables for a short sustain and a bright attack
This option is one of the most affordable drum heads available on the market today
It is suitable for beginners and light hitters
Cons
The coating does not last that long on the drum head
The Remo Ambassador Coated drum head is a great fit for light hitters and beginners as well.
Overall Rating: 4.7/5
The Evans EMAD is a high-end drum suited to various genres. The architecture on this makes it one of the best drum heads you can buy. It is my personal favorite on this list, and my top pick for you.
Key Features
Coated to soften the attack
Features a warm tone
Two foam muffing rings
What I Like About This Drum Head
The architecture on this drum head is impressive. I have yet to find another drum head that allows me as much flexibility as this one does. In my early days, I was the versatile type, and even as I started specializing in heavy-hitting only, I still found this drum head to be my most trusted companion.
The coating on the EMAD drum head allows for softening of the attack. Combine this is with a warm tone and its recipe for an excellent performance. The two-ring muffling system is also an excellent way of saying goodbye to the use of pillows.
What I don't Like
There is not much not to like about this drum head except that the price range is inhibiting for the beginner, but its quality more than justifies its price tag.
Pros
A coating allows you to soften the attack
It features a two-foam muffling ring add-on
Cons
It is a little bit pricey
The EMAD was an easy choice for my top pick, and no matter your style, I'm confident you'll love it as much as I do.
Overall Rating: 4.7/5
Nothing gives you as much confidence while drumming as a drum head that uses a tried and tested formula, and that's just what the Aquarian VEL14 offers.
Key Features
Double-ply feature
Reverse dot feature
Flexible tightening allows for the elimination of overtones
What I Like About This Drum Head
This is a heavy-hitter compatible drum— that already wins my heart over. The 7-mil double-ply structure guarantees nothing but durability. I also love the tonal control due to the reverse dot feature.
What I Don't Like About This Drum Head About This Drum Head
You won't find this drum head in the variety of sizes others that I have reviewed here are. Additionally, the price range is definitely at the top-end of the scale.
Pros
Excellent tonal control
Durable build quality
Built for heavy-hitting
Cons
Price range is on the higher side
You only have access to the 13 and 14-inch sizes
This is easily one of the best snare drum heads ever created, well, at least so far, and I highly recommended it for heavy hitters. It's a shame this option isn't available in more sizes.
Overall Rating: 4.8/5
Drum Head Buying Guide
Now that you've had a look at some of the best drum heads on the market today, let's talk a bit about what makes a good drum head in the first place. With my handy dandy guide, you'll know what to look for while you shop. If this isn't quite what you're looking for, we've got more awesome reviews here.
Types of Plies
Ply refers to the membrane that forms the drum head. This can be manufactured from various materials and will be dependent on then manufacturers processing policy. However, one general truth of them all is that they try to make the ply be as natural sounding as possible. You will, then, more often than not, notice that this thickness is limited. There are generally two types of plies, determined majorly by their thickness.
Single Ply
Single-ply are usually very thin plies that can be found on drum heads. Their thickness typically ranges between 7 and 10 mil although it is not that rare to see even thinner plies ranging between 3 and 5 mil.
Naturally, the thickness of the ply will determine the type of genre that the drum head is suited to. For light genres such as jazz, it goes without saying that most of the plies will be in the ranges stated above either on the lower end of the 7 to 10 mil or on the higher side of the 3 to 5 mil.
The resonant head is another main factor that determines the thickness of the ply, especially in single-ply drum heads. The resonant is basically the determiner of your tone, too much stress on it and the beat won't sound good, too little restriction, and the same happens also. You will usually need to learn how to balance the restriction on your resonant to get the perfect tone. In most cases, this is improved upon with experience. It can be a bit tricky.
However, especially if you are transitioning from heavy hitters to low hitters, with proper tuning of the drum head, you can set yourself up for a broader spectrum of tones that will exhilarate your audience.
Double Ply
From what we have laid out about single-ply variants, it is easy to deduce what a double-ply is. This refers to a drum head that has two 7 to 10 mil plies attached together. This guarantees that the drum head can take a beating. For heavy hitters, this is usually the go-to option in terms of the perfect tone. These are arguably the best drum heads for metal genres and other heavy genres as well.
Double-ply drum heads have an added advantage of being long-lasting. Compared to the single ply, these are thicker and therefore take a much heavier beating without the possibility of snapping. Not to say that it won't happen; it will, it just might take longer. How much longer will really depend on your style and the music you play most often.
It is much harder trying to control the resonant on a double-ply drum head. This effectively means that for tonal variation, you will need to be creative or have additional features that make this possible. With expertise and experience, however, things do get better, and you can do a better job with controlling the tone.
Does the Type of Finish Matter and Which Ones Are Available?
When it comes to other musical instruments, the finish doesn't influence the quality of the tone or the sound being produced. The same does not apply for drum heads, however. This means that a lot of focus needs to be put into ensuring that you choose the most suitable finish type for your drum head or something is bound to go wrong in terms of your tone. What type of finishes are available?
Hydraulic Finishes
This type of finish includes an oil substance sandwiched between two layers. It is most recommended for beginners because of the ease of tuning. Compared to other types where the tuning may prove to be challenging, on this one, you can easily tune even when playing to get the best tone.
Hydraulic finishes are preferred for their fat low-end sounds. In some drum heads, you will find the manufacturer uses dampening agent rather than an oil substance between the layers.
Clear Finishes
It is easy to tell if a drum head has a clear finish. Simply, nothing has been included as a finish, and the drum head just comes with its ply material. It may seem absurd buying such a drum head, but it has its perks when it comes to performance.
With a clear finish drum head, you have better resonant compared to other drum heads with some sort of a finish. For most amateurs, the clear finish is a go-to option until they master all the risk of tuning other types of drum heads.
Black Finishes
A black finish is among the best bass drum heads available because this type of finish will give you a more focused dark tone. Black finishes are made by combining a clear finish with a black polymer. This combination results in a type of finish that gives more control with deep tone in play—and yes, this finish is actually black in color.
Coated Finishes
A coated finish is a combination of a white polymer and a clear finish. This type of finish gives a drum head a vintage look popular in many drum sets. The real value of this finish, however, is not in the appearance but in the tone that you get with it.
If you are looking for controlled articulation in an environment you deem to be quiet; then this is the type of finish that you want to work with. Additionally, it is also a fantastic fit for heavy hitters that want a drum head that can survive prolonged abuse. Its reinforcement as a double-ply makes it durable and perfectly suited as one of the best bass drum heads.
The Crucial Matter That is Overtone
Before getting deep into the overtone issue, it is important to understand first and foremost what the term overtone means. This generally refers to any frequency that is higher than the founding tone.
Different people have different preferences when it comes to overtone, and when performing, it is always best to factor in this, especially if you aim to make your audience engaged as possible. Some of the things that need to be looked at critically when considering overtone, include:
Environment
The environment that you are staging your performance at is a crucial one. You will need to determine beforehand whether you are in a quiet environment such as a cocktail party. In such an environment, it is best to keep the overtone at a minimum so that people can enjoy the music that you are playing without being overwhelmed by the volume.
Harmonic and inharmonic overtones
These two are generally a broad categorization of overtone. You may wonder why use this broad category to determine the need for an overtone? Well, the answer is easy; we need to find what complements what and push it forward or do away with it immediately.
Harmonic overtones naturally complement the founding tone, and inharmonic, on the other hand, doesn't. This means that with the harmonic overtone, you have an easier time appealing to the crowd, especially if the previous performer was using the founding tone.
With the inharmonic tone, however, you are in for more challenges, especially with appealing to the audience. Inharmonic tone requires more creativity and tuning capabilities as well. It is best recommended that you do not go for the inharmonic overtone unless you are an expert. All in all, the overtone is critical as this will set the base for whether your drums will be heard in a show or if the guitarist will do you an injustice.
Personal Preference
Personal preference also influences the use of overtone in any setting. Most people prefer harmonic overtones, the natural ones that can easily go unrecognized. Some, however, like me, prefer the riskier inharmonic overtones.
You need to find your perfect fit if you are going to maximize your live performances for an audience. Practice is the best way to do this, along with looking back at your performance and listening to the intimate sound of the drums to identify which is your most natural fit. You might find a drum mic useful for this purpose to make training recordings of sorts.
Tuning capabilities
You may want to use the inharmonic overtone and really admire it, but then your tuning abilities may put you out of the game. This is common especially for beginners, although inharmonic overtones aren't something that's prominent when it comes to experts either.
You will need to improve your tuning capabilities and expertise over time if you are to achieve any real progress in the use of overtone. One can work without it, but it always a safer option knowing how to tune.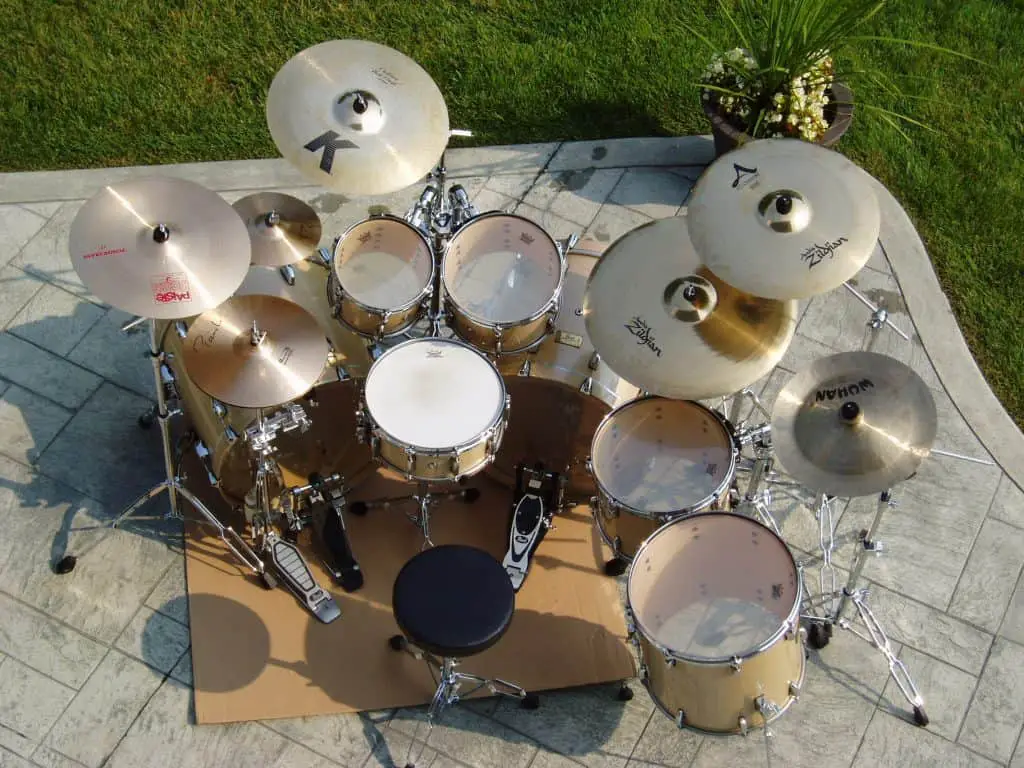 Factors that Determine Which Drum Head You Should Buy
Your Budget
Price is a crucial aspect when it comes to buying any musical instrument. The best musical instruments, drum heads included, will not go for cheap. It is however always recommended that you start from somewhere that you are comfortable.
It is not necessarily true that an expensive drum head will be the best snare drum head or any other for that matter. There are plenty of good budget drum heads out there if you know where to look.
Your Skillset
Whether you are looking to buy the best drum heads for toms or any other suitable liking of your own, one thing that will weigh heavily on the right match is your skillset. It won't matter the type of drum head that you are using, if your skillset is below par, it won't give you what you need.
It is important that you identify your capabilities first hand and accept the level that you are at. There are drum heads suited for amateurs, and likewise, drum heads that are suited to experts. Each category requires a certain level of sophistication to properly use and care for. Be honest with yourself and shop accordingly.
Genre to be played
It is common sense that the best drum heads for rock will not be suitable for something like jazz and vice versa. It is, therefore, a good way of avoiding any type of frustration if you can identify the genre you are going to play and then pick a suitable drum head that meets the particular needs of that genre.
The genre to be played is also crucial in determining the architecture of the drum head. Whether you are going to use the double or single-ply makeup is often tied to the genre to be played. If you play kind of a range, there are also options that make good all-rounders, but it's still best to settle on whether you tend to be a heavy or light hitter.
The Debate on Built-in Sound Control Drums
For most people, ringing out is something they wish would never occur when it comes to their drums and their performances. It is, however, something almost inevitable unless of course, you are pro or you are using a built-in sound control drum. The following are benefits of using this type of drum:
Small holes around the edge are essential in cutting out the ringing.
Some will have felt strips that reduce overtones and make the sounder warmer and fatter.
Versatility can be achieved by taking out the dampening.
You can focus your sound better with control as well as inlay rings.
Final Thoughts
From what we have looked at with the product reviews and the buying guide above, it is easy to agree that the best drum heads will eventually be drawn back to their individual components. You've likely realized that "best" is relative to the drummer, and no one can tell you what's going to work best for you.
Even so, if I had to point you in a general direction of where to start, I'd point to my top pick. For this review, that top pick was the Evans EMAD coated white bass drum. This drum head contains all the perks that make a great drum head choice.
The impressive control it allows you on the tone with its two muffling rings suits both pros and amateurs alike. The coating does well to soften the attack, too, which makes it well-suited to both light and heavy hitters.
Wrapping things up, I hope my reviews and buying guide have helped you in your journey to maximize your playing experience. Rock on!