Welcome to our review of the best drum practice pads.
As drummers, we love our drums loud. The problem comes when those around us have a problem with our drums being loud. Often, you're simply playing rhythmic patterns that help refine your style and consistency oblivious that you're driving the neighbors crazy—that is until they very bluntly let you know—and that's where drum practice pads come in handy.
Let's explore some of the top-rated drum practice pads on the market to help you choose the best one for your needs.
Our Top Pick for Those Short on Time
We especially recommend the Movement Drums 12-inch double-sided practice pad. This pad offers four different playing surfaces, making it ideal for just about any type of drummer. It features sturdy and durable construction while remaining affordable.
Last update on 2023-11-04 / Affiliate links / Images from Amazon Product Advertising API
The Best Drum Practice Pads Reviewed
If you're looking for a portable and highly versatile drum practice pad, you can't go wrong with the Movement Drums practice pad, which is our top choice.
Key Features
1 pounds
12 x 12 x 1.5 inches
Four different playing surfaces
Fully rimmed
Durable silicone rubber top surface
Laminated insert
Dual surface
Ultra-durable and portable
The most outstanding feature of this practice pad is that it offers four different playing surfaces to suit different types of drummers. Whether you are a drum kit player, marching percussionist, or concert snare drummer, this pad can be a perfect option. It's an innovative and highly portable piece of equipment.
Its top side features a rimmed, responsive silicone rubber pad. Additionally, the Movement Drum practice pad features a rimless, bottom side with a denser and quieter surface.
The bottom side is designed to ensure the steadiness of the pad while playing the top side. The pad also allows for adding a clear polycarbonate insert to create a tightly tuned, crisp marching snare. Another remarkable feature is the soft, quiet conditioning pad insert, which offers minimal rebound when swapped in and helps in developing your drumming technique.
The only notable disadvantage of this pad is that the polycarbonate insert can easily get dented with excessive use of marching sticks.
Pros
Offers four different 12-inch playing surfaces
One side has a rim like a real drum
Robust construction
Cons
Polycarbonate insert is prone to denting with excessive use of marching sticks
Overall, the Movement Drums pad is an excellent option for those looking to practice on the go or have a high-quality, small pad to practice at home. If you are not sure the kind of surface that will work for you, this practice pad can be an ideal option, thanks to the four different playing surfaces. It's also price-friendly.
Overall Rating 4.9/5.0
The Evans RealFeel practice pad is designed to offer low-noise and outstanding responsiveness. It comes with a large playing surface for convenience and accurate performance translation.
Key Features
Available in 6-inch and 12-inch pads
Dual surface
Gum rubber surface
One side with gum rubber
One side with neoprene
This practice pad is available in 6-inch and 12-inch drum pads. The smaller drum pad is ideal for small children just starting. It can also be a great option if you want to have a very small pad that you can easily travel with.
The 12-inch drum pad, on the other hand, offers plenty of flexibility as it can fit inside a standard snare stand for seated and standing performance convenience. This dual-surface practice pad features gum rubber on one side and neoprene on the other.
The neoprene surface is harder, making it a great option if you want to get a good workout without getting evicted. The gum rubber side is somewhat soft, giving you an excellent rebound. However, this pad is quite heavy compared to most of its competitors.
Pros
Offers versatile practice experience
Ideal size for a practice pad
Can fit any standard snare basket
Durable construction
Cons
May have an unpleasant chemical smell
A bit heavier compared to competitors
The Evans RealFeel two-sided practice pad offers everything you need in a drum practice pad. With two options for size, you can have two drum pads – one to use on the go and a larger one that emulates a snare drum. With two playing surfaces, you can have a tough workout or standard practice anytime you choose.
Overall Rating 4.8/5.0
The Vic Firth Heavy Hitter Slim Pad is designed to offer the feel of a contemporary marching snare drum. It is an excellent tool for refining your skills.
Key Features
12 inches
Single-sided
Rubber construction
Heavy-duty wooden base
Exceptionally thin 3/32-inch rubber pad emulates the crack of a marching snare
As the name suggests, the Vic Firth HHPSL features a thin playing surface compared to a standard drum practice pad. This allows you to hear both the strong and weak parts of your playing so that you can effectively address issues in your playing technique.
This practice pad also does a great job when it comes to recreating the feel of a snare drum. This makes it a great option if you play a marching snare. Moreover, it has a somewhat direct level of bounce back that promotes an easy transition from pad to drum and vice versa.
The notable shortcoming of this Vic Firth practice pad is that its edges can feel somewhat rough.
Pros
Large base
Excellent rebound
Durable construction
Simulates the feel of snare perfectly
Cons
Edges may feel a bit too rough
Overall, the Heavy Hitter Slim Pad is a high-quality drum practice pad. It features a wooden base that will give you years of reliable performance. It's also simple to bring with you for practice on the move.
Overall Rating 4.7/5.0
Designed by world-renowned drummer, Pat Petrillo, the Drumeo P4 is ideal for developing your control, speed, and creativity on the drums. It offers four different playing surfaces, each with a unique feel and response.
Key Features
12 x 12 x 2 inches
8 pounds
Four unique playing surfaces
Three height levels, simulating actual drum-set movement
The most outstanding feature of this drum practice pad is that it comprises four different materials. With this, you can quickly switch between surfaces at once. Here's a look at the four materials
Standard gum rubber – feels much like a snare drum
Hard neoprene rubber – offers responsiveness as good as your high-toms
Quiet floor-tom feel surface – Great for developing strength or late-night practice
Hardest surface – Emulates the ride cymbal, delivering a unique sound
This practice pad is designed to help you develop the versatility you need to switch between different playing surfaces, thanks to its three height levels. It stimulates the feel of moving around real drums.
It is an exceptionally quiet pad, making it a perfect choice for drumming practice situations where too much noise is unwelcome. The only shortcoming is that it's quite expensive compared to competitors. Nonetheless, it offers excellent value for the price.
Pros
Four different playing surfaces
Simulates actual drums
Durable construction
Cons
Quite pricey
Somewhat sloppy build
While the Drumeo P4 practice pad is a bit expensive, it offers all the features you need. With this pad, you get four unique playing surfaces. It's designed to simulate the feel of an actual drum making it one of the best practice pads on the market—delivering real value for your money.
Overall Rating 4.7/5.0
The OffWorld Percussion Invader V3 is meticulously designed to recreate the physical functionality of a rudimental snare drum. It can be a reliable option for any passionate rudimental percussionist.
Key Features
14-inch diameter
DarkMatter bottom
Single-sided, rimmed
360-degree RIM element
Great aesthetics
The V3 practice pad is well-built with durable materials. Its 14-inch diameter fits a snare drum perfectly. It is arguably the best drum pad for simulating a conventional snare drum.
Namely, the playing surface that features heavy-duty polymer material recreates a tightened up snare drum head. Another remarkable feature of this practice pad is a distinctive, patented rim that is practically indestructible.
Unlike a traditional metal hoop, this rim won't damage your drumsticks. It provides gratifying rimshots with an articulate tone. However, if you are looking for a lighter practice pad, this may not be the right choice for you as it weighs 5 pounds.
Pros
High-quality construction
Achieve excellent rimshots
14-inch diameter for realistic snare playing
Cons
Quite heavy
Offers only one playing surface
Despite being a bit heavy with only a single playing surface, the OffWorld Percussion Invader V3 is an excellent option for anyone looking for a pad that delivers a real-world snare drum playing experience. It's a fantastic pad in terms of feel, look, and durability.
Overall Rating 4.6/5.0
Available in 6-, 8-, and 10-inch diameters, the Remo Tunable Practice Pad™ is an excellent tool for both beginner and experienced drummers. It comes with a replaceable drumhead that offers the bounce and feel of an actual drum. You can mount it on a stand for upright playing convenience.
Key Features
Built with a real drum head
Raised rim
Fully tunable
6mm mountable
Key included
Protective rubber bottom
Provides the bounce and feel of a real drum
The most remarkable feature of this practice pad is that it is equipped with tension rods, which can be tuned like a conventional drum. This allows you to adjust the skin tightness, consequently changing the bounce level you get when playing it.
The Remo tunable is designed to deliver a playing experience that is much like the real deal! It is constructed from heavy-duty materials and boasts a protective rubber bottom that prevents slipping during play. Its bounce and feel are akin to playing a little snare drum.
Despite being well-built, this practice pad is not without some setbacks. For example, it is a bit noisier to play compared to its competitors. Nonetheless, it offers good value for money for its affordable price.
Pros
Remarkably portable
Can be mounted on a cymbal stand
Realistic playing response
Cons
All in all, the Remo pad is an excellent option for the maturing drummer who wants to develop speed and control at home or on the go. This practice pad is designed to allow for customized tension setting. It offers the bounce and feel of an actual drum, and it's exceptionally affordable.
Overall Rating 4.5/5.0
Here's another excellent double-sided practice pad that allows for maximum practice flexibility. The Vic Firth 12-inch two-sided pad features a thin rubber surface mounted on a stable, wooden base for enhanced performance and durability.
Key Features
12-inch diameter
Dual surface
One side has soft rubber for silent practice
One side has hard rubber for realistic stick bounce and audible strikes
Heavy wooden base, offering a reliable and stable playing platform
This practice pad is designed to provide an experience akin to that of snare heads on modern Kevlar. In fact, some professional drummers have dubbed it the snare drum practice pad.
Another great thing about this pad is its sleek design and compact size, which allows you to maneuver with it easily without much challenge. Whether you are practicing soft, quiet, or loud, you can count on this Vic Firth practice pad to deliver satisfactory performance. You can practice with it in your apartment or in the dorm without worrying about offending your neighbors.
Thanks to the fact that it's two-sided, you get two practicing intensities to choose from depending on your mood, preference, or the kind of show you are preparing for. Despite its great attributes, though, this pad tends to curl after a considerable period of use. It's also a bit expensive compared to its competitors.
Pros
Lightweight and portable
Highly versatile
Eco-friendly
High-quality rubber drum pad
Realistic feel
Perfect for control and speed development
Cons
Pricier than competitors
Tends to curl after some period of use
Overall, the Vic Firth 12-inch two-sided practice pad is one of the most universal drum practice pads you can find on the market today. With this pad, you get a soft rubber playing surface for silent practice and a hard rubber playing surface for an intensive workout with audible strikes. While it's quite pricey, it's worth every penny you pay for it.
Overall Rating 4.5/5.0
The Rudi-Pad is a highly portable drum practice pad that comes with the Standard 26 American Drum Rudiments printed on the surface. This uniquely-designed practice pad delivers excellent performance on a hard surface such as a desk or coffee table. It is loud enough for you to hear, without being a nuisance to others.
Key Features
9-inch diameter
26 rudiments printed on the surface
Excellent rebound
Rolls up to carry anywhere
Machine washable
25-inch thick, heavy-duty yet flexible workout pad.
You would be forgiven if you thought the Rudi-Pad was a mousepad at first glance. Nonetheless, this practice pad can be very helpful for a beginner drummer looking to practice rudiments without spending a fortune or carrying around a large pad. It is designed so that you can quickly roll it up and shove it in your pocket.
The most outstanding feature of this pad is the standard drum rudiments dyed onto the surface. This gives you an easy way to learn new patterns and remain familiar with them as you continue exploring new ones.
The Rudi Pad looks simple, but it is quite durable. It is virtually indestructible. You don't have to worry about the pads fading off as they are dyed on. You can even throw it into the washing machine if it gets dirty. However, it may not work well for you if you are an advanced drummer.
Pros
Highly portable
Durable construction
Features drum rudiments for easy learning
Highly affordable
Cons
Not ideal for advanced drummers
Rudi-Pad is an excellent option for a marching band student or someone looking for a pad that they can literally carry everywhere for their bouts of impulsive drumming. It is affordably priced to meet the budget of a beginning drummer.
Overall Rating 4.5/5.0
Here's another cheaply priced but reliable drum practice pad. If you're shopping for a simple and affordable option, you would want to look at what Tosnail Silent pad has to offer.
Key Features
12-inch diameter
Eco-friendly
Odorless gum rubber on one side
Sponge on one side to minimize noise and slipping
Bonus 5A drumsticks
Available in blue or grey
Single-sided
This practice pad features a sponge on one side to prevent slipping and make the pad a bit quieter. Even if you are a heavy hitter, you don't have to worry about annoying others. The playing surface has an environmentally friendly and odorless rubber.
This practice pad also comes with a couple of 16-inch 5A drumsticks, giving you an opportunity to refine your stick control. Also worthy of note is that it is quite big. That means it may not be a great choice if you're looking for something you can travel with. But that's not a deal-breaker if you'll just be practicing at home.
Pros
Durable construction
Quiet drum practice pad
Affordably priced
Cons
Single-sided
Not ideal for on-the-go practice
Free drumsticks aren't of the best quality
The Tosnail Silent 12-inch practice pad is one of the best drum practice pads if you are looking for a budget-friendly but exceptionally quiet option. The quietness is attributed to the sponge that soundproofs it. While it is cheap, this pad can take a good beating thanks to its sturdy construction.
Overall Rating 4.4/5.0
Buying Guide How to Choose the Best Drum Practice Pad
When shopping for the best drum practice pad, there are several things to consider. These include
The Right Size
It's essential to consider the size of your practice pad. Be sure the pad you choose fits perfectly in your hands. It should also fit well on the desk on which you place it.
A 6-inch practice pad, for example, may not be a good option for an adult. It won't be comfortable for you to play. Your strokes will be limited significantly. Adults generally need at least a 10-inch size pad.
Weight & Portability
If you primarily practice at home, portability shouldn't be a big concern when choosing a drum practice pad. However, it is advisable to invest in a pad with a larger surface. While such a pad would take up significant space, it offers numerous advantages during practice.
Weight is also an important factor to consider when choosing the right drum practice pad. You should realize that smaller and lighter practice pads typically have instability problems during play. They tend to slip and shift from their position.
Pad Material
People have different opinions on drum practice pad materials. Some professionals recommend a single-surface pad design. According to them, the design will make you concentrate on the aspect of your playing and minimize distraction by other factors.
Others prefer a multiple-surface pad design. According to them, the ability to practice on a variety of surface pad materials expose you to different practice sessions. Nonetheless, it is up to you to decide what design works best for you.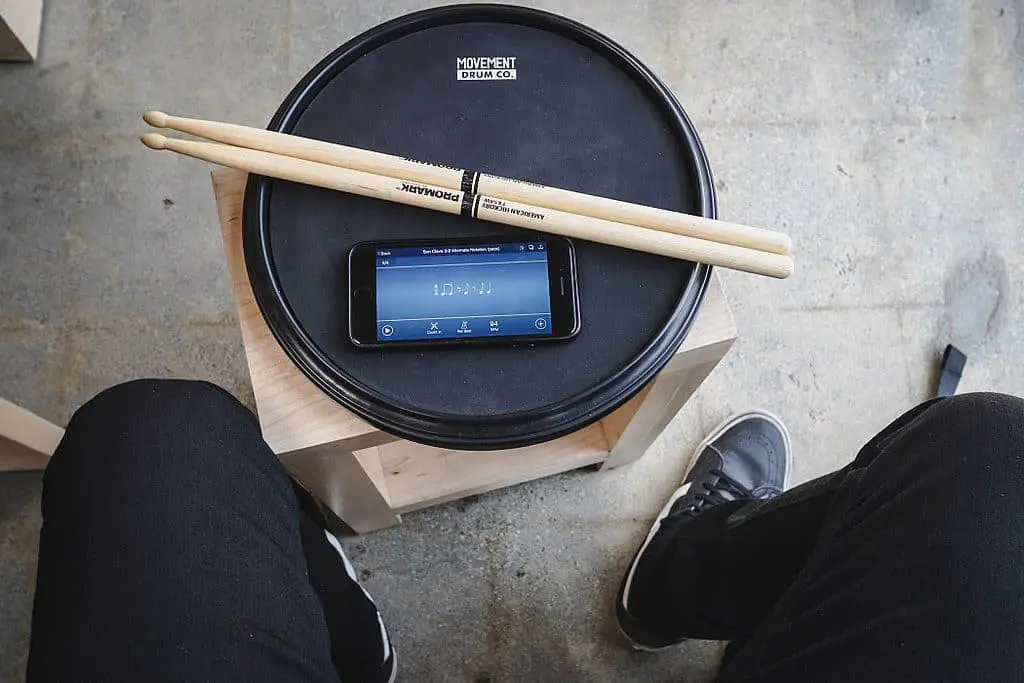 Silent Performance
A drum practice pad is something you would need if you have roommates, relatives, or neighbors who have been complaining about all the noise you make when rehearsing with your acoustic drum set. In that case, it is crucial to invest in a practice pad that delivers quiet performance and won't produce raucous sounds like a traditional drum set.
Practice Pad Feel
Many drum practice pad manufacturers claim that their pads to feel like a reel acoustic drum. That means you will be able to practice quietly on what is essentially a drum head you can place on any surface while getting a response and feel that is close to what you would get from a real drum. However, the result is not always the same as advertised.
There is usually a notable difference in how a practice pad feels compared to a real drum head. Moreover, there's often some difference in how one pad feels compared to another. Practice pads generally fall somewhere between two extremes.
You may get a pad that feels dead or one that feels bouncy, so it is advisable to get a two-sided practice pad that offers the best of both worlds.
Sound Versatility
A good practice pad should be adaptable, with a user-friendly control interface that allows you to set the drum pack sounds that suit a particular type of music. This can come in handy if you are a professional drummer since you'll be prepared to play different music styles such as rock, jazz, or metal in a blink of an eye.
Similarly, if you are a beginner, you will get the opportunity to refine your skills and explore the different sounds. To save some cash, consider shopping among double-sided practice pads, which are great for training and developing stick technique. Typically, a two-sided pad gives you one side that is soft, bouncy, and quiet and another side that is quite hard, a bit challenging to play, but louder.
By investing in a two-sided practice pad instead of buying two different pads, you can save a significant amount of money.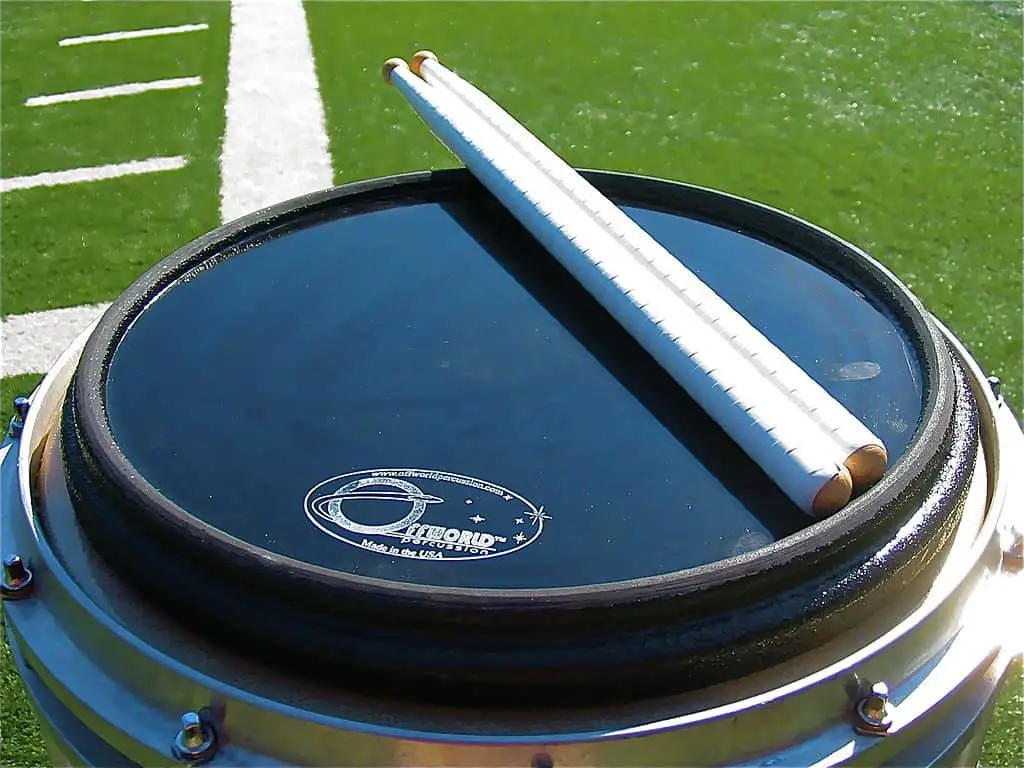 Type of Practice
When choosing a practice pad, it is also important to consider the kind of drumming you plan to practice. Answering the following questions will help you make the right decision.
Do you want to get some solid rudiment practice?
Are there specific styles that you want to advance in?
Maybe you simply want a practice pad for fun?
Whatever your reasons, it's advisable to choose a pad that suits your type of practice. If you're looking to develop strength, for example, purchasing a small rudiment practice pad won't be a good idea.
Final Thoughts
There's a wide selection of drum practice pads available on the market, and not all of them are made equal. The best drum practice pad will not only allow you to develop your skills as a drummer without being a nuisance to the entire neighborhood, but it will also offer you the convenience of moving it from one place to another.
Whether you're looking for a practice pad for a student, a beginner, an advanced drummer, or the best electronic drum pad, you'll find this buying guide helpful. We especially recommend the Movement Drums 12-inch double-sided practice pad. It's an excellent pad, beating the other options in terms of performance, feel, and quality.