Every drummer needs the right equipment when jamming. It doesn't matter how experienced you are, if your equipment sucks, you won't be able to play at your full potential. The most crucial piece of a drum set is the bass pedal. It sees more action than any other part of your set—you literally can't play your drum without your drum pedal.
With the best drum pedal under your foot, you can almost guarantee your audience a memorable performance whenever you hit the studio or stage for a live show. Our buying guide and review round-up of the best bass drum pedals covers all the important bits and pieces you need to have your own reliable and powerful bass drum pedal.
The Best Bass Drum Pedal
We particularly loved the Drum Workshop DWCP5000AD4 bass drum pedal and deemed it the best drum pedal because it features a robust design that lasts a lifetime. It has a powerful high-velocity beat with a non-skid design to keep your foot in place.
Bass Drum Pedals Reviews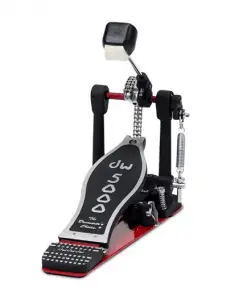 Drum Workshop DW Accelerator single bass pedal was engineered for intense performance. It has an innovative three-way toe clamp for a robust drummer and kick-drum connection.
Key Features
Dual-chain accelerator sprocket
Delta ball bearing hinge
Pivot toe clamp
Non-slipper rubber pad
Spring rocker with dual bearing
What I like
The dual-chained DW Accelerator pedal comes with an innovative three-way clamp. Its sturdy hinge and spring rocker with two bearings give it the stability it needs for durable and high-quality performance.
It has a grip on the bottom of the pedal that avoids slipping even during your most explosive performance. With the shortened length of each stroke from the D4D system, you can expect your beats to have faster velocity and power.
What I don't like
Honestly, there aren't any real complaints about the pedal. It doesn't come with a hard case, but that's not really a huge issue.
Pros
Has a smooth and responsive feel
Is easily adjusted
Has a sturdy design
Cons
Doesn't come with a hard case
The DW Accelerator is a wonderful upgrade for anyone looking for a reliable bass drum pedal that will last for years. It is well built and designed with a powerful beat from its kick. It has been recommended many players from around the world.
Overall Score: 4.6/5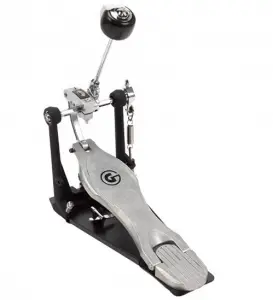 The Direct Drive Avenger single pedal is designed for a smooth feel. It has a simple but powerful design with a design that will handle any amount of punishment you give.
Key Features
G-branded pedal board
Direct drive single pedal
90-gram dual surface beater in two colors
Direct CAM Drive provides desired smooth feel
Rock stabilizer plates
What I like
This single bass drum pedal from Avenger has a precise and smooth feel because of the direct CAM drive. It has a slick chrome foot surface that was designed to make it easy to slide when playing doubles. You can easily adjust the settings with the variable beater angle, hoop clamp, and pedal height right to the level of your comfort quite easily.
What I don't like
Some users complain that while playing, sometimes the footboard gets stuck and won't automatically pull back up. You can force it back, but I can see how that could be annoying.
Pros
Quite affordable
Contains a lot of adjustable features for a custom fit and feel
Smooth and powerful performance
Cons
Not uncommon to have the direct drive shift during transportation, though easily fixed.
The pedal may occasionally stick
The Gibraltar Direct Drive Avenger bass drum pedal feels wonderful under the foot. It has a smooth, fluid feel by design with lots of power. Lots of drummers prefer playing it barefoot or with play in stocking feet because it feels great. It is so well designed there is no risk of cuts and scrapes.
Overall Score: 4.5/5
This model has a slick single-chain design that delivers smooth and rapid performance with maximum durability. It has a highly customizable beater angle.
Key Features
Nice circle cam with detachable eliminator-style cam
Single chain
Two surface beater with control core
Power shifter function longboard
Easily adjustable beater angle
What I like
The Pearl P930 Demonator Bass Drum Pedal has a timeless single-chain drive and demon-style longboard. It sports a swappable dual-surface beater with a highly adjustable angle for maximum customization. The removable eliminator style cam-style footboard delivers remarkable versatility and performance.
What I don't like
The rim lockdown mechanism can be a bit tricky on this model, and it's not responsive with a lifter or bass drum riser.
Pros
Takes a little less effort than some other bass drum pedals
Cheaper for drummers who want to practice kick while saving on wear and tear that's common with costly pedals
Ultra smooth and faster compared to many stock bass pedals
Cons
Not responsive when used with a bass drum riser/lifter
Not so great with ultra-fast footwork
One of the best bass drum pedal techniques is the heel-toe technique. If you love this particular style, you will love this bass drum pedal. It has an intuitive and simple design that delivers exceptional power with high levels of customization.
Overall Score: 4.4/5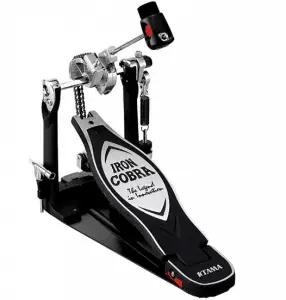 One of the things the Tama HP900PN model is well known for is its stability. The other remarkable feature is its durability. This model has a sturdy design, which ensures it remains powerful and functional even after years of aggressive use.
Key Features
Iron Cobra series kick drum pedal
LiteSprocket design for enhanced power and speed
Coil spring for a quick footboard return
Rugged three-piece hinge guard block for longevity
Broad baseplate and frame enhances stability
Adjustable beater head angle for a flat hit
Tight lock that steadies the beater shaft
Quick-Hook ensures fast spring attachment
What I like
The Tama HP900PN has a wider frame and baseplate that provide much-needed stability when you are hitting those powerful strokes. It has a smooth, light feel underfoot that'll make you want to go barefoot. With the double chain, you get all the power you need and a pretty impressive volume. Its thick, small-diameter beater offers good range, more control, and powerful attack.
What I don't like
This is one of the more expensive models in our round-up, though its durability makes up for that to some degree.
Pros
Fully customizable features
It is highly adjustable
Has easily replaceable parts if the need arises
Includes a carrying case
Cons
The price is considerably higher than its competitors
Double-chain drive pedal enthusiasts will love the quality aspect of the Tama HP900PN Iron Cobra Power Glide. It is easily among the top of the best bass drum pedal categories in the market. It is well worth the price.
Overall Score: 4.5/6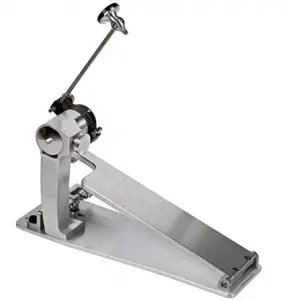 Trick Pro 1-V Bigfoot Pedal is a precise well-designed pedal. It offers smooth, precise, silent, and instant action with high levels of customization and adjustment.
Key Features
Compact billet precision-machined components
Compression spring design
Adjustable split cam for enhanced effects
Easy knob tension adjustment
What I like
One of the things that makes Trick Drums Pro 1-V Bigfoot bass kick drum pedal to stand out is its precision-machined parts. It delivers a smooth, silent, and reactive action as a result of the internal spring mechanism. It is very flexible with the multiple height adjustments as well as the angle beater adjustments.
The unit has sturdy aluminum, stainless steel, hardened steel, and titanium components that will last a lifetime. With its multiple height-adjustment clusters, you can choose the stroke speed as well as on the tension adjustment knob.
What I don't like
Aside from being less than ideal for players who dislike large pedalboards, this model is another wallet-breaker coming in towards the top price wise in comparison to the competition.
Pros
Ultra-precise action
Has zero lag time
Perfectly balanced
Highly durable
Cons
Not great for drummers who like smaller board pedal style
Expensive
Pro 1-V Bigfoot is suitable for professional and expert drummers who appreciate longboard pedal style. It delivers exceptional quality with smooth and powerful performances. This pedal was engineered to last with a sturdy design and build.
Overall Score: 4.6/5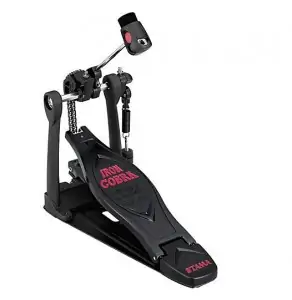 This is a limited-edition bass drum pedal that has gained traction among drummers from different parts of the world. It has an alluring super-black finish with red shades. This could be a good fit if you're looking for a functional drum pedal that's aesthetically pleasing as well.
Key Features
Limited-edition jet-black finish
Reversible duo glide cam
Dual settings enable drummers to select a playing style
Re-designed hinge for focused footboard action
Speedo-Ring rocker cam
What I like
The Iron Cobra 600 is a limited-edition bass drum pedal drum that features a durable double-chain drive that delivers smooth and accurate motion. With its duo glide feature, this model allows you to transition quickly between power glide cam and rolling glide cam quickly. The power glide cam offers more power and speed while the rolling glide is more consistent and smoother throughout the stroke.
What I don't like
The rubber could be a little better quality, and it doesn't come with a case of any kind.
Pros
Striking jet-black finish
Cobra beater's focused sound power strike
Double chain drive
Enhanced control with duo glide cam feature
Cons
Not so great rubber quality
No case
Iron Cobra 600 limited edition is a popular masterpiece that delivers a punch when you need it to while maintaining smoothness for your rolls. It is one of the best bass drum pedals out there with a sturdy yet beautiful feature rich finish.
Overall Score: 4.1/5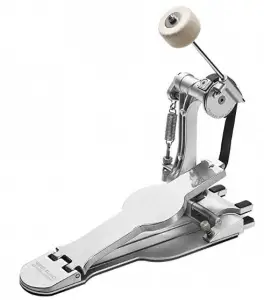 Precisely designed and engineered, this model by Jojo Mayer is a work of art that delivers precise motion and unbelievable smoothness. It is no wonder that it is loved by both beginners and experts alike.
Key Features
Perfect balance pedal
Innovative folding mechanism for easy transportation
Low mass drive system
Extended footplate
Fiberglass strap
Self-mounting clamp system
Magnetic spring dock
Height-adjustable footplate
Includes pedal bag
What I like
Sonor Drums Perfect Balance Pedal by Jojo Mayer features a rather simple design with a unique foot pedal design. It gets its smoothness and precision from the ballistic-fiber strap and double-chain system.
It comes in a shoebox-style box with an instruction manual to set up the pedal. Its clean design does not have bumps engravings or surface texture, allows you to slide during your playing easily. It is a simple yet advanced piece of bass drum pedal that is why it is the best bass pedal.
What I don't like
This isn't a pedal you can use straight from the box. It takes a good deal of fiddling to get set just right for that perfect sound. Some users also complain of less than stellar durability.
Pros
Low mass drive system with a longer board
Has a tough and dual-chain fiber strap
Self-mounting clamps and magnetic spring dock
It is compact, lightweight and easy to assemble
Cons
Has an unusual pedal design
Jojo Mayer's Perfect balance is a lightweight bass drum pedal well worth its weight. It has a sleek design and delivers unbelievable smoothness when you are jamming away. One of the best things about it is the ease of transport as it is foldable.
Overall Score: 4.2/5
The Ultimate Bass Pedal Buying Guide
We have seen how there is an endless list of drums pedals to choose from when you are looking for the best bass drum pedal. It helps if you have a few pointers before you settle for your choice of a drum pedal. Some of these include:
Budget
Budget plays an important role in the choice of drum pedal you get. No one wants to spend more than they can afford while at the same time getting something of a higher quality. If you don't have a lot of cash to spend on your bass drum pedal, there is some good news for you. There are many "cheaper" drums pedals today that deliver outstanding results and will last you for a very long time.
A rule of thumb with buying new musical equipment is that the more expensive it is, the more custom it is. This means that the drum you like might be more expensive than the standard. It helps if you draw a budget of what you are will to spend before going out shopping.
Durability
This is one of the most important aspects you should consider when buying a bass drum pedal. The best bass drum pedal will give you several years of service. If you move your equipment quite a lot, get something that can handle the pressure of being tossed and turned about without breaking. Its also best to look out for deals that include a carrying case.
How do you know the durability of your drum pedal? There is no shortcut to this. You have to aggressively read the reviews and find out other user's experience. Of course, there are some pedals that are not that sturdy but are great at playing. You just have to be extra careful with these.
Comfort and Playability
This has got to be the priority when buying a new bass drum pedal. If you feel you need to go over budget just a little more to get the right feel for your drum pedal, then do so. Most drum pedals allow you to tweak and adjust the settings a bit. You can try this to ensure you have the right feel to it. If it doesn't work, don't buy it.
One of the hardest challenges is usually adapting to a new pedal, especially when you have been using a particular one for years. One of the ways to adapt easily is putting more practice with the new equipment. Getting a new drum pedal requires experimentation after all.
Genre
The kind of music you play weighs in a lot on the type of bass drum pedal you get.
If you are a purist drummer, say like jazz drummers, you will most likely go for a single-kick drum that easily adapts to your technique and allows you to show your best skills. On the other hand, for a genre like metal or hard rock, a double-kick bass pedal works best. Progressive rock drummers will also be at home double-kick bass drum pedal.
If you are a more of a novice player, or you just play at home, you can opt for the standard bass drum pedal. No matter the kind genre you play, there is brass drum pedal that will fit your bill. Some pedals are versatile and can be used across the board without any problems.
There are so many things to consider when buying yourself the best bass drum pedal. Ultimately, the decision lies with you.
Final Thoughts
For any music lover out there, going to the music store or browsing online for new equipment is one of the most satisfying things out there. You will hardly miss something to buy.
If you are looking for the best drum pedal out there, one of the most important things to keep in mind is being open to experimentation. There are endless choices out there, and the only way you will know if it is the right one for you is to try them out and get a feel of it playing—and don't forget to take into consideration our tips for buying a bass drum pedal.