Performing on my drums is something I would give up just about anything for. As much as I love this activity, though, I am always prepared for things that might go wrong. Even so, I never thought that the worst embarrassment of my music career would be as a result of drum mic glitching out mid-set.
This made me furious, and with the sole purpose of ensuring it never happens again, I set about finding the best drum mics on the market. I scoured the web for reviews, asked friends and colleagues, tested mics, talked with studio sound guys—all the reference sources—and when I was done, I thought to myself, why waste all this information? Why not write a review? And, so here I am.
This particular review will look at a few products that I would recommend to anyone looking to take their live performance to the next level.
My Top Pick
If you're in a hurry, my top choice, and the one I ultimate bought, was the Neumann KM184 MT Cardioid Studio Condenser. This mic is a clear choice because of its electromagnetic interference blocking capabilities, and its high-quality sound recording.
Last update on 2023-09-03 / Affiliate links / Images from Amazon Product Advertising API
The Best Drum Mics Reviewed
When purchasing a new drum mic, you want to buy something that has been tried and tested by the manufacturer and other drummists on the music scene. The Audix D6 Dynamic is one such companion.
Key Features
Handles high sound-pressure levels (SPLs) without distortion
Very low mass diaphragm (VLM)
Every model is tested before shipment
Made in the USA
What I Like About This Mic
Nothing is more attractive to me in a product than a manufacturer that takes the time to test their products before shipping. This saves you a lot of stress and the inconvenience of returning an item if it's defective. It also shows Audix really cares about quality control.
I also love the fact this particular mic can handle very high SPLs without any distortion whatsoever. It makes an excellent fit for overtones. The transient response of the mic, mainly due to the VLM diaphragm, is just icing on the cake.
What I Don't Like About This Mic
While it's a small qualm, this mic doesn't come with everything you need. You'll have to purchase a mic cord and stand separately. For just under $200 though, the price is still quite fair.
Pros
VLM provides for a perfect transient response
Can be mounted inside or outside
Company practices great quality control
Cons
Doesn't include cord and stand
The Audix D6 Dynamic is an excellent fit for experts that are looking for a reliable non-distortion mic.
Overall Rating: 4.5/5
Electromagnetic interference is a serious issue when it comes to drum mics—it can quickly ruin a record session or live set. The Neumann KM184 MT Cardioid Studio Condenser is the ultimate protection from this issue, ensuring your audience only hears your music.
Key Features
High immunity to electromagnetic interference
Transformer-less circuitry
Suitable for use as an overhead or spot mic
Includes mount stand and windscreen
SPL capability of up to 138 dB
What I Like About This Mic
I love the attention to detail that went into making this mic. It is small with powerful capabilities that make it a perfect fit as either a spot or overheard mic. Many drum mics don't have the inconspicuous build necessary for that.
I also want my sound to be as clear as possible, and the fact that this mic is highly resistant electromagnetic interference is a major selling point in my mind. The transformer-less circuitry is a nice bonus too.
What I Don't Like About This Mic
I hate to focus on cost, but honestly, many of us have no choice but to pay close attention to price tags, and the Neumann KM184 MT is on the costly side. It may not be the best choice if you're trying to put a band together with limited funds.
This model's miniature size also makes it a smidge delicate compared to some of its competition, so that aspect is a bit of a double-edged sword—both pro and con.
Pros
Provides an interference-free experience
Versatile
Small, hard to spot, and sleek
Available in nickel or black to match your gear
Cons
Due to the size factor, extra caution is required in handling it
It is a little pricey
This is the ultimate fit for anyone looking for a high-quality, hard-to-see drum mic that fends off interference—that is if you can afford it.
Overall Rating: 5/5
Despite it's very affordable under $100 price tag, the Shure SM57-LC is a favorite in recording studios. In fact, Shure claims it's used by more professionals than any other mic on the market—enough so it's a "fixture of the music business"—and I can see why.
Key Features
Handles high-pressure sound levels, such as those from snares, with ease
Outstanding for high-volume amps
Can be used for multiple instruments—even voice recording
Bundled options are available
Durable even under intensive use
What I Like About This Mic
One of the biggest benefits of this mic is its versatility. If you play multiple instruments or also do vocals, this option will work for more than just your drums and work well. It's also built tough and can withstand the abuse that gig musicians sometimes put their equipment though—and it offers all that at a very affordable price point.
What I Don't Like About This Mic
While Shure is a trusted name, this more budget model has seen a fair share of quality complaints with many users stating that their mic had a weak signal, loose endcap, or stopped working rather quickly. Of course, many users are also very pleased with their SM57-LC, but there have been enough reports it's worth noting.
Pros
Package options with accessories are available
Assuming you don't get a lemon, very durable
Versatile enough to be used with virtually any instrument
Affordable and from a well-known brand
Cons
Some quality control complaints
While I'd buy from a source that offers easy returns and replacements due to quality control concerns, if you get a good one, this mic is one of the best on the market at this price point. It's affordable, versatile, and durable—what more could you ask for?
Overall Rating: 4.5/5
Nothing is more annoying than a drum mic that won't stay in place—or worse, won't clip on at all. The last thing you want is to have to spend your valuable time trying to get a mic to stay where it belongs. The Sennheiser E604 Dynamic is a sure-fire way to avoid the issue.
Key Features
Comes with a ten-year warranty
Can easily be clipped to any rim
Provides exceptional quality sound
What I Like About This Mic
This mic gave me the confidence I needed to trust that it wasn't going to fall off the rim once I attached it. Being a heavy hitter, this was a big concern for me. I need a mic with a secure latch.
Additionally, Sennheiser's 10-year warranty is generous and shows how much they stand behind the lasting-power of their products. A friend of mine that recommended this mic has had his for six years and says he hasn't had a problem yet. It is still in top condition.
This mic captures some of the highest quality sounds in both a noisy and quiet environment, making it an excellent fit for either.
What I Don't Like About This Mic
While this model can clip to virtually any rim on my drum set and will stay put, the initial set up is a little complicated. For amateurs or anyone not familiar with mics, this might prove to be a challenge.
Pros
Long warranty
Attaches securely to all rim types
Performs well in busy environments
Cons
It has a bit of a learning curve
If you've struggled with mics that don't clip on securely, the Sennheiser E604 Dynamic is a superb choice, and with its 10-year warranty, you can rest assured you'll have a quality—functional— mic for some time.
Overall Rating: 4.7/5
When it comes to the best drum mics for live recording, the Beyerdynamic TG-D58C is hard to top. This mic has one of the broadest frequency coverage ranges on the market and will help you capture more than just the sound of the drum set you are working on.
Key Features
High-frequency coverage
Versatile drum mic
Comes with a gooseneck
What I Like About This Mic
My first instinct when I saw this particular mic was to say thank you to whoever made it. Why? It comes with a clamp and a gooseneck at no extra charge. I have lived my entire life buying microphones, and their clamps and goosenecks are always separate items. I won't mention just how costly this has been over the years.
I love the high-frequency coverage of the mic and the fact that it can capture sound from all around as well.
What I Don't Like About This Mic
Unfortunately, this mic does pick up some cymbal bleed, and while that's a common issue with gooseneck condensers, it is a downside of this model.
Pros
High-frequency coverage allows this mic to capture sound from all around
Includes flexible gooseneck and clamp
Attaches securely
Awesome for bottom snare application
Cons
Does pick up some cymbal bleed
This mic is most suited to live performers looking for a mic that can be mounted anywhere. The addition of a clamp and a gooseneck make mounting this mic a breeze.
Overall Rating: 4.8/5
This is a reliable mic from a lesser-known brand. It offers impressive distortion resistance and is ideally suited to snares and toms. The sound quality is fantastic no matter where you place it, though.
Key Features
Capsule design
Dynamic Supercardioid
Durable
Neodymium element for healthy gain
What I Like About This Mic
This is a powerful mic that's versatile enough to be considered general purpose. While it's aimed at snare and tom use, it's certainly not restricted to those applications. Likewise, it performs well in both controlled studio environments and for live performances.
It's a mid-range model with a capsule design sure to survive the bumps and drops of life on the road.
What I Don't Like About This Mic
There are a few things I don't like when it comes to the Miktek PM10. The first is that the price range is high when you consider this is a stand-alone product and includes none of the necessary accessories. Also, while this model can be used virtually anywhere, it is not suited to some overtones. The sound tends to be a bit off on playback.
Pros
Capsule design for superior sound
Durable capable of handling long periods of use
Perfectly suited for use on toms and snares
Cons
Fairly basic for its price tag
Struggles with some overtones
This mic is a great choice if you prefer the capsule shape and perform in a variety of settings. However, it's best to watch for sales with this one.
Overall Rating 4.0/5
The AKG Pro Audio D12VR is a thin, large-diaphragm microphone designed with professional low-frequency players in mind. It works best for kick-drum recording and has a decibel level control switch on the side.
Features
Optimized bass chamber
Dynamic Cardioid
Optimized for professional recording
Includes a mic bag for storage
What I Like About This Mic
I first bumped into this drum mic when I set foot in a recording studio for the first time. This mic is specifically suited to professional recording but does equally well on stage—my first attempt using it live was awesome. I remember listening to that recording four-five times each day for about a month. Since then it's been all about the AKG Pro Audio D12VR.
What I Don't Like About This Mic
Being marketed as a professional recording mic, this model is on the higher end of the budget scale. If you don't plan to do studio work, you might be better off with a cheaper mic aimed at live or practice use.
Pros
Suited to professional recording
Has a cardioid pattern that blocks out other sounds
It has an optimized bass chamber, a feature lacking in many mics
Cons
The price is a limiting factor
This mic is a great fit for professional recording purposes and will work well for live performances as well, but isn't worth it if you don't have need of the recording end of things.
Overall Rating: 5/5
For many drummists, preserving the natural tone and sound of the drum reigns supreme. Many recording mics, however, don't live up to that expectation. The Audio-Technica AE2500 does. This dual-design mic features an innovative design that produces unsurpassed sound consistency.
Key Features
Combines the condenser and dynamic functions
It is built specifically for the road
Produces natural sound
Ideal for kick-drums
What I Like About This Mic
The Audio-Technica AE2500 is one of those mics that you can't help but love after one use. This amazing mic packs all the features you could possibly need to record the most natural sound from your drum. Whether you are on the road or you are performing in an indoor arena, this mic has you covered.
What I Don't Like About This Mic
This is another mic I love everything about but the price. At north of $500, this is not the mic for you if you're not sure you'll stick with the drums.
Pros
Innovative dual design
Incredible sound natural quality
Cons
This drum mic is for purists who want to maintain as much of the natural sound of their set as possible. It's a pro option with a pro price.
Overall Rating: 4.9/5
Let's face it, every now and then we're all a little less kind to our gear than we should be. Drummer's kits can see some abuse, so how about a mic that can take a hit and still be in good condition? Sounds great, right? That is the Shure BETA 52A Dynamic for you.
Key Features
Suited to kicks and bass
It is built in a durable design
Records professional sound
What I Like About This Mic
What I like most about this particular mic is its impressive durability. You don't see this with many mics on the market, and I'd be very surprised if you manage to break this model. Additionally, it records professional studio sound when you perform.
What I Don't Like About This Mic
This mic is suited to kicks and bass doesn't work well with toms or snares. This might not be an issue for you, but it does limit the usefulness of this mic.
Pros
Built to take the test of time
It can record professional studio sound
Best for kick drums and bass
Cons
Does not work well with snares and toms
If you are looking for a durable mic that can take a hit or two and still serve you well, this should be your first pick.
Overall Rating: 5/5
How to Choose the Best Mic to Use with Your Drums
No matter how talented you are or even if you have the best electronic drum set, if you're using a bad mic, you're going to sound bad. Chances are, though, you know why you need a good mic, but do you know how to pick a good drum mic? Let's take a gander at what you want to consider when shopping for a new mic.
Do you even need a drum mic?
Your very first question should be whether you need a mic at all. If you're still in the learning and practice-only stage, a mic may not be worth the investment right now. Stick with it a while and make sure this is a hobby you'll keep. Even if you garage jam with friends, a mic isn't really necessary.
Now once you want to start recording your music of doing love performances for a real audience, that's when you need a mic. You'll also need a good mic if you'd like to use recordings to improve your playing.
Type of drum mic
The market provides an array of specialized mics that are suited to various drum parts and types. It is essential to understand which drum a particular mic works best on. For example, a kick drum's mic doesn't work the same as a mic suited to a tom or a snare. This means your second consideration should be what type of drum you play the most. There are, however, a few mics that are more all-rounders and work well for multiple instruments.
Number of Mics
While it is possible to use just one mic, most mic drum kits actually include three to seven mics. A popular set-up includes one kick mic, one snare, three toms, and two overheads. The advantage of more mics is that you can capture the sound from a variety of different points and choose a different mic at each point.
Of course, more mics also increases the price tag of your kit and the amount of time it takes you to set up. If you opt for a single mic, a room mic is best to pick up on sound from all parts of your kit.
Price
The price of a mic will vary on a great number of things, such as its specs, sound quality, brand, accessories, and more. Don't make the mistake of assuming a bigger price tag equates to a better mic. This isn't always the case. For instance, sometimes you'll pay high dollar simply for the honor of sporting a particular brand name. Always focus on quality and stay in your predetermined budget.
New vs. Used
On the price note, instruments and music gear are common pawn shop fodder, but be wary of used equipment even when it comes to mics. The problem with a used mic is you don't know the care it received from its prior owner, and it's not as if you can examine the internal circuitry to ensure it's not damaged. You're really gambling with your hard-earned cash. Not to mention, most second-hand sales don't come with a warranty or return option.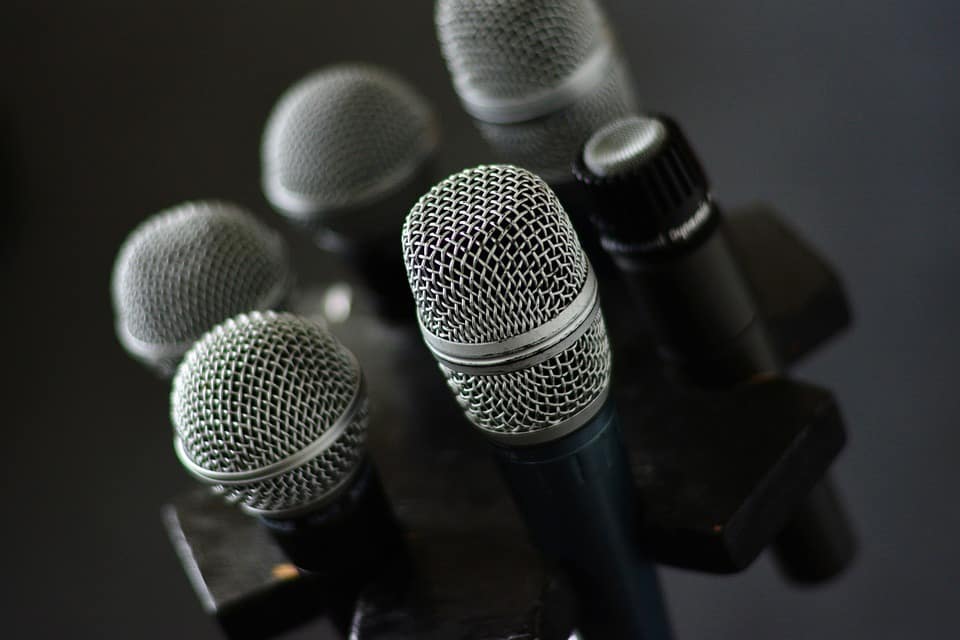 Durability
When it comes to assessing quality, I don't just mean sound quality. You also want to look at the build materials and durability. Drum mics can see some abuse; you don't want some delicate little stick that's going to be trash with the first hit it takes. You want a real metal mic with a solid track record in the review world.
Wired vs. Wireless
This is sort of a trick question; I more threw it in here because lots of folks like going wireless these days. While wireless recording mics abound, true wireless drum mics don't exist. There isn't a wireless mic made that can transmute the sound of a drum properly, and honestly, you likely won't see one anytime soon.
It's not as if drummers do a lot of walking about carrying their set—unless you're in a marching band. I suppose it would make for easier set-ups on gigs, but I'll take quality over convenience any day.
Usage Type
Some mics excel at in-studio recording, others are best for live-action, and a select few handle both. Naturally, it's best to get a mic that can handle it all if possible but be sure to find a mic that at the least works well with what you plan to use it for. The best mic is the one that fits your needs.
Compatibility
Similarly, to finding the right type, it's also important to ensure that the mic you choose will work with your drum set. Particularly with mics that have built-in mounting equipment, compatibility can be an issue. Take note of the dimensions and clip type (if applicable).
Accessories
Not all drum mics come with everything you'll need to use them. When comparing your options, remember to factor in all the accessories you need. Some examples include a carrying case, wires, and some sort of mounting apparatus. Many models only come with the mic, which means buying everything else separate—a major consideration when calculating cost.
Warranty The length of a company's warranty is a good indication of the faith they have in their products. A good warranty length for a drum mic is about two years. Anything over that is excellent, and anything under a year should be enough for you to look elsewhere. If a brand doesn't have confidence their product will be problem-free for a year, stay away.
Types of Drum Mics Available
For the most part, there are three types of drum mics that you will find on the market, including:
Condenser Mics
Condenser mics usually have a loud output and are the best drum mics for recording. You will find them in recording studios, and they are generally more expensive. These types of mics also have high-frequency responses and are one of the most sensitive to loud sounds.
Ribbon Mics
Ribbon mics are a great fit for high frequency sounds as well. These mics have an amazing ability to take in fast transients without failing. This allows them to reproduce the sounds they record in the best way possible. Ribbon mics also don't pick up any sounds from the side. With a ribbon mic, you can focus it on one mic at a time.
Dynamic Mics
Dynamic mics are the kind you'll see the most. They are architecturally specialized in capturing high-frequency sounds. Think of the sound range of cymbals when thinking of dynamic mics. This frequency adaptability is made possible thanks to a thin diaphragm of Mylar or foam.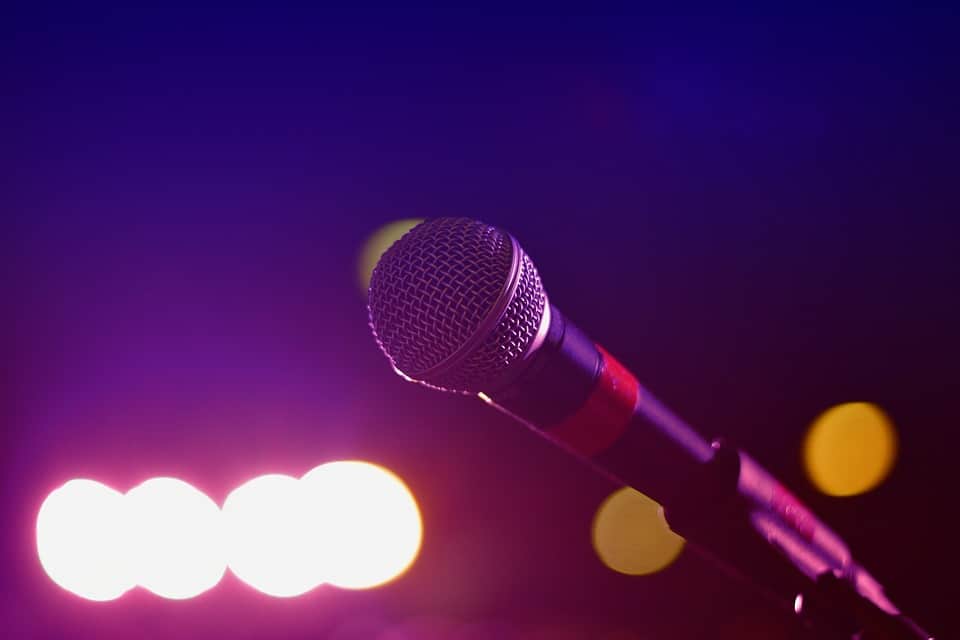 Caution When Handling a Drum Mic
Drum mics need to be handled with caution if you want them to last. Even a well-built mic is going to suffer in quality with improper care. How do you properly care for a drum mic? No worries. I've got a guide for that too.
Take note of wires
Ensure that all cables are free and not tangled up, especially when setting up. Watch for damaged wires and repair any found promptly or replace the wire. If your lines have to cross walkways, secure them flat with some duct tape. Store the cables and mics separately if possible when not in use.
Clip those that can be clipped
While arguably a matter of preference, I recommend getting a mic that clips—and securely—to your set. A well-mounted mic is a safe mic, and the less damage your equipment sees, the better. Plus, it reduces the chances something will go wrong with your mic during a show.
Practice Proper Storage
A drum mic certainly isn't as sensitive to storage methods as something like a wood guitar, but it's still important to practice proper storage.
Ideally, you should store your mic in a protective case to keep moisture and dust off it. Aim for a location that's temperature-controlled, so you don't end up dealing with condensation from big temperature swings.
Final Thoughts
We have looked at drum mics, their importance, and some of the top-rated products in that particular category. The one mic that wins it all for me, however, is the Neumann KM184 MT Cardioid Studio Condenser.
This mic comes with all the perks that you'll need to maximize your performance. You will get a clear sound recording that sounds as natural as possible. The electromagnetic interference blocker is a major player in the game. The price range is also affordable when rated against other similar products in the same category. For the best investment in a drum mic, this is the one.