I have been using electronic drums for the past nine years, and I've learned a lot about them. Like most everyone else, I started with an acoustic set, but I do realize that these days not everyone does. It's perfectly acceptable to start on an electric. Of course, this leaves many beginners asking which is better.
So, I have taken it upon myself to delve into the acoustic vs. electric drums debate by reviewing two of the best brands I've ever used—Yamaha and Tama. For this review, I'm looking at an electric Yamaha and a Tama acoustic drum.
Short on Time?
If you're short on time and just need an answer, an acoustic is going to be better if you're into genres that lend to a more traditional sound, such as jazz. If you're into electronic sounds, like EDM, or need to practice quietly, go electronic.
Last update on 2023-11-23 / Affiliate links / Images from Amazon Product Advertising API
Direct Product Comparison
Alright, next, let's look at two popular models from each brand to compare products directly.
The Superstar Hyper-Drive is an acoustic drum set that Tama specifically categorizes as a perfect fit for the intermediate drummer. I choose it because I think it represents an excellent middle-of-the-line model from Tama for comparison.
Key Features
Premium components and quality
Versatile sound options
Available in an impressive range of options
What I Like About This Drum
This drum set is made from premium components and offers superior quality. You'd be hard-pressed to find a better acoustic model. With the Tama Superstar Hyper-Drive Maple, you have a drum set that has been made from 100% pure maple.
The color options are also plenty, so you don't have to stick to just one boring color. Additionally, it has a versatile sound at an affordable price, making it a great bargain. This particular drum set also has Star-Cast suspension mounts integrated into the design.
What I Don't Like About This Drum
Being an intermediate drum set, it may prove to be a difficult one for total beginners to use. However, the saving grace is that it takes only a short time to master it.
Pros
Variety of color options
Affordable price
Integrated star-cast suspension mounts
Great built quality
Cons
Not suitable for beginners
This intermediate acoustic drum by Tama is ideal for semi-pro or expert drummists that can put to full use its extra features.
Overall Rating: 4.8/5
This model is arguably the quietest electronic drum in Yamaha's line. With this model in your home, you don't have to worry about late-night practice sessions keeping your neighbors up. Especially for apartment dwellers, this is a perfect choice.
Key Features
Mobile app integration
Quietest model
It is suited to learners
What I Like About This Drum
The Yamaha DTX402K is a hard-not-to-love electronic drum set from Yamaha. We know all the expertise that this brand puts into coming up with the most impressive electric drum sets. This particular model is not any different.
What I like most about it is its suitability to learners. Amateurs will have no trouble with this drum set as they are guided at each step of the way to becoming pros.
It also integrates the functionality of two mobile apps to help you tune the settings of the drum from the mobile handset, including the DTX402 touch app and the Rec n' Share mobile app. It is also the quietest model in the Yamaha line.
What I Don't Like About This Drum
The replacement of a kick pad with a kick pedal is something that didn't work well for me. It takes some time getting used to especially if you are transitioning from the acoustic drum side.
Pros
Incredible sound isolation
Simple to use
Compatible with two apps
Cons
It uses a kick pedal in place of a kick pad, which takes some time getting used to
This drum is the tech-savvy drummers dream with app integration and flawlessly silent electric play to ensure no one hears your music until you're ready to share. It is a perfect representation of what a good electronic drum can do.
Overall Rating: 4.7/5
About the Product Category
The electronic drum set vs. acoustic debate is a long one with ardent supporters on either side. It is almost to the Tom and Jerry logic of who is right and wrong and in what circumstance. Simply put, it is a tough one to crack and identify rightful winners. Both these drums, however, have their advantages and disadvantages and looking at it this way makes the debate more logical.
Acoustic drums have been around longer, obviously, and have been touted by many as the best way to learn more about drums and the entry point to being a great drummer. The truth of this can be argued to some extent.
Electric drums, on the other hand, have been labeled as a disruptor in the music industry. This is in both good and bad faith, and so, it's important to look at it objectively.
Although quite different in their makeup, both types have their similarities. Some of the most notable examples include:
Set up: Regardless of the drum type, the set-up process is similar.
Can play the same music: Whether you are on acoustic or electronic drum set, depending on your skill level, you can play the same music on either choice. Nothing changes as the tones will pretty much be the same.
Some of the most notable differences are:
Electronic drums can be silent: Electronic drums are termed the silent drums because you can plug in a headset, and only you will hear the sound as you drum.
Acoustic drums are better described as a set of drums and cymbals working as one. The main difference between an electronic and an acoustic drum set is that with the acoustic drum set, all components are to be played as one instrument.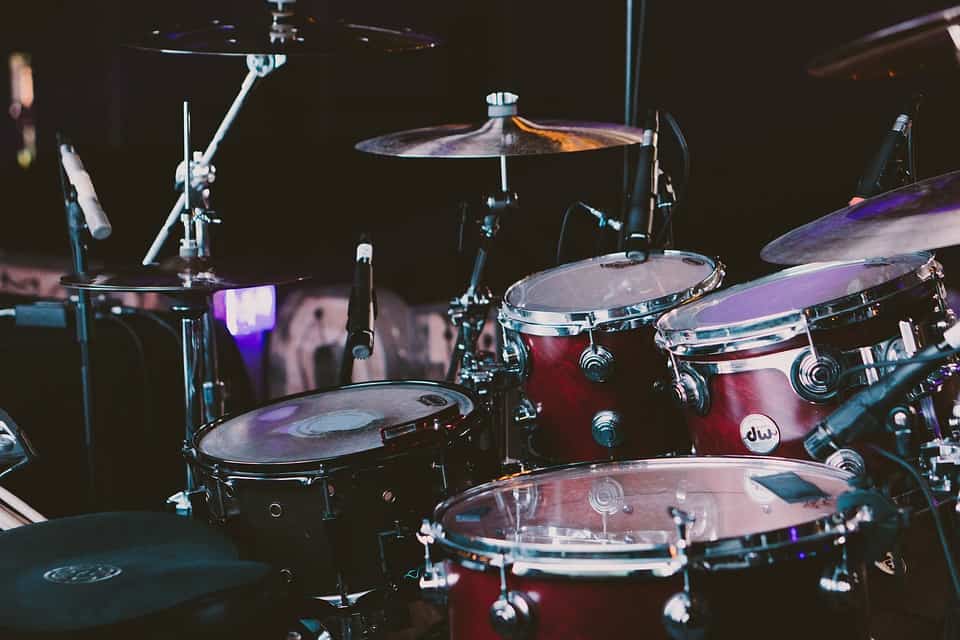 Yamaha vs. Tama
Both Yamaha and Tama are top brands in the music instrument scene. You are likely to find what you need when you look through the profiles of each of these companies.
Yamaha has been in the game for a long time and has a wide variety of drum sets both electronic and acoustic. This brand is preferred by many people because of the reliability that comes with owning a set from it.
As a brand, Yamaha also puts a special emphasis on moving along with the technological trends. It is hard to find a Yamaha instrument, more so an electronic drum set, that doesn't configure with most of the electric instruments that we have in the market today.
Although their focus in recent times has been on electronic options, this brand can't be written off when it comes to acoustic instruments. They continue to be trendsetters with new product releases while also improving the products they already have.
Although primarily suited to heavy hitters, Yamaha also caters to light hitters with some impressive designs that dramatically improve sound quality. Whether you choose an electronic or acoustic drum set by Yamaha, you are guaranteed quality.
The electronic drums vs. acoustic debate is made all the more intensive with the presence of Tama. Tama is a worthy competitor to Yamaha on both scenes.
Although with a special focus on acoustic drum sets. Tama has been able to keep its name alive despite the evident spread of technology and many drummists warming up to the use of electronic drum sets. This has been spurred by the growth of electronic music with genres such as Electronic Dance Music (EDM) coming up in recent years.
Despite this evident challenge, Tama has continued to make acoustic drum sets while also venturing into the electric drum market. Their exploration has, however, not been as radical as Yamaha's. Tama keeps true to its fan base of acoustic music lovers and drummists.
Most of their drum sets, however, have many integrations that allow the drums to function perfectly along with other instruments—even electronic ones.
Looking at these two brands, it's clear that though both have a line that serves the acoustic and the electronic market, but each has stayed rooted in one more than the other. Tama has stuck with acoustic and Yamaha has gone more into the electric drum sets.
With continued appreciation of electronic music and the combination of old school genres to pair with this music, it's hard to say if an ultimate winner will ever be decided. One thing that can be near guaranteed, though, is that each type of music will always have its fans. Neither option is going anywhere anytime soon.
Electronic vs. Acoustic Drum Comparison Table
| | |
| --- | --- |
| Acoustic | Electrotonic |
| Traditional | Modern |
| Limitless options | Limited options |
| Loud | Can be silent |
| No power needed | Batteries or adapter |
| Requires maintenance | Very little maintenance |
| Requires some room | Space-saving |
| Perfect for physical players | Perfect for beginners |
Final Thoughts
The acoustic vs. electric drums debate, as we have seen, is not one that can be solved by merely laying out the features of each type of drum. It boils down to the individual person and the kind of music that one wishes to play.
For acoustic music such as jazz, acoustic drums must inevitably be learned, and the same also applies for electronic music, such as EDM, that requires knowledge of electronic drums to get the sound right. The only situation where I would say there is a clear-cut winner is if you are in a position you need to practice quietly—in that case, electronic wins.