We're all familiar with headphones and their function in everyday life. Well, for DJs, that function is a bit different, and of course, I found out the hard way. I was a novice, and like most beginners, I didn't have the foresight to purchase a noise-canceling pair of headphones that suited my needs.
I grew frustrated—why wasn't I improving at the rate I imagined? I was putting in hours every day, until a friend of mine pointed to my cheap headphones and said, "That's the problem."
I finally got a solid pair tailored for DJs, and my skills have propelled. Now, if you're in the market for a new pair of headphones, read on. I did plenty of research as I was looking for my ideal pair. On the road, I found some great products and information that I'd like to share with you.
Remember, DJ-friendly headphones aren't cheap. You need to know the pros and cons of each product on your list before you spend your hard-earned dollars on a pair that ends up disappointing you.
So stick with me as I have reviewed the best DJ headphones, with an extensive buying guide at the end to make things easier for you. If you don't have time to browse through all the options, let me just give you a quick introduction to my top pick.
Top Pick
I'd recommend the OneOdio Adapter-Free Stereo DJ Headphones. These headphones are jampacked with useful features, have a great aesthetic and unparalleled comfort. The best part? They are under $100.
Last update on 2023-10-24 / Affiliate links / Images from Amazon Product Advertising API
The Best DJ Headphones Reviews
Let me cut to the chase. We have officially found the best DJ headphones under $100. With a dynamic bass sound, dual-duty cable, high durability, and an extraordinary level of comfort, the OneOdio is the perfect choice for audiophiles and DJs alike.
Key Features
Telescopic arms with scale
50mm Nymedium drivers
Foldable design
Dual duty cable
110dB +-3dB sensitivity
20Hz-20kHz frequency range
Two coiled cables
5mm/ 6.35 mm stereo plug
What I like
Everything. From the price to the features, to the fact that they are not made from animal skin. These headphones boast an extraordinary set of features, have a foldable design, are eco-conscious, and durable. Of course, my wallet loves these too.
What I don't like
Really, It's a small qualm as most of us don't go walking around while DJing, but this set isn't wireless. I've always felt the fewer cords on set, the better.
Pros
Comes with two wires
Awesome sound quality
Reasonable price
Hassle-free foldable design
Cons
If you're looking for a pair of reliable, cheap DJ headphones with almost all features available today, look no further. This is the perfect option for you and is destined to impress. No need to hang tight for a better option, because OneOdio has got it all covered—from price to quality and a sleek design.
Overall Rating – 4.9/5
With a number of features such as 44mm neodymium-magnet drivers, the Lyx Pro HAS-10 is a keeper. They're relatively comfortable, thanks to the soft leather headbands and ear pads, and noise-canceling.
Key Features
180-degree rotatable ear cups
Stainless steel arms
NdFeb magnet system
10Hz-26kHz frequency response
Straight cable duct
Screw-on jack
What I like
This great pair of headphones does not allow any sound leakage. You could be blasting hardcore rock music, and the person next to you would never be able to tell. It is amazing for noise blockage as well, so you can't hear them, and they can't hear you: the absolute win-win situation.
What I don't like
It doesn't have a volume control key to change the volume through headphones, but I can use my computer keys to do that, so there's a solution to this issue.
Pros
Awesome sound quality
Comfortable ear cups
Extra long wire
No sound leakage
Strong sound blockage
Cons
Doesn't have a volume key
The headphones are a solid option, perfect for those who love the dual-noise reduction feature. The comfort of these is extraordinary as well. A great choice for heavy headphone users.
Overall Rating – 4.8/5
With this pair of headphones, you'll hear everything at a new level of clarity and precision. You need not worry about any headache or ear pain, as the Pioneer Professional DJ Headphones are extremely comfortable. Not only that, they are perfect to match your travel plans as they can handle disruptions, bumps, and knocks without a problem.
Key Features
102 Db sound level
Swivel Headband
40mm driver
Four-core twisted-structure cable
2 short coiled cable
L-jack
What I like
This headphone is very comfortable and does not put any pressure on your head. You can adjust this pair with a flexible swivel, saving yourself from immense pain after long hours of wear. Its portable nature makes it perfect for people who are always on the go.
What I don't like
The price is a bit higher than other products, but for the benefits it provides, I'd say it is a pretty good one-time investment.
Pros
Extraordinary sound quality
Comfortable design
Indestructible structure
Strong noise cancellation
Cons
Pretty expensive for a beginner
If you can spend over 300 bucks for a pair of headphones that will last you an eternity, this is a pretty good choice. I'd say go for it if you want to invest in a durable product.
Overall Rating – 4.5/5
This is an advanced version of the Lyx Pro 10 with a more aesthetic touch to it. It is perfect for podcasting and video clips, picking up every little detail and giving you authentic live-music vibes. The headphones come with detachable cables and rotating ear cups, so you can expect it to be comfortable and hassle-free.
Key Features
Completely foldable sides
180 Degree Rotatable Cups
Detachable cables
Coiled and Straight cables
5 mm adapter
50 mm drivers
100+-3db sensitivity
15 Hz 26 kHz frequency response
Leather material
What I like
I'm a big fan of the detachable cables. You can pack the cables separately without tangling them up with the headphones. It also comes with a leather headband that helps to reduce tiredness during long hours of use. Better yet, the price is a real bargain. You won't find all of these features anywhere else for this price and quality.
What I don't like
Not a fan of the sound quality in low tones, but if you are someone who likes listening to music in high volume, then this won't be a problem for you.
Pros
Comfortable leather headband
Hassle-free detachable cables
High level of noise cancellation
Picks up minor sound details
Easily foldable design
Cons
Sound quality seems to go down when hearing the music in very low tones
Go for it if you have a low budget. This is the best value product, with a dirt-cheap price, and a long list of features it comes with. It's also a decent option for podcasting and creating voice-overs.
Overall Rating – 4.6/5
This pair of headphones is one of the best DJ headphones for professionals. With reference sound, a great price, dreamy matte finish, solid high bass, and re-attachable cables, this product offers an all-encompassing listening experience.
Key Features
Over the ear design
Semi-open cut
55-ohm Impedance
15Hz-25kHz frequency range
5 mm gold plated jack
Easy connectivity with iPad, iPod, and iPhone
91 dB/MW sensitivity
8 ft OFC cable
Multiwire jack
3 mm adapter
What I like
The sound quality is more open and responds well with high bass and amplifiers. Its super tight punch bass accentuates the nuances of vocals. These are very comfortable and have a sound quality that shines when paired with a high-quality amp. Not only that, it provides the best sound breathability depending upon the device you connect with it.
What I don't like
I'm not a huge fan of the cables it comes with. You can always replace them, but that's an extra step—and expense—to consider.
Pros
Great imaging
Excellent acoustics
Easy suspension to adjust headband and ear cups
Insanely good sound quality with iPad and iPod
Large ear cups
Cons
Cables do not work great with phones
I'd say invest in these headphones if you have a computer, iPad, or iPod as the music sounds like magic on those gadgets. The sound quality is fantastic, and this pair rests lightly on your ears. Considering the decent price tag and the extensive package of features, such as 15Hz-25kHz frequency range, 91 dB/MW sensitivity, and the gorgeous punch bass, this purchase is a no-brainer.
Overall Rating – 4.7/5
While it'd be easier to dismiss these headphones due to the suspiciously low price, this pair of Preliked headphones offers a great listening experience. The truth is that it provides almost the same quality and features as any expensive headphones on the market. The sound quality and bass will surprise you and leave you awestruck. These are one of the cheapest, yet highest quality DJ headphones you can find in 2019.
Key Features
5 mm Aux Jack
200000 Frequency Response Range
91dB sensitivity range
5 mm audio output
Stereo audio
Lightweight
4cm speaker diameter
5 m long cable
What I like
One word, five letters: price. I'd definitely recommend this product for the price if you need an extra pair. They offer exceptional sound, are comfortable to wear, and come with a 2.5 m long cable.
What I don't like
These headphones have super-large ear cups that would cover all of your ears and more, I find that perfectly comfortable, but I know a DJ or two that would consider this a big downside.
Pros
Great value
Extremely lightweight
Perfect for jamming
Comes with a microphone
Cons
Earcups are larger than average
Though there's nothing fancy about their look, they are an extremely attractive option considering the performance and quality they offer for such a bargain price. This is an ideal choice if you're just starting out professionally and are working with a tight budget. They're also great as an extra pair to test music for shorter periods of time.
Overall Rating – 4.7/5
Next in line, we have the Vic Firth Headphones. They are resilient against outside noise and can withstand super high volume levels. So, go ahead and turn your tunes up to the loudest setting possible. The best noise blockers are here, and they are going to change the game.
Key Features
Reduce outside noise by 24 dB
Broad foam cushions
6 ft straight cord
Rotatable ear cups
32 ohms impedance
What I like
Unlike most headphones, this pair has a complete sound blockage system. It is meant for professional DJs who have to stand right next to ultra-loud speakers. Thus, they provide extreme security for your eardrums. The sound quality is as good as any other high-quality headphone.
They're pretty darn comfortable, too, thanks to the super soft and wide foam cushion. The best part? They don't even require batteries.
What I don't like
The headphones are a little springy when you take them off. They tend to snap back, so you have to be careful that it does not hurt your ears or eyes.
Pros
Great sound
Protection from damage
Doesn't need batteries
Doesn't leak sound
Cons
The sides crackle and are a little springy
This set is the best thing hands down for your ears in regards to comfort. If you are someone who practices a lot, I'd say do it. Your ears will thank you. Period.
Overall Rating – 4.8/5
With an incredible Dynamic Sound bass, this is probably the only pair of headphones under $100 that offers a sleek design. These are over the top, deep-bass quality headphones that also look amazing. They deliver an awesome listening experience and have a built-in microphone.
Key Features
Universal 3.5mm Stereo Jack
Built-in Microphone
Cushioned ear pads
Compatible with almost all phones and tablets
Noise reduction technology
What I like
These headphones feature a built-in microphone and are completely compatible with all kinds of phones, including older devices, such as the Galaxy Core Prime, Google Nexus, and all android tablets. This is convenient because it adapts to all my gadgets. If I'm experiencing a creative influx, I can use the mic to record songs, or I can use it to announce things throughout my sets on stage. The sleek design is also a huge plus. Doing something is always better when you look good doing it.
What I don't like
Perhaps the only downside to these headphones is that they don't have a volume control key attached to them—but personally I think that can be forgiven considering the price range and the added features.
Pros
Crispy high sound notes
Balanced bass
Hassle-free built-in microphone
Easy connectivity with all my gadgets
Cons
This headphone should work great for professional DJs who need a comfortable headphone for long hours. It doesn't have a volume key, but otherwise, I believe this is a pretty good choice for a professional DJ.
Overall rating – 4.5/5
Mackie MC has a reputation for offering the best passive voice isolation, and rightly so. These headphones feature 20mm drivers and a frequency range of 15 Hz to 20kHz, with a padded adjustable headband, making this pair ideal for long performances and jam sessions. These headphones also come with free Bluetooth wireless earbuds and a tiny black carrying bag.
Key Features
93 dM sensitivity
Foldable headband
Closed design
Single-sided design
Closed-back earcup style
33 Ohms Impedance
Wireless Bluetooth earbuds
What I like
I love free stuff—who doesn't—and these headphones come with two extra add-ons: a black carrying pouch and Bluetooth wireless earbuds. The foldable design is also really convenient, making it so easy to pack and carry around.
What I don't like
A built-in microphone is the only feature that these headphones lack. I mean, that's a small qualm really, as you may not even need a mic, but worth noting.
Pros
Excellent sound quality and tone
Comfortable design
Free accessories
Cons
The lack of a built-in microphone
If you're purchasing a pair of DJ headphones, you need them to be comfortable while providing the best sound quality. This pair is good on both ends, providing good quality and comfort for less money.
Overall rating – 4.6/5
This pair of wireless Bluetooth professional studio headphones sport unparalleled rock-solid bass and a comfortable wearing experience. Enjoy long-lasting music wire-free. This wireless pair charges lightning fast, too.
Key Features
Wireless technology
220 hours of standby time
Padded headband fit
Noise-canceling
Stereo sound
What I like
The sound of these headphones is incredible. They're noise canceling, making for a clean audio experience. Better yet, the 220 hours of standby time are amazing for wireless listening. An amazing product for a fair price.
What I don't like
It takes some time to understand how to best go about the connectivity process. To properly learn this, you need to familiarize yourself with the features and not be afraid to try out different methods.
Pros
Long battery stand-by
No more tangled cables
Wide range of connectivity
Cons
Connectivity process is a bit of a hassle
It's wallet-friendly, hassle-free, and comfortable. What else do you want in a good headphone? If I were you, I'd instantly buy a pair.
Overall Rating – 4.8/5
Don't be fooled by the low price. These headphones come with amazing features and an attractive design. With solid features and connectivity options, this Laihui headset is a great value item.
Key Features
5 mm game headset
Mp4, mp3, iPhone and PC support
Over the head, around the ear design
Bendable headband
120cm long cord
Leatherette padded ear cushion
What I like
Although the design looks raggedy, the headphones are actually pretty comfortable and provide a good level of isolation. A 50 mm speaker unit blesses your ears with crystal clear sound. The padded ear cushions are another plus, but the unbeatable price easily takes the cake.
What I don't like
It'd be good to include a shorter wire as the long wire sometimes gets stuck.
Pros
Comfortable wear
Flexible headband
Great sound
Cons
For the price being offered, it is a steal. It has a huge list of pros, and I'd totally recommend that you go for it if you need something that is affordable, durable, and offers high-quality sound.
Overall Rating – 4.5/5
2019 DJ Headphones Buying Guide
Before settling on a product, you've got to do your research. You don't want to make a rush purchase, only to find that the headphones you bought hardly do what you need them to.
Take your time, carefully hone in on your options, and make an informed decision. On the surface, headphones may seem like a simple purchase. However, we live in a time of technological innovation. No pair is the same as another. Keep a close eye on its features and functionalities. Even more importantly, identify exactly what you need out of the ideal pair of DJ headphones.
If you're a beginner who is just starting out as a DJ, chances are that you'll be confused when you first encounter some of the industry-specific terminology. Without prior exposure, it's safe to assume you may not be familiar with words such as impedance, sensitivity range, frequency range, etc. Don't worry. This guide will explain all of the essential details that'll equip you with the knowledge to make an informed purchase.
If you're going to the store to purchase a pair of DJ headphones yourself, I'd strongly recommend that you take your gadgets such as the DJ Controller to ensure that your devices are compatible with the pair you choose. If you're purchasing it online, it never hurts to read the reviews. We have reviewed eleven of the top DJ headphones, so give them a read-over if you want to get a better idea and save yourself some bucks.
While going through the reviews and identifying your favorite, make sure that you not only focus on the price but also pay attention to the features and functionality. To save you time, I have mentioned the pros and cons and what I like and dislike about each product. You'll just have to skim through it to get a basic idea of what the best option for you might be.
And, if you still don't want to go through my recommended list, I have the perfect buying guide ready for you to save the day. The following factors are crucial to keep in mind when deciding the best possible choice for your headphones in your required budget.
Comfort Fit
Since you'll be wearing these headphones for longer periods, you need to make sure that they're comfortable around your ears and don't put too much pressure on your head.
A good pair of DJ headphones will have leather padded ear cushions to support your ears while jamming for longer sessions. If you like adjustable headphones, get a pair with rotatable cups. The headband should be soft enough to stabilize your head, but not put stress on the top of your head. It should rest easily on your ears and not hurt your earlobes.
Soft ear cups and leather cushions are great for long listening sessions. If you have read the reviews above, you'll know that not every headphone comes with a leather cushion, but it is greatly emphasized upon as the difference between a well-padded pair, and one that doesn't have much protection is extremely palpable.
Don't get me wrong. I'm not saying that you can't survive without leather cushioning, but to avoid stress and to get the most out of your DJ headphones, you need to get the most comfortable pair. Period.
Sound Quality
If you are a professional DJ, the primary factor you want to consider is sound quality. As a Master of Music, you need to be able to hear it well while keeping your eardrums intact.
So, what exactly indicates the best possible sound quality? Well, let's first consider what sort of music you'll be using them for. Do you primarily need something that can withstand extremely intense bass? Or do you need a pair that's equipped for high tones? The easiest and most important place to start is by looking at frequency ranges.
If you're a genre-blending professional DJ, you'll likely want a pair that has the widest frequency range possible. The best headphones are the ones with the frequency level ranging between 20 Hz to 20,000. It's alright if you want to have a pair that has frequency level wider than this, but this is the safest sound level to make sure your eardrums do not get hurt. Also, take a peek at the music amplification and bass multiplier options. The stronger, the better.
If you are looking to amplify and strengthen the sound level of the low music tunes, your driver should be at least 40mm or larger. Only then you'll be able to enhance the quality of music and be able to hear the crisp high tunes and amplified low tunes.
If you want to play at an outdoor event where the noise pitch and sound quality can't waver, perhaps you need to be looking at $100+ headphones. These budget varietals are great for home use and smaller gigs, but likely can't handle the variables of an outdoor setting. You might also need a receiver which typically have built-in amplifiers to boost the sound quality. If you do, check out our list of the best receivers for turntables.
Design
Trust me on this. You want a design that can withstand quick movements and some unanticipated falls. You wouldn't want your headphones to break in the middle of an intense party. I've been there and had to cancel my gig in the middle of the heat. I wouldn't want the same to happen to you. Get a sturdy pair of headphones that will stay by your side for a long while, even if it means making a larger investment.
Check the joints of the headphones before your purchase. They need to be durable and strong enough to withstand pressure for at least 5-6 hours without snapping. Invest in a good quality, strong design with cushioned ear cups and a swivel headband.
Headphones are the one thing always hanging around DJ's necks. They face the most amount of abuse and need to be able to withstand some heavy use.
Single-Cord
The worst thing that can happen during a show is, your wires getting interconnected and ruining the sound level. To avoid this, DJ headphones must have a single cord design. It is to make sure the wires don't jumble up while you're busy running the show. Two or more wires get interconnected and create huge chaos if they are intermingled with other wires.
Check the number of wires on the specifications of your desired DJ headphone before purchasing it and get headphones with a single cord design.
Noise-Canceling
As a DJ, you'll be at parties where you'll be responsible for playing the music as loud as you can. Since you'll be the one standing next to speakers and maintaining sound control, you need to protect your ears, and make sure that the music you're providing is coming out amazingly.
The best headphones work two ways. They cancel outside noise and don't leak sound through your headphones. This way, no one gets to hear what you're hearing, and you get the added bonus of totally being unaware of your surrounding noise.
The levels of sound that professional DJs can expose to can be very harmful to your ears, so always be prepared for the unexpected. Noise cancellation and the ability to withstand extraordinary noise levels is a must in your purchase. You'd need to get a pair that provide the maximum level of noise protection without bombarding your ear with additional sounds leaking through.
Sensitivity Level
Sensitivity refers to how loud the music level will be coming from your headphones. Not everyone can withstand a loud sound; some of us have sensitive ears. To protect your eardrums and ensure the longevity of your precious ears, check the sensitivity level on your headphones.
The normal sensitivity range should be between 80 to 125 dB SPL/ mW, but I'd say that you should go for the ones between 100-120 as they are pretty much a safer option for your ears, and also help retain the highest-quality listening experience. The best sensitivity level is a happy medium that's eardrum friendly without compromising on amazingly clear sound. The must-have feature of the best headphones is the turntable as they provide the ultimate and most intimate vinyl listening experience. Here are our thoughts about Crosley Turntables, Fluance and our best Pro-ject turntable picks.
Warning: ensure that you do not use headphones with more than 125 dB SPL as it can permanently damage your eardrums and cause you to be deaf, forever. I'm fairly certain that you wouldn't want to risk that.
Impedance
Impedance is nothing but a fancy word to denote the breakage of current in your headphones. The higher the impedance in a headphone, the lower the level of current. Now, what is the point of checking impedance before purchasing headphones?
The answer is that it is important to get the right amount of impedance to make sure that the level of music notes that you're hearing is high. The impedance of your headphones should be above 32 Ohms. A rule of thumb to remember is that the higher it is, the better. Some of the best headphones reach all the way up to 600 Ohms.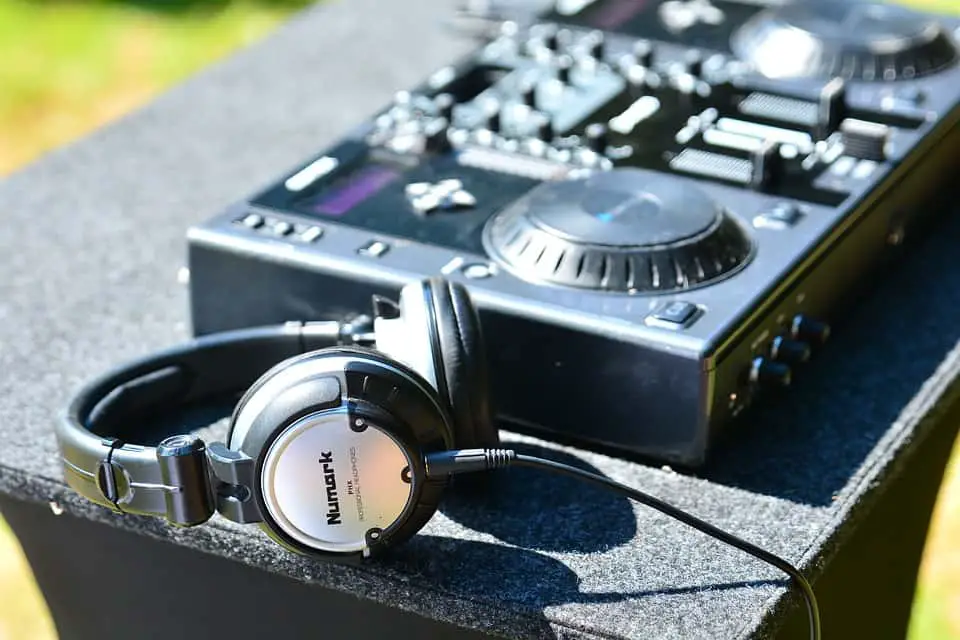 Compatibility and Connectivity
Compatibility is of the essence. DJs always use multiple devices, and you need to make sure that your purchase is compatible with the other gadgets in your repertoire. Otherwise, what's the point of spending money on something that's not even useful to you?
Many headphones are not able to connect easily with iPhones and iPads, and that can cause problems. Check out the phone jack and the power cord to understand compatibility better.
In my reviews, I've mentioned the headphones which are compatible with even older devices. Check it out, or if you are short on time and just want to skim through the buying guide, I'd recommend that you read the 'features' part of the description while considering the product.
If you're into wireless headphones, make sure it has the right software to connect with your device. Many wireless headphones can only connect to computers and not mobile phones. Double checking compatibility will serve you well in this regard.
But while you're at it, also check the bandwidth of the connection and the distance your wireless headphones can cover. Some headphones claim to be wireless, but the moment they go a little further than 2 meters from the audio device, it stops connecting altogether. Don't fall into the scam; get your facts checked before you buy it.
Closed Headphones
The main reason why most experts prefer closed headphones over open headphones is simple: they offer more noise control than open headphones. As a DJ, you'd want more isolation and resistance from noise coming from outside. Closed headphones would help you focus more on your own music, rather than diverting your attention to other noises. In addition, they provide a higher level of bass and magnify the sound intensities to give you a better, livelier understanding of your music. You can also check out the DJ Mixer, this tool combines different tracks to create totally new fantastic ones.
Foldable Sides
When I say foldable sides are important, I mean it. I can't begin to explain to you how much money I have wasted by breaking my headphones during transport, and how many embarrassing moments I've faced during gigs and jamming sessions, thanks to my broken headphones.
Foldable sides are important, and not only because of their aesthetic appeal, but also because it is easier to pack them and carry them with you while you're traveling. Not only that, it is easier to store foldable headphones as they up less room.
Detachable Cables
Let me explain why detachable cables are important. Simply put, they're hassle-free.
Imagine you had a long night playing a gig, and you're coming home all exhausted, tired, and drained. All you want to do is go home and curl up in bed. You're unpacking your items, and then you realize your headphone wires are completely tangled. It takes some patience to untangle a long wire, and it's a frustration that can be avoided.
Make your life easier. Get a set with detachable cables. Not only are they hassle-free, but they also come in handy if your cable stops working. You can easily get a new cord and connect it with your headphone and make it work like new again
Microphone
I'd recommend you get a pair of headphones with a built-in microphone. Using an external mic while playing music is not a piece of cake. No need to make life difficult than it already is, just get the pair that has a built-in mic and save yourself from purchasing an add-on later.
Final Thoughts
Let's sum this post up with our winner: the OneOdio Adapter-Free Closed-Back DJ Headphones. Offering the best price and best quality, these are hands down the best choice for DJ headphones under $200. They are affordable, durable, and offer impressive sound quality. You can also check out our awesome picks for DJ Gear below 1000.
With these reviews and an added bonus of a buying guide, it shouldn't be too difficult to find the perfect pair of DJ headphones yourself. Make sure to create a checklist and follow all points diligently so that you don't miss out on the best-valued DJ headphones.