Nothing says "serious audiophile" like a turntable with an impressive vinyl record collection…except for a turntable with an impressive vinyl record set – on the go!
If that's your cup of tea, then a portable record player should be your next big buy. These models are compact and durable, and most are also great for vinyl-ripping, allowing you to preserve your collection in digital format.
Choosing the right one can be overwhelming. So today, we're looking at some of the best portable record players to find out which deserve your attention and hard-earned cash!
Our Top Pick
For the best portable turntable, our top pick goes to the Victrola Vintage 3-Speed Record Player. Its reliable performance and variety of designs put it ahead of the pack.
Reviews of the Best Portable Turntables
The Victrola Vintage 3-Speed Suitcase Record Player is a nostalgic experience that comes in a wide variety of colors. Nostalgia aside, this high quality turntable is capable of producing some sweet, high fidelity music—and it's portable! It comes in a gorgeous carrying case, and there's a feeling of rugged durability, but it still exudes class. It's light too, coming in at just shy of 3 lbs. This Victrola also comes in 22 different colors and designs, including a psychedelic retro option.
The turntable is designed with sound isolating feet to minimize vibrations and guarantee great sound quality. For the price you end up paying this turntable offers a ton of value. Are there record players with better sound quality? Most definitely yes, but we didn't find any that were nearly as cheap as the Victrola.
You also have quite a lot of playback options, such as allowing you to play via its built-in speakers, an RCA jack, or through Bluetooth enabled devices.
Key Features
Three-speed turntable with options for 33, 45, and 78 RPM
Built-in stereo speakers
Bluetooth support for playing wirelessly on any enabled device
Portable suitcase design
RCA auxiliary input and headphone jack included
Pros
Covers all the RPM speeds including 78
Gorgeous suitcase cover with varying colors
Lots of audio output support, including Bluetooth
Accessible price
Cons
Built-in external speakers are a bit weak
The Victrola Vintage is one of the best turntables in terms of portability and style. Use it when you want a touch of nostalgia to come with the great sound it produces.
Overall Rating: 4.9 / 5
The Audio Technica AT-LP60 is one of the best portable players aimed at beginners or casual vinyl owners. It's straightforward to use. The tonearm automatically gets into position when you place the vinyl, and then puts itself back when the record is done playing.
The belt drive design puts the focus on excellent audio quality. The added rotational power of direct drives isn't really an issue with beginners, so this is a smart choice for the AT-LP60. The vinyl platter itself is also vibration proof, so this further adds to the stability of the audio.
Key Features
Belt-drive turntable
Two-speed settings: 33 and 45 RPM
Die-cast aluminum platter with anti-resonance properties
Integral Dual Magnet phono cartridge with interchangeable stylus
Phono pre-amp built-in
RCA output cables
Pros
The fully automatic operation makes it easy, even for newbies
The interchangeable stylus makes servicing easy
Super-friendly price makes this accessible for aspiring audiophiles
Dustproof protective cover
Cons
No carrying case
Flimsy frame
Lack of built-in speakers
For the price, the Audio Technica AT-LP60 is a great first buy for casual listeners. It sounds excellent, is easy to use, and easy to service.
Overall Rating: 4.7 / 5
---
---
The Numark PT01USB is a sturdy little portable turntable that sports excellent sound quality despite its small size and comes in its own dustproof carrying case.
Sound output is where the PT01USB shines. The built-in speaker churns out brilliantly crisp and robust audio. Imagine getting to enjoy analog-level sound quality in the middle of nowhere. Not only that, but you can take advantage of USB and RCA to hook it up to any sound system.
Key Features
A three-speed turntable that supports 33, 45, and 78 RPMs
USB support with cable included for digital music
Built-in pitch control with 10% increments
AC adapter or support for battery-powered operation
Pros
Friendly price range
Completely portable with durable carrying case
Long battery life for extended playtime anywhere
The built-in speakers sound incredible
Cons
Despite its simple design, the Numark PT01USB is one of the best portable turntables in terms of durability and portability.
Overall Rating: 4.6 / 5
---
The Crosley Cruiser Deluxe is a great-looking vintage turntable that offers versatility and customization. Like the Victrola Vintage, the Crosley Cruiser sports a suitcase design and lots of color options. And while the former has more variety and "wilder" designs, the Crosley focuses on pastel and classier colors, giving it an almost feminine touch. The case is made of lightweight wood and finished in an attractive leather-like material.
The pitch control allows you a level of fine-tuning that will enhance your audio experience. The built-in dynamic range speakers are decent, allowing you to listen to your turntable on its own.
Key Features
Three-speed turntable that supports 33, 45, and 78 RPM
Stylish suitcase-style exterior
Dynamic full-range stereo speakers
RCA and headphone jack outputs
Fully adjustable pitch control
Pros
Gorgeous case with lots of different colors
Durable and extremely lightweight
Covers all the speeds including 78 RPM
Pitch control
Cons
For a stylish statement while playing your vinyl, the Crosley Cruiser Deluxe is a fantastic pick. It's a portable turntable that will really turn heads.
Overall Rating: 4.7 / 5
---
The Crosley CR6249A-TA Keepsake is a portable turntable that you'll definitely keep for years to come. It looks more like something your dad kept in your attic. It has a sturdy frame, definitely durable in every sense – something that will last years. The gorgeous leather finish gives you that warm, old-school feel.
But under the hood, it has a host of next-generation features for the modern audiophile. With its USB connectivity, you can hook it up to your computer and copy over your entire vinyl collection. RCA and headphone jacks give you plenty of options to play it with other sound systems.
This is one of the few turntables with a built-in amplifier aside from the speakers. This gives it a beautiful sound projection that can easily be heard across the room. The audio output is also robust and vibrant.
Key Features
Robust leather case
Three-speed belt-drive turntable with support for 33, 45, and 78 RPM
Dynamic range speakers with built-in amplifier
RCA output with a headphone jack
Pros
Very durable and long-lasting
USB connectivity for copying your entire vinyl collection to MP3
The built-in amplifier produces a robust audio output
Cons
The durable construction and good quality speakers of the Crosley CR6249A-TA Keepsake mean you can enjoy this one for decades to come.
Overall Rating: 4.4 / 5
---
The Jensen JTA-222 Turntable is a great portable turntable and an affordable centerpiece of your home vinyl collection. If you're into retro, you'll dig the Jensen JTA-222. The wooden casing and metallic plating hark back to 60s-style home appliances. It's also pretty compact, so you have flexibility in where to place it.
Performance-wise, this is as basic as it gets. Three-speed support allows you to play all vinyl types, including 78 RPM. The two built-in speakers do a pretty decent job, and the built-in AM/FM receiver is a bonus.
Key Features
Three-speed turntable including 33, 45, and 78 RPM speeds
AM/FM stereo receiver
External stereo speaker and headphone jack output
Two built-in speakers
Dust cover
Antique wooden case design
Great value
Pros
Classic antique wooden exterior looks great on any living room shelf
Built-in AM/FM radio receiver
Compact and lightweight design
Budget-friendly price
Cons
Lack of USB connection
Lack of Bluetooth connection
Very simplistic
If you're looking for a good-looking portable turntable at a fraction of the cost, the Jensen JTA-222 is a good bet.
Overall Rating: 4.1 / 5
---
The Musitrend Bluetooth Turntable is a sleek and classy portable record player with plenty of features. It exudes luxury and class, and is quite compact and lightweight, at just a little over 6 lbs. It has a wooden interior finished with a sleek and gorgeous black leather material. The red felt inlay on the inside cover further speaks to the sophistication of the Musitrend.
The 2100mA battery can last up to 4 hours of continuous play, more than enough to burn through a couple of vinyl records. You can use the built-in speakers, or opt for external speakers or headphones. Sound output is solid with excellent resonance.
Key Features
Three-speed portable turntable that covers 33, 45, and 78 RPM records.
Rechargeable battery for portable operation
Vinyl to MP3 recording via USB connection
Support for Bluetooth connection
Integrated stereo speakers with RCA outputs and headphone jack
Pros
Gorgeous and stylish exteriors
Long-lasting 2100mA battery
Included rubber base helps reduce vibrations
Includes a 12-month warranty and replacement stylus
Cons
The Musitrend is one of the more stylish and fashionable portable turntables in the market. Despite this, it's not expensive, making it an overall great choice.
Overall Rating: 4.6 / 5
---
The Crosley CR6020A is a quirky looking but truly portable turntable. It even comes with earbuds! For the most portable, most compact turntable there is, look no further than the Crosley CR6020A-GR Revolution. This unique-looking model is more akin to a stapler than a turntable. But looks can be deceiving – this baby can play!
Being compact and personal, this model lends itself more to using headphones than a full-blown sound system (although it can use that as well). USB connectivity also makes this the best tool for ripping vinyl to MP3.
Key Features
Two-speed belt-driven turntable which plays 33 and 45 RPM records
Portable operation via six AA batteries
USB port for ripping vinyl to MP3 files
Manual return tonearm with ABS construction
Earbud headphones with storage compartment
Pros
Extremely compact and super portable
Play it anywhere
USB port makes ripping vinyl records easy and convenient
Cons
No support for 78 RPM
Gain may be a bit high
The Crosley CR6020A Revolution is one the quirkiest turntables you'll ever see, but it's good at what it does. For reviews of other excellent crosley brands, check out our updated post.
Overall Rating: 4.7 / 5
---
The Ion Portable USB Turntable is a compact record player and vinyl ripper all in one. The Ion Portable USB Turntable is a lean little record playing machine. At 12-inches, you can easily bring it anywhere. It runs on 6D batteries for standalone playing without the need for a wall outlet.
One of its best uses, however, is in quickly digitizing your entire vinyl library. The Ion can hook up to your computer via USB. It can then convert vinyl into MP3 files without the need for any drivers. Talk about convenient!
Key Features
Two-speed turntable capable of 33 and 45 RPM speeds
+/- 10% pitch controls
Compact enough to fit in a 12-inch record case
Protective dust cover with carrying handle
Headphone jacks support both 1/8- and 1/4-inch connections
1/8-inch stereo line input accepts music from cassettes and other sources
Pros
Small compact frame that's the same size as a 12" record
Plug and play USB capability means you can rip your vinyl without the need for any additional drivers
Built-in speakers and battery-powered operation mean you can rock out anytime and anywhere
Cons
Plastic frame not very durable
The Ion Portable USB Turntable is perfect for casual vinyl owners, or for those wanting a quick and inexpensive way to preserve their entire vinyl collection digitally.
Overall Rating: 4.3 / 5
---
Portable Turntable Buying Guide
Now that you've had a nice sampling of the best portable turntables on the market in 2019, let's take a moment to review what even makes a turntable 'good.' If these models aren't quite what you're looking for, we've got more affordable turntable reviews. If you're looking for a receiver to go with your new turntable, we have an article on those as well!
Things to Look Out for in a Portable Turntable
Belt drive vs. direct drive pertains to where the turntable mechanism that rotates the vinyl is located. It comes in two options – belt drive or direct drive. Each has its own pros and cons.
Direct drive turntables have the motor located directly underneath the platter itself. This makes them more powerful in terms of torque produced. They start up faster and are more resistant to disturbances or external forces that might disturb the rotation.
Their main drawback is that they introduce small distortions in the final audio output. This is because the turntable motor is located in the platter itself. The minute vibrations translate directly to the vinyl and cartridge, leading to the sound distortions.
In belt-drive turntables, the motor is located on the side of the platter. A rubber belt is attached to this and hugs the vinyl platter, causing it to spin. The offsetting of the motor and the presence of the rubber belt dampens any vibration significantly, leading to a cleaner sound.
Belt drive turntables, however, have a lower rotational speed than direct drive. This makes them more sensitive to external movement, leading to less accurate playback. The rubber belt itself can also wear down, and may need to be replaced.
Built-in speakers are a great option for convenience and true portability. It means you can literally play anywhere, without needing to haul any additional gear.
On the other hand, nothing beats the audio quality of external speakers. If you value rich sound fidelity and richness, consider a portable turntable that hooks to an audio sound system. Even the sound quality of a decent portable speaker is above and beyond what a built-in speaker provides.
USB Connectivity is great to have if you plan on connecting your portable vinyl to your computer. If you have an extensive vinyl collection, this is a fantastic way to convert them to digital files and play them on the go.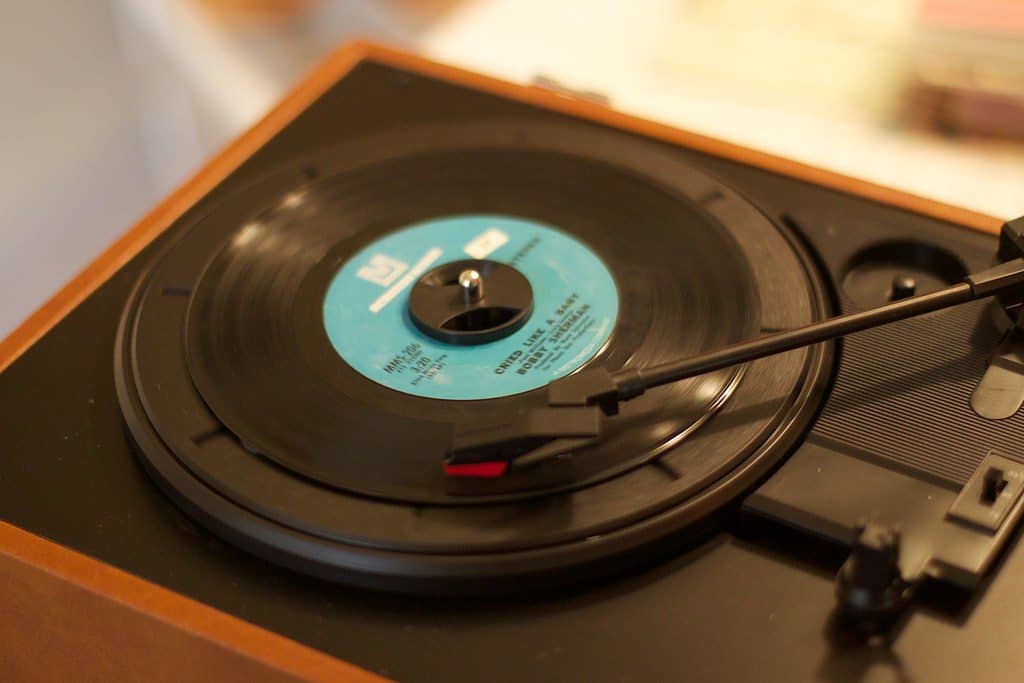 Ruggedness and quality of construction is a must to consider. A turntable is a pretty sensitive piece of equipment with fragile parts, especially the cartridge and the arm. A proper portable turntable should be able to withstand the rigors of constant travel without wearing out.
Also consider how the unit will fold up, and how well it protects critical components. Ensure that the outer case is durable enough to stand up to some punishment.
Turntables, being purely analog, inevitably introduce some vibration into your audio in the form of noise. A turntable's signal-to-noise ratio tells you how much noise it produces for a given volume level. The higher this number, the less distortion there is and the better the sound quality.
Playback speed is mostly dictated by your vinyl, which come in three speeds – 33 1/3, 45 and 78 RPM. All turntables are capable of playing the first two speeds, but the newer ones are incompatible with rarer 78 vinyl.
If you're playing 78 vinyl, make sure you also have the specialized stylus and cartridge that can handle these records.
Final Thoughts
We've tackled quite a lot of portable turntable reviews in this article, and we've seen what they can do. The fact is there's a lot of options when it comes to enjoying your vinyl on the go.
When it comes down to picking the best one, though, we would highly recommend the Victrola Vintage 3-Speed Turntable. Portable vinyl is about style as much as sound quality, and the Victrola allows you to make your own unique statement with dozens of designs to choose from. It doesn't hurt that it also has nifty features and superb sound qualities as well as stylish aesthetics.
Hence, after our thorough portable turntable reviews, the Victrola Vintage 3-Speed Turntable comes out victorious.
We've also written a roundup post of all the best Fluance turntables and Pro-Ject turntables that are similar to the brands mentioned on this post. You can check the updated reviews here.