Turntables are making a fashionable comeback, and there are many different types available on the market these days. Product variety is good for the consumer, but it can also be confusing to pick the right turntable, especially if you're new to the world of vinyl records. Turntables vary widely in sonic quality, price, design, and component features, so it is crucial to read through various turntable reviews before making your final choice.
One notable brand to consider is Crosley. They come in various categories, so in this Crosley turntable review, we shall look in-depth at their features, style, sound quality, and value for the money. These reviews will enable both experienced vinyl heads and beginners to choose the best turntable to meet their needs.
My Top Pick
If you're in a hurry and just want to know which is the best Crosley Hi-Fi turntable, my pick is the Crosley CR8005. This is an excellent all-rounder that's going to work well for most DJs.
However, depending on your specific needs, other models may be better for you—after all, the best turntable is relative to the DJ using it. I've highlighted a category that each product below really shines to help you out in that department.
Last update on 2023-11-15 / Affiliate links / Images from Amazon Product Advertising API
The Best Crosley Hi-Fi Turntables Reviewed
The Crosley Cruiser CR8005 really stands out because of its superior design and portability. It plays vinyl records at speeds of 33, 45, and 78 RPM, and also has the capability of playing plays MP3 files through its 3.5 mm AUX input. The built-in stereo system produces excellent sound quality, and the elegant design, along with the battery compatibility, ups the popularity level a notch.
Key Features
Weight – 5.5 lbs.
Belt-driven with an NP6 needle
One-knob control
Ceramic cartridge
Built-in stereo system
RCA and headphone outputs
What I Like About This Product
The compact and beautiful vintage design is a showstopper. This turntable consists of leatherette and wood, which makes for a durable and beautiful purchase—or a thoughtful gift for the music aficionado in your life.
What I Don't Like About This Product
The turntable lid doesn't go back far enough, and it could damage the record if not positioned properly during use.
Pros
Beautiful and durable design
Very lightweight and portable
Warm, rich, old-school sound
Powerful built-in stereo speakers
Cons
The headphone jack can malfunction
Poor lid functionality
Speaker quality is questionable
What a showstopper! The beautiful design instantly draws you in and makes for a durable product. The speaker quality is debatable though, but this doesn't detract from how good this turntable is, especially for the younger generation.
Overall Rating: 8.0/10
This turntable will take you right back to the 1960s. The Crosley Dansette is a two-speed turntable and comes equipped with full-range speakers as well as an auxiliary input. This input allows you to connect to various external listening devices. As with all Crosley turntables, this unit is also colorful, eclectic, sleek, and quite modern.
Key Features
Weight – 13 lbs.
Diamond stylus needle
Plays 33 and 45 RPM records
Belt-driven turntable
Dynamic stereo speakers
What I Like About This Product
It has an overall excellent sound quality yet is affordable and doesn't need to use a computer or lots of other external hardware, especially beneficial for analog consumers.
What I Don't Like About This Product
The build quality seems a bit light, which could put its durability into question. Some users also complained that the sound quality is occasionally a bit muffled.
Pros
Great design – eclectic and modern all in one
Affordable price
Lightweight and portable
Great sounding, built-in stereo speakers
Cons
The audio can sound muffled at times
This neat looking turntable has a good sound and is easy to use. It is self-contained, compact, and doesn't need to connect to many external connections like computers.
Overall Rating: 7.0/10
This vintage, sturdy turntable comes equipped with three speeds, built-in speakers, Bluetooth capability, cassette player, and MP3 and radio compatibility. It also has a programmable 20-track memory. With all these features, the Crosley CR704D-PA is an excellent turntable for the price, and it looks good too.
Key Features
Weight – 16.7 lbs.
Built-in Bluetooth receiver
Plays 33, 45, and 78 RPM records
CD, MP3, and AM/FM capability
RCA output
What I Like About This Product
This turntable integrates with practically all modern devices– cassette, CD, MP3, and Bluetooth.
What I Don't Like About This Product
The CD track number display could have been more discreetly placed. It takes away from the overall nostalgic design.
Pros
Great old-world design
Repeat and random play capability
Warm, vibrant, and grainy old-world sound
Great-sounding unit especially on the bass sounds
Cons
The CD track number display takes away from the retro design
The Crosley CR704D is truly a feature-packed portable turntable. It has a traditional look and sound about it, but there's nothing old-world about all the modern compatibility features.
Overall Rating: 7.0/10
This vintage briefcase-style Crosley turntable makes it easy to take your music with you. It plays three speeds and is a comfortably portable turntable with built-in stereo speakers, top-notch headphone jack, RCA outputs, and AUX inputs. The Nomad is also USB-enabled to work with both vinyl and digital music and features a durable metal speaker grill.
Key Features
Weight – 10.58 lbs.
Belt-driven mechanism
NP5 diamond stylus needle
Plays 33, 45, and 78 RPM records
Auxiliary input, RCA output, and headphone jack
Portable USB-enabled turntable
What I Like About This Product
The beauty of the product and nostalgic feel is fantastic. This turntable straddles two worlds, being capable of playing both vinyl and digital MP3 music.
What I Don't Like About This Product
There is no tone control, which is a useful feature that helps with sound adjustment.
Pros
Great-sounding unit with in-built speakers
Compatible with both vinyl and digital (USB-enabled) music
Software for ripping and editing music content
Lightweight and portable
Cons
Some units experience slowing and distortion
One of the most beautiful, standout designs in this Crosley turntable review, the Nomad has sturdy, well-constructed, built-in speakers, and has both modern and old-world charm. It works with vinyl as well as MP3 files, and features editing and ripping software.
Overall Rating: 8.0/10
The Crosley CR6005-A Tech is a sharp-looking, easy-to-use Crosley that offers three speeds and an AM/FM radio. The stereo speakers are powerful and make listening fuss-free and straightforward. Weighing in at only 6 pounds, this turntable is one of the lighter models on our list, making it very portable and virtually hassle-free.
Key Features
Weight – 6 lbs.
External AM/FM antenna
Plays 33, 45, and 78 RPM records
Precision belt drive
Weightier belt drive
What I Like About This Product
The mahogany-style wood, mirror faceplate, and 1970s-era dust cover add lots of retro chic. This Crosley record player also puts out superior sound, and its connectivity to AM/FM radio really makes this model stand out.
What I Don't Like About This Product
It is slightly small, and a large 12-inch record could stick out quite a bit. Also, its lighter weight could make it susceptible to damage.
Pros
Crisp, clear sound with excellent volume settings
Simple to use— great for beginners
Convenient RCA outlet at the back of the unit
Durable stereo speakers are in-built
Cons
The build quality is slightly cheap, which could affect durability.
This Crosley turntable has excellent sound quality and is very lightweight. It is user-friendly, great for vinyl beginners, but needs to be handled with care due to its weight.
Overall Rating: 7.7/10
This old-school turntable goes well with almost any décor, as it also sports a simple design. It comes equipped with a direct drive with pitch control and adjustable weighted arm. The platter is also sturdy, and it includes a felt mat and sturdy stock stylus.
Key Features
Weight – 11.02 lbs.
Direct drive, high-torque motor turntable mechanism
Plays 33 and 45 RPM records
Built-in switchable phono preamp
Balanced, S-shaped tone arm with hydraulic lift control and anti-skating
What I Like About This Product
The onboard preamp is a steal. For the price, it is rare to find this feature in other similarly priced turntables under the Crosley brand.
What I Don't Like About This Product
For some consumers, the fully manual operation could be a deal-breaker, but if you are hard-core, old-school inclined, this is an excellent turntable to own. Note that the set-up is also not as easy as some of the other models here.
Pros
Great value for the money
Fully manual operation, great for vinyl heads who love the retro experience
Built-in phono preamp
Cons
It doesn't come with a ground cable
This Crosley turntable exhibits more control than similar turntables, especially concerning the speed of the discs and the ability to mix it up. It is sturdy and sleek, and with the built-in preamp, it is no doubt a great buy.
Overall Rating: 8.2/10
This clean and vintage turntable is typical of Crosley's design philosophy and can confidently blend in with any décor. With three speeds and the built-in Bluetooth receiver, the Crosley Voyager is a delight to use.
Key Features
Weight – 5.5 lbs.
Belt-driven mechanism
Plays three speeds – 33, 45, and 78 RPM
Built-in Bluetooth receiver
Adjustable pitch control
What I Like About This Product
This turntable has great adjustable pitch control, which makes it easy to use and a real joy, sound-wise. The Bluetooth receiver is also a beautiful modern touch, which makes it a regular on many a Crosley turntable review. It is by far Crosley's most popular model.
What I Don't Like About This Product
The turntable has been known to skip from time to time, so be careful when playing your records.
Pros
No-frills, easy-to-use, and straightforward turntable
Great sounding unit with a sturdy belt-driven mechanism
A compact unit that closes up well and stores securely
Lightweight and highly portable
Cons
It has no auto-return feature on the tonearm
If you are a beginner in the world of vinyl, and you are looking for a no-frills turntable that is simple to use, this record player is your best bet. It is portable, super-easy to set up and user-friendly. It also has a warm and rich sound, as well as having speakers built-in and being blue-tooth compatible.
Overall Rating: 9.0/10
About the Brand – Crosley Turntables
Crosley Radio is an audio equipment manufacturer headquartered in Louisville, Kentucky, and is an offshoot of the original Crosley Corporation. Reintroduced in 1984, after the original company went defunct in 1956, Crosley is one of the leading turntable, jukebox, and radio manufacturers in the U.S. market today.
There's no denying Crosley's popularity with the younger generation in the world of audio equipment. We give Crosley kudos because they have brought back the nostalgia factor with their beautifully designed turntables, creating renewed interest in music on vinyl with millennials.
Indeed, the company's fastest-growing market is the under-25s, with 12.1% of sales coming from Amazon. Crosley's popularity reflects the longing for classic and retro products and services among the younger generation, and the company has cashed in on this trend.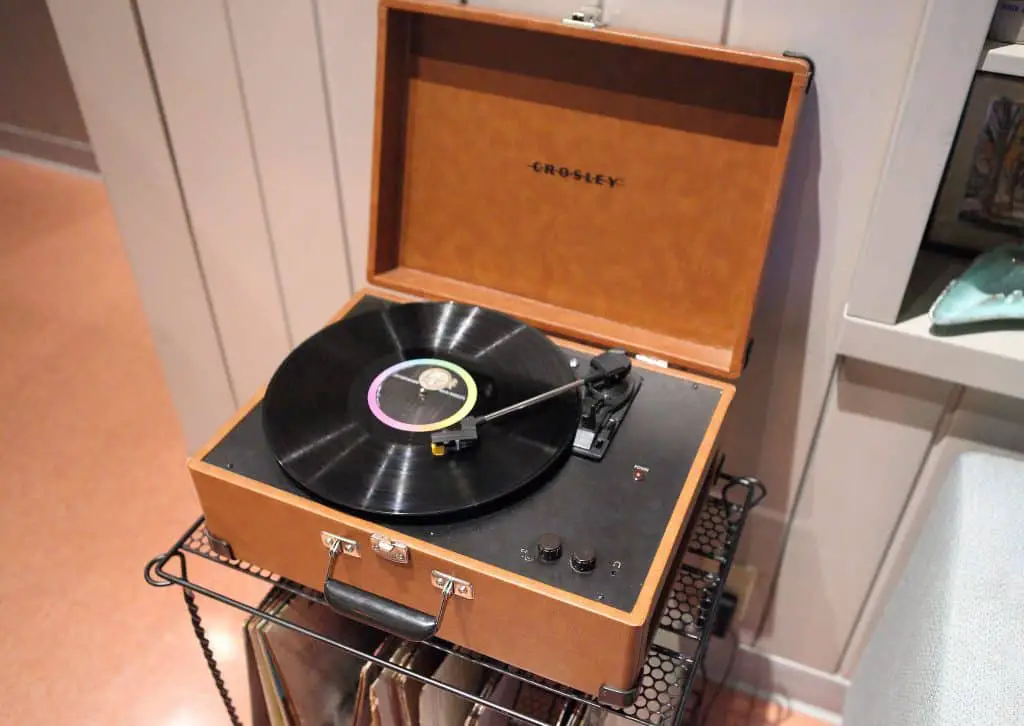 However, many old-school audiophiles criticize the sound and build quality, specifically the Crosley Cruiser. These serious turntable enthusiasts insist that Crosley's tracking force is higher than the industry-recommended 2g. For instance, the Crosley Cruiser's tracking force has been measured at 7g, which most vinyl enthusiasts say is way too high.
Crosley has responded to these criticisms by stating that it takes complaints seriously and follows online music forums to inform their changes and product improvements. Their move to simplify their products and listen to their critics is crucial to future brand success.
Final Thoughts
This Crosley turntable review was created to professionally break down all the top Crosley turntables on the market, thus highlighting the different specifications and features on these different models.
We've looked in-depth at the seven most popular Crosley turntables that have a high level of quality, plenty of features, beautiful designs, and provide value for money. Crosley has gone out of their way to appeal to amateur vinyl heads and newbies by focusing on speed variation, adjustable tonearms, signal-to-noise ratios, and elegant vintage designs.
Thanks to Crosley's ingenuity and skills, you don't have to go through the hassle of buying a vintage turntable to play your vinyl records. And hopefully, after reading this review, you'll have gained the knowledge to help you pick the best turntable that has that warm sound quality and vintage look typical of Crosley.
Any one of these turntables would be the perfect addition to any music lover's tech collection, no matter if they be a long-time vinyl fanatic or a newcomer to this throwback-comeback audio format. If you are on a tight budget, you might want a decent but affordable brand. Check out our picks below 200 or our best portable turntables.