What makes Pro-Ject Hi-Fi turntables so popular in the audio equipment industry? Lots of things, actually, and in this Pro-Ject turntable review, we'll break it all down for you.
Consistently a bestseller on e-commerce sites like Amazon, Pro-Ject is one of the first brands people think of when looking for mid-priced to high-end turntables. This company incorporates useful components and upgrades across its wide range of products to ensure that they cater to every audiophile's needs.
It is currently the largest turntable manufacturer in the market, offering exceptional value and manufacturing economies that keep product quality high and prices low. Without further ado, let's take an in-depth look at the top five Pro-Ject turntables on the market today, to help you make the right choice.
Last update on 2023-10-22 / Affiliate links / Images from Amazon Product Advertising API
The Best 6 Pro-Ject Hi-Fi Turntables Reviewed
The Pro-Ject Carbon EVO features a carbon fiber tonearm, electronic speed selection, and a pre-mounted Sumiko Rainier phono cartridge.
The Carbon Evo is in our opinion the best overall turntable Pro-Ject currently offers. In their words, they took their most popular turntable and redesign every aspect of it to improve quality. It certainly isn't cheap, but it isn't super pricy, and boy do you get a lot of value for what you pay. Superb engineering and sound quality and a long list of quality features all packed into a sleek and lightweight design are just a few reasons why this turntable tops our list.
Key Features
Weight – 17.38 lbs.
8.6-inch carbon fiber tonearm
Low-friction precision sapphire tonearm bearings
Adjustable acrylic dust cover
33, 45, and 78 RPM electronic speed control
12 inch Steel TPE platter
TPE damping ring and felt mat
Upgraded
What I Like About This Product
This turntable is easy to set up and the sound quality is great right out of the box. Each part of the carbon EVO is engineered and assembled to ensure a high sound quality. The platter is heavy, made of steel, and uses a TPE (thermoplastic electrometer) ring to reduce unwanted noise pollution and resonation. The suspension was re-designed by Pro-Ject to focus on vibration control, resulting in no audible motor buzzing or noise. Overall you get a very clear and rich sound. The turntable is durable and the design is extremely sleek and stylish. This is a superb option for anyone looking to spend a little more for a high quality turntable that will last for a very long time.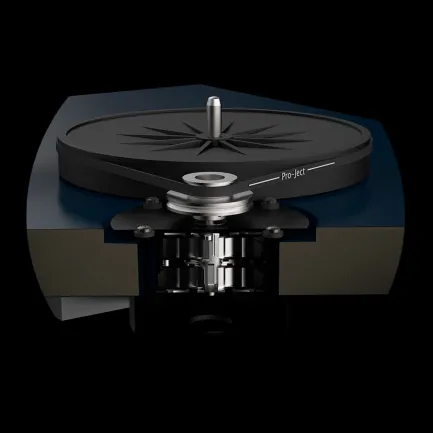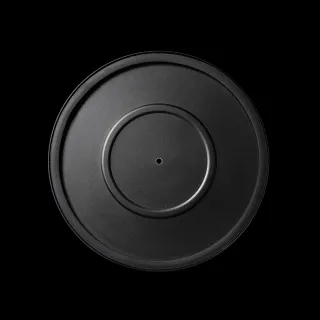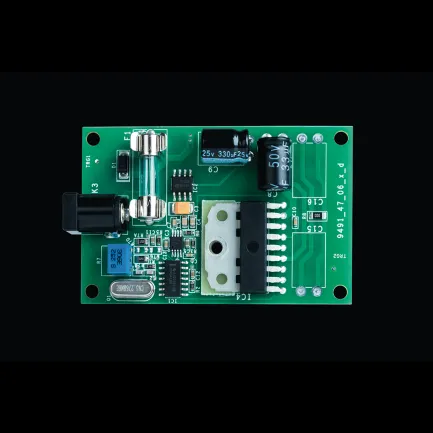 What I Don't Like About This Product
There really isn't much to dislike about this one. Some have reported that the carbon fiber tonearm feels fragile, but honestly to us it felt light but strong. Additionally, the Sumiko cartridges play all types of music well, but you may want to swap these out for a more specialized option if you have a specific preference.
Pros
Amazing engineering and high quality sound
Lightweight yet robust
Tons of useful features
Overall great value for it's price
Cons
Might be too pricey for some beginner budgets (Check out this guide for budget turntables)
Overall Rating: 9.5/10
The Pro-Ject Classic comes with a brushed metal top-plate inside the wooden plinth, a thick-cut aluminum-alloy platter, and purpose-built tonearm with an attached adjustable counterweight.
The tonearm also moves with very low friction, and the assembly of this turntable ensures that there's enough space between the lead and the tonearm to avoid movement restriction and possible damage. All these features make this a favorite turntable in many a Pro-Ject turntable review.
Key Features
Weight – 24.2 lbs.
9-inch carbon aluminum-carbon tonearm
Belt drive design using a low noise AC motor
33 and 45 RPM electronic speed control
Aluminum alloy TPE platter
What I Like About This Product
I absolutely love the retro mid-20th-century look. The Pro-Ject Classic is a modern turntable that looks like an oldie, has decent, high-quality components, and sounds great, too. For retro turntable lovers, this will be an exciting purchase.
What I Don't Like About This Product
When fitting the belt, platter, and height-adjustable feet, you may need to remove a few bolts from the upper MDF plinth, and then set those feet to your preferred height. The extra tinkering should be done carefully to avoid any damage and could be challenging for novices.
Pros
Exceptional performance and warm sound
Sturdy and beautiful retro design
Damped, height-adjustable TPE feet to reduce vibration
Two-layer design that isolates the sub-chassis and minimizes interference between the different deck components
Cons
For a retro turntable, it has only two speeds, meaning it can't play the older 78 RPM records.
The Pro-Ject Classic manages to combine all the features of modern turntables with all the charm of earlier models. Although lacking in minor detail and precision, it is an overall well-designed turntable with an excellent sound performance. You'll struggle to find a turntable on the market at this price with the Classic's warm sound and full body.
Overall Rating: 8.7/10
This great-looking machine comes with a high-gloss piano finish. The arm cable also comes as a separate item that plugs into the deck's sockets at the back of the unit, which provides a lot of room for future cable upgrades.
Key Features
Weight – 12.35 lbs.
6 carbon tonearm
Heavy acrylic platter
Ortofon 2M red magnetic cartridge
Built-in precision speed box with switch
What I Like About This Product
I love the speed box. It has a 33 and 45 RPM switch that allows you to change speeds without having to move the drive belt manually.
What I Don't Like About This Product
Setting up the anti-skate counterweight, as with the Pro-Ject Debut Carbon, can be quite time-consuming and challenging.
Pros
Exhibits excellent musical fluency and flow
Stylish and durable well-designed turntable
Comes with a hinged, transparent dust cover
Quickly change electronic speeds with the speed box
Cons
The difference between the loud and quiet notes could be greater, enhancing the listening experience
The Pro-Ject Debut Carbon Esprit SB has lots of visual appeal and comes in a range of colors and finishes. The stellar visual presentation far outweighs any issues this unit may demonstrate with timing.
Overall Rating: 8.5/10
The Pro-Ject Debut Carbon has all the basic features of a turntable and is incredibly affordable. It features a low-noise motor, massive platter, and isolated feet, all incredible components for the money.
Key Features
Weight – 18.35 lbs.
Ortofon 2M red cartridge
6 carbon tonearm
Precision belt drive
Weightier belt drive
What I Like About This Product
It has excellent sonic performance and is visually stunning. The components are high-quality and for the price, makes this turntable a steal.
What I Don't Like About This Product
Putting together and adjusting the counterweights and balances can take some time. As this is an entry-level product, beginners may find this challenging and off-putting.
Pros
Great-sounding unit with a high-performance cartridge
Sturdy, well-built and attractive
No-wobble play experience
Transparent, hinged dust cover
Cons
The Pro-Ject Debut Carbon has all the essential functions of a starter turntable, and it's also extremely affordable.
Overall Rating: 8.5/10
This Pro-Ject turntable comes with an impressive carbon tonearm with spin-off EVO technology. Additionally, it features a resonance-damping counterweight that helps the 2M silver cartridge to perform better. The complex main platter construction is not available in other turntables within this price range.
Key Features
Weight – 16.6 lbs.
6 carbon tonearm
Sophisticated 2M silver cartridge with silver spools
Stainless-steel platter with bronze bushing and Teflon bottom
Belt drive system with synchronous motor
Heavy aluminum platter for excellent dampening
What I Like About This Product
The high-quality features all packed into one turntable for a reasonable price. Notable, among other features, is the superior belt drive system and TPE unique absorber feet to reduce vibration. This unit also has a high-performance 2M silver cartridge that features silver spools for the ultimate fidelity.
What I Don't Like About This Product
It does not have a built-in phono preamp, which means the consumer will need to buy one separately. If this component were there, this turntable would be much more superior.
Pros
Superior sonic performance
Excellent product quality for the mid-range price
Solid belt drive system
Easy to set up and play
Cons
It does not come with a built-in phono preamp
The Pro-Ject 1Xpression Carbon Classic features highly in many Pro-Ject turntable reviews, and its attractive and clean appearance stands out. Quality components combine to an impressive finish, especially showcased in the TPE insulating feet to dampen vibration, complex platter construction, and the superior belt drive system.
Overall Rating: 8.3/10
The Pro-Ject Essential III comes with an impressively modern, minimalist appearance and an incredibly high gloss finish. The premium components, like the Ortofon cartridge and 8.6 carbon tonearm, represent excellent value for a turntable under $300. These components all provide for that characteristic warm vinyl sound, and magnificent detail in the separation of instruments, making for a remarkable listening experience.
Key Features
Weight – 11.02 lbs.
6 aluminum tonearm with sapphire bearings
MDF plinth in high gloss red, black, or white piano finish
Ortofon OM10 cartridge
Belt drive, with an aluminum driveshaft and stainless-steel bearing
What I Like About This Product
I like how easy it is to upgrade. For instance, you can easily exchange the cartridge or stylus with higher-quality models. You can also replace its platter with one made of acrylic for improved bass sounds and less static.
What I Don't Like About This Product
Manual speed switching can degrade the belt, due to frequent flips back and forth between albums and singles, and which can be slightly inconvenient.
Pros
Great value for money
Durable and minimalist design
Easy to set up and play
Compact, slim build that hides all wiring, switches, and other accessories
Cons
The manual speed switching is cumbersome to use
This turntable is Pro-Ject's ultimate "value-for-money" turntable. The cartridge alone is worth the money, which makes this machine a steal. It gives an outstanding sonic performance and comes with easy upgrades at a minimal cost.
Overall Rating: 8.3/10
About the Brand – Pro-Ject Turntables
Pro-Ject Audio Systems is an audio equipment manufacturer, founded in 1991 by Heinz Lichtenegger and located in Austria. All products are designed in Austria and manufactured in various countries within Europe. This company, currently the largest turntable manufacturer on the market, produces a range of quality entry-level to mid-level turntables, as well as other audio systems and components such as micro hi-fi components.
Their signature design is minimalist, simple decks that concentrate on delivering great sound on a budget. This design philosophy has time and again proven to be a reason for the brand's continued success.
What has made Pro-Ject excel is its endless succession of affordable turntables, each offering useful upgrades. Within this general success formula, however, there are some outlier models, with high-quality, high-end turntables to appeal to dedicated audiophiles and professional DJs.
Another feature that makes Pro-Ject turntables stand out and perform well in many a project turntable review is the design and superior quality of the tonearm. Over the last five years, the company has engineered a carbon-fiber tonearm that replaced the tonearm tube. They also introduced a one-piece design integrated with the headshell. This attention to detail and level of manufacturing excellence is not easy to find elsewhere at the given price range.
Final Thoughts
Pro-Ject offers a wide range of turntables, and we hope the models featured in this Pro-Ject turntable review will tempt you to check them out. From very affordable turntables like the Pro-Ject Debut Carbon for beginners to the higher-end Pro-Ject 1XPression or Pro-Ject Classic Turntable, for dedicated audiophiles and turntable enthusiasts—you're sure to find the perfect fit.
This accessibility has been Pro-Ject's success formula. The selection ensures you won't have trouble choosing one, and once you've zeroed in on one, you'll know you've gotten a long-lasting and durable product. After reading this Pro-Ject turntable review, why not go out and sample one, and let us know your thoughts on your preferred model? We'd love to hear all about it! Also, if you need a receiver to go with your new turntable, check out the top models we reviewed here!