Apparel oft proclaims the man – Polonius to Laertes, in Hamlet by Shakespeare. Naked people have little or no influence on society – Mark Twain. Quotes of this nature are true in a wealth of realms, but more so in the performance industry and DJs are not exempt from this. Of course, the clothes metaphor refers to the DJs equipment and how the lack of proper equipment means they do little to get the dance floor moving.
Among the most important components of a DJ's equipment are speakers as they deliver your music to the audience. You can have the best turntables and mixer on the market, but without semi-decent speakers, you're most likely going to fail as an artist.
Great speakers don't have to be expensive, join us as we take a look at the best DJ Speakers on the market—let's get the best bang for your buck!
Our Top Pick
The QSC K12.2 Active is our top pick, it's feature-packed design, and amazing overall build makes it a quality purchase for DJs in all stages of their career, whether you're an aspiring artist or a professional DJ. The cost is pretty high up there compared to other speakers on our list, but it is worth every penny that you will pay for it.
Last update on 2023-10-28 / Affiliate links / Images from Amazon Product Advertising API
The Best DJ Speakers Reviewed
The Harmony audio HA-V10P is ideal for those DJs who are starting in the industry and need speakers to give people the chance to experience their art
Key Features
Woofers are paper cones
Woofer Outer cover is long-lasting cloth
5-inch copper voice coil
Steel basket for easy transportation
What we like
The Harmony audio DJ speakers are everything you need for creating great sound. This ten-venue two-way passive speaker PA system can handle a maximum peak of 300 Watts and an RMS of 300 watts. It has a sensitivity feature at 92.3 Db. The material is made of plywood and covered with high-quality black carpet.
We also like the fact that it can fill a modest-sized room with excellent sound making the Harmony audio ideal for small clubs or other intimate spaces.
What we don't like
While lightweight construction is great, this lends itself to questions as to the durability of the box containing the speakers. In fact, according to user reviews, it tends to breakdown if kept playing at high volumes. The fact that it cannot sustain high volumes makes it less than ideal for a dance studio or club.
Pros
Durable woofer cloth cover
Lightweight for easy transport
Effective in small spaces
Cons
High price for what you are getting
Limited user reviews thus far
The Harmony Audio is good for those who are just getting started in the industry. When used properly, it can be your practice speaker that will allow you to hone your skill for greater things to come.
Overall rating – 3.5 of 5
The QSC K12.2 Active's feature-packed design is sure to satisfy any DJ. Advanced features allow for maximum control of the sound that comes from it. Among our selection for this list, we dub the K12.2 Active as the best DJ powered speakers out there, and you'll see what we mean.
Key Features
Digital Display with multifunction display
Amplifier module to power loudspeakers with high-quality sound
Savable scenes to enhance reliability and allow quick playback
Universal power output to receive power from any power source from 100V to 240V without need for an adapter
What we like
We like the QSC K12.2 Active because it is a versatile yet simple loudspeaker. It will provide you with an outstanding audio experience. The K12.2 is an ideal choice to use as a loudspeaker for stages or public address. We like its small size, which makes it portable. The use of a universal power output improves the portability of the QSC K12.2. We won't have to worry about not being able to plug into a power source with this one.
What we don't like
We are not fond of the price for the QSC K12.2 Active. If you are on a budget, you can always opt for a more affordable model. The advanced controls also may be overwhelming for first-time users making the learning curve for the QSC K12.2 a bit steep.
Pros
Advanced controls with digital display
Portable and easy to transport
Universal power output
Correction tuning
Amplifier module
Cons
Price is steep
Advanced controls will require a considerable learning curve
Small side pockets
If you want to have a high performance, high-quality PA loudspeaker than the QSC K12.2 is a great choice, but be ready for some sticker shock.
Overall Rating – 5 of 5
The Proreck Party 15 is ideal for any DJ who performs live. The LED lights are sure to draw attention and add to the experience of the audience. The Party 15 lives up to its name, and we consider it as one of the best Bluetooth DJ speakers in the market today.
Key Features
Combo set with both active and passive loudspeakers. The passive loudspeakers come with a woofer while the active speaker has built-in amp for more power
Bluetooth support for wireless connectivity
Integrated stands for stable and easy mounting
Wheels for ease of movement
What we like
We like how the Proreck Party 15 is a combo PA set that features a passive and active loudspeaker. It is ideal for a DJ who wants to perform at events, but it can also be used at home or in the home studio for practice.
We also like the practical option to add wheels to make the Proreck Party 15 easier to move around. Finally, the colored LED lights add flair to your performances.
What we don't like
While the wheels are great, they do tell you something important—the Proreck Party 15 is big. It will not fit in the back of a car and needs a dedicated van or truck to transport. While we like the colored LED lights, you have to play music at high power to activate them.
Pros
Reasonable price range
Transport wheels
Remote control
Colored LED lights
3-leg mounting stand for stability
Cons
The remote control has no user manual
LED lights only turn on at high volumes
No XLR output
Large size
The Proreck Part 15 is a feature-packed speaker set which is sure to wow the audience. Best of all because it has a reasonable price range, even those with a modest budget can get one.
Overall rating – 4.5 of 5
The STAGEPAS 600i is a portable loudspeaker that works best for live events. The STAGEPAS has everything you need to broadcast your sound to the crowd and has features that add special audio effects.
Key Features
Compact design for portability
Detachable music mixer
Easy to set up
iPhone and iPod support
Digital Reverb
What we like
We like the ease of mounting and set up, which requires less effort to put up that other brands. The compact and portable design makes it convenient to bring on the tour like when you need to set up in a new club. It comes with a master equalizer to give you better control.
What we don't like
We are not fans of the high price for the STAGEPAS 600i. It is not powerful enough for a large venue. Also, since they already have iPod and iPhone connectivity, we are disappointed by the lack of connectivity for Android devices.
Pros
Master equalizer
Easy to mount and set up
Digital reverb knob
Compact design is portable
Cons
High price
Lack of connectivity to Android phones or Bluetooth
Lacks the power to be heard in large venues
The STAGEPAS 600i has everything you can look for in a DJ Speaker—so long as you're not an Android user and don't mind a higher price.
Overall rating – 4 of 5
You will appreciate the ION Audio Tailgater (iPA77) if you are looking for a top-quality model. It has a rechargeable battery which is the epitome of portability. It's also durable enough to withstand regular transport.
Key Features
Internal battery
Clear LED display
USB charging of an internal battery
Durable construction for outdoor use
What we like
We like that the ION Audio Tailgater is designed with portability in mind, and the internal battery is obviously a selling point. We also like the durable construction, which allows it to be used consistently in less than ideal conditions.
What we don't like
Most of the ION Audio Tailgater's features make it ideal for outdoor use or portability. If you have no plans to perform outdoors or in a camp, you are paying for great features that don't mean much for you.
Pros
Bluetooth connectivity
FM/AM Radio
USB Charging
Affordable price
Internal rechargeable battery
Cons
Does not have wheels
No inbuilt lighting
If your focus is portability and ease of use outdoors, then the ION Audio Tailgater is the one for you. Even if you are not looking to use it for the outdoors, the modest price range makes it a good buy none the less.
Overall rating – 4 of 5
Yamaha earns another spot on our best DJ speaker list with their DBR10-700 Watt Powered Speakers. The company is a household name because for their high-quality audio equipment, and the DBR10 is no exception. With its solid build, great audio output, and a speaker from the DBR line, it is a true testament to the excellence of Japanese engineering.
Key Features
7-Year Warranty
700 Watts of Clean Digital Power, 129 dB SPL
FIR-X Tuning and Frequency range
High performance main or monitor speaker
Bi-Amped, 10-inch Powered Speaker
What we like
The best thing about the DBR10 is that it is both a speaker and floor monitor, and you can easily switch between the modes with a simple push of a button. Yamaha's proprietary FIR-X tuning places it heads and shoulders above its competition, giving you clear and crisp audio even at higher frequencies.
What we don't like
The DBR10 is relatively cheap compared to its competition but would it have killed Yamaha to add the wires necessary to be able to use it out of the box. That's a pretty minor complaint considering the performance of these powered speakers, though.
Pros
Solid Build
Uses Yamaha's proprietary FIR-X tuning
Advanced Digital Signal Processing
Bi-amplified sound
7-year warranty
Cons
Wires don't come with the package
At its price range, the Yamaha DBR10 is amazing, the sound quality is excellent, and the fact that you can use it as both a speaker and a floor monitor makes it a great addition to any DJ's gear set. The 7-year warranty shows just how much Yamaha trusts in their products, placing money where their mouth is that their products do not fail.
Overall rating – 4.5 of 5
The Pioneer Pro DJ studio monitor is well-made and a low-cost option for those who need quality speakers for their home/studio. They are incredibly straightforward to use— you don't need to be a rocket scientist to get the most off of these speakers. While they're not the best at anything for its class, they give great value for your money if you're only starting as fledgling DJ.
Key Features
Type two-way bass reflex with active monitor speakers
4-Inch Fiberglass woofer
A 3/4-inch soft dome tweeter
What we like
The Pioneer Pro DJ has great frequency response making it ideal for home practice without disturbing the neighbors. Keep it on medium to a low volume to maximize utility.
What we don't like
This model is meant for home use or in a home studio. It lacks the power and range you would need for a live performance.
Pros
Woofer-Tweeter combo
Bass reflex ports
Wooden enclosure
Good value for money
Cons
Sound is not strong enough for large rooms
Bass is weak
The Pioneer Pro DJ Studio Monitor works best for home use. If you need speakers for outdoor use or for a concert, this is not the speaker for you, but if you need it for practice, then the Pioneer Pro is a good choice.
Overall rating – 3.5 of 5
The Pair Alphasonik is a well-built and durable boasting an ALPHATOUGH cabinet housing which contains an 8-inch woofer and a wide-coverage horn tweeter allowing it to project better than average audio.
Key Features
Rugged Alphatough cabinets
Activable LED strobe lights that flicker to the sound of your music
Bluetooth connectivity for wireless playback of many devices
What we like
The Pair Alphasonik is an ideal PA option. The horn-like tweeter is designed to enhance the sound coming from the Pair Alphasonic and helps keep the tweeters from overheating.
What we don't like
We don't like that the mic is cheap and easily broken. The background hum when the Pair Alphasonik is at high volume is also pretty annoying.
Pros
Easy to set up
Durable construction
Digital display with controls.
Cons
Microphone is cheap
Does not work well at high volume
The remote control is irreplaceable
The Pair Alphasonik is a good alternative for those who want a durable speaker set. Just don't expect the mic to survive the full lifespan of the speakers.
Overall rating – 3.5 of 5
The Wireless Portable PA system is a high powered system with a peak RMS of 500, allowing it to have great full-range audio. It is user-friendly and easy to control, making its portability even better for easy set-up wherever you find yourself performing. The latter elements make it one of the best portable Dj speakers in the market today.
Key Features
Two-way full-range audio projection
Convenient carry handles
FM Radio with LCD Digital Display
Built-in Digital Audio Amplifier
What we like
Pyle is known for making impressive low-cost speakers and has always lived up to our expectations. The Wireless Portable PA system is just the latest in a series of adequate speaker systems. It is durable and reasonably priced.
What we don't like
We don't like that there is a dearth of documentation that comes with the package which means you have to do a lot of trial and error during assembly. Also, there are no XLR inputs.
Pros
Low cost but durable
LCD interface
Sub-woofer/tweet
Wireless connectivity
Cons
Lack of documentation in the box
No XLR inputs
For those of us on a budget, the Wireless PA system is an ideal choice. It is a durable design that is useful for outdoor use or when you need to transport it frequently.
Overall Rating – 3.5 of 5
Dj Speaker Buying Guide
Any DJ or musician will tell you that the most important aspect of the job is sound. Without good speakers, no matter how good your mixes are, you won't be successful. More importantly, speakers need to playback your tracks the way you want your audience to hear them. The track may sound great when you listen to it on your headset, but your speakers might not sound as good or recreate audio of the same quality.
Whether you are playing in your home studio or playing in the club for a live audience, listeners have to appreciate the effort you put into every track you play.
Thus, purchasing a good set of quality speakers is vital to do your work justice and play high-quality sound. Your audience will appreciate your work more if you invest in good quality speakers. Don't settle for the old belief that any speaker will do—the DJ world is competitive as with any performance industry.
Do you want to give yourself the best chance possible to make it big? Then you need to invest in a good set of speakers through which you can express your music the best. Whether you want to splurge on top quality DJ speakers sets, or you have more modest desires due to a limited budget. The things you will be looking for are the same. Read on to determine what considerations you need to make when purchasing DJ speakers.
Type of Speakers
There are two sets of considerations that you need to make when purchasing speakers; the first is how your speakers are powered. Speakers are classified into two categories in this respect. They can be either Active or Passive. The latter requires the help of an amplifier or an audio receiver to work as they do not have a power source nor amplify the sound on their own. Active Speakers have built-in amplifiers into their cabinet and can playback audio on their own.
Passive speakers are generally cheaper than active speakers and are more affordable, especially if you are upgrading your system with more speakers. By comparison, active speakers are a kind of all-in-one system. A minor downside of Active speakers is that all its control is fine-tuned or adjusted in the speaker. While passive speakers may seem appealing, for a DJ that regularly perform on the go, investing in great active speakers means less equipment you need to bring along.
The second type of consideration is whether you should go for a public announcement (PA) speaker or studio speakers/DJ monitors. This one comes down to location, what kind of venue do you see yourself mixing your music, in a studio, or for a wider audience?
Studio/DJ monitors accurately playback your mixes at lower volumes and are meant for the relative quiet and small area of your studio. Trying to play your mixes at higher frequencies or volumes on DJ monitors will distort your music and cause it to come out poorly. You should consider PA speakers if you'll be playing for a larger crowd such as a club or a concert venue as they work best for high volume playback for longer periods.
Power Rating
As we mentioned, the best choice for a DJ is active speakers and with that comes power rating. This is probably one of your main considerations if you're going to be playing for a large crowd. The power rating or wattage on active speakers refers to the power used by the internal amplifier.
You can think of power rating in this way, the higher the watts, the more power and thus louder your speakers can get. Choosing the best DJ speakers will depend highly on how many people you'll be playing for and the size of the location. Let's say an auditorium or a school gym you need more juice in your speakers; a good estimate would be 1000 watts. On the other hand, if you'll be playing in your studio or house party gigs, then you can purchase 100-200 watts. Some professional DJs compute the necessary power rating on their speakers at 5 watts per head for an indoor gig and 10 watts per person for an outdoor performance.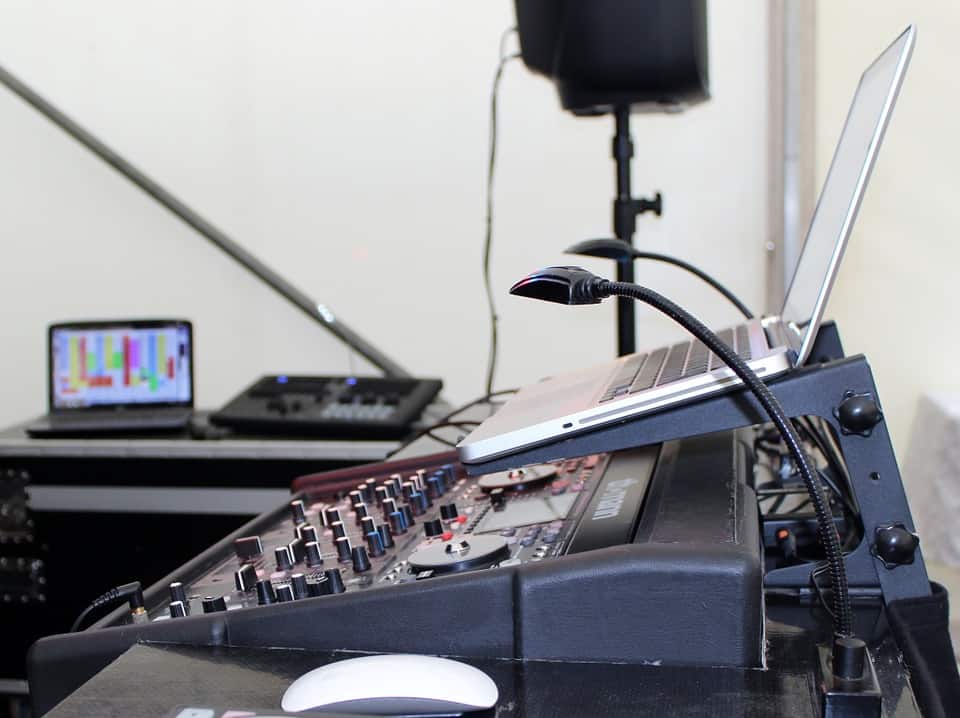 Woofers and Subwoofers
Most DJs love to drop the beat in their mixes to get the audience excited and dancing to their music, making the inclusion of woofers in your speakers important. You'd probably want a woofer cone size between 8 to 15-inches again depending on venue size and how heavy the bass is in your set. However, keep in mind, the larger the woofer and the heavier the bass you play on your speakers, the more stress you put on them reducing their lifespan by a lot. You might consider purchasing a subwoofer to help out with that load and make even a 10-inch sound as pristine as a 15-inch woofer speaker.
Note that subwoofers are an extra purchase to your set-up, thus increasing your costs and the amount of equipment you need to drag along with you during performances. You have to weigh the benefits with the costs when adding subwoofers to your set-up.
Portability
Piggybacking on the previous topic, DJ Speakers need to be portable. Your transport options will matter here as well. If you have a van or pickup truck, then the size of the speakers will not matter. But if you own a car or have to commute you want DJ speakers that are compact and easy to move or else you will not be able to bring your equipment to the venue where you will need it.
Of course, if you're shopping for speakers for a home studio or if you play in just one location, there is no need to worry about transportation.
Budget
Budget probably trumps all the other considerations, the best DJ speaker for you is the one that satisfies your needs and your budget. You may set your eyes on our top pick, but if you don't have the budget for it, then it won't matter.
Remember, speakers are only a component of your entire DJ set-up—you have to consider the cost of other equipment as well. If you're on a tight budget, then you need to determine which parts have to take a quality hit and which components you need to pay a premium for to get the best out of your performance.
Final Thoughts
DJ speakers are the bread and butter of any aspiring DJ. The ability to express oneself in sound is dependent on the speakers you use. After all, without a good set of speakers, people can't appreciate your music.
Most of the speakers we've picked today come from a selection of the more affordable range of products since we understand that budget is always a consideration for those shopping for DJ equipment. If you are already a successful professional to the point that cost is no longer a consideration, then congratulations and good for you, but if you're just getting started or on a tight budget feel free to select among our picks if you want a quality set of speakers at great prices.