When I was first starting out as a professional DJ, I made countless mistakes and endured my fair share of embarrassment. At one point, I was even kicked out of my own show for having a low-grade, mediocre sound system. After some time, I found out that I didn't just have myself to blame. The DJ controllers I'd purchased turned out to be a total bust.
Since then, I've come a long way. I've experimented with many DJ controllers over the years and would like to save others from wasting their money on equipment that can't keep up with our needs.
One thing we can all agree on in the industry is that there's no shortage of ego. We all believe we are the best, even if we aren't. So, trust me, I know it's hard to admit your equipment isn't the greatest, especially if you've been using it for a while, but let's be real for a moment. I don't want you to embarrass yourself in front of a large audience because of a bad quality DJ controller that decided to give up on you. If you'd like to gain some insight and prevent this from happening, keep on reading.
If you're short on time, skip right ahead and read about my top pick below.
Top Pick
The Numark Mixtrack Platinum DJ controller has all core controls, and so much more. With two channels, mixer filters, EQ controls, and 100 pitch faders, this DJ controller will shake up the party like nothing else.
Last update on 2023-08-31 / Affiliate links / Images from Amazon Product Advertising API
The Best DJ Controllers Reviewed
With the sound quality of a 44.1 audio interface and a gorgeous LCD display that regularly updates BPM, needle drop, time remaining, and current deck information, this controller is the ideal all-in-one, ultimate DJ controller.
Key features
24-bit audio
Two-channel mixer
Four-deck layering
16 multi-function performance pads
LCD monitoring jog wheels
100 mm pitch sliders
USB connection powered
1/4-inch microphone input
1/4-inch interior headphone
1/8-inch headphone input
What I like
There is so much to love about the Numark Mixtrack Platinum. It gets full scores as far as features go. This DJ controller is the whole package, with no useless or egregious features in sight. The continually updating platinum high-resolution display is extremely helpful when you're in the middle of a set. It streamlines each facet of live and at-home mixing.
What I don't like
This isn't the most wallet-friendly option, but it's also not unaffordable. Whether or not you should invest in the Numark is up to you and your plans with the equipment. It's more than worth it if you're a busy, professional DJ. Those getting a feel for DJing don't need to jump on this one necessarily, though it's suggested if you can afford it.
Pros
Class-compliant audio interface
Effortless connection to all mixers
Enhanced creativity with 16 multi-faction backlit
Free prime loops remix toolkit
Free Serato DJ included
No need to install additional drivers
Cons
Price is a bit on the high side
Jump on the bandwagon and get this product. It's extremely popular for all the right reasons. This controller can squeeze out any tune you might be tempted to try on it. Right now, it might feel like you're paying through your nose, but considering that you won't ever need another DJ controller again with this gorgeous piece in your ownership, you'll want to save up for it.
Overall rating – 4.9/5
The Pioneer DJ DJ Controller has FX fade features and is easy to use, designed by experts who wanted to bring all essential features within a convenient reach. With this controller, the rhythm won't falter, and the party won't stop—at least until you want it to.
Key Features
USB Bus powered
24-bit soundcard
20-20000 Hz
103 dB signal to noise ratio
Compatible DJ software
Four deck controls
128 mm durable jog wheels
What I like about this product
The small size makes it easy for me to carry this controller around. It is compatible with DJ software such as the VDJ8 program, and can easily control four decks, a great product for DJs on the go.
What I don't like about this product
It'd be convenient if the soundcard in the DJ controller had TRS/XLR outs instead of having RCA. This is not a big problem for me, but for some, it could be.
Pros
Variety of awesome features
Perfect size
Smooth sound transitions
Cons
Does not have TRS/XLS outs included in the soundcard
I can personally vouch for this DJ controller. It has every feature and is easy to carry, thanks to its small size. The best part? It offers extremely smooth sound transitions. This controller is a great way to add life to the party.
Overall Rating – 4.7/5
Good controllers come in all shapes and sizes, but it's hard to find any controller more portable than the Numark DJ2GO2 Pocket DJ Controller. Get seamless mixing on the go with Numark's portable channels and jog wheels. It also hosts a blend of features, making it easier for a professional DJ to work on one station instead of having several small ones.
Key Features
Onboard audio interface
Mix control
Portable two channels
Jog wheels
Built-in audio card
Compatible with Mac OS and Windows
What I like
The size. Seriously, I love how amazingly easy it is to carry this controller around. I use it as a backup controller, and it works great at that, I've done many shows using this controller and got the same sound quality. It is a robust little mixer.
What I don't like
It would be nice if the Serato software included in the controller was free, but it's not. For the purchase price, you can always spend a few extra bucks on the Serato software online, though.
Pros
Lightweight
Good price
Portable
Cons
You'd need to purchase and download Serato Software separately
This is the best DJ controller when it comes to portability. It comes with four trigger pads, one for each cue, and it is a pretty good investment for professional DJs as a side piece. I'd recommend that if you are frequently on the road, that you consider the Numark. You won't find any portable DJ controller in this price range anywhere else.
Overall Rating – 4.7/5
Jump on stage with the Pioneer DJ Controller, a great portable controller with flexible features. This one will have you mastering your mixing skills in no time.
Key features
USB bus-powered
DJ software rekordbox DJ included
Compatible with most of MAC OS and Windows
24-bit soundcard
Two channels
Two deck controls
Pad FX included
Eight hot cues
What I like
I love that I didn't have to spend an extra dime on the Rekordbox DJ software, as it's already included in the controller. This item earns bonus points for the Pad FX and eight hot cues. The professional, premium aesthetic of this product will make you feel like you really know what you're doing.
What I don't like
Perhaps the only drawback of this product is that it only offers two channels. Though that is actually a good thing for a beginner, who is still getting the hang of things.
Pros
Top-notch sound quality
Free DJ software included
Flexible cues
Portable design
Cons
Only offers two channels—best for beginners
I'd recommend this for DJs just starting out in the field. However, it's a no brainer that if you've been DJing for a while, two channels won't be enough for you. It still offers pretty smooth transitions and can accommodate your selections with no hassle.
Overall rating – 4.6/5
If you're looking for a controller that offers you a true bang for your buck, this is the one. You'll impress your audience with the incorporated light show feature. To top it all off, the Numark Party Mix has jog wheels, pitch faders, and provides a suave blend to give you the tools to make some fantastic sets.
Key features
Ultra-portable
Built-in light show with three LED light arrays
Mix control
Two channels
Four pad modes
Onboard 16-bit connectivity
What I like
This controller is a steal considering its long list of features. It even has a pro-grade onboard audio interface and performance-enhancing key controls such as four pad modes, which make operating this setup a piece of cake.
What I don't like
While it has all the features that a good DJ controller needs, it requires adapters to work with iOS devices, which is a slight pain for lazy people like me. However, if you aren't a couch potato, it won't be a problem for you.
Pros
Gorgeous DJ lights
Awesome build quality
Smooth knobs and sound system
Super inexpensive
Cons
Needs an external adapter to connect with iOs devices
It works great with the right cables and turns your party into a success—thanks to the built-in lights that facilitate a visual and auditory experience your audience will remember. Go for it if you're seriously considering a career as a DJ because, with this controller, you have no excuses.
Overall rating – 4.8/5
If you're looking for a pocket-sized DJ controller, the Hercules is a great option. Boasting pressure-sensitive jog wheels, heavy bass knobs, and RGB backlighting, it will make mixing on the move fun and productive.
Key features
I3 processor
4G Ram
LED lights
Built-in sound card
Serato DJ lite included
Hot cue models
Pressure-sensitive jog wheels
Portable
What I like
The quality of the audio output is extremely smooth. For DJs who play funk tunes without using a metronome, the Hercules is a perfect choice. It hits the right tones using the pitch adjust and the main nudge functions. The smaller size makes it much easier to carry around, so you can rock to your beats wherever you'd like at any time.
What I don't like
When it comes to the Hercules, I don't have a lot to complain about. If I had to be picky, I'd say it's a drawback that it doesn't have all three EQ knobs. Though, that can be easily covered up if you just reset the knobs to zero before getting ready to play another music track. That's an exception, not a rule. It depends on how you like your music to come out.
Pros
Fun-sized compact controller
Effortless transitions
Bright RGB backlighting
Pressure-sensitive jog wheels
Cons
Doesn't have all three EQ knobs
The Hercules is a must-have for beginners and professionals alike. There is no way you could go wrong with this compact, super portable DJ controller. It has all the essential features already installed and has a built-in sound card and speaker outputs to add life to your music.
Overall rating – 4.7/5
If you can spare around $300 for a DJ controller that has optimal portability, easy connectivity, built-in drum kits, and platters with the lowest available latency for scratching, this controller is for you.
Key features
Two channels
Four deck controller
Eight sounds including Bass drums, Snare Drum, Closed Hat, Open Hat, Tom, Rim, Clap, Ride
Free upgrade to Serato DJ Pro
48 kHz frequency response
60 dBu internal mic
USB bus power supply
MIDI out connector included
What I like
The controller has 5ms latency, so it is the best for scratching music. Also, this Roland controller supports iTunes and Serato and has super easy-to-use controls. The best part is the sudden click sound on the pads to alert you that your hit has been registered.
The build of this controller is amazing and made to last, too. Regardless of how poorly you treat it, it'll function like it's supposed to. It's made for those who may be making music in unpredictable circumstances.
What I don't like
The main gripe I have with this product is that the keys are a little too loose for my taste, but I have since gotten used to it, so it's no longer an issue for me. It may take you some time to adjust, but in the long run, getting acquainted with the Roland will make you a much better DJ.
Pros
High-resolution hardware
Amazing sound quality
Perfect for scratching
Cons
The installation process is a little complex
This controller packs in numerous features that, once you get the hang of function-wise, can really up your music game. The controller produces impeccable sound quality with added TR sound drums. If that isn't enough to convince you, it comes with a free upgrade to Serato DJ Pro to make your Hit DJ dreams come to life.
Overall rating – 4.9/5
Pioneer's Smart DJ Controller is a lightweight, easy to use controller with built-in tunes available, ideal for beginners. Discover the basics of being a DJ, and dive right in with the accessible Pioneer DJ Smart DJ Controller.
Key features
Compatible with WeDJ, rekordbox, djay, and edjing Mix
Includes Fader Start
Two channels
Two deck controls
Pad FX
Eight hot cues
Manual loops
Transition FX
What I like
It offers easy compatibility with a smartphone and multi-app support for music streaming services to make our lives easier. This is a huge plus. Thanks to its built-in tunes and simplistic style, this is also a model I wish I'd have known about when I was just getting started. It has a gentle learning curve.
What I don't like
It is great for beginners who've newly entered the world of DJing, but it doesn't provide many detailed controls that experienced DJs may desire.
Pros
Easy to learn
Great for beginners
Easy connectivity with smartphones
Cons
Doesn't include complex keys
With the amount of ease it provides, what's not to like about the Pioneer Smart DJ Controller? If you are someone who has just gotten into the field of DJing, this one is for you.
Overall rating – 4.5/5
For a price tag well under $500, this DJ controller offers innovative pro features and next-level functionality for the ultimate DJ experience. Numark Mixtrack has something in store for every DJ, whether you're a novice or a seasoned veteran.
Key features
Three mix tracks
Virtual DJ LE
Prime Loops Remix toolkit
16 multi-function performance pads
Metal jog wheels
Filter knobs for each panel
100 mm pitch sliders
Rubber trigger pads
What I like
It's a versatile, easy-to-use, no-nonsense DJ controller. When you have your hands on the Numark All-In-One Controller, you'll feel like you've hit the jackpot. Why? Let me tell you: there is literally one pitch slider available for each deck.
What I don't like
The controller is pretty difficult to set up on your own if you're a beginner since the instructions aren't very clear on the manual.
Pros
Easy to use
Includes a MIDI cable
Comes with free software
Extremely helpful knobs
Great responsiveness
Cons
Hard to set up the controller with complex features and instructions
For a controller in this price range, the controller is a keeper. The pitch sliders are a great touch to the overall vibe, and it has an impressive range of features. Use it with premium software to get added benefits.
Overall rating – 4.4/5
DJ Controller Buyer's Guide
If you're someone who is just getting into the world of DJing, chances are that you already know that buying the perfect DJ controller is no piece of cake. While I'm all in for keeping your gear up to date and modern, I do prefer saving up some money so I can buy durable, feature-packed items. The best DJ controllers give you the features and functionality to play and scratch with next-level confidence. With the right DJ controller, the speed at which your sound will improve is second to none.
Without further ado, I'd like to bring you in the know as far as how to find the best DJ controller that checks all the right boxes.
Understanding the basic terms
Every hobby has its own lexicon, as do DJs. It's not rocket science, but you need to know the basic terms and features to make an informed decision.
Below you'll find some of the most uncomplicated yet necessary terms, with details on what each one means with regard to DJing. You can probably skip this if you're an experienced DJ already familiar with the terminology.
Performance Pads
Performance pads help you navigate effortlessly through the music and build tunes and sounds necessary to build a repertoire. Multi-use performance pad keys have different uses such as reverberating the sound, blowing, ringing, etc.
The trick is to get a DJ controller with at least 16 multi-function performance pad keys. Why? Well, you'll be able to take your skills to the max and emerge as a professional DJ who knows his tunes well.
Channels and Decks
Channels help you control better, and decks help you visualize everything you are doing. Together they are a team to manipulate sound resonations. And I'll cut to the chase, a greater number of channels and decks means the higher the quality of sound that is produced.
You're likely still wondering, well what would be the absolute minimum number of channels and decks necessary for professional work? There should be at least three decks and two or more channels for beginner level DJing. After you've become an expert, you can upgrade to the controller with four decks and four channels or more.
Connectivity and Compatibility
It goes without saying that your controller should be able to connect with your devices, be it a computer or an iPad, or even a phone. People come up to me regularly, saying it would have been so nice if their DJ controller could connect with their devices so that they could play music from apps such as SoundCloud and Spotify. Well, they should have checked the specifications before purchasing, like you are learning about right now.
Many controllers are not compatible with iOS or Windows. The worst thing you can do is assume that your DJ controller will somehow be able to synchronize with your systems. That's not how it works. You need to make sure that the device and the controller's software are compatible in the first place.
And while you're realizing that you never checked this before, let me also bring to your attention that not all devices can connect with Bluetooth either.
Yes, USB can save the day, but USB can only work if you have compatible software on your phone and computer. So that leaves us to the first point: check your specifications.
Pitch Sliders
Let's not get into in-depth complexities and understand the basics first. Pitch sliders help mix and compose your music. It mixes sounds, even when you're remixing them.
Fun fact: the longer and thinner the Pitch slider is, the better sound quality will be produced, and the smoother transitions you'll get from one song to another. No one likes to dance on soul-shattering, shrieking sounds you'd call 'rhythms.' So, make sure that the Pitch Sliders of your controller are smooth as butter.
Tip: if you're buying the controller from a store, ask questions regarding the features. In case you're like me, and you like purchasing products online, you can always ask questions to the seller. In any case, make sure to inquire and be informed. The little extra time spent in the store is a better trade-off than buying the wrong product.
Built-In Soundcard
Regardless of what anyone says, a built-in sound card is important. It is the best way to transfer all the sound from your controller to your headphones and speakers without adding any extra effort into complex external soundcards.
Jog Wheels, Filter Knobs, Cues, and Loops
Jog wheels are like cassette tapes in the DJ world. They run the whole thing. Metal jog wheels are great for running things smoothly. When it comes to filter knobs, the more, the merrier. Filter knobs are the core keys to harmonize the music and sound level.
Without getting all technical, let me just say in simple words that cues and loops are also pretty important. Eight to ten cues are great in a DJ controller. While purchasing a DJ controller, it is important to focus on these little things. Otherwise, you may end up buying something that is not worth it. Instead of upgrading every once in a while, how about you get the best thing in the first place.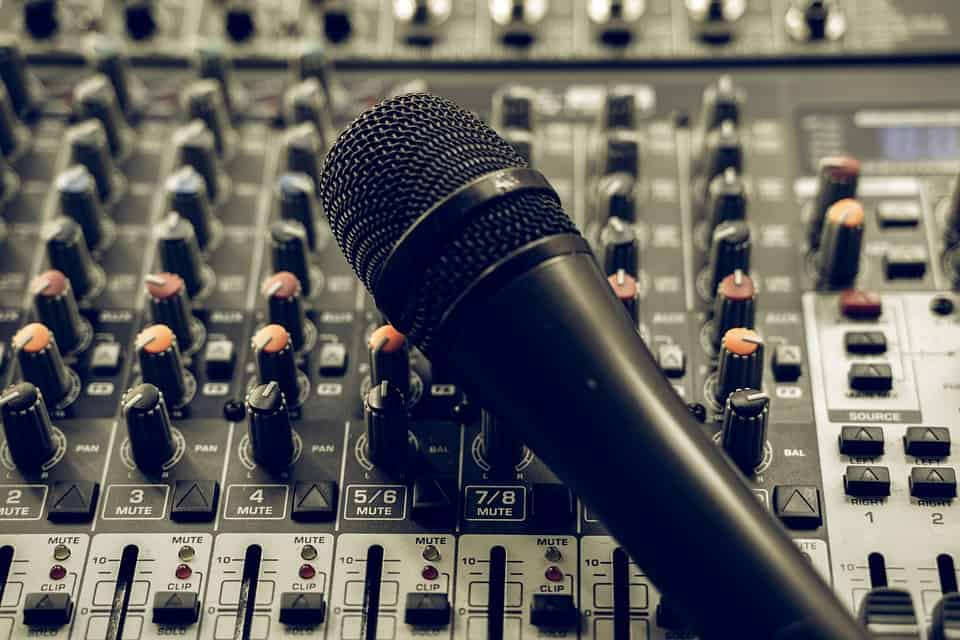 Class-Compliant Software
Some DJ controllers have built-in software, readily available for use, but others don't come with readily available software. In that case, you'll need to buy them online. Try to calculate costs beforehand factoring this in, so your purchase does not exceed the budget, and you get the best value for your money.
Some DJ controllers are nice like that and give you an option to upgrade your software to a better, more premium one. But it's always a good option to start with a beginner level software such as Serato and VDJ8 before jumping the gun on advanced software that'll likely cost you a hefty chunk of change.
Size
It goes without saying that the smaller your DJ controller is, the easier it'll be for you to carry it around. Smaller sized controllers help you become DJ on the move, while bigger controllers are great for professional work.
And while you're at it, try to get a lightweight controller. In my reviews, you'll find that I have specifically mentioned the lightweight products to make things easier for you. If you ask me, I'd recommend keeping a professional full-sized controller for parties and night events, and a smaller version for backup, for a time when someone challenges your skills as a DJ on the road.
LCD
Having an LCD on a DJ controller seems like a trivial addition, but once you become an expert in this field, you'll realize the advantage of having this feature. Being a DJ is not just about playing music; it's about playing music at the right beat.
LCD screens provide next-level information about the sound quality, visualize genuine feedback about beats per minute, needle drop, and the time remaining in a song. It'll help you prepare the next tune and blend it flawlessly at the end of a song to create the beat that every dancer at the party will thrive on.
But wait, there's more, LCD screens help keep your concentration towards the DJ controller, instead of wasting time going through the computer to find the beat volume. As an added bonus, they also show key locks and active decks. With this feature under your DJ controller's belt, you won't feel the need to pack up and drag your computer everywhere. Make your life simpler by opting for LCD screens on jog wheels and thank me later.
Final Thoughts
To sum it all up, the right DJ controller will make you feel like you're in music heaven. It doesn't matter if you're a beginner or a pro, what matters is your choice of a good investment in a DJ controller that will elevate your level and turn your music into a giant success.
My choice for the best DJ controller and a clear winner on the list is the Numark Mixtrack Platinum DJ Controller. The sound quality of this controller is second to none. It is an amazing top-tier product for those who spend time mixing music.
Just remember, though, before you jump in, or if none of the selected products fulfill your needs, review the buying guide to fully understand what kind of specifications you are looking for. An informed decision will take you many steps closer to a budding career as a DJ.