Turntables are like lead actors. They're alright on their own, but they're at their best if they have a supporting actor. In this case, that supporting actor is a good quality stereo receiver.
Today's stereo receivers act as the bridge connecting the analog world of vinyl to the rest of the digital world, allowing you to connect and switch between multiple input and output devices. Without them, you wouldn't be able to use speakers to hear your vinyl records in their best state.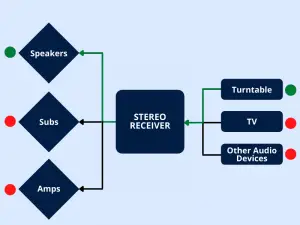 So, we've run down our top picks for the best receivers for turntables in the market. We looked at the number and value of features for each receiver, as well as the effect each one had on the sound output. To do this we hooked each one up to a standard turntable / speaker rig (RT82 Reference turntable & Yamaha HS5 studio monitors if you're curious). We also created a handy buyer's guide to further help you pick the right receiver for your needs. If you don't have time to read the whole article, check out a few of our top picks in the table below. Otherwise, read on to learn about different features and a wider selection of products.
Title
Best Value
YAMAHA R-S202BL Stereo Receiver
Most Versatile
Denon AVR-S540BT
Best for Beginners
Sony STRDH190
Highest Overall Quality
Marantz PM6006
Preview
Best Value
Title
YAMAHA R-S202BL Stereo Receiver
Preview
Most Versatile
Preview
Best for Beginners
Preview
Highest Overall Quality
Preview
Last update on 2023-11-15 / Affiliate links / Images from Amazon Product Advertising API
Our Top Pick
Our top pick for the best stereo receiver for turntables is undoubtedly the Yamaha R-S202BL Stereo Receiver. It boasts solid sound with Bluetooth support, all at an affordable price. It's even eco-friendly with a low power consumption mode!
The Best Receivers for Turntables Reviewed
The Yamaha R-S202BL is an inexpensive-yet-reliable Bluetooth enabled stereo receiver with a rock-solid build.
Key Features
Phono preamp built-in
Sleek, black brushed aluminum design
FM/AM Tuner with 40 stations presets
Bluetooth support for streaming audio from audio devices
Eco low power consumption mode
Supports up to two speaker systems
10Hz – 100kHz +0/- 3dB Frequency Response
Stereo Power (output wattage): 100 W
Impedance: 8 Ohms
High quality remote control included
What We Liked
The Yamaha R-S202BL is one of the best receivers for turntables at a very affordable price.
For one, it has a built-in phono preamp. This makes it instantly compatible with any turntable, regardless of whether it has an amp built-in. It does an excellent job at boosting the turntable's natural sound while reducing the static that's inherent with these types of analog devices. The receiver has a nice tight frequency response and produces a balanced, even sound with no unnecessary emphasis at any frequency range.
The black aluminum design is sleek and minimalistic, making it fit in with any home sound system. The material is durable and hefty and should last you a long time.
What We Didn't Like
Being hefty, it tends to be heavy. Also, if you're planning a complex stereo speaker setup, you can't do it with this receiver because it can only support up to two speaker slots.
Pros
Bluetooth streaming support extends its capability to mobile devices
Excellent sound quality
Competitively priced makes it pretty accessible to beginner turntable owners
Cons
Can only support two speakers
Despite its limitations, the Yamaha R-S202BL is an excellent receiver for the price. You get high-quality audio output and just the right features for your turntable.
Overall Rating: 4.9 / 5
---
A new take on the beloved PM6005, the Marantz PM6006 is an integrated amplifier that doubles as an excellent receiver.
Key Features
Three digital inputs, including one coaxial and two optical
Five-line audio inputs, including phono
Wide dynamic range with lower audio distortion
Hyper Dynamic Amplifier Modules (HDAM) provides robust sound quality
10Hz – 70kHz +0/-1 dB Frequency Response
Stereo Power (output wattage): 45/60 W
Impedance: 4 Ohms
What We Liked
The PM6006 is the successor to the PM6005, widely acclaimed as one the best-integrated amplifiers. The best feature of these Marantz models is the low variation in their frequency response, leading to an incredibly rich and dynamic sound. This is also thanks in part to its HDAM technology, providing high-speed sound at wider bandwidths.
The PM6006 is capable of supporting a wide array of sound inputs, and turntables are one of them. This is done through its five-line digital audio inputs and phono inputs that provide rich, accurate vinyl sound detail.
What We Didn't Like
The PM6006 lacks Bluetooth connectivity, so there's no means of connecting your mobile devices.
Pros
Powerful, high dynamic amplifiers provide fantastic sound quality
Five-line audio and phono inputs offer seamless turntable integration
Plays digital audio files amazingly well, up to 192 kHz at 24-bit resolution
Cons
No Bluetooth connectivity
Priced a bit higher
The Marantz PM6006 provides your turntables with rich, crisp, high-fidelity audio quality. Despite the high price, it's still worth it for the best sound quality output alone.
Overall Rating: 4.7 / 5
---
The Denon AVR-S540BT is a powerful stereo receiver at an affordable price range. It offers impressive usage versatility.
Key Features
Five-channel amplifier with 140W per channel
Both Digital and analog audio inputs
Bluetooth support for connecting up to 8 audio devices
Supports up to 4K ULTRA HD TV features
Multi-dimensional surround sound with 5.2 channel compatibility
10Hz – 100kHz = +1/-3 dB Frequency Response
Stereo Power (output wattage): 140 W
Impedance: 8 Ohms
What We Liked
The Denon AVR-S540BT is a powerful-yet-affordable stereo receiver. More than just for turntables, this entry from the Japanese audio manufacturer is the perfect hub for your entire AV home theater system.
The sound quality for the AVR-S540BT is superb and gives you an incredible concert-like listening experience. The five-channel amplifier also does an excellent job of boosting up the sound level, while still staying crisp and rich. Though it is more expensive than the Yamaha R-S202BL, it certainly has the added features to justify the price.
What We Didn't Like
The AVR-S540BT doesn't have a phono preamp built-in, so you have to get that separately.
Pros
Superb audio quality
Lots of options for connecting devices, including Bluetooth
The price is fantastic for the power and features it offers
Very easy to install
Cons
While not as turntable-friendly as other receivers, the Denon AVR-S540BT nevertheless will win you over with powerful features at a lower price. This makes it one of our top picks.
Overall Rating: 4.7 / 5
---
The Sony STRDH190 is a straightforward-yet-powerful receiver for turntables. Its simplicity makes it a perfect choice for beginners.
Key Features
Phono input with preamp
four analog audio inputs
Support up to four speakers with A/B switching
FM tuner with support for 30 station presets
Bluetooth connectivity with support for audio devices
Compact, low profile design
10Hz – 100kHz +0.5/-2 dB Frequency Response
Stereo Power (output wattage): 100 W
Impedance: 8 Ohms
What We Like
If you're looking for a no-frills receiver, look no further than the Sony STRDH190. It sports impressive audio quality, thanks to its stereo speakers support and directional bass.
For a primary receiver, we're surprised it can accommodate up to four speakers, with an option for A/B split zones. Separate them into two rooms, or put them into one for richer, surround sound.
It's compatible with most turntables, with a direct phono input connection. The STRDH190 is capable of enhancing vinyl's natural sound through its myriad of audio boosting features, including Hi-Res Audio, discrete amplifiers, and reduced vibration design.
What We Didn't Like
The lack of an AM tuner and subwoofer support limit this receiver somewhat. It is also fairly basic. While this is an advantage if you're a beginner, it can be a let down if you're a pro.
Pros
Phono input for instant turntable connection
Excellent speaker system support with A/B split zones
Plenty of ventilation prevents overheating
Compact frame fits most AV cabinets
Great price
Cons
Lack of subwoofer support
Limited features
For beginners, the Sony STRDH190 is the best receiver for turntables. You get fantastic sound quality and speaker support at a relatively accessible price.
Overall Rating: 4.7 / 5
---
The Yamaha RX-V383BL is a budget-friendly receiver that boasts clean sound output and ease of use.
Key Features
1 channel surround sound
HDMI and Bluetooth support for connecting mobile devices
High dynamic range and BT.2020 compatibility
YPAO Sound Optimization technology
Rich Bass Reproduction
10Hz – 100kHz +0/-3 dB Frequency Response
What We Liked
This amazing, budget-friendly stereo receiver delivers excellent sound quality. This is due to its powerful 5.1 channel surround sound and Rich Bass Reproduction technology. Combined with HDR support, it provides audio quality as rich as a high-end receiver. The frame construction is decent, and the layout is relatively intuitive, even for a beginner.
What We Didn't Like
This model has no phono line input, so you'd need an external phono preamp. And while it does support Bluetooth connectivity, it isn't the most reliable connection we've ever seen. Yes, we did compare its connectivity to other Bluetooth devices in the same location, to the same devices, etc. to ensure this problem was on the receiver's end.
Pros
Incredible sound quality
Lots of digital connectivity features, including HDMI and Bluetooth
Easy-to-use, beginner-friendly layout
Cons
No built-in phono input
Problematic Bluetooth
The Yamaha RX-V383BL is one the best receivers for turntables in terms of budget. It provides spectacular audio quality at a mid-range price point. The only thing keeping it from the top spot is its lack of built-in phono support.
Overall Rating: 4.6 / 5
---
The Onkyo M-5000R is a high-powered amplifier and receiver for the discerning audiophile.
Key Features
Quad Push-Pull Amplification Design with 3-stage inverted Darlington circuitry
Advanced Wide Range Amplifier Technology (AWRAT)
Twin toroidal transformers with four 27,000 UF capacitors
Balanced XLR Input
Built-in phono input
10Hz – 100kHz +0/-1 dB Frequency Response
What We Liked
The Onkyo M-5000R is a powerhouse that churns out some lovely audio quality. To do this, it utilizes some powerful and innovative technologies, including AWRAT. The sound output is tighter and clearer, with clearly defined bass ranges. The frequency response is the best of any of the receivers on this list.
It has a minimalist front panel with a clean button layout. The super-cool meters are our favorite visual feature of the Onkyo M-5000R. And even though it's rated at a modest 80 watts at 8 ohms, the M-5000R can still pack a serious punch.
What We Didn't Like
This powerful amplifier is rather large and heavy.
Pros
Amazingly rich sound quality
AWRAT sound technology effectively boosts sound while reducing noise
Vibration-resistant aluminum case
Built-in phono input
Cons
The Onkyo M-5000R is the best receiver for turntables in terms of sound quality. If you can afford the steep price tag—be prepared for a beast!
Overall Rating: 4.6 / 5
---
The Onkyo TX-NR575 is a premium receiver for turntables, featuring a high level of connectivity.
Key Features
Supports 5.2. 2–channel Dolby Atmos and DTS:X playback
2 channel surround sound
Supports six HDMI inputs, as well as traditional RCA connections
Built-in digital features like Chromecast, Spotify, Amazon Music, and others
10Hz – 100kHz +1/-3 dB Frequency Response
What We Liked
The Onkyo TX-NR575 will feel right at home as the center of your audiovisual system.
It's capable of connecting a wide variety of devices, from HD TVs to game systems. The TX-NR575 is undoubtedly ready for the modern age, with 4K HD support, Hi-Res audio output, and FireConnect technology.
Fortunately, even with all those digital advances, it still hasn't completely abandoned analog. Turntables are 100% accepted via a phono input. Sound quality is excellent, with a defined bass.
The TX-NR575 is a breeze to set up, despite being loaded with features. Everything worked as advertised right out of the box and took a little less than an hour to get everything up and running.
What We Didn't Like
The front display panel isn't as informative as it should be.
Pros
Capable of supporting up to 6 devices
Phono line input makes it turntable ready
Modern features like built-in Chromecast and DTS Play-Fi
Cons
The front display is not sufficiently informative
The Onkyo TX-NR575 wins points by being flexible, versatile, and digital-ready. It has a fantastic sound quality, which makes it the perfect partner to your turntable.
Overall Rating: 4.6 / 5
---
Onkyo TX-8020 – BEST SOUND FOR THE PRICE
The Onkyo TX-8020 is a high-fidelity stereo receiver at an affordable price. The audio boost it offers is out of this world!
Key Features
Wide Range Amplifier Technology
FM/AM Tuner with 40 presets
Five analog inputs, including a phono input
DS-A5 AirPlay RI Dock compatibility
10Hz – 100kHz +1/-3 Frequency Response
What We Liked
There's a lot to like about the high-powered TX-8020. The Wide Range Amplifier Technology offers an excellent audio boost and sound output.
The construction itself is quite durable for the price range. It's compatible with a wide range of speakers, and you can even use the audio output slot to connect a bookshelf or floor standing speakers.
What We Didn't Like
This receiver lacks any of the "modern" digital connectivity options such as Bluetooth. The alternative is using the DS-A5 RI dock (although you have to pay extra for that).
Pros
One of the lowest cost receivers in the market makes it very accessible
Built-in phono input and analog audio input makes it super compatible with turntables
Very easy to use and set up
Cons
If you're looking for the most inexpensive receiver in the market, this is it. The Onkyo TX-8020 offers excellent turntable compatibility and sound output.
Overall Rating: 4.4 / 5
---
The Sherwood RX4508 is a hardworking, two-channel stereo receiver with a built-in RDS tuner. It offers superb ease of use for beginners and pros alike.
Key Features
Supports three audio inputs, including a phono input
High-Power Amplifier with 100W output
Solid Block Pattern Design for high fidelity sound
Quartz PLL Synthesized Digital Tuning for quick FM radio searching and scanning
10Hz – 95kHz +/- 3dB Frequency Response
What We Liked
The Sherwood RX4508 might look simplistic, but it makes it up with power and sound quality. It's a two-channel receiver that supports two analog inputs and an RDS tuner.
The RX4508 is perfect with a vinyl turntable, as it supports direct connection via a phono preamp. The preamp itself is fantastic and is comparatively better than other built-in preamps from other units. It's also perfectly balanced, with no noise and low volume bleed.
What We Didn't Like
This model does not have any digital inputs. Fortunately, this issue is offset by Bluetooth support. DJs that had issues with this receiver also report that customer service at Sherwood is a little lacking. This doesn't necessarily reflect on the product itself but is good to know. While the frequency response is still considered to be at a good level, you'll notice that the range is slightly lower and the variation is slightly higher than some of the other receivers on this list. This does suggest that the audio quality would be lower, however in reality you would have to have an extremely sensitive ear to pick up on this as the difference is so small.
Pros
Phono preamp support makes connecting your turntable a breeze
The high-powered amplifier delivers crisp sound even at high volumes
Bluetooth support
Competitively priced below $200
Cons
No digital or HDMI support
Customer support is weak
When you need a barebones stereo receiver dedicated to your turntable, the Sherwood RX4508 is the one for you. Having no bells and whistles allow it to focus on crisp, high-quality sound delivery
Overall Rating: 4.3 / 5
Turntable Receiver Buying Guide
Now that you've had a nice sampling of the best receivers for turntables on the market in 2019, let's take a moment to review what you should be looking for while shopping. While what makes a receiver 'best' does factor in a bit of opinion, the following basic information is always good to know.
What's a Stereo Receiver For?
By itself, a modern turntable can't play sound (at least, not something that you can hear). Instead, it creates an audio signal that needs to be fed to another source, such as an amplifier or speaker. This is where a stereo receiver comes in.
The receiver acts as the hub of your entire audiovisual system. It will feed audio signals from all connect  devices, such as turntables, CD players, and TVs, to connected speakers and subwoofers. 
One of the most significant advantages of a receiver is the ease of switching from one device to the next. You can switch to listening to your output of choice with the touch of a button. They also have built-in tuners to allow you to adjust the sound quality, tweak the EQ settings, and other audio fine-tuning.
Receivers also typically have built-in amplifiers to boost the sound quality, although these are not as powerful as a true external amplifier. For home turntable enthusiasts, however, a receiver and speaker combo are more than enough. Unless you're in a large venue, of course—but that's one of the only times an amplifier makes sense.
Features to Look for in a Receiver
Since receivers are capable of supporting so many audio devices, they vary widely in features and usage, and with more features, the cost goes up. Hence, you need to carefully consider if it's worth paying for all the bells and whistles.
But if you're looking specifically for a receiver for your turntable, then the buying decisions become much more straightforward. At the minimum, you need to focus on two things: RCA inputs and speaker outputs.
RCA Inputs
This is a crucial consideration to make if you're connecting a turntable to your receiver. Most turntables are still analog and make use of RCA connectors. These are the pairs of red and white connectors you often see with old school electronics.
You also need to check if your receiver is capable of supporting a turntable because most analog turntables have a weak audio signal output. This makes them incompatible with modern electronics unless the signal is boosted. This is the job of a phono preamp.
Most higher-end receivers have phono preamps built-in. Some turntables also have a preamp. In both cases, you can hook the turntable directly into your receiver.
If both the receiver and the turntable don't have a phono preamp built-in, then you need to buy a standalone one. There are tons of excellent models to choose from, and they're not terribly expensive.
Sometimes, it's beneficial to buy an external phono preamp even though you already have one built-in to your receiver or turntable. They often feature better sound quality and a host of other options.
When in doubt, test it out! Most turntables have a switch to bypass its built-in preamp. If that's the case, try switching it on and off to see if the turntable's preamp is better than the stock one in your receiver.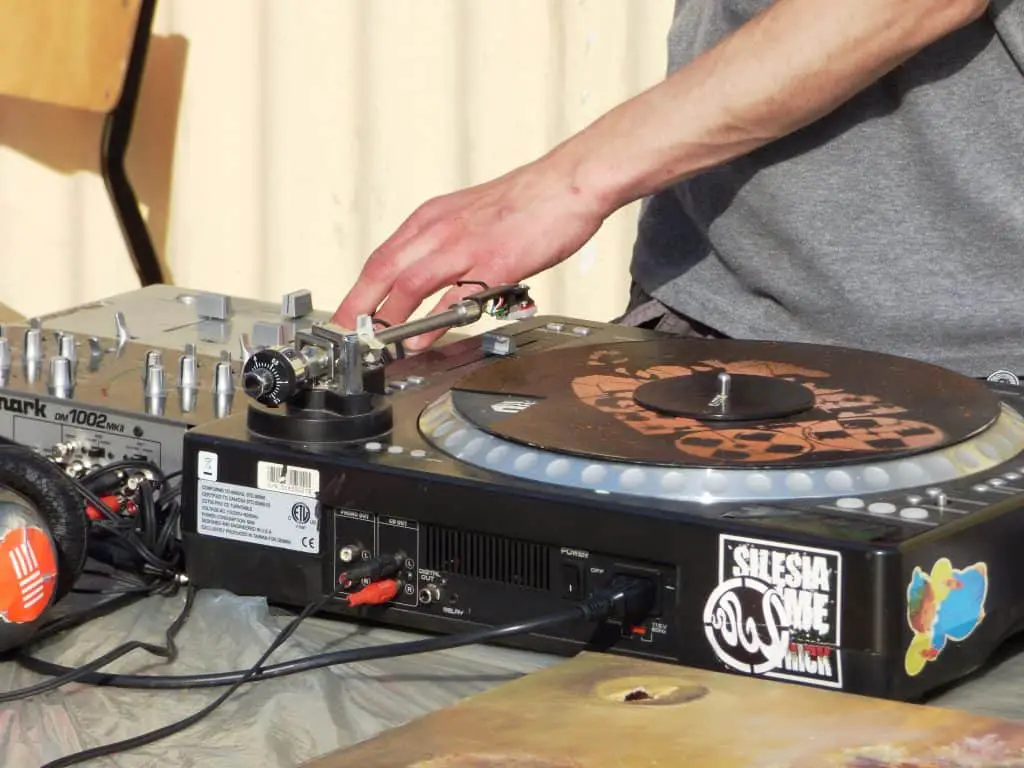 Speaker Outputs
Of course, a receiver is useless on its own, unless you want to listen using your dj headphones all the time. Barring that, you need speakers to hear the receiver's audio output and maximize its power. So, pay close attention to the speaker outputs of your receiver.
The most common output connectors are the speaker terminals. Cheaper receivers feature a spring clip connector with a binding post. Some offer support for banana plugs, which offer a more secure connection.
Some receivers also support line-level RCA outputs, often used to create speaker zones in your house. This allows you to feed the receiver's output to separate areas of your house. You can also use this to set up a true surround sound experience in your home theater.
Receivers are also compatible with a subwoofer, usually with a "SUB" RCA output. With a subwoofer, you'll get a deep, thumping bass that gives that much more richness and character to your listening experience.
Other Features
Going beyond the basics, today's receivers offer an ever-widening range of modern features.
As expected, many receivers now support WiFi connectivity or LAN connections. These allow you to stream music directly to your receivers with services like Spotify or Pandora. Some even have Bluetooth support so you can stream music from your mobile phone.
With the prevalence of digital devices, receivers have adapted by featuring optical and coaxial cables as standards. They also now support USB connection that allows you to connect a computer, USB hard drive, or flash drive to your receiver and play songs from there.
Final Thoughts (The Best Receiver for Turntable)
While the best turntable receiver is going to be the one that meets your needs the best, there are a few—or nine—that stand out from the market lineup.
After much consideration, though, we've decided to award the Yamaha R-S202BL Stereo Receiver as our winning model giving it the title of best receiver for turntable.
This Yamaha receiver won points in both the quality and budget departments. It is, in fact, one of the lowest priced in its class. Despite this, it still delivers reliable sound performance and a slew of features that matter to an audiophile—and the phono support makes connecting your turntable a breeze.
All of these combined make the Yamaha R-S202BL Stereo Receiver the best receiver for turntable you can get. If you give it a try, and it's not for you, consider one of the other wonderful options we've reviewed here, or use our buying guide to find your own perfect match. If you're looking for a great turntable to pair with your receiver, check out these top notch project turntables!