If you talk to an audiophile and ask why we enjoy vinyl over other mediums for their musical enjoyment, you best take a seat. We can talk your ear off about why the vinyl revival is one of the best things to happen in the 21st century, and how nothing beats the sweet and warm analog sound produced by vinyl and turntables.
Most people assume that enjoying vinyl requires a great deal of money and a certain air of superiority and condescension towards non-vinyl musical enthusiasts. We're pretty sure the former is false, and there's some basis to the latter. Kidding aside, you don't need a ton of money to get a quality turntable, but shelling out the amount necessary to purchase a high-quality, pristine-sounding, high-fidelity turntable is the goal of any genuine audiophile.
Read on as we take a look at the best mid-range turntables — let's satisfy that audiophile in you and find you the perfect record player for your vinyl collection.
Our Top Pick
Hands down, at this price point, we have to give it to the Audio-Technica AT-LP7. It may not have a lot of features, but all its components complement each other to produce pristine audio that is unmatched in this price range. We consider it the standard and a must-buy for any genuine audiophile out there.
Last update on 2023-11-01 / Affiliate links / Images from Amazon Product Advertising API
The Best Mid-Range Turntables Reviewed
If you want both reputation and excellence in one turntable, the Planar 2 is the product of choice. Careful design, high quality, and a well-engineered interface define its build. Audio performance is versatile, pristine, and overwhelming.
Key Features
Two-speed turntable (33 1/3 and 45 RPM)
Features the unique Rega-designed RB220 Tonearm
High-gloss acrylic laminated plinth build
Carbon Cartridge
24v low noise, low vibration motor
Re-designed feet for increased stability and reduce vibration transfer
What We Like
It picks up any genre in high, crisp clarity that you won't hear on other turntables. There is minimal sound interference because of the improved motor and feet design reduces vibrations and improves the turntables stability resulting in pristine audio.
What We Don't Like
Rega has an amazing reputation when it comes to turntables, and we hold them in high regard, thus when they said low-noise motor, we were disappointed when it didn't deliver. If you close the dust cover you can hear the hum of the motor, although it isn't loud enough to drown out the music, it does affect the listening experience.
https://www.youtube.com/watch?v=CwPBljccQBQ
Pros
Minimalistic but elegant design
Rega patented build and parts
A brilliant and crisp listening experience, even the bass tones
Upgradeable
Cons
Low hum when you use the dust cover
Don't get us wrong—the Rega Planar 2 is an awesome table. We just expected more from the manufacturer due to their pedigree and our experience with their turntables. Regardless, we'd still place the Planar 2 among the best mid-range turntables
Overall Rating – 4.5 of 5
Pro-Ject like Rega is another brand that has a reputation for manufacturing high-quality turntables, and the 1Xpression Carbon Classic is another worthy entry into their amazing record players hall of fame. The upgraded version of 1Xpression Carbon, the Carbon Classic brings with it the Ortofon 2M silver cartridge for that High-Fidelity and Pristine analog audio.
Key Features
Two-speed belt-driven manual turntable with synchronous motor (33 1/3 and 45 RPM)
6-inch carbon tonearm with Evo Kardan rings
Resonance dampening counterweight design
Features the Ortofon 2M Silver cartridge
High-gloss piano finish
What We Like
As for the earlier versions of the 1Xpression, they improved the motor, power supply, and the cartridge into the Ortofon 2M Silver cartridge and you can hear the massive difference between the carbon and the carbon classic. The pristine sound pairs well with its amazing design.
What We Don't Like
The Carbon Classic is simple and straightforward, and the audio is amazing, but if you're looking for modern features, this isn't the turntable for you as it is more for classical purists.
Pros
A massive improvement on the 1xpression Carbon
Produces audiophile-level audio
Looks amazing
Great, but upgradeable components
Cons
The Xpression turntable series has been around for a while now, and Pro-Ject's continued devotion to improving their turntables with each rendition excites us for the next improvement to beat the Carbon Classic. Again the lack of modern features hurts its stock a bit, but regardless, you can appreciate the minimalist approach that came into the design of the turntable.
Overall Rating – 4 of 5
Unlike our two previous selections in our list of the best mid-range turntables, the Denon VL12 Prime is a modern take on the turntable, primarily geared towards the DJ. Outside of those that dabble in the art of mixing, audiophiles that appreciate modern music would appreciate the features on this turntable.
Features such as the Quartz direct drive system and the motor caters to DJ creativity and versatility. The model can isolate its sound well in the middle of a roaring crowd. Due to its mechanisms and features, Denon VL12 Prime will become the turntable of the future.
Key Features
Two-speed turntable (33 1/3 and 45 RPM)
S-shaped tonearm with adjustable pitch range for accurate tracking
All-metal tonearm base (5kgf/cm torque on its highest setting)
High-quality brushed metal controls
RGB lighting and sleek modern design
Isolation feet design that removes unwanted feedback and vibrations
What We Like
VL12 Prime is tank-like when it comes to build quality. A sleek metal finish gives it that modern industrial look of DJ turntables. Some features include the multiple color schemes, the digital tempo slider, and an on/off button. The turntable is straightforward when it comes to operating it.
What We Don't Like
We know that DJs don't need a dust cover when creating mixes, but the addition of a removable dust cover would have been great to protect the turntable from dust and reduce the maintenance needed on it, but we digress it isn't as essential to DJ turntables.
Pros
One of the best brands when it comes to isolating sounds
Workhorse turntable that performs great
Versatile features
Pitch, torque, and lighting controls
RGB lighting
Cons
Unavailability of dust cover
There are cheaper turntables with more features
As far as features go there are cheaper DJ turntables out there that could knock out the VL12 Prime, however, its performance beats others in its class. Scratch and mixing performance are great, but the VL12 Prime shines when it comes to feedback isolation. Add all the latter to its unique design and its one of the best turntables of its class at this price point.
Overall Rating – 4 of 5
Pro-Ject is known for simplicity, looks, consistency, and reliability, and these are what define the Debut Carbon Esprit SB. Said turntable provides what every audiophile needs in terms of performance, and at its price point and portability, it is the dream turntable for anyone looking to bring the wonder of vinyl recordings to their friends for listening parties.
Key Features
Three-speed precision belt-driven turntable with synchronous motor (33 1/3, 45 and 78 RPM)
Features a built-in Pro-Ject Speed Box
Heavy and non-resonant acrylic platter
Carbon-tube tonearm increases stiffness and reduces resonance
Available in high-gloss or matt-walnut wood finish
Features a Magnetic 2M red Ortofon cartridge
What We Like
Pro-Ject entry-level and even mid-level turntables have a bad reputation because of that low motor hum for a while now, and the Debut Carbon Espirit finally delivered and minimizing that annoying hum producing that clean, warm audio we all know and love.
What We Don't Like
We don't like the power and switch speed combination, instead of turning off immediately we end up switching speeds, so that's a bit annoying. The acrylic platter also messes with the aesthetics of the turntable.
Pros
Minimized that motor hum that plagued Pro-ject turntables
Crystal clear audio
Built-in speed box
Cons
Power and switch speed are combined
The acrylic platter clashes with the sleek black design
Simple and satisfying, we have nothing to say about the great performance of the Debut Carbon Espirit, while there are design and functionalities that we would like improved, its pros outweigh the cons, and if this turntable is an indication of future Pro-Ject products, then they are going in the right direction.
Overall Rating – 4 of 5
As a brand, TEAC is well-known in the electronics industry for their audio products, and it comes as no surprise that one of their turntables made its way into our list of the best mid-range turntables. The TN-550's unique design, build, and audio quality earned it a spot.
Key Features
Two-speed cogging-free belt-drive with platter rotation sensing servo system (33 1/3 and 45 RPM)
Features an electrical speed selector knob
Clear acrylic platter
Newly-designed tonearm with an anti-skating mechanism
Audio-Technica MM-Type Cartridge
Marble and high-density MDF build
What We Like
Does artificial marble and high-density MDF work for turntables? Oddly enough, it does. The marble lends it a sense of regal elegance and the combination of the two makes for a solid build that reduces the hum and resonance that come with traditional builds. Thus, making the design aesthetically pleasing and functional at the same time.
What We Don't Like
As far as features are concerned, the TN-550 doesn't bring anything new to the table, but it does what it is meant to do, produce accurate and hum-free music.
Pros
Artificial marble and high-density MDF build removes resonance and feedback
Solid and functional build
Looks amazing
Cons
It doesn't have a lot of features
If you want a showpiece and your décor at home (or DJ deck) needs some added elegance to it, then the TN-550 is a great pick. The build is both functional and aesthetically pleasing, and it sounds great as well. It may not be feature-rich like other turntables, but it does its job well.
Overall Rating – 4 of 5
The Reloop RP-8000 turntable is the first Serato-supported table on the shelves. It also has MIDI compatible control section that caters to every DJ's creativity needs. The quartz-driven direct drive feature offers excellent and robust performance. A modern digital DJ will surely love the RP-8000 and all the features it brings to the turntable.
Key Features
Quartz-driven DJ turntable with upper-torque direct drive
Advanced Hybrid-Torque turntable
First Official Serato Accessory
Four performance modes with eight mappable MIDI control buttons
What We Like
At around $700, the RP-8000 is the modern DJs dream turntable, the MIDI compatibility and being the first official Serato Accessory allows you full creative freedom in your mixes. It doesn't trade off features for sound-quality either as it sounds great!
What We Don't Like
Mappings only work on one side, so you'll need to purchase a pair of these to fully-utilize its features, making it a pretty expensive purchase and probably limiting it to serious DJs who want to unchain their creative side.
Pros
Excellent build and design
Lighting makes it look amazing in dark environments
MIDI compatibility and Serato DJ accessory
Excellent sound quality
Cons
You'll need two of these to utilize its features and functionality completely
A creative and modern DJs dream, the RP-8000 is astounding! Feature-rich, great design, and fantastic sound quality make it a great choice for DJs that want to squeeze out as much creative juice from their turntable.
Overall Rating – 4 of 5
Did you think we'll end a list of the best mid-range turntables without having an Audio-Technica record player in here? Well, we won't disappoint, especially when we think this is the best mid-range turntable in 2019.
Key Features
Two-speed fully manual belt-driven turntable (33 1/3 and 45 RPM)
VM520EB dual moving magnet cartridge
J-shaped tonearm with a metallic gimbal suspension system
Built-in phono pre-amp (switchable)
40 mm-thick MDF chassis
20mm thick polyoxymethylene anti-resonance platter
Sensor-monitored motor for accurate rotation speed
What We Like
High-fidelity audio is the best way to describe the AT-LP7, all of its components combine to bring unmatched audio quality that highlights the warm and crisp tones of analog audio that you can only get from vinyl recordings. It's a true, audiophiles dream.
What We Don't Like
The AT-LP7 doesn't have a lot of added features, and we don't mind, because it has one job and it does it perfectly.
Pros
Produces High-Fidelity audio
Clean and simple design
Cons
No additional modern features
The AT-LP7 produces unmatched high-fidelity music in its class. We haven't found a turntable that matches the clean, warm analog tones that the LP-7 brings out in our vinyl recordings. It may not have any modern features, but Audio-Technica built this turntable to satisfy your craving for high-quality audio, and they succeded.
Overall Rating – 5 of 5
Turntable Buying Guide
A review of the best mid-range turntables is a bit tricky to make as the price range makes it easy to miss out on other amazing turntables on the market. You might be looking for unique features that we did not prioritize or something we feel wasn't too important. Thus, finding the best mid-range turntable becomes highly relative as each person has their preferences for their record player. That's why we came up with this buying guide so you know what features you should take into consideration when looking for the perfect turntable for you.
Vinyl Size and Turntable Speed
If you suddenly find yourself inheriting your grandparents' vinyl collection and begin appreciating the wonders of analog audio, then you have to understand that record sizes and turntable speeds matter. Referred to as revolutions per minute (RPM) records play at varying speeds, and you have to purchase a turntable that can play the record size that you have. There are three sizes of records, 7, 12 and 10 inches, and they play at 45, 33 and 78 RPM, respectively.
Built-in Speakers or Pre-amp
There are turntables that are plug and play. Once you place the vinyl, drop that needle, and you're good to go because they have built-in speakers that allow them to play immediately out of the box. On the other hand, there are turntables that require speakers before you can use them.
You have to consider the additional cost incur for you. However, we've found that built-in speakers often don't do the turntables justice, and often the quality of the audio suffers compared to when the turntable has a proper set of speakers plugged to it. So, keep that in mind when looking for an appropriate turntable for yourself.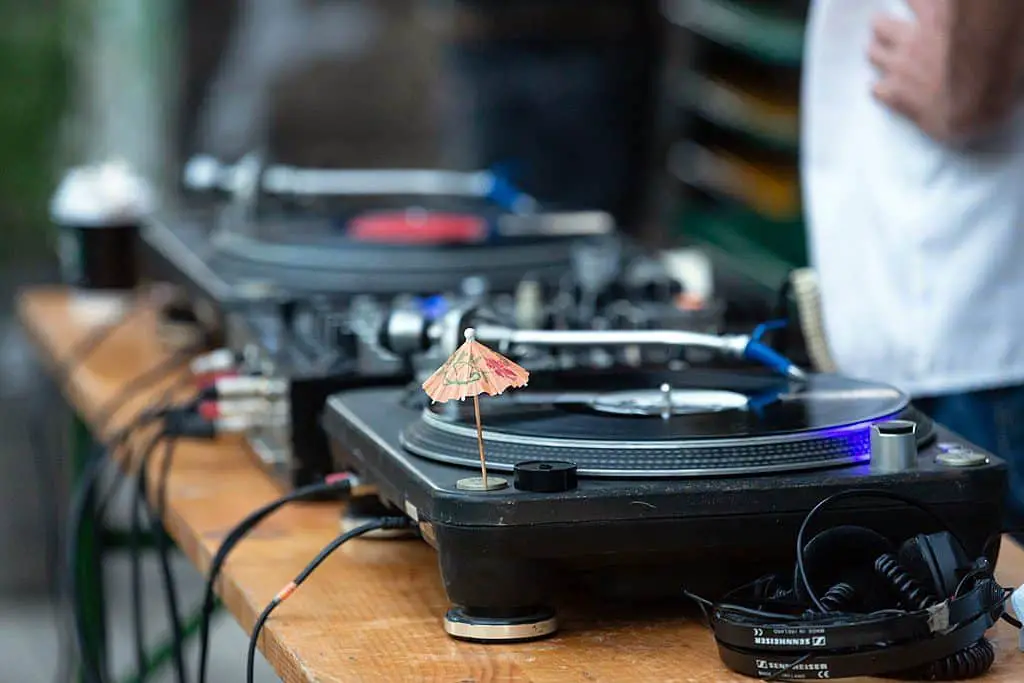 Drive Type
There are a variety of drive type-options to choose from when setting up a turntable. Drive types will give you a better listening experience than belt-type players. In terms of vibration-free sound, belt-driven turntables are best at it. Both types have their pros and cons.
A belt drive system is a perfect fit for a music enthusiast, while a disc jockey needs a direct drive system to spin the record back and forth.
For performance vs. aesthetics, you should make sure that you are spending the right amount of money for performance—meaning, you should not spend your money on both design and lighting systems. If you want to show off and match your turntable with a certain vibe, then you can focus on the aesthetics.
Upgradeable Parts
If you're spending a decent amount for a turntable, the record players better include decent parts that already deliver its intended level of performance, but if you're not willing to spend another thousand for the next level of higher-end turntables, then you should look for turntables with upgradeable parts. This way you can get a great turntable now, and you can improve its performance later on with upgrades.
Modern Features
If you're a DJ or you want to bring your favorite tracks with you on your audio player, then you should search for turntables with more modern features such as USB compatibility, audio conversion, and MIDI synchronization. The latter is more of a niche consideration for DJs, but it is a must if you want to get the most out of your turntable.
Final Thoughts
We have listed the seven best mid-range turntables along with their pros, cons, features, what we liked, and what we did not like in each. Compromising quality is never an option for manufacturers when it comes to the more expensive price ranges like this. It's of utmost importance to avoid vibrations and noise to enjoy what the vinyl has to offer. Other than the basics, features and aesthetics are simply extras.
We hope this review has helped you pick the best mid-range turntable—and may you find the best fit for your tastes and needs.