After years of service, my main keyboard piano went silent. I was back at square one and had to find a comparable yet affordable replacement. While I was searching for the best budget piano, I was blown away by the abundance of options for beginners and amateurs.
That wasn't the case some years back when I bought my first keyboard. Back then, it was nearly impossible to find a good piano at a low price. As well as being expensive, many of them came with lots of features that were unnecessary for amateur players like me.
In this review article, I am going to explore some of the best digital piano options that are great for both beginners and advanced players. After sharing some of my recommendations, read on for a buyer's guide, which breaks down the most important considerations when you're shopping around for the best electric piano. By the end of this article, you should be equipped with everything you need to find a perfect match for your needs.
Top Budget Keyboard Piano
OUR TOP PICK
With a 192 polyphony and a fantastic collection of sounds and tones, the
Yamaha P45
became our instant top choice. It comes with the premium features of a stage piano, including a full-sized weighted keyboard, which is a highly desirable feature that gives an authentic piano feel for a fraction of the price.
Last update on 2023-08-28 / Affiliate links / Images from Amazon Product Advertising API
Budget Piano Keyboard Reviews
For beginner pianists, less is always more. Yamaha kept this in mind with the P45's simple design and minimal controls. This wonderful beginner's digital piano comes out of the box, ready for use by a beginner pianist.
Features
64 max polyphony
Layering
Advanced Wave Memory
Graded Hammer Standard Weighted Keys
Split mode for lessons and instructors
Dual 6w amps and stereo speakers
Sustain foot pedal
Ten sounds
What I like
I love how I can switch between the weighted-key action with ease. Not many people are comfortable with weighted keys. Some want to get the hang of a keyboard before proceeding to a real piano. The sound quality is also amazing and resembles that of a real acoustic piano.
What I don't like
The only drawback I found is that the speakers of the P45 are not loud enough. It doesn't project enough in a large room.
Pros
A USB port for music and MIDI
Clean and intuitive UI
Graded hammer action
Very light
Cons
Limited polyphony
Doesn't have the best speakers
The Yamaha P45 is one of the best learning keyboards on the market. It has wonderful weighted and graded hammer key action. Also, its remarkable sounds are quite similar to those of a real acoustic piano. With its duo mode, you can easily play along with your instructor.
Overall Score 4.4/5
The Alesis Recital is a wonderful beginner's piano. It comes out of the box with brilliant tools and resources. It has incredible sounds that blast through its built-in speakers but also has an AUX output which allows you to connect it to an amp and external speakers.
Features
Five built-in voices
128 max polyphony
Lesson mode
In-built metronome
USB-MIDI port
Semi-weighted keys with customizable touch control
What I like
The Alesis Recital pushes the bar of beginner pianos as an 88-key semi-weighted monster. It comes with enough sounds to get a complete beginner started on piano and at the same time offers an advanced user an alternative to practice away from the acoustic piano. The sound quality is pretty good for its price, too. With its simple and straightforward UI, it also strikes all the right notes for me when it comes to the design.
What I don't like
I accidentally turned down the volume for all the keys, and it took me a long time to sort out the problem. Its speakers don't attain a specific volume for the highs. Plus, the advanced controls are also a bit confusing.
Pros
Battery and AC powered
High-quality notes and sounds
Brilliant learner tools
Good speakers
Cons
A limited number of voices
Speakers struggle
Alesis has always produced remarkable pianos at a fraction of the price without ever compromising on great sounds and functionalities. The same can be said about the Alesis Recital, an excellent piano for beginners who are looking for an affordable and feature-packed keyboard.
Overall Score 4.3/5
The DGX-660 is another great option from Yamaha. Just like the P-115b, this keyboard has fully weighted keys and graded hammer action that deliver impeccable acoustic piano performance. Its CF engine also produces amazing notes that sound quite similar to a real piano even to an experienced player.
Features
CF sound engine
USB recording and playback
Mic input
Graded Hammer Action with velocity sensitivity
Learning functionality
What I like
I like the weighted keys of the Yamaha DGX-660 as they're suitable for practicing, even if your final performance will be played on an acoustic piano. This keyboard also comes with a ton of learning materials. You can gauge how you play by hooking the keyboard up to your computer, and you can even record your music to a USB, allowing you to play it back later and analyze your sound.
What I don't like
When you play a couple of times, you will notice how some of the keys make noise even when hooked into headphones. There is no clear way to get around this, but the sound is not that bad. I would be happy if its stand and bench were a little firmer.
Pros
Graded and weighted keys
High-quality furniture-like stand
Well-priced
Cons
Has some noisy keys
High volumes don't sound great
Heavy with stand
The Yamaha DGX-660 is an excellent keyboard piano for a learner who wants to play at home or with a tutor. The big stand makes it suitable for setting it up in one location without moving it around. The speakers are also enough for a single-room setup.
Casio has outdone itself with the PX350BK, a brilliant stage piano that costs a fraction of other options. This model runs on Casio's revolutionary AIR sound engine and comes with 3level-sensitive keys. The PX350BK excels in the reproduction of piano sounds, something that allows it to maintain quality and attracts buyers who love the way an acoustic piano sounds.
Features
AIR sound engine
128 max polyphony
250 voices
Layer and split, Octave Shift
300 music presets
Pitch bend wheel
What I like
The Casio PX350BK comes loaded with lots of excellent features and tools. One of the few that rarely comes with stage pianos is the accompaniment feature, which is more commonly found in portable keyboards. The PX350BK also comes with a realistic drum sounds that I have never come across for devices of this price. It simply sounds amazing.
What I don't like
This keyboard puts beginners and learners in a bind. On the one hand, it doesn't include learning materials and tools that could benefit a learner. On the other hand, it doesn't come with advanced customization options that experienced players would love to use as with other stage pianos.
Pros
Front-facing USB
Touch controls
Comes with SP-33 pedal
Easy accompaniment feature
Cons
No advanced layering and controls
Doesn't have teaching tools
The Casio PX350BK comes with a fair number of features that may be of use to a seasoned pianist but not so much as to overwhelm a beginner or intermediate player.
Overall Score 4.4/5
The P-115B is a sleek digital keyboard that you can learn and practice with every day. It is a fully weighted 88-key keyboard that looks and sounds marvelous. Both new and experienced performers love the playability and the sound of this keyboard piano.
Features
192 polyphony
Pure CF engine
Weighted keys with graded hammer action
Amp and Speakers
Pedal/Footswitch
14 voices
What I like
I am amazed by how good the Yamaha P-115B sounds. It has an incredibly authentic piano sound that mimics that of a real acoustic piano. Better yet, the keys are both weighted and hammer graded, just like the real thing. I found it perfect for playing classical music pieces, but it's also well suited for jazz riffs and blues progressions.
What I don't like
Though the Yamaha P-115b comes bundled with a bunch of tools like a stand and a bench, I found both of these additions to be flimsy. Another downside is that there are only 14 different tones available, so there aren't many choices when it comes to experimenting with sound.
Pros
Beginner-friendly
Brilliant sounds from CF engine
Non-slipper keys
Wonderful key response
Cons
The bench and stand are a bit wobbly
As a beginner, the 88 keys are perfect for practice. The fact that the Yamaha P-115b's keys are weighted and complete with graded hammer action makes it the perfect novice digital piano, as it'll give you a feel for the real thing before deciding to splurge on an acoustic piano.
Overall Rating 4.5/5
The ES100 proves Kawai's mettle when it comes to producing high-quality keyboards. It has Harmonic Imaging Sound Technology that can perfectly recreate your favorite sounds such as piano, bass, string, or organ without compromising quality.
Features
192 note polyphony
88-key sampling
Built-in Alfred piano classes
Layering and split modes
Stand and pedal
Harmonic Sound Imaging
18 voices
What I like
The Kawai ES100 has one of the best weighted-keys in its price range. It uses Kawai's revolutionary Advanced Hammer Action IV-F to recreate the authentic feel of acoustic pianos. It also comes with a handy sound recorder for your performance and for practicing your notes.
What I don't like
Unfortunately, the Kawai ES100 comes with a limited number of sounds. Unlike other portable keyboard pianos, it does not come with accompaniment, which is a feature associated with most beginner pianos.
Pros
Easy-to-use
Highly portable
Comes with a song recorder
Wonderful Piano action
Cons
A limited number of voices
The Kawai ES100 has a nice mix of features that make it one of the best 88-key weighted keyboard pianos in the market. It also feels almost exactly like an acoustic piano. Loaded with all the features and tools of a modern piano, it has some excellent options for beginners as well as intermediates.
Overall Score 4.4/5
This model is a full-sized keyboard that has most of the features of an actual piano such as weighted keys and touch sensitivity, as well as premium and exclusive sounds for a fraction of the cost.
Features
20 built-in voices
Inbuilt DSP with customizable EQ, Chorus FX, and Reverb
Real Hammer Action weighted keys
Lesson mode
Split and layering
Duet mode that comes with 50 accompaniment styles
64 max polyphony
What I like
The sound that the Alesis Coda Pro produces comes from two digital music production powerhouses AIR and SONiVOX. With the expertise behind this piano, it's no surprise that the sound is refreshing and beautifully resonant of an acoustic piano. There are many learning materials for beginners, such as the 60 songs presets that are easy to play along to.
What I don't like
I feel that Alesis should have doubled the polyphony that comes with the Alesis Coda Pro. It only comes with a measly 64 polyphony. With just 20 sounds, there aren't many sounds to explore either.
Pros
A full-sized keyboard with velocity sensitivity
Great sounds from AIR and SONiVOX
Remarkable pricing
Intuitive and easy-to-use controls
Cons
A low number of voices
Not the best speakers
The Alesis Coda Pro is a beautiful blend of functionality and performance. It is portable yet sturdy and has features for both beginners and experienced piano players.
Overall Score 4.4/5
The CT-X700 is one of the most portable pianos from Casio. With just 61 keys, you can carry it around with you when you go for gigs out of town without worrying about space. It is versatile with regards to sound and delivers various connectivity options.
Features
Touch-sensitive 61keys with 3-level sensitivity
48 max polyphony
AiX Sound engine
600 tones
Layering
310 music presets
Octave shift, music tuning
What I like
The Casio CT-X700 comes with a powerful AIX Sound Engine that delivers impeccable piano sounds, as well as other musical instruments over its built-in speakers and AUX outline. The 3-level key sensitivity allows you to play delicate tones, just like an acoustic piano.
What I don't like
Unlike keyboard stage pianos and other portable pianos, the Casio CT-X700 doesn't come with weighted keys or graded hammer action. If you are coming from an acoustic piano, it will take a while for your finger to adjust to playing with similar keys.
Pros
Supports battery power
Sturdy build quality
Highly portable
Lots of decent sounds
Easy-to-use and configure
Cons
Doesn't have weighted or graded hammer action and keys
The Casio CT-700 is a fantastic little piano that strikes all the right chords for a beginner pianist. It comes bundled with enough learning materials to get you started, and enough music presets to help you play better.
Overall Rating 4.3/5
The Casio CTK-3500 is a versatile and highly portable piano keyboard that you can comfortably carry around. Besides that, it's cheap, and it comes with tons of sounds and features for both learners and experienced pianists.
Features
400 notes
Chordana Play App
150 rhythms
61-key touch-sensitive keyboard
Dance Music mode
Lesson Mode
Pitch Bend
USB compatible
Music stand
What I like
With over 400 voices and 150 rhythms to explore, the Casio CTK-3500 gives you many sound options. Its touch-sensitive keys allow you to play even the most delicate notes just as I would on an acoustic piano. I can hook it up with my iPad and instantly connect to the Chordana app that lets me see the chords I am playing.
What I don't like
If you are looking for a weighted piano, this is not the piano for you. Despite being key-sensitive, Casio CTK-3500 doesn't come with weighted keys nor hammer action.
Pros
Highly portable and lightweight
Easy-to-read LCD
Battery and AC powered
Same key size as an acoustic piano
Cons
Unweighted keys
Doesn't come with built-in recorder and playback
The Casio CTK-3500 is a versatile piano with lots of features and great connectivity options. It's an excellent choice for a person who's traveling around or looking for a cheap keyboard piano to play with at home. You can also see our top picks for keyboard pianos below 1000.
Overall Score 4.3/5
Best Budget Piano Buying Guide
Unlike Acoustic pianos, digital keyboards come with lots of features. So, you could easily be overwhelmed when you're looking for the best digital piano. Here are the crucial factors.
Piano Sound
The first major challenge you'll face when you're starting is picking the right sound. You may find it hard to differentiate between a digital sound and the warm sound of a grand piano or acoustic piano.
Digital pianos imitate the sounds made by acoustic pianos– a process known as sampling. On the other hand, acoustic pianos record sounds, then play them back when you press the keyboard keys. How well these sounds are recorded determine how amazing your keyboard will sound.
Something else to keep in mind with regards to sound is the clarity and decay of notes. The start and the end of notes should sound as natural as acoustic pianos when you're playing them.
Number of keys
Digital keyboards come with several keys. Obviously, the higher the number of keys, the better it will feel playing it. Typical keyboards come with 61 keys, especially the low priced or beginner models. Advanced pianos, on the other hand, have 76 or full-sized at 88 keys.
A full-sized keyboard is a good option as you can split it right down the middle and play different sounds on the left and right or use it for learning with an instructor.
Polyphony
I had a problem wrapping my head around the concept of polyphony for a long time. It refers to the number of notes a piano can play at any given time. For most people, especially beginners, 32 is a lot. However, once you split the keyboard into two and layer each of the split sides and then add a sustain, the notes go up. This explains why stage pianos have upwards of 128 max polyphony.
The more polyphony you get, the better for your playing. Don't worry too much if you are a beginner.
Piano Key Responsiveness
Digital pianos can have two types of responsiveness.
Velocity sensitivity
Another important aspect, this reproduces the effect key velocity has on acoustic pianos. A gentle stroke has a lower volume compared to a stronger key press. You'll need this kind of responsiveness when playing classical pieces and other styles that utilize the key velocity sensitivity.
Weight of keys
A typical keyboard will either have unweighted keys, semi-weighted, or weighted keys. In case you are looking for a digital piano that can substitute your acoustic piano or maybe you are planning to move to an acoustic one, the best digital piano for you is going to have weighted keys.
Extra Features
One of the reasons I love electronic piano keyboards is that they usually come with lots of additional options and features. This attribute makes them some of the most versatile musical instruments out there. Some of the extra features I look out for include
Non-piano sounds
A piano can have all the sounds of every musical instrument you can imagine. The most popular and the ones include Bass, Organs, Synths, Electric Pianos, Drums, Sax, Trumpets, Strings, and pads. There are so many others you can use to spice up your sound.
It helps if the piano you have allows layering of different sounds and smooth transitions of tones.
Learner tools
Some piano keyboards include learning tools for beginners. The most common ones are metronomes, chord visuals, sample music to play along to, record and playback functions. If you are a beginner, get a piano that has more of these learning resources.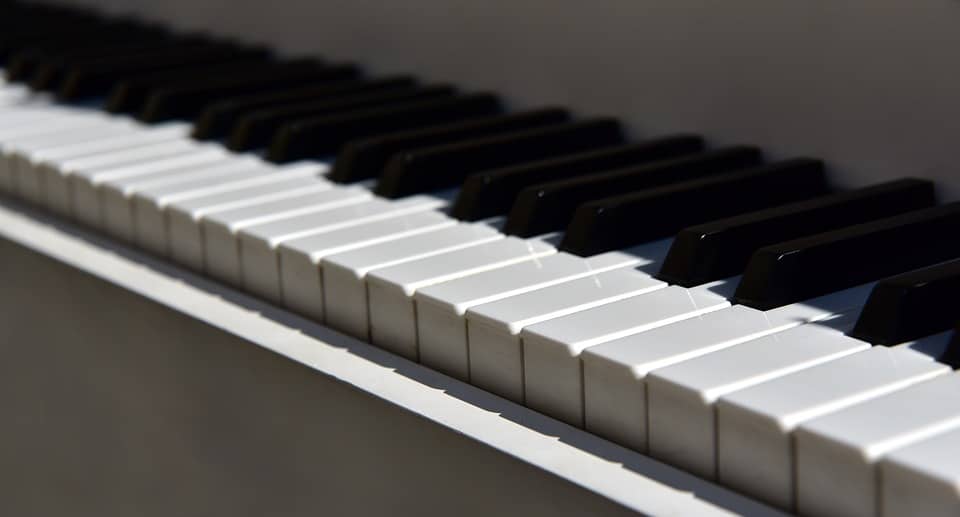 Brands
One of the pitfalls for any beginner keyboard pianist is buying a cheap piano from an unknown brand. There are a couple of brands that are well known for producing some of the most beautiful keyboard pianos. Some of the top brands include
Yamaha
Casio
Korg
Nord
Roland
By going for these top brands, among other well-known ones, you have the assurance you'll get the best keyboard pianos and after-sale services like a warranty.
New vs. Used
The decision to buy a new keyboard or to get a used one is a grey area for many people. It usually raises more questions than answers. If you have the money, always go for new. However, if you come across a good deal on a used keyboard piano, don't pass it up.
Unlike acoustic pianos, digital keyboards are more durable and can withstand a few years of use. You only need to check the keys, buttons, and connectors. Other than that, the sound will remain consistent throughout the years.
Other Tips
Play it before buying
If you are not buying it online, get a feel of it before committing to a purchase. Most online shops back their sales with a money-back guarantee. You can try it out for a few days and return it if it doesn't suit your needs.
Read Reviews
Take time to read online reviews from verified buyers as it could give greater insight into the piano you intend to buy. If many buyers are complaining about a brand, or have problems with a particular model, stay away from it.
Go for fewer features
If you are going for a home piano, get fewer features. Try the models with low polyphony or a small number of sounds. Leave out the full-sized keyboard and go for 61-key instead. There are several good options to cut back on the pricing.
Final Thoughts
The Yamaha P115B ticks all the right boxes. It comes with a 192-maximum polyphony against the normal 128-polyphony embraced by others in the same category. Being a full-sized keyboard with weighted hammer-graded keys, it allows both new and experienced pianist a feel of the acoustic piano without forking over lots of money. Also, its CF sound engine delivers outstanding quality and clarity.
You can't find the best cheap keyboard piano in a comparable price range, whether you are after learning resources or require something to polish up your playing at home. With a great look, beautiful sound, and a fantastic price which is just under 500, the P115B is a must-buy.