While you may have the benefit of choice when you're playing an acoustic-electric, you don't have much of it when it comes to electric guitars. You need a decent amp—an electric guitar is only as good as the amp it's plugged in.
Depending on the venue, you might need a combo, or depending on your tone preference, a solid-state or tube amp. Or perhaps a modeling amp if you're looking for a more tech-savvy solution, or if you're looking to play in your living room, you could invest in a cheaper 'practice' amp.
If all that seems a bit confusing, no worries, I'll try to dissect what you need to know before you go shopping and present you with some of the best guitar amps for the money in the process.
Top pick
If you're pressed for time and would rather like to learn the top pick I'd recommend, it's the Peavy 6505. It packs a punch, offers organic and natural tones owing to its all-tube design.
Last update on 2023-11-01 / Affiliate links / Images from Amazon Product Advertising API
Best Guitar Amps Reviews
If you can spare a three-figure sum, the Peavy 6505 is probably one the finest tube heads a guitarist can buy. Manufactured by Peavy and Eddie Van Halen, this amp is favored by metal artists. Let's take a look under the hood and find out what this amp head has to offer.
Key Features
Footswitch for channel selection
120 watts of power
Five preamp tubes
Four power amp tubes
Two-channel
Presence and resonance controls
What I like about this product
This amp is an all-tube head so you can expect more organic, richer, and responsive tones. The 6505 offers a generous amount of gain, and it allows for a one-of-a-kind distortion, which is why it has been favored by musicians playing heavier genres for over two decades.
The design is robust and built to take some bruising, so regardless of how frequently you use it, this amp should last you a long, long time.
The head comes with five high-quality preamp tubes –12AX7 – and four 6L6GC power amp tubes which flawlessly shape and amplify your tones. It includes a footswitch for easy channel switching. The unit has a wattage of 120 – which is more than enough power, considering it's a tube amp. Tube amps tend to be louder than their solid-sate counterparts even if their power output is the same.
As far as the controls go, you get several user-intuitive knobs. They allow you to control the three-band EQ, pre, and post-gain for separate channels, and finally miniature distortion pedals.
What I don't like about this product
I don't have a lot to complain about this amp except for perhaps some minor tonal clarity issues. Some users have also reported power issues that needed repairs, but that's an exception, not the rule.
Pros
Great value
Lot of oomph to spare and then some
Ideal for metal and hard rock
Cons
The clean channel could use some improvement
You can get a variety of sounds out of this amp, but it is geared towards hard rock and metal. It has a sturdy built, a great feature set, and produces an impressive high-gain and thick sound. If you can swallow the price tag, this would be the last amp you'll ever have to buy.
Overall Rating – 4.9/5
Launched in 1959, the AC10 has seen quite a few reiterations over the years. The C1 version of it comes with a single channel but digital reverb.
Key Features
Combo amp with 10-watt power
El84 power amp tubes
12AX7 preamp tubes
Controls for volume, gain, reverb, and three-band EQ
What I like about this product
The amp features 10 watts of power, driven by two 12AX7 preamp tubes and two EL84 power amp tubes. This all-tube combo comes with a 10-inch Celestion speaker. It's very portable and compact with the dimensions of 21×16 and weighs only 12 pounds.
The controls are intuitive. You have an EQ and reverb control section, as well as gain and master volume control. Although you might never need to crank the master volume up all the way, Vox included the option to pair the amp with an external speaker — should you require more volume.
It also conserves power by shutting itself after staying idle for two hours consistently— neat little touch.
What I don't like about this product
Perhaps the only gripe I have with this unit is that the cabinet isn't plywood but particle board, but that can be forgiven considering the price range. It also lacks an FX loop. The sound itself is very sweet and warm, but the clean channel might be too bright for your taste.
Pros
All-tube design
Very loud
Portable
Cons
The clean channel might not suit everybody's taste
This amp should work great for a variety of different situations – on stage, recording, or even practice. The sound is warm and has a Vox-signature' feel' to it.
Overall Rating – 4.9/5
Keeping the Vox combo train going, we have the AC4HW1 – a mini combo perfect for recording.
Key Features
Hand-wired turret board
12-inch Celestion G12M Greenback
Knobs for master volume, preamp volume, treble, and bass
What I like about this product
Unlike most reissues, this mini combo draws inspiration from early Voxes. It's meant for recording and practicing and looks stunning. Built on Vox's very own Top Boost circuit, this combo is hand-wired and offers some impressive tones.
Since the board is hand-wired, unlike modern circuitry, this amp produces classic and authentic vintage tones. For better resonance, the cabinet is plywood, and it ships with the same speaker found in its larger cousins – the 12-inch Celestion G12M Greenback.
The control panel is relatively simplistic. There are knobs for controlling master volume, preamp volume, and treble/bass. It delivers rich and saturated tones when in overdrive and the cool switch provides that top-boost tone Vox is recognized for.
The fawn cloth paired with the diamond grill cloth affords it a unique aesthetic. The output might only be 4 watts, but the amp is pretty darn loud. So much so, that it could go toe-to-toe with a 15-watt fender.
What I don't like about this product
For this feature set and performance, I'd say the price is pretty high. You can find a better deal elsewhere in a similar price range unless you are a serious artist. Even then the gain isn't high enough for hard rock or metal.
Pros
Authentic vintage tones
Looks great
Pretty loud for its wattage
Simple controls
Perfect for recording or jamming
Cons
Not enough gain for hard rock or metal
Most players won't be too keen on spending $800 on a 4-watt amp, but if you'd primarily be using it for recording and rehearsal, it's well worth the price.
Overall Rating – 4.6/5
Blackstar has a reputation of bringing versatile amps with saturated and gruff overdrives, and the Stage 60 MKII is their latest installment in their HT venue line.
Key Features
60-watt power with an all-tube construction
A pair of voice switches
Three-channel selection
Gray grill cloth for a vintage look
12-inch Celestion speaker
Direct USB output
What I like about this product
This model features two ECC83 and two EL34 tubes which provide a collective output of 60 watts, and this power can be watered down to 6 watts when you're practicing and wouldn't appreciate a louder sound. It also ships with a Celestion speaker which is custom-built and 12-inches in diameter.
The cab is all-wood for a substantial resonance, and it features a sleek-looking gray grill cloth which gives it a vintage look. Another selling point would be its recording feature. Unlike most tube amps, this model lets you connect it to your computer directly, so you can record pro-grade sound quality without studio equipment.
There are two overdrive channels, and you can control volume and gain for each of them. You'll find more knobs and switches than most vintage-style tube amps. There's hardly a tone out there which you can't find on this amp, and that's what makes this amp genuinely versatile. When in overdrive, the gain is thick and gruff yet warm and luscious.
What I don't like about this product
The price is too steep for an entry-level amp, so I wouldn't recommend going with this model if you're a beginner, but since this unit is a high-end amp, there aren't any major complaints here. I only have a single nitpick: you can't turn the FX loop on or off.
Pros
Excellent tone
Warm and throaty gain
Great high headroom
Outstanding tone-shaping features
Cons
If you're dropping almost a thousand dollars on an amp, you'd expect it to be incredibly versatile and provide those distinctive high-level tones, and this model delivers on both fronts. If you can afford this amp, you can rest assured that it'll be money well spent.
Overall Rating – 4.8/5
The Boss Katana made massive ripples through the market when it was first showcased, and it has lived up to user expectations since its release. It's a modeling amp made by Boss — the infamous pedal manufacturers. The parent company, Roland, took what they knew from their experience from making Roland Cube products and improved upon everything.
Key Features
Versatile combo amp with five-amp voicings
Customizable effects, and editor software
Can save up to 15 effects
Selected from 55 BOSS effects
Variable Wattage Control allows you to achieve cranked-amp tone at lower volume levels
Allows you to shape your tones using dedicated controls
What I like about this product
Everything—and that's not an exaggeration. This amp combines functionality with innovation. For what you're paying, you're getting a sizable amount of value. Right out the box, as it were, it sounds stunning. It allows for pedal support, and lets you generate all kinds of tones from your pc. It takes pedals well, and it's a sturdy piece of equipment. There's no beating it.
What I don't like about this product
Perhaps the only complaint I have with this model is that the speaker could be improved upon – a pair of them would have done a better job, for instance.
Pros
Versatile and Reliable amp
Different wattage settings to play at different volumes
Can craft out of the box tones for any genre
Excellent response
Can go toe-to-toe with a tube amp
Takes external pedals well
A whole range of customizable effect pedals and amp presets that you can configure with a pc
Cons
Could use a pair of speakers
The Boss Katana has been one of the best pieces of equipment aimed at average guitar players in a long, long time. It has something to offer for both beginners and gigging musicians.
Overall Rating – 4.7/5
While it'd be easy to dismiss Kemper Profiler as just another digital modeling amp if you're a tube amp enthusiast, the Kemper Profiler might surprise you. If you find modern modeling amps lacking that 'authentic' feel of a real amp, that is.
Key Features
Digital modeling amp
200 preloaded presets
Storage for 1,000 rigs
Accurate reproduction of an amp
What I like about this product
What Kemper Profiler does differently is that it doesn't mimic a particular amp or depend on preloaded presets. Kemper lets you create and save a 'profile' of your setup and then recreates those particular settings. In addition to the 200 or so preloaded profiles, you can also share the ones you create or load ones from Kemper's website.
You can adjust the effects, you can vary the size of your virtual cabinet, and you can save or recall your rigs. As for the controls, you get a fairly simple layout. There are four knobs which give you access to EQ, gain, and volume. You'll also find knobs for reverb, delay, and master volume.
You can tweak particular rigs to your liking if you don't like how they sound, you can profile more expensive amps, and you'd be hard-pressed to find any noticeable differences between the real amp and the profiled one. Sounds too good to be true, doesn't it? But fortunately for us, it is true.
What I don't like about this product
It'd take some time and effort to familiarize yourself with this amp and learn the operating system. When you're starting out, you can make do with presets and then learn the functionality and identify effects by using the documentation on their website. But it will take a while, so there's a steep learning curve.
If you're taking it to the stage, you'll need to supply it with a constant source of power which can be tricky depending on your venue.
Pros
Impressive sound reproduction
You can create new profiles and share them
The profiler is user-intuitive
Cons
Will take some time wrapping your head around
The Kemper Profiler attempts to replicate the sound and character of a real amp, and it succeeds for the most part. It produces realistic sounds and responsive tones. You can share the profiles with other users, which makes the possibilities nearly limitless, too.
Overall Rating – 4.6/5
Don't be fooled by its small size. It is a classic Marshall piece of equipment all the way and gives you the Marshall experience.
Key Features
Two channels
Different EQ and Reverb settings for channels
Power output adjustment to dial in cranked tones
What I like about this product
You can tap into the classic Marshall tone anywhere from your bedroom or the stage with the Marshall DSL40C tube combo amplifier. So, what makes this amp gig-worthy, so to speak? Well for starters, you get dedicated volume and gain controls for every channel. There's also dedicated controls for resonance, effects loops, and reverb effects.
You can adjust power levels and the volume without losing the tone. It also allows you to make use of the Softube for direct recording. Its EQ section handles tone-shaping well, so that's definitely a plus. From cleans to bone-rattling crunch to blistering high gain, it can sound like anything Marshall has sounded like in its entire history.
What I don't like about this product
The clean channel is decent, but it's clear that the real strength of the amp is in its crunch to high gain sounds. Which shouldn't be an issue if you love the Marshall sound and want to sound like that. However, if your interests lay elsewhere, like playing the best jazz music, or if you want glassy cleans then this might not be the best investment.
Pros
Two separate channels
Separate EQ controls
Takes pedals well
Inbuilt reverb setting
Great response and tone
Adjustable wattage
Cons
The clean channel is a bit lacking
A bit too pricey
The Marshall DSL40C is Marshall through and through. It's a great amp if you want some of the company's history in a box. It's a bit pricey, but Marshall is one of the most respected guitar amp manufacturers in the world.
Overall Rating – 4.6/5
The Fender Champion is a traditional vintage-style combo which intends to be as simple as it can get and is easily one of the best solid-state combos in its price range.
Key Features
Solid-sate amp
100-watt output
Two switchable channels
Comes with a footswitch
1/8th headphone jack for practicing
What I like about this product
Although the control layout looks rather detailed at first, it has been stripped down to its absolute essentials. You'll find switches for overdrive and the clean channels, and three-band EQ knobs and the FX select. The overdrive carries gain controls in addition to EQ ones, and it is accessible via the footswitch.
The amp features a whopping 100 watts of power, coupled with a pair of 12-inch proprietary Fender Special Design speakers— expect this amp to be loud.
What I don't like about this product
It's not as versatile because it doesn't have an extensive feature set, and it also doesn't come with innovative technology its competitors boast, so if that's a deal-breaker for you, look elsewhere.
Pros
Easy to use
Features FX and amp voicing
Great sound
Cons
The build quality can sometimes be variable
Not as versatile
If you're looking for a no-nonsense amp with an intuitive and straightforward interface, one which delivers on performance, and all of that for a reasonable price, you can't go wrong with this purchase.
Overall Rating – 4.7/5
For a price tag of under $500, this solid-state Orange offers portability and power to boot.
Key Features
Two different finish designs
Solid-state design
Responsive and lively sound
Two switchable channels
12-inch custom Voice of the World speaker
Simplistic control layouts
What I like about this product
First things first, the Crush Pro comes in two different variants. The iconic orange and a slightly more understated black finish. For a solid-state amp, the sound this model delivers is incredibly responsive, so you don't have to alter your natural playing style.
It ships with two switchable channels – dirty and clean, and a 12-inch custom Voice of the World speaker. The control panel has dedicated buttons for both overdrive and clean channels, and EQ controls for each channel allow for better tonal control. There are also knobs for channel switching and reverb control.
What I don't like about this product
The amp sounds good but doesn't ship with a footswitch, and the clean channel is a bit disappointing, so if you'll use it heavily, I'd recommend skipping this one.
Pros
Packs a punch
Straightforward to use
Great sound quality
Cons
Doesn't come with a footswitch
This amp offers excellent build quality. It is robust and built to last so you won't be shopping for a new one anytime soon—and for a price of $500, this Orange is a steal.
Overall Rating – 4.9/5
What if there was an amp that let you play hassle-free without going through the process of setting it up? Or if you like to tweak the settings to your liking, would let you fiddle with the controls to your heart's content? Enter Line 6 Spider V MKII—an amp which has something to offer for every player.
Key Features
The controls are color-coded which gives you better access to models
Comes preloaded with more than 200 presets ranging from popular rigs to iconic artists
Full-range two-way speaker system sounds great with electrics and acoustics
An onboard tuner, metronome, looper, and drum loops
What I like about this product
It can conjure up nearly any tone you can imagine. The Spider V 60 MkII is a slight improvement over its predecessor and offers an innovative set of features. Let me give you a quick example. This model features a classic speaker mode which gives you more organic sound. Not just organic, either. More responsive too—as you've come to expect from a traditional amp.
Be it metal, soundscape, blues, or pop; this amp is versatile enough to squeeze out almost any tone you throw at it.
What I don't like about this product
The tones are a bit too artificial. You won't notice this if playing in isolation, but it rings true in a jam or band context. The amp also struggles much more with clean tones than high gain tones. It's mainly marketed towards metal and rock players.
Pros
A massive plethora of tones available from the get-go
Good pricing
Easy to navigate interface
Consistent updates and patches
Cons
Not good enough clean tones
A bit too high gain
Doesn't sound as organic as a tube amp
Definitely, a good guitar amp for a beginner to start out on; May even be tempted to keep it.
Overall Rating – 4.5/5
Blues Jr. IV is a combo amp with a single cab with a 12-inch speaker. It has an all-tube construction and is an improvement upon one of their most popular amps. Its size is convenient enough to lug around for gigging, and it has pedal support paired with the ideal volume.
This rendition has a tweaked preamp for a larger tonality, an upgraded Celestion A-type 12-inch speaker, smoother-sounding reverb, and fashionable aesthetics.
Key Features
15 watts of power output perfect for outdoors as well as indoors
Wide range of tones
True Tube amp
What I like about this product
Fender Blues Jr.'s are incredible platforms for players who utilize effects to achieve their tones. But perhaps the most attractive thing about the Fender Blues Junior and previous models is the way Fender crammed the perfect amount of power in this model. A blend which makes it convenient to lug around when you're gigging since it's lightweight and portable. It is also a real tube amp which carries history.
What I don't like about this product
It's very dependent on pedals. There's no way to coax out a classic rock/metal sound without a bunch of pedals. Tubes also require maintenance, and many factors can affect your tone.
Pros
All tube amp
Reliable and dependable
Perfect size for gigging
Cons
Tubes require some maintenance
Requires pedals and has no effects on its own
It's a great amp, a piece of history, and the best at what it does. You can further modify your tone with pedals, and it'll take them too.
Overall Rating: – 4.6/5
Guitar Amp Buying Guide
As you can probably tell by now, you can't just pick the first amp you find and call it a day. There's a lot of research to do and a lot of factors you have to take into account before you can decide on an amp. I'll try to give you an in-depth account of these factors in this buying guide, so you can make an informed decision. If you're committed to making the best guitar amp purchase, they can, this section is for you.
If you're just starting, you'll hear confusing terms like "throaty," "versatile," "responsive," and "warm" thrown around a lot. And for a beginner, it can get overwhelming to find one that'd fit your skill level and playing style like a glove. You have many different types and a lot of makes and models to choose from—and they all differ drastically, not just in price, but also performance and build quality.
If you're going to a brick-and-mortar store, I'd recommend bringing your guitar along and plugging into every amp there to find one that's right for you. Evidently, there won't be a wide selection to choose from. At least not as wide as you'd get when shopping online.
But if you're shopping online, you can rely on reviews to gauge the performance and build quality of some positively-rated amps. You can shortlist amps from our roundup of 11 best guitar amp reviews. Whichever one you opt for, make sure that it's not just in line with your budget, but also your playing style and genre.
What you're planning on playing
If you've read the reviews above, you might have some basic understanding of how amps from different brands and even different models from the same brands sound different from each other. They might focus on particular frequencies more, or they might distort the sound differently, whatever the reason may be, two amps of different make and model wouldn't sound the same.
Don't get me wrong. I certainly don't mean that an amp won't play a particular kind of music. Any amp can play almost anything, but some of them are better equipped for some genres than others. Let me give you a quick example, the Peavy 6505 listed in our roundup will handle metal much better than say, the Vox AC4HW1.
That's mainly because the Peavy 6505 offers a generous gain – enough for heavy metal and hard rock, while low or mid-gain of the Vox would be better suited for blues, classic rock, or perhaps country music.
Of course, this issue is easily addressed by using a distortion pedal which will provide you with more high-gain than your amp does. This not only makes the amp much more versatile, but it also saves you money you'd have to spend on a new amp.
However, a Marshall or a Peavy would easily outshine the competition when it comes to high-gain genres like hard rock and heavy metal. Even if you're planning on playing, say, blues on your Peavy, it would still suffice because a high-gain amp isn't limited to specific high-gain genres only.
To bottom line this for you, if your focus is on low to mid-gain genres like blues, classic rock, or even jazz, go for either a Fender or a Vox, but if you'll be primarily playing high-gain genres, invest in a Marshall or a Peavy.
That said, nothing is stopping you from using your amp, outside its 'specialized' set of genres. If you're an entry-level player, or just trying to experiment, you can experiment with any genre on your amp.
How does an amp, amplify?
An amp's job can be divided into two parts. First, it shapes the tones, and then it amplifies them and feeds the sound to the speakers. When your guitar is plugged into the amp, the signal is first processed via gain, bass, treble, and mids. This whole sequence is performed by the preamp – a part of your amp.
This processed signal is then fed to the power amp, and this is where the magic happens. The power amp amplifies the signal by many times and then channels them to the speakers where the signal is converted back into sound.
Tonal quality
You can be an advanced and seasoned player, with a great guitar and pickups to accompany it, but if the amp is low-end or just overall poor in quality, your technique or your high-end gear can't save your music from sounding awful.
As I mentioned at the start of this post, an amp can easily make or break your performance, so make sure you invest in one that's right for you and at the very least offers acceptable performance and quality.
A substandard amp will sound jarring, and your tones will not be as clear because the amp will distort the sound badly. It will emphasize certain frequencies and make your experience unpleasant.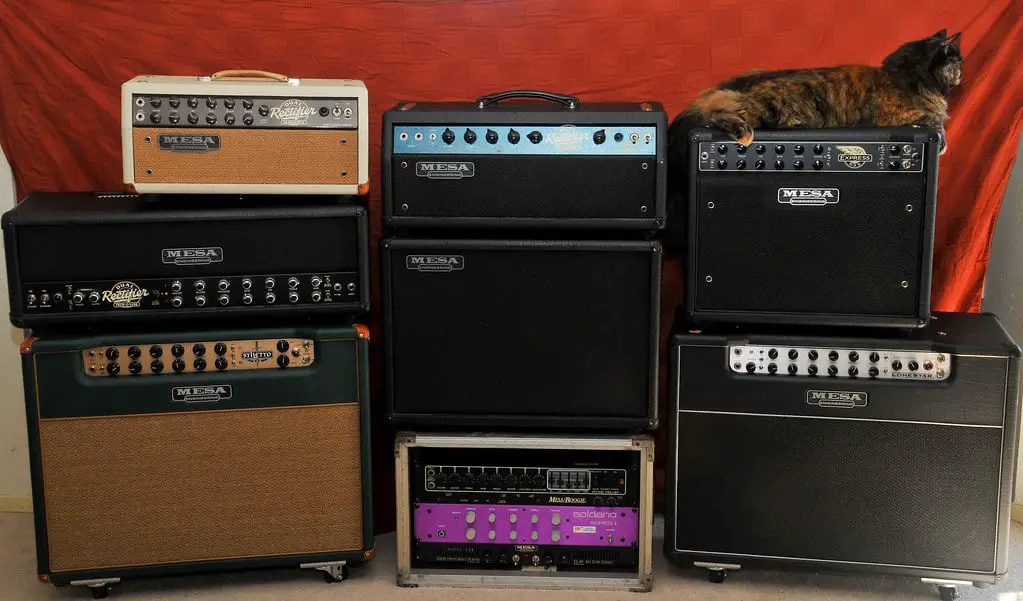 Amp types
There are quite a few different types of amps, each with their unique advantages and drawbacks. The technology itself has been around for quite some time, and since it's circuit wizardry, it was bound to evolve, and it did. Today you can choose from vintage-style traditional tube amps, or modern modeling amps, and everything in between.
Tube amps
Tube amps are old-school technology. They're the oldest kind of amps. They've been around for decades and are still preferred by a lot of guitarists. Why? Tube amps make use of vacuum tubes in the preamp and power amp sections – the ones I touched on above, to amplify the sound.
The tones they produce are organic and more responsive, unlike their solid-state counterparts, which create dead unresponsive tones. Responsiveness, in this context, refers to the gamut of tones that can be produced with each strum. When you play with a softer hand, the tones produced will be different from when you use a heavier touch.
These amps create a more luscious, thick sound, but their biggest plus is their overdrives. On a high-gain and low volume setting, the amp goes into overdrive which results in a 'throaty,' organic or saturated sound which many guitarists favor, but there are downsides to this tech.
They're far more expensive than solid-state or modeling amps, and the tubes will go bad sooner or later and would need replacing. They aren't low-maintenance. I wouldn't recommend going for a tube amp if you're just getting started— not because of the steeper price, but because, in the hands of an inexperienced player, a tube amp would sound indistinguishable from a solid-state amp.
Which brings us to our next point…
Solid-state amps
Early solid-state amps, although low maintenance, thanks to their transistor technology, weren't favored by most guitarists. Mostly because they didn't sound as good as their all-tube cousins. Beginner guitarists would buy them and chuck them away as soon as they could afford all-tube amps—but that was then.
Today, solid-state amps are near indistinguishable from all-tube amps, at least to the novice ears. There are some minor differences when it comes to responsiveness, but again, they're barely noticeable to the untrained ears.
Solid states much cheaper than all-tube amps, and they're also lighter, more compact, and easily portable. Taking these factors into consideration, it's not difficult to see why solid-state amps make solid entry-level equipment.
Modeling amps
Modeling amps don't just replicate tube amps with uncanny accuracy. They also provide you with a greater range of tones than a tube amp. Unlike tube or solid-state amps, they make use of digital wizardry to replicate amp sounds. They basically use computers to recreate presets for the preamp section.
As for the power amp section, it's essentially the same as other amps, so the main difference here is just the processor which modeling amps use.
Even though they're cheaper, they don't sound nearly as organic as all-tube amps, that's because they have a distinct digital tone associated with them. If you wish to avoid that, you can buy a high-end modeling amp which would sound more natural, but that jacks up the price.
Hybrid amp
Finally, we have hybrid amps. These amps are either part tube and part solid-state or feature a modeling preamp coupled with a tube power amp. They offer a one-of-a-kind sound, and you can force them into a gritty overdrive like you would a tube amp.
Power
How loud you want your amp to be, depends purely on how you intend to use it. Unless you'd be performing in arenas or stadiums, you don't need an ear-splittingly loud amp for your practice or jamming sessions.
The configuration, speaker size, and wattage mostly determine how loud the amp is going to be, anyway.
First off, you have two configurations: combo or separates. Combos are a preamp, power amp, and speaker all rolled into one. While the stacks, or separates, are sold separately. The head can be paired with one or more cabinets. Combos are more portable, and stacks are more flexible.
When you read their reviews or descriptions online, you'll often find speaker dimensions described as 1×12. What this means is that there is one speaker in the cabinet, with a 12-inch diameter. The larger the diameter, the stronger the bass.
Wattage is the measure of how much power the amp outputs. They can be misleading because a 4-watt all-tube amp can be louder than, say, a 10-watt solid-state. Higher power output doesn't always translate into louder sound.
If you won't be gigging, a mini-combo should do the trick for jamming and rehearsing, but if you'd be performing on stage, you'd need more 'oomph' and more muscle, so a separate would serve your purpose better and help you nail those tones.
Channels and effects
Most amps you encounter would feature at least two separate channels – an overdrive and a clean. The clean channel reproduces sound without distortion, and, you guessed it, overdrive produces a saturated and distorted sound.
Ideally, each channel should come with its treble, bass, and mids controls.
Reverb and chorus are some standard effects you'll find in nearly all amps, both analog and digital. Although with digital variants, you get a whole range of effects to choose from.
Final Thoughts
To wrap up this post and announce our top pick of this roundup, the clear winner would be the Peavey 6505. It offers superb versatility thanks to its high-gain, and it provides a generous amount of control, paired with impeccable organic and responsive sound. There are four switchable channels, and it has an all-tube design. Although its price is towards the higher end of the market, it has tremendous value to offer.
If you don't fancy any of the 11 amps I reviewed, I hope my in-depth buying guide helps you shortlist some models that fit your needs.