Unless you've been living under a rock for the past ten years, you've probably noticed the reintroduction of modern classic pieces of equipment into our contemporary culture from time to time. Walk into the nearest coffee shop, and you'll probably find some bearded yuppies using a typewriter or playing a board game with friends. Yes, we're talking about the hipsters, and if we're going to thank them for anything from their counterculture movement, it's the revival of vinyl.
While the hipster subculture is dying down, the love for vinyl and record players are here to stay; thus, manufacturers from all over the world have been creating turntables that combine that classic record player feel with modern features that enhance our audio experience. Some modern record players can be quite expensive, but that doesn't mean you can't enjoy that sweet and crisp analog sound on a budget.
So, join us as we take a look at the best budget turntables, and let's satisfy the audiophile in you on a budget.
Our Top Pick
Of the six turntables we reviewed on our list of best budget turntables, our top pick is the Fluance Audio RT80. Fluance beat out the competition by raising the bar on what a true High-Fidelity turntable looks and sounds like on a budget.
Honorable mentions include the House of Marley Stir It Up turntable for all our environment-conscious readers, and the Audio-Technica AT-LP60X if you're on a tight budget but looking to enjoy vinyl.
Last update on 2023-03-14 / Affiliate links / Images from Amazon Product Advertising API
The Best Budget Turntables Reviewed
As a company, Sony has become a household name due to its long history and its consistent innovations in creating better consumer electronics at affordable prices. The PSLX310 BT Fully Automatic Turntable is a testament to Sony's drive for innovation marrying modern features into the classic turntable formula at an affordable price.
Key Features
Two-speed turntable (33 1/3 and 45 RPM)
One-step auto start, stop and return
New straight design aluminum tonearm
Switchable phono output/ line out phono pre-amp with three gain settings
Bluetooth connectivity for wireless speakers and high-quality headphones
USB recording
What We Like
Blending modern technology with a classic can be tricky, and we find Sony's take on it quite impressive. The inclusion of USB recording to allow you to record your favorite LP and take it with you is amazing. The Bluetooth connectivity also allows you to enjoy your LP on your favorite headset or wireless speakers.
What We Don't Like
No number of features is going to make-up for sound-quality and tracking on a turntable. We're not quite sure about the new tonearm design, it has respectable tracking and sound, but it could be better.
Pros
USB recording allows you to turn your favorite tracks into mp3 files
Bluetooth connectivity allows you to enjoy your LP tracks in multiple ways
Fully automatic turntable
Three gain settings
Cons
Sound quality could be better
Overall the PSLX310 is a decent turntable for any beginner on a budget, the additional features such as USB recording and Bluetooth compatibility places it above most of the competition in its price range. We recommend this turntable for anyone who wants to enjoy vinyl without any fuss.
Overall Rating – 4.5 of 5
Pioneer is one of the long-standing giants of the electronics industry. They have a reputation for manufacturing high-quality home entertainment devices, and their pedigree shows in how they built the PL990 Automatic Stereo Turntable.
Key Features
Two-speed fully automatic turntable (33 1/3 and 45 RPM)
Single-button automatic play
Auto-stop feature
Low vibration belt design
Dust cover
Highly sensitive low-mass straight tonearm
Built-in equalizer
What We Like
We like how easy it is to operate the PL990. The simplicity ensures that any newbie vinyl enthusiast can easily use the turntable and get into it. The built-in pre-amps also make it easy plug to any sound system you have at home for quick and easy set-up.
For newbies, the tonearm raise switch is also a great addition as it can be quite difficult for beginners to raise and place the tonearm without damaging the vinyl.
What We Don't Like
The design is a bit of a downer for us. It looks like a DVD player from the early 2000s. We're not looking for a full-on classic vibe on turntables, but it could be cleaner looking. Also, the cartridge isn't upgradeable so that a minus as well for us.
Pros
Fully automatic turntable
Built-in pre-amps for easy set-up and play with existing speakers
Low mass and highly sensitive straight tonearm for great tracking
Auto-stop
Cons
The design could be better
The cartridge isn't upgradeable
The PL990 is a great fully automatic turntable for any newbie. It's fairly straightforward to use, and you can easily enjoy your vinyl effortlessly. We recommend it for anyone who hates reading user manuals and wants to go straight into enjoying their favorite vinyl tracks.
Overall Rating – 4 of 5
No list of the best budget turntables would be complete without a Crosley Radio turntable included. The classic look of Crosley turntables is a staple for vinyl enthusiasts, and the affordable Crosley C100 is a great choice for someone looking for that retro turntable look.
Key Features
Two-speed belt-driven turntable (33 1/3 and 45 RPM)
Manual start and stop control
Features a balanced S-shape tonearm
Adjustable tonearm counterweight and adjustable anti-skate feature
Adjustable Pitch Control
RCA Output and switchable pre-amp
Pre-mounted moving magnet cartridge
What We Like
Crosley turntables are gorgeous, that vintage retro vibe lures you in and something that you can't find in modern renditions of record players at this price point. The classic aesthetics isn't the only thing going for this turntable—it's packed with features and sounds great as well.
What We Don't Like
It's a fully manual turntable. If you're a newbie, you may want to stay away from the C100 as you could end up damaging your vinyl records if you have no idea what you're doing, and it could ruin the experience for you.
Pros
Classic Aesthetics
RCA Output and Switchable Pre-amp
Excellent sound quality
Cons
Fully manual
Not for beginners
The Crosley C100 looks and sounds great, but it's not for everyone. If you're an experienced vinyl enthusiast and appreciate manually playing your records, then this is the turntable for you. If you're only beginning your audiophile adventure or appreciate a more modern look, then there are other options on this list that may be more appropriate for you.
Overall Rating – 4.5 of 5
When a company's cartridges are the go-to option for a replacement or upgrade on turntables, you know their turntable is going to be amazing. Audio-Technica manufactures professional-grade audio equipment. They know their craft well and prove it with the AT-LP60X, one of the best low cost turntables in the market today.
Key Features
Two-Speed fully-automatic belt-driven turntable (33 1/3 and 45 RPM)
DC servo-controlled motor
Redesigned tonearm base and headshell for better tracking and reduced resonance
Features the ATN3600L Dual magnet phono cartridge with a diamond stylus
AC Adapter to reduce noise in a signal chain for your sound system
What We Like
The AT-LP60 is a great turntable, but Audio-Technica doesn't settle for great, they decided to upgrade with LP60X redesigning the tonearm for even better tracking and reduced resonance to produce high fidelity audio that we appreciate. For its price, the AT-LP60X is unmatched in terms of sound quality.
What We Don't Like
The AT-LP60X would have been perfect, and probably our top pick, had it not been for issues with moving the unit around and causing syncing issues. Records can start playing several seconds in, and you'll have to reset the tonearm manually which is problematic, but if you plan on placing this in your library or your living area permanently, then you'll have an amazing time with this turntable.
Pros
Fully automatic
Pristine High-Fidelity audio
Incredible price
Cons
You need to purchase speakers to listen to vinyl
Sync problems start popping up when it moved around
For less than $100, the AT-LP60X is a fantastic turntable, but in terms of durability, you get what you pay for with this turntable. If you plan on keeping this system in one place as part of your home set-up, then we advise that you pick this up. If you plan on bringing around with you to multiple places, such as a vinyl listening party at a wine tasting or similar events, you would want to pass on the LP60X.
Overall Rating – 4.5 of 5
If you're a big fan of the reggae star Bob Marley, or you're an environmentally conscious person that wants a turntable made of rich natural materials with a minimalist design then the Stir It Up Turntable is the one for you.
Key Features
Two-speed belt-driven turntable (33 1/3 and 45 RPM)
Automatic pitch control and auto-start feature
Sustainable solid bamboo plinth build
Recyclable Aluminum Alloy Platter
Built-in switch pre-amp
RCA Output and 3.5mm headphone jack
A USB port for PC recording
What We Like
We have to take care of the planet, after all, we only have the one, and when you can combine being an environmentalist with your passion for music, then we're all for it. The sustainable, minimalist eco-design is amazing, and the recording feature that allows us to enjoy our favorite LP track anywhere is simply awesome.
What We Don't Like
The one thing we don't like about the Stir It Up Turntable is the cloth dust cover, we do understand that it's eco-friendlier, but that means you don't have a dust cover while playing so if you have a dusty environment its detrimental to your vinyl.
Pros
Eco-friendly minimalist design
Built-in switch pre-amp
You can record your favorite tracks to your computer
Cons
The House of Marley outdid themselves with the design and performance of the Stir It Up Turntable. If you're environmentally conscious and you want to enjoy vinyl with a turntable built from all-natural, sustainable and recyclable materials, then you've found the perfect match for guilt-free vinyl enjoyment
Overall Rating – 4.5 of 5
Who says that you can only enjoy high performance, sophisticated styling, and high-fidelity sound by shelling out thousands of dollars? Canada-based audio brand Fluance believes that everyone should be able to enjoy a truly amazing audio experience on a budget and they back up that philosophy with the RT80 High Fidelity Vinyl Turntable
Key Features
Two-speed turntable (33 1/3 and 45 RPM)
High Fidelity Belt-driven Turntable
Features the Audio Technica AT91 cartridge
Diamond-tipped styles for superior record tracking
Balanced Aluminum S-type tonearm
Solid Medium Density Fiberboard build
What We Like About this Turntable
Fluance describes the RT80 as a High-Fidelity Turntable, and we couldn't agree more. The Built-in Texas Instruments pre-amp and superior record tracking produce that warm and true analog sound that you can't get from record players twice or three times its price!
What We Don't Like About this Turntable
There are two things that we don't like about the RT80, and the good news is it doesn't have anything do with its sound. We don't appreciate the standard felt mat that comes with the package. Second, its design makes it a fingerprint magnet, so be careful when touching the turntable.
Pros
High Fidelity Audio
Solid MDF build
Auto-stop feature
Superior record tracking
Beautiful modern design
Cons
Fingerprint magnet design that you need to clean every so often
For its price, Fluance raised the bar for budget-friendly turntables. The RT80 is a magnificent turntable, and it is one of, if the not the best, turntable under 200.
Overall Rating – 5 of 5
Budget Turntable Buying Guide
If you're looking at a list for the best low cost turntable, chances are you're one of two people; you're either a beginner looking to add some culture into your life by appreciating the warm and crisp tones of vinyl or you're an audiophile on a budget and looking for a quick fix to your analog craving. Regardless, we've prepared a buying guide to help you understand what you need to look for when searching for the perfect turntable for your needs.
Vinyl Size and Turntable Speeds
There are three types of vinyl records, and each rotates at the turntable at different speeds referred to as revolutions per minute, hence the RPM that you see on the key features. A 7-inch record plays at 45 RPM, a 12-inch record plays at 33 RPM, and 10-inch disk plays at 78 RPM. If you inherited some vinyl from your relatives, or you're looking to play a specific record, make sure you keep record speeds in mind when searching for a turntable.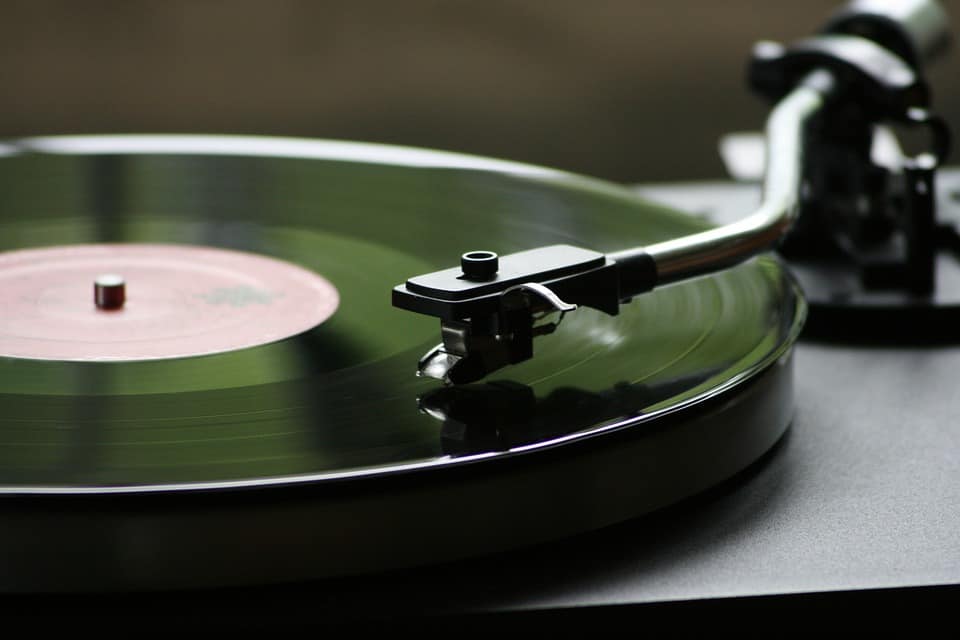 The Brand
Let's make one thing clear, we're not brand snobs, as you can see from our list, we explored lesser named brands along with household name electronics manufacturers, but its better safe than sorry. If you're only starting, it would be best to go for the tried and tested manufacturers, at least you're assured quality.
The increased competition in the turntable industry forced companies to up their game at lower and lower prices. Outside of the brands we've mentioned above, other respectable turntable brands include Rega, Pro-Ject, and Clearaudio. The latter's record players are amazing, but they can get up there in price.
Are the Parts Upgradeable?
If you're only starting as a vinyl aficionado, it would be wise to stick to the budget and entry-level turntables. If you're serious and want to take it to the next level, you should check if the parts of the turntable you're purchasing are upgradeable so you can squeeze out the best audio from record player later on.
Final Thoughts
Enjoying the sweet and crisp analog sound that only vinyl records can provide is an experience that everyone should be able to enjoy, and companies around the world seem to agree. Purchasing your first turntable on a budget shouldn't be a chore, and hopefully, our reviews gave you the necessary insight on what an amazing turntable should look and sound like at this price point. If you didn't find the turntable for you among those that we reviewed, we hope that our buying guide helps. Since you saved so much money on your turntable, maybe you'd like to put some of it to use on a new receiver. Also, if you're looking for a more portable turntable, we've got you covered.