I have played the piano for as long as I can remember. Over the years, I have had several digital pianos. Most of them were not worth my time. Thanks to the poor decisions I made in the past, I have become a pro at not only playing pianos but also picking them out.
My current piano, the Williams Legato 88 key digital piano, is one of the best on the market. I hope you will find it suitable for all your needs regardless of whether you are starting or sharpening your piano skills.
So, why is the Legato 88 key digital piano the perfect choice? Let's take a look, but first, here are some handy tips that could save you the agony of buying the wrong kind of piano.
Things to Consider When Buying a Digital Piano
Digital pianos have a variety of components that work together to produce the tunes we all enjoy so much. When shopping for a new digital piano, you should take certain parts and functions into consideration.
Gravity Hammer Action
You've probably heard of the term "weighted keys" when describing keyboards. They're a crucial aspect of buying a digital piano. The best keyboards are "fully weighted," meaning the thin plastic keys have extra weights or springs to counteract the keypress.
A gravity hammer action uses counterweights to simulate the feel and speed of a digital grand piano giving the user a proper play technique.
Interface device
The interface device can be a USB flash drive, a Bluetooth pairing, or a Wi-Fi connection. Plugging an interface device into your piano is ideal for recording, receiving updates or play-a-long.
You can burn CDs on your home computer or store recorded music for later printing. With Bluetooth MIDI, you can take your music wireless and interact with music learning apps.
Polyphony
Polyphony is the number of individual tones or notes the piano can play at once. Basic models have 32-note polyphony. However, 64-note polyphony is enough to create complex sounds.
Premium quality electronic pianos deliver up to 264-note polyphony, but why do we need so many notes when we only have ten fingers? It is for the "sustain" pedal.
Williams Legato 88 Key Digital Piano Review
The Williams Legato digital piano is suitable for beginners and intermediate students who want a great sounding keyboard to perfect their skills. The Legato boasts of some serious potential with full 88 touch-sensitive semi-weighted keys that mimic your playing dynamics.
It features built-in speakers that deliver outstanding lush tones with crisp clarity and room-filling volume. With the five in-built sounds (Organ, Piano, Electric piano, Bass and Synth) from the Williams Custom Sound Library, you can play a variety of voices with ease.
The split/layer function allows you to play one sound at a time or layer two or sounds to produce unique tunes. This piano packs a built-in metronome to sharpen your rhythm and time signatures.
Bring your songs to life with the velocity-sensitivity. Unleash your creativity and play with precision. Want to connect your devices? No problem. The Legato features USB MIDI capabilities for seamless connection to your Smartphone, tablet, or computer.
This digital piano doesn't come with accessories of any kind, though. So, you'll have to increase your budget a bit and get the Williams ESS1 Essentials pack which comes with a sustain pedal, a power supply and a pair of headphones.
Features and Benefits of Williams Legato 88 Key Digital Piano
The Williams Legato digital piano is a favorite among shoppers. Why is this? Precisely what does it have to offer?
Features
An impressive 88 semi-weighted keys: The Legato by Williams bridges the gap between a keyboard and a traditional piano with ease thanks to the semi-weighted keys. You get a responsive feel without the need to press the keys too hard, and it keeps the bulk of the keyboard on the low.
Five in-built sounds: This model comes with five expertly crafted room-filling crisp sounds: Organ, Piano, Bass, Electric piano, and Synth. These five sounds can be layered to create a masterpiece with the split mode.
USB MIDI connection: With this function, you can connect to your mobile device (tablet or Smartphone) and computer seamlessly. You can upload your music to your device with ease.
Headphone jack: You don't have to postpone your practice sessions because you're in a noisy place. Plug-in, your headphones, then switch up by using your speakers for better sound clarity and enjoy the private practice.
Built-in metronome: Timing and rhythm are some of the most overlooked skills by beginner pianists. The built-in metronome gives you a clear sense of tempo and timing. It produces a steady beat helping beginners to play rhythms and hit time signatures with accuracy.
Battery operation: This model comes with a durable 6X D-cell 1.5V batteries so you can rehearse for hours without worrying about a power outage. Remember to buy a separate power adapter for connection to an AC outlet.
Split and layer function: The split mode divides the keyboard into two sections 44 keys on each side with a different voice. Use each hand to control the different sounds.
Additional features: Reverb and chorus buttons with an in-built LED bulb to create unique and remarkable tunes with rich sounds.
Pros
Responsive feel– The complete 88 semi-weighted keys replicate the play experience of a real piano.
Five unique voices- With a choice of five distinct sounds to choose from and the split/layer function; the user can create unique and magical tunes.
Lightweight, compact, and portable- At 19 pounds, this piano is easy to move about and worth the money, especially if you are a musician on the move.
Operates on batteries- You don't need an AC power supply to run this model. With six D cell batteries, you're good to go.
Cons
Limited keynote – It's a shame that the Williams legato 88 only supports a low 32-note while other high-end pianos come with up to 128 notes of polyphony. As a result, you may not be able to play great harmonies.
Limited five voices- The piano packs only five sounds which might not be broad enough for experienced pianists.
Optional accessories come at an added cost- This piano does not come with a power supply, a headphone, or a sustain pedal. You will have to buy these accessories separately.
General User Impressions of the Williams Legato 88 Key Digital Piano
Seasoned pianists have good things to say about the Williams Legato. However, they do fault it for not giving an authentic feel to the keypresses. They are also not impressed that it does not come with a power adapter.
Other users noted that the piano is satisfactory, but since the speaker quality isn't the best, you might need to buy a good quality headphone or kick it a notch higher with a sound amplifier. Some users also termed it an excellent tool for great learning and strengthening dexterity. However, the note D on the far left of the keyboard is not at the same level as the other keys.
There have also been complaints about having to fork out more money for the extra accessories. You'll have to buy a high-quality headphone, a power cord, and a sustain pedal at an additional cost which is quite a hassle.
Most users still agree that the Williams Legato 88 key digital piano is a good quality keyboard and a solid deal, though. The foot pedal is great and gives them the experience of playing a real piano.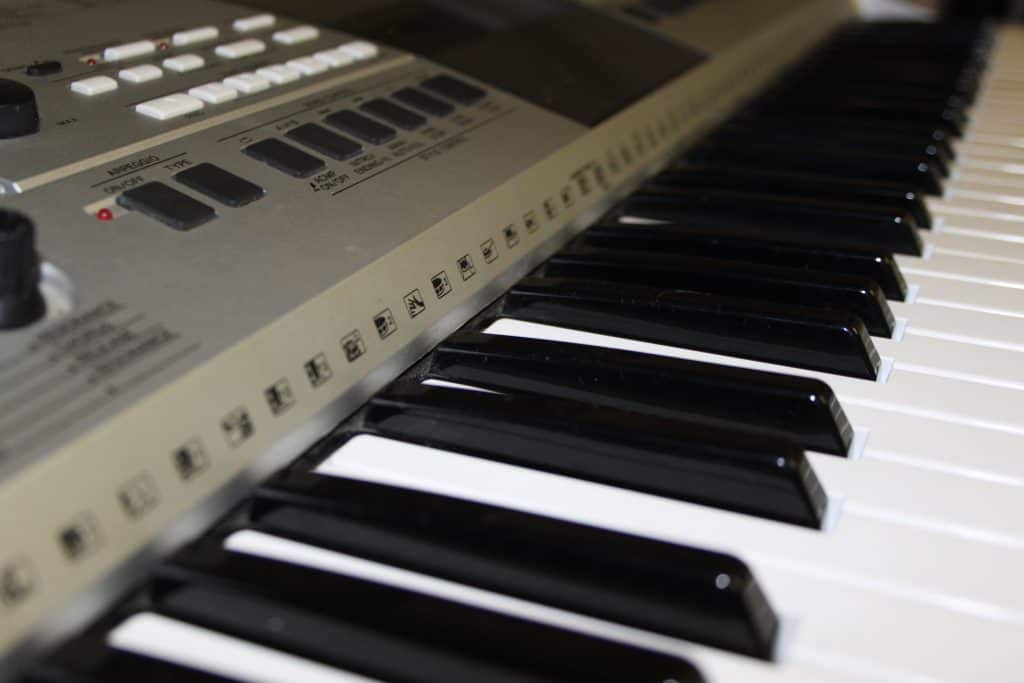 Our Opinion of William Legato 88 Key Digital Piano
Trust me when I say that I have a lot to say about pianos. I have spent hundreds of dollars on a ton of worthless pianos with no success. At some point, I felt like giving up. I have met many digital piano shoppers who are confused and desperate as to the choice of the keyboard to buy. It's a common problem during the buying cycle.
When I chanced on the William Legato 88 Key Digital Piano, I also had doubts about the product. I didn't want to waste any more money on a product selling hype. I decided to give it a try after reading many positive William Legato 88 Key Digital Piano reviews from aspiring pianists and seasoned pros.
I feel compelled to spread the word about this digital piano. Starting, I had a difficult time perfecting my time signatures and rhythm. However, thanks to the in-built metronome, I was able to improve my tempo and timing.
The Legato packs a ton of versatile features with premium functionality. Beginner students get to perfect their craft with the full 88 keys. It is lightweight and portable, which is a plus if you travel a lot, and with the distinct voices and sound features, you can play around with different music styles to create distinct tunes.
This model is not ideal if you're looking for numerous fun features or a realistic experience, but if you're learning the ropes, this model is worth every penny.
William Legato 88 Key Digital Piano FAQs
Is this piano suitable for open mics or professional performances?
Answer: No, the built-in speakers are not audible enough. To use this piano for professional performances, you might need a sound amplifier or external speakers.
Does this item come with a power supply? And if not, what can you use?
Answer: No, it does have an AC input port, but you will have to buy a 12V DC power cable separately. The piano can also run on six D-batteries.
Does it come with pedals, and if not, where can I buy them?
Answer: No, the Legato 88-key digital piano does not come with pedals. You'll have to buy them online based on the technical specifications.
Final Thoughts
If you're a beginner who is just starting your piano lessons, you may find it hard to choose the right piano for you. This review of the Williams Legato 88 key digital piano should be an eye-opener. It packs a ton of features and excellent functionality that might give you a bang for your buck. You can't go wrong with williams digital pianos.
With additional sound features, a touch-sensitive key and a full-size keyboard that replicates play on an acoustic piano, the Williams Legato 88 key digital piano is a steal. It is an amazing yet affordable digital piano.
This digital piano is decent enough for beginners who want an easy-to-use keyboard that also comes with a variety of features. My only concern is that the available features may not be sufficient for professional performers.
If this model isn't quite what you're looking for, we've got more options for you to check out on this post.